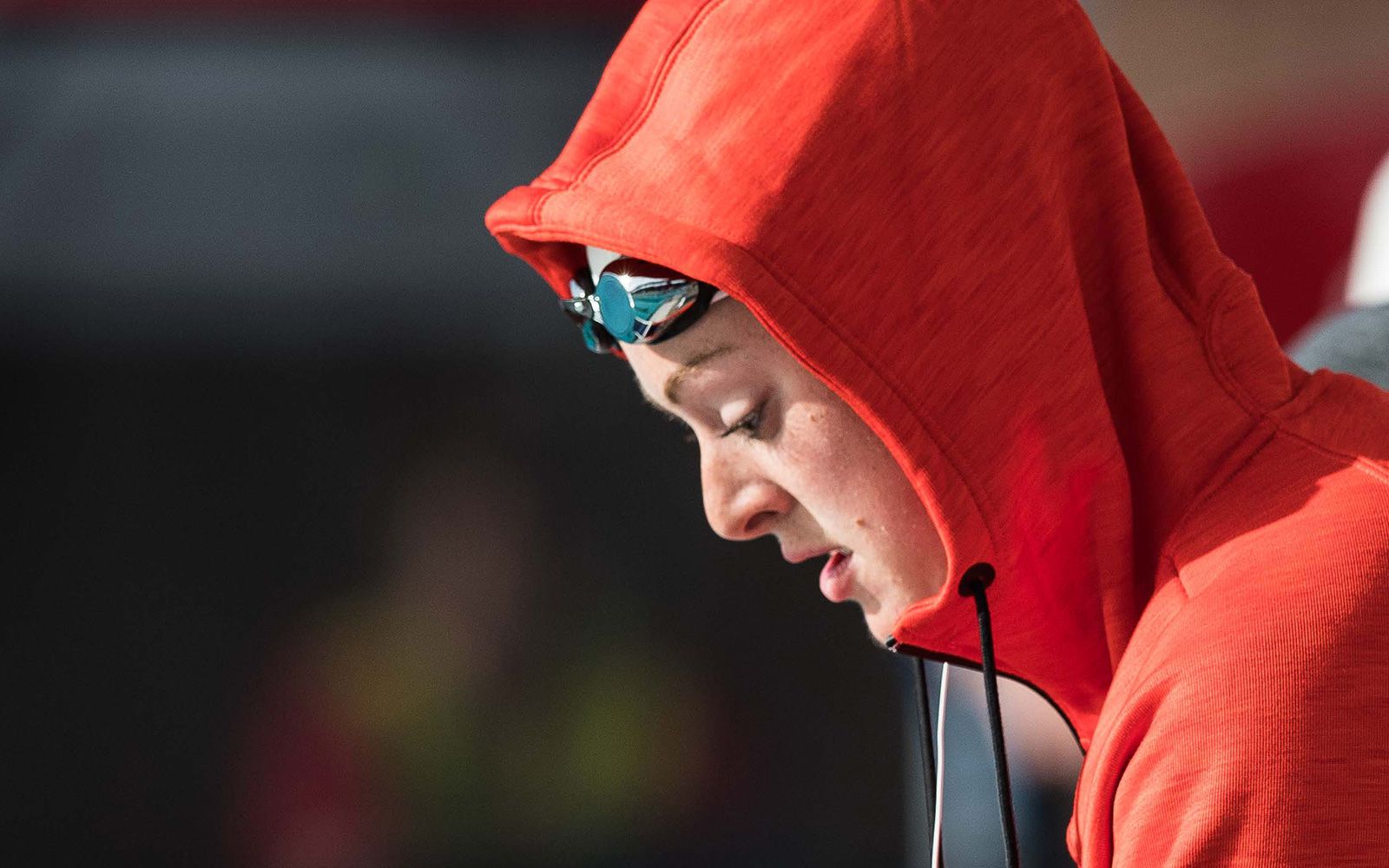 Out Of The Blue
On the eve of her third Summer Games, six-time U.S. Olympic swimming medalist Allison Schmitt hopes her frank talk about depression and loss offers a lifeline to other athletes.
Allison Schmitt surfaced from sleep in the middle of the night thinking it might snow on her three-hour drive to central Pennsylvania.
She curled her 6-foot-1 body into a ball and wept. Her thoughts cascaded, frantic: I can't do this anymore. I just don't even want to be here anymore.
If it snowed, she could drift over the lane line and people would think she'd had an accident on her way to see a college hockey game. No one would guess what had gripped her in the moment. She couldn't grasp it herself. She was an Olympic swimming champion, barely treading water.
It was the first weekend of January 2015. She hadn't wanted to come back to Baltimore after the holidays. But here she was, training and using muscle memory to arrange her face into the smile everyone expected of her.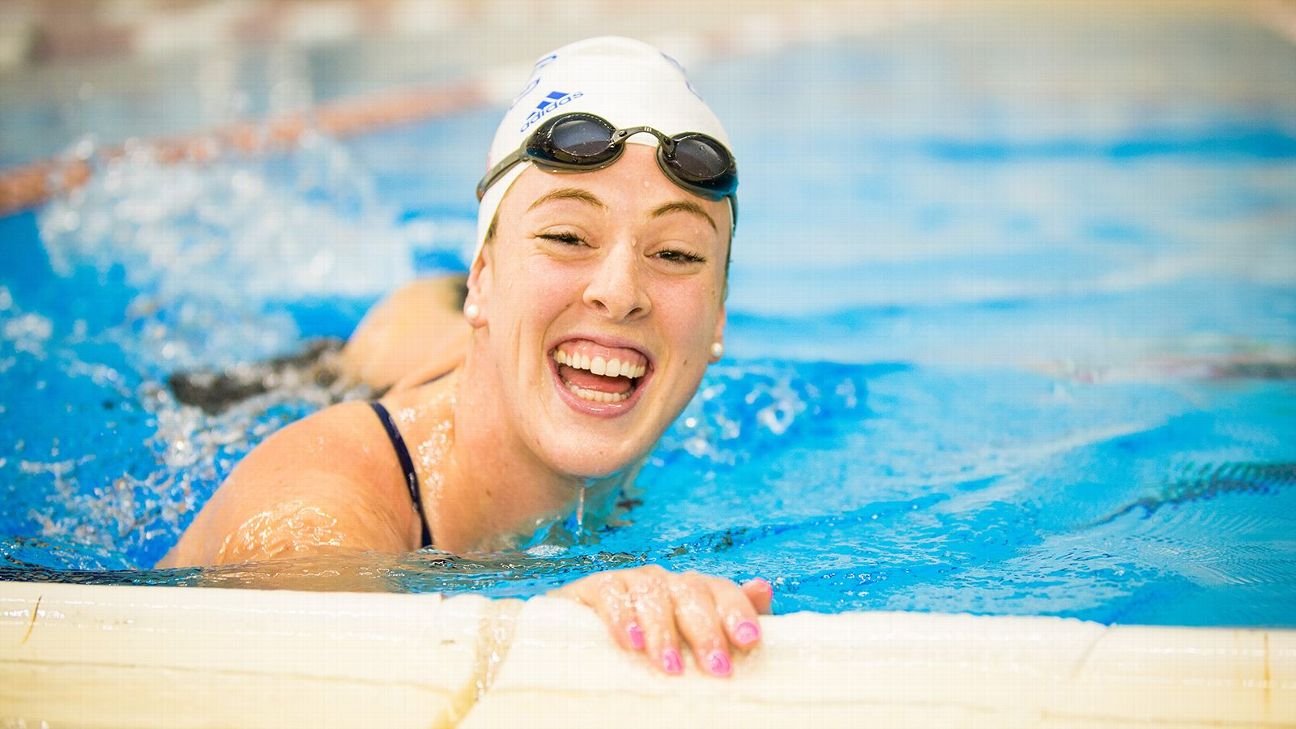 She had a role: She was Schmitty, always upbeat, a regular girl who just happened to swim fast. She put in the work, and when the bell rang, she was a stone-great competitor. The payoff came at London 2012, where she won gold in the 200-meter freestyle -- one of five medals to add to her bronze in Beijing four years before.
But something drained out of her after London and never came back. She'd had two mediocre seasons in a row. She had heard of post-Olympic blues, but why would that apply to her? She had great friends, a supportive family, a top-shelf training group and a staunch surrogate brother in Michael Phelps. She tried to kick through the way she felt, the way she would override pain in the back half of a race, but it just got worse. And the Olympic trials were still more than 18 months away.
She was supposed to drive to Penn State to watch Ohio State -- her younger twin sisters' team -- play a women's hockey game. She had been looking forward to it, but now she was panicky, exhausted and desperate for relief. There had been enough nights of interrupted sleep, when she would wake up crying, or laughing for no reason, or throwing herself against the mattress.
So easy to steer off the road.
The thought bubbled up unbidden and mortified her.
Oh my God, I think I'm going crazy. Allison, stop, you're going crazy. Allison. Allison, will you stop?
She grabbed her phone the next day and texted random friends, telling them she loved them, wishing them a Happy New Year, trying to tether herself to solid ground. Or in case something happened. She wasn't sure which.
She cried again as she talked herself through the trip: Two hands on the wheel. Don't do anything. She mustered a happy face when she met her parents at the rink, even went on the ice between periods for a contest. None of her three slap shots went in, but she loved taking whacks at the puck like she had growing up in Michigan. The night before seemed surreal. No one would have guessed.
Alone again on the way back to Baltimore, she lectured herself. Allison, that was fun, don't do anything. That was so fun, that was so good, you got to see her play, it was a great time.
"I remember getting home and being so thankful that I had made it home fine," she said.
Schmitt, 26, made it all the way to a third Summer Games. She qualified for the 400 and 800 freestyle relays at the U.S. Olympic trials in Omaha, Nebraska, but fell short of the top-two finish that would have enabled her to defend her 200-meter gold. Still, relief flooded her face as she walked toward the stands to meet her family after the ceremony naming her to the team. She hugged her mother, Gail, and wrapped her arms around her aunt, Amy Bocian.
Allison offered Amy her podium bouquet of red roses, white lilies and blue thistle. Amy reached out and touched Allison's face, brushing her neck. Then Amy pulled the flowers in toward the silver locket resting above her heart. It frames a black and white image of her own daughter, Allison's cousin April, impossibly beautiful and now beyond her caress.
April was also an athlete. She didn't make it home. The shock of her suicide pulled Allison out of a deepening emotional winter. One week after burying her cousin, Allison began talking publicly about her own depression and athletes' mental health. She hasn't stopped. The Rio Games, where she will be a co-captain of the women's team, are her next platform.
"I knew this was a time that I could save the next person who was struggling, the next person who thinks their life is not worth it," Allison said.
When she looks back, she can see how she lost her balance on the way down from the London Olympic podium.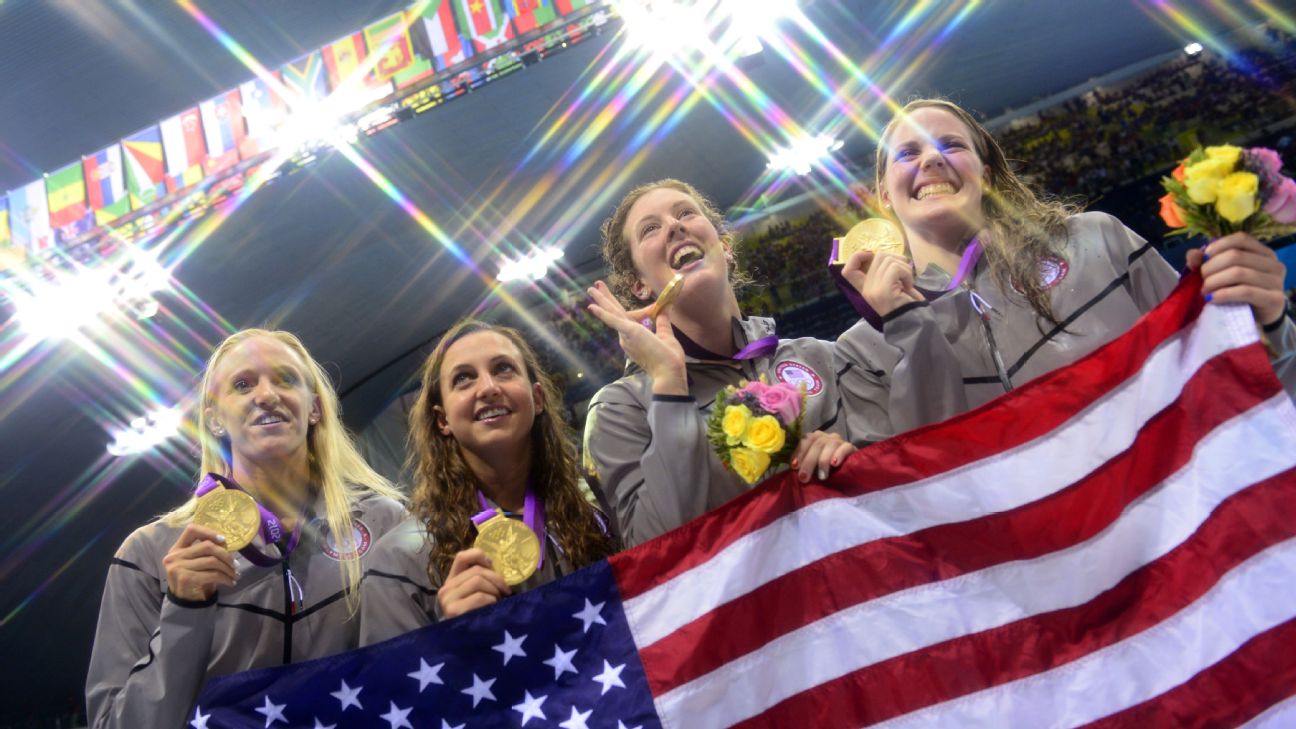 The same perfectionism, work ethic and craving for structure that drives elite athletes to great heights can leave them aimless and perilously hollowed out after a peak event. Few of the 10,000 who will gather in Rio this month will be inclined to dwell on that prospect before they compete.
Studies on depression in elite and college athletes don't necessarily show a higher prevalence than in the general population, but evidence has emerged that athletes as a group are more reluctant to seek advice or treatment.
Athletes often resist seeking help because they're so conditioned to project images of strength and tenacity, said Emily Brunemann, a graduate student and elite swimmer affiliated with the University of Michigan's Athletes Connected program, which aims to surmount that barrier. "They're worried about what their coaches and teammates will think; they're worried it will affect their playing time." They conceal mental health issues "because they can," she said.
Anthony Ervin, a Sydney 2000 Olympic swimming gold medalist and freethinking 2016 U.S. co-captain who rocketed to the top of the sport before dropping out, chronicled his post-pinnacle depression, substance abuse and a suicide attempt in his recent memoir, "Chasing Water."
"When you're still in the throes of that 'athlete's death' -- when you're in that dark place, when help tries to reach out to you -- you don't think that the help understands," said Ervin, 35, who made a comeback in 2011 and has qualified for two events in Rio. "The isolation that it becomes necessary to create as a champion almost becomes the isolation that keeps him separate and rotting in that dark place."
Dr. Jim Bauman, a sports psychology consultant for USA Swimming, said it's difficult to counsel energized, focused athletes about post-Olympic depression before the Games. He favors more mental health education for coaches at home, the better to spot danger signs.
In general, Bauman said, "We spend all our time on biomechanics and not enough time on the 'software' -- dealing with pressure and chaos. Instead of saying, 'Be tough,' we should be saying, 'I want you to be resilient, pliable, able to adapt.'"
He has worked with USA Swimming to develop programs for athletes who are retiring, but there's little in place for those who know they're continuing.
Allison's descent began Aug. 5, 2012, the morning after she swam the anchor leg of the winning 4x100-meter medley relay to collect her fifth and last medal in London. She and other swimmers signed out of the Olympic Village, and a few of them found a flat in London.
She made the rounds of media interviews and sponsors, went to other Olympic events, partied with her teammates, shorted herself on sleep. By closing ceremonies, she was coming down with strep throat and so bushed that she and fellow swimmer Cammile Adams posed jokingly for a photo, pretending to nap, during the Spice Girls' performance.
That deep fatigue was the rumble ahead of a slow-moving storm.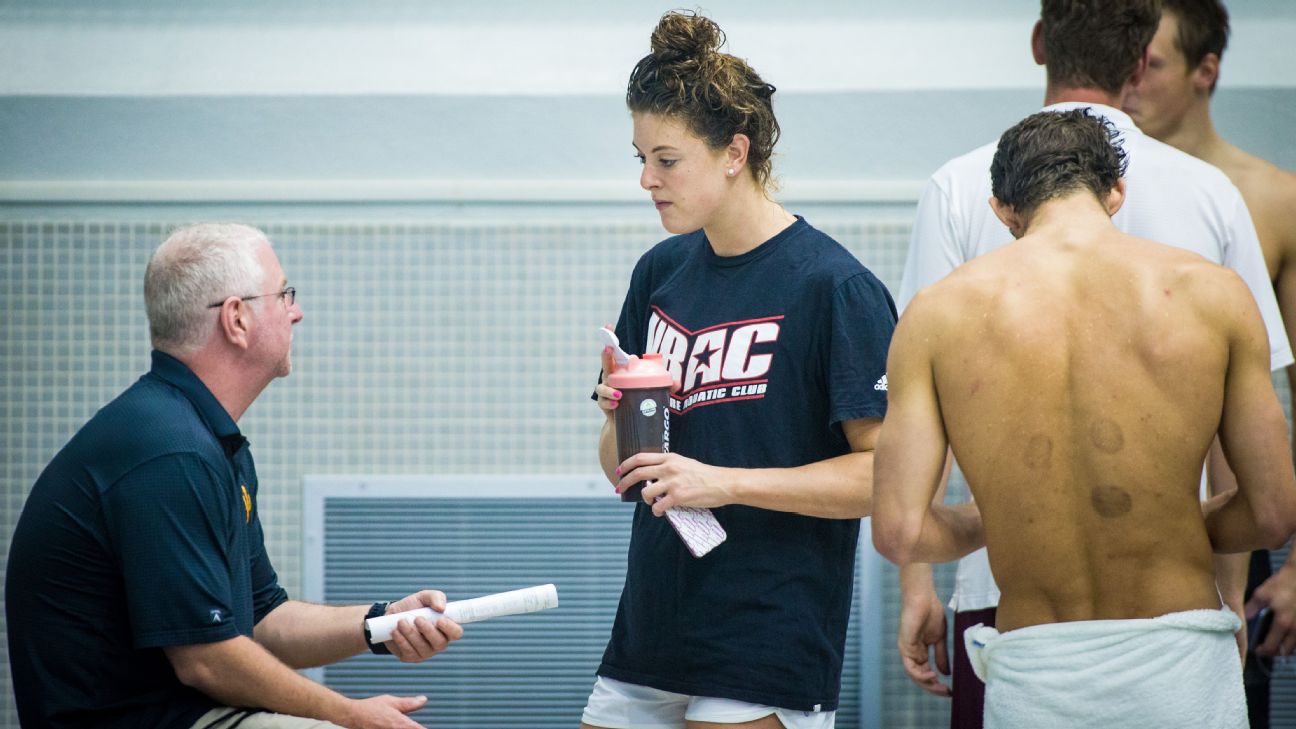 Athletes who experience depression after success might find it more difficult to fathom, but sports psychologist Kristin Keim said that, in her experience, winners and losers are "all the same a week later. ... Their endorphins and dopamine crash."
Keim, a former pro cyclist who works mainly with endurance athletes and has several clients headed for the Rio Games, said it's a mistake to take too much time off after competing at the Olympics. She advises her clients to give themselves a modest break but to try to keep their bodies and minds from going into shock. "I tell them to go to Peru, go hiking, do something that's still physical, still active, still challenging," she said.
Even with a road map, some athletes will flounder amid myriad financial, educational and personal decisions and public attention that often spikes, then disappears.
Tyler Clary, a gold medalist in the 200 backstroke at London 2012, said re-entering reality was "like dropping a narcotic, cold turkey."
"You're on this emotional high that just goes higher and higher and higher, and even after the Games, it's still at an elevated level," he said. "Everyone wants to talk to you, people you haven't talked to in years want to text with you. I had to have two phones for a while because my regular phone was blowing up constantly."
Clary had a plan in place and stuck to it, moving from California, where he had spent the previous two years training full time, back to Ann Arbor to continue working on his University of Michigan degree. He stayed out of the pool for three months, put on 30 pounds and experienced what he called "an extremely dark period," exacerbated by dread of the next long Olympic cycle.
"It's a huge cliff at the end of it," Clary said of his own post-Games plummet. "You get the mental cold sweats from it, because you're like, 'S---, this isn't gonna happen for another four years.'"
Allison also had a plan. She would spend three days at home, then go back to the University of Georgia. She was committed to finishing her undergraduate degree after a year away, and wrapping up her swimming eligibility with an NCAA team championship -- the one achievement missing from her résumé.
It seemed like a good idea on paper. It seemed like who she'd always been.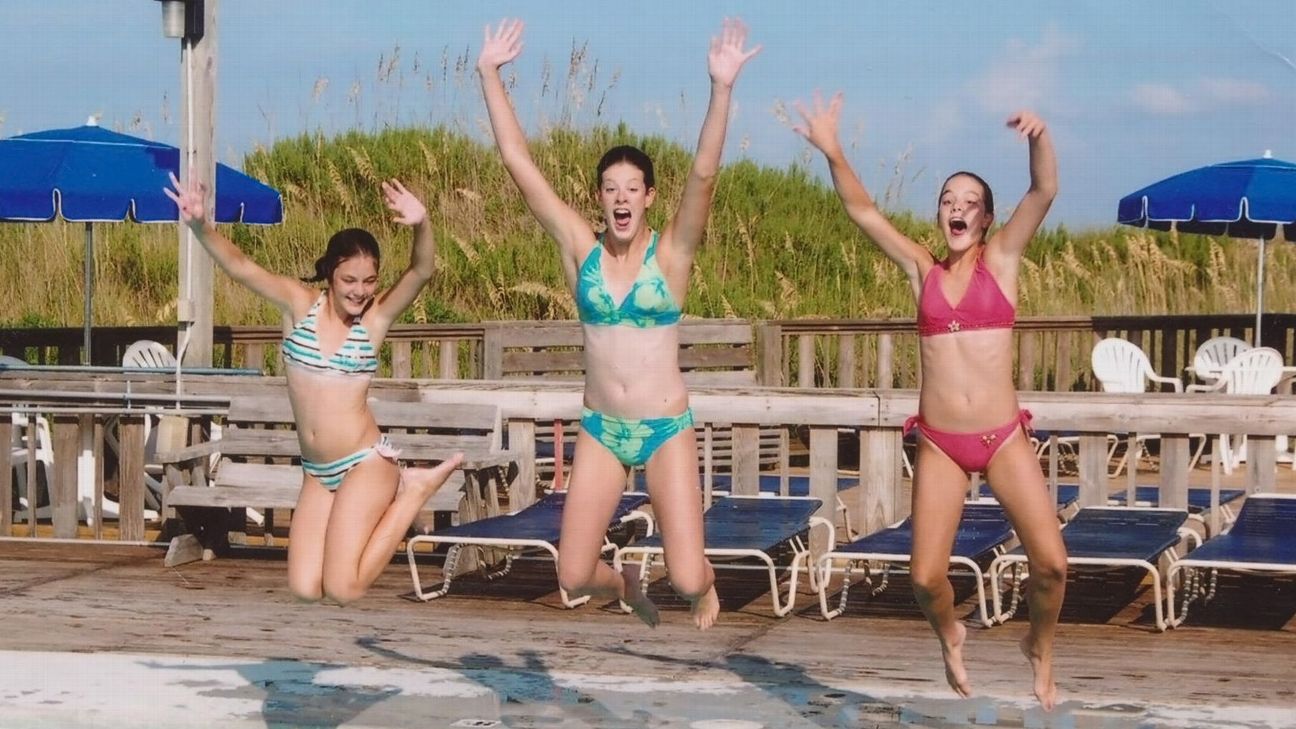 Amid Christmas morning chaos, four of the Schmitt kids ripped wrapping paper off boxes and squealed as one of their parents filmed the scene. The middle girl quietly opened her presents in the background, content to be part of the fun but not the center of it.
That was Allison, a buoyant kid who laughed easily and often, on the inhale and the exhale, out of joy or sometimes from nerves -- and still does. She drew energy from the happiness of others but also sponged up their sadness. She remembers being carried away from the funeral of a friend's grandmother -- a woman she had never met -- because she was weeping inconsolably.
"I definitely feel that I would rather help other people than help myself," Allison said. "If I see a stranger crying, it breaks my heart. I feel like I feel way more for people than I probably should."
The Schmitts' home in Canton, Michigan, perched between Ann Arbor and Detroit, often hit a Christmas morning decibel level throughout the year with five kids born within six years going every which way to sports practices and piano lessons. Gail's desk blotter calendar was thick with notations to help keep track of it all. "There were years where there was not one free day where no one had to do anything," she said. "If there was, we would look at each other dumbfounded."
Allison found her element early when she followed older sibling Kirsten into the pool. She showed such promise by her midteens that then-University of Michigan and Club Wolverine coach Bob Bowman invited her to train with his gifted group of collegians and young pros that included Phelps. The move eventually propelled Allison onto a bronze-medal-winning relay team at the 2008 Beijing Games.
She eased into her freshman year at Georgia without a hitch or much fanfare. She and fellow Bulldogs swimmer Megan Romano became inseparable the following year and continued to talk often when Allison went to Baltimore to train with Bowman and Phelps in the year leading up to London.
The 2012 homecoming was markedly different. People thronged the Heritage Park Amphitheatre in Canton for Allison Schmitt Day. She was grateful, but she was on autopilot. Her words to the crowd tapped into an undercurrent of anxiety.
"I'm expecting to go back [to Georgia] and be the same exact person," she said. "I don't know if I will be, I don't know if people will look at me different. But I'm the same person -- if I came back with no medals or if I came back with five medals -- and I hope people treat me the same."
It was wishful thinking. On that same visit, she felt swamped by well-meaning people at her mother's office who wanted photos, wanted to tell her about their kids, all talking at once. "Everyone's telling me how lucky I am and how they wish they were me," she said. She fled to a bathroom to cry, feeling guilty. Wasn't she supposed to enjoy this? What was wrong with her?
Going back to campus was even more disorienting, even though Romano was one of her roommates. Her class had graduated. She didn't know most of the people on the team. She couldn't walk anywhere without being stopped, while Romano stood awkwardly off to the side. They'd go out to a bar at night and people would offer her shots she couldn't accept.
She slept and slept. She skipped classes and practices. There were times she was so distraught that Romano refused to leave her alone, and would either calm her down enough to go train or make excuses for both of them.
Romano, who had just missed making the Olympic team in the 800 freestyle relay, struggled to understand her friend's distress. She has a better handle on it now. London was such a peak experience that, "You're scared you're never going to feel anything like that again," Romano said. "I felt nothing I was doing was helping, but I'm glad I was there and had her trust."
There were other times Allison shut Romano out, too, pushing aside the dresses in her closet, sitting in a corner and pretending she wasn't there. Or moving her car so her roommates would think she was out.
Allison helped Georgia win the SEC and NCAA titles, graduated in December 2013 and returned to Bowman's group in Baltimore, but she went two years without qualifying for a major international meet. She wouldn't return Gail's calls and texts, or she would react defensively.
Fortunately for Schmitt, someone who understood was able to break through her isolation -- someone who had just hit his own nadir.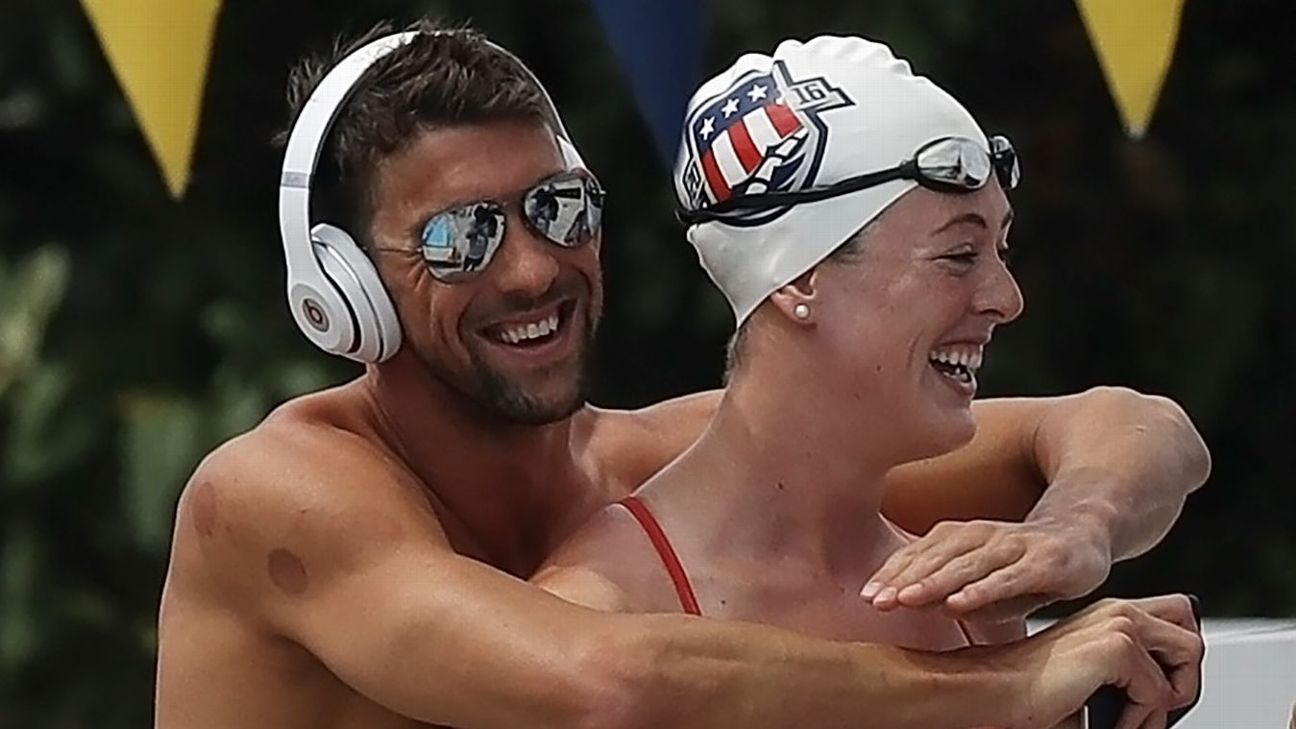 A newly humbled Phelps emerged from rehab in November 2014 after his second drunken-driving arrest. His driver's license was suspended, and so were his racing privileges. Allison picked him up every day on her way to the pool. He noticed she was unusually muted.
They function like siblings bound by years of affectionate teasing and obvious loyalty. Phelps was a two-time Olympian when Allison first showed up to train with Club Wolverine as a giggly, guileless 16-year-old.
Allison would entertain her new, older cohort by reading a joke of the day from a cornball book she brought with her. "She didn't have a care in the world," Phelps said. "If she went in and won, she was happy. If she did a best time, she was happy. If she got her butt kicked, she would come back to the pool and work 10 times harder."
Phelps sensed that Allison was struggling, but it wasn't until January 2015 at the Arena Pro Swim Series stop in Austin, Texas -- a meet he attended as a spectator a couple of weeks after Allison had white-knuckled the drive to Penn State -- that he said something.
By then, any minor curveball felt like a catastrophe to Allison. She fell apart when her competition suit ripped, and she snapped at Bowman on the deck. For one of the first times in her life, she didn't feel like racing. She swam a poor 400 freestyle heat and found herself in the blocks that evening for a consolation final.
Halfway through the race, she did a flip turn and quit.
"I was just like, 'F--- this. I don't want to be doing this,'" she said. "And I did nothing in the last 200. I get out of the water. Bob was standing there. He was the last person I wanted to see.
"Michael was standing right in front of him. And he stops me, and he says, 'Hey. I know you're not yourself, I know maybe you're going through things. I've been through a lot, and I'm here for you if you need help.'"
Allison cracked. She cried through her warm-down and kept sobbing when she climbed out, crossing her arms tightly around her chest. Bowman, Phelps and Keenan Robinson, the longtime high performance director for the training group, gathered around her by the diving board. "I remember everything clearing out and the lights going dim and just standing there, talking," she said.
Bowman was chagrined. Allison had called him a few times during her last semester at Georgia, sounding fried, but he had thought it was a passing phase. He had been trying to coach her out of a hole she had dug with two years of erratic training, talking at her, proposing fixes without really listening or looking below the surface.
"I really underestimated the depth of what was going on," the coach said. "That was when we really got aggressive about getting her help."
Allison was still ashamed and resistant. She began sessions with a psychologist in Baltimore, slinking into the waiting room hoping no one would see her, engaging in childlike avoidance. She'd fiddle with her keys and zone out, or she'd shield her face with a clipboard meant for paperwork.
She swam well at a meet that March and decided she would stop going to counseling. This had been a bad blip, she thought. She was fine.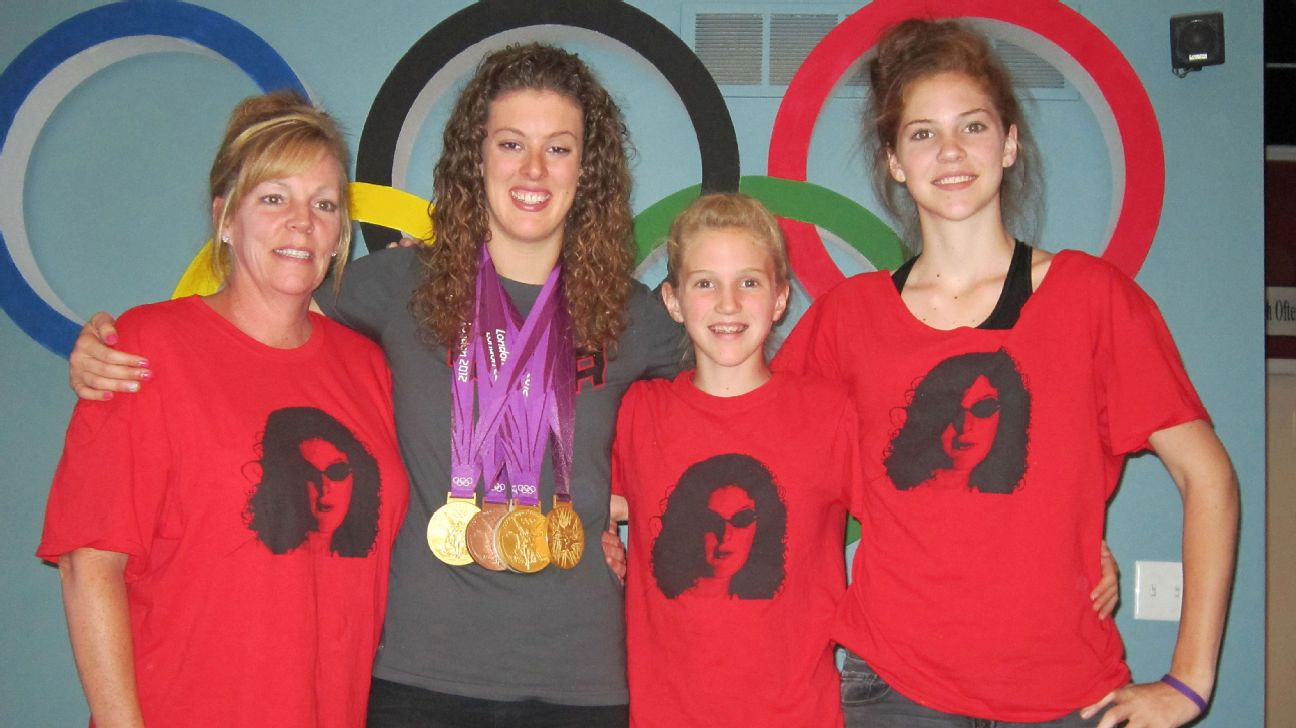 No one heard April Bocian's warning shot. She snuck her father's handgun out of its hiding place and fired it into a tree on her parents' 11-acre property in Mercer County, Pennsylvania. She wrote in her journal: You are so stupid. You almost killed yourself. God loves you. Love yourself.
April was stunning until the day she died, nearly 6-foot-4, with rich red hair tumbling around her shoulders, warm hazel eyes and an impish grin. She was a dominant center on an AAU basketball team and at her small private high school, Kennedy Catholic. Division I coaches began recruiting her as a sophomore. One of them was Michigan State University's Suzy Merchant, who brought a dark green Spartans uniform with her and let April try it on.
Teammates knew her as a vibrant spirit who danced around the locker room while brushing her teeth. She loved fashion and often wore bright yellow. And, like Allison, April brimmed with empathy, almost to a fault. After she blocked a dozen shots in one game, a family friend overheard her apologizing to the opposing star in the handshake line: I'm really sorry if I embarrassed you. You are a really good player. It's just that I'm tall.
But April's compassion was reserved for others. She wrestled with confidence and self-image and gave her parents few clues as to why. Once, as an eighth-grader, she wept uncontrollably while her mother drove her to school. "I don't know what's wrong," she told Amy. "I don't want to live."
She would be fine and then she'd withdraw, neglecting school, sleeping through her morning alarm. The Bocians tried counseling, a psychiatrist, a hypnotist, medication. Things came to a head in the spring of 2015. Amy and Tim told their daughter that they would do anything within their power but that she was the only one who could right herself.
This is what they recall or have pieced together about what happened next.
The afternoon of May 5, 2015, the week after her 17th birthday, April walked out of their house with her little black backpack. It held the gun, which she had handled at least once before, and a Fellowship of Christian Athletes Bible.
At 5 p.m., FedEx delivered a pale peach dress April had ordered for the prom.
At 6:36, Amy's phone rang. The name "April Bocian" appeared on the screen. Amy was relieved to see it. Then she heard her daughter's labored breathing.
April told Amy she loved her. She said she was in the back woods. She hung up.
The Bocians would learn later that April had then called 911, that the dispatcher had tracked her cellphone signal, that two paramedics had worked on the damage done by a gunshot wound to her chest. Amy and Tim and one of their other daughters, Blake, rushed to a field that bordered their property line, but police wouldn't let them through. A Life Flight helicopter landed nearby. They knelt and prayed.
Perhaps a half hour later, they heard the chopper blades slow and stop. There would be no need for an airlift that evening.
In the Bible that April took with her, the pages of Acts 16 were smeared with fresh mud. Her parents pored over the passages they thought she might have been reading. Amy read April's journal and tried pass code after pass code to get into April's phone. After 10 attempts, the screen went black and the phone reverted to factory settings.
Tim believes that April realized she wanted to live as soon as she pulled the trigger. He read a story about people who survived suicide leaps from the Golden Gate Bridge. "The instant they jump, they regret it," he said. "If everyone could know that and get it in their mind ..." His voice trails off.
He also believes her love of basketball is the main reason she stuck it out as long as she did. But Amy wonders whether the athlete in April cut both ways, glorifying an outsized pain threshold, teaching her to play through an invisible injury and putting her at risk.
"It's not just the kids that don't fit in or are in a weird group or don't talk to anyone or are too shy or aren't athletic -- it's not just them," Amy said. "Look at her. From the outside, she had everything."
---
Ralph Schmitt, Allison's father, picked her up at the Pittsburgh airport the day before the funeral. Allison had spent the previous night caved in with sorrow, slumped in a giant beanbag chair at Phelps' place as he and his fiancée, Nicole Johnson, and their French bulldog, Juno, hovered protectively nearby.
How did this happen? Why didn't I reach out? Why couldn't I have said something? I'm going through this too, so we could have talked about it. Why her? She's 17, everything in front of her. It could have gotten better in college.
When Ralph pulled into the driveway, Allison opened the back door, fumbling with her bag. Her father stayed put. Neither of them unbuckled their seat belts, as if they knew emotion was about to T-bone the parked car.
"Allison may not tell you something if you don't ask her, but if you ask her, she basically will tell you the truth," Ralph said.
He watched her in the rearview mirror as he asked: "Have you ever had those thoughts?"
"'Deep thoughts' or 'dark thoughts' or 'suicidal thoughts,' I can't remember," Allison said. "I'm pretty sure he was specific."
She stared out the window and answered: "Yes."
Saying that word was harder than the hours of downloading to Michael and Bob and Keenan, harder than the tortured shrink sessions.
"She burst into tears," Ralph said. His chest heaved, once, at the memory.
They sat, still buckled in, and talked for 15 or 20 minutes. "He told me it scared him," Allison said. "He told me he knew. I said something like, 'I'm fine now.' He said, 'How do I know that?'"
She blurted out reflexively, "'Cause I say I am." But April's death had shifted something in her. She wanted to be done with denial.
Allison was unprepared for the number of kids who showed up at the funeral and how profoundly they said her cousin had touched them. She waited in line to pay her respects by the open casket. April looked peaceful, her porcelain skin and lustrous hair intact. When the crowd dwindled, Allison circled back a second time. She kissed April's cheek and thought, You're not gone. I'll help you.
She asked to speak to Amy and Tim privately the next day. They listened as she sat between them and spilled out her thoughts. She felt her silence made her complicit in April's suffering. She was going to break that silence publicly. She had already texted her agent: I want to do something for young people and depression.
"She said, 'I haven't felt right for a long time. I've been battling something for a while,'" Amy said. "'And no one knows how dark it's been. I'm suffering from depression. But now I realize that I need to come out and talk about it and get help.'
"'I think that April probably felt a lot of the things that I felt and am still feeling, and if she would have known she wasn't alone, maybe she wouldn't have done what she did. I should have talked to her because I'm the older one. I'm her older cousin. I should have looked out for her.'"
Amy and Tim had decided to be open about April's death, and to give scholarships through a community foundation to keep her name alive. The stigma, that fear of being different and weak they were convinced had propelled April into the woods -- they wanted to start tearing it down brick by brick.
Allison had been hiding behind that same game face. "We just said, 'The thing is to try to help others, and start by helping yourself,'" Tim said.
Amy told Allison, "The first person April saved is you."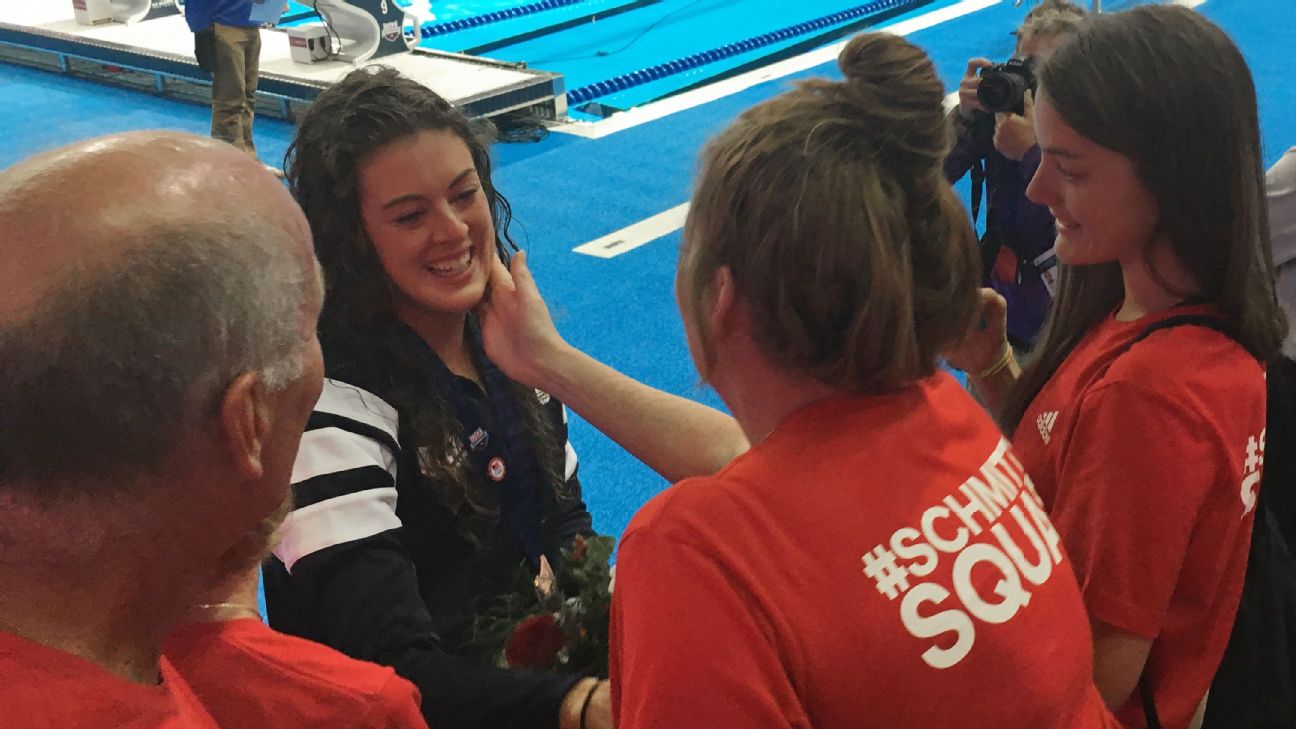 Allison gave her initial interviews about depression to The Associated Press and The Baltimore Sun within a few weeks. She spoke about it openly, confidently, when reporters brought it up at the Pan American Games that summer in Toronto, where she won gold.
She wore a bright red dress with lace cutouts to USA Swimming's Golden Goggles award dinner this past November in Los Angeles and was ready with a speech when her name was called for the Perseverance Award. She called for more structured post-Olympic mental health support for athletes.
Suzy Merchant, the Michigan State coach, said April's death shook her to the core and prompted her to organize a retreat for middle-school girls this past spring. "There's something I haven't been able to put my finger on," she said. "A trend among Division I athletes. You see them struggling with performance anxiety. Basketball used to be what they do. Now it's who they are, and if they're not living up to their expectations, they get overwhelmed. They go to a place where it's hard to help them."
In early February 2016, Allison appeared at a Michigan High School Athletic Association leadership conference in Lansing and sat next to a life-size cutout of herself -- a perfect, airbrushed version. She autographed swim caps and photos for a steady stream of admirers. Smile and dream BIG, she wrote. Love yourself.
She revealed her imperfect self later that day to a packed ballroom as she laid out the lessons of April's life and death.
"She could have been sitting here with you guys," Allison said, as hundreds of teenagers listened in complete silence, their phones stowed, riveted. "No one knew. She didn't tell any of her friends, she didn't tell her teammates she was in a dark place. She would walk out of the house, she would be bubbly, happy, loved helping out other kids, loved helping out other people. Was the star of the team, very funny, no one knew."
Her voice quavered, and her eyes filled. She kept going.
"She brought a crowd to her funeral -- no one here wants to bring a crowd together to be at your funeral," Allison said. "Because, if she could have seen how many people loved her, how many people cared about her, she would have asked for help.
"Me as a 17-year-old, me as an 18-year-old, me as a 20-year-old, didn't know how precious life is. I thought I was invincible. I thought if I walked across the street, any car would stop for me. We always need some help. I'm still asking for help. I still have to go see a psychologist. If any outsider sees me, they think life's perfect. 'You went to the Olympics. You've got medals. You're swimming professionally. You're getting paid to work out.' But if you look at it, everybody's got their own struggles, so make sure you reach out to someone."
As applause exploded, Allison darted to the back of the room where her parents and older sister, Kirsten, were standing with tears running down their cheeks.
"Did I do OK?" Allison said, her eyes wide and questioning, ever the people-pleaser.
She moved to the Phoenix area last year when Bowman took the head-coaching job at Arizona State University and shares a home with Phelps, Johnson and their baby boy, Boomer. Phelps remains watchful. He anticipated Allison would have a tough time during their altitude training camp in early May, the first anniversary of April's death, so he put it on his calendar.
He stopped her in the busy dining hall at the U.S. Olympic Training Center in Colorado and asked how she was. "I could tell from the way she answered that she was B.S.-ing me," Phelps said. "I was like, 'You can pull that off with a lot of people, but you're not gonna pull it off with me.'" People kept walking by them, carrying food. She told him how hard it was. He told her that was to be expected.
"I'm glad I was there to put my hand out, and I'm glad she accepted it," he said. "I honestly have never seen her like she is today. Accepting the emotions she had in her body, and talking about them and expressing them, really made a big impact on her."
An impact that didn't dent her essence. Allison still smiles easily and often and gravitates toward the positive, the lighthearted, the straightforward and the goofy. She likes to think about the last family vacation she and April had together, when they took paddleboards into the ocean off Nags Head on North Carolina's Outer Banks. Allison had a GoPro camera. She wanted a selfie of the two of them. She held up the camera and tipped and flailed and fell. When she popped her head out of the water, April was kneeling, trying to help.
By the time they recovered, the current had carried them away from where the camera had sunk. They dove and searched but never found it. "We didn't think of that, to look to see where we were," Allison said.
She would like to have the pictures. They would have been hilarious. They would have been poignant. The two of them were so familiar to each other, so alike, so good at masking what hurt. Allison Schmitt wakes up now resolved to keep others from drifting away.
Ford is a senior writer for ESPN.com and ESPN The Magazine.