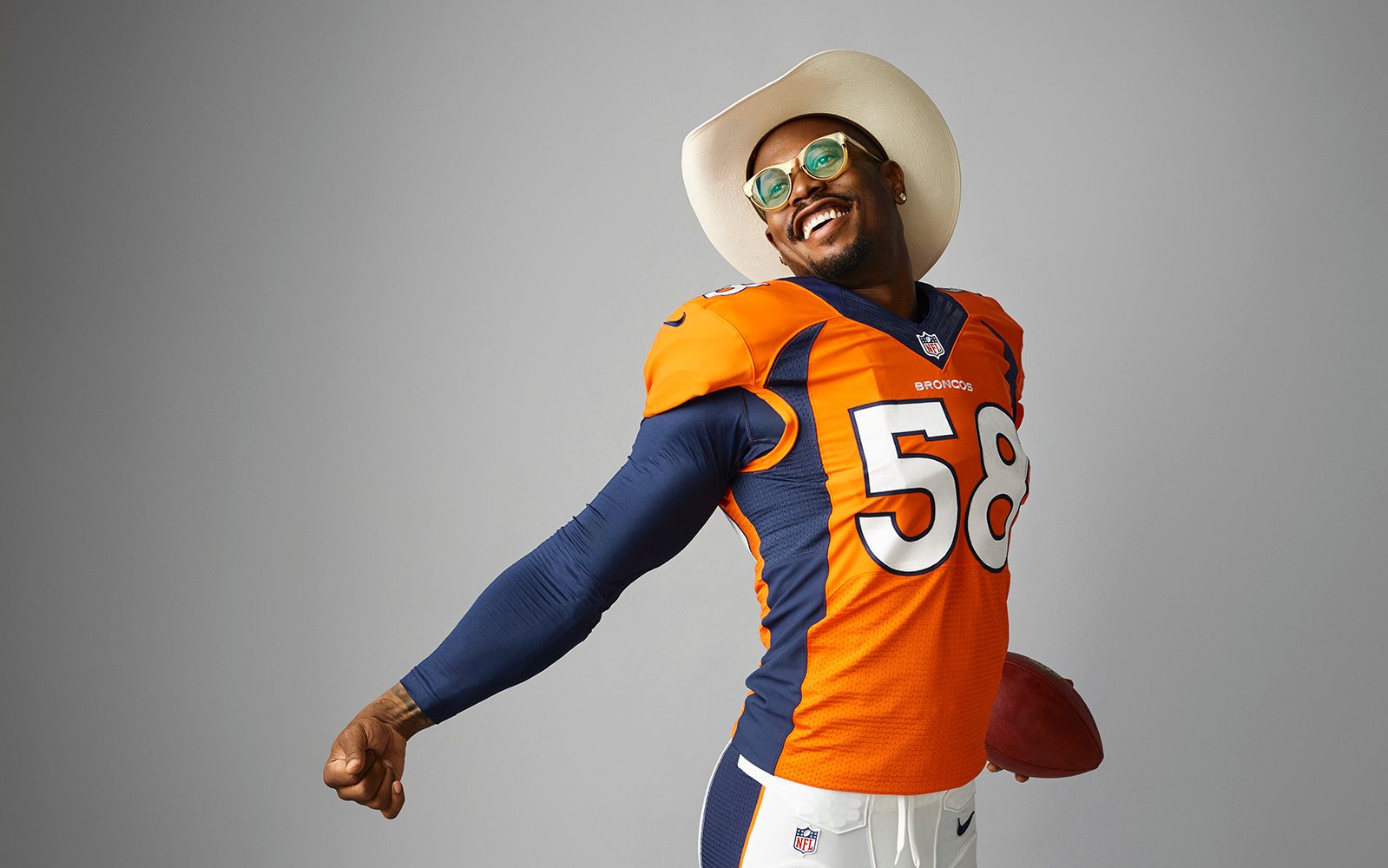 QB Money, QB Problems
Von Miller is carrying the Broncos. Can he handle the load?
On a lazy June morning, while most of the Broncos are at minicamp, Von Miller is plodding around the second floor of a mansion in Hollywood, his footsteps thumping like jackhammers. As I wait downstairs with his father, I study the house. There is a wine cellar, which is visible through a glass window in the floor, and a pool with an MTV Cribs-worthy view. Towels and bathing trunks are strewn on the deck. In the living room, there are empty pizza boxes, stubbed- out cigars and an abandoned hoverboard; a book about baby seals is cracked open on the coffee table. The scene hints at a mildly debaucherous night -- a 10-year-old boy's idea of a bachelor party.
Miller is spending his summer here, populating the glassy rental with an ever-expanding crew of friends. After a few minutes go by, his father turns on the television and a report about Aqib Talib getting shot in the leg flashes across the screen. Von Sr., who is soft-spoken and reserved -- basically the polar opposite of his son -- sighs. He tells me he often finds himself parenting the various young men in Von's life.
"Sometimes you need someone to tell you it's OK to make mistakes," he says.
Miller had moved to Los Angeles in February, a few weeks after putting up one of the greatest defensive performances in playoff history. You remember what he did. Tom Brady remembers. Cam Newton definitely remembers -- and so does John Elway, who stood on the stage beaming with Miller after the Super Bowl as confetti drizzled down.
The next few months were a whirlwind. Miller appeared on The Ellen DeGeneres Show, the Today show, The Chelsea Handler Show, The Late Late Show -- basically, all of the shows. He was eliminated on Dancing With the Stars after performing a salsa in an Elvis jumpsuit, with cape. He frolicked with models and hung with rappers, leading his crew on jaunts to Las Vegas. He won $300,000 playing baccarat one weekend, then lost almost all of it. He gained nearly 400,000 Instagram followers.
As Miller basked in the glow of his newfound celebrity, it seemed as if nothing could harsh his buzz -- except the fact that his football team, the one he had just carried to victory, didn't want to pay him what he believed he was worth. In the months after the Super Bowl, Miller's contract negotiations with the Broncos played out in the media like an ugly divorce. The star linebacker reposted a picture of himself and his teammates at the White House on Instagram and cropped out Elway; the GM said "that's too bad" when he was cornered by TMZ. Then in mid-July, the clouds parted: Denver agreed to pay Miller $114.5 million over six years, with $42 million guaranteed at signing. It was the biggest total reward ever granted to a defensive player. In the news release announcing the deal, Elway said: "Going forward, we expect great things from Von, not only on the field but with the responsibility he has as a leader on the team."
That's the challenge Miller faces as the Broncos attempt to repeat. In the wake of Peyton Manning's retirement, Miller has become the undisputed face of the organization. It's an unlikely role for the 27-year-old. He's an unrepentant goofball, an optimist and a fun-loving extrovert. He parties, which makes some people nervous because he was suspended three years ago for violating the NFL's substance abuse policy. He's never been captain and he doesn't play quarterback -- but he's making quarterback money, which comes with its own set of expectations. "If somebody pays you to do something, you've got to take up the responsibility and be the leader for the team," says veteran Denver linebacker DeMarcus Ware.
Back at his Hollywood mansion in June, though, Miller doesn't know he's about to become the highest-paid non-quarterback in NFL history. And he has no idea that his negotiations with the Broncos, which are keeping him away from team activities, are about to take a nasty turn. This morning, the only thing on his mind is a fishing trip with his father, who is waiting with me.
After an hour or so, Miller tumbles downstairs, dragging a backpack behind him like he's late for school. He grins, then flicks at a speck of shaving cream clinging to his cheek. "Y'all ready?"
---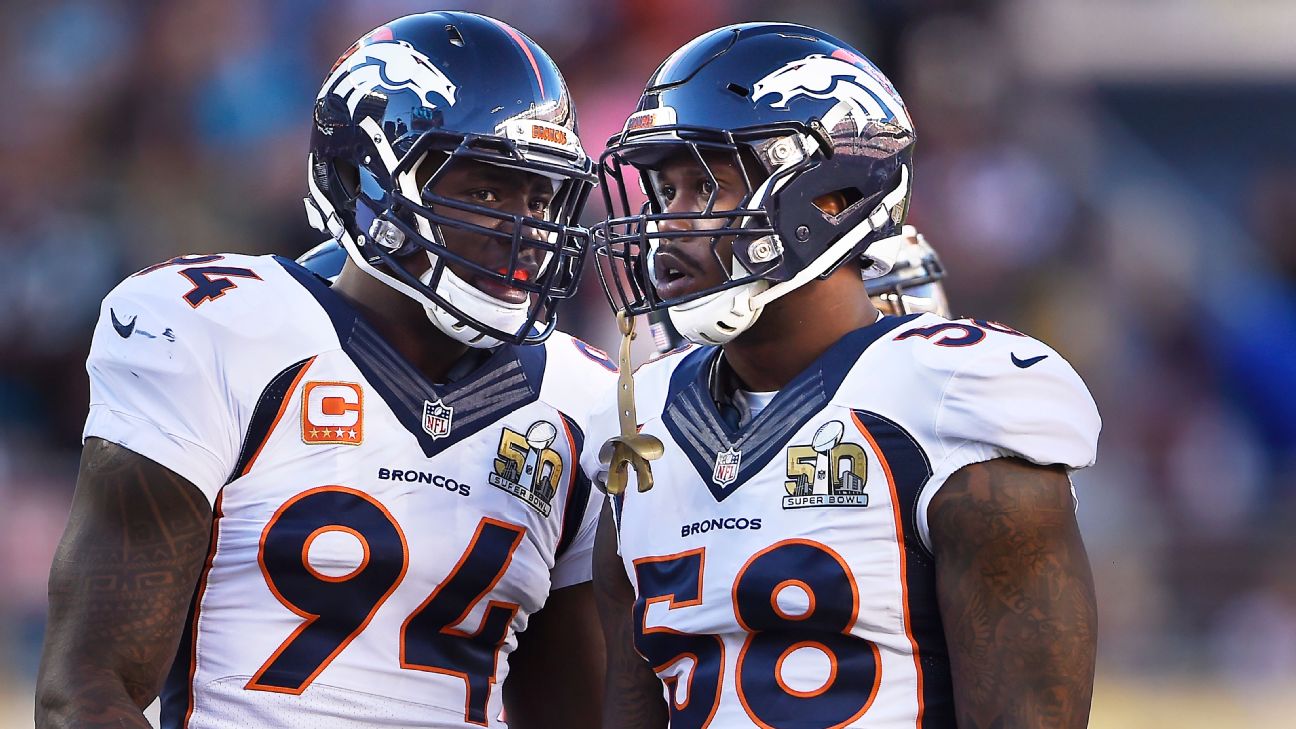 WE HAD MADE plans to drive to a lake about 80 miles north of Los Angeles, so we pile into an Escalade. Von Sr. climbs into the back seat and, in the tradition of dads everywhere, immediately falls asleep. The younger Miller rolls up his pant legs to show me his socks, which are printed with photos of a barn owl -- his spirit animal. "I like what owls stand for: intuition, knowledge," he says. The birds' faces are shaped like tiny satellite dishes, he adds, which augments their hearing. "They hunt at night," Miller says. "When the world is full of darkness, the owl is successful."
He leans back and crosses his arms, giving me a moment to process the metaphor.
It's well-known that Miller is a man of many esoteric passions. Lately, he's obsessed with time travel, which he assures me is definitely possible (his explanation, too long to fit in this space, involves traveling around the earth faster than the speed of light). He's a Game of Thrones fanatic. "Arya is my favorite -- she's ruthless," he says.
He loves -- like, really, really loves -- nature. Back in Denver, he owns a 300-gallon saltwater tank, which he stocks with sea urchins and crabs. "They're like so dope," he says. "My sea urchin picks up shiny shells on the floor and puts them on. ... It's kinda like sea urchin bling."
Not long after we leave Hollywood, Miller receives a call from one of his agents, Joby Branion. A few minutes go by. While he listens, I check my phone and notice that Miller's name is trending on Twitter. ESPN's Adam Schefter has just written: Broncos proposed 6-yr, $114.5M deal to Von Miller that includes $39.8M gtd in first 2 years, per sources close to Denver. No deal in sight.
It wasn't supposed to happen this way. Miller had done everything right. He'd scaled the walls of the NFL's tallest mountain and vanquished the dragon; there should've been a handsome reward awaiting him. Sure, $114.5 million sounded impressive -- but the Giants just paid Olivier Vernon, a defensive end with 29 sacks to his name, more guaranteed money. In just one more season, Miller has more than twice as many sacks as Vernon.
The difference, of course, is that Miller is negotiating under the dangling sword of the franchise tag, which precludes him from hitting the free market. But that isn't the only snag. Inside the Broncos organization, some question whether Miller has truly matured in recent years. They see how much fun he's having and how much money he's spending, and they doubt his ability to hold out. They believe in his rich talent but fear he is a risky investment.
When Miller hangs up the phone, he sighs. "This whole -- the whole thing," he says. "I don't know. I'm glad I don't have to deal with it every year." Though he insists he doesn't care what people think of him, he admits he's concerned about how they'll react to the blockbuster number. "The average fan sees the deal and says, 'Bro, you gotta take that.' They don't see, like ... if anything happens, they could cut me. They don't understand that."
Miller hates dwelling on this stuff. He'd rather talk about his interests, the quirky hobbies so widely covered in the media: animals, outer space, movies. He loves military flicks, like Lone Survivor. If he didn't play football, he says, he probably would've joined the Army or the Marines. He likes working in a unit, carrying out a shared mission. "I've got to have that bond," he says.
A few minutes later, Miller picks up his phone again and opens Twitter. I see him typing and peek over his shoulder. He's searching for his own name.
---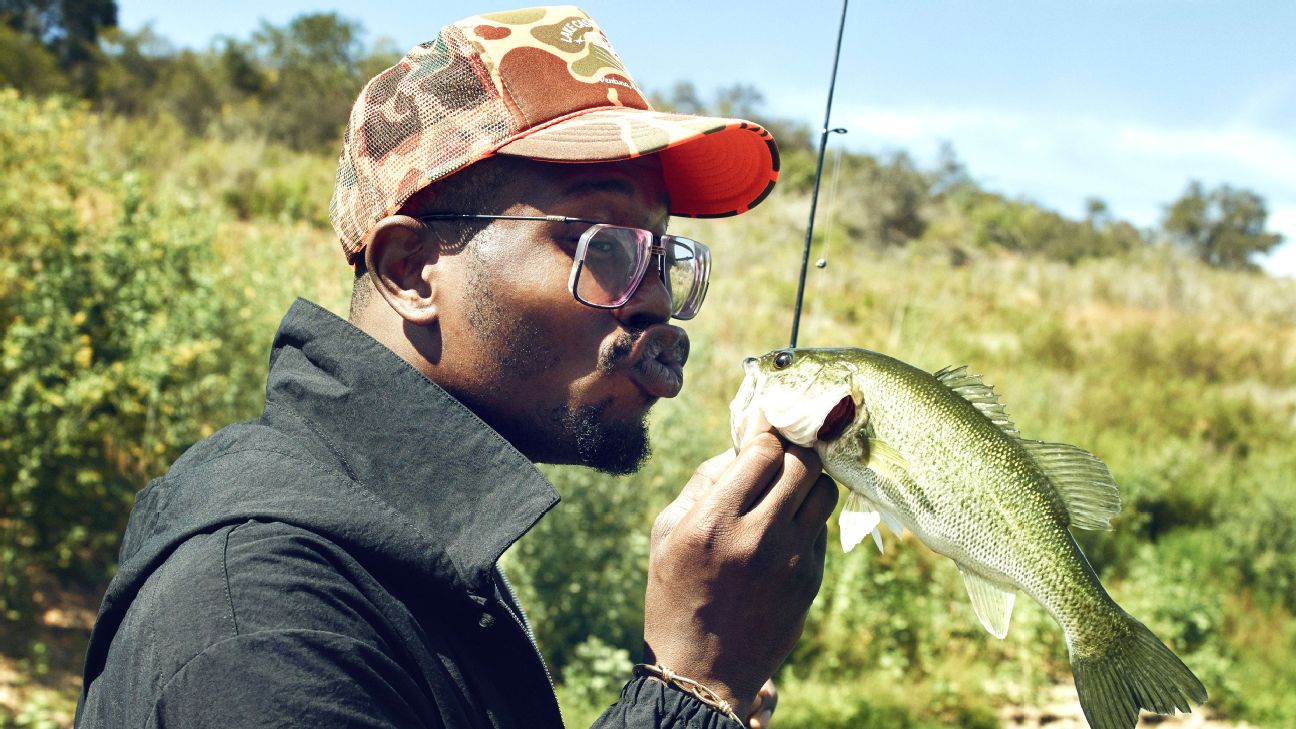 LAKE CASITAS EMERGES from the parched California hills. After miles of desert views, the lush greenery is startling; it feels as though we've reached the last level of The Oregon Trail. Before Miller jumps out of the car, he gets a FaceTime call from some teammates who are standing in the Broncos' locker room, bunched together in front of safety T.J. Ward's phone. They scream with glee when he appears on-screen. "When are you coming out?" Ward asks. It is the second day of camp.
"You know I'll be there," Miller replies, a little weakly.
When we climb on board our rented boat, the guide hands us poles and bait, and we speed toward the center of the lake. Miller grew up in DeSoto, Texas, fishing and hunting on his family's property. "I honestly learned how to shoot before
I learned how to read and write," Miller says. Because he has serious asthma, his mother, Gloria, used to pack his nebulizer in her Suburban on his Boy Scout troop's camping trips. "She had a generator, and she'd run the cord all the way to the tent so I could get treatments at night," he says.
Miller's body has always been a physical paradox, freakishly strong but also vulnerable in surprising ways. In addition to his asthma (he stashes an inhaler on the bench during games), he is allergic to grass, which is why he sometimes wears long sleeves to practice. He's effectively blind without his glasses. Miller refused to wear contacts for years, so his mother would have to wedge his spectacles through his face mask before games.
Miller admits that his father and mother, who run a power supply company in DeSoto, spoiled him when he was a kid. They were active parents -- sometimes a little too active, he says, laughing as he admits that his mom used to make his science fair projects. Gloria indulged all of his hobbies. When he started running track, she bought him fancy sunglasses and spikes ("I'm 14 years old, looking like Michael Johnson," he snorts); when he developed an interest in Pokemon, she bought him a $500 Charizard holographic. He's still got the card preserved in a case back home, along with the rest of his collection. Blastoise, a blue tortoise, is his favorite. I ask him if it's like Squirtle, another tortoise, and he gently corrects me. "It's Squirtle, but evolved."
Miller has maintained the same inner circle of friends since junior high. When he was picked second overall out of Texas A&M in 2011, they flew with him to New York for the draft. One of his friends, Tony Jerod-Eddie, says Miller skipped the official party that night to hang out with his crew in a hotel room. They stayed up all night, drinking and reminiscing about Texas. "We're almost never apart," says Jerod-Eddie, a defensive tackle for San Francisco. "We're pretty much attached at the hip."
In truth, Miller admits, "I don't like to be by myself." Growing up, he slept in the same bed as his younger brother, Vins, until he was in eighth grade. He imports friends every week to his pad in Los Angeles, and he lives with Broncos cornerback Kayvon Webster in Denver. He turned his basement there into a man cave called Club 58, giving his teammates pass codes to the door so they can visit at all hours. The bar seats were designed specifically to accommodate the wide posterior of 355-pound defensive tackle Terrance Knighton, a former teammate.
Miller's friends and teammates adore him. It's evident from the stories they tell: how he texts them every day, how he rushed back to Denver on a Southwest Airlines flight for Manning's retirement ceremony. "Von is a fun-loving, charismatic person. People gravitate to him," says Mike Sherman, who coached Miller for three years at Texas A&M. "He wants people to like him. He doesn't want to disappoint anyone."
Sherman famously suspended Miller from the school's spring game during his sophomore year. He says the young linebacker had trouble focusing on his work, on and off the field. (Miller almost transferred, then returned for a breakout season.) These are the perils of Miller's aversion to solitude, Sherman says. People are drawn to him, and he has trouble blocking out the noise. "There are distractions in his life because of who he is -- he's everything to everybody," Sherman says. "He's gonna try to help people. That can be a weakness sometimes. But it's also a strength."
---
WE SPEND A couple of hours drifting under the boiling sun, waiting for someone to catch a nibble. Miller tries to ignore his buzzing phone. Then, just when it seems like we should turn around, Von Sr.'s pole quivers; he jolts out of his seat and furiously reels in his line. His son, who has yet to catch anything, shakes his head when Von Sr. struts past him with a largemouth bass in hand, the fish wriggling like Miller after a sack.
Miller noticed that his dad used a worm as bait, so he brings in his own line and hooks on a night crawler. "Monkey see, monkey do," he says, grinning. "It's a copycat league." After another hour goes by without a catch, we head back to shore.
At the dock, a small group of strangers is standing by the water, waving at us like we're passengers on a cruise ship. One of them is wearing a Von Miller jersey. When I wonder aloud how they learned about his whereabouts, Miller reminds me that he posted a Snapchat of the lake earlier that day. He hops off the boat and mugs for a few pictures with his fans -- "This is the best thing that ever happened to me," one squeals -- before climbing into the Escalade.
We cruise for a while in drowsy silence. Then, as we near Los Angeles, traffic grinds to a halt. As we inch forward, creeping along at a pace that must seem awfully slow to a man who hurtles toward quarterbacks like a wayward asteroid, I ask Miller if he ever feels misunderstood by fans. "I think people think I go through life like ... arrgh," he says, making the face he does for photos, best described as a genial bulldog. "That I'm not cerebral."
He wasn't popular, he adds, as a rookie. "Nobody liked me," he says. "Everybody laughed at my jokes at A&M. In Denver, I'd say a good joke and everyone would be like ..." He wrinkles his nose.
Eventually, his teammates came around. The first one to befriend him, he says, was Elvis Dumervil. The veteran defender taught Miller how to dodge offensive tackles, speeding off the line and then dipping down and around. He mentored him off the field too, giving him advice over dinners at his house. Then, in March of 2013, Dumervil was involved in one of the weirdest business blunders in NFL history. The Broncos cut him when his agent reportedly faxed his new contract to the team minutes past its deadline, saving more than $7 million.
Without Dumervil there to center him, Miller started to spin off his orbit. Whispers about his partying and marijuana use rose to a crescendo. Reports that he had violated the league's drug policy came out in July 2013. A month later, the standard four-game ban that was announced was mysteriously increased to six games, reportedly because he conspired with the tester to tamper with the urine sample. Around the same time, he was arrested for failing to appear in court on a traffic ticket (he did community service and paid a fine). Miller was miserable. He reported to the Broncos' facility throughout his suspension; watching his teammates suit up every day, he was consumed with shame. He grew distrustful of the media. "They wanted to see me down," he says. "I would still laugh and be loud and play Connect Four and they'd be like, 'Von -- he doesn't get it.'"
Throughout his suspension, Miller says, aside from teammates, he spoke regularly with only one person in the Broncos organization: Elway. At one point, the GM called him into his office and delivered an ultimatum. "I remember him telling me, 'If you don't want to play football, leave. Don't do it. Don't waste my time.'"
Miller looked Elway in the eyes and swore he would make things right.
His parents and his brother, a chef, moved in with him in Denver. His agents hooked him up with a life coach. "It was forced on me," Miller says. "I thought, 'Man, why should I tell him everything -- he ain't ever been here.' He had never even talked to athletes." Over the course of a year, Miller spoke with the coach every two weeks. "I hated those conversations," he says. "But looking back on it, it was like, 'Jeez -- this guy really helped me.'"
I ask him what he learned. "Perception," he says. "If you're suspended ... you don't need to go to the club. There's nothing wrong with it. But you can't be there and say I'm not worried about these people. These people are the ones giving you endorsement deals and bringing you into their football team."
The point, Miller continues, isn't that it's unethical to go out at night, or even smoke marijuana, or to do any of the things a 27-year-old does on the weekend -- but that perception matters. "You can't be smoking," he says. "You gotta fill that void with something else. In 20 years, when it's legal in all 50 states, it won't be a big deal. But for now, it's bad to the average person ... who don't really know s--- about s---."
So he's willing to play along with the league's rules. But that doesn't mean he thinks they're fair. "The NFL endorses alcohol every day," he points out.
"Von is a fun-loving, charismatic person. He wants people to like him. He doesn't want to disappoint anyone."
- Mike Sherman
Since his suspension, Miller has maintained a spotless record. He's taken repeated drug tests for two years, becoming the first player to clear his slate under the league's revamped policy. He's stayed out of trouble. He's done everything right -- which is why it raised a few eyebrows when, about two months after the Super Bowl, TMZ reported that Johnny Manziel, who had recently been accused of hitting his girlfriend so hard her eardrum ruptured, said he was moving in with the MVP.
Miller, who knew Manziel from his A&M days, says he had good intentions. "This year, I felt like I was in a place where I could shed some positive light on him," he explains. "I have a blueprint, it worked for me." He had a plan: The two athletes would live together, do two-a-day workouts, even hire a chef to cook healthy food. But that plan ended when the public caught wind of the arrangement. Still, he insists that Johnny -- who is awaiting trial for a domestic violence charge -- will be fine, regardless of whether he returns to the NFL. "F--- football," he says. "If you don't want to play football, don't play football. It's not that big of a deal."
Miller says he has tried to pass along his life coach's advice to his friends. "The same stuff he told me, I tell Johnny. And Josh. And Martavis," he says. (Gordon and Bryant, like Manziel, have been suspended by the NFL for substance abuse violations.) "Honestly, I don't know how you gain somebody's trust to get them to take your advice. I've tried ... but they don't retain it like I did. I guess you gotta really want it."
When we arrive back at his house, the sun is beginning to set. We walk out to the pool, and he points out that Leonardo DiCaprio has a mansion nearby. "It's super dope," he says, a hint of reverence in his voice. I ask him whether he sees himself in Hollywood in the long run, and he gazes down at the city in silence for a minute, the twinkling lights reflected in his glasses. "If we win another Super Bowl and another reality show wants me, I'll come back," he says. "But now? I'm ready to go back to football."
---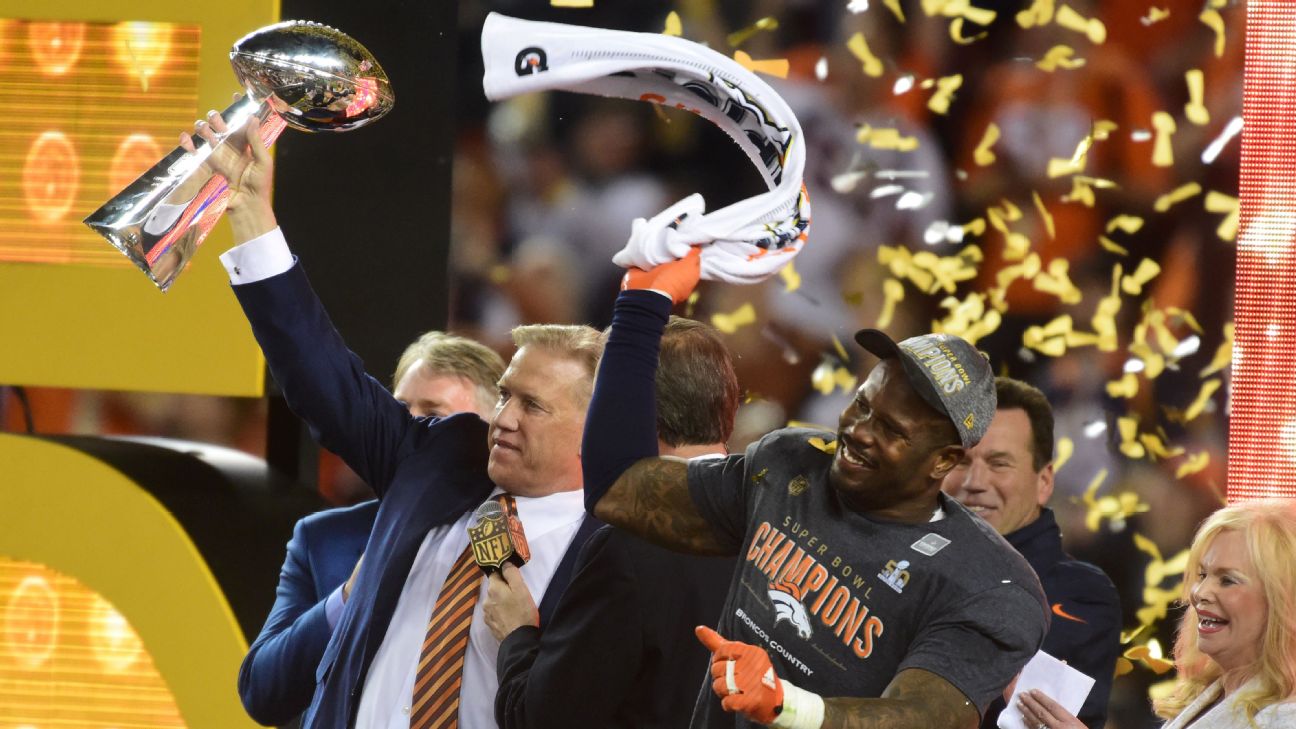 EVERY NFL OFFSEASON contract battle follows the same arc. Both sides push and pull, then leak and deny; both sides hate each other, until they don't. When I speak to Elway in August, he's ready to give praise. He says he felt comfortable investing in Miller, whose reliability the team had privately questioned, because he was impressed by his emotional growth. "There's no question that for him to be where he is today, there had to be steps taken maturity-wise," Elway says.
He adds that while he doesn't think the sixth-year veteran will "get up in front of the team and give speeches all the time," he does expect Miller to assume a new role. "Guys look up to guys who make that kind of money and expect them to be leaders," Elway says.
After training camp starts, I call Miller and ask whether he feels burdened by his new responsibilities. He says he already saw himself as a mentor and that his personal battles might allow him to help other players. "I believe that I can tell them my story and let them learn from it," he says.
He has seen a lot in his 27 years. He carried ungodly expectations coming into the NFL and somehow surpassed them. He disappointed people along the way, then fought to win them back. Before he was a hero, he was a pariah. He'll never forget how that felt.
I ask Miller whether he's anxious about stepping into Manning's shoes. "That's never gonna happen," he says. "All I can do is be me." He doesn't describe himself as a natural leader. Instead, he says, he possesses a "natural ability to be a great teammate" -- which sounds like a cliche but makes sense coming from a man who draws so much love, energy and comfort from the people around him. "I like to bring a lot of positive energy and just be myself," he says.
"It's been working so far."
Kimes is a senior writer for ESPN The Magazine.