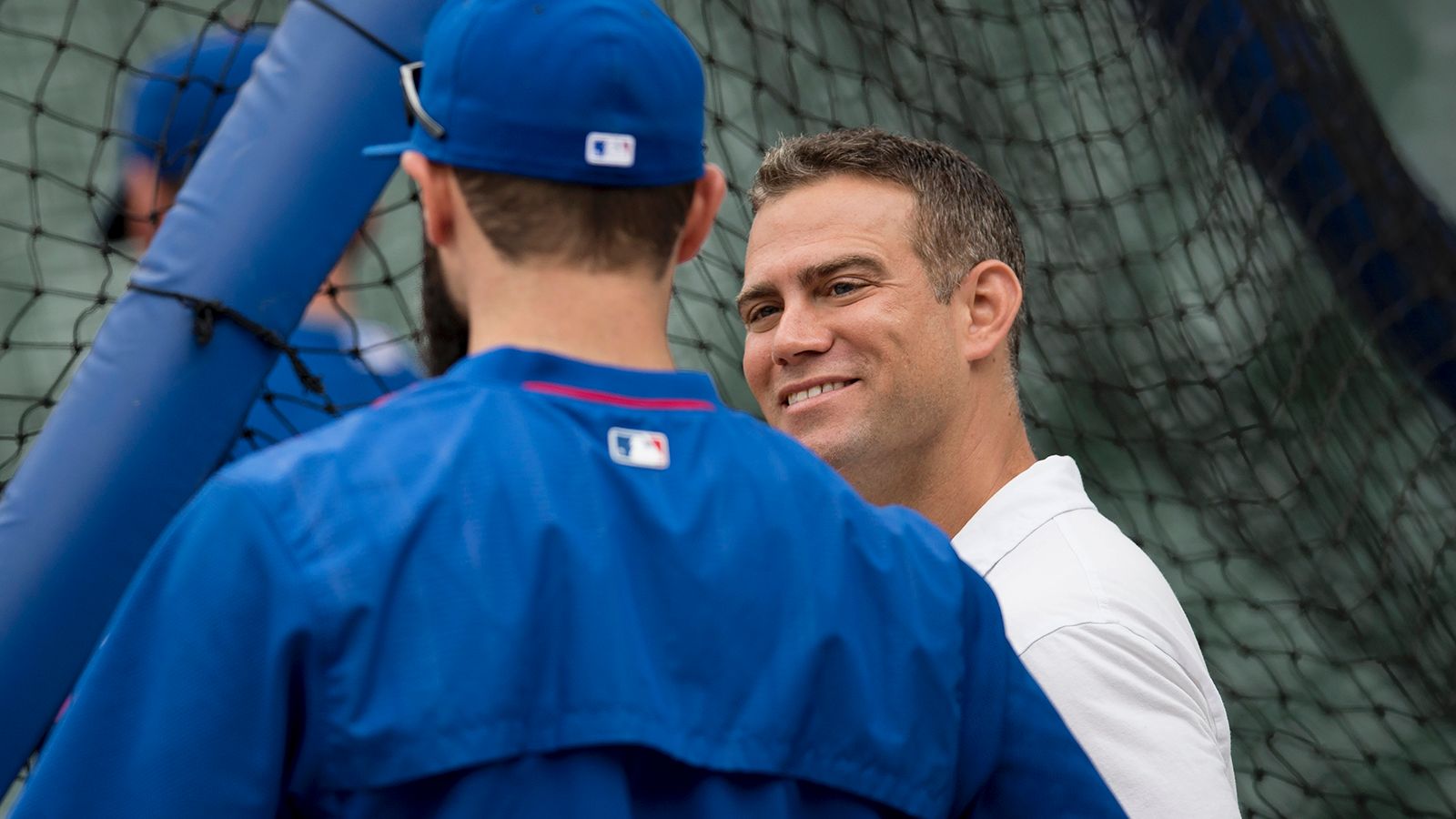 The Mastermind
Theo Epstein walks to and from Wrigley, eats lunch in the empty bleachers and wants Chicago to see the ivy turn red in October. The Cubs president may be nearing middle age, but his love of the game is shining through more than ever.
Editor's note: This story contains explicit language.
Theo Epstein's got a finger bleeding on his pick hand.
There is blood on the strings and the fretboard, and he keeps hammering away on Pearl Jam and Led Zeppelin covers. He's sitting on a small orange amplifier, playing loud and fast. It's 1 in the morning in late August in the Cubs' players lounge beneath Wrigley Field, and he's got a half-cocked smile and his leg kicked out, about to do one more song before heading home. Pearl Jam finished a show at Wrigley two hours ago and the beer buzzes are wearing off. His wife, Marie Whitney, rolls her eyes at his rock star pose. She's earned a Harvard degree, and killed a scorpion with a shovel, in a rented spring training house, so she clearly doesn't take Theo's shit. Nobody here does. The room holds a mix of Theo's friends from Yale, San Diego and Boston, the people who've known him for 20 years, long before he became a boy wonder now slipping into middle age. Some guys take turns at Pop-a-Shot or air hockey, while a few sit in the big comfortable recliners and watch sports highlights. Theo plays the opening riff to "Better Man." His friend Sean leans into a microphone and starts to sing, and soon everyone in the room joins him. Theo hits the chords hard as the chorus approaches, and his grin, with the little gap between his teeth, makes him seem a lot younger than 42.
It's been a really good night in a summer full of them. His favorite band growing up was Pearl Jam, and today he watched the group play in what is essentially his office. He managed to stay in his seats, Row 10, right in front of the soundboard, until the first few bars of "Even Flow." Then he worked his way to the front, almost getting his friends onto the stage at one point, finally ending up in the pit. Twice a security guard shined a flashlight at him to get him down from the riser he used to better see the band. He held a beer cup in his teeth and cupped his hands behind his ears to make the music louder. From time to time he turned around and looked at the crowd, packed in every corner of the ballpark, bathed in the lights from the stage.
Eddie Vedder came out for an encore wearing a Cubs jersey. He thanked the team's management and "my great, great friend Theo Epstein." Theo's friends patted him on the back, and Theo raised his hand high in the air and gave devil horns as thanks. Three of Ron Santo's kids walked onto the stage. Vedder said what a gift it was for him, a lifelong Cubs fan, to play Wrigley Field during this magical season. Then he began strumming the song he wrote about the team. Theo and his two friends put their arms around one another, swaying to the music, and they all sang the chorus as loud as they could: "Someday we'll go all the way!"
---
EPSTEIN WALKED HOME from the show through the dark streets of Wrigleyville and Lakeview. He walks to work every morning too, whether it's the dead of winter or Opening Day or the first playoff game. Most of the easy stroll from his house to the ballpark is through a quiet neighborhood. When it's really hot, kids on his corner set up a lemonade stand, 50 cents a cup. Most people don't recognize him with his baseball hat pulled low, one of the most famous sports executives in the country, the man who embraced the culture of analytics to finally bring a title to the Red Sox. When he got that job, at 28, he was the youngest general manager in baseball history, and in the 14 years since, he's built a reputation as a kind of championship whisperer.
It's seven blocks to his office.
Inside there is a window separating the baseball operations world, run by Theo, and the rest of the Cubs' business side. Sprawling formulas and equations fill the glass, straight-up vector-calculus-looking madness, which is exactly what everyone expects to see in Theo Epstein's office. Except it's all a joke, just fake numbers dressed up with sines and cosines.
"It's meaningless," Theo says, laughing.
Epstein knows how others see him, and he's self-aware enough to both understand his reputation and mock it. His friends are always baffled at his image as a cold exploiter of markets and inferior systems. One night this summer, the owner of the team, Tom Ricketts, held court at a charity boxing match and explained that few people are as different from their public narrative as Theo: He gets painted as a quant, while his attachment to baseball is actually deeply emotional. When the team is on the road, or playing a home night game, he sometimes brings his lunch to Wrigley just to eat in the empty bleachers. He loves how the ivy turns bright red at the end of October, which most fans don't know because the team has never played in Wrigley that late in the year. He loves the changing seasons, and quoting both Dazed and Confused and Othello, and reading the Russian writers whose dramas play out inside the psyches of their characters. He read Crime and Punishment once in high school and again in college -- and he feels that those kinds of internal struggles are authentic to his own, which isn't against his environment (upper-class Jewish) or his station (intellectual Brookline, Massachusetts) but rather against the things inside his own head, cycles of guilt, passion and redemption. The main battle he fights is against himself. "If I let my brain follow its path unfettered, it would be kinda ugly," he says. "I learned simple mental health things: self-talk, breathing."
His public mission is simple and well-known: Break another curse. But privately, he came to the Cubs for something personal and nearly as important, which he doesn't talk about. In Boston, he lost control of his obsession, the belief that a collective of people can do one thing better than it's ever been done. At the very end, he became a shell of the person who fell in love with the game, stress turning into physical symptoms, like a neck that hurt so bad he couldn't turn his head more than a few degrees. His friends saw how the job changed his face. That's what they talk about when describing the cost Theo paid, how he looked different. "There is definitely at times a hollowness to him that drives him," says one of his old Red Sox co-workers. "There's some black pockets with him that are just dark. When he's down, he goes to extremes."
During the Red Sox's famous chicken-and-beer collapse, he couldn't sleep. Staff members made jokes about waiting on the sun to rise, mocking their own despair. But on a few bad nights, when things felt bleak, Theo would wander the internet, lingering on macabre things like air traffic controller recordings from plane crashes. He knew he needed to leave Boston, to start fresh, no matter how the collapse made the exit look or feel. "I hated I was seen as running from the collapse," he says, "but I guess on some level, I was running from something."
He arrived in Chicago to rebuild a franchise -- and part of himself too.
---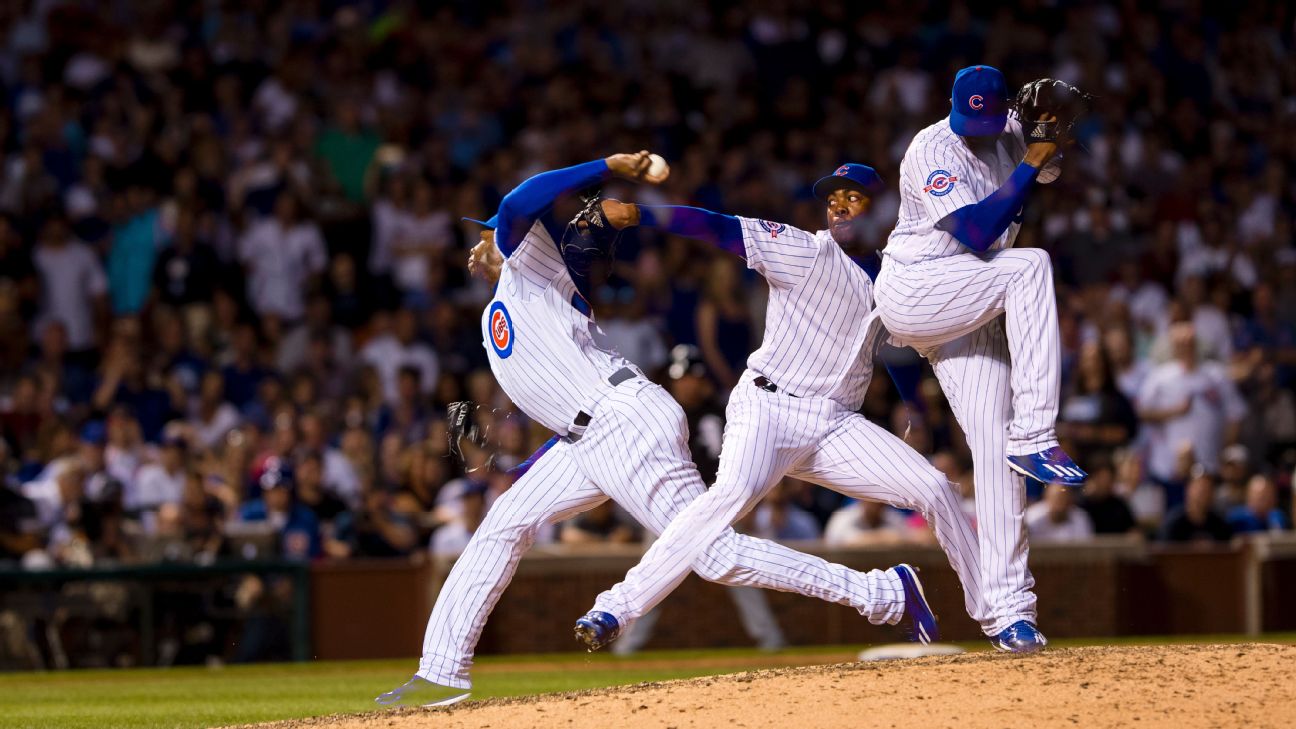 THE REBUILD IS nearly complete, and the marching order for the 2016 Cubs baseball operations staffers is written on their conference room wall in huge letters: Find Pitching. Over the past four years, they've assembled great position players, trading for Anthony Rizzo and drafting Kris Bryant. While they were planning for the future, the actual team stunk, losing 101 games in 2012. Epstein and his brothers-in-arms Jed Hoyer and Jason McLeod -- who all have tiered job titles but operate as a politburo -- sat in their suite, which has a bank of televisions and half a dozen remote controls scattered about. While the big league Cubs got killed down on the field below, they watched the Cubs of tomorrow dominate in the minor leagues on those TV screens. Some nights, giddy about the future and about to go down into a losing clubhouse, they had to remind each other: Don't act too happy.
A season like 2016 is why Epstein got paid nearly $4 million a year to move from Boston, bringing up two MVP candidates through the farm system and getting seven players on the All-Star team. The Cubs have the best chance of any team to win the World Series -- even if those odds aren't great. Theo had his people run statistical models on their chances, and the answer was less than 1 in 5.
To make a real postseason run, the team needs to use the trading deadline to find more pitching. And so Theo takes over a small space in the ticket sales office for the last week of July, turning it into a war room. The first trade brings reliever Mike Montgomery from the Mariners, a needed lefty. Less than an hour later, Epstein heads to the South Loop for a party thrown by Joe Maddon, and then across town for sushi. His friend and co-worker Colin Faulkner drives. As they get into the car, a drunk Red Sox fan opens Theo's door for him, ushering him into his seat while slurring out a thank-you for 2004. When Colin puts it in gear, Theo takes out his phone. Find Pitching. It's 9 p.m. on a Wednesday.
"I gotta call our pitching coach real quick," he says.
He dials Chris Bosio's number.
"Boz?" Theo says, followed by nearly two minutes of silence as Bosio describes that night's Triple-A game. Colin drives south on Clark Street, then underneath the El tracks, past the LaSalle-Van Buren stop, where a train click-clacks overhead. They pass the Americana Submarine shop while Bosio explains the situation: Veteran reliever Joe Nathan, trying to make it back to the big leagues, is pitching what amounts to an audition in Triple-A. The Cubs want him to stay down for another outing.
"Just tell him one more," Theo says to Bosio. "If it's bad, we'll probably cut bait rather than waste a roster spot. I think one more is fair."
Theo hangs up as Colin drives over Lower Wacker, turning to cross the Chicago River. They're near the restaurant when Epstein calls assistant general manager Shiraz Rehman to tell him what they've decided about Nathan. Rehman doesn't answer, so Theo calls Scott Harris, who just turned 29, the youngest one in the inner circle. These guys talk to each other more than they talk to their families.
"Hey, what's up?" Theo says. "Hey, I'm gonna conference Shiraz in ..."
He calls back Rehman, who picks up this time. "Shiraz," he says. "I got Harris on too, who I called after you didn't answer. Harris, you there?"
Shiraz apologizes. Theo laughs. "Nah," he says, "no problem."
He pauses.
"Well, dogs need to be walked."
He pauses again.
"Just a missed opportunity for a major league club trying to win the World Series," he says.
He laughs again, then leaves a final pause.
"Nah, I'm just kidding," he says, although people who've worked for Theo say his barbs always come with a little sharp, truthful edge. His point tonight is pretty clear.
Pitching first, then the dog.
---
ONE OF HIS friends lovingly describes Theo as a "dick," which covers a multitude of behaviors. Epstein creates a movable locker room wherever he goes, where the most valuable currency is the ability to give shit, and to take it. After a game at Wrigley this summer, he walks across the street to the baseball operations office. The room is full of proprietary information, which the Cubs closely guard. "The only thing that is on the record in the whole office is that picture of Jed up there," Theo says, pointing as everyone laughs. Hanging high on the wall is an enormous photograph of Jed Hoyer posing in a field, in front of a turquoise pickup truck, with another man. Their feet are kicked back, like they're about to kiss in an Audrey Hepburn movie. It's Jed and his brother-in-law. They married twins, who'd posed for the same photo moments before. Jed did it as a joke, and it hit Facebook or Instagram, which meant Theo eventually saw it. Now it's blown up on the wall.
Theo's friends love to tell stories -- stories that define him to them as strongly as his use of data does to baseball fans. When the guy who wears the Cubs mascot costume started taking his job a little too seriously, Theo stole the head and then took a series of dirty photographs. In 2004 during spring training, he put laxatives in a bowl of hummus. The young guys knew to stay away from any appetizers Theo brought to the rental house, but an old baseball hand dug in and paid the colonic price. Nearly three years ago, he and a bunch of guys celebrated Hoyer's 40th birthday at one of their favorite Chicago restaurants, called Girl and the Goat. Once the evening got the better of them, Theo climbed the tall rotating neon goat in the place, nearly falling, cutting his right shoulder in the process. He posed for pictures with his wound, laughing at the imagined headlines: "Cubs President Felled by Curse of the Goat."
Now, after getting his dig in on Jed's photo, he sees one of his youngest employees wearing green slacks. Theo grins, pauses and then says, "He's waiting to win the Masters to complete his suit," and everyone laughs, including the butt of the joke. The one-liners are always pointed and often baseball-nerd specific. In 2002, Adam Grossman, currently a Red Sox vice president, wanted to make a good impression on his first day of work. He wore his best college-frat-guy clothes, complete with trendy loafers, and introduced himself to Theo by the batting cage. They shook hands. Theo looked down at Adam's feet.
"What would John McGraw say about those shoes?" he deadpanned.
Later that season, he stood on a desk and performed a dramatic public reading of the earnest cover letter Grossman wrote to apply for his job, leaving Grossman wanting to crawl beneath the floor. Hoyer had to come in behind Theo and make sure the kid was OK.
When Theo is mad, he likes to break stuff. Back in Boston, they all remember one night after a tough loss when he waved around a driver in the office. He set up a ball with the intention of crushing it down a narrow corridor, either into an empty office door or, better yet, shattering a window. With folks crowded around, he gave it a go, and the ball hit a concrete pole, then caromed at an impossible angle ... straight into the forehead of Ben Cherington, the VP of player personnel. They heard the moans first. Blood gushed from the wound. Minutes later, Theo went outside to meet Ben's irate wife, who'd planned on picking her husband up that evening to move stuff to their new house. "Don't be mad" is how Theo opened the conversation. Later, he signed the golf ball and gave it to Ben as a joke.
"He can't shut off The Theo," Grossman says.
---
NOBODY IN BOSTON took more shit than Amiel Sawdaye, who came to the Red Sox in 2002 and is now a vice president of scouting. Sawdaye gave it back harder than anyone else, sometimes literally trading punches with Epstein, wearing the boxing gloves they kept in the office to blow off steam. Around the time Epstein was moving to Chicago, Sawdaye sold his house while buying another that wasn't nearly ready for a move-in. His plan was to take his family to spring training, but a medical emergency with one of his children ruined that plan. He didn't have anywhere to live, so Theo waited to sell his and Marie's place in Boston so Sawdaye and his family could room for free. Despite the pranks, Theo is often thoughtful and generous. Once, Epstein sent a banner of Kris Bryant, which had been hanging on Wrigley Field, to Bryant's father. When a roving minor league consultant, Mike Roberts, lost his wife of 46 years, Epstein invited him on the road with the Cubs -- his first time ever traveling with a big league club, after a lifetime in the game -- and the players' wives and girlfriends made sure to deliver food when Roberts was at home.
"If I let my brain follow its path unfettered, it would be kinda ugly."
- Theo Epstein
He's always had a deep sense of empathy, of knowing what other people are feeling. For most of his life, he's reflected the energy of the room he's in, able to shape-shift, or more accurately, not able to not shape-shift. If he's talking with Kevin Millar or John Lackey, he can be just as filthy as the crustiest big league ballplayer. With rock stars, he can talk eloquently about the challenges and risks of fame, or really get into discussions of gear. With analytics experts, he can go deep on simulation methodology. He can talk Nantucket real estate with millionaires, yachts with billionaires and reality shows with the interns. "I don't think I'm a chameleon," Epstein says one night. "I can feel where people are coming from, what makes them tick, where they are vulnerable, what makes them feel good about themselves. I get just as much out of it as they do. I love connecting."
It began in part at Fenway, he and his father and twin brother, Paul, often walking to the park for games. Theo not only remembers but still inhabits those long-ago moments: his dad holding his hand through Gate A; the sound of the creaky turnstile; the smell of the brown-mustard packets, the dirt, the grass. Leslie Epstein let each boy pick three things from concessions, either spread out or all at once. Theo would go with a Fenway Frank, a pretzel and a little carton of milk. The company that made the hot dogs was called Kirschner, which became the Epstein family code word for fans who came to games but didn't know baseball. If someone sat next to them who treated it as a social outing, Leslie would say, "K-k-kirschner, boys. Kirschner," and Paul and Theo would explode in laughter. Some days, the boys would play arcade games or go candlepin bowling at Ryan Family Amusements, just down the street from the ballpark.
Twenty-five years later, Theo gave away his first World Series ring to his father, because seeing his dad stare quietly at it felt much better than getting it himself. His strongest memory of the 2004 celebration is watching the other baseball operations people pouring champagne on one another, seeing the look on Johnny Pesky's face. Such moments are fragile, and the state of rapture he craves is only achievable in concert with others. The morning after the Red Sox won in 2004, the team landed and made the familiar drive from Logan to Fenway. Theo gets chills even now remembering the cars pulled over on the side of the road and the Red Sox hats sitting on top of gravestones in a cemetery they passed. An entire city stopped. The living celebrated being alive, and they also remembered the dead.
The next title, won three years later in part by homegrown players Theo's crew found and nurtured -- Lester, Papelbon, Pedroia and Ellsbury, selected in four successive drafts -- felt deep and satisfying in its own right. He longs for that again, and a title in Chicago would combine the best of 2004 and 2007. He's after a feeling, even if he knows better than most how quickly it goes away, and how hard it is to find once it's gone.
---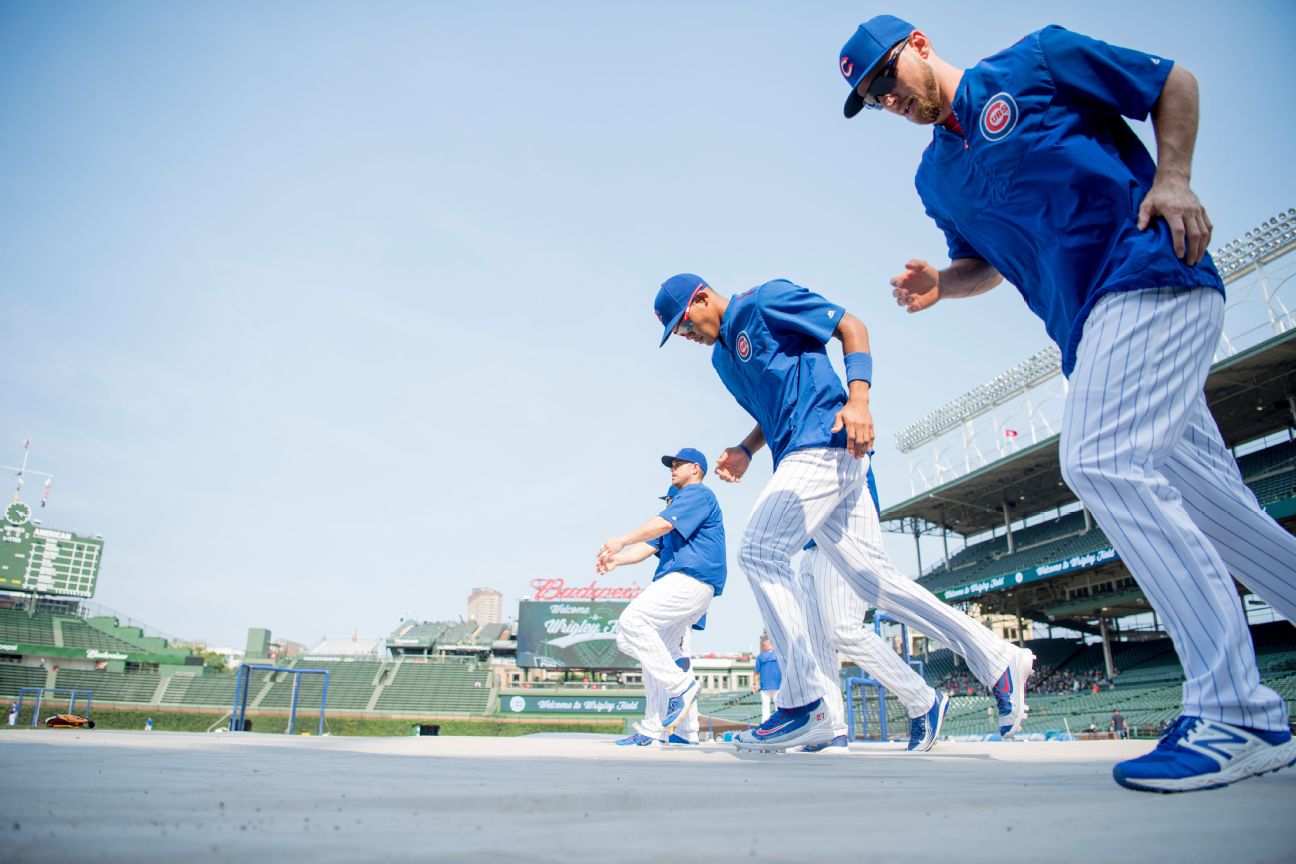 ON AN EXCEPTIONALLY hot morning in July, Epstein stands outside his office on the sidewalk near Clark Street, sheepishly explaining why his phone is shattered. He broke it in a fit of anger when the team slumped before the All-Star break and hasn't found the time to get a new one.
All teams are more fragile than people want to admit to themselves.
"If we have a horseshit month, if we lose this lead, they will be paying attention to what time I come into the office," he says. "They will be thinking we got complacent. It's a human phenomenon that there has to be a reason for everything. There almost never is. Inexplicable shit, like flipping a coin or the outcome of a baseball game, we need to tell ourselves a story: This team has great chemistry. This team is tough. You know what? That shit all matters, but it's never the full answer that people want it to be. It's why we have stories about the stars in the sky, and the planets and the seas and gods and mythology. We evolve to a point where we can tell and understand the stories. Some are real and some are not, but we attach meaning to all of them."
This inability to control the most important thing in his life makes him, he admits, something of a junkie, which leads to a life without balance. Attempts by other teams to replicate his analytical process are misguided, because his baseball philosophy in truth comes from a hardwired place in his psyche. More than an exploiter of undervalued markets or an expert at predicting which high school seniors might turn into All-Stars, Epstein is completely unhinged. He obsesses over details, from the draft board to the recruiting video he made while wooing Jon Lester, complete with a fake World Series call by the real Cubs announcers, to the time he spent trolling taxidermy websites to find the perfect stuffed bear for the players' cafeteria. Last year, while the Cubs were building a new clubhouse, he hyperfocused on the number of inches between the couch and the ottoman. "I have dozens of pictures of circular sectionals," he says.
Standing on the street between his office and Wrigley Field, as a few fans hang back waiting for his intensity to fade enough to ask for an autograph -- a popular request is a baseball inscribed with "Reverse the Curse" -- he describes how they go about researching the backgrounds of people the team might want as players. For instance, in the Summer of Find Pitching, he gets a dossier on closer Aroldis Chapman, which includes the allegation of firing a pistol in his garage after an argument with his girlfriend. But the closer, according to outside simulations, raises the Cubs' chance of a title to slightly less than 1 in 4. Epstein is faced with a difficult decision.
Over the course of days, he collects information, weighs it, then makes a call. He sends a pitcher and three prospects to the Yankees and acquires Chapman. Giving up those players will absolutely make the Cubs weaker in the future, which Epstein knows, but the team needs a closer like Chapman to make a real October run.
The trading deadline, he laments over and over, is a "mindfuck." But his rationale is cold: The sign in his office still says Find Pitching.
He enjoys it, however, this hunt for information. It's the part of the job most connected to the questions he asks about himself. He loves the dossiers the scouts put together, full of details about friends and enemies, with copies of incriminating photos floating around the internet for stars like Chapman, and for high school kids, descriptions of their childhood bedrooms. "They write these background reports that all read like Russian novels," he says one day. "I'm telling you, everyone's life is a fucking Russian novel if you dig deep enough. Everyone."
---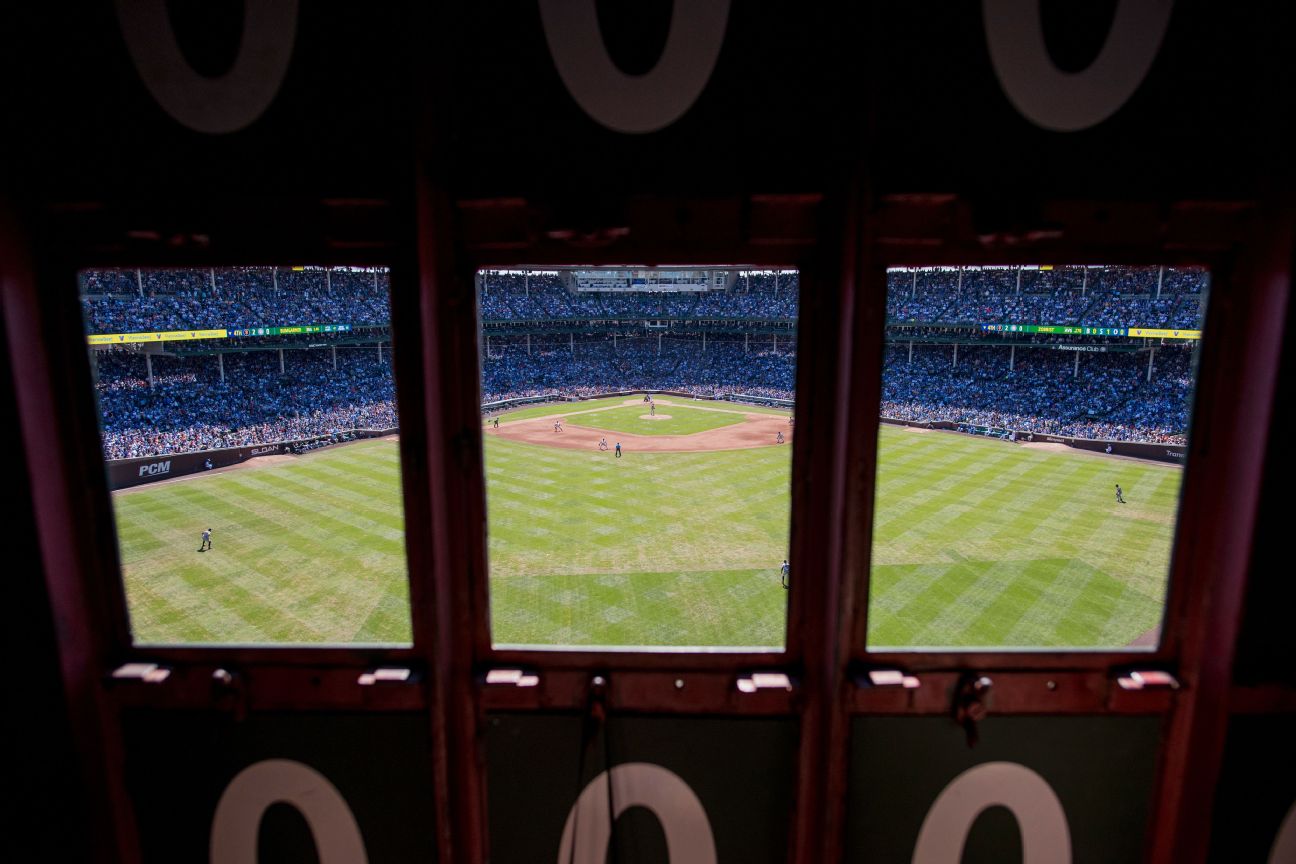 EPSTEIN MIGHT HAVE ended up a writer or a lawyer or a juvenile delinquent, except for three things that happened around the time he turned 12. In the spring of 1985, his favorite baseball computer game on the old Apple II, Micro League Baseball, released a general manager disk that allowed him to make deals and create rosters. The game was just a year old, the first real simulator that emphasized strategy and not hand-eye coordination. Theo created a team of all Negro League players and dominated the computer game. Later that year, when he was 12, he got his first Bill James historical abstract, which came out in December of '85. Ten months after that, the 1986 Red Sox lost the World Series, and so Bill James and Micro League Baseball no longer appealed to him in a purely intellectual vacuum. They gave him a way to put his broken heart back together, combining the emotional and factual for the first time into a worldview. One night this summer, he's asked if any of his success would have happened if he hadn't been 12 in the fall of 1986. There's a long pause.
"Probably not," he says finally.
At Yale, he applied for baseball internships and landed in Baltimore, where he organized a celebration of many of those same Negro League players he got to know on his computer. His fantasy became real when a position in San Diego led him back to Boston as assistant general manager. When Billy Beane decided not to take the Red Sox job, the owners took a chance on the 28-year-old already working down in the basement.
The morning Epstein became the GM, he walked outside his condo near Fenway and found camera crews waiting, and they followed him to work as he reminded himself not to trip, concentrating on the steps. Even now in Chicago, he often tugs at the bill of his cap, a nervous tick left over from when he became a public figure overnight. "I was emotionally 16 when I was 28 and got the job," he says, then going on to describe how he acted in high school. "I was so introverted. I used to follow people home. I just like being anonymous so much that I would follow people home because they didn't know who I was and I could watch them. I know how that sounds. I could not exist but observe. I could put a hat on and follow them."
He nailed the news conference and then went to work. A few hours into the job, his co-worker and childhood friend Sam Kennedy called him.
"What are you doing?" Sam asked.
"I'm just sitting here being the GM," Theo said.
Back at home, Marie bought him an ice cream cake to celebrate his new job, but he stayed so late at the office, the cake melted. That should have been a warning. Those in the baseball ops team chased a title at the exclusion of nearly everything in their lives. They rarely left, working 18-hour days. When they did finally rejoin the real world, they kept talking about baseball, at Theo's apartment, or at a bar, or at one of the neighborhood places where they ate over and over again: tacos at El Pelon or chicken-fried rice at Rod-Dee II. Theo scoured the baseball rulebook for accidental loopholes to exploit, accepting nothing, even coming up with new ways to interview managers, like making Terry Francona manage a series simulation against the smartest data guy in the office. (Francona drew.) They grew up together, Theo, Jason McLeod, Jed Hoyer and Ben Cherington. At the time, only Cherington was married, although he'd end up divorced. The lines between work and home disappeared. "There's a real connection," Hoyer says. "We were each other's families in a lot of ways."
Everything in Theo's world centered on his office in a basement, far away from the main Red Sox office on the second floor. That basement wasn't always used by the Sox. Before, it had been Ryan Family Amusements, where Theo and Paul Epstein went bowling and played arcade games, so that every morning he went to work, Theo plugged into the constellation of memories from his childhood.
Those years were the best of his life.
Then they won the World Series.
Theo called Patriots coach Bill Belichick for advice on how to handle success.
"You're fucked," Belichick told him.
---
THEY WON TWO titles under Epstein, but by the end of his Boston tenure, the boy who'd fallen in love with the Red Sox had turned into a man who needed to get as far from the team as he could. The Boston sports media machine has written thousands of words about why this rise and fall happened, but the simplest explanation lies in Belichick's warning to Theo. The football coach laid out the conflict between winning and human weakness. Everyone would start wanting credit and feel like the underappreciated key to the entire machine. Theo saw this come true almost immediately.
A cold war broke out between the baseball ops bunker and the second floor, the conflict cutting through every part of the organization. Epstein felt that some of his bosses were obsessed with optics and credit, more worried about personally winning a news cycle than helping create the culture that had developed in Theo's world. "It's rare you can find true togetherness, selflessness, connectedness," Epstein says. "We had that in baseball ops. It was in opposition to what I saw going on in the rest of the company."
Theo is an absolutist. He came to see the fight against the business side as completely black and white, good and evil -- "French Revolution shit," he says -- and in the next seven years, he quit his job twice, first in 2005 for 80 days, the second time for good in 2011.
In 2005, he turned down a contract, unable to work with people who would plant stories in the paper to minimize blame for trades and who worried more about public perception than the long-term health of the franchise. Theo gathered his staff members in the basement and told them he loved them, and that they'd always be family, but he couldn't do this anymore. Several people burst into tears, and he broke down too. They started drinking beer and telling stories, while reporters covering the contract dispute gathered outside the door with television cameras. Because it was Halloween, Theo put on a co-worker's gorilla costume and did a full slide down the conference table in the war room. Then he sneaked past the reporters in costume. When he got home, his confused dog went crazy barking until he took off the gorilla head. After nearly three months of feeling adrift and pathetic, however, Epstein went back to work in the basement. He couldn't stay away.
The second time he quit his job, he and his bosses still hadn't resolved the conflict between baseball and business. He read reports about how winning alone wouldn't stop NESN's flagging ratings; the focus group data said his office needed to chase and sign the big-name free agents, whether the team needed them or not. Epstein felt the culture "jumping the shark," as he puts it today, but also says the only person to blame for his problems was himself. He chased the likes of Carl Crawford. He overreacted to the reports about television ratings. He'd once been willing to quit his job over these kinds of battles, but in the winter of 2010-11, he didn't even have the energy to fight them. Always self-critical, he felt himself slipping, showing the same weaknesses he couldn't abide in others.
Then he started to hear whispers about the Chicago job. Epstein needed out of Boston, or rather, he needed to return to how Boston felt in 2002.
---
THE YOUNGEST GUYS in the Cubs' office work in the baseball operations video room, located between Theo's office and the door he uses to leave the building. When he wants a little hit of youth, he sticks his head in on the way out. Sometimes, after catching them watching reality television instead of breaking down film, he'll pull up a chair.
He loves reflecting the energy of that room.
There's always some new toy finding its way into their lives. The new Cubs baseball operations office, currently under construction across the street, will have a USA-CCCP bubble hockey game, which Theo wanted and found online. For a while now in Chicago, they've been jumping, just to see who can go the highest. At first, they used marks on a wall to keep score. That wasn't enough for Theo, whose instinct is to amplify everything until it is as ridiculous as possible. He tasked one of his guys with finding the exact model of equipment the NFL uses at the combine to measure vertical leap. The contraption cost $800 and is installed near the back left corner of the room.
"Eli, you're up," Theo says one night around 10 in the still-busy office.
Eli Shayer is a rising junior at Stanford by way of Anchorage, Alaska, who has done his own research about "the Frictional Cost of a Call to the Bullpen" and written something called a "Monte Carlo Markov model simulator in C++."
"Eli is a live, in-the-flesh intern," Theo says.
Shayer takes his dress shirt off and stretches up to set his standing mark. Everyone gathers around. Eli starts to bend and stretch and leaps up for his first attempt. He keeps going. Theo compliments Eli when he betters that first try, loving someone digging in and improving. The young staffers are always trying to impress Theo, perpetually the most annoying on the waiver wire in their office fantasy football league.
Tonight Epstein's encouraging, talking smack. "I thought Marshalls was out of small white T-shirts," he says, then he asks the scorekeeper how Shayer is doing so far.
"Nineteen inches," Davey says.
"And what was my best? Twenty-one?" Theo asks.
"Yeah."
Theo turns to Eli.
"Now, be smart here," he says.
The Cardinals radio network broadcasts a game in the background. Some guys work. Others lean in for Eli's next jump.
Eli gets 2 more inches.
"One more," Theo says. "You can do it."
Someone in the background pokes fun at Epstein's competitive streak.
"If you do this," he says, "Theo will be here all night."
Eli leaps up and beats Theo's best mark.
"Twenty-two?" Theo asks, and when someone nods, he starts to stretch.
People are really laughing now.
"Am I reracking this for you?" Davey asks Theo.
"We're going around the office while I get loose," Theo says.
The other guys take turns. Theo floats around the room, disappearing into his office to work the phone. To the left of his desk he's hung the biggest thing on his wall, an enormous photograph of Ted Williams. The picture is from Ted's rookie year, Williams wearing a small-town grin, closer in age to Eli than Theo. Epstein loves the joy on Williams' face, how he's still happy and hopeful, not yet hardened into the angry man who wouldn't tip his hat to the crowd. It serves as a kind of visual mantra, a reminder to Theo to keep himself and his office young and ideologically pure, giving them all a chance to stay together, to keep the decay of Boston from following them to Chicago.
The photo is an emotional North Star.
---
THE MAIN DIFFERENCE between 11-year-old Theo in front of an Apple II and 42-year-old Theo across from Wrigley Field are the rewards and, of course, the risks. The older you get, the more there is to lose, and the less time there is to get it back. He's got crow's-feet and gray temples. He's got two kids and two homes. He's got a marriage forced to coexist with his obsession. One night this season, his baby monitor woke him up and he couldn't fall back asleep. He went down the hall to the guest room to read. Awake and alone for hours, he thought about being middle-aged, and how and why he'd made the decisions that had led him here.
"It's a human phenomenon that there has to be a reason for everything. There almost never is."
- Theo Epstein
Epstein always requests that his family be off-limits to reporters, which keeps Marie Whitney from appearing in many stories about him, an absence that perhaps prevents outsiders from fully inhabiting the deepest conflicts baseball creates in Theo's life. He skipped Christmas with Marie's family once to try to sign a free agent. A year later, he skipped Thanksgiving to do it again. He let an ice cream cake melt, creating an irresistible metaphor. So when he came to Chicago, he intentionally over-staffed the office, trying to build a world where he could be great at his job while also fully enjoying the life his job has allowed him to live. He talks a lot about Marie, and when they're in a crowd, he reaches back to hold her hand.
He has learned that being a husband and father is hard, but baseball is easy. Show up, do the work, be curious. Never cheat the process or rationalize laziness. When you're good at your job, the office becomes a place to hide from your actual life. "You should talk to my wife," he says, "which I definitely will not let happen. She tells me that too: 'At work, whether you admit it or not, you can snap your fingers and everybody will do whatever you want. At work, people are kissing your ass. At work, everybody is happy when you're doing your thing and you're locked in. At work, their job is to facilitate you into a good place where you can do your thing. Then you come home, and whether you recognize it or not, you bring that shit with you.' And she's right, to an extent."
She's watched his emotional temperature rise and fall for more than a decade. When he's doing well, he's joking with his staff and organizing office games and pulling pranks and creating a kind of playground for overgrown kids. When he's not doing well, he's alone in his office, paranoid and adult.
She sees the cost of it all.
They pay it together.
---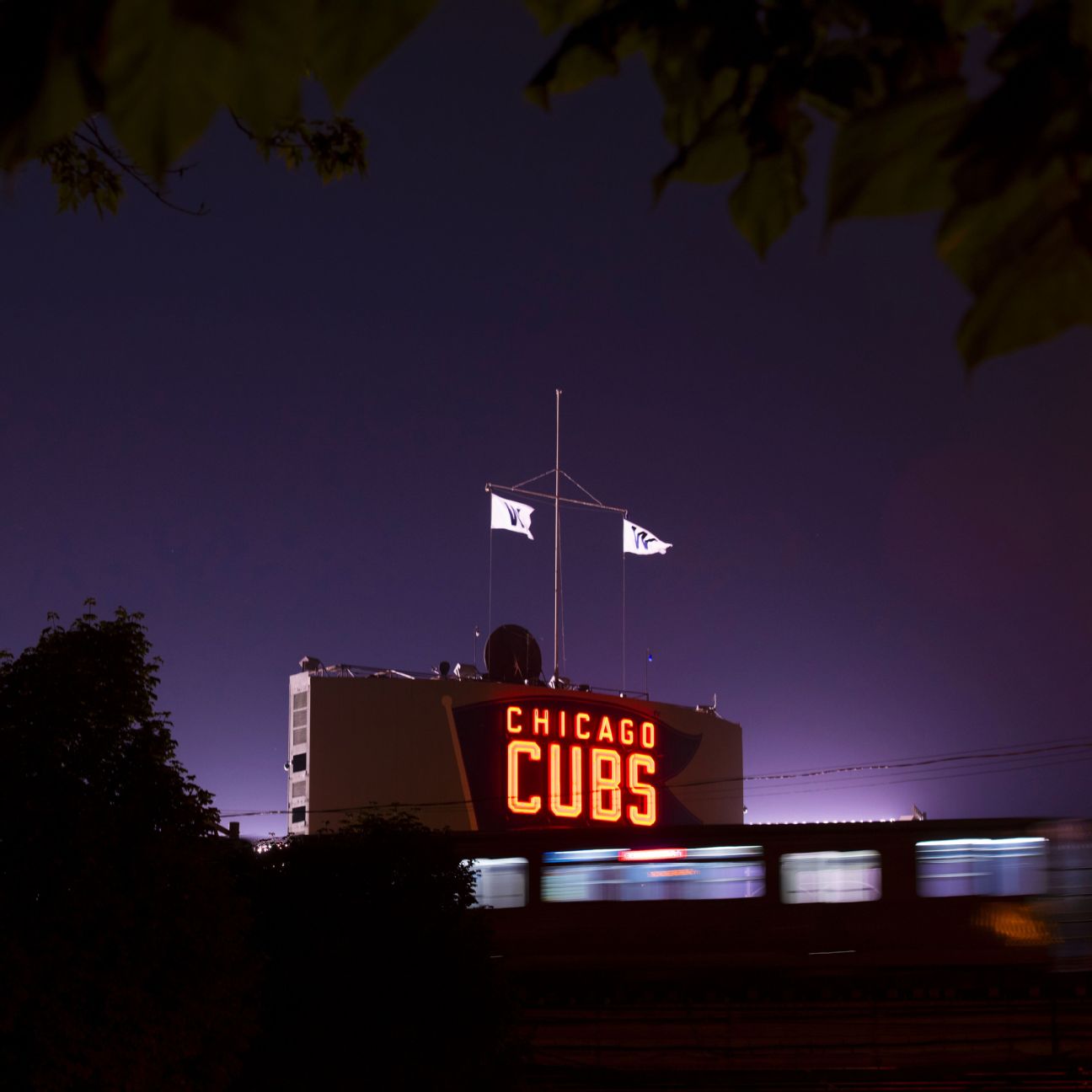 A CUBS WINNING streak grows to 11 games halfway through a home series against the Cardinals in August. On a Saturday, Epstein and the baseball ops guys gather in Suite 33 to watch the team try to win a third straight from St. Louis. Their world up there has its own set of rules and superstitions, and central to the canon is this: If the team needs offense, Theo makes Scott Harris, the director of baseball operations, take out a loaf of plain bread and start eating. When Harris eats carbs, the Cubs score. One game, when the White Sox were no-hitting them, Theo got an entire chocolate cake from the passing dessert cart on the suite level. Harris ate more than half of it and the Cubs won.
"Harris," Theo says, taking a bag of bread and throwing it to Scott, knowing that the Cubs always need hot bats against the Cardinals. "Just start eating."
Harris breaks a piece in half, to help choke it down.
"It's even more stale," he says.
"Good," Theo says.
The game goes well for seven innings, and then the bullpen starts to collapse. Nobody wants to verbalize what each of them knows: The Cubs have a 3-in-4 chance of not winning the World Series. Any serious problems in the pen and that number starts to climb. "It's such a fine line," Theo says, his hands laced behind his head.
Epstein starts muttering curses. He hands Harris the bread again.
"All right, Harris," he says. "Consume."
The Cubs lose the lead and the game, and the next day, all the same people are back in the same place to watch once more. Theo's still making Harris eat bread, a fresh loaf this time at least. The Cubs are leading in the top of the seventh when the game, and the mood in Suite 33, starts to turn. The speed with which the atmosphere becomes tense is astonishing. Theo is talking about one of the club's weaknesses, which is starting pitching health. John Lackey, the starter, looks exhausted, and with one out, a Cardinals batter hits a line-drive screamer directly at the third baseman for the second out. Theo turns and makes eye contact with Shiraz: It's time for Lackey to come out. Joe Maddon keeps him in the game, though, and on the next batter, Lackey leaves with a stiff shoulder. Theo is beside himself.
"Told you so," he says. "Fuckin' A. You just asked me what our Achilles' heel was."
Everyone gets quiet. People avoid Theo. Shiraz and Harris move outside to the balcony, while Epstein takes an iPad and pulls up the Cubs' internal website, called Ivy, where every piece of conceivable information is stored. Theo starts watching all the pitches thrown by relievers, and when he's not doing that, he's sending text messages to Hoyer, who is out of town. For a while, Theo just stares out at the field. Nobody says anything to him.
He's smoldering.
Hector Rondon eventually enters the game, then allows two baserunners.
The next batter hits a three-run homer, and the Cardinals are now ahead.
"Fuck!" Epstein yells.
"Should have seen that coming," he says, quieter and dejected. It's more than he can watch. He leaves the suite and walks out into the concourse alone, and when he comes back, he looks up at the television, which shows a replay of an Olympic gymnast on the vault landing flat on her ass.
"This is what our pen is doing," he says, pointing at the screen.
Epstein sprawls out on the couch against the back wall of the suite. Everyone is on a phone or computer, while Theo and Jed text back and forth. The game finally ends, a second straight loss to the Cardinals, and Theo is silent for about five seconds, looking out at the field. "Five days ago," he says to his guys, "we had our pen how we wanted it. Locked-down playoff pen. Now it's chaos. It's unbelievable. I'd never felt better five days ago."
Harris has the thousand-yard stare, sitting in one of the leather chairs, his foot up on a stool. Theo sighs. The baseball ops guys gather around to talk options. "In three weeks, we'll look up and it will all be better," Theo tells them wishfully, "but it's hard to navigate."
---
IN AUGUST, TO celebrate their 10th wedding anniversary, Marie wants to take a trip. Theo suggests Pearl Jam at Fenway. She suggests Greece.
They compromise and go to Greece.
The team flies west to Oakland, and Theo and Marie east to Santorini, where they and two other couples take a boat ride through clear blue waters. Being away leaves him feeling a little unsettled, but he would have felt more guilty telling her no. He's trying to reach for something like balance.
One of the other guys and Theo climb on some of those orange sulfur rocks where people write messages. His fellow traveler scribbles "Go Buffalo Bills!" Theo goes next, trying not to fall. Over about 15 minutes, he neatly carves the initials of his wife and his two boys. Days later, he returns to the grind, and Marie goes back to waiting on him to find whatever it is he's looking for, some feeling that always seems just out of reach. The days are long in a pennant race. Some nights, when he's finally home, he falls asleep and dreams of the Cubs winning the World Series. His dream always ends during the parade. It never fails. He wakes up before he discovers what might happen next, on the first day of the rest of his life.
A senior writer for ESPN.com and ESPN The Magazine, Wright Thompson is a native of Clarksdale, Mississippi; he currently lives in Oxford, Mississippi. Previously, he worked at The Kansas City Star and the New Orleans Times-Picayune. In 2001, he graduated from the University of Missouri School of Journalism.