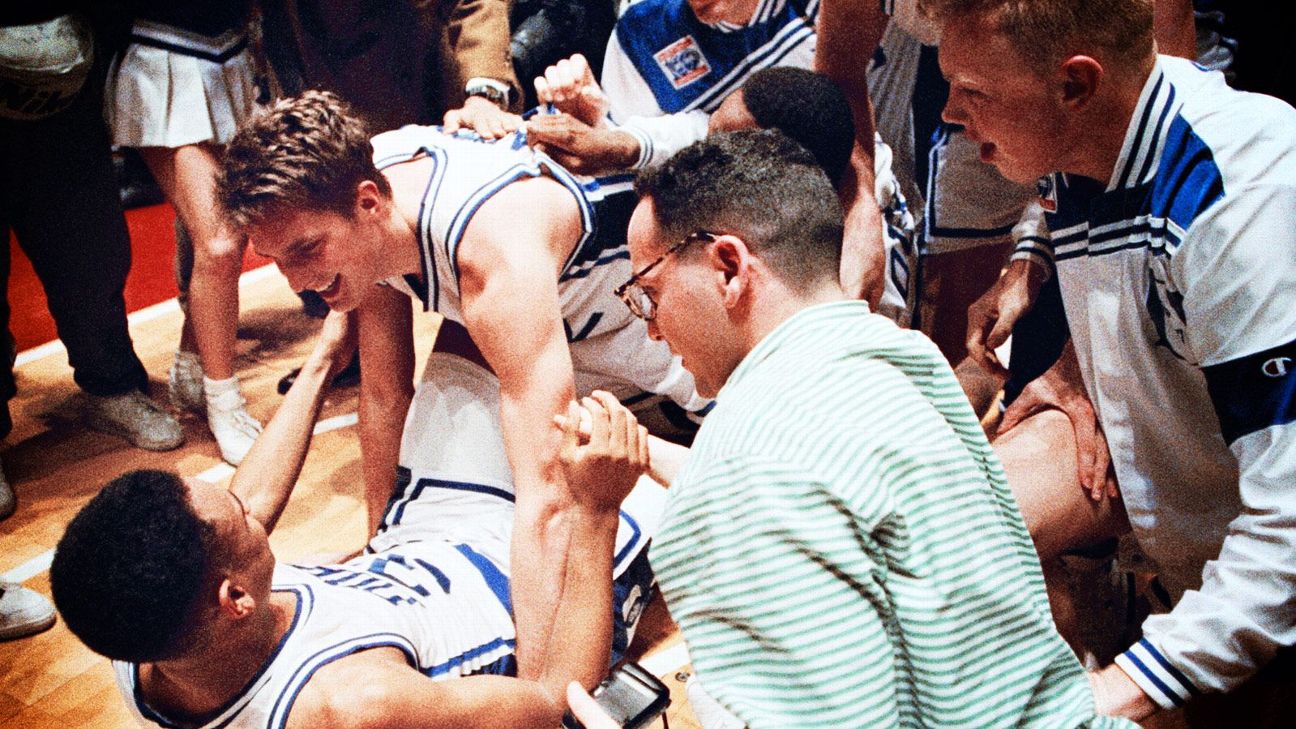 From Hill to Laettner, 25 years later
Christian Laettner's '92 game-winner to beat Kentucky, in arguably the greatest college game of all time, is impossible to forget. There's never been a more clutch shot in NCAA tournament history. All these years later, an oral history with all involved.
By Dana O'Neil
3/21/2017
IT HAS BEEN 25 years since Grant Hill tossed a perfect length-of-the-floor pass to Christian Laettner, a quarter of a century since Laettner, who didn't miss a shot the entire game, dribbled, turned and swished Duke into the Final Four with a 104-103 overtime win against Kentucky. The building that hosted the game is gone -- the Philadelphia Spectrum was bulldozed in the name of progress in 2010. The players' playing days are long over. Some are in coaching or other basketball-related gigs. Others have moved on altogether. The sport, meanwhile, has hosted 96 more regional final games since that 1992 Elite Eight game between the Blue Devils and Wildcats and has crowned 24 more national champions. Yet we can't seem to let it go. As long as there is an NCAA tournament, those 2.1 seconds will live on, a moment so incredible and unforgettable that even all these years later, even after other game winners have stolen our attention for a time, the Laettner buzzer-beater is the only one we call The Shot.
Despite both teams' rich histories, Duke entered the game as the prohibitive favorites. The Blue Devils had won their first national championship under coach Mike Krzyzewski a year earlier. The star players -- Hill, Laettner, Bobby Hurley, Brian Davis and Thomas Hill -- were practically household names. Kentucky, on the other hand, was just three years removed from an NCAA scandal under former coach Eddie Sutton that had resulted in serious penalties. With the exception of Jamal Mashburn, most of the roster was made up of homegrown Kentuckians who were lightly regarded as recruits.
---
Cast of Characters
Mike
Krzyzewski
Duke, Head Coach
Mike
Brey
Duke, Asst. Coach
Grant
Hill
Duke, Sophomore
Bobby
Hurley
Duke, Junior
Thomas
Hill
Duke, Junior
Ashok
Varadhan
Duke, Manager
Rick
Pitino
Kentucky, Head Coach
Deron
Feldhaus
Kentucky, Senior
John
Pelphrey
Kentucky, Senior
Jeff
Morrow
Kentucky Manager
Pat
McGee
Kentucky, Fan
Tim
Higgins
Official
Rick
Bozich
Sports Columnist
View All
---
Grant Hill
"Obviously, it was a great play, but I also feel like it was symbolic of an era that is no more. What I mean by that is, that was right before the mass exodus began, with guys leaving early. We've had great teams and great games since, but nobody has been able to sustain it. We were on regular television so much in our years at Duke, it was like we were regular programming. People knew who we were, whether that was good, bad or indifferent, so that helped make this game an even bigger deal.''
Ashok Varadhan
"It was like traveling with the Beatles. They were pop stars. After one of the games, I forget where it was, the managers, we put Bobby Hurley in a duffel bag so he could avoid getting accosted. He was small enough.''
Thomas Hill
"Our coach did a good job of shielding us from the outside world. We were a really together group, a close-knit group. But all the attention that we received, that's why you go to Duke. You want to play in those games. You want that attention and that pressure. It's awesome.''
Jeff Morrow
"Since we were in Philadelphia, everyone was making the Rocky comparisons. Some of our coaches even said they ran up the [Philadelphia Art Museum] steps. I remember when Duke went to the open practice, it was like a rock concert.''
Deron Feldhaus
"Believe me, Coach [Rick] Pitino had us believing we could win the whole thing. We were pretty big underdogs, but we didn't see ourselves that way. We had [Jamal] Mashburn, and we were playing good ball. We definitely thought we could win that game.''
Bobby Hurley
"We were so driven that year. We had so many guys returning, and we were so focused.''
The Pass
Pat McGee
"These two cute little girls were behind me making signs, and one tapped me on the shoulder. 'Hey, do you want to make a sign?' My buddies sitting next to me were like, 'Oh, come on, make a sign.' So I made the sign and went on to watch one of the best basketball games ever played.''
Seconds before Laettner's heroic shot, Kentucky's Sean Woods made an off-balance jumper to give the Wildcats a 103-102 lead. Laettner signaled for an immediate timeout, leaving just 2.1 seconds on the clock.
Rick Bozich
"I thought that was the final shot. I couldn't believe he took it. He wasn't the greatest shooter, but that was a helluva shot that has gotten forgotten in the aftermath.''
Mike Brey
"Woods hits that shot over Laettner, and Christian has the presence of mind -- he was always thinking the game -- he goes immediately into a timeout signal. He has his hands up. Doesn't react to the shot, just gets the timeout.''
Ashok Varadhan
"As a manager, all you want to do during the timeout is make sure you get Coach K a clipboard with a working marker. Nothing else matters. Make sure you get the clipboard, and make sure the marker has ink. That was it. That was my mission. That was my contribution to the shot.''
Jeff Morrow
"I'm hugging the trainer. She's hugging me. There was a timeout, and it wasn't until after that, as the guys are walking on the floor, it smacks you in the face that this thing isn't over yet.''
Thomas Hill
"There was not a game I played at Duke where I felt like we were going to lose. We broke the huddle, and I didn't know what was going to happen, but I knew something was going to happen, and we would do something [to] win the game. It never crossed my mind that we would lose.''
Mike Brey
"Mike [Krzyzewski] did a really good job of selling, 'We're going to win. We've got this.' Later, on the plane, [fellow assistant coach] Tommy Amaker and I were teasing each other. We were looking at the scoreboard like, 'Does he know how rough this is right now?' I had my 'It's been a good run' line ready.''
The Catch
Tim Higgins
"What was I thinking? Violations. He can run the end line. Is there a blocking foul? All the things we normally think about.''
Grant Hill
"I would always trash-talk that I had football in my genes [Hill's father, Calvin, played 12 years in the NFL]. I knew I could make that pass. We practiced that, not necessarily the play, but that pass every day. We had two-man drills, where you'd get the rebound and outlet it. Sometimes we'd do the Wes Unseld full-court chest-pass thing. The last thing we did was a baseball pass. Your partner runs the court, you throw it, and they catch it and lay it in. When I saw nobody was on me, I knew I could make the pass.''
Thomas Hill
"We practiced that play pretty regularly. We had a chance to run it in a game against Wake Forest that year and didn't execute, but we were all very comfortable with the call.''
Pat McGee
"The first thing I thought was, 'Why doesn't [Rick Pitino] have anyone on the ball?"'
John Pelphrey
"Think about a Hail Mary in football. Nobody goes man-to-man. If they did, every armchair quarterback would be screaming, 'What are you doing, Mr. Defensive Coordinator?' That's what we did. We went five on four. Grant Hill was not taking us out on that play.''
Rick Pitino
"Everyone thought my mistake was not putting a guy on the inbounds. That wasn't my mistake. Laettner hadn't missed a shot the entire game, so at the timeout, I told my guys, 'Whatever you do, don't foul him.' [John] Pelphrey and [Deron] Feldhaus just froze. They were so afraid to foul him, they let him get an open shot.''
Deron Feldhaus
"Well, it's easy to say that now, and he did stress it a couple of times, but the bottom line is we were way too soft on the play. Where I second guess myself is I should have gone for the pass to steal the ball. When you're standing behind the guy, that's where you got to worry about fouling him.''
The Dribble
John Pelphrey
"The most miraculous part of that play was the throw and the catch, not the shot. He made much more challenging shots in the course of the game. I thought I had my hands on the ball. I never touched it. What hurt was we didn't execute. We run that play in practice, and they never caught the ball, let alone got a shot off. They won that play. We lost that play. That's all it was.''
Bobby Hurley
"I was the second option, but I'm not really an end-of-game, the-buzzer-sounds kind of guy. I've made some big shots in deep stretches, but I'm not sure I ever hit a shot as time expired. I had a chance at the end of regulation to win it, and I missed. Probably better off they didn't come to me.''
Grant Hill
"When [Laettner] caught it, he dribbled, and the only thing I thought was, 'No!!! No, no, don't dribble! We don't have enough time for that.'''
Rick Bozich
"I remember thinking 2.1 seconds felt more like 20 seconds. But he had enough intelligence to dribble, pivot and take the shot with perfect form.''
The Shot
Bobby Hurley
"I was going across half court, getting the screen. I had a straight-on look at the shot. I was just concerned that he took too much time, and because you're so locked in, you don't even hear the buzzer. I knew it was real close. Once it left his hands, I knew it was in. I was just concerned he didn't get it off in time.''
Tim Higgins
"I was right behind Laettner when he shot. I had a perfect look at him, the clock and the ball as soon as it left his hands. I thought, 'This thing has got a chance.' I took a quick look at the clock and knew if it went in, it was good. I was just looking to make sure there wasn't goaltending at the basket.''
Rick Pitino
"It did look good, and he didn't miss a shot the entire game, so no one should be surprised that it was.''
Mike Brey
"What ran through my mind was 'How did he have the presence of mind to take that dribble?' But he was so calculating, such a cold-blooded winner. As soon as he turned, I knew he was clean, and I just thought, 'We're winning this game.' He drilled it. There's never been a more clutch guy in the history of the NCAA tournament.''
The Aftermath
Rick Bozich
"My biggest concern was we had to dial a seven to get out [from the courtside phones to file his story]. I was freaking out because our computers were pre-set, and we couldn't figure out how to use a seven. I was deathly afraid we weren't going to be able to file.''
Tim Higgins
"When it went, I couldn't get out of there fast enough. I knew it was going to be a mob scene, so I wanted to get the hell out of there.''
Thomas Hill
"My expression after the game, that's my indication of how great the game was, how big that game was. That was pure emotion. It wasn't scripted. He hit the shot, and I turned to look at the crowd, look at the fans, and that's when the camera catches me. I looked at one of our assistants, Pete Gaudet, and that's when I made the face. It was just, we're going back to the Final Four. I wasn't crying. That's just an expression I've made my whole life when something incredible happens. What's kind of different about it is that's what I'm known for now. Four years at Duke, a lot of plays, and it's a non-basketball play people know you for.''
Grant Hill
"You know, if that happens today, everyone goes back to the locker room and looks on their phone and sees the replay. I don't think we saw that play really until the next day. We had interviews, got on a plane and flew back that night to Durham. By the time we got back and saw it, Coach is always big on, if you have a big win or a big moment, you celebrate it and move on. We were getting ready for the Final Four. We didn't have time to really process it.''
Bobby Hurley
"I was emotionally and physically exhausted. I played the entire 45 minutes, and I had to work. There was a lot of running, and I was just two weeks coming back from a broken foot. I went to the locker room, and I just remember sitting there, taking a lot more time than normal to get showered and dressed. I was exhausted.''
Thomas Hill
"We were walking in the locker room, and I remember telling Christian, 'Hey, I don't think you missed a shot.' We looked at the stat sheet, and sure enough, he didn't.''
Rick Bozich
"We went in the Kentucky locker room, and I didn't feel like I belonged there. The emotion was so raw, and they were so hurt by losing the game, the end of their careers, not going to the Final Four. I just thought, 'I have enough to write. I don't need to ask them questions about it.' No one was saying anything. They were all crying, wedged into their lockers at these weird angles, and you could just see how much they were hurting.''
Rick Pitino
"It was grim, really grim.''
Jeff Morrow
"John Pelphrey and some other guys, I remember, were in the bathroom stalls. They couldn't compose themselves enough to come out. And then you look at Coach, someone who always has that composed demeanor, and he's struggling for words. Finally, he went over to his briefcase and pulled out the copy of Sports Illustrated [that had a cover story about the NCAA scandal that read 'Kentucky Shame']. That was his message that he tried to convey once everybody was able to listen -- this is where we were a short time ago. Now we're here.''
Pat McGee
"I stood there in my seat for a little while, and then eventually, there was a big group of us, we left. Some people went back to the hotel. We were staying at the Howard Johnson's in Runnemede, New Jersey, the only place we could find a room. I went out with a few people in Philly. We ended up in a Pizzeria Uno, and I remember having a lot of beers. The next morning, I laid in the back of someone's SUV for the road trip home.''
Tim Higgins
"My wife was at the game, and when I walked out to the car afterward, I said to her, 'That's the best college basketball game that's ever been played.' I thought maybe I was exaggerating then, but I still think that now. That was two teams that wouldn't quit, wouldn't give up. It was intense from the moment it started until it ended.''
Jeff Morrow
"That night after we lost, the fire alarm in the [Warwick] hotel went off around two in the morning. So we go downstairs, and there's [longtime Kentucky radio voice] Cawood Ledford standing there in his pajamas, with his top hat, overcoat and his house slippers. Standing right next to him in the same outfit is Abe Vigoda from "Barney Miller." He was living in our hotel.''
Rick Bozich
"I don't remember what I wrote, but I remember the next day I got paged at the Delta counter by my editor. When we got back to town, he wanted us to write everything we had. For Monday, we had maybe two or three pages more on the game. Our sports editor, David Hawpe, realized what a big deal it was.''
Rick Pitino
"We went home, and we had 15,000 people waiting for us at the arena. We were coming off probation, and we made it to the Elite Eight. People understood and appreciated what this team had accomplished. As I look back now, I'm not disappointed at all. It was a classic game, and I'm proud to have been a part of it.''
Deron Feldhaus
I don't think the fans would have looked at us any differently if we had won a championship. The way they accepted us, being the Unforgettables. To have your jersey retired at Rupp, that's something special.''
Mike Krzyzewski
"[Rick] understood it was a moment in time. It looked like it was a better moment for me at the time, but eventually it turned out to be a great moment for him, too, because of how he built his program, how he handled it and how his team handled it. He knew he was in the moment.''
John Pelphrey
"I don't see it as much as a special moment as everyone else does because we lost. Had we won, maybe I'd think differently. But to me, that was the last time I put that uniform on. That was the last time all of us were together. That was the last time Coach Pitino coached us. It was a really important moment in time, but when people refer to it as special? Not for me.''
Grant Hill
"I had no idea how big it was at the time. I'm 19 years old. I could barely process 20 days, let alone 25 years. I didn't really appreciate it until I got into the NBA and I'm watching March Madness as a spectator. I'm sitting in my hotel room, and they're showing Michael Jordan in 1982, the Georgetown-Villanova game in 1985 and Dereck Whittenburg's shot against Houston and us. And then I was like, 'Wow.' This is something that might be playing for years.''
Dana O'Neil is a senior writer for ESPN.com, covering men's basketball.