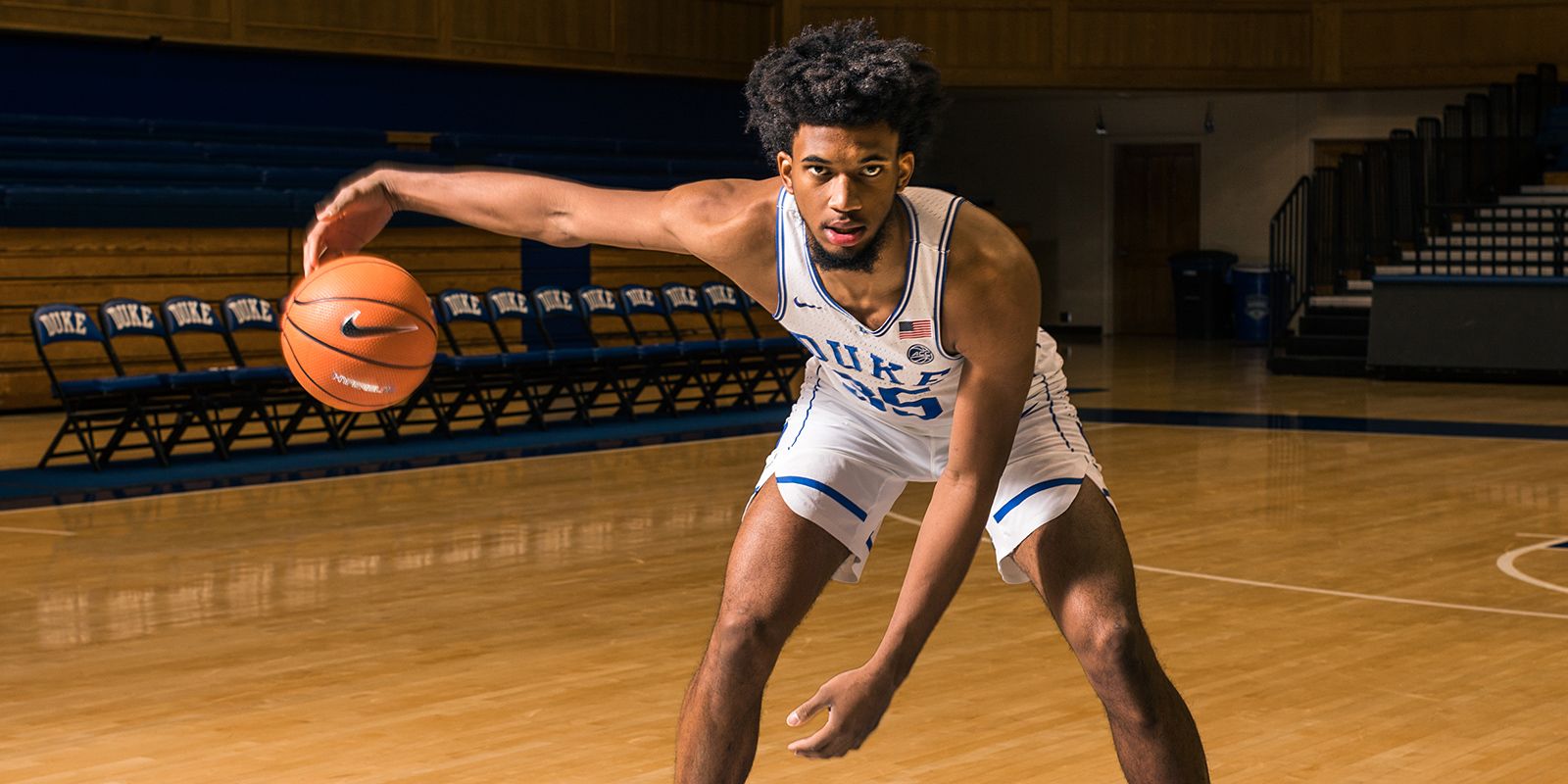 The Education of Marvin Bagley III
Three high schools, one year at Duke and the unconditional love of his family have freshman sensation Marvin Bagley III prepared for anything the world throws at him.
Marvin Bagley III raps like he plays basketball, smooth and fast. Dressed in Duke sweats, Bagley wedges his 6-foot-11, 234-pound body into a recording booth just outside of downtown Raleigh, North Carolina. On the other side of the glass are teammates Grayson Allen and Brennan Besser, who have come not only to listen but to bust his chops.

It's a Thursday in the dead weeks of Christmas break, and as always, Bagley has drawn a crowd. His parents, Marvin Jr. and Tracy, are standing in a narrow hallway outside the booth along with Marvin's younger brothers Marcus and Martray, the little one sinking to the floor to sit. Bagley is so good at basketball that this past summer, USC offered all three brothers scholarships, even though Martray is all of 7 years old. But it was sort of fitting. When Bagley arrived for his freshman year at Duke a few months ago, the family came from California to Durham with him. Where one Bagley goes, all of them go.

Today, Bagley is going to rap for Grammy Award-winning producer 9th Wonder, who is from the Carolinas and has worked with Jay-Z, Kendrick Lamar and Drake, among others. Bagley and some teammates are taking a history of hip-hop class, which 9th, whose name is Patrick Douthit, is teaching this spring semester. Before Bagley arrives, 9th says he has never met the 18-year-old, but he listened to a recording on SoundCloud and was intrigued by Bagley's voice and the fact that he has something to say.

Bagley pulls a set of headphones over his ears and launches into the lyrics he has written in the private time of a nomadic life that has included bouncing from three high schools in three years, reclassifying up so that he could graduate and leave high school early, and now this freshman season at Duke that will undoubtedly end in a few months when he is expected to declare for the NBA draft.

You should get to know me, I'll be around for good.

I've seen a lot of stuff and I ain't even from the 'hood. My dad told me just keep on burning and keep your head up.

And if you take an L, keep moving and pick your chin up ...

9th mixes up the beats, but it doesn't trip Bagley. His voice just gets stronger.

"I think he's a natural at doing this, man," the producer says to Marvin Jr. and Tracy. "I've seen some people get in there and just forget everything, lay an egg take after take. For him to do that from a generation that people swear can't rap, and he's 18?

"He might have two careers."

Marvin Jr., coach of his AAU team called "Nike Phamily," leader of Team Bagley, takes in the effusive praise, but only for a moment.

"You just gotta keep getting better," he says to his son.
---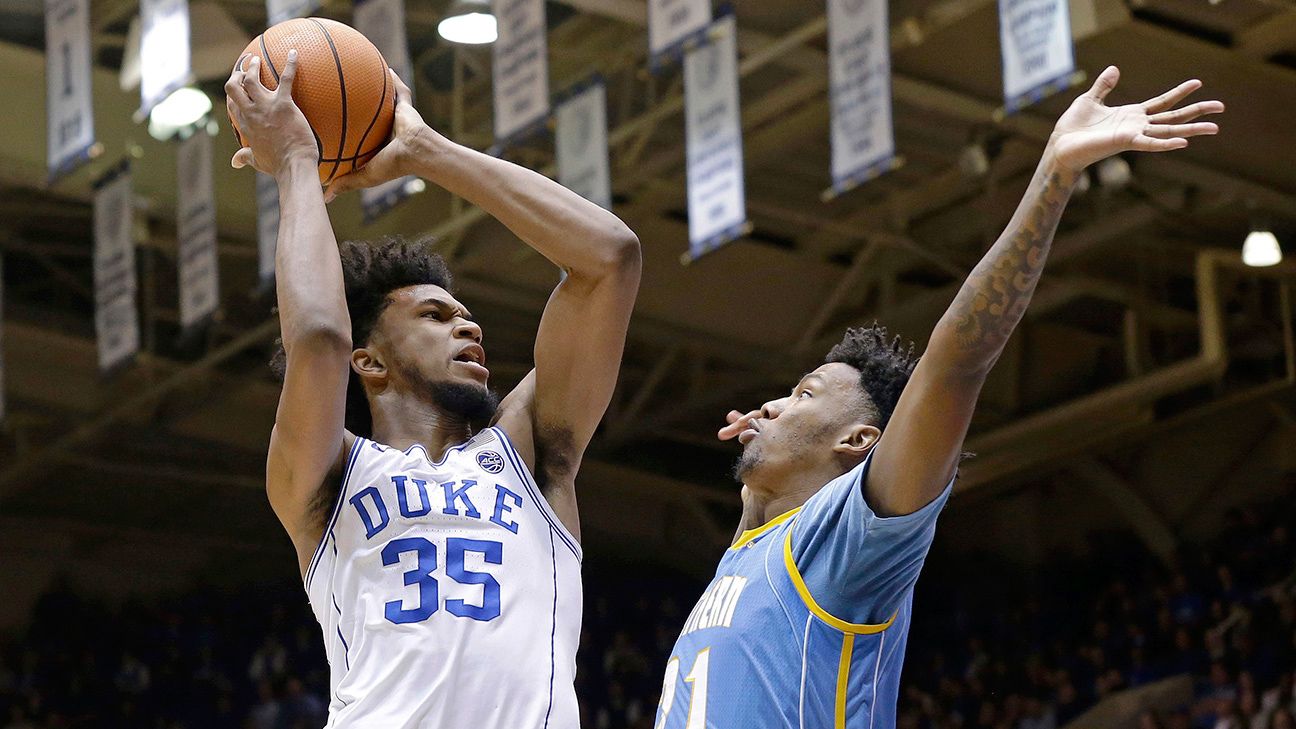 We are riding from Raleigh back to the Duke campus, a roughly 30-minute jaunt during rush-hour traffic, and Allen and Besser are reflecting on their new teammate, a kid they expect to play with for a total of about five months before he becomes an NBA lottery pick, makes millions, possibly cuts a record and becomes so global that maybe he starts hanging out with Jay-Z. Bagley isn't in the SUV; he has left with his family. Allen is the one who picked up on the line from Bagley's dad, and he thought it was interesting.

"He's always hanging around his brothers, his mom and his dad," Allen says. "He's always hanging around people who are going to treat him like him and not like he's Marvin Bagley the superstar. I'm sure his little brothers are messing with him and making fun of him, too. So I think that keeps him really grounded."

Bagley has plenty of reasons to feel good about himself. In the first two months of the NCAA basketball season, no player, with the possible exception of Oklahoma freshman Trae Young, has been more dominant. Heading into Monday night's game against No. 18 Miami on ESPN, Bagley has 14 double-doubles. Duke has played 17 games. On the way to the PK80 championship in November, Bagley rallied the Blue Devils from 16 points down with 11 minutes to go against Texas, recording 34 points, 15 rebounds, two assists and a steal.

The left-handed power forward can push the ball down the floor like a guard, dunk like a Globetrotter and look, at 18 and with just two years of high school basketball under his belt, as if he's been doing this for decades. In a recent win at Pittsburgh, Bagley stripped the ball, led a fast break, dished it off, corralled an errant pass, then slammed home a dunk. After the game, Pitt coach Kevin Stallings told reporters that Bagley was as good of a player as he's ever watched in preparation on film. He became the first Duke player since the 1960s to post a 30-20 game when he scored 32 points and grabbed 21 rebounds in a win against Florida State last month, and he leads the ACC in scoring (22.5) and rebounds (11.7).

"He's the most unique player we've had here at Duke during my 38 years," says Blue Devils coach Mike Krzyzewski. "He has everything. In some respects, Kyrie [Irving] was like that. But Kyrie got hurt after eight games.

"Marvin, at 6-11, is an incredible athlete. I've coached the NBA guys for 11 years for USA Basketball, and he runs like the top two or three guys that I've coached. He is not a good runner; he's an amazing runner. And then he's an amazing repeated jumper. In other words, he doesn't really take time to even land, he just pops right back up. He wants to learn, he has no demons, he's a great kid, he's smart, and has an incredible motor. He never has a bad day. He's a treasure, really. He's going to be one of the great players in the NBA during his time."

But the 2017-18 season has been far from easy. Duke started the ACC season 1-2, and easily could have been 0-3 if not for Bagley's record game against Florida State. Bagley swung the momentum when he hit a circus shot that bounced off the top of the backboard while he was fouled.

Duke has been abysmal on defense at times, something that eventually could haunt the Blue Devils in Bagley's one-year tour through college basketball. When Bagley announced that he was reclassifying this summer, then declared live on ESPN's SportsCenter that he was going to Duke, it rocked the college basketball landscape. It vaulted Duke to preseason No. 1, and the Westgate Las Vegas SuperBook's odds of the Blue Devils winning a national championship zoomed from 7-1 to 3-1.

News that Bagley was trying to reclassify didn't come until midsummer, when most rosters were set. The last time a player announced such a move so late was when Andre Drummond reclassified in 2011 and went to UConn. Bagley had to finish his high school coursework early, then wait for NCAA approval, which came in early September.

Duke initially offered him a scholarship when he was in ninth grade, and he was familiar with Durham because his father grew up there. Bagley made his official recruiting visit in July. Duke's coaches usually don't do on-campus visits that time of year because they're out recruiting. But when Marvin Bagley III is planning a visit, you make exceptions.

The team went out to eat at Dame's Chicken & Waffles, and Allen was struck by how seamlessly Bagley fit in with the group, how there was no small talk because the conversation flowed, how fun it was. For Bagley, it was a nice break from a summer of studying nonstop so he could reclassify.

"We were sitting at a different table," Duke assistant Jeff Capel says, "and they're there laughing.

"That's one of the things I remember, his dad saying, 'I haven't seen Marvin smile like this in a long time.' And he was just with the guys."
---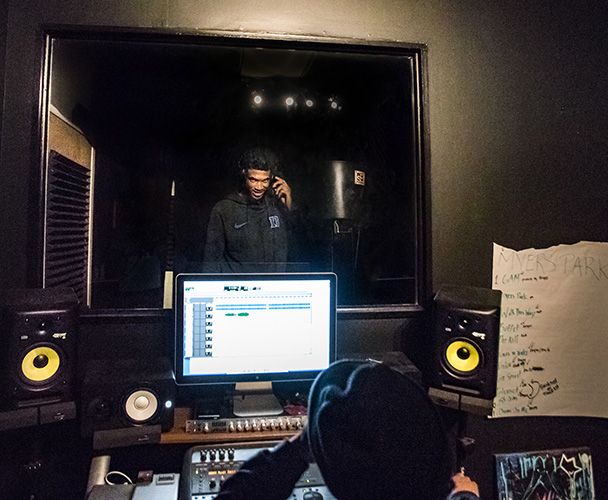 Bagley's story starts in his home state of Arizona, on a football field. He's very tall, much bigger than the rest of the kids in school. By this time, Bagley is about 6-5.

He's the quarterback of his team, and he's playing against older boys in a game in the rain. He's getting ready to throw, and a large boy with a No. 99 on his jersey body-slams him from behind. "That was the day," Bagley says, "that I was like, 'Ahh, I don't think football is for me.' I was just going to play basketball."

Marvin Jr. played football, at North Carolina A&T and in the AFL. Bagley's maternal grandfather, Joe Caldwell, was a legendary basketball player. In 1964, the Detroit Pistons selected him as the No. 2 overall pick in the NBA draft. Caldwell was such a tough defender that Hall of Famer Julius Erving once said that he guarded him better than anyone else in the American Basketball Association.

"I don't know if he got the grandpa's DNA or he got his dad's," Caldwell says, "but he got both of them so maybe that's the key. His daddy is probably -- had he been focused like he is with his son and [did] the right things, he could've been one heck of a football player."

Caldwell says the Bagleys lived with him for about the first 10 years of Marvin III's life, and at some point, he was so impressed with what the kid was doing in the backyard that he told then-Arizona State coach Herb Sendek that if he could hold out a few years, that help was on the way.

Though Bagley was big, Marvin Jr. refused to let coaches pigeonhole him by making him strictly a post player. He taught his son to dribble and pass and shoot 3-pointers, knowing that monsters under the basket are nice, but a big man who can play like a guard is special. If a coach just wanted him to fill the paint and swat away shots, Marvin Jr. would take his kid to another team. Bagley played on so many different teams.

He played his freshman year of high school at Corona del Sol, a powerhouse in Tempe, Arizona, won a state title and was named the Arizona Republic's player of the year. He appeared to be settled and happy.

The next season, Bagley was gone.

He transferred to Hillcrest Prep, which is more like a basketball club than a school. It was modeled after Findlay Prep in Nevada, a program whose participants train year-round and barnstorm the country playing in high-profile tournaments. Hillcrest was affiliated with Starshine Academy, which would provide the academic part of the players' experience.

The move was supposed to give Bagley exposure, and land Marvin Jr. a job as an assistant coach. Marvin Jr. declined interview requests for this story. In an initial phone conversation, he said he wanted the story to be about his son, not him. According to a 2016 Sports Illustrated piece, Marvin Jr. worked as a union plumber and pipefitter for UA Local 469 before becoming an assistant coach at Hillcrest.

Things quickly deteriorated for the Bagleys at Hillcrest. The NCAA visited Starshine Academy and ruled that its coursework didn't meet NCAA standards. Hillcrest, a new program, also wasn't receiving the exposure that Marvin Jr. had hoped.

So the Bagleys left, this time to Sierra Canyon High School in Southern California. Although Bagley says leaving his friends in Arizona was the most challenging moment of his life, he is quick to defend his father.

"[Leaving] Arizona was my decision," Bagley says. "A lot of people blame it on my dad. But it wasn't like a situation where he told me, 'All right, we're doing this, you're going there.' It was never that. We would sit down and have conversations, my whole family, and talk about what would be best. And they would always ask me what I was feeling, how I felt about anything that was going on, and I told them and they told me how they felt.

"At the end of the day, it was my decision to do the things that I've been through and the places I've been."

Bagley says his parents missed just one game in his entire life. It was when both he and Marcus had AAU games at the same time. Tracy went to Marcus' game; Marvin Jr. was in the stands for Bagley. The family keeps a tight circle, a protective circle, and Bagley finds comfort in it. While some parents bask in their child's athletic fame, a la LaVar Ball, Marvin Jr. has shied away from the media, for the most part, especially since Bagley came to Duke.

When asked about Marvin Jr.'s involvement in his son's career, and whether it bears any resemblance to the Ball family, Krzyzewski said, "It's nothing like that. I don't even want to make that comparison.

"I think more and more for the top players, you're going to see the parents or a parent being close because there's so much invested in them. If it all works out, you're talking about an amazing career, financially, publicity -- just everything. So they want to make sure that everything is going the right way. The fact that they're close, that's good."
---
Still, the lifestyle has no doubt created sort of an insular world. On a recent night after a Duke workout, Bagley is asked who his best friend is. He pauses to think about it.
He eventually says it's Holland "Boo Boo" Woods, a freshman guard at Portland State who's known him from AAU ball since they were kids. Woods is a guy he can trust, he says.
His first answer, though, is his family.
"Me, as a person, I don't really open myself up to people a lot," Bagley says.
People who know Bagley say it's more of a product of not only who he is, but who he's destined to be. Here's a guy who's lived his life towering over everyone else, who took a bus on his first road trip in high school, to Yuma, Arizona, and was swarmed by little kids asking for autographs. Bagley hadn't even played a game yet.
He is supposed to be successful and famous. Despite his limited high school experience, and the fact that he didn't play with USA Basketball like most athletes of his caliber, Bagley is projected by many to be the No. 1 overall NBA pick come June. It doesn't seem like such a giant leap for people who know him, people like former Sierra Canyon coach Ty Nichols, who recently told an NBA scout that he could check any possible questions about Bagley off his list, from maturity to intelligence (Bagley had a 3.3 GPA in his first semester at Duke) to his readiness for yet another stage.
"I don't know what your childhood was like, but mine wasn't like his, and I'm highly doubting yours was like his," Nichols says. "Neither one of us was 6-8 in eighth grade, right? Neither of us was gifted enough to be the fastest player on the team at 6-11. So I don't think we can quantify normal in the sense of Marvin's normal. Marvin's never been normal. He's always been abnormal. So for him I would imagine that abnormal is normal."
---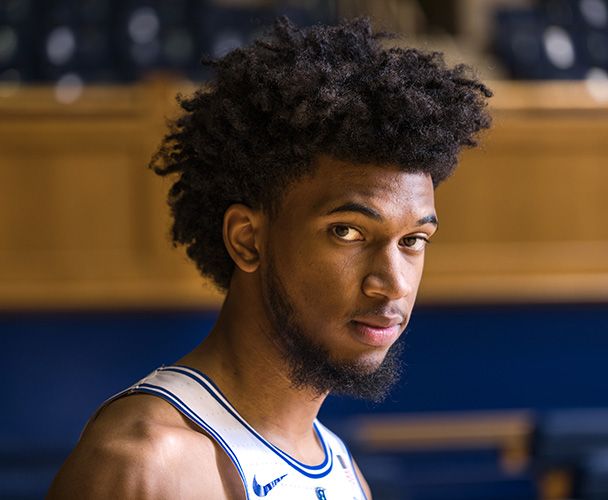 Marvin Jr., at times, becomes animated when listening to his son rap. He bobs his head and puts his hands in the air. He's the one who got the kid involved in rap. Bagley fell in love with it when he was about 6 years old, listening to his dad play Nas and Jay-Z.
Bagley loved the rappers who told stories. And today, writing music about his own life helps him clear his mind.
"I just want people to see another side of me," he says. "People only see basketball because I'm on the court all the time. But they don't see where I grew up, what I've seen in my life, different things I've experienced that I don't share with people.
"I can make music and try to connect with people across the world. That's really my goal."
The plan, right now, is for Bagley and possibly a couple of former Duke players to put together some songs for an extended-play recording that would be released sometime around the NCAA tournament. (Duke, which is still trying to figure out details of the project, declined to allow ESPN to shoot video of Bagley's rap session.)
In the meantime, the Blue Devils will try to find their rhythm on the court. They hope to be together through the first week of April, when a national champion is decided in San Antonio. Bagley is trying to savor this time, of college and stability and being a kid. Krzyzewski laughs when he thinks about how excited Bagley was to carry his backpack around campus. Soon, the kid with so many detours will make so much money that he'll never have to lift a bag again.
Elizabeth MerrillMerrill is a senior writer for ESPN.