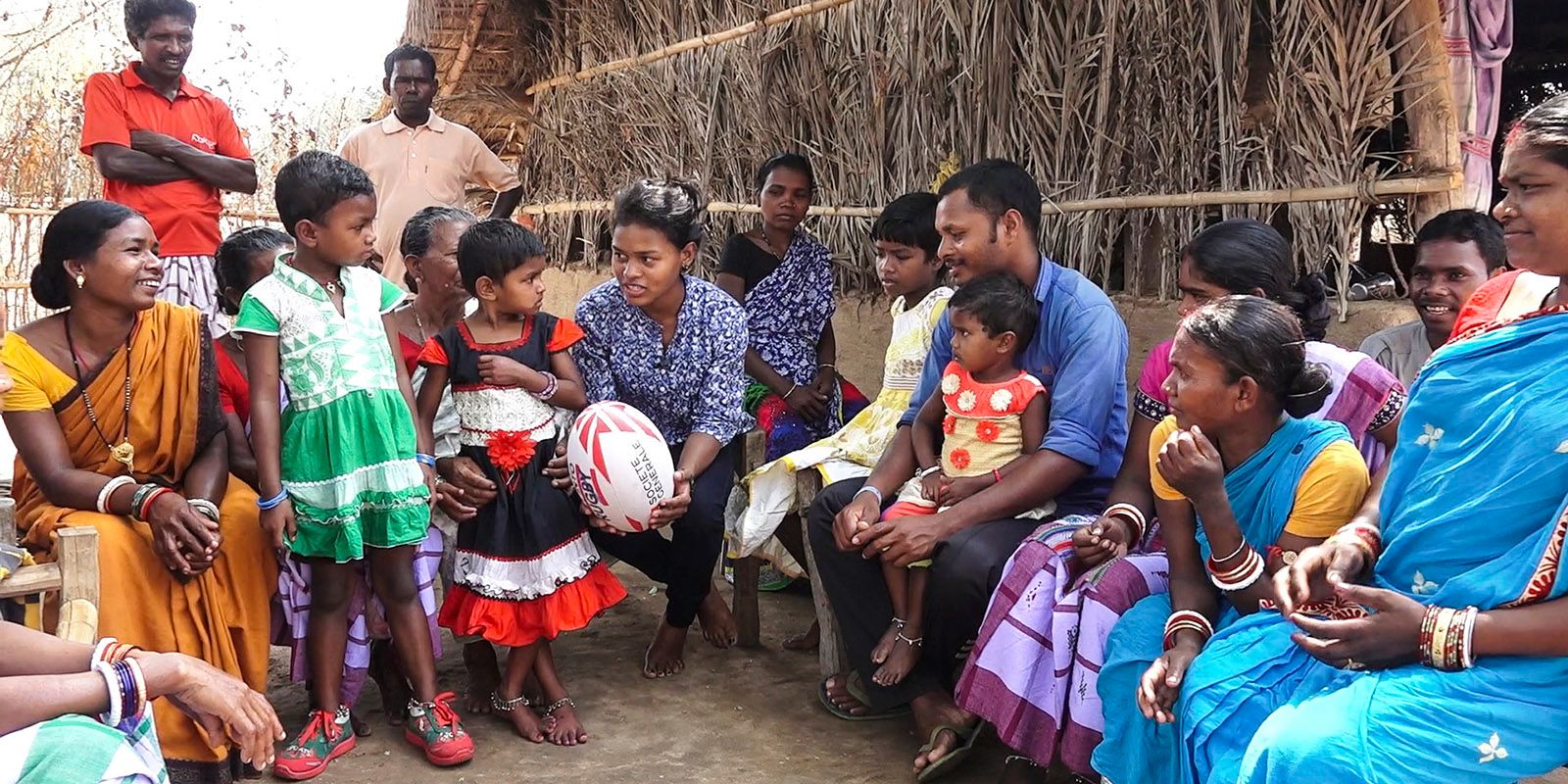 India's Rugby Revolution
A sport once played exclusively by the British rulers is giving women in India, especially those from the most disadvantaged communities, a sense of empowerment and self-belief.
Bamnipal, in the depths of Odisha, a state on India's eastern coast. It's afternoon, the temperature is hovering around 40 degrees C. Our car, carrying the ESPN team of writer and video crew, travels down a country road flanked by sparse vegetation when suddenly a series of large dark mounds looms on the horizon. All over the mounds are sari-clad women sitting on their haunches, rolling disc-shaped magnets in almost rhythmic movements. When the magnetic surface is covered with granular deposits, they empty it into gunny bags tied around their waists. They are collecting slag, or metal waste, to sell on to the scrap dealer.
A kilogram of slag can fetch a maximum of Rs 15 (approximately 20 cents), depending on the quality; it could take long, arduous hours under the sun for daily earnings to even touch Rs 50. But Odisha is one of the poorest Indian states, with one-third of its population living in poverty despite its abundant natural resources and sustained political stability. So a relatively steady daily earning is a lifeline for a family with little other income.
"This was my world," says Meerarani Hembram, fly half of the Indian women's national rugby team. "This is what I did to feed myself and my family." As a child she'd spend endless hours at the dump yard, where the waste from the neighbouring Tata Steel plant was offloaded in heaps. Even though there were so many of them working together at the same time, there was enough work for all. Her first earning as a nine-year-old was a soiled 10-rupee note. It's what the scrap dealer paid her in exchange for two kilos of slag, several hours of back-breaking work that left her with sore and scarred hands.
"This was my workplace before rugby."
It's a stuffy, still afternoon and we're blinking away sleep. Setting out through windswept, shuttered stretches of Bhubaneswar, the capital city of Odisha, a little before dawn, we've now clocked over 300km on the road. The state's capital city, with its high-rises and shopping malls, seems a world away; here, there are a few huts scattered on either side of what passes for a road. Approaching Raisuan, in Kendujhar district, we spot a gaggle of anxious faces. Strains of 'Sagundaram, sagundaram' ('welcome' in the native tribal language of Santhali), accompanied by drumbeats, grow from faint to persistent and our doubts dissipate.
As we slow down at the corner, Hupi Majhi recognizes the familiar faces and leaps out of the car into the waiting crowd. She hasn't been home in months. It's also her first visit to her village since the Asian Sevens in Laos, where the Indian senior women's rugby side came second in February last year. Six of the 12 girls in the team were from Odisha, four of them tribals. Hupi had scored the most tries for India, who ended up winning five out of their six matches in the seven-nation tournament. India beat Philippines, Malaysia, Nepal, Pakistan and hosts Laos before losing to South Korea.
Men riding in twos on motorcycles and raising loud, celebratory slogans head the victory parade, from Raisuan to Hupi's home in Dhatika village, little over a kilometre away. Turning a bend leading to Hupi's home, we complete the final 150-odd metres by foot. First up, doho johar: The traditional washing of guests' feet in a Santhali gesture of welcome. Hupi has visited home fewer than five times since she moved to Bhubaneswar more than a decade ago, so the ritual is not entirely unwarranted.
"We had heard of Bhubaneswar only in books," Hupi's brother-in-law Shivshankar Marandi tells us as we settle into plastic chairs in the centre of the cemented quadrangle outside her house, with village members perching themselves around us. "But today Hupi has achieved what women here couldn't have imagined. She's the first from her village to play a sport at the international level and it's a proud moment for all of us."
What's striking is that few of them have watched a rugby match in their lives or even known what a rugby ball looks like. "This welcome...I have never seen anything like this ever before," Hupi says, her voice choking. "And to know that it's for rugby...and us... It feels like a dream."
---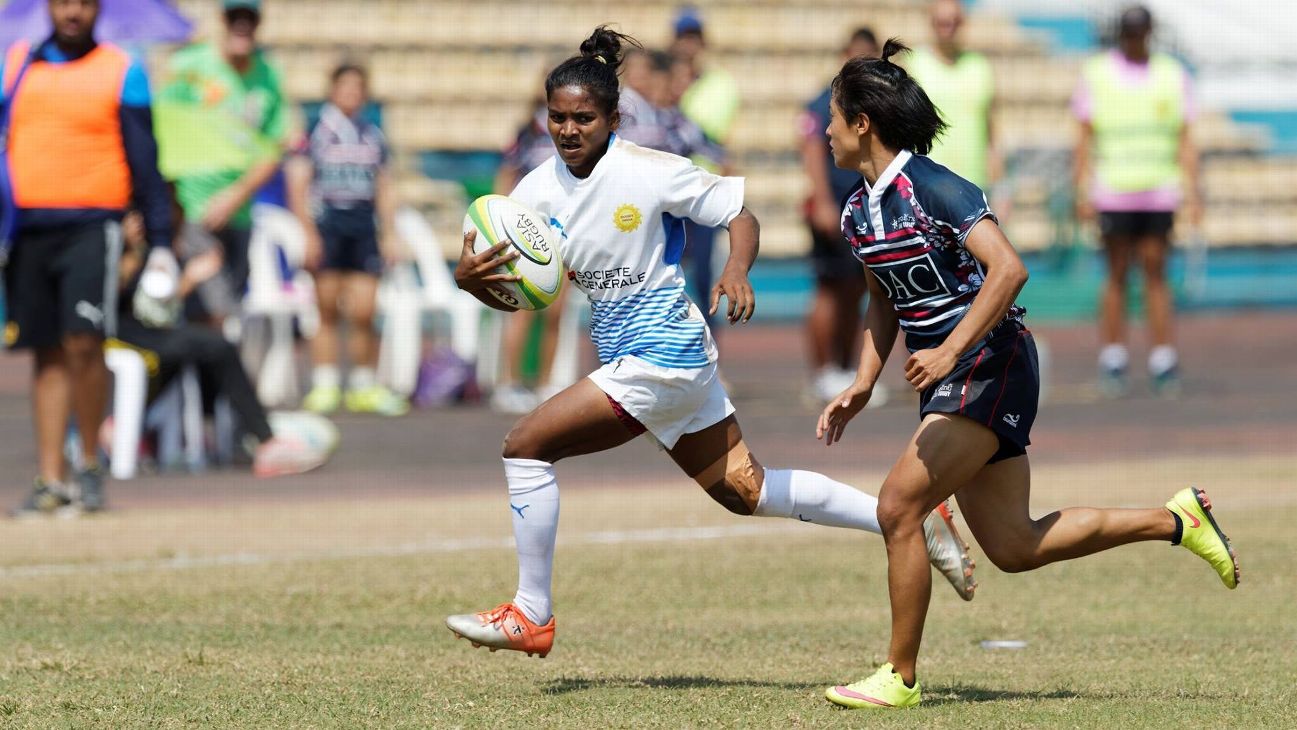 Joining Hupi on the journey are Meerarani, her teammate in both the Odisha as well as the national side, and Rajkishore Murmu, captain of the 2007 Under-14 boys' World Cup-winning team. All three belong to the Santhal community of tribals. Odisha is home to 62 tribes, who form 23 per cent of the state's total population. Its Scheduled Tribes speak 72 tongues. The Santhals, in fact, are only one among four tribes -- Kui Lipi, Ho and Sora are the others - to have a written script, one that has borrowed heavily from Bengali, Odia, Devanagari and, in the case of those who've converted to Christianity, Roman too.
Hupi's parents Balaram and Gumi Hembram, who sell vegetables grown on the tiny plot of land adjacent to their house, sit on either side of her. They know their daughter plays a sport but they don't know that she's a winger, a position in rugby defined by speed and elusive skills, or has featured in four tournaments in the senior national side. As they talk, Hupi translates from Santhali to Hindi. "We were scared to allow our daughter to leave the village and move to an unknown city," says Gumi. "We're uneducated and don't know much about sport but just to see her here today, welcomed by the entire village tells us that she has achieved something."
Her elder sister was married before she was 18 and, growing up, Hupi had made peace with a similar fate. Her brother-in-law Shivshankar persuaded Hupi's parents to allow her to move to Bhubaneswar for studies and, after initial resistance, they eventually relented. "As a child, I never had ambitions or dreams. I never thought I could have a career or see the world."
Hupi, then barely 10, found herself confronting an unfamiliar language, Odia, and the relative chaos of city life. She was terrified and had an overpowering urge to flee from everything that was new and intimidating. "Had I run away then, I would have never known rugby or how it could change my life," she says.
---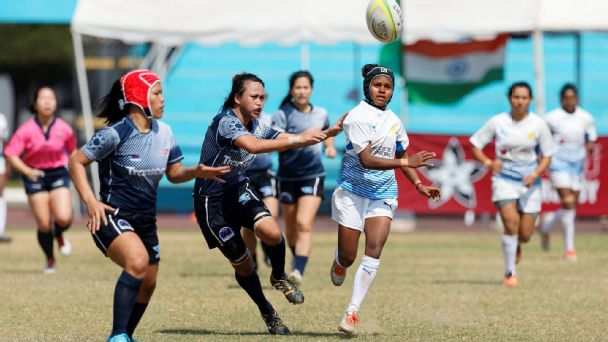 Much like Hupi, Meera's trek to a life in sport has been plagued with challenges, perhaps greater in magnitude. Given away to an orphan home in Kendujhar, along with two of her siblings, she spent her early childhood years listening for the faintest creak of its rust-eaten gate. "I lost my mother when I was just three years old. It was tough for our father, a daily wager, to raise five children alone, so he left three of us in an orphan home," Meera says. She hoped the gate would swing open, and her father would stride in smiling, telling them that he wanted to take them home. The wait lasted four years. Outside the orphanage, a life she'd never imagined awaited her.
Our drive to Meera's house in Daitari, Bamnipal, is through a brown-green landscape. At one point there's a tall, red flagpole-like structure -- a memorial to 12 tribals killed during the agitation against land acquisition for the Tata Steel project in 2006. Vegetation is sparse, and the only human habitation is thatched kiosks selling handia, the local beer made from fermented rice. The drink, a staple for tribals, draws its name largely from handi, or earthen pot which holds the rice for fermentation, and is particularly a favourite among the Santhal and Munda tribes.
Clusters of sal trees or what is also called sarjom, show up along the way; the trees are in bloom and covered in fresh cream-coloured flowers. Meera tells us how she would wear the heavenly-scented sal flowers on her hair and pined for its soft, fleshy fruits even after she moved to Bhubaneswar.
Then, as we near the house, her demeanour changes; the last time she visited home, in December 2016, was after her father's death. Away playing a tournament in Sri Lanka then, she couldn't reach in time to see him one final time or comfort her brother while he lit the funeral pyre.
---
On reaching, we're ushered into Meera's low, thatch-roofed two-room house by her elder brother Kanucharan with hands folded in a greeting. The mud-floor room we enter is largely empty but for a charpoy (a string bed commonly used in rural India) and, on shelves, a few of Meera's trophies.
We then head for the slag heap, 15 minutes away. "There's no hierarchy here, whether you're nine or 90, the work is the same for all," says Meera, scouring the squatting figures for a familiar face. A few look up, their hands still in motion, before burying themselves in work again. "How much you earn at the end of the day depends on your strength and patience, the more hours you put in, the more you can earn."
It's almost like she misses the work or maybe the money. It's the latter, we realize soon enough. "We were promised jobs by the state government in 2015 but we haven't heard from them since. I've completed college and now I'm pursuing a two-year Physical Education course in Bhubaneswar. It's tough, you know, to play a sport if you have no job or money," says Meera.
Hupi nods, conveying similar doubts. "When you have 'India' written on your jersey in big, bold letters people in your homes and villages expect you to do something to make their lives better," she says.
She has recently branched out to a fresh career path, in addition to her role as a player. She's completed a Level 1 referees' training course and is now part of Rugby India's referees' panel. She even officiated the U-14 and U-17 matches at the National School Games in February this year. "We have very few female referees in India so the idea was to take it to players who have been performing well," says national team coach and former captain Nasser Hussain. "Hupi was one of them. It motivates these girls to continue playing with the assurance that they have a good potential awaiting them in future." Meera admits that she too plans to plunge headlong into it, alongside her playing commitments, once her college exams are over.
---
The final questions wrapped up, Hupi knows it's time for us to take leave of her village. Skimming through the gathering, her eyes turn hopeful. "Like me, every girl in the village should be given a chance to follow her dream," she says, her hands clasping a small bunch of flowers the village had welcomed her with, a few red roses crowded out by a circle of crushed yellow marigolds.
As we near Meera's ancestral village of Gopalpur in Khaliamenta, the road disappears and in its place lies a grey, muddy slush, caved in at several parts. Dhotis rolled up to their knees, two men ahead of us navigate their way through it barefooted with practised ease, the soot-like mud caking their legs. To our right, a man tugged at the handlebar of his cycle, its rear wheel spinning, trying to nudge it out of the muck. It's part of their many everyday struggles. "Life is hard here. Power supply is irregular and even for drinking water people have to travel far since there are no water bodies nearby," says Kanucharan, as our vehicle sways furiously from side to side, the wheels struggling in the mud.
At the village, the scene is starkly different. There's no grand welcome or hugs exchanged. Meera's extended family haven't seen her since she left their ancestral household with her father and siblings, as a toddler. They are just getting used to being around each other after a long time. Though they caught snippets of news of her choosing a different path than what girls in their household, neighbourhood and community traditionally have, they aren't entirely certain of the sport she plays.
Anticipating these doubts, Meera, who's carrying a rugby ball with her, presents it to the puzzled gathering. It's like nothing they've seen before but the pig-bladder-shaped object acts as the ice-breaker and gets them talking. Meera can relate to their bewilderment. It's what she felt when rugby was first mentioned to her.
It was back in 2007, when the U-14 boys' team from the Kalinga Institute of Social Sciences (KISS), a free residential school for tribal kids in Bhubaneswar where both she and Hupi have been studying, returned to a rousing welcome with a big, glittering trophy and a bagful of tales of having boarded a plane, travelled to a foreign country and beaten bigger boys. She knew something important had been accomplished but today she realizes it's what redefined rugby in Odisha, particularly for kids like her. It was the most unbelievable story: A group of tribal boys who had barely come to grips with a new sport participating in a 10-nation invitational tournament in London and beating the rest of the field to return home champions.
---
Rugby came to India in the early 1870s and, unlike football or even cricket, was a sport played almost solely by the British, keeping the Indians out. The hubs were Calcutta and Bombay (as they were then called), where the expats played the game at their clubs -- Calcutta Football Club and Bombay Gymkhana -- or in their schools and colleges. The Calcutta Cup, the trophy played for annually between the national teams of England and Scotland, references the game's influence and spread right across the Empire to its second city.
Things moved slowly in independent India; the game remained largely confined to the metros and the elite clubs, played by the privileged and those with access to the unique equipment. It's only in the last three decades that the game has spread to the hinterland. The clipped accents and posh English have given way to vernacular languages and a more rooted Indian ethos.
Some of it, Indian actor and former rugby player Rahul Bose says, has to do with the invasion of English football into middle-class and affluent living rooms. "Football, especially EPL, drew a lot of well-to-do children to it because it's obviously safer and a lot more glamorous. So if there's a boy who's physical and liked to get into sport, he was now happy to pick football."
The genesis of organised rugby programmes in Odisha can be traced to November 2006 when the UK-based charity Tag Rugby Trust (TRT) began its first coaching and development tour in Bhubaneswar by working with KISS and five local government schools, familiarising them with tag rugby. By 2012, the number of children coached by TRT swelled to 2000. An inclusive, adaptable and non-contact version of the sport, tag rugby is used to warm kids to the idea of tearing down barriers and coming together in participation. "I think it is fair to say that the initial reaction was one of 'What on earth are you talking about, that game sounds crazy!'" TRT co-founder Martin Hansford tells ESPN. "But when we made a comparison to kabaddi with a ball, their eyes definitely lit up."
---
Tag rugby is essentially a playground sport with a few rules tacked on and that, Hansford says, drew in most kids. Tackles are made by tagging opponents, forcing them to pass and preventing them from scoring. Since they are engaged in a broad range of physical tasks on a daily basis, Hansford adds, tribal children have enhanced core motor skills and hand-eye coordination that help in the sport.
"We had some concerns raised by teachers about boys and girls playing together, but when they saw a session under way, their concerns disappeared," he says.
And that's when rugby became an unlikely vehicle for women's emancipation.
"Had I run away then, I would have never known rugby or how it could change my life."
- Hupi Majhi
"I think," says Bose, "in India there's a definite movement for women to get out of poverty through sport. It seems very benign when they are younger, so parents tend not to have any kind of resistance to it and it's a very gentle way of bending patriarchy in the house. It sounds harmless that your daughter is going to play but I think what happens then, and it's a very clever strategy, is that these girls get physically stronger, assertive, toughen up mentally and begin to exercise their leadership skills, which then prove to be a real challenge to orthodoxy, patriarchy and misogyny."
Strangely, women's rugby is most prevalent in the tribal, economically less well-off parts of Indian society. Though maybe that's apt. The most popular image of rugby is of a tight group of players -- forwards from one side pushing against those from the opposing team, arms interlocked, heads bowed, bodies fused, metaphorical of the cohesive, interdependent nature of the sport. Or the choreography of the line-out, when every player on the field is in play: the hooker throwing the ball down the corridor, those trying to catch it, those waiting for the pass. It's not too far from the concept of community living and shared identities that is core to tribals. For Hupi and Meera, it's familiar turf.
---
You'd think physical sports such as rugby could intimidate tribal girls like Meera. She turns the notion on its head: It empowers her and sets her free, she says. There's a position in the team for every body type: tall, short, curvy or thick-legged. It makes girls look at their bodies and strengths in ways they had never known before. "When people ask me why I chose a contact sport like rugby, I reply that I picked it for that very reason. It's also a way of telling ourselves that nothing is beyond us."
Five of the 12-member U-18 team that participated in the Paris World Games in July last year were tribal girls from KISS while another five belonged to the north Bengal village of Saraswatipur, which is covered by Khelo (Play) Rugby, an outreach programme of the Jungle Crows Foundation. "These tribal kids now have an ownership of the sport in the national context, especially at the junior level," says Jungle Crows founder Paul Walsh, who travelled more than a dozen-odd countries through his career as a diplomat before falling in love with the city of Kolkata and settling there more than a decade ago to spread the game among underprivileged kids. "To have a chance to play a sport at a good level, especially for a community that has been outside the mainstream, can be incredibly valuable and empowering. More so for tribal girls since the sport requires them to be strong, fearless and stand up for themselves in cultures where they're taught to be delicate and submissive."
There were roughly 5,000 girls playing the sport in India five years ago, says Bose, today it's almost six times that number. "The kind of traction the game is getting among the poor, the socio-economically backward classes of society is phenomenal. The growth is greater among the girls and they're almost all from KISS, so we can't take credit for that."
The Indian women's rugby side began participating in international tournaments only in 2009 and made a rather forgettable debut, losing all three matches at the Asian Sevens Series in Bangkok. The weeks leading up to the competition, though, had been consumed by frantic attempts at getting hold of passports for players, most of who were drawn from the hinterland and from sports such as kabaddi or football. Indian women's first-ever international success, a 22-7 win over Korea, came the following year at the Asian Championship in Guangzhou. In December 2016, Indian girls finished with a bronze medal at the inaugural Asian U-18 girls Rugby Sevens in Dubai. Both the medal-winning teams -- in Dubai and Laos -- had two familiar driving forces: coach and former India captain Hussain and players from Odisha.
Culinary challenges conquered, India made the finals and won silver, with Hupi finishing among the top three try scorers in the tournament and Meera figuring third in the conversions tally. The tournament itself wasn't among the most heavyweight ones but five wins in six matches and a silver medal got people talking. That half the team comprised girls from Odisha's tribal belt added another dimension to the storytelling. Sadly, the team hasn't played an international tournament since and will next come together for the Asian Games in Jakarta this August.
Skills aren't a worry for the side, says Hussain. It's the size. "They're five-footers on an average so when you come up against the bigger-sized players it puts you at an obvious disadvantage." Meera agrees. "Just looking at these players, in your head you begin to think that it's all over. It was happening to us in Laos as well. But we managed to beat size with speed."
---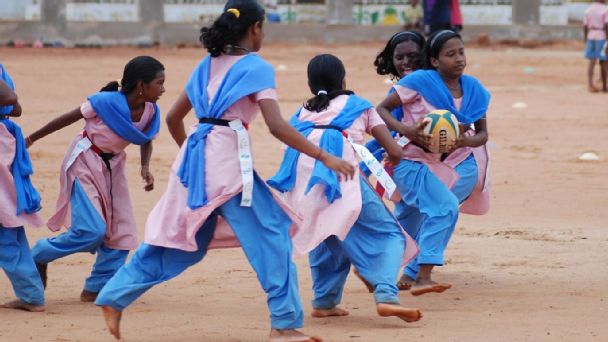 Much of the Odisha story hinges on KISS, an unlikely catalyst for the rugby revolution. It was set up in the early 1990s by Pradyumna Bal and Achyuta Samanta, in a small rented shed with just Rs 5,000 (roughly $80 today), with the ambitious target of offering fully free education for tribals, "Through my own childhood experience I realized how crushing a life of poverty can be," Samanta says. "We were so poor that we couldn't afford to have a square meal in two days. I knew if I had to do something to help the poor, I had to start with education, particularly of girl children. And sport was always crucial to my vision since it helps kids believe in themselves."
It was actually Walsh's Jungle Crows who had been originally invited to participate in the September 2007 U-14 tournament, conducted by the UK-based charitable organisation Touraid, which the KISS boys went on to win. It changed the landscape of rugby in Odisha. "We couldn't get passports for the Jungle Crows kids in time so I went to KISS, looked at a group of boys and threw a ball around," says Walsh. "They had never heard of rugby before but were enthusiastic to learn. It helped that tribal kids are natural athletes who can run, skip, hop and jump without much trouble, which I suppose is drawn from spending their childhood years outdoors. They also have a good sense of space and how to run into space. We got them to grasp the game by breaking it down to a simple concept: You run forwards but throw the ball backwards. They latched on pretty well."
In November 2006, KISS boys won a six-team event in Bhubaneswar and the squad of 56 players was pruned to 30 and then, following rigorous training, to 20 ahead of another tournament in Kolkata. "What drew us to rugby first was the egg-shaped ball," says Rajkishore, who captained the side to the historic win. Until then, moving to Bhubaneswar from their tribal settlements was the most they'd seen of the outside world and the farthest they thought they would ever go. "We practised hard for four months, staying back in school while other students went home to their villages for the summer break," he adds. "Finally, 12 of us were picked for the London tournament."
KISS coach Rudrakesh Jena was entrusted with the job of travelling with the boys to the tournament along with Walsh. The title, he says, wasn't even a dream then. "These boys had never boarded a plane or seen a bigger city than Kolkata. For them just getting on to a flight to London was like a victory in itself," says Jena. Before leaving Bhubaneswar, the team's captain was picked on what they felt would be the singular-most essential skill required overseas: the ability to converse in English. "Once we reached London, we realized it was not the best way to go about it. Bikash [Chandra Murmu, who'd been named captain] was a shy guy and like most others in the team he seemed intimidated. But Rajkishore was still the fearless, fun-loving chap he was back home and we noticed his leadership skills and decided to make him captain instead," he says.
Intimidated by burly opponents and unfamiliar weather, the Odisha teens felt their morale slip and knees weaken once they stepped on to the lush green field. "Hume bas pata tha ki ball lena hai aur bhaagna hai (We just knew the basics of the sport, that we had to take the ball and run)," Rajkishore says. "The other teams were a lot more skillful and deceptive and for the first few minutes of our first match we stood on the field confused. We kept motivating each other by saying that no matter what our opponents' size is, we should just station ourselves before them and block their way so that they have nowhere to run. Jo bhi ho jaye, maar ke jaana hai, jeet ke jaana hai (Come what may, we have to beat them and return home victorious). They ended up defeating teams from Romania, Zambia, Swaziland and Kenya to make the final against the South African side, Langa Lions. The eventual scoreline in the final, 19-5 in favour of the Indians, set off a fresh wave in Indian rugby with KISS' tribal students riding the crest.
---
Starting with 125 tribal kids in the early 1990s, KISS had 1,500 students by 2005 and little more than a decade later, the number of children who have found life and hope through this unique institution has swelled to 17 times the original figure. "I lost my father at the age of four and for my mother to provide for the family was difficult. My mother didn't even have a spare sari to wear," says Samanta. "So I wanted to bring about a change in whatever little way I could."
For state's 9.6 million tribals (according to the 2011 census), a fully free residential school that supports them from grade one through postgraduate training (popularly known as KG to PG) is a godsend for the community, an opportunity to push past whatever binds them to a life of want and misery.
So far, 10,000 tribal children have completed their education from KISS; the school receives 50,000 applications annually, where it can admit 2,000. Preference is given to girls (who constitute 60 per cent of the students), backward tribes and the lowest income groups. Coincidentally or otherwise, the literacy rate among Odisha's Scheduled Tribes has risen by around 15 per cent in a decade -- from 37.4 per cent recorded in the 2001 census to 52.2 per cent in 2011.
The highlight of the campus visit -- apart from the kitchen that feeds 25,000-odd students every day -- is the 9 a.m. morning prayers. An endless blue-pink sea of students formed in neat grids fills a space larger than a football field, heads bowed, hands folded in prayer, letting out a long, collective, sonorous, nearly-hypnotic 'Om'. Long after the prayers are done and the field is cleared of its multitude, the chant reverberates in our ears.
And then there's the rugby orientation session for KISS kids, as part of the Get Into Rugby (GIR) programme, a World Rugby initiative held three times a year to popularize the sport in association with regional associations and unions.
---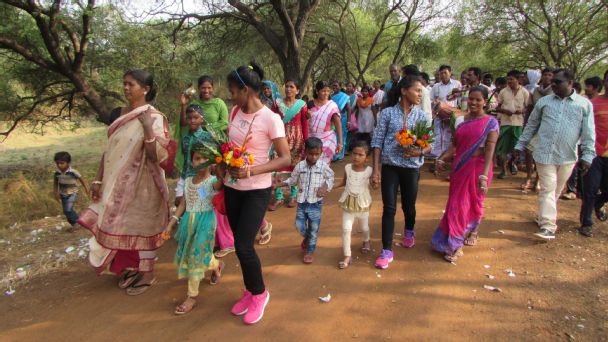 They assemble at the school ground at 6 am: members of the national women's team, the girl students in muted pink and light-blue uniforms and bright-green badge tags around their necks. Coaches dispense instructions in Odia as the girls listen closely, hair well-oiled and neatly parted, and smiles pasted across their faces. They're eager to get a hold of the ball but await their turn patiently in rows. "We show them a structured programme like the GIR and they welcome it since it's an avenue for them to excel at something, especially the women's game where they don't have that many opportunities to play a team sport and the response is overwhelming. We see a lot of them coming through the system, moving up, playing competitive rugby and performing well at it, so it's a good hunting ground of talent for us," says Hussain, "We've got over 500 schools that are involved in the school system, which is primarily because the sport been included in the School Games Federation of India."
The best way to replicate the exponential growth of rugby outside, Hansford feels, is to use products of the KISS system to run outreach programmes. "They have proved to be capable coaches and will have far more empathy with children in government schools than any foreign coach. With the appropriate sponsorship and support initially for Odisha, there is no reason why this can't be a job for a sizeable team of graduates from KISS," he says. "From TRTs perspective, we would happily look to help the development of these coaches' skills. What they require is not the off-the-shelf coach education packages aimed at developed rugby nations, rather something more basic that truly addresses how to introduce rugby to a mass audience and encourage more people to become coaches. Tag is perfect for that -- we have been doing it for 15 years with fantastic results."
Three basic concepts of the sport are introduced to the girls: 'pass' (in twos, throw the ball at each for a few exchanges), 'catch' (where they toss the ball in the air and catch it after two quick claps) and 'try' (run with the ball, toss it in the air, catch it and ground it at a designated spot). By the close of the one-hour session, the kids are exhausted with the delirium of having learnt a new sport. "Around 10,000 students of the total 25,000 kids at KISS play rugby," says Rajeev Nath, a rugby development officer in the state. "At the school we hold three, two-hour sessions a week and more than just gaining skills in a sport, it helps them imbibe values like discipline and integrity at a young age too."
---
"Aaj rugby ke wajah se main mooh khol rahi hoon (Today because of rugby, I speak up)," Meera tells us. "Earlier I would fear talking to anyone. But rugby has made me fearless. Nothing scares me any more."
Meera was drawn to the sport after the U-14 KISS boys' exploits and it gave her purpose and direction. "When I joined KISS in 2006, I was really scared. I didn't know anyone nor could I speak Odia [the state language] which everyone else conversed in. I sat by myself in a corner, spoke to no one and had no friends for more than a year. But when I saw what the U-14 boys of our school had achieved, something in me was stirred. It moved me to take up rugby and that changed my life."
As fly-half, arguably one of the most crucial players on the pitch who orchestrates the tactical game, Meera's role demands leadership and quick decision-making. "She's the playmaker of the team and has good vison and reads the game really well," says coach Hussain. "She creates space and plays which puts Hupi into a better position to score and is the pivot that we try and work off."
The general perception, Bose notes, is that Indian women can definitely make a mark on the international stage at a faster rate than the men since the pool is smaller and women in Indian rugby are learning how to play the game after the trainers and coaches have learnt how to play international rugby themselves. "With us, the men, we had to learn on the job," he says. "When I played in 1998 we didn't know how to play international rugby. We knew how to play club rugby but there's a difference and they skipped that process. It's like moving into the internet 20 years after America and straight into grade 3 technology so that's what the women have benefited from. When you think of what sport a girl from a backward socio-economic background can play, the answer is probably rugby because you don't need to invest in any equipment and it's easily accessible too."
Walsh agrees. "Tribal women in Odisha, you can tell, are strong within. They might sit quietly, but if they get a chance to kick a ball or do something, they'll do it."
It holds true for Meera's lot. As she tosses the ball into the half-moon of scrawny, smiling girls dressed in neat, bright frocks, some related to her and the rest just curious neighbours in her ancestral village, Meera says she has big dreams in the sport. Not just for herself, but for the many children in tribal households who've never known a world outside their homes.
"They just need to step out. Rugby will find them, just like it found me."
ESPN.in
, Susan Ninan traveled through the tribal belt of Odisha in 2017 for this story.
A reporter for