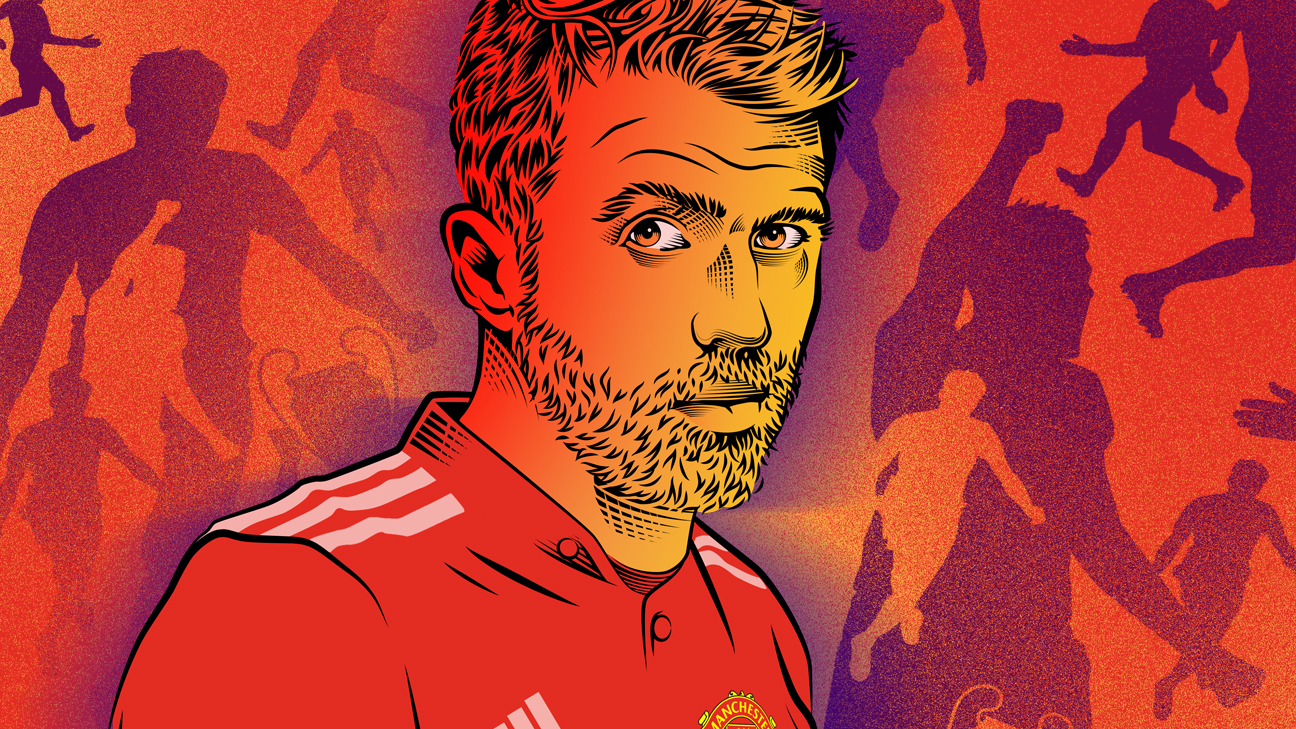 Michael Carrick says goodbye
Michael Carrick is the last of Sir Alex Ferguson's greats. This is his inside story at Manchester United -- and what comes next.
MANCHESTER, England -- There is no fuss with Michael Carrick. He probably has an ego somewhere inside him, but it doesn't show. He is classic son-in-law material: consistent, reliable, understated and someone who responds to any kind of praise with embarrassment and a shrug of the shoulders.
Carrick didn't enjoy being the centre of attention during his Manchester United testimonial game at Old Trafford last summer. But he will have to endure the spotlight one last time on Sunday when, after announcing his retirement earlier this year, he will make his final Premier League appearance against Watford.
When Carrick goes, it will mark the end of Sir Alex Ferguson's golden age at the club. Ryan Giggs, Paul Scholes, Rio Ferdinand and Wayne Rooney have all decamped in recent seasons. Carrick, the last man standing from the team that won the 2008 Champions League, is ready to join them in the pantheon of former greats.
As we talk through Carrick's storied career, Ferguson's influence is obvious, something emphasised by him tweeting his "absolute devastation" at the news, on May 5, of his former manager undergoing surgery after suffering a brain haemorrhage.
"What a man," said Carrick during our interview. "He was a massive, massive influence on me personally, not so much what he sat down and said to me but more the aura that he had, the feelings that he gave out and the culture that he had produced at United when I came into that dressing room.
"His relentless will to win, again and again, was unbelievable."
Almost 19 years after making his West Ham United debut against FC Jokerit in the Intertoto Cup, Carrick will retire with 12 major honours -- 18, if you count his six Community Shields -- and 34 England caps. He has also earned the rare distinction of winning every club trophy he has played for, from the Premier League title to the FIFA Club World Cup.
Not bad for someone who, according to Ferguson, could only play when it rained.
"It was at the start of the season, for about three years in the row, he [Ferguson] used to tell me, 'you don't play well until it starts raining,'" Carrick told ESPN FC. "At the time I was thinking, 'What's he talking about?' But then you'd get in the team around September or October, I'd miss the first four to six weeks, and then once I got in the team, I always pretty much stayed in the team."
Carrick was speaking to ESPN FC in the cellar of Victoria Warehouse, a converted cotton mill on the banks of the Manchester Ship Canal, just a stone's throw from Old Trafford. He is early (no surprise there) and jokes about the preparation that has gone into developing Polaroid images of the key moments of his career. He spots one relating to his half-time team talk during United's recent 3-2 victory at Manchester City, rolls his eyes and shakes his head with a grin.
"We're not talking about that, are we?"
Up close, Carrick is surprisingly tall -- he officially stands 6-foot-2 -- but while many Premier League footballers stay close to their entourage until the microphone's switched on, Carrick is happy to chat until he is told it is time to get down to business.
During the maelstrom of the post-Ferguson era at Old Trafford, Carrick has been the thread that has linked old and new, a reminder of the past but also an important bridge to the future both on the pitch and off it. But it was not always plain sailing under Ferguson. Carrick, who joined United from Spurs in 2006, found himself a bit-part player at the start of the 2009-10 season. The rumour mill suggested he was paying the price for conceding possession in the Champions League final defeat against Barcelona in Rome at the end of the previous campaign.
Did Ferguson freeze him out?
"He may have blamed me, but he never actually told me," said Carrick, laughing. "To be fair, I gave the ball away for their first goal. It was a header, I kind of headed it down and they took it, but yeah, he never actually had a go at me for it.
"That's probably why I didn't play until October [laughs]."
What Carrick doesn't mention is that he played in that final with a broken toe -- hardly an advantage when facing the likes of Xavi, Andres Iniesta and Lionel Messi -- but his modesty prevents him from using that as a mitigating factor.
The pressure was on Carrick right at the start of his United career. The club handed him Roy Keane's No. 16 shirt, challenging their new midfielder to fill the gap left by Ferguson's greatest captain. But Carrick was a different kind of midfielder: graceful rather than ferocious, measured instead of vocal.
One of the traits that defined many of Carrick's contemporaries in his early years at United was the same kind of modesty that prevents him from recalling his injury against Barcelona. Success was a team thing; individuals sacrificed themselves for each other. Cristiano Ronaldo was probably the exception, but exceptional players tend to be given allowances. Besides, Carrick's game was made so much easier by having Ronaldo racing onto the end of his raking passes from midfield.
That sense of the greater good could be traced back to Ferguson. "The trust that we all had in him was unbelievable," said Carrick. "[If I had been dropped], I kind of thought well if that's his decision, I'd be ready when I'm needed. I was kind of accepting of not playing for a spell.
"It was his way of managing the group," he continued. "Some lads started the season flying and fizzled off, some, like you say, me, I didn't start well and finished strong. [Ferguson] kind of used that ... clever."
Carrick may not project the same fearsome drive of his former manager, but it is there nonetheless, as was evident during the half-time interval of United's 3-2 win at Manchester City in April. Trailing 2-0 at the Etihad, Carrick (who didn't play that day) made his point to his teammates. Perhaps he was carrying the torch of his old manager, reminding everyone in the room of the expectations that come with playing for United.
"I think as an older player, there's a kind of natural responsibility or natural role to go around the lads and say a few things," said Carrick. "I had it when I came into the team; when you look to the older boys in certain situations to see what they say, see how they act, and see what they expect.
"Whatever happened, whether it was me or whether it was someone else, whether it was just the lads themselves, something flicked into gear and it was an unbelievable comeback."
Carrick's half-time intervention at the Etihad may be the first indication of the next chapter in his career. Jose Mourinho has already handed him a role on his staff for next season.
As Carrick prepares to hang up his boots, he finds himself in a reflective mood. It's been a playing career of more highs than lows, from emerging as a youngster at West Ham, suffering relegation and then remaining loyal to the club in the second tier. "I never thought about leaving," he said. "It was a tough year in the Championship, don't get me wrong, but I'm glad that I went down there as it toughened me up mentally."
Carrick left for Tottenham in 2004 but despite the bitter rivalry between the two London clubs, he escaped the vitriol that many players are subjected to when they leave West Ham.
"Yeah, I got away with it!" he said, joking. "I never really got much stick about it from the West Ham fans, nothing that stands out, although I must have got a little bit."
There it is again: the perfect son-in-law streak. But there is a different side to the 36-year-old -- a dry wit, somebody who can hold his own in a dressing room full of big personalities and a player who has never been reluctant to disagree with a journalist's question and turn it back on his interrogator.
He is also a fully committed "petrol head," a racing car obsessive who has spent recent summer breaks in the pit lanes of Monte Carlo, Silverstone and Melbourne during F1 Grand Prix weekends, admitting to manutd.com in the past that he is fascinated by "the cars, the drivers, the skill involved, the work that goes into putting the car on the track, which is something that I'm intrigued by. I just love watching it."
When it comes to work, though, Carrick will arrive at Carrington in an Audi or Range Rover rather than the more flash sports cars driven by his teammates. Businesslike and focused, just as he is on the pitch.
If it's true that nice guys don't win, take a look at Carrick's roll of honour for a counterpoint. Five Premier League titles, three League Cups, an FA Cup, a Europa League winners' medal, a FIFA Club World Cup, six Community Shields and, of course, he is a 2008 Champions League winner, the pinnacle of his career.
"That's the top of the tree for me, memory-wise," he said. "The feeling that gave us was the best I've ever had in my life."
It was a roller coaster in Moscow. Ronaldo's early opener was cancelled out by Frank Lampard's equaliser, forcing the game to a penalty shootout. The memory of the walk from the centre-circle to the penalty spot in the Luzhniki Stadium brings a nervous grin to Carrick's face. Before he could experience the ecstasy of winning, he had to endure the agony of placing the ball on the spot, hoping it would strike the back of the net.
"Yeah, that was one of the worst things I've ever done," he said. "The worst thing, I'd say. The feeling before that, you wouldn't wish it on anyone. It's hard enough watching [penalties] because you're on edge. But having to actually get yourself in the frame of mind to take one, in the back of your mind knowing the consequences if you miss, it's a tough place to be.
"Thankfully, we got our hands on the trophy," Carrick added.
Although he makes winning the Champions League sound mundane, discussed with the same level of emotion as catching the last train home, the smile on Carrick's face betrays his true excitement.
"I think we all pretty much thought it was gone [when John Terry stepped up for his penalty]," said Carrick. Terry, of course, famously slipped and struck his penalty against the post, leaving Ryan Giggs to score before Edwin van der Sar saved Nicolas Anelka's effort to give Manchester United the victory.
"I didn't look at [Terry's] pen, so I didn't see what happened at the time. But it was agony, up and down that night. That's why I think, by the end, when we did win it, the feeling was so good because of the roller coaster we went through. It was mad."
It was only about a year earlier when Carrick realised he had arrived as a United player, scoring twice in an unforgettable 7-1 Champions League win against Roma.
"That was right up there as one of the most special nights," he said. "It summed up those early years at United -- the speed, the intensity, the quality of football was too much for Roma to cope with, but we kind of surprised ourselves, I think."
Typical Carrick: he fails to do his goals justice. The first, a right-foot strike from 25 yards out, gave United a crucial 11th-minute lead while the second was arguably even better, a curling strike from the same distance in front of the Stretford End.
"I remember coming off the bench and [assistant manager] Mick Phelan saying 'How much did you cost again? I think you just paid some of that back.'"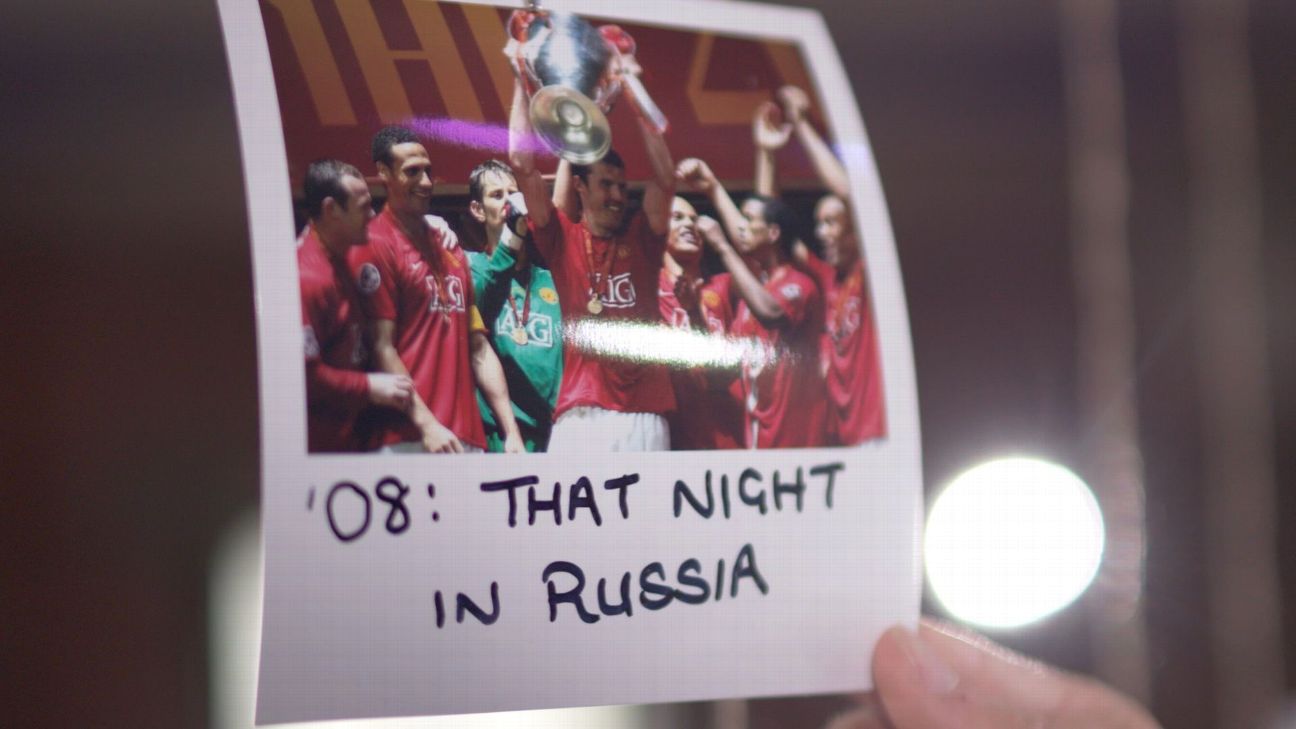 Away from United Carrick's England career was a tale of unfulfilled promise.
Thirty-four caps over a 14-year period says it all. He did have competition for his role in central midfield during the era of Lampard and Steven Gerrard among others. Yet four England managers -- Sven-Goran Eriksson, Steve McClaren, Fabio Capello and Roy Hodgson -- never saw Carrick as a consistent starter. Little wonder, then, when asked to sum up his England career, Carrick flashed a grimace. He spent the majority of his time for England as an underused and underappreciated member of the squad. In an interview with BBC2, Carrick even went so far as to say that playing for England made him "depressed" and he would ask not to be picked.
"It's a tough one to judge, sometimes you think about it and think you could have done this, you could have done that," he said during our interview. "I could have been picked at certain times when I was playing well, but I didn't get picked, but then there were certain games when I did play and I didn't play great, so I'm not going to blame anyone for it.
"I never had a run of games, that was my biggest thing; it was always one here and one there, some I played well, some maybe I didn't, but I always felt the ones that I didn't, then that was it. It was kind of like your chance is done for another while, you know?
"I felt like I was there [in squads] because I was playing well at United," said Carrick, "and, because I'm playing for United, they had to pick me, but they didn't really want to play me."
Carrick wasn't the first player to express dissatisfaction with England. His United teammate Scholes retired from the national team at just 29 years old. Both players only truly received acclaim for their ability at the tail end of their careers, but Carrick said that nobody comes close to Scholes, now his golfing partner, for being the best player he competed alongside.
"I'd have to say Scholesy because I just played so close to him, you know," he said. "I've played with some world-class players, some of the best that's played the game, but Scholesy was just something else. I still think I'm just fortunate to have seen him train every day and having the best seat in the house, stood next to him passing the ball and seeing what he could do with it.
"It was just outrageous how good he was. I could pick 10-15 players that I played with over the years -- Ronaldo, Wazza [Rooney], Rio [Ferdinand], Giggsy, Gaz Nev [Gary Neville] ... [he was an] unbelievable full-back, unbelievable captain -- but Scholesy just nicks it."
The final day of the 2017-18 Premier League season also marks the final page in the Carrick story before he joins his old teammates in retirement. But coaching is the next step, combined with his foundation, which has blossomed since last year's testimonial and resulted in the launch of Carrick's Street Reds close to Old Trafford, where youngsters will be offered free coaching sessions.
Having seen his own football career ignited by the Wallsend Boys' Club in his native Newcastle as a youngster, Carrick said he is determined to give kids the chance to follow his path to the top.
"[My family] didn't have a lot, we didn't have much money, but I was a happy kid. I was safe, due to my parents, but the Boys' Club was a massive influence.
"There's now a responsibility to spend [the funds raised by Carrick's testimonial] it wisely, to look after it and give as many kids the opportunity as we possibly can to be safe, to develop, to just give them a good environment to come and leave whatever problems are going on with their lives away from it and to just enjoy their football.
"But more importantly, enjoy being around people and learning and developing."
And to follow the example set by Carrick: dedication, humility and success.
is a senior football writer for ESPN FC. Follow him on Twitter: