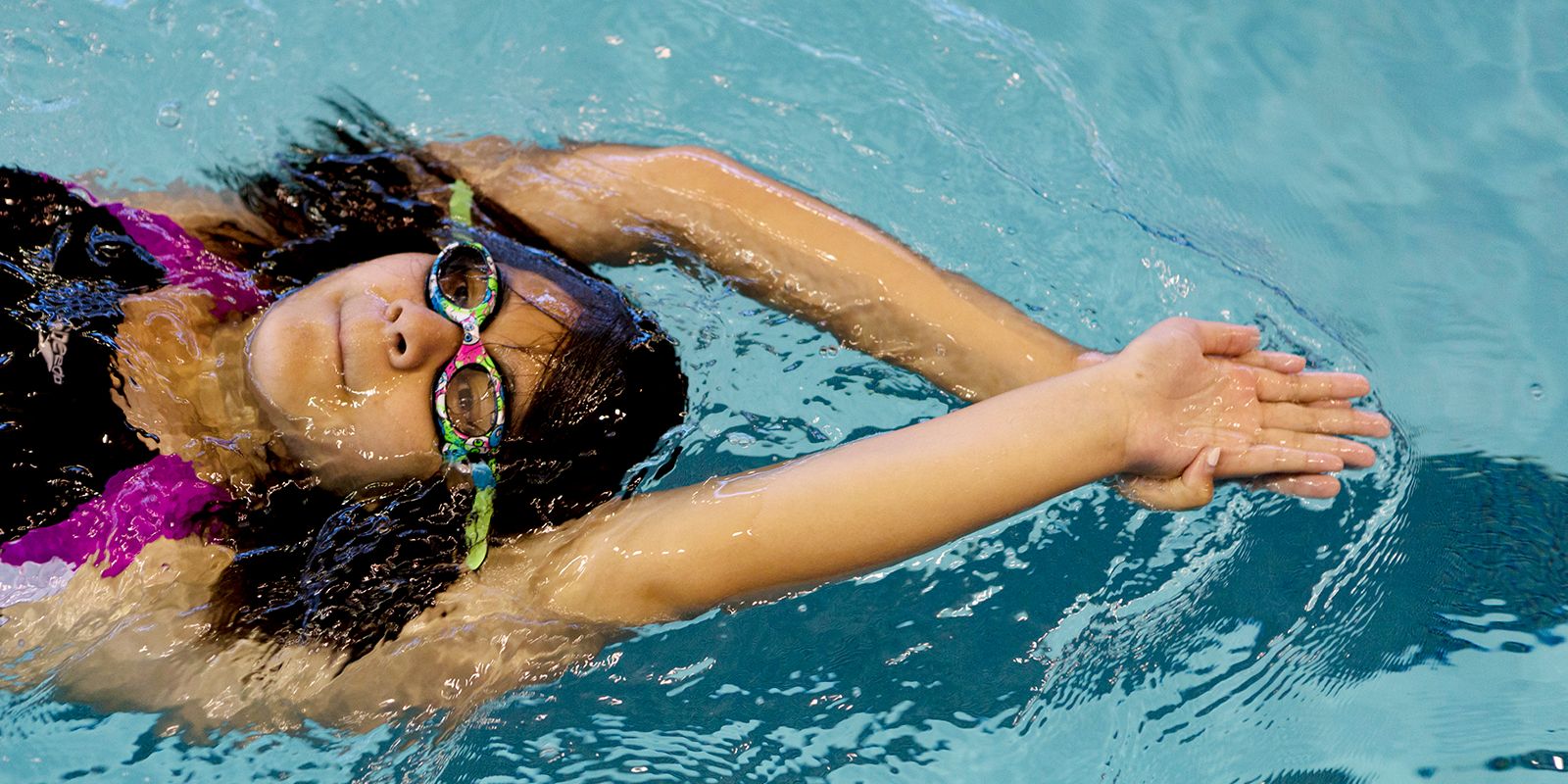 A Fish Called JoJo
Jolina Harris, affectionately called JoJo by her family, was drawn to the water as a young child. The ocean was her playground -- and her solace. Now a 12-year-old, she finds that peace in the pool as a Special Olympics swimmer.
Jolina Harris is standing outside her family's Las Vegas home holding a broom.
The midday sun is bright, reflecting off the white stones in the front yard. JoJo, a nickname her grandmother gave her, slowly moves the broom back and forth. The movement looks like how someone would sweep if they were mimicking the motion but didn't understand the actual purpose. I glance down: The bristles are lifted 6 inches off the ground.
It's a Saturday morning in May, and soon the Harris family will get ready for swim practice. But for now, JoJo and her sister, Jayanna, who's just a couple of years older, are like most other teenagers, begrudgingly helping with weekend chores.
"Hi," I say quietly to JoJo, walking up the driveway toward her. "I'm Kate; it's nice to meet you."
JoJo does not look up, does not respond. In the hours before my arrival, Mary Harris, JoJo's mom, encouraged me to meet them at the house so they can work on JoJo's social interactions.
I observe JoJo. She is athletic: tall, with broad shoulders. Her loose brown hair has fallen across her face, a natural veil behind which she seems to be hiding. She is wearing a white T-shirt with characters from Mario Kart, and I do a mental fist pump. I know that video game! I have found common ground with a 12-year-old!
"Cool shirt," I say, pointing down. Her eyes follow my gesture, but she says nothing. She keeps sweeping, or at least making the motion, and I walk past and through the open front door. Mary has been watching our interaction, and she calls outside to tell JoJo she can move on to the next chore.
Inside their home, every corner of the downstairs is filled, most with boxes. The walls are covered with mementos from a life by the beach. The Marshall Islands flag -- an orange and white shooting stripe across a background of blue -- hangs between the kitchen and living room. Mary gestures around the house. "Truth is, we're still unpacking," she says, and it feels vaguely like an apology.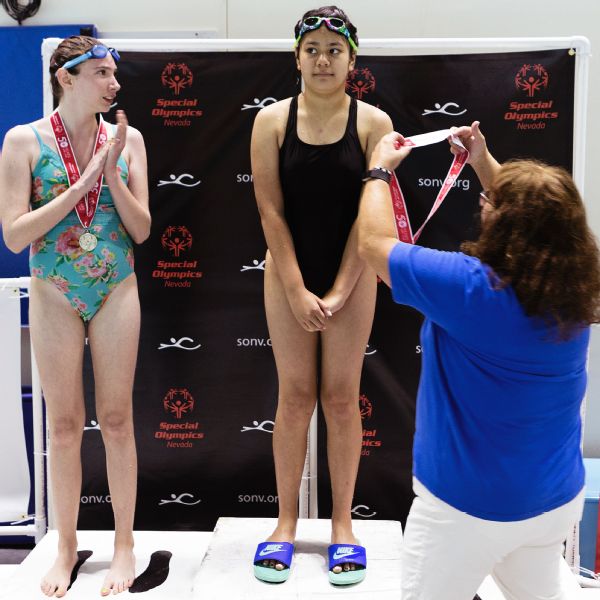 For the Harris family, Las Vegas is where they live. But it is not -- and never will be -- home. They come from the Marshall Islands, a tiny chain of volcanic islands between Hawaii and the Philippines. And that's where JoJo's nickname comes from: jojo means flying fish. The specific island from which their family hails is Ebeye, and it's one of the most densely populated areas in the world, famous for serving as a battleground for two warring nations, the U.S. and Japan. In the 20 years immediately after World War II, during the Cold War, the U.S. government tested 67 nuclear weapons near the Marshall Islands, including the 15-megaton Castle Bravo in 1954.
The islands are also famous for something else: their beautiful water.
This is one reason I am in Las Vegas, because of that beautiful water. Because from the time JoJo Harris was a baby, she would jump into that crystal-blue ocean, or the pool on the military base in which her older brother, Giordan, first started swimming. She'd jump in even if fully clothed. She really just preferred being in water.
The water, and what it did for JoJo, became even more important when Mary started to realize something was different about her youngest. She wasn't forming words; she struggled to connect and communicate; and holding her attention proved almost impossible. Mary had to leave the island, had to bring JoJo to Las Vegas, where Mary's father and brother lived, to finally receive a diagnosis: autism.
Even so, Mary still believed JoJo would get better, that with enough love and attention, enough books and quality time, JoJo would turn a corner, finally emerge from behind the wall she seemed to perpetually stand behind.
That never happened. Mary had to accept that faith and willpower weren't enough; JoJo needed a doctor.
Really, only two things seem to keep JoJo focused: video games and swimming. (Those two things actually have more in common than you'd first imagine.) But on this spring afternoon, we're headed to the Las Vegas municipal pool, just off the Strip. Swim season is coming to a close for most Special Olympics athletes, but not for JoJo. She will compete in Seattle at the Special Olympics USA Games (July 1-6).
And this is another reason I'm in Las Vegas: to tell the story of a girl from a tiny island very far away. A girl who struggles to tell her own story, even while surrounded by a family trying to give her as much as they can.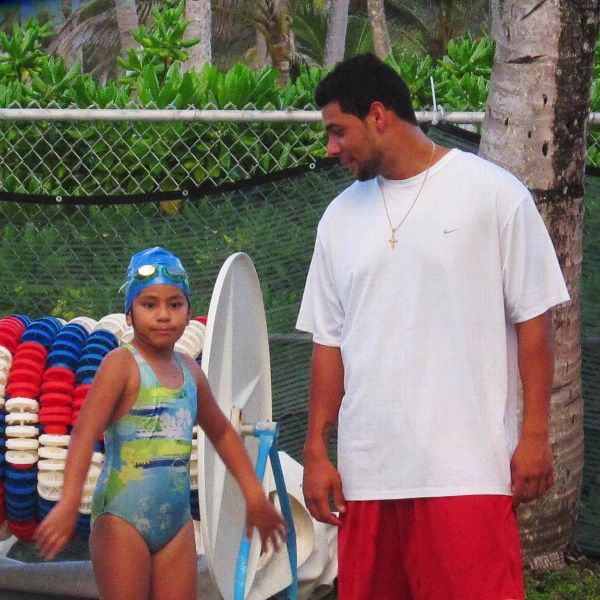 After JoJo was chosen for the USA Games, Mary shared the good news with her daughter.
"Swim where?" JoJo responded, nonplussed.
Mary showed her Seattle on a map, then added, "It's like the Olympics -- it's great."
"Oh, like the Olympics, like Giordan?" JoJo seemed excited at the thought of doing something like her brother.
"Not that Olympics," Mary said. "But almost like that."
"Oh," JoJo said, ambivalent again.
Giordan is one of the reasons JoJo loves the water. And he really did swim in the Olympics -- twice, in fact. He was one of only four athletes representing the Marshall Islands at the 2012 London Games. He swam the 50-meter freestyle, in London and at the 2016 Rio Games. JoJo also swims the 50-meter free, but in Seattle, she'll be swimming the 100-meter free, the 200-meter free and the 4x100 free. She and her brother have much in common, including a love of computers and video games.
Every week, Mary sends Giordan video of JoJo swimming. He's finishing his degree in cybersecurity at Maryville University in St. Louis. Giordan watches the tape, analyzes JoJo's stroke and sends back pointers that Mary attempts to implement while leaning over the side of the pool. (Says Mary: "She doesn't listen to me. She'll listen to her brother but not to me. She gets defiant.")
Giordan hopes to someday start a swimming academy in the Marshall Islands. Although he has pie-in-the-sky dreams for his home islands -- perhaps someday coaching a child who reaches the podium at the Olympics -- his motivation is much more practical, vital even. "Drowning is one of the leading causes of death in the Pacific," says the 25-year-old. "And you really have much more opportunity to drown. So I want to teach them swimming just because it will be lifesaving, and maybe as a bonus more kids will have the opportunity to leave the island to get a college education. There's only a handful of kids who have made it off the island to college in the U.S."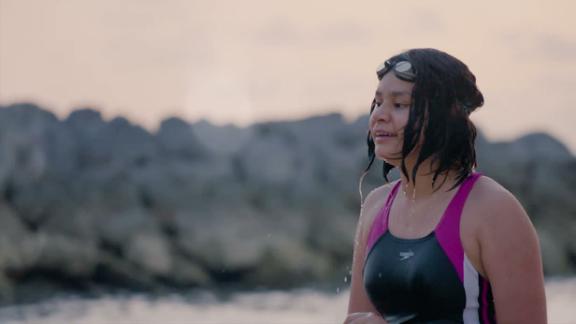 The livable space on their home island is less than one-third of a square kilometer. Many of the nearly 15,000 inhabitants are refugees from nearby islands, forced to evacuate after the nuclear weapons testing by the U.S. government. Houses are crammed wall to wall, including that of the Harrises, who grew up like most islanders, with eight, nine, 10 people under the same plywood roof, right across the street from the ocean. In fact, theirs was the island's only street: a one-way road, oval-shaped like a racetrack, that traced the perimeter. "Our house," Giordan says, "was never really empty."
But all this meant that everyone knew JoJo. If she wandered away, as she tended to do, folks would just look out for her until Mary or Mary's parents came looking. And they weren't worried if she made her way to the beach, to the water, because she seemed most at home beneath the Pacific blue, even as a young girl. But that kind of "it takes a village" mentality was offset by the fact that the village didn't have the proper doctors for JoJo.
And so home was left behind, in favor of progress, so JoJo could get the attention she needed from UNLV doctors. "Honestly, [autism] is very difficult at times," Giordan says. "And other times, I'm really at peace with it. I know if we're sitting together and watching a family movie, I know she's going to get up and do something else. And other times, we're swimming and I'm trying to help her, and she stops, and I'm trying to explain something and she drifts off; I wish I could get inside her head and understand. She's gotten a lot better at communicating. She's gotten so much better with her words. Every once in a while, she can pull out full sentences. She can let us know what's going on. When she was younger, oh, man, it was a huge guessing game. It's gotten easier with classes and everything she's been going to in the States."
But until the Harrises are reunited, Giordan is guiding his sister from afar.
JoJo's stroke in the water is rhythmic, natural. Watching her in the open water, between the ends of the pool, becomes hypnotic: stroke, stroke, stroke, stroke, breath. Like a metronome. She seems to possess no sense of urgency, just the water flowing past like a balm. It's when she reaches the turns, then the end, that you're reminded that nothing is quite that easy in JoJo's world. She's attempting a flip turn, but the movement is off-balance, and no matter how many times Mary implores her daughter to keep swimming even if the turn isn't perfectly executed, JoJo lingers, taking off her goggles, looking at the wall, flummoxed. Then when she does come back, and reaches the wall, nothing anyone says -- not Mary, not the other coaches -- seems to penetrate. She is inside herself, and no matter how curious you are, or how perfectly articulated your probing question, she cannot tell you what her interior world is like.
"How often are you wondering what she's thinking?" I asked Mary later.
"Every second," she said.
"And do you ever get any answers?"
"Never."
And this is why the broom story, from earlier, is relevant as more than just an aside. JoJo can execute a task. She'll execute a movement, whether with a broom or a swim stroke, especially when there are consequences if she doesn't. (For example, the loss of phone privileges.) Of course, if she locks into the larger purpose, as Giordan aims for, the results skyrocket. But the "why," the larger purpose, which drives motivation, is much trickier to convey. "The times I've tried to help her with things, I try to make it as simple as I can," Giordan says. "I say, 'Do you want to win your next race?' She says, 'Yes.' I say, 'So that means you want to swim faster?' She says, 'Yes.' Then I point out some specific thing she needs to do and I say, 'This will help you do that.' It doesn't always work, but it's how I try."
Chris Meservey coaches JoJo's swim team. He's holding a chart with everyone's times from the previous meet. JoJo swims a 50-meter free in 37.53 seconds. I get my phone and Google "average swim times for a 12-year-old" and up pops a chart from USA Swimming that shows JoJo is right smack in the middle of the chart for someone her age -- of any ability. "JoJo can do most strokes, but she's really fast at the freestyle," Meservey says. "She's really young still, but she just jams.
"But this isn't about performance," he reminds me. "At Special Olympics, you basically have to be chosen because you can be on your own and handle yourself. They don't always pick the fastest kids; they pick the kids who can be with other people without their mom or dad around."
The conundrum in this situation: JoJo is able-bodied; other kids are not. Other kids are extremely social; JoJo is not. "She wears headphones most of the time," Meservey says. "She likes to be in her own world; she's very hard to communicate with at first. Other coaches were a little concerned with her because she does draw back with other coaches, but I said, 'Hey, I got this, I'll take care of it.' 'Cause other coaches were worried that other kids talk more and she just goes off on her own. But after we got going, she warmed up. I just tried to explain to them: 'Yes, she has special needs, and that is her special need.'"
One reason Mary wanted JoJo to work on her social interactions with me is because community and camaraderie are priorities for the Special Olympics -- and concern existed that JoJo wasn't up to the task. A few weeks ago, the athletes and coaches gathered at the Rio hotel in Vegas to see how everyone interacted. In a room filled with such an upbeat, social group, JoJo must have appeared reclusive. When a coach, bouncy and energetic, approached her, JoJo just turned and walked away. She brings her purple headphones with her everywhere, and so on this day, overwhelmed by the many potential social interactions, she stepped away and put them on. "I worry they think she is rude on purpose," Mary says. "They don't seem to understand that some people are just too much for her to handle. If they just understood you approach an autistic kid in a way slightly different than a normal child. You can't touch them, and you can't come in too intense.
"Sometimes when these kids go to competition, it's the ones that have the least of the physical disability -- they're going to be the most athletic, because they have the coordination," Mary says. "But she can't verbalize the way they can; she can't socialize the way they can. They are all friendly and nice, and then you have this one kid over here sitting aside with her headphones on looking like she doesn't want to be a part of the group. But of course she does. She just doesn't know how to."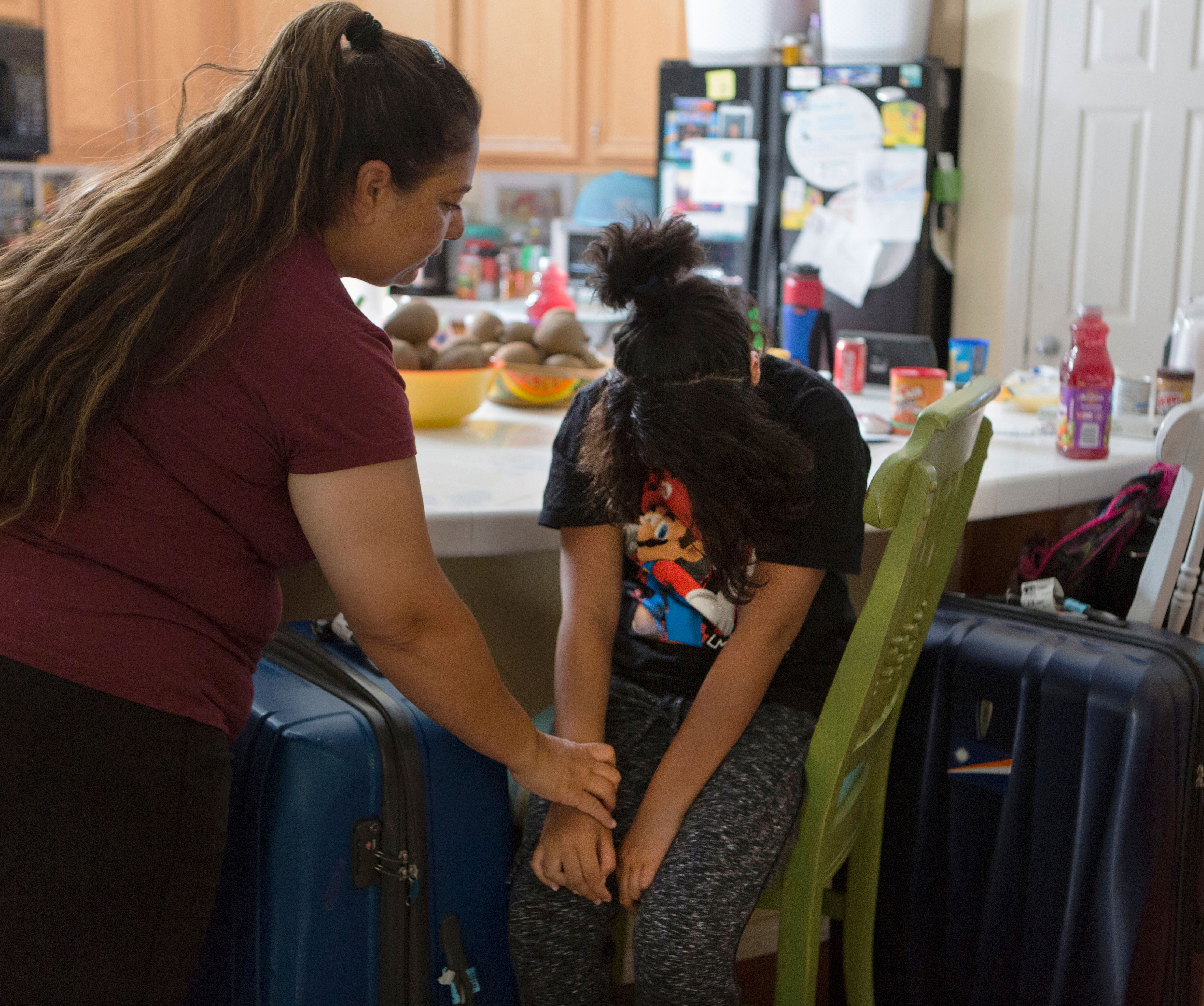 After swim practice, we are sitting at McDonald's. JoJo is watching YouTube videos, her headphones on. She begins laughing, and I ask what video she is watching, simply because she seems to be enjoying it so much. In response, she clutches the phone to her chest, defensive.
Mary leans over to her daughter: "She just wants to see what you're watching, will you show her?" JoJo begins closing out of all the open windows, and Mary tells me about how, recently, she noticed that her daughter had gotten into a thread of inappropriate videos, likely without really knowing what she was watching. Mary instituted a new rule: JoJo must turn over her phone whenever asked. And because of this, each time Mary (or anyone) asks to see her phone, JoJo seems concerned she is doing something wrong, that she might lose phone privileges. And being around JoJo, even for a short time, you realize that she is soothed by her phone; it's a place of equilibrium. Just as when she's in the water, it's only the surfacing from that immersion -- a stranger's request, a mom's prodding -- that causes discomfort.
"I have tried setting the passwords and securities on everything, but she's smarter than me at that stuff, so she knows how to go in and turn everything off," Mary says. "She's amazing with computers. The best way to connect with her is through her games."
And that's how I end up watching an hour of Mario Kart. JoJo's upstairs room is crammed full of characters, most of them from Mario-themed video games, others from Japanese anime. I sit on the floor next to JoJo, and the first words she speaks to me are about the game she's about to play, the goal of the character she will inhabit. I know this by her tone, and her gestures toward the screen, but not really from the words themselves, which she speaks inwardly, as if they're meant only for her. I learn quickly not to ask JoJo to repeat herself: It is enough that I am in the room and that she is content to have me there.
At first I ask her questions after every level: How did you learn that? What do you like about the game? I am trying to answer the question I'm always pursuing: What's it like to be JoJo Harris? In this case, I want to know what it's like to be JoJo Harris, Special Olympics swimmer, younger sister to an Olympian, girl from a special group of islands in the Pacific, young woman with autism.
She does not answer any of my questions. So eventually I stop asking, just watch. And she is really quite good at these games. Most social interactions are complex, complicated equations. But inside the game, as under the water, she can focus on just this one thing: driving the cart and collecting as many points as possible; or cutting through water at her own pace: stroke, stroke, stroke, stroke, breath.
When she was little, when she would wander away on Ebeye, that behavior was driven by two things: curiosity and an inability to sit still. She would open cabinets and drawers in the home, then the front door, where she would continue exploring. But now, in Las Vegas, Mary has drilled into her youngest: That type of exploring isn't possible. She now lives in a city, and she is older, and a 12-year-old who wanders away isn't labeled curious; she's a curiosity.
So now she still explores worlds -- just the kind we design.
"I kind of wonder if the other parents around us wonder 'What's wrong with your daughter?'" Mary says. "Because she doesn't have a sign that says, 'I'm autistic.'"
Her concern makes sense. When JoJo is done playing, which ends only because Mary tells her it's time to go, I give her a high-five and say, "Wicked awesome!" And she kind of half-heartedly taps my hand, and maybe rolls her eyes, but I can't really blame her.
I've done something every 12-year-old would think is lame.
Kate Fagan joined espnW in January 2012 after three seasons covering the 76ers for The Philadelphia Inquirer. She played basketball at the University of Colorado from 1999 to 2004.