Is this the wave of the future?
World champion surfer Kelly Slater would say, "yes." And a recent pro contest on his manmade wave just might be the blueprint for Tokyo 2020 and beyond.
TEN YEARS AGO, this wave was a vision, a dream between friends and business partners that, just as so many songs and inventions and Southwest Airlines, was first sketched onto the back of a slightly used cocktail napkin. Today, as 11-time world surfing champion Kelly Slater looks out onto Surf Ranch, a functioning prototype of that dream plopped like a 20-acre surfing amusement park amid the dusty farmlands of California's Central Valley, he says it's hard to remember his expectations of a decade ago. But he knows the wave system they've created is better than anything he ever imagined.
"I knew we were going to make a great wave," Slater says on a Monday morning in late August. "But this is done to a higher level than I imagined back then. Surfing is supposed to be about making you happy and creating good experiences, and I can say with 100 percent confidence that Surf Ranch provides that for people every single day."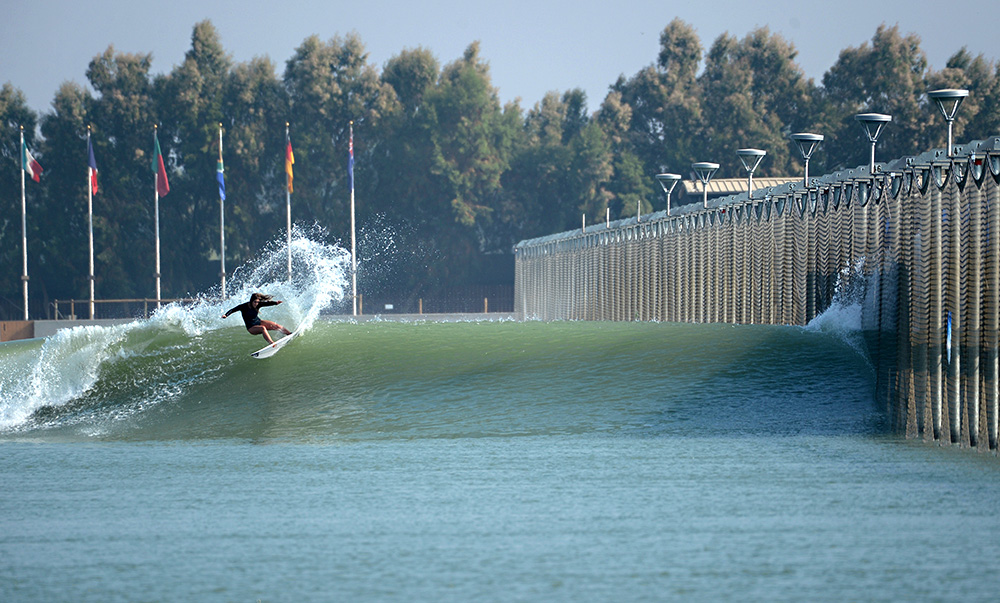 Slater's wave, as most people refer to the Kelly Slater Wave Company Surf Ranch, is not the first powered by manmade technology. But by all accounts, it is the most powerful and the best suited for holding elite surfing competitions -- and that either excites or terrifies surf fans. For some, human-engineered waves unlock the potential for surfers to train when the ocean is flat and to expose more people to the sport, which could lead to future pros from landlocked towns and contests in virtually any city in the world. For others, they signal an end-of-days scenario that diminishes the need for ocean knowledge, competition tactics and wave selection, and promises to turn professional surfing into soggy halfpipe snowboarding without the bindings.
From Slater's perspective, snowboarding is actually the perfect analogy to explain why holding a competition like, say, the 2020 Tokyo Olympics -- when surfing makes its five-ring debut -- in a wave pool makes more sense than scheduling it at an inconsistent beach break like Tsurigasaki Beach in Chiba Prefecture, where it is slated to take place.
"Imagine if you were watching halfpipe snowboarding in the Olympics and they built a 6-foot halfpipe when we all know there are 22-footers now," Slater says. "The best way to focus on the skill of an athlete is to have everyone on the same field. That would be a more interesting platform for the average Olympic fan than seeing a guy catch a waist-high wave [at Tsurigasaki Beach]."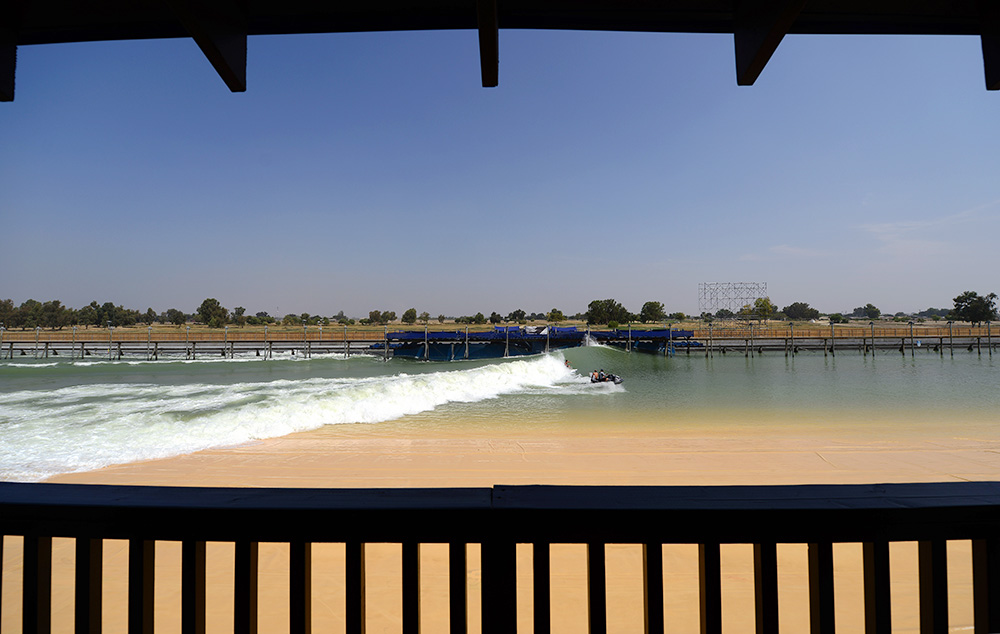 Slater's Surf Ranch is located in Lemoore, California, a farming community three hours north of Los Angeles International Airport and 100 miles east of the Pacific Ocean. It is a partnership between KSWC and WSL Holdings, the parent company of the World Surf League, the professional tour that purchased a majority stake in Slater's company in 2016. A private facility, it is part human-engineered wave pool, part luxury experience. Everything from the lunch menu featuring salmon tacos and organic greens, to the farm-chic décor and the Adirondack chairs on the pool deck were carefully curated to provide visitors with an experience, not just an opportunity to get barreled in inland California.
Slater and his partners chose this location for their first prototype because of its affordability and relative proximity to Los Angeles, and because the property already featured wells and side-by-side lakes that were previously used to hold professional wakeboard and waterski competitions. They purchased the land from the Perkins family in 2014 and hired their youngest son, 20-year-old Spencer, to oversee the maintenance facilities. Still, until the wave was unveiled in 2015, locals were stumped, positing that everything from a high-end resort to a fishing operation had moved into the neighborhood.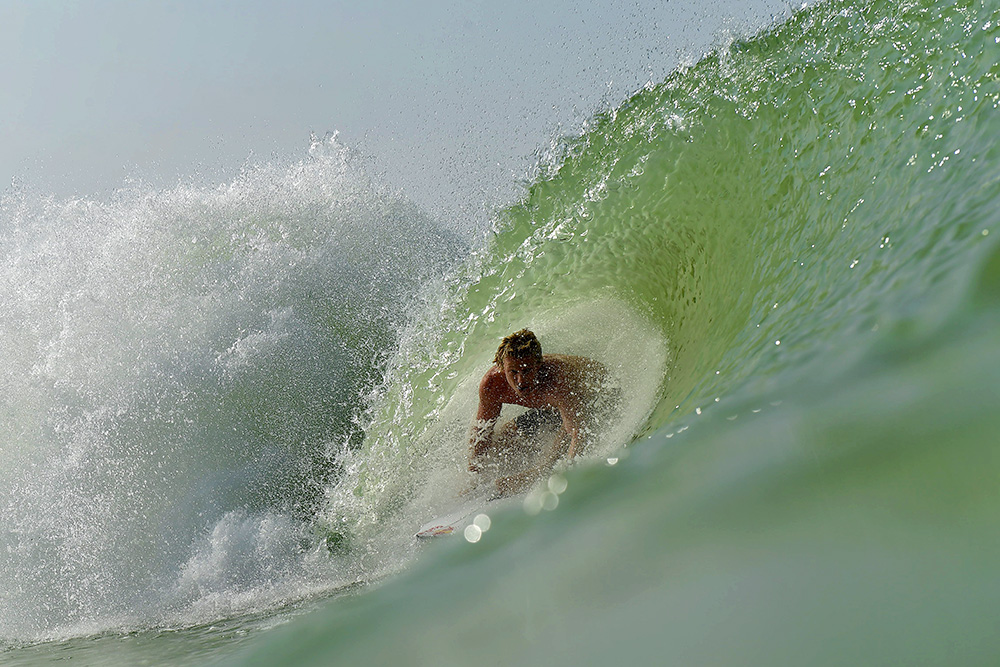 "Until then, it was a big mystery," says Sam Ramirez, who grew up in nearby Visalia and is the general manager of Surf Ranch. "Once the gates opened, it was like Willy Wonka's Chocolate Factory for surfers. Coming here is like getting a golden ticket." (He's not far off. Surf Ranch cost a reported $30 million to design and build, and charges upward of $10,000 for an hourlong surf session.) Ramirez says that on a daily basis, he also opens the gates for locals who drop by wanting to check out the Ranch, some of whom are understandably still skeptical about the new neighbors.
"Let's be realistic. We're in Central California, where water is a scarce commodity," Ramirez says. "We have a really efficient 95 percent capture rate on our water, and we've done a lot to eliminate that as an issue. It could be a point of contention, but we've interacted with the community really well. A micro economy has sprouted up around this place, and local elected officials support what we're doing. It is a significant point of pride for people in the community that this is where Kelly chose to place his wave."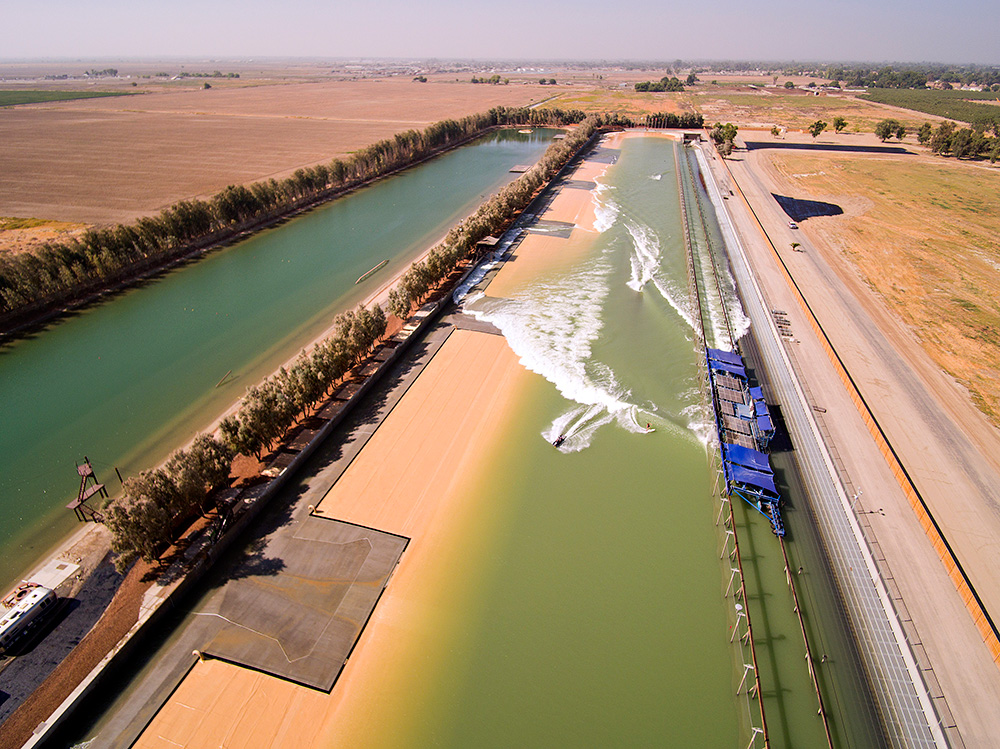 Initially, the Lemoore facility was meant only to be a proof of concept for future builds; Slater never envisioned that three years after the first clips of him being barreled on the wave made the rounds online, his engineers would hone the machine to a consistency that could sustain a three-day world-class contest. But in early September, that vision, too, became reality when the WSL Surf Ranch Pro kicked off in Lemoore, the first championship tour contest held on a manmade wave.
In the year leading up to the Surf Ranch Pro, the WSL held two practice events: the Future Classic in September 2017, which was not open to the public, and the Founders Cup in May, a team format that saw pro surfers divided up by country. After each test event, KSWC engineers made improvements to the technology, fine-tuning the reliability of the equipment and the quality of the waves by controlling the motion of the hydrofoil that creates them.
"The vision around this wave was that it could be used for competition and the WSL saw that same vision," Slater says. "The idea that they understood what this could do for surfing was really exciting for me. From the business side, it made a lot of sense for them, and it alleviated a lot of my stress."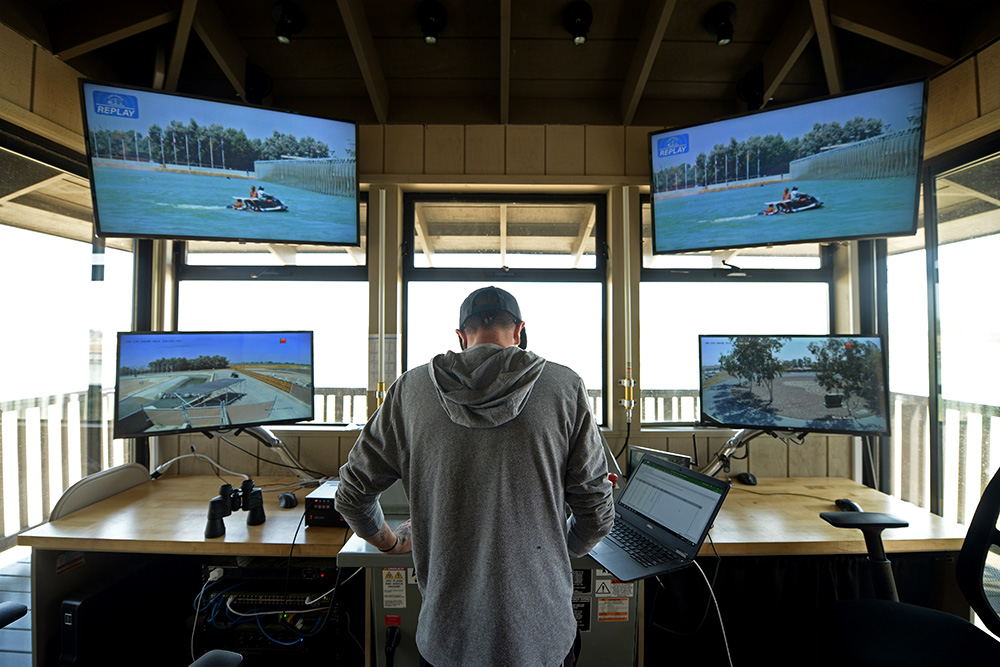 "CUE: THE SUN!" Standing in the control tower overlooking the Surf Ranch pool, it's easy to imagine Ed Harris' character, Christof, in "The Truman Show" -- or for this example, WSL CEO Sophie Goldschmidt -- up here, microphone in hand, playing God for professional surfers. "Surfer, you have 30 seconds until the next barrel rolls through. Cue: the wave!"
Half a minute later, an engine purrs to life and a 100-ton hydrofoil begins running alongside the 2,000-foot-long, rectangular pool like a locomotive, pushing water and forming a wave. Slater, who is sitting on his board alone in the pool, begins to paddle, drops in and then tucks into the barrel as a photographer buzzes by on a jet ski to capture his ride. Similar scenes played out when the world's top surfers came to town for the Surf Ranch Pro.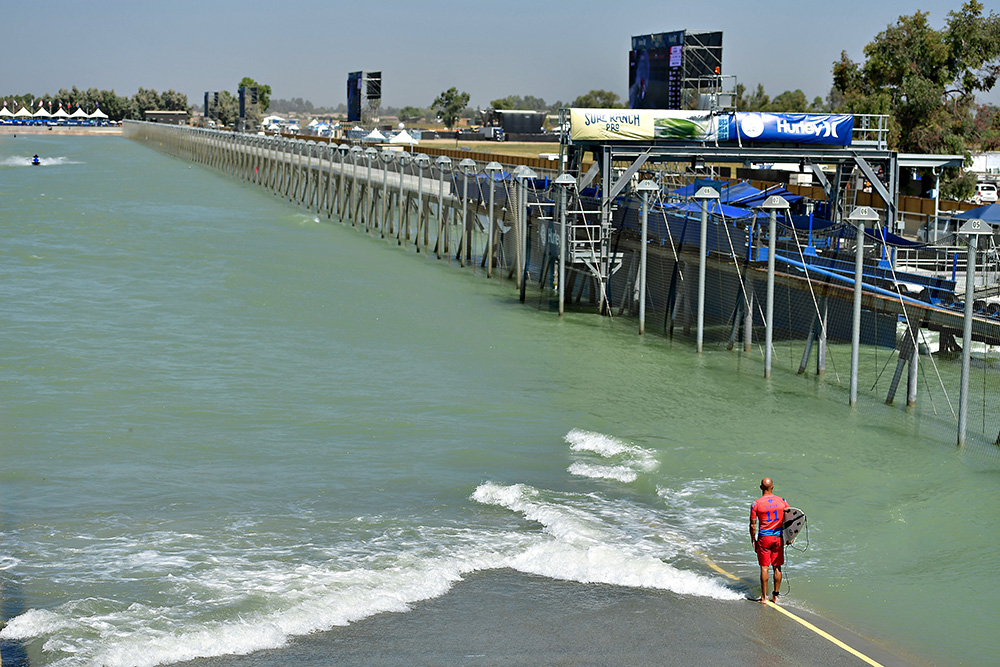 The contest featured a leaderboard format for the first time and provided a potential blueprint for future WSL and Olympic competitions. "Anything that is the first ever is daunting," WSL women's commissioner Jessi Miley-Dyer said after the event. "It was such an important time in the season, where if you didn't get a good result, you could kiss your world title chances goodbye. We wanted it to count. And it did."
Current tour leaders Steph Gilmore and Felipe Toledo both placed second in the contest and held onto their overall leads, and event champs Carissa Moore (currently sitting fourth overall) and Gabriel Medina (second) either held their position or improved heading into the next stop, which begins Oct. 3 in southwest France. "The athletes were really pleased with how the event ran," Goldschmidt says. "Even those who were cynical before [the contest] saw that this is complementary to what we are doing in the ocean. That was important, to get that feedback from the athletes. They are the ones putting themselves on the line and to get their buy-in gives us hope for the future."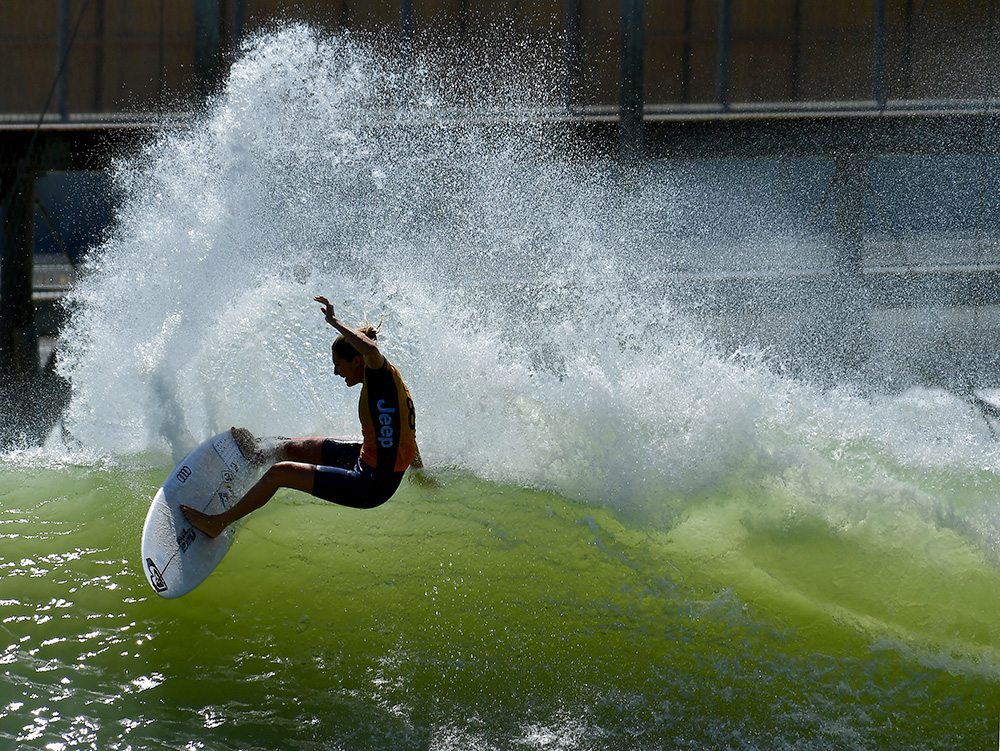 Although the pros had suggestions for improvements to the contest format, from additional practice days to judging tweaks, the overall feedback was indeed positive. Several top surfers, including six-time world champ Gilmore, have been vocal about wanting to see the Olympics follow suit. "I think they need to start it in a wave pool and keep it going through future Olympics," Gilmore said earlier this summer, referring to the 2020 Games. "It would be terrible if you worked for four years and then there was no surf."
Slater says surfing manmade waves is a supplement to surfing in the ocean, believes it is additive to the overall experience and insists it is not meant to supplant the natural experience. In theory, a manmade wave also democratizes a one-off contest like the Olympics, removing luck from the equation. While the world championship race requires its winner to perform consistently over a 10-month period in a variety of waves and conditions in breaks around the world, the Olympic champ will win but one event while at the mercy of Mother Nature's whims. (Just ask downhill ski racers.) With a wave pool, surfers will compete on an even playing field and will be able to practice for the contest in a way they never have before.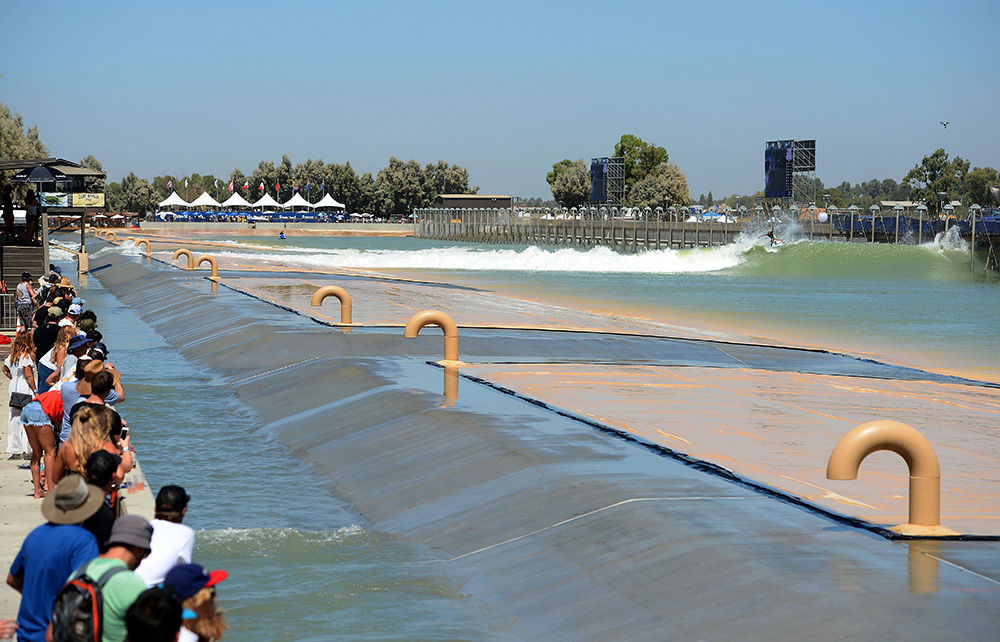 In the same way the invention of foam pits allowed gymnasts to train more safely -- and even bigger foam pits allowed freestyle motocross riders to expand the possibilities of what was possible on dirt bikes -- a repeatable, world-class wave gives surfers the ability to practice complex maneuvers possibly hundreds of times a session and test multiple boards in identical wave conditions, something impossible to do in the unpredictable ocean.
Today, as the construction of KSWC facilities is underway in Palm Beach, Florida, and Tokyo, the Lemoore facility is still an ever-evolving prototype. "I'd like to see the wave have significantly more variability so people don't get bored with it," says KSWC co-founder and chief scientist Adam Fincham, who moonlights as a professor of aerospace engineering at the University of Southern California. With his two cents, Slater says he just wants to create bigger waves, say, in the 10- to 15-foot range.
But while it is currently the fastest, most powerful manmade wave in the business -- Fincham says the wave speed tops out at 20 mph -- Slater's isn't the only game in town. Wavegarden is also constructing a facility in Tokyo, and American Wave Machines' BSR Surf Resort in Waco, Texas, is the official training site for USA Surfing, the national governing body for the sport. Slater says he believes one day these competing companies might work together and share their technologies for the advancement of the sport.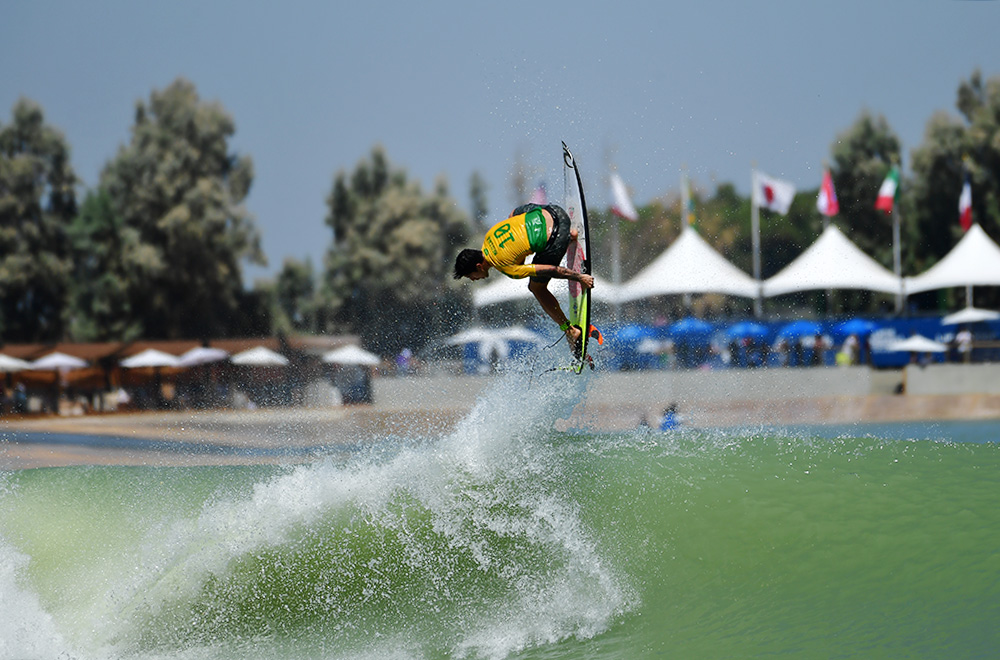 Still, the International Olympic Committee, International Surfing Association and Tokyo 2020 maintain that surfing's debut will take place in the ocean. Despite that, Goldschmidt says she believes it is possible to complete construction of Surf Ranch Japan in time to change minds for 2020. "Ultimately, it's not our decision," she says. "And we respect the decision-making process."
Looking even further ahead, she and the WSL are currently in discussions with Paris 2024 and Los Angeles 2028 and plan to build facilities in both cities. They have also targeted future sites in Australia and Brazil, and recently announced the Surf Ranch Pro will return to Lemoore in 2019.
"I strongly believe that if surfing maintains its place in the Olympics, it is going to be via manmade wave technology," Slater says.
Maybe he should write that on a cocktail napkin, too.