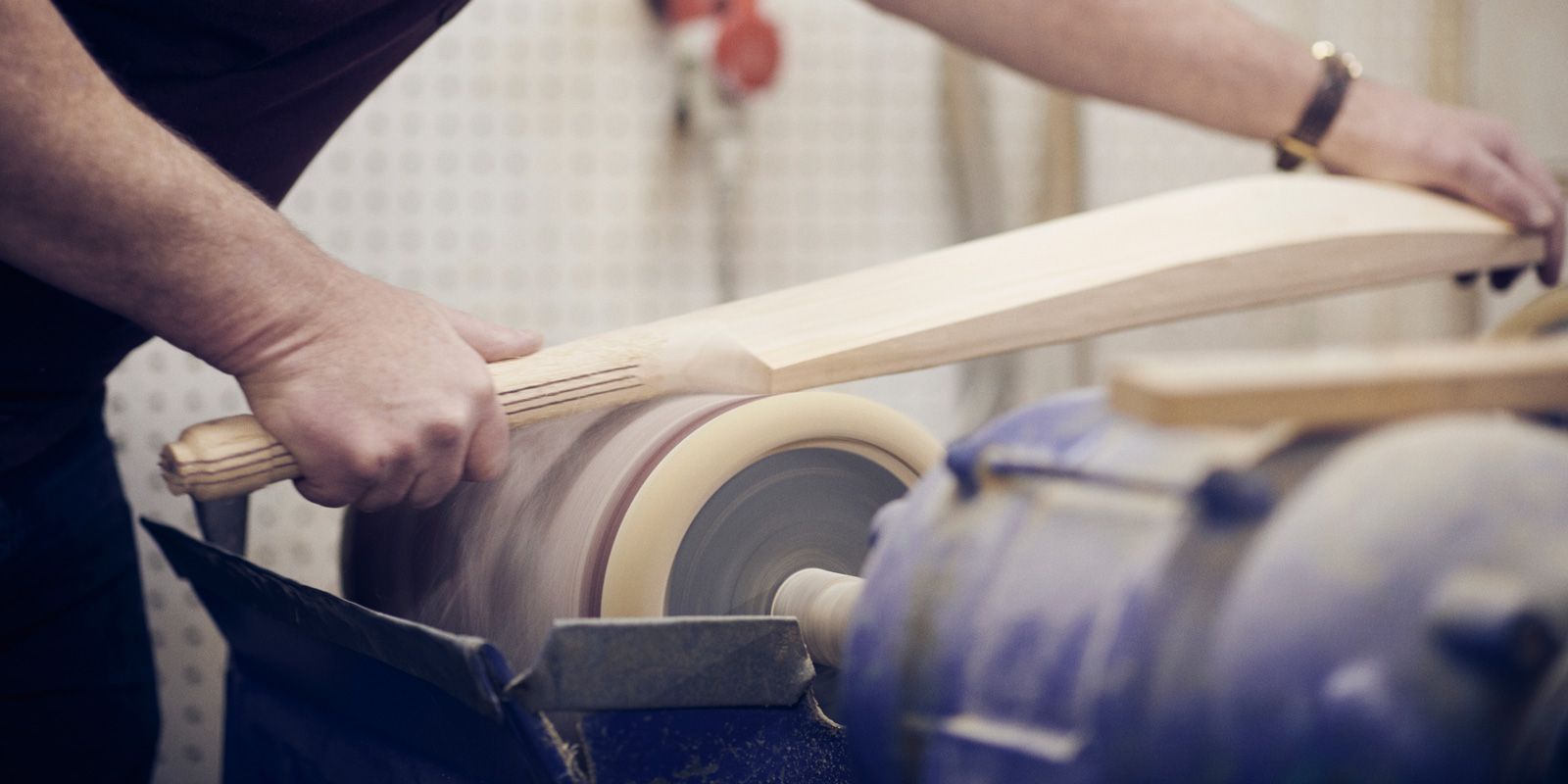 Family Trees
Not much has changed at J.S. Wright & Sons, a 125-year-old company in England. It is the proud maker of most of the bats in this summer's Cricket World Cup.
Watch any game in this summer's Cricket World Cup, and most of the bats wielded have passed through the hands of the men and women of J.S. Wright & Sons in Essex, England.
They are the last of the craftsmen.
In an age when automation and composites make nearly all of our sports equipment, this 125-year-old company is the oldest and largest supplier of English cricket bat willow. The company's values and methods haven't changed since 1894, when Jessie Wright was approached in a local pub by a man on the hunt for willow trees to make the famed W.G. Grace's bats.
But as Nick Wright, the third-generation chairman, considers the family's and the company's history, one story stands out.
It was during World War II when a German plane was shot down and landed in the middle of one of the Wrights' fields containing willow trees. Albert Wright, Nick's father, and other local workers were members of the Home Guard and went along with pitchforks and all manner of scrambled-together weaponry to apprehend the German pilot. The air-raid warden's office was next to the local pub, and, on seeing this nervous and shaken-up pilot, the locals took pity.
Chuckling along the way, Nick continues recalling the tale: "They said, 'Come on in, old boy, you must have had a bit of a shock. Have a drink.' They got him paralytically drunk, and after he slept it off, phoned the army to come and collect him, and he was carted off."
A few years later, the same bunch of workers was in the corner of the same pub, and in walked the German pilot to thank them for their hospitality.
The generations of stories from these 20 acres of rural English land in Essex are countless: from tales of lost fingers to when Ian Botham turned up in a blue Rolls-Royce to when an aggravated bull chased a worker up a tree.
"But it's all a bit more serious these days," Nick continues, remembering the more risky nature of tree-felling from yesteryear. While health and safety standards are far more rigorous now, the company's demand for excellence and quality of service is the same.
---
EACH CLEFT THE company produces -- a cleft is the rough shape of a cricket bat blade from which the finished article is carved -- comes from a willow tree grown for 20-odd years, then felled by hand, split, trimmed, perfected, dried and carefully graded, using the business' knowledge and standards dating back to 1894.
It is a place based on family values, a desire for unrelenting excellence and a camaraderie that usually sees craftsmen join in their teens and depart 60 years later. Today, the company crafts and distributes more than 400,000 clefts a year.
"My late uncle Carleton took over the running of the business from Jessie when he came out of the Army after World War II," Nick says. "He didn't retire until he was 84, and he died when he was 96. My late father, Albert, was 82 and worked until he was 70."
Nick turns 80 this year, and as he sits in his company-branded high-visibility jacket, with jumper and immaculate tie underneath, he is showing little sign of slowing down. He joined in 1960, straight from the Royal Air Force, and has been here ever since.
"I remember working with this great chap back in the '60s called Walter Crowe," Nick says. "He taught me how to use an ax -- this might sound a simple operation, but if you use it the wrong way, it's not long until you've cut your leg or foot.
"I've really been here man and boy," he says. "We remain in harness generally until we drop."
It's part of why this company grows year-over-year, and even though the world is ever more reliant on machines, it bucks that trend, proving there is no substitute for the hand-crafted traditions of growing and felling a tree to produce these slices of willow that become bats for the world's finest cricket players.
---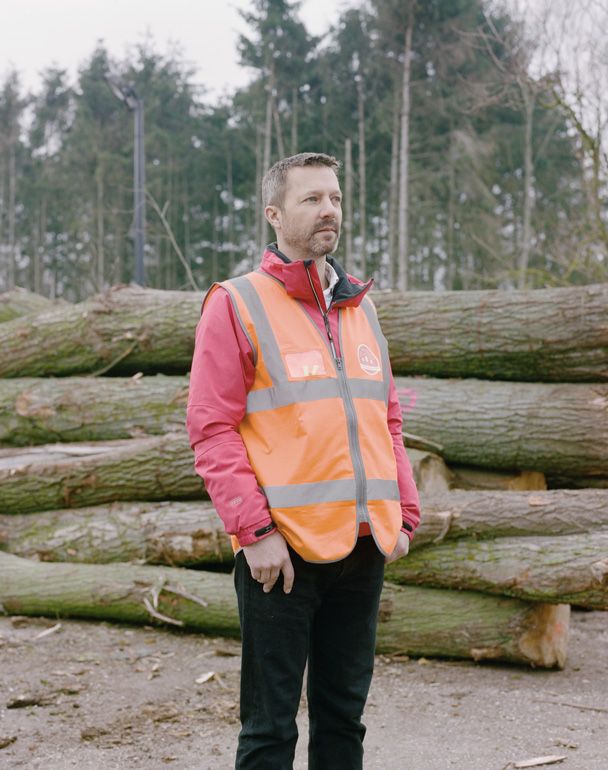 IT IS LATE morning in April, and the yard is packed with timber while the company's 30 or so workers -- exact statistics are for scorecards -- are playing their role in the cleft-producing process. Graham Marshall, the foreman, is talking about his 38 years in the company and holds up his left hand to show how most of his pinkie is missing. He joined the company back in 1981, when Britain was in the grips of a recession.
"There was about 3 million unemployed, and I got this job thinking it would be a stop-gap, to be honest, but here I still am," Graham says. "You know what, though, you don't mind working here. You get to do your different tasks."
Oliver Wright -- Nick's son, a fourth-generation family member in the business and the company's current director -- is listening, nodding along.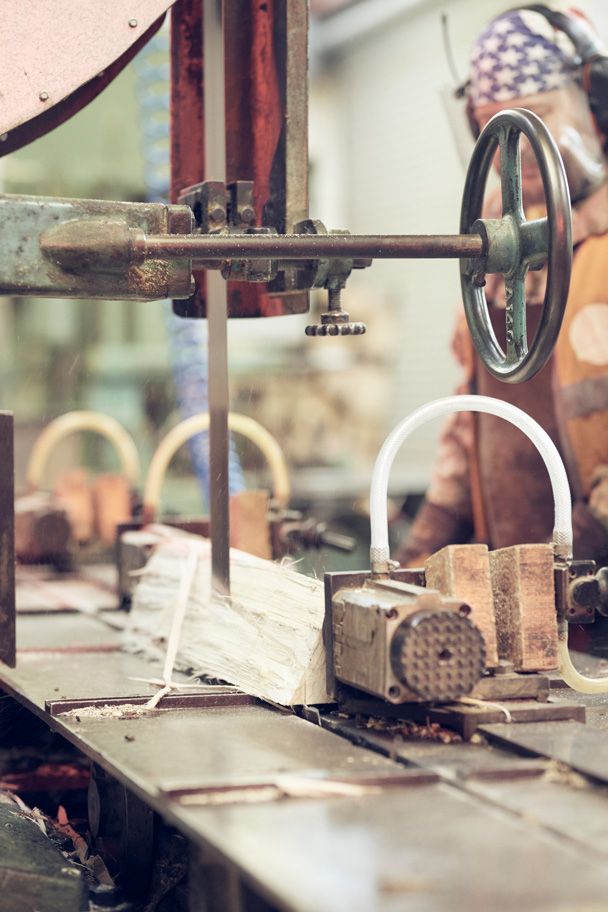 On the walls of the small room, as the sound of chainsaws and the hustle and bustle of the office punctuate the still spring air, are black-and-white photographs of the business' forefathers. One has founder Jessie Wright standing next to a willow tree, flanked by his three sons: Albert (Nick's father), Stanley and Carleton.
"Grandfather Jessie," as Nick calls him, was in "The Compasses" at Littley Green -- a pub 3 miles from their current base in Great Leighs -- when he was approached by a man called Mr. Montague Odd, who was searching for willow trees in the local area to power his cricket-bat-making business in Croydon, London. Jessie knew the area had plenty of these trees and sold them to Mr. Odd, who would carve them into a bat and sell them to the great cricketer W.G. Grace for a guinea apiece -- about $20 then, or $150 in today's U.S. dollars.
This way of life was far more lucrative, so Jessie started the business out of his back garden. It soon expanded, and it relocated to a nearby site, which was sold in 1974 for housing. The operation moved into the current site on an old farm, housed among rolling countryside straight from a John Constable painting.
---
THE PROCESS OF making a cleft has stayed largely the same throughout the company's history.
J.S. Wright & Sons grows the willow trees for 20 years, planting far more than it fells, and keeps the tree's butt -- the bottom 10 or so feet that is essentially the trunk. Loose branches are trimmed, and the butt is quartered into rolls using a saw. The rolls are then split into eight, lengthwise, using two wedges and an ax.
The cleft is then run through a band saw, where an expert determines which side of it should be the face of the bat. The cleft is then trimmed further until you're left with a bat in its roughest form. The clefts are then "wet-graded," establishing their quality, with "Grade 1" being the best and the others sold more cheaply. They are left outside for six to eight weeks and then placed in a dryer for 10 weeks.
"As long as the traditional game is leather on willow, we'll be here."
- Nick Wright of J.S. Wright & Sons
Each cleft then passes through the hands of Jeremy Ruggles -- he is the cousin of Nick and grandson of Carleton -- who gives them their final "dry-grading."
"I have some help, but largely we classify 600 low-grade bats an hour," Jeremy says, laughing off any suggestion that surely his brain must get scrambled at some juncture in the day. He talks while he grades, reluctant to pause his routine.
"In a normal day, you're looking at 3,500 for low-grades, but for top-grade it is more like 1,500, as they have finer details, more little faults to look for, and it's more expensive, so they've got to be right."
Being granted permission to grade on your own is like earning an advanced university degree. Jeremy is training another worker to help him out, but despite the other man now having a year's experience, Jeremy reckons it'll take another year, at least, until he's happy to let him grade alone.
"You can't have two people grading with different opinions," he explains.
Jeremy -- a director and shareholder in the company -- just turned 50 and began grading with his grandfather, Carleton, when he was 11 or 12 years old. He has been working for the company full time now for 32 years.
The room he works in looks like the last scene in "Raiders of the Lost Ark," where the ark is parked among a sea of identical crates. Imagine that, but replace the crates with bats -- each seemingly identical but instead packed with variances to only the trained eye.
"From the owner's side, it's nice working for yourself, and there's a lot of history, a long time ago," Jeremy says. "You know what, I'd never had a cross word with anyone until this one day with my grandfather. I had been working with him for 30 years, and I went to India for the first time," he says.
"I claimed my dry-cleaning bill through the business, and that didn't go down well."
---
OTHER THAN THE weather, my biggest enemies are deer and squirrels," Oliver Wright sighs. Deer strip the bark from young willow trees, Oliver explains, while squirrels rip apart the whole willow. The aptly named giant willow aphids are also proving troublesome, and the company's plans to bring in drones to cope with the insects are on hold, pending approval.
Nature is the only factor that affects production from one year to another. The work Oliver's father, Nick, did 20 years back means the yard is full of willow. Their replanting means they are covered for the next bunch of decades. This year alone, they experienced a record season, with 27,114 willow trees planted and 8,500 felled.
Oliver and Nick travel more than 1,000 miles a week across the length and breadth of the U.K. to seek new areas for their willow trees while checking on existing plots and long-standing customers. The agreement usually goes along the lines of them approaching estates, or vice versa, and the estate then buying the young trees. J.S. Wright & Sons then repurchases the trees 20 years later to be felled. The company has trees dotted around the whole of England.
"We've had customers who own farms which are four, five generations like us, so I deal with the son, my father would be dealing with their father, and so on, so the arrangement can go back 100-odd years," Oliver explains.
There have been eureka moments for the business along the way, especially with interest in India and Pakistan constantly growing. But the last great hike in interest followed the 2005 Ashes win for England. Business boomed, with folks wanting to pick up a bat to emulate Michael Vaughan's famously victorious side.
Those finished, branded bats can range from about £250 to £1,300 ($1,700) at retail, depending on quality and grading.
"I'll give you an example," Oliver says. "We did a job in Shropshire last year, and we had an email from the client when he got back from holiday. The lads did an immaculate job tidying up, leaving no twigs or anything -- it was like they hadn't been there."
The pride spread across his smiling face.
"There's a certain amount of trust given to you as you're driving machines over someone else's land, and if it's left in the state that you got it 20 years back, then it's a big bonus."
The job is full-time in every sense of the word. Breakfast is a cigarette and a cup of coffee for Oliver, and then he's on the road.
---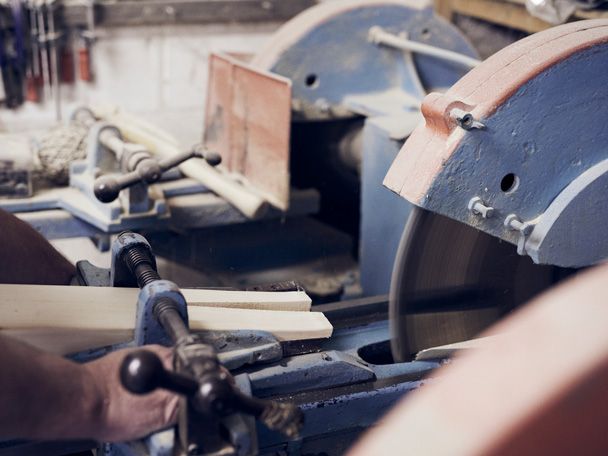 WE MET THE tree-felling crew in late November. We were escorted to a nearby field containing willow trees on a foggy, claustrophobic morning.
Peeking through the bleak haze were three men wearing orange helmets with hanging ear protectors and yellow hi-vis jackets wielding chainsaws with flawless accuracy on what was their final day of the felling season.
Martin, speaking of their record being 156 trees felled in two and a half days, started after the great storm of 1987. The three talked animatedly about their love for the job and how it's one they plan to do for life. Next to Martin in the fog stood Wes, who started in 2002, four years after he finished school, and then another Martin, who joined at the age of 12 and is now in his 60s.
They recalled Gordon -- with reverence -- an employee who started felling trees at 14 and worked until he was 78. Then there was Jimbo, who retired at the age of 65 and was dead six months later.
You're in the harness until you drop, as Nick put it.
Back at the yard in April, Bruce, Arthur and Graham are showing us how they split the rolls into clefts the old-fashioned way -- the company has a new method, but it's off-limits to outsiders to keep it away from the eyes of competitors.
Like Graham and others, Bruce is minus part of a finger -- it was a clean cut, apparently, straight through the top of the finger -- and he has just chalked up 40 years with the company.
Around the corner and complete with bandanna is Tony Childs, who has worked for the company since "god knows when," and he is talking about how the band saw blades they use to "face the bat" lasts just four hours and is then sent to Ireland to be repaired .
On the walls of this stone industrial building are 25-foot saws waiting to be used, enormous tools hanging limply but still menacing. The music playing on the radio fails to overcome the noise of the saw on wood.
Roger Frampton, the wet-grader, has just brought up his half-century, having worked 50 years at J.S. Wright & Sons -- strictly speaking the first 18 months was for a then-competitor who was bought out, but the 50-year anniversary still stands. Next to his compact room in the yard is another cornered off from wandering eyes where they complete the method of crafting the cleft.
Around the corner is Jeremy's domain, in this vast warehouse containing 70,000 bats that are ready to ship to customers.
The focus is forever on the present and the future, with Nick and Oliver Wright ensuring everyone from worker to customer is happy, forever maintaining those family values.
---
NICK WRIGHT IS still holding court in the boardroom, drawing out the family tree. The names all look down from the black-and-white photographs on the wall, all carrying saws or those 100-pound rolls on their shoulder.
One group from the late 1940s is standing next to a recommissioned World War II ambulance used to transport logs and workers. The surplus army trucks were used for a similar purpose. Now they have branded freight haulers to do the heavy lifting, each immaculately maintained.
There are just two photographs of well-known figures, a far cry from clubhouses the country over with walls littered with smiling cricket luminaries. One framed photo is from Margaret Thatcher's visit in the 1980s, and the other is of ex-India batsman Rahul Dravid, who took interest in the bat-making process on his various visits to the country.
But you can count the number of times professional cricketers have visited the company on the fingers of both fully complete hands. Despite the business' incredible reputation and the immaculate, hand-crafted nature of their tools, which they wield with wonderful abandon, the bats are taken for granted.
The players are missing out.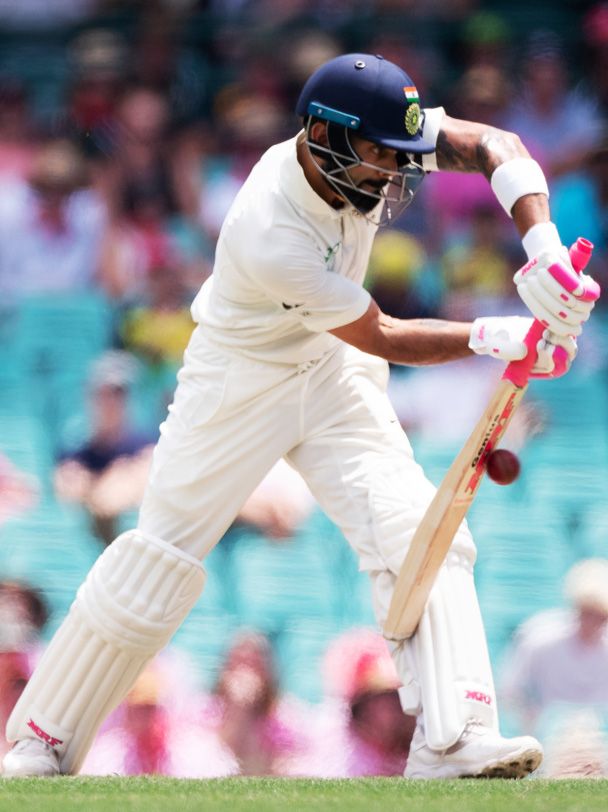 Nick's sketch of the family tree is finished, and in his own polite but direct manner, he is eager to get on with the day.
We have just three questions left, each of which he tries not to answer more than once every five years:
The first is putting a figure on how many of their clefts will feature in the forthcoming Cricket World Cup. "The figures are hard to come by, but we think there's an over 50 percent chance, for definite, that each bat will have come from here," Nick responds.
The second is how the business will look in 50 years' time, judging by how back in 1974 they sent roughly 200 clefts to India per year, and now their annual tally is up to 80,000 to 100,000.
"From when I started to now, the process hasn't altered at all," Nick says. "Providing we can keep the timber coming -- bearing in mind we planted 27,000-odd trees this winter -- there's no reason to think it'll change at all. As long as the traditional game is leather on willow, we'll be here."
The last question, asked with similar trepidation, is about when he will retire.
"I reviewed it when I was 75, and I'll review it again when I turn 80 in October. I had a long weekend recently, and I think by the Sunday I was wondering what the hell I was going to do next. It was boring. I try to have Fridays off, but I still end up coming here or meeting people about trees."
Forever the craftsman, and a life's work done the Wright way.
"I'm unlikely to retire. I've been here man and boy."
Based in London, Hamilton is a senior writer covering global sports for ESPN.