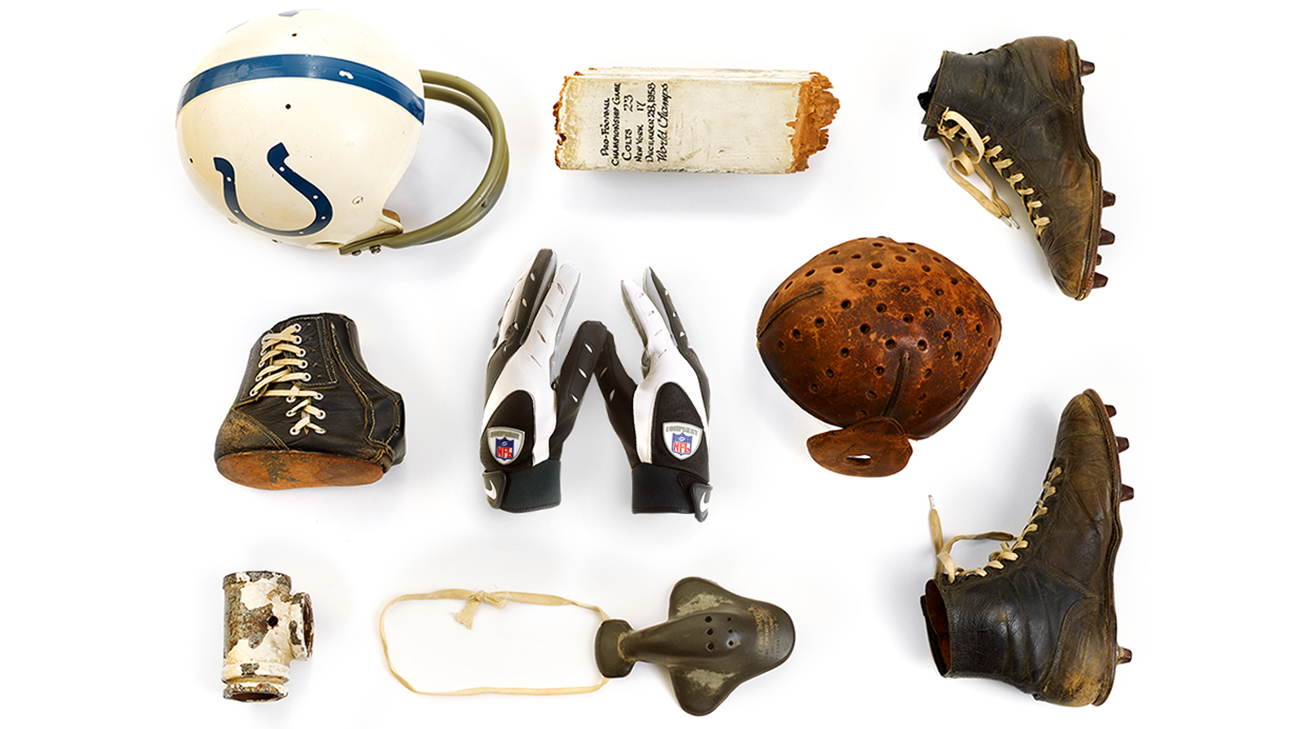 11 weird and wonderful treasures from the Pro Football Hall of Fame
There's the odd and interesting. The record-breaking and history-making. Only about 1 percent of the Pro Football Hall of Fame is on display, but there are amazing stories behind these hidden gems and treasures from football's past.
Treasures Of Football's Past
The Pro Football Hall of Fame, of course, has the history on display. It also has the weird and wonderful.
By Jeff Legwold
Photography BY Brent Taylor/OMS for ESPN
1926
Roaring '20s sideline gear
---
Eskimos' barnstorming jackets
---
Ernie Nevers, a native of Willow River, Minnesota, had just finished an All-American career at Stanford when he signed with Duluth in 1926.
Nevers, a Hall of Famer who once scored six touchdowns and four extra points in a 1929 game with the Chicago Cardinals, was so recognizable the team was actually renamed the "Ernie Nevers Eskimos" and went on a 29-game barnstorming tour.
Nevers wore this coat during the tour. As part of the 100th season, the NFL actually filed a trademark for "Duluth Eskimos," so it's likely coming to a T-shirt near you.
Did You Know
Eskimos owner Ole Haugsrud certainly had vision. After the NFL focused on bigger markets over cities like Duluth, Haugsrud got the league to give him right of first refusal if the NFL returned to Minnesota. In 1960, he became 10 percent owner of the Vikings.
---
1956
Can you hear me now?
---
Browns' helmet radio
---
Paul Brown had many football innovations, but he didn't invent this one. He did, however, say "yes" to the guys who did in 1956 -- Ohioans named John Campbell (an engineer for GE) and George Sarles.
They approached Brown with the idea, and after some testing, the radio was put into quarterback George Ratterman's helmet. The Cleveland Browns used it in a preseason game against the Detroit Lions; the Lions, however, quickly noticed Brown was not using players to shuttle playcalls into the huddle.
After plenty of controversy, and four games in use, NFL commissioner Bert Bell banned the device.
Did You Know
This radio, used 38 years before the NFL officially instituted the radio receiver, would pick up a variety of chatter, including local police radio traffic, even when it was used during a game.
---
1958
A sudden-death first
---
Goalpost from "Greatest Game"
---
The 1958 game between the New York Giants and Baltimore Colts, featured 17 players, coaches and contributors who would later be in the Pro Football Hall of Fame, including Vince Lombardi and Tom Landry, who were assistant coaches for the Giants.
It was the first NFL playoff game to go into sudden-death overtime and was broadcast nationally (almost 55 million people tuned in). And while it was blacked out in the New York area by the NFL's broadcast policy, the Colts' 23-17 overtime victory is credited for pushing the NFL onto the national stage.
Did You Know
The "Greatest Game Ever Played" did have some not-so-great moments. The game featured six lost fumbles between the Colts and Giants combined -- four by the Giants, who fumbled six times overall -- and two missed field goals.
---
1968
Hard-hitting helmet
---
Willie Lanier's helmet upgrade
---
Violent hits prompted Kansas City Chiefs linebacker Willie Lanier's extra helmet padding and another early attempt at helmet modification.
Lanier tells a story about how his heart stopped three times while being transported in an ambulance after collapsing on a football field in 1967.
Lanier believes he had taken a knee to the head during a tackle. Weeks later, Lanier was diagnosed with a subdural hematoma as well as damage to his optic nerve. After the injury, Lanier, a member of the league's 75th anniversary team, played 10 more seasons.
Did You Know
Lanier's helmet featured a strip of extra padding to help absorb contact. The player nicknamed "Contact" by teammate Jerry Mays earlier in his career has become an advocate for tackling without using the helmet.
---
1969
Protecting Broadway Joe
---
Namath's much-needed brace
---
Joe Namath's knees, encased in panty hose in one of his many commercials during his playing career as quarterback of the New York Jets, were a constant source of conversation.
Dr. James Nicholas and New York's Lenox Hill Hospital fashioned the brace after Nicholas' first operation on one of Namath's knees. Namath wore the brace throughout his Hall of Fame career, including the Super Bowl III upset of the Baltimore Colts.
Namath eventually would have four knee surgeries during his 13-year career, two on each knee. Long before arthroscopic surgery and when recoveries were far more uncertain, one surgical procedure was career-threatening.
Did You Know
Then-Jets team orthopedist Nicholas told Namath shortly after he signed with New York in 1965 that the quarterback's balky right knee might limit him to playing just four years.
---
1970
This record-setting shoe fits
---
Special footwear booted a 63-yarder
---
New Orleans Saints kicker Tom Dempsey, who was an all-conference defensive tackle at Palomar College as well as a wrestler and shot-putter, was born with only half of his right foot and with only a thumb and pinkie on his right hand.
He had never kicked before attending college and initially tried with a regular shoe, before taking his right shoe off during a practice to try kickoffs for the coaches with a sock on his right foot.
The kicking shoe came later. He wore it to hit a game-winning 63-yarder. It resulted in one of the Saints' two victories that year.
Did You Know
Dempsey made one field goal longer than 55 yards in his career -- the 63-yarder he kicked in Week 8 of the 1970 season, a record that wasn't even tied for another 28 years and wasn't broken until 2013.
---
1972
Franco's famous carpet
---
Turf from Three Rivers Stadium
---
Pittsburgh Steelers running back Franco Harris, who caught the Immaculate Reception, read in a newspaper that the Three Rivers Stadium turf was being removed.
After looking at some photos of his reception off the ricochet -- Oakland Raiders safety Jack Tatum had collided with the Steelers' Frenchy Fuqua -- to gauge the location on the field, Harris quickly went to the Pittsburgh facility. He arrived in time to find work crews tearing the turf out and nearing the spot where he caught the ball.
Harris asked the workers for the piece of the turf where he had made the controversial play.
Did You Know
The Immaculate Reception is one of the most iconic plays in the league's history, but it was trumped a week later. The following week, the Steelers lost in the conference championship game to the 1972 Miami Dolphins, who were on the way to a 17-0 season.
---
1982
Dorsett's Monday Night moment
---
Dorsett's shoes carry him 99 yards
---
At the Dallas Cowboys' 1-yard line, fullback Ron Springs was the intended ball carrier. After Springs left the field, Tony Dorsett took the handoff from quarterback Danny White, made a quick jab step and headed up the right sideline.
The Cowboys still lost the game in what was the regular-season finale of the strike-shortened 1982 season. They went on to lose to the Washington Redskins in the NFC Championship Game.
Still, Dorsett's record will always stand, although he now has company, as Tennessee Titans running back Derrick Henry tied it in 2018.
Did You Know
Dorsett and the Cowboys pulled off the record, 99-yard TD run with 10 men in the formation. After he misunderstood the playcall, Springs ran off the field when the Cowboys broke the huddle.
---
1993
Wardrobe for 325th win
---
Shula's record-breaking polo shirt
---
On Nov. 14, 1993, against the Philadelphia Eagles, Don Shula, then with the Miami Dolphins, earned his 325th win in his 31st year as a head coach. In doing so, he passed George Halas, who won 324 games in 40 years as the Chicago Bears' coach.
To put that into context, the two winningest active head coaches -- Bill Belichick and Andy Reid -- are respectively 67 and 133 regular-season wins behind Shula.
However, among those victories, Shula was on the wrong side of one of the greatest upsets in league history, as his heavily favored Colts were upset by the Jets in Super Bowl III.
Did You Know
In his record-setting career, Shula's teams had regular-season wins over nine Hall of Fame coaches, including Halas, Vince Lombardi, Tom Landry, Chuck Noll and Bill Walsh. Shula's teams were 40-21 against those nine coaches.
---
2007
Longest touchdown in history
---
Cromartie's gloves
---
The San Diego Chargers' Antonio Cromartie led the league in interceptions in 2007 with 10. He never had more than four interceptions in any other season and finished with two or fewer in four seasons.
But the four-time Pro Bowl selection is the proud owner of the longest touchdown in league history with his 109-yard return of a missed field goal by the Vikings' Ryan Longwell in Minneapolis' now-gone Metrodome.
The return, which came on Nov. 4, 2007, is tied for the longest return of any kind -- along with Minnesota wideout Cordarrelle Patterson's 109-yard kickoff return against the Green Bay Packers in 2013.
Did You Know
Cromartie, who played for four NFL teams, might have started a trend by returning a missed field goal. But the Auburn Tigers made it famous by beating the Alabama Crimson Tide in 2013 on the last play known as the "Kick Six."
---
2018
Ertz, Eagles finally win it all
---
Tight end's Super Bowl jersey
---
It was another masterpiece of a playcall in a game filled with them.
Opposite a three-receiver bunch, Philadelphia Eagles tight end Zach Ertz got one-on-one coverage. The play resulted in an 11-yard, fourth-quarter touchdown that won Super Bowl LIII for the Eagles.
The New England Patriots did not double-team Ertz on the play, despite coach Bill Belichick later being heard on NFL Films saying they should.
It was play No. 145 on quarterback Nick Foles' wristband (Philadelphia had 194 plays on the wristband for that contest), and it broke the Eagles' 57-year title drought.
Did You Know
As the husband of U.S. women's national soccer team midfielder Julie Ertz, Zach often wears another jersey -- that of Team USA soccer, with "Mr. Ertz" on the back.
---