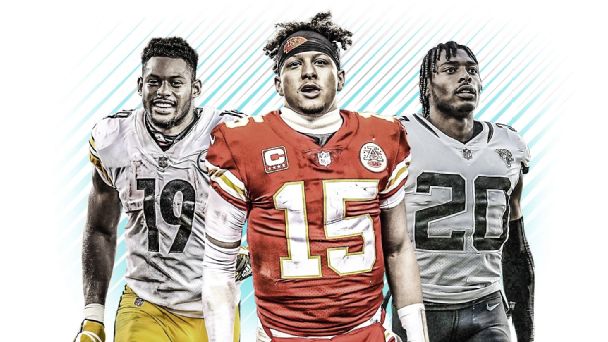 Barnwell's flawless NFL roster: 53 players, $188.2 million to spend
One 53-man roster, under the NFL's $188.2 million salary cap. The third annual perfect team is unbeatable. And we can prove it.
The flawless NFL roster
One 53-man roster, under the NFL's $188.2 million salary cap. The third annual perfect team is unbeatable. And we can prove it.
Methodology
In our efforts to try to build a perfect team under the $188.2 million salary cap while also maintaining some semblance of realism, we've upped the difficulty level from
last year's exercise
.
Team restraints: We'll draft at least one player from each NFL team, but no more than three from any one organization. No loading up on Patriots and Rams.
Finances: Each player's cost is determined by his current cap number without any cap acceleration for the acquisition. Players whose teams restructured their deals to create cap space without adding extra money were not eligible.
Team composition: Our team starts with 32 draft picks from the 2016, 2017, 2018 and 2019 drafts, with one player still on a rookie deal from each round, plus an undrafted free agent. You try choosing between Baker Mayfield and Derwin James. (We didn't choose either.) Throw in a 2015 first-rounder playing out his fifth-year option and fill out the rest of the roster with 20 players on veteran contracts.
Special teams: To make this a more realistic roster, we've filled out the back end of the team with players who have a history of playing special teams at the college and/or pro level.
Scheme: It has worked the past two years, so we'll continue to build an offense that vaguely resembles what Josh McDaniels does with the Patriots. Our modern attack requires versatile receivers and backs who can create mismatches in the passing game. Our defense is built around getting pressure with our front four, a la Jim Schwartz's Eagles; fortunately, we've concentrated our spending along the defensive line. And the head coach? Let's go with Bill Belichick overseeing everything.
Offense
Our attack is going to spend most of its time in 11 (1 RB, 1 TE, 3 WRs) and 12 personnel (1 RB, 2 TEs, 2 WRs) and make defenses uncomfortable with matchup issues before the ball is even snapped. Everyone in our lineup has the ability to run away from a missed tackle and run through -- or over -- a bad one. If teams want to spread out and try to flood the field with the defensive backs, we also have the offensive line to bulldoze undermanned boxes.
Spending difference from league avg.
Quarterback
Starter
Patrick Mahomes, KC
$4.48M
Reserves
Dak Prescott, DAL
$2.12M
Total spent:
$7.17M
The 2018 league MVP was the easiest pick on the board, as Mahomes' $4.5 million cap hit ranks a mere 31st among quarterbacks. You can pencil him in for the 2020 team, too. One of the few starters making less is Prescott, who makes a third appearance on this team in advance of his long-awaited extension. Mullens had arguably the best rookie season for an undrafted quarterback in league history.
Running back
Starter
Alvin Kamara, NO
$1.05M
Reserves
Chris Carson, SEA
$661K
Phillip Lindsay, DEN
$575K
Qadree Ollison, ATL
$573K
Cullen Gillaspia, HOU
$521K
Total spent:
$3.38M
This might upset Melvin Gordon, but we're saving money with three productive backs whose cap hits combine to narrowly top $2 million ahead of the rookie Ollison. Top-tier backs in 2019 need to be a problem for opposing defenses in the passing game, and we have two excellent receivers in Kamara and Lindsay. Both can run between the tackles, but we've also imported Carson for some extra oomph.
Wide Receiver
Starter
Michael Thomas, NO
$6.13M
Starter
Julian Edelman, NE
$6.08M
Starter
JuJu Smith-Schuster, PIT
$1.14M
Reserves
DeSean Jackson, PHI
$3.16M
KeeSean Johnson, ARI
$547K
Total spent:
$17.82M
We have a group of receivers who can move into and out of the slot and with the size and speed to beat any coverage concept. Thomas' new extension includes a relatively modest 2019 salary, which pushes him onto the roster ahead of the other top-tier wideouts. Smith-Schuster might be the biggest non-Mahomes bargain in the league. Jackson and Edelman rotate in as the third wideout, while Grant is our return man.
Tight End
Starter
Zach Ertz, PHI
$6.29M
Reserves
George Kittle, SF
$720K
Total spent:
$7.61M
Both Ertz and Kittle return from the 2018 team, although we'll miss having Gronk around for what would have been an absolutely terrifying red zone corps. We have the versatility here to line up in two-tight-end sets and take advantage of whatever the defense shows Mahomes with both sound blocking and top-level athleticism from our tight ends. Thomas gives us a dose of raw athleticism for a few snaps per game.
Offensive Line
Starting LT
David Bakhtiari, GB
$14.2M
Starting RT
Mitchell Schwartz, KC
$6.43M
Starting LG
Quenton Nelson, IND
$5.43M
Starting RG
Shaq Mason, NE
$7.28M
Starting C
Jason Kelce, PHI
$2.44M
Reserves
Rodger Saffold, TEN
$6.38M
Chase Roullier, WAS
$682K
Total spent:
$44.2M
Here's a scary thought: Saffold was one of the league's best guards for the Rams last season and doesn't even make the starting lineup for our team. He figures as the first guy off the bench at either guard or tackle on a unit with four first-team All-Pros and the wildly underrated Mason filling in at guard. Zack Martin is great, but we can get the duo of Mason and Saffold at a similar price.
Defense
Great defenses in the modern NFL need to be able to rush the passer with four defenders on a regular basis. They also need to be able to hold up in coverage for those times when its coordinator wants to send extra rushers. Doing one or the other isn't enough, which is why we emphasized a deep rotation up front to go with versatile linebackers and defensive backs.
Spending difference from league avg.
Edge rushers
Starter
Danielle Hunter, MIN
$13.5M
Starter
Yannick Ngakoue, JAX
$2.24M
Reserves
Trey Flowers, DET
$6.42M
Total spent:
$24.25M
We're four-deep here with a group of edge rushers who combined for 38.5 sacks and 92 quarterback knockdowns last season. The oldest of the bunch is Judon, who turns 27 this week, so you're looking at players who are still ascending into their peaks. None of these guys needs to sell out and shirk their run responsibilities to get after the quarterback, either.
Defensive Tackle
Starter
Aaron Donald, LAR
$17.1M
Starter
Quinnen Williams, NYJ
$5.91M
Reserves
Michael Pierce, BAL
$3.09M
Johnathan Hankins, OAK
$2.98M
Total spent:
$29.1M
Donald is going to be on this team at any cost. He has 99 quarterback knockdowns over the past three years, and no other player has topped 73. Pierce gives us a mammoth nose tackle to play alongside Donald, but out of pure curiosity, I want to see what Williams can do in the starting lineup alongside the league's most terrifying defender. Our 2019 first-round pick won't contend with many double-teams next to the reigning Defensive Player of the Year.
Linebacker
Starter
Anthony Barr, MIN
$5.6M
Starter
Darius Leonard, IND
$1.65M
Reserves
Denzel Perryman, LAC
$3.48M
Sione Takitaki, CLE
$735K
Total spent:
$14.06M
We have a rangy group of coverage linebackers here, although Barr can make an impact as a pass-rusher if we sneak him onto the line of scrimmage. Leonard was the other All-Pro in the league's stellar 2018 rookie class and might be the modern successor to former Bucs legend Derrick Brooks. A limited role for Perryman might help keep the oft-injured Chargers standout on the field for a full campaign.
Cornerback
Starter
Marcus Peters, LAR
$9.07M
Starter
Jalen Ramsey, JAX
$7.43M
Reserves
Bryce Callahan, DEN
$4.24M
Total spent:
$22.75M
We'll choose to go with a Big Nickel approach and run with two starting corners in Peters and Ramsey, both of whom have the ability to take even a slightly errant pass to the house. With our pass rush, we won't need either to offer much of a cushion in coverage. Callahan was one of the NFL's best slot corners over the past two seasons, and Johnson might follow him onto that list while also contributing on special teams.
Safety
Starter
Tyrann Mathieu, KC
$5.93M
Starter
Landon Collins, WAS
$4M
Starter
Eddie Jackson, CHI
$811K
Reserves
Justin Reid, HOU
$925K
Clayton Fejedelem, CIN
$736K
Total spent:
$12.4M
Not a bad trio of starters, huh? Each of our three lead safeties can play in the box or suit up in center field, so we'll rotate everyone around to confuse quarterbacks. Ideally, we probably want Jackson as the free safety, Collins as the strong safety, and Mathieu unleashed in a variety of different roles. Reid made an immediate impact alongside Mathieu in Houston last season, but the second-year standout is likely limited to special teams on our roster.
Special teams
The only kicker to make a higher percentage of his field goals over the past five years on a 100-kick sample than Gostkowski is Robbie Gould, while Dickson was yet another rookie who became a first-team All-Pro during his debut NFL season. Guys such as Grant, Thomas, Takitaki and Fejedelem will play meaningful snaps on special teams.
Spending difference from league avg.
Starting K
Stephen Gostkowski, NE
$3.05M
Starting LS
J.J. Jansen, CAR
$1.17M
Starting P
Michael Dickson, SEA
$643K
Total spent:
$4.86M
Vegas says: This team would beat the NFL's best
How would this 53-man roster stack up against the NFL's best
real
teams? We asked Caesars Sportsbook to set hypothetical lines vs. the
ESPN Football Power Index's
top 10 teams to see who would be favorited. Yes, that means Mahomes vs. Mahomes and Belichick vs. Belichick. Here are the results, sorted by most projected wins according to FPI:
Point spread vs. 10 best teams
| Team | Proj. W | Spread |
| --- | --- | --- |
| Patriots | 10.4 | +4 |
| Chiefs | 10.4 | +7 |
| Saints | 10.1 | +9.5 |
| Rams | 10 | +7.5 |
| Eagles | 9.3 | +7.5 |
| Colts | 9.1 | +10.5 |
| Bears | 9.1 | +10.5 |
| Browns | 8.8 | +11 |
| Chargers | 8.9 | +11 |
| Packers | 8.6 | +13 |