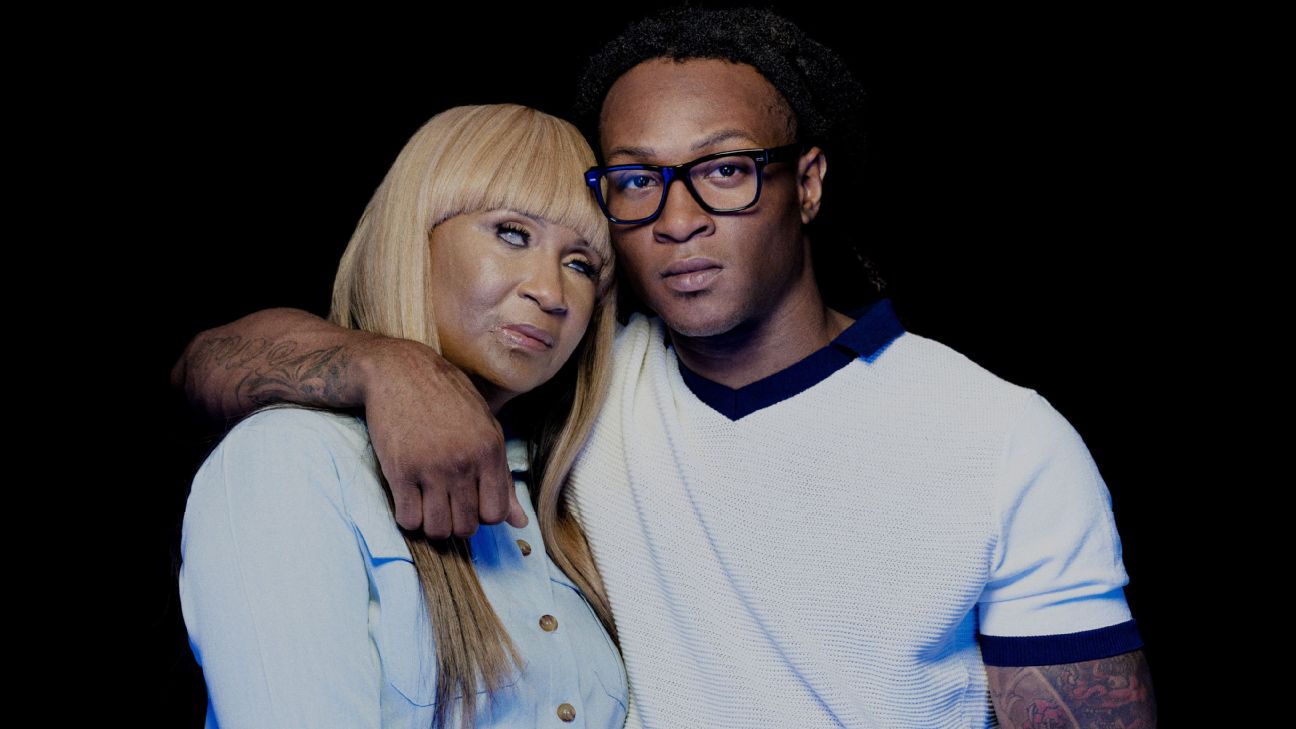 The unbreakable bond
Texans receiver DeAndre Hopkins says he owes his career to his mom. When you hear her remarkable story of survival, you'll understand his devotion.
Every time the Houston Texans play at home, DeAndre Hopkins' mother, Sabrina Greenlee, sits in the same spot in the end zone, close enough to the field to hear the ball smack against the turf. It's Week 2, and Houston is playing the Jacksonville Jaguars; she's flanked by her two daughters, sitting perfectly still as the countdown clock ticks down to zero. When it's time for the home team to run through the gate, a massive flamethrower erupts nearby. Greenlee recoils, and her eyes, which are the same cloudy shade of white as an overcast sky, glisten from the heat. A few minutes later, Hopkins emerges from the tunnel -- he's always the last player on offense to come out, Greenlee explains -- and she smiles.
She can't see her son, but she knows he's there.
Seventeen years. That's how long it has been since she lost her vision when a woman she didn't know threw acid at her face, blinding and disfiguring her in a bout of jealous rage. Greenlee was a single mother of four in South Carolina, caught up in abusive relationships, hustling to survive. DeAndre was 10 years old. Over time, she regained her sight in spurts, but it disappeared completely a few years ago, just as her son was emerging as one of the NFL's brightest stars. Since then, millions of people have watched the Texans wide receiver dive for otherworldly catches on the national stage, racking up more receptions through the first six seasons of a career than any other player in NFL history. Greenlee sees Hopkins' highlights only in her mind. "I visualize everything that he does," she says. "The dreads, the body movement."
Before the Jaguars' offense trots out, she drops a hand into her purse, fingers grazing the various objects in the bag until she finds a tube of lipstick. She applies it slowly, painting a perfect pout. Next to the scar tissue on her neck, Maya Angelou's words "Still I Rise" are tattooed in cursive. As the crowd noise builds, she folds her hands in her lap, listening to the announcer call out down and distance. "I'm alone a lot, so it helps to be in a peaceful state," she says. "It can get overwhelming."
After the Texans snuff out the Jaguars' first drive and the offense takes the field, Greenlee's younger daughter, Shanterria, pulls up her hood and leans closer to her mother, whispering descriptions of the game -- color commentary, essentially -- into her ear. Early in the series, Deshaun Watson hits Hopkins out of bounds on a short pass. "Tippy-toes and then out," she tells Greenlee. "Third-and-4."
"Do it again," her mother says.
Watson obliges, and Hopkins catches the ball, but he's tackled just short of the sticks. When the announcer breaks the news, Greenlee sighs.
"The commentator's talking is not enough -- she wants to know what kind of route he ran," says Kesha, her older daughter who is sitting behind her. "'Did he catch it?' 'No.' 'Why didn't he catch it?' 'I don't know, Mom.'"
Later in the quarter, when the Texans near the end zone, Greenlee sits up a little straighter, squeezing Shanterria's arm as the crowd hums with anticipation, setting off her sensory triggers. If her son scores, she explains, her daughter will help her stand up and lean over the barrier so she can accept the football from Hopkins. This ritual serves as a reminder that, while she can't see her son, he still sees her -- and he wants the world to see her too. "I've not always been your typical role-model mother, and he still respects me enough to let everybody see him give me that ball," she says. "That ball symbolizes so much more than people ever could understand."
---
HOPKINS GREW UP in a small town in South Carolina, in the shadow of Clemson University. Everyone remembers the boy called Nuk (pronounced "Nuke") -- the nickname stemming from Hopkins' penchant for chewing through Nuk brand pacifiers as a baby -- as an introspective, soft-spoken child. When he was 5, his godmother, Frances Hicks, threw him a birthday party in her backyard, and he disappeared for so long that she went looking for him. "When I walked around front, he was just sitting on the steps by himself," she says.
Hopkins was a baby when his father, Steve, died in a car accident after hydroplaning on a rainy afternoon. His mother, a former high school cheerleader, met Steve when she was 19. He was something of a drug kingpin in their region, she says, and at the time of his death he was out on bail, facing the prospect of spending several decades in prison for trafficking. Hopkins says he was 6 years old when his grandmother told him what happened. "I'm pretty sure I started crying, even though I didn't know who my daddy was," he says. "I just knew people have fathers."
"He was like, 'Man, just imagine -- one football can take you so far. All you've got to do is catch it.'"
- Marcus Greenlee, Hopkins' brother
While Hopkins didn't remember Steve, he was often told growing up that they shared a number of habits, like waking up in the middle of the night. He also inherited some of his tastes. Once, he was standing in the family's kitchen spooning jelly on fried chicken, and when his mother saw him, she was overcome with emotion. "She almost started crying because my dad -- I didn't know this -- he put jelly on everything," he says. Like Steve, who used to drive around the neighborhood in shades and a mink coat, Hopkins loved fashion; he'd shop for embellishments at the dollar store when he was a boy, dressing up his cheap clothes with colorful scarves.
"He'd wear girls' jeans, and I'd be like, 'How do you walk in those?'" Kesha says, laughing. "He's always been that guy that didn't care what anybody said about what he was wearing."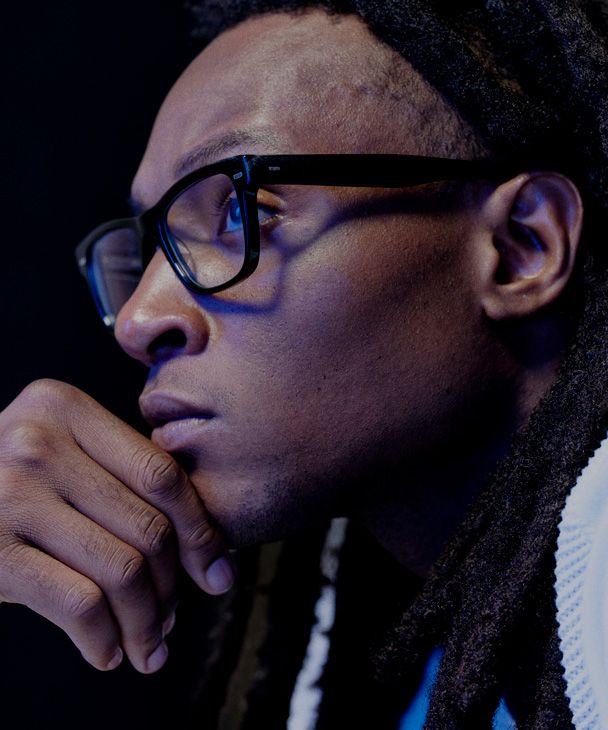 When the children were young, their mother held down two jobs, working at an automotive plant during the day and as an exotic dancer at night. Back then, Hicks says, Hopkins would call and ask her to teach him how to cook for his mother. Because Greenlee worked so much, the kids spent an inordinate amount of time outside, where they'd regularly witness drug sales and shootings. "We would play tackle in the middle of the street," Kesha says. (According to Hopkins, his sister was better at football than some of the boys.) "Literally no equipment."
It quickly became evident that her younger brother, whose hands appeared to have grown more quickly than the rest of his body, possessed a rare gift. "He was completely unstoppable," Kesha says.
Hopkins started playing in a pee wee league when he was 8 years old. The other mothers sat on the benches; Greenlee would rumble up and down the sideline, screaming at the referees. "She used to always be right there on the field, every game," he says, laughing. After a brief stint at middle linebacker, he started playing wide receiver, and it wasn't unusual for him to catch six touchdown passes in a single half. "Everybody was like, 'Man, you gonna be something,'" Hopkins says.
He began to wonder if those people were right and he could use those oversized hands to rewrite his family's story. His older brother, Marcus, recalls a night when their mother turned off the TV and the two boys went to their bedroom and lay in silence for a few minutes. All of a sudden, he says, DeAndre popped up and started talking. "He was like, 'Man, just imagine -- one football can take you so far.'"
Marcus says he asked his brother what he meant. "He said: 'All you've got to do is catch it.'"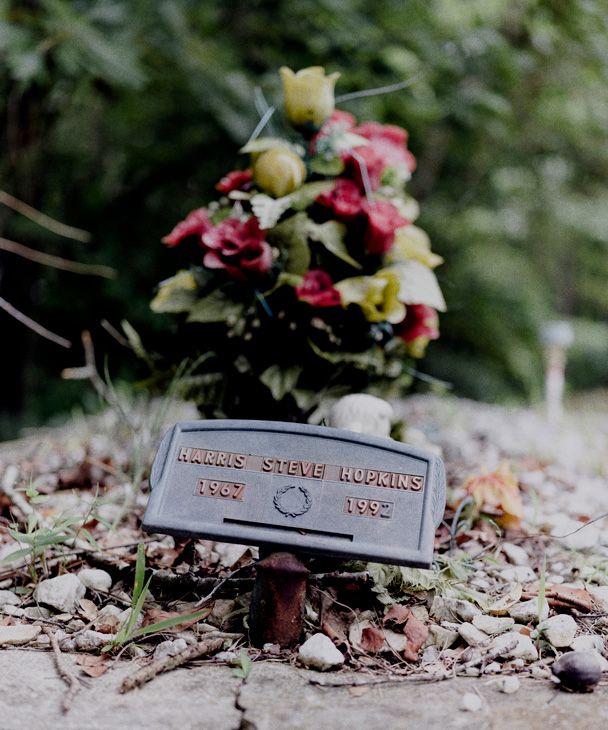 Greenlee tried to be present between shifts but struggled to stay afloat. When Steve died, she was only 23. "I was lost, and I didn't really know how to take care of the kids," she says. "Making ends meet was tough because I'd always depended on guys to do that." Before she met Hopkins' father, whom she describes as kind and loving, she dated a number of men who abused her. "By the time I was 15, I had been beaten about four times, put in the hospital once," she says. After Steve passed away, she found herself once again tumbling into relationships where she was subjected to violence, encounters that traumatized both her and DeAndre. "He saw the screams and [heard] the noise behind the door that he wasn't allowed to touch or come in as a young boy," she says.
In her late 20s, she achieved greater independence, even saving enough money to move the family into a small house with a driveway that the kids turned into a basketball court. But romantically, she says, she still tethered herself to the wrong men. It was one of those toxic relationships that nearly ended her life on the morning of July 20, 2002. Greenlee woke up and saw that her car was missing; she quickly deduced that a man she had been dating for a few months had borrowed it without asking. When she showed up at an address the man had given her to retrieve the vehicle, he came out and started apologizing. Then a woman -- a stranger but presumably another one of his girlfriends -- ran out with a bucket of bleach mixed with lye.
The next few seconds were a blur: liquid splashing onto her skin, her back hitting the grass. "And as I'm lying there, the first thing I'm thinking is, 'Why would someone pour warm water on my face?'" she says. "But a couple of seconds later, I realized it wasn't warm water, because my skin is literally falling off my face, my neck, my chest and my back."
It felt as if a white curtain had dropped over her eyes. Her boyfriend picked up her crumpled body, folded her into a car and drove her to a nearby gas station. After getting the attention of a station attendant, who screamed at the sight of the blood, they brought Greenlee to the back of the store and started pouring water on her face. Greenlee sat next to the fountain, slumped against a wall, slipping in and out of consciousness. Before long, she says, she realized that her boyfriend was gone, and she wondered if she'd been left for dead.
---
WHEN HOPKINS' SISTER Kesha answered the family's landline that afternoon, she had no idea where her mother had gone. She passed the phone to her grandmother, who burst into tears when she heard that Greenlee had been rushed to the emergency room. She grabbed the kids -- DeAndre was in Georgia, visiting his father's family -- and drove them to the hospital. Kesha, then 14, remembers catching a glimpse of her mother as she rolled past them in a gurney. "She's really light-skinned, but the entire right side of her face was black," she says.
Greenlee was airlifted to a burn center in Augusta, Georgia, where she lay in a medically induced coma as doctors grafted skin from her chest and back onto her face. Back in South Carolina, Hopkins and his siblings waited, unsure of when, or if, their mother was going to come home. "Having her taken away temporarily like that, it was hard," he says. "You don't really know what your next day is, or what you're gonna do ... because you feel like you're all alone in the world without your mom or dad."
Finally, after several weeks, Greenlee woke up. She struggled to speak at first, and her vision was gone; her face was still mottled and swollen from the surgeries. She returned home while her children were out with Hicks and waited for them to come back. When she opened the door to greet them, Shanterria, her youngest, backed away in fear, as though she had seen a ghost. "That broke Sabrina's heart," Hicks says.
Ten-year-old DeAndre was equally terrified. "I was in shock that somebody could look like that," he says. "It was really scary -- and to think that's my mom, she's gonna be like that the rest of her life. I was hoping that it was a dream." He was too young to process the emotional scope of what had happened, too afraid to ask her the simple questions bubbling up in his mind. He wondered if she'd ever watch him play football again.
With the help of her family and friends, Greenlee began to ease back into her old life. She learned to move around the house without a cane, her hands grazing the walls like she was stroking an animal's fur; she taught herself how to execute simple household chores so she could care for her kids. But when they boarded the school bus every morning, leaving her alone, she found herself sinking into a vast spiritual darkness. She rarely emerged from her bedroom, only leaving the house to go to doctor's appointments, and she drank heavily to numb her depressive thoughts. "I've been here before, not knowing what to do," she says. "But now I'm back here again, and I'm the only source of support that my children have ... now I've failed them."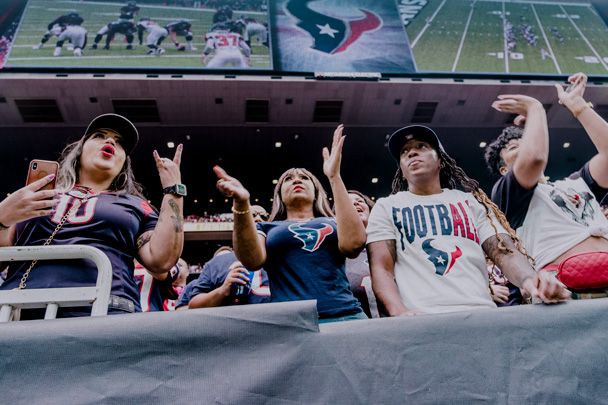 Greenlee couldn't go back to her manufacturing position at the automotive plant, so she'd pick up odd jobs like babysitting to make ends meet. She also sold drugs. Some days, Kesha says, the two of them would sit at the kitchen table with bags of product, waiting for customers to knock on their door. Greenlee says she did business throughout the night. "I thought I was doing what I needed to do," she says. "In hindsight, it was the worst thing I could've done, when you have kids that are just trying to go to sleep and get up in the mornings to go to school ... but I was just seeing it as a way to make money."
Hopkins was just a child, but he was old enough to intuit that the visitors who streamed through the family's doors didn't belong in his house, and he found their presence unsettling. Hicks says she would occasionally pick up DeAndre from practice, and he would tell her he didn't want to go home. "It wasn't a peaceful place," he says. Some weeknights, as late as 11, he would lace up his sneakers and run for miles. Not because he harbored a preternatural work ethic as a middle schooler or because he coveted freedom, but because he simply wanted to get away.
Football helped. By the time Hopkins was in his early teens, everyone in their tiny town knew he was a future star, and locals would flock to the field when his team played, watching him from the road if there wasn't room on the grass. After Greenlee's accident, she tried to venture to one of those games, wrapping her face in bandages before stepping outside. She instantly regretted it. Even though she couldn't see anyone, she was certain that everyone was staring at her, whispering rumors about what had happened. (Her attacker, Savannah Grant, was sentenced to 20 years in prison for assault and battery with intent to kill; the boyfriend was not charged.)
Afterward, she holed up in her house, refusing to leave for days on end. "I knew he wanted me there, but it was really tough," she says.
Hopkins asked her to come back.
She said no.
He kept asking.
"I was able to cope with being blind and the scars and the ridicule. And I think it gave me the courage to eventually find myself."
- Sabrina Greenlee
Finally, she relented and let family members take her to one of her son's games. As they do now, her children clustered around her and gave her breathless play-by-play. Images of Hopkins performing acrobatic feats on the field crowded out her fears. Instead of conjuring up a mental picture of herself as a monster, she envisioned the person her son saw when he turned to look at the sideline after making a jaw-dropping play: a mother who deserved his unconditional love. "I was able to cope with being blind and the scars and the ridicule," she says. "And I think it gave me the courage to eventually find myself."
Every day, as she took new steps outside the safe confines of her home, her boundaries expanded -- and her son's world exploded. By the time Hopkins was in high school, his skills had caught the attention of a few colleges. "He was as good as that area had ever seen," says Clemson head coach Dabo Swinney, who'd been the Tigers' wide receivers coach before he took over the program in 2008. "You don't teach a guy to catch a ball like he can catch the ball. That's just God-given." While he was widely recruited, Hopkins chose to stay home, at Clemson. He told his mother it wasn't because of her, but everyone knew that was a lie. When the Tigers played in Death Valley, she sat in the stands, shuddering with awe whenever DeAndre's name reverberated around the stadium.
After a solid start to his college career, Hopkins broke out during his junior year, amassing 1,405 receiving yards and 18 touchdowns. While some scouts wondered whether his lack of straight-line speed might hurt his draft stock, it was never a question, he says, that he'd leave school for the NFL when the opportunity arose. "We needed food on the table," he says. "I always knew I took care of more than myself from a young age. People depended on me."
One football can take you so far.
When the Texans selected Hopkins with the 27th pick in the 2013 draft, he was waiting for the call at a restaurant in his hometown, surrounded by a raucous crowd of family and friends. Hopkins wore a white dress shirt with suspenders; he was too nervous to eat his favorite foods. A framed picture of his father was propped up on a table in front of him, facing forward so everyone could see his face. His mother, as always, sat by his side.
---
THREE YEARS AGO, the NFL launched an initiative granting players permission to wear custom cleats to promote their charitable causes. That fall, Hopkins wore pink and blue shoes that had "End Abuse" written on the outside in all caps. Next to the heel, an artist painted four tiny icons of women, one of whom was rendered in a different color from the others, a symbol of the one in four women who have experienced intimate partner violence.
The year Hopkins was drafted, Greenlee started a nonprofit called SMOOOTH (Speaking Mentally, Outwardly Opening Opportunities Toward Healing) in order to assist survivors of domestic violence. Her son has quietly worked with her to advance the cause, meeting with the women she has mentored, raising money for her organization and others, and speaking to high school students about his past. While it's difficult to recount the harrowing sounds he used to hear behind closed doors as a boy, the process of dredging them up can also be palliative, he says. "It's helped me learn a lot, about life, about how to treat a woman," he says. "It's helped me become a man."
Like her son, who she's quick to point out is also a survivor, Greenlee harbors painful childhood memories -- recollections of being "that 15-year-old girl that took that abuse, that lay on the floor, that didn't think she was ever going to be anything," she says. When she visits shelters, she meets women who haven't shed those feelings of inadequacy. Her foundation has helped dozens of survivors transition to their new lives, giving them vouchers, counseling and even makeovers. "I want to tell [them] ... you don't have to stay there," says Greenlee, who agreed in May to let a film company produce a movie about her life. "I'll help you get out of this, just listen to me. Just follow my lead. I'm telling you: There is light after darkness."
Today, Greenlee splits time between South Carolina and Houston. Shanterria, who attends community college in North Carolina, flies to Texas for games. Kesha lives in the same apartment complex as her mother in Houston. She's a wide receiver for a women's team called the Houston Energy, wearing the same No. 10 as her younger brother, and is planning to start a league for young girls.
Although Kesha helps her mother with errands, Greenlee mostly manages on her own, walking around her apartment in Houston without a cane and using voice-activated technology like Siri and Alexa. DeAndre describes their bond as being as much of a friendship as a mother-son relationship, explaining that no subject is off-limits between them. "She's probably one of the funniest people I know," he says. "She'll definitely make a room brighter."
Since the attack, Greenlee has had more than 20 surgeries on each of her eyes, including cornea transplants. Some of the procedures worked for brief stints, but her vision disappeared completely a few years ago, so she has missed most of Hopkins' NFL career. The thought no longer plunges her into existential despair. "It goes back to when I got the courage up when he was in junior high," she explains. "I remember him saying, 'I just want you to be there.' So if I'm there, and I'm present, and I'm alive ... that's ultimately all he wants. He doesn't care that I can't see."
So she goes to every home game, sitting in the same spot, doing her best to conjure up a mental image of DeAndre with the help of her daughters' words. And he visualizes his mother too. "I'm always picturing her, whenever I make a catch, her reaction," he says. "And sometimes, when I drop a ball, I'm like, 'Darn it. I let my mama down.'"
As a boy, he told himself that a catch could change his family's luck; as a man, he has already delivered on that promise. And if his team happens to be driving toward the end zone where his mother sits, he knows that she's waiting, and that every play brings him a little closer to her.