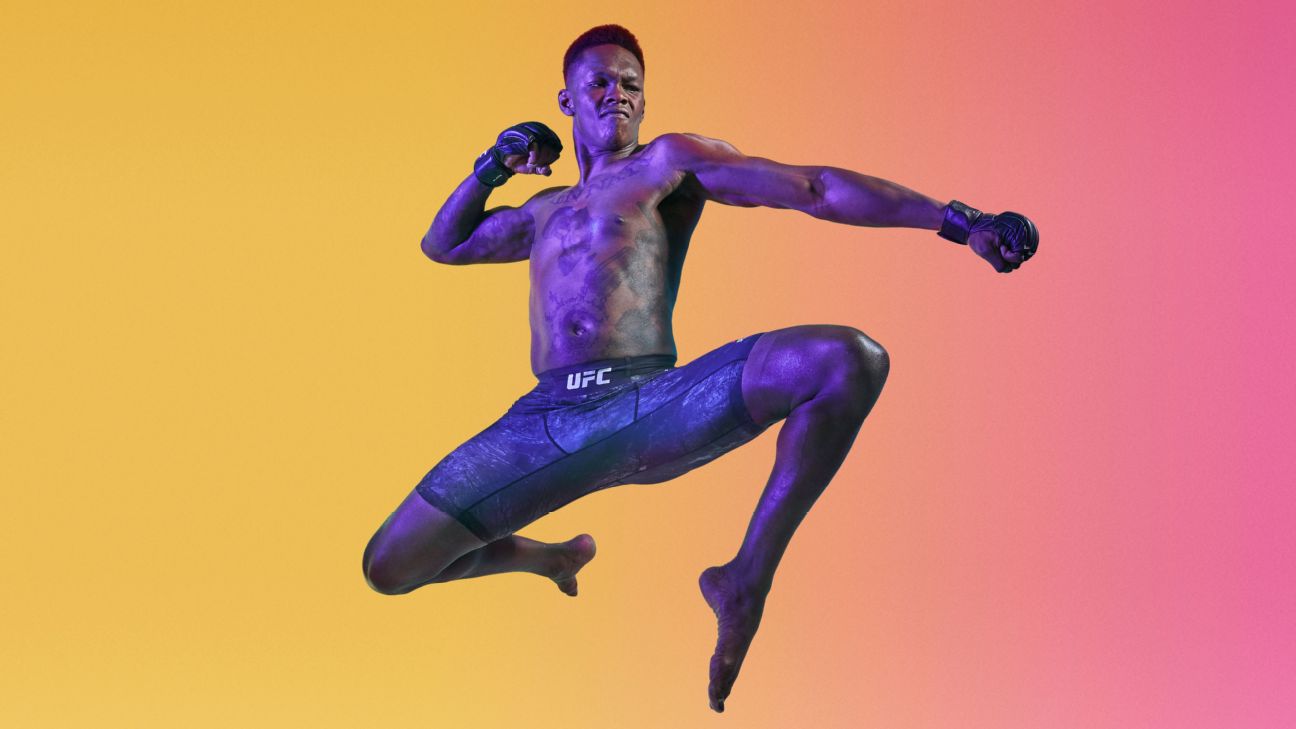 The UFC's next big thing
Before Israel Adesanya became a fighter, he was a dancer. But instead of choosing between the two worlds, the MMA champion has merged them onto a single stage.
Editor's note: This ESPN Cover Story on Israel Adesanya was originally published on March 5, 2020, before his first title defense. Watch Adesanya fight Jan Blachowicz in the main event of UFC 259 on Saturday on ESPN+.
On a recent Tuesday night at Auckland's City Kickboxing gym, a large communal sparring session unfolds. In every direction, gloved fists and padded shins resound off bodies — all around is sweat, flesh, lurid bruises, scabs, mangled toes, the flowering here and there of iliac furrows, the air heavy with a salt funk. It is fearfully intimate.
In a corner of this warehouse room, lined wall to wall with wrestling mats, stands Israel Adesanya, the 30-year-old undisputed UFC middleweight champion. Tall and striking, even as he wriggles his neck to put on stiff blue headgear for sparring, he looks — as he often does — too big and too vivid for the room.
This, as much as his 18-0 MMA record, including seven straight wins since joining the UFC two years ago, is why Dana White talks about Adesanya with giddiness, why some speak of him as MMA's "next cash cow." It's his style, his daring and dancing, his smart mouth, the sense that he combines the strengths of his UFC predecessors without suffering from their flaws — the Ph.D.-level striking of Anderson Silva without the air of pious reticence or the language barrier; the charming effrontery of Conor McGregor without the flies in his ointment; Jon Jones' magnetism without the sense that something has callused inside him.
Adesanya yearns for this specialness, the electric tension of standing poised on the verge. On Saturday, at UFC 248, he will risk his title against Cuban veteran Yoel Romero, an opponent Adesanya's peers fear and avoid for his explosiveness, wrestling background (he's an Olympic silver medalist) and hard-man reputation. From the vantage point of risk vs. reward, White has said the fight makes no sense — except that Adesanya demanded it, another chance to test his own knack for the grandiose, a gift that lends him, at every critical moment, an air of glamour.
Inside this gym in his home city, though, Adesanya is able to shed a measure of his aura and appear, in stolen minutes, as he nearly never does elsewhere: sweaty, exhausted, occasionally awkward, almost ordinary. Tonight, dozens of amateur and pro fighters pair up and rotate to a new partner each round. But the UFC champion doesn't spar with just anyone. "I select them," he says. "I want to know that they're not thinking, 'Ooh, he's that star ... here's my chance to shine.' 'Cause you get that sometimes."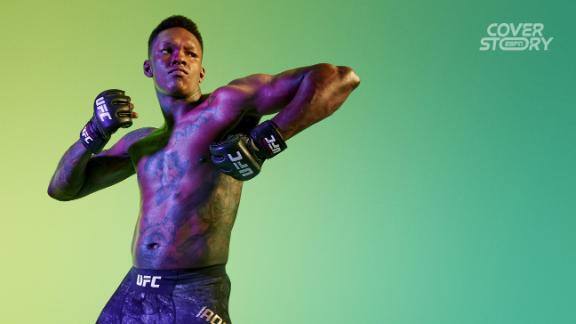 Here is one such fighter, a foe from Adesanya's younger days, a local boxer who once taunted him and tried to knock him out while they sparred. The boxer hasn't appeared at City Kickboxing in some time, but now sees a chance to upstage the headliner, dash out of the crowd and make a scene. A sharp double jab immediately takes Adesanya by surprise.
Oh he's really gonna try this, huh? Adesanya thinks.
Alert to what's afoot, Adesanya glides backward and away. The shorter man, bulky and wearing a white cotton tee, surges forward. Adesanya parries and slips and stings back with a right hand, content for now to simply show the gulf in ability. The man bobs and weaves and jabs his way inside, needing to close the distance and desperate to avoid embarrassment at the end of Adesanya's long arms.
The champ allows this. The gym floor is crowded with other combatants, and he's here to work. They rest, their foreheads notched high on each other's clavicles, nuzzling in their headgear. By now, they have acquired a small audience of instructors and members who aren't sparring. Adesanya and his foe work this way for a minute or so, jostling for position on the inside, testing each other's defenses, throwing short probing punches, trying to find some way past forearm and shoulder to rib, liver, chin.
Suddenly the boxer erupts with a flurry. A smart hook grazes Adesanya's nose as he leans away. He's annoyed now, feels the need to "regulate," as he puts it later. Adesanya suddenly stops his backpedal, slips a right hand and, anchoring his feet, dips his knees slightly, a moment of frozen tautness in the hips, a coiling ... and its release into a perfect left hook to the body, sweet and cruel.
The boxer makes a sound — a choked exhalation like the start of puking — and doubles over. Nearby a few light whistles, shaken heads and rueful smiles that say, There but for wisdom go I. The boxer takes about half a minute to recover, then gestures to Adesanya that he is ready again, the final seconds of the round mainly a repetition of the champ slapping his assailant's peekaboo guard down so as to coolly pop him in the head, just so.
They pound fists at the end. "Good work," Adesanya says.
The man's answer is a collegial "F--- you."
---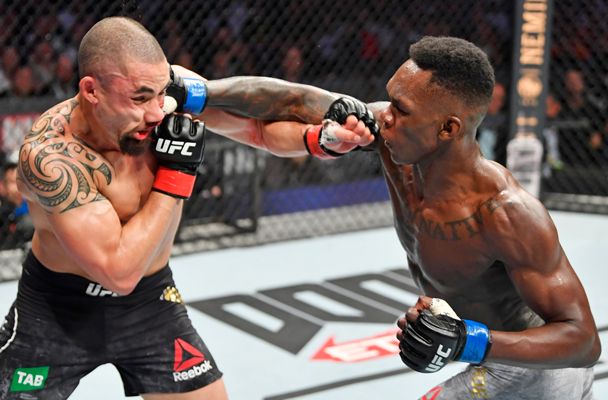 ONE OF THE FIRST noticeable things about Adesanya is his mystifying accent. His English does not sound American, nor does it sound like the Kiwi accent you hear in New Zealand, where he grew up and lives. There is a trace inflection of Britishness that dissolves back into the murk of his vocal dislocation the second one tries to listen for it. The only time I can place his voice is when he speaks what to my diaspora-marred ears sounds like perfect Yoruba, his native tongue.
He was born in Lagos, Nigeria, in 1989 to an upper-middle-class family, the first of five children. Although the country's civil society buckled under rising corruption and successive juntas and coups in the 1980s and '90s, the Adesanyas lived in relative comfort. Young Israel didn't learn how to bathe himself until he was 8, he recalls, when he insisted he no longer needed the aid of the family's domestic servants.
Late in the decade, as the regime of Gen. Sani Abacha collapsed, Femi and Taiwo Adesanya started to worry about what type of future their children would have in Nigeria. The newly re-democratized society was just trying to find its feet; it seemed doubtful their offspring would be able to join the same professional managerial class to which they belonged. They decided to move.
In December 1999, they left Lagos for Accra, Ghana, where they lived for a few months and considered their options. Eventually they settled on New Zealand. Femi went ahead to begin work as an accountant and find a home for his family. The others joined him there in the fall of 2001. They settled first in Rotorua, then a city of 64,000 on New Zealand's North Island. Lagos' population is roughly three times that of the entire country of New Zealand. The move was difficult for Israel, then 12.
"He carried himself a sort of way that made other people a bit self-conscious or insecure about themselves," says Jese Tuivoavoa, a close childhood friend. Adesanya stood out in small ways (he was ahead in math, for example, because of the differences between Nigeria's curriculum and New Zealand's) and large ones — no one else looked like him.
He was a "tall poppy," a colloquialism used to describe those who stand out, and his peers were determined to cut him down to size. They bullied him, tripped him as he walked the halls, spit and threw things at him from buses. They asked if he swung from trees, if his blood was yellow.
The sense he developed as a teenager that he didn't really belong remains a defining feature of how he chooses to arrange himself in the world — he is always standing at Dutch angles to his surroundings.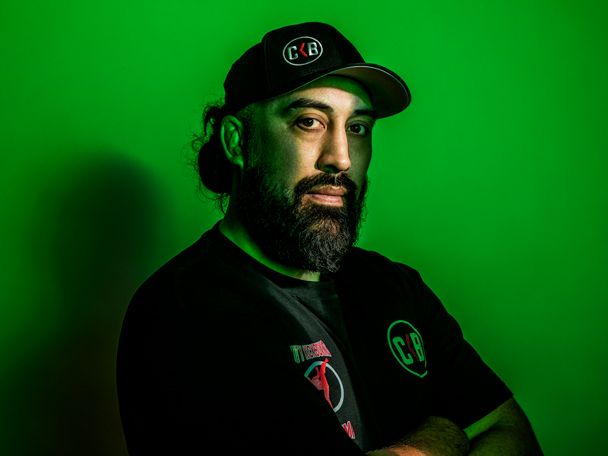 "I wasn't meant to fit in," he says. "Trying to fit in just never worked at all."
Across his chest today is tattooed the phrase "Broken Native," which was the name he gave his teenage dance crew and is a frame for understanding his sense of apartness: "The village idiot, if you will. The outcast. The bat amongst doves. The pebble amongst [presumably large] stones. The odd one out." His metaphors proliferate.
His friends did not. It wasn't until a high school talent competition, where he danced to Michael Jackson's "Wanna Be Startin' Somethin'," that his isolation changed. In Accra, a classmate had introduced Israel to popping and locking. As a child, dancing was "expression, just freedom, just being able to create with your own body, with your own energy, your own mind," he says. But at the talent show, a child's unselfconscious pleasure became something else. He learned he could change a room, shift how he was seen.
"I did this wave from here to here," he says, gesticulating with his arms outstretched, smiling at the memory. "The whole school erupted."
This didn't make things easier at home, where a teenage Adesanya was starting to understand that he cared nothing for the vocations his parents aspired to on his behalf: physician, lawyer, engineer, accountant like his father. "I always knew there was something bigger for me," he says. "I didn't know what it was early on. But I just knew I was going to be big at something."
He obediently went off to university, but early in 2008, at the age of 18, he started Muay Thai training, partly as a response to the bullying and partly because he loved the martial arts film "Ong-Bak."
Then, one morning in February 2010, he knocked on his parents' bedroom door and told them that his things were packed and he was leaving.
Where to? they asked, trying to stay calm.
Auckland, he said. He knew of some kickboxing gyms there, he wanted to be a fighter.
Where would he live?
In his car for now, or in the gym. He'd figure it out.
His mother wept. His father balked. You can't drop out of school for that. You don't have a plan. What if it doesn't work?
He didn't think about things like that, he said. He didn't think about failing.
His father insisted that he stay for a couple of weeks longer while they arranged some accommodations for him. He agreed.
He left for good two weeks later.
---
THERE IS NO special treatment at City Kickboxing, not even for the six UFC fighters mixed into this gym of some 350 members training at various levels of competence and interest. Not when two UFC championship belts, belonging to Adesanya and teammate Alexander Volkanovski, lie parallel on a table in the makeshift lobby area of the warehouse that became the gym's home in November. And not even when there is, like this morning, a photo shoot being orchestrated in one-third of the training area, making plain a contrast the gym's culture strives to obviate.
Adesanya is beloved by the gym's members and, maybe most important to him, is treated as an equal. No one ogles or defers to him — he is chided and teased like everyone else. Whenever he finishes working with a gym member, he pulls the person into a tight embrace, reserving, for a few close teammates, an occasional "luhhh you." City Kickboxing's membership has more than doubled in the past six months, mostly thanks to the celebrity of Adesanya, now pausing his workout to saunter over to the plain black curtain of a photo set.
The camera loves Adesanya's beauty, a long, sloping forehead that descends to the cliff edge of pronounced brows, which drop vertiginously over his eyes — narrow and somewhat feline, with a little fleshiness in the periorbital hollows, scarred tissue — to find the sharp bevel of his cheekbones, which frame a mouth of notable symmetry. When he poses for the camera, he demonstrates — no, performs — a spinning elbow that sends a ribbon of water off his forearm in a perfect arc. The photographer nearly purrs in satisfaction.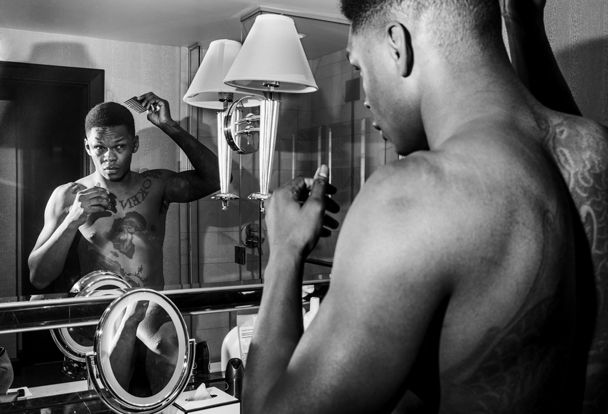 Head trainer Eugene Bareman did not see any of this coming the first time he met his star pupil. Late in 2009, Adesanya landed an amateur MMA fight via Facebook, and Bareman got roped into cornering him as a favor to a mutual friend. He remembers that the young Adesanya was cocksure. "It was amazing because he had no knowledge of the sport," Bareman says. "He was fresh off watching a week of YouTube."
Despite showing signs of talent on his feet, Adesanya was taken down and "mauled," Bareman recalls. "Thoroughly beaten in every round."
Bareman thought that was the end of it, but a few months later, Adesanya showed up at his gym asking to train. He tried to brush him off, but the young fighter persisted, and kept showing up, sometimes sleeping in the gym between workouts instead of going home. Even then, Adesanya talked about becoming the UFC middleweight champion.
The two are an odd couple. Bearded and perpetually baseball-capped, the trainer is contemplative, reserved, quietly intense. His student, on the other hand, is a natural showman. "If I didn't know Israel, [he] would be the last person I would go up and start a conversation with," Bareman says, laughing. But over time, they developed a tight bond. Today Adesanya calls Bareman a "father figure," "Yoda," the "yin to my yang."
Together they plotted a course toward Adesanya's lofty goals. He fought for the next several years primarily as a kickboxer, amassing a record of 75-5. In September 2013, Adesanya quit his job as a meter man for a gas company and moved to China so he would have easy access to higher-level opponents and more frequent fights. He sees it now as an ideal training ground for all that was soon to come.
"China was a way for me to fast-track what I knew was going to happen — like being stared at, being mobbed," he says. "I was a big, Black guy in the mainland of China, where they don't really see foreigners often." He lived in an austere facility near Zhengzhou with about 70 other fighters. "It was like a prison camp for fighters," he says. "Steel plates, steel chopsticks. Like a boarding school compound with a gym in the middle."
He earned the nickname "Black Dragon" from Chinese fight fans, fighting some two dozen times in a span of eight months, sometimes in front of huge crowds. It was one of the loneliest yet most fruitful periods of his life. He didn't know the language and had little contact with his family, but he kept winning.
"I wasn't meant to fit in. Trying to fit in just never worked at all. "
- Israel Adesanya
He returned to Auckland from his self-imposed exile late in the fall of 2014 and launched a hostile takeover of New Zealand's combat sports scene. That winter, he entered the King in the Ring tournament, an eight-man, single-elimination kickboxing competition in which the victor must win three consecutive matches in one night. Adesanya took the 190-pound title that winter and won the tournament two more times in 2015, defending his crown at 190, then winning the title at 220 pounds six months later. His three wins and 9-0 record in the tournament remain King in the Ring records.
But what made others take notice was how he won. Dan Hennessey, a U.S. Marine-turned-DJ who moved to New Zealand and announces all the King in the Ring matches, speaks of Adesanya in a rapture of hype man's cant: "He is beautiful violence, a cartoon character come to life. He is like a hawk over the water looking for trout to pluck out of the water. Israel Adesanya is one of a kind."
Adesanya would christen himself the Last Stylebender, a nod to his love of anime and an apt description of a fighting style that married aggression with a dancer's instincts for adornment: feinting and potshotting, mugging, raising his arms above his head. He'd kip up after a stumble; he'd awe with occasional capoeira kicks, one part cartwheel, one part head strike; after a knockout, he'd recline on the ropes and turnbuckles, a picture of insouciance; or pirouette like a ballerina in the middle of the ring, just because.
"I've always been this entertainer when I fight," he says. "I make people gasp, laugh, frown. I evoke a lot of emotion out of people."
He had learned to make a firework display of his self-possession. And he also quietly accumulated a 5-0 record in MMA, never losing sight of where he wanted to go. Early in 2015, he DM'd Dana White on Twitter and told the UFC president that if White put him in the cage, he would do the rest.
Adesanya finally made the move in 2018, debuting at UFC 221 against Rob Wilkinson. Before he stopped Wilkinson in the second round, he mimed raising his leg to pee as he entered the Octagon. After the fight, face unmarked, staring into the television camera, all but winking, Adesanya called out his entire division: "Middleweights! I'm the new dog in the yard, and I just pissed all over this cage."
---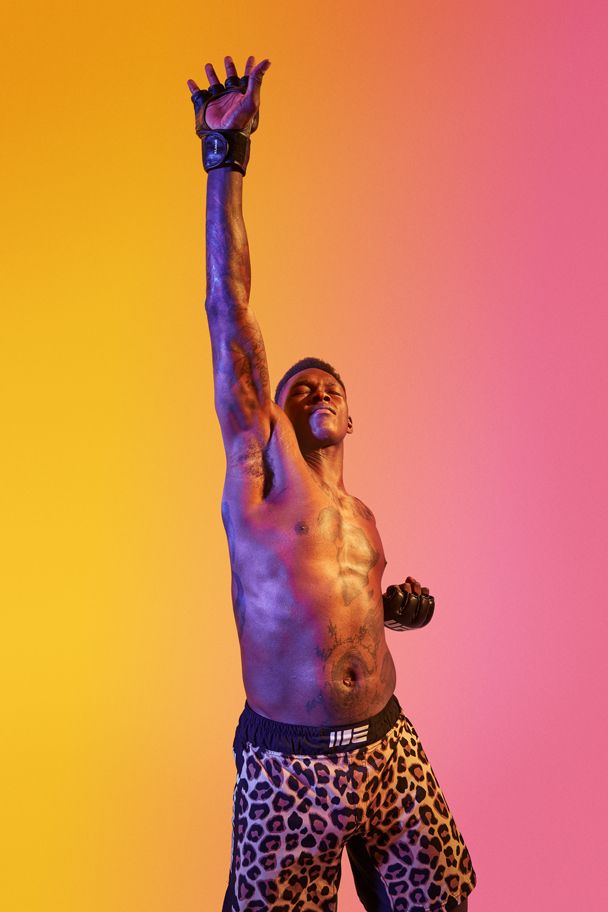 IN THE SUBURBAN development in Auckland where Adesanya lives, one can hear, in the early morning, a buzz saw screech in the distance and see sprinklers rope trails of water into the air over neighboring lawns, the grass freshly planted and half grown. It is a community still under construction. Inside his home, Adesanya is preparing to head to the gym for his 9 a.m. training. The next day will be the second anniversary of his UFC debut. He hears someone at the door, and he goes to answer it.
A neighbor stands in his doorway and tells Adesanya that a cat has been run over in the street outside his house. He asks whether the cat is his. Adesanya walks outside to discover that it is.
"I was just like, 'f---,'" he says. "It just made me realize that life is short, man. Life is so short."
That night, still shaken, Adesanya gets home from dropping off some dinner for a close friend who's in the hospital and sits in his driveway, alone, for hours, listening to a playlist he hasn't queued up in a long time. "I created this space in my car, like a time machine," he says. "I was just in sync. I was just in flow." Adesanya puts a song (he won't say which one) on repeat. Over the next several minutes, he uses it to create a new entrance for the Romero fight.
The suddenness of his cat's death stirs something in him, accelerates a few decisions. He's not superstitious, but he's prone to the language of internal struggle, to "epiphanies" and "metamorphoses" and "evolutions."
"I decided, after my cat got run over, that I don't want neighbors," he says. "I've always known I wanted a farm, a big piece of land where my nearest neighbor would be 2 kilometers away. That is going to happen even sooner now because of what happened with my cat."
We are in the back of an Uber, riding under the low-hanging silver matte sky of the early morning, to the southern outskirts of the city, where he has striking practice. He is in a reflective mood, a little tired, less reflexively funny and disarming than he typically is.
I ask what he's seeking in this distance from others.
"Privacy," he says. "I like my own space ... I just need my own time."
As much as he yearns for distinction, he's wary of its cost. "My life is like 'The Truman Show,'" he says. "Sometimes I feel like a vessel ... I'm special. It's knowing you're the s--- and also knowing that you're not, that you ain't s---. Because I can't lean into it too much and think I'm different from everyone. I still have to know I'm just another speck in the sand on the beach of life, you know? It's a fine line you walk, and it can send you to some weird places."
Adesanya is lavishly talented and unusually strong-willed. He has all the ingredients to achieve what he wants, to be one of the greatest mixed martial artists of all time. Which is to say, his stardom could become far more disorienting. He has no use for ordinariness but has a deep need for the ordinary pleasure of privacy. His profession nourishes (unto bursting) the performer in him, the creature who demands Look at me! while threatening to starve the isolato, the bullied art kid who loves anime, the only Black boy in class, who must've spent a great deal of time living in his own head.
Members of Adesanya's inner circle marvel at his ability to fulfill his own predictions. He says he visualizes so intensely that he'll occasionally realize he's talking to himself as if he were in the scene playing out in his head. Femi calls his son a prophet. Since Adesanya was a teenager, he's been making lists of things he wants, Tuivoavoa says. After losing every single round of his first amateur MMA fight, he told Bareman that one day he would be the UFC middleweight champion. He said he would beat Robert Whittaker for the middleweight title more than a year before they fought — and, in front of roughly 55,000 people in Melbourne last October, he did.
The Whittaker fight was the culmination of a dominant year. In February, Adesanya dispatched former UFC middleweight champion Anderson Silva in a unanimous decision that was a symbolic passing of the torch, and months later he endured a five-round epic battle against Kelvin Gastelum in what was widely acclaimed as the fight of the year.
Ahead of the Silva fight at UFC 234, Adesanya had asked White for a special walkout. White declined.
"It's the exact opposite of the mood and the mentality that you're looking for from a fighter who is just about to fight in the biggest fight of his life," White says.
But in October, White relented, on the condition that he could see a preview of the walkout before the fight. Adesanya called Tuivoavoa, his childhood friend and former dance crew partner. Together, they cooked up a short, anime-inspired routine during fight week. White saw the rehearsal — and how important the moment was to Adesanya — and agreed to let them go ahead.
Adesanya's dancing isn't incidental or a mere promotional quirk — it's the key to understanding the greatest night of his professional career. In his most important fight, against an opponent who hadn't lost in more than five years, in front of the UFC's largest-ever crowd, Adesanya chose to call his shot in the most ostentatious way possible. This was Babe Ruth pointing into the grandstands, Ali predicting the knockout round.
It could have been a disaster. If things had gone wrong in the Octagon, Adesanya's dance would have become a humiliating meme.
"If you get knocked out, bro, we're going to look like straight asses," Tuivoavoa told him. "We're going to look like so much trash." But he had learned to stop doubting his friend.
Adesanya had no such doubts himself. "I like that thrill of, 'Oh, you might win it all, or you might lose it all,'" he says. "I fell asleep the night before [the fight] watching the rehearsal video. I just kept watching it because I was just so excited by the look of it."
The next morning, Adesanya called his father and told him to go bet on the fight: He was going to knock out Whittaker.
"I've always been this entertainer when I fight. I make people gasp, laugh, frown. I evoke a lot of emotion out of people."
- Israel Adesanya
Adesanya walked into the Octagon liberated of the pressures of the moment, even as he raised the stakes by choosing the Naruto-inspired dance entrance. "There was no paralysis, overanalysis," he says. "I wasn't overanalyzing the fight like Robert was."
Dancing has made him a natural improviser and a gifted mimic, and his capacity for mimicry allows him to easily home in on his opponent's rhythm. "I'm really good at copying movement," he says. "I can see someone do something and replicate it."
Moreover, he rarely fights in any rhythm himself. He trains off both hands, and he is constantly adjusting and rehearsing — every movement seems to trigger a memory or vision. "That's what I got this person with," he'll say, or "That's what so-and-so tried to get me with."
Heading into the fight, Bareman and Adesanya planned to avoid Whittaker's right hand. But early in the first round, Adesanya noticed that he could time Whittaker's right, so he started to drift toward it, inviting Whittaker to throw the punch, knowing he could counter. It was a dangerous strategy. Adesanya started exchanging with Whittaker, timing him within a millisecond so he could punch inside of his punches. At the end of the first round, Adesanya leaned away from a looping right hand and countered with his own, dropping Whittaker just as time expired.
A similar exchange ended the fight with about 90 seconds left in the second round. Adesanya ate a Whittaker jab, which sent his head rocking backward. But anticipating Whittaker's one-two, he had already started his own sequence, a left-hook, right-cross, left-hook combo. The fighters' first two punches were largely ineffective, but the third — the left hand that Adesanya was throwing all along and that Whittaker could not catch up with — caught him clean and sent him down like a marionette severed from its strings. A few seconds later, the fight was over.
Adesanya was the new undisputed middleweight champion.
---
ISRAEL ADESANYA STRIDES INTO the table-latticed floor of Spark Arena in downtown Auckland, an entourage of 20-plus friends and family members trailing in his wake.
He is here for the Halberg Awards, an annual gathering to honor New Zealand's best athletes, and yet again he is unlike anyone else in attendance. It's not just that Adesanya is the only Black athlete nominated for an individual award (that's hardly noteworthy in a country where people of African descent are less than 1% of the population) but that, in a country beset by the neuroses of remoteness, smallness and whiteness, he is also here representing something other than the colonial settler sporting institutions of netball, rugby and cricket.
Minutes after Adesanya takes his seat, someone at the dais cracks a joke about his attire: "Israel Adesanya is our security tonight. You can't miss him in his mustard suit."
Adesanya is wearing a diamond bracelet on his right wrist and a gold lion's-head ring on his left hand. His tailored tuxedo jacket is a dashing velvet number with sharp black lapels, and it is saffron. Adesanya and his friends and family laugh obligingly.
About 15 minutes later, there's another joke from the mic about the "mustard" tux. This time, there are a couple of groans and rolls of the eyes at his table. "It's OK," Adesanya says, grabbing his lapels and rolling his shoulders jauntily. "They can't match it."
No combat sports athlete had been named Sportsman of the Year at the Halberg Awards, and Adesanya doesn't care much whether he's the first. He smirks when I ask him whether he has prepared a speech. "Nah," he says, reaching for his wineglass and raising it in mock toast.
An award is given for an emerging star. The presenter says of the nominees, "The four young people in this category are set to become New Zealand's future tall poppies." Adesanya snaps to attention at the phrase, uttering an incredulous and slightly irritated "tuh."
When it's time to announce Adesanya's own category, Sportsman of the Year, the TV cameras encircle his table as he tries to look inscrutable. When his name is called as the winner, the people at his table — and the neighboring ones — rise in startled unison.
There has been much talk this evening of self-effacement and "the absolute humility of our athletes." Adesanya cares for neither in the conventional sense, marked in every way as he is for a grand destiny he has crafted with his own hands. The Halberg Awards have been a snoozy, rather sanctimonious affair, and as he angles toward the stage, you can feel he's about to put a stop to all that. In this room of shimmering, placid grays, he emerges in Technicolor.
At the podium, he briefly consults his phone, where he had, minutes before, typed out a few quick notes, among which are "tall poppy syndrome," "black kiwi" and "salty people."
He begins by connecting himself to a lineage, highlighting former New Zealand fighters who had been passed over for this award, such as former heavyweight champion Joseph Parker, and invoking the indigenous Maori warrior culture. "We've been doing this a long time," he says. "Welcome to the party. We've been wearing New Zealand on our back all over the world."
He further appeals to nativist valor by promoting the upcoming UFC Fight Night 168 in Auckland and speaks of "defend[ing] the land." A few howls of approval follow. Then he pays homage to Bareman, without whom his "career wouldn't be s---." A light ripple of laughter at the minor breach of decorum.
Then he moves to the heart of his message.
"I need to really say this. New Zealand, we have this Fff-ummm ..." He catches himself before he curses in front of the whole country. "Whoooo, censorship. Where's the swear jar?"
In the next instant he changes his mind. "Nah, f--- it, we have this culture ..." The crowd breaks into real laughter this time, ears suddenly up.
Now the volta.
"Listen, I'm serious. We have this culture of tall poppy syndrome, which is messed up," he says. "Coming up in this country, I've seen it so many times. When you see one of us rising up, you wanna tear them down, because you feel inadequate, and you wanna call it humble."
This last word he renders with finger quotes. The audience stirs.
"I am extraordinarily humble, believe me," he says. "But you'll never know that because you never get to know me."
Further stirring at the uncomfortable tone of admonishment. But Adesanya quickly follows with uplift.
"Understand this, if you see one of us shining — whether it be the netball team, the black caps, the sailors," he says, "pump them up! Embrace them! 'Cause if they win, we win. If I win, you win. Understand that!" Thunderous applause and cheers follow.
Not that he's quite ready to let them off the hook.
"I know some of you may be a little salty. You might clap, but you're a little salty," he says. "Eh, stay salty; the Black Kiwi's gonna fly all day. And shout-out to myself in this mustard-colored jacket. Shout-out to the guy with the mustard-colored face as well. Peace!"
It was petty and rousing and brilliant. He asked them to change, to be less provincial. He was telling them he wanted to belong, but only — always — on his own terms.
As the evening closes, the arena floor seems to converge on Adesanya. An impromptu line forms to take selfies; people ask for autographs for their children, and then lose their bashfulness and ask for autographs for themselves. One woman calls him "our Muhammad Ali." A young man says he's "exactly what this country needs." They congratulate him on his eloquence in a way that he'll later say smacks of condescension. ("I've been doing this since I was about a year old," he says. "Yeah, I can speak well. I think they just weren't expecting it from a person like myself, a Black boy. A Black boy who speaks with such confidence and conviction.") Some just hover nearby and record him on their phones, an objet petit a, desired yet unapproachable.
He takes every picture, smiles his best smile, holds people's phones for them at the end of one of his long arms for the optimal selfie distance, tilts the lens for some literal Dutch angles. It takes him an hour to get into the lobby, where the requests and hugs and handshakes continue until finally, during a brief pause of the action, he escapes into the street, where a taxi van is hailed for him.
One last clutch of people approaches as he climbs into the van. One of them red-faced and drunk — hips, shoulder and head off-kilter and moving in opposition as if three separate bodies are all trying to address three different centers of gravity and all failing to do so at once.
"Izzy, we love you!" he shouts.
"Love you too, brother," Adesanya responds, reaching for the handle and beginning to slide the van door shut.
"I'm sorr-" the guy yells, apologizing for something when the door closes on his words. He shouts louder now, "We love you!"
Gripping his statuette in his right fist, Adesanya laughs and shakes his head. He's near the limits of his endurance and would like, no doubt, to be alone. But he keeps his need for privacy at bay a little while longer.
"Let's get out of here," he says. "Let's go somewhere."
Set design by Wooden Ladder; wardrobe styling by Enrique Melendez/Crosby Carter Mgmt; grooming by Erin Svalstad; production by Mary Brooks/3Star Productions.