Bruce Lee
:

Art of the Warrior

We asked eight Asian and Asian American artists to capture the spirit of the Chinese martial arts icon who changed American culture forever.Interviews by Elaine Teng
Fighter. Philosopher. Icon. But first, Bruce Lee was an 18-year-old immigrant from Hong Kong. The America he came to had imprisoned Japanese Americans in internment camps just over a decade earlier, had recently waged war on the Korean Peninsula and would soon be embroiled in a lengthy conflict in Southeast Asia. Its moviemaking machine routinely cast white actors to play Asian characters, most of whom were bumbling servants or slapstick villains. And yet, Lee battled through the stereotypes to become the first Asian action star in Hollywood, introducing the world to Chinese martial arts.
From Uma Thurman's yellow jumpsuit in "Kill Bill" to the Kung Fu Panda franchise, Lee's influence is so pervasive, it's hard to imagine that 50 years ago he struggled to break through. And still, the discrimination he fought against looms large today: Asian men remain a rarity in American media, and the coronavirus pandemic has led to a sharp jump in xenophobia against Asians.
Ahead of the new 30 for 30 documentary "Be Water," we asked eight Asian and Asian American illustrators to reimagine the icon who redefined what an Asian man could be in America.
Marcos Chin
"I've been watching Bruce Lee movies since I was a kid. Growing up in Canada, there were no Asian faces on TV. I used to watch 'The Green Hornet.' Lee's character, Kato, didn't have many lines, but it was nice to see a Chinese, English-speaking character on a North American TV channel. I wanted to do a strong portrait of Bruce as this iconic, poetic figure. I incorporated the number eight, which is lucky for Chinese people. He was one of the first to give voice to a Chinese man that wasn't comedic but strong. He broke open the door for not just actors but Asian people who have immigrated to another place."
Marcos Chin is an award-winning illustrator based in New York. His family emigrated from Guangdong, China, to Mozambique, then to Portugal, before settling in Canada.
Kayan Kwok
"For the past year, Hong Kongers have been fighting for freedom with our blood and tears, and Bruce Lee's philosophy of water — formless, shapeless — has been a spiritual guideline. Water can be anywhere, in any form. Protesting in the street is not the only way to fight. The disfiguring of Bruce Lee's face in my poster is like the mask of Guy Fawkes, from 'V for Vendetta,' widely used during the Hong Kong protest. No matter how the body is disfigured, the soul under the mask will never be destroyed. For me, Bruce Lee is an idea, and ideas are bulletproof."
Kayan Kwok is an artist and art director based in Hong Kong. She has lived and studied in the U.K., Canada, China and Hong Kong.
Nien-Ken Alec Lu
"Before Bruce Lee, Asians were portrayed by Caucasian people in Hollywood. He was one of the first to be himself. As an immigrant to the U.S. from Taiwan, my experience was a struggle -- how to integrate myself as an illustrator, how to be seen in a different culture, how to connect with people socially. To see him doing that in the 1960s is an inspiration. I'm in 2020, so I can definitely be more myself as an immigrant and voice myself in my art. Through his life, I realized that a lot of people leave their family to move to America to find a better life. He did that, and I'm doing that."
Nien-Ken Alec Lu is a freelance illustrator based in San Francisco. He was inspired to pursue artistic training when he visited the U.S. as an exchange student from Taiwan in 2006.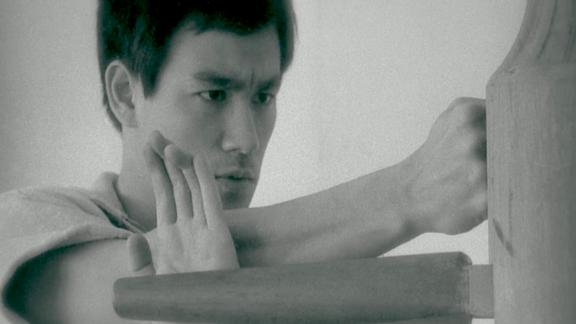 Amy Ning
"As a kid in the 1970s, I'd swing nunchucks, pretending to be Bruce Lee. I trained in kendo, a Japanese martial art, during college. My image is of a hybrid creature that is both eagle and dragon, representing the West and the East coming together to create an innovative culture built on strength and awareness. I feel like this captures the idea behind Lee's martial arts. He opened the West's eyes and made people curious and aware of Asian culture. Being of mixed ethnicity and an immigrant to the U.S., I also am a hybrid of two cultures, and like Lee I try to find strength through exploration beyond tradition."
Amy Ning is an illustrator based in Long Beach, California. She and her family immigrated to Los Angeles from Tokyo in 1973.
Jiaqi Wang
"Growing up in China, I remember watching an interview on the news in the '90s. This guy was like, 'Can all Chinese people do kung fu because of Bruce Lee?' I thought it was a little funny, but it showed me how one person can really bring something to the world. That's what I wanted to show. I drew people from different backgrounds all doing martial arts, wearing the yellow jumpsuit that is his symbol. He brings this culture to all the people, all around the world."
Jiaqi Wang is an illustrator based in Los Angeles. Born in China, she has studied and worked around the world.
Ying Wei
"For most people, Bruce Lee is synonymous with kung fu. But what I most admire about him is his philosophy. Like it's written on his tombstone, 'Use no rule as a rule, no limit as a limit.' Everything in the world is actually kung fu, about the exploration and pursuit of your own potential and future. Lee once said that water, the softest substance in the world, seems weak, but it can evade all injuries and penetrate the hardest rock. That was my inspiration. I wanted to use the visual tension of water to capture the inner essence of Bruce Lee's kung fu and the true meaning of Eastern martial arts philosophy."
Ying Wei is an artist from Guangdong, China, working in sculpture, video and illustration. Previously, he worked at the Guangzhou Broadcasting Network for nearly 20 years.
Anita Yan Wong
"Because I share Bruce's background, growing up in Hong Kong and living in the U.S., I often wonder what he'd be like if he had been a painter. I imagine he'd be a master. As an artist, the most difficult thing to achieve is being free but staying in control. That's what Bruce Lee reflected in his dynamic movements, and that's what I tried to apply while I was creating this portrait. My school of art, the Lingnan movement, originated in southern China, near where Bruce grew up, and I wanted my poster to look like a Chinese painting, including a little red stamp at the bottom."
Anita Yan Wong is an Asian American artist best known for her contemporary-traditional paintings. She lives in California and teaches at UC Berkeley Extension.
Nicole Xu
"I didn't grow up watching Bruce Lee movies, but I think of him as a very mythological figure, with a superhero quality. I drew him with his back to us, but with elements of Asian culture and what he represents in Western culture. I grew up in Canada, but I was born in China, so I've always had this uncertainty of where I belong, like he did. But he didn't care. He was so confident in who he was."
Nicole Xu is an illustrator based in New York. She moved to Vancouver from Shanghai with her family when she was 4 years old.