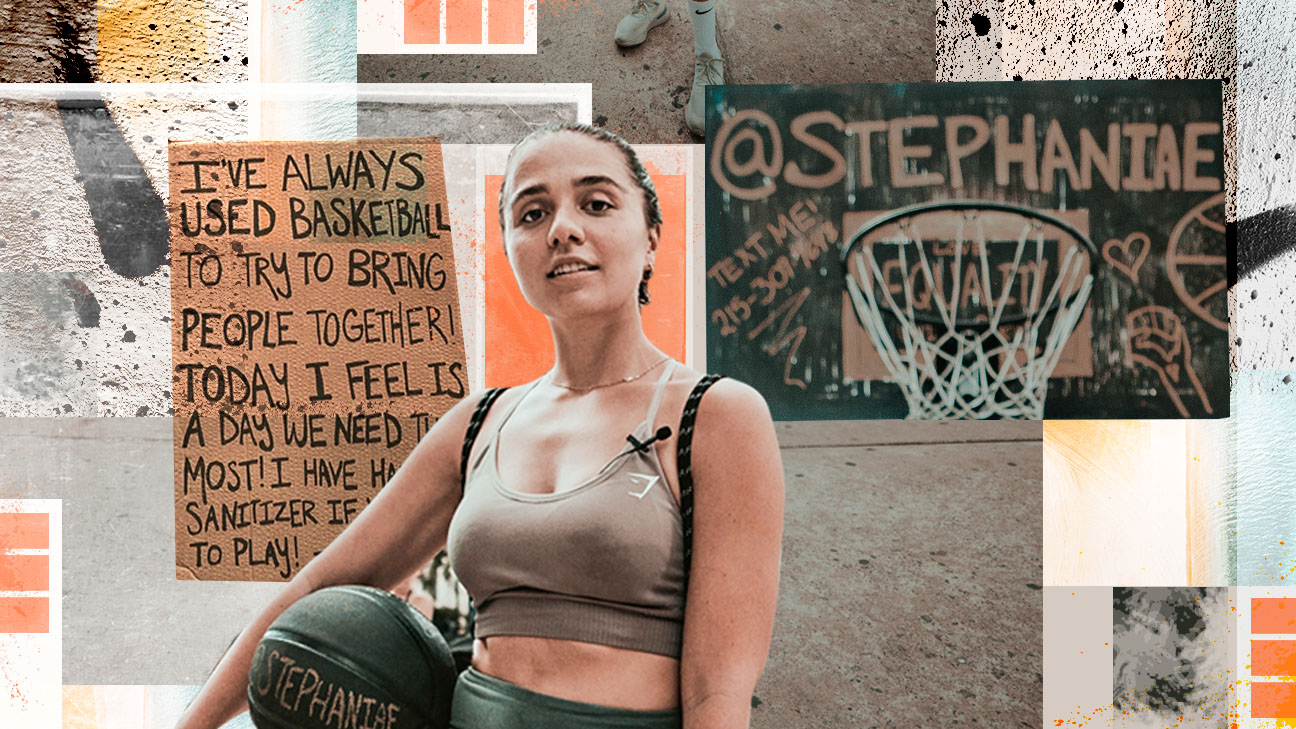 How a YouTube basketball player's one-on-one challenges became a career
YouTube content creator Stephania Ergemlidze studied to be a lawyer but instead found a mission by dragging a basketball hoop to protests to advocate for social change.
Hoop Streams
The dream of making money and having a job while playing basketball used to be limited to professional basketball and coaching. The internet is changing how people like Stephania Ergemlidze can follow a passion and make a living in sports. By Joon Lee
Stephania Ergemlidze never expected basketball to be a career. Growing up with a physical disability and having never played organized basketball, she never envisioned a path where she could turn her passion for the sport into a way to make money and be a voice for positivity within her community. As the burgeoning sports community of original content creators continues to grow, social media stars like Ergemlidze provide a glimpse into a new future.
The mission
Following the killing of George Floyd, Stephania Ergemlidze wanted to find a way to unite people on the streets. She took a basketball hoop and traveled to Washington, D.C., Philadelphia and Minneapolis, at the heart of the protests emerging around the country.
"Everyone was just making those statements like, 'This is how I feel about things' and then not doing anything," Ergemlidze said. "I thought about how I can go about actually trying to create change, and I think the best way I know how to do that is through basketball."
Ergemlidze has been posting YouTube videos of "pop-up 1V1" games on her portable basketball hoop since October. She started taking things really seriously in January.
The resistance
As a first-generation American, with her parents from Ukraine and the country of Georgia, Ergemlidze needed to convince them of her nontraditional career path on the internet.
"When they first found out, they were not happy. Not happy at all," Ergemlidze said. "... Because in our culture, you're not really supposed to be seen like that. So it was more like, 'OK, why are all these people watching you? That's not OK. That's not acceptable.' And I think it took a lot of showing them what I'm trying to do and why I'm trying to do it, so then they start to understand."
It wasn't the first time she faced resistance. Doctors told Ergemlidze's parents that their daughter would be unable to walk because of an extreme form of clubbed feet. After she spent three years in leg casts, doctors said she would never be able to play sports.
"Honestly my body is not made for this at all. I almost always have a sprained ankle still to this day, and my legs and just everything hurt all the time," Ergemlidze said. "When I was growing up, my dad, he was like, 'Stephie, why are you still playing? You're not going to go to the WNBA or anything anyway. Why don't you just relax, give your body a break.'"
The revelation
When she entered college at Boston University, she intended to pursue a career in law, but that changed by graduation. "I did not want to sit down at a desk every single day and just read contract law. That's not fun," she said.
After college, while figuring out what she wanted to do with her life, she worked for her family's wholesale manufacturing business. She traveled, going to trade shows, but the dream of pursuing a career on the internet did not fade away.
"Immigrant kids always end up being lawyers or, like, doctors or whatever, and in my head for the longest time I wanted to be a lawyer. I was studying business and business law. And then I just decided that I did not want to be a lawyer."
The future
Ergemlidze might be one of the first people on the internet making a career playing basketball without much high-level professional or collegiate experience, and she won't be the last.
"There are a lot of casual fans out there who love basketball, and what these creators have tapped into is a relatability and an aspirational element where these kids are looking at kids and young men and women who look like them and they didn't win the genetic lottery that it takes to become a professional athlete," said Jason Gilfillan, director of influencer content at the NBA.
"I'm not a professional basketball player, but I guess technically I make money playing basketball," Ergemlidze said. "... The girls that play professionally, 100%, they are way better. But it's just like I've been able to turn what I can do into like a career, which is cool."
Today, Ergemlidze has more than 70,000 subscribers on YouTube, as one of the platform's most popular women creating basketball content, and has nearly 400,000 followers on TikTok and 164,000 on Instagram. She recently moved to Los Angeles to commit full time to her next chapter.