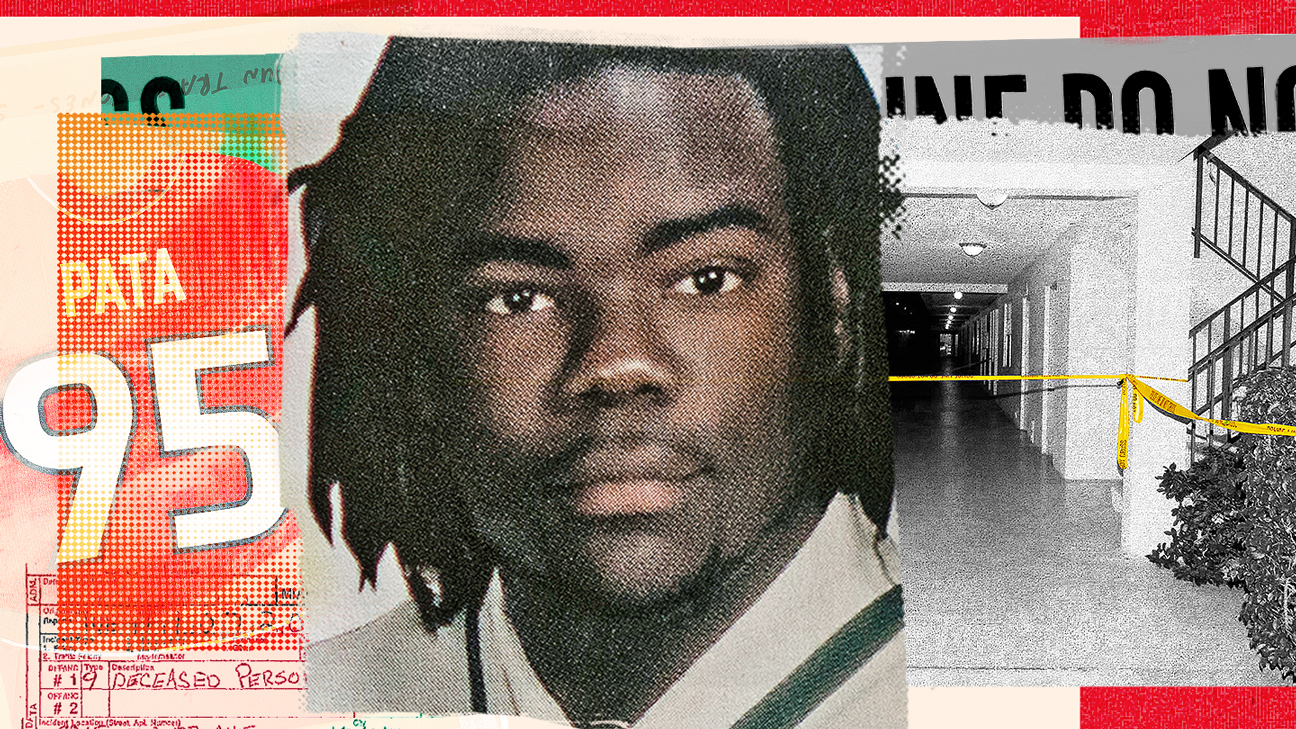 Death at The U: Who killed Bryan Pata?
Bryan Pata was 22 when someone killed him in the parking lot of his apartment complex after football practice in 2006. Fourteen years later, a police investigation had gone dormant. Then an ESPN investigation revealed some theories -- and a suspect.
Just months from realizing his NFL dream...
... he couldn't shake the fear that something would stop him.
Then someone stepped out of the darkness and did.
Death at the U Who Killed Bryan Pata?
11/06/20
Two women cling to each other as a truck rumbles by them in a quiet South Florida cemetery. They are standing near a 6-foot-high granite mausoleum befitting a University of Miami football player who lived large and died young. A verse from Psalms 16:8 is etched in the stone: "I have set the Lord always before me: Because He is at my right hand, I shall not be moved."
But on this day in 2018, nearly 12 years after Bryan Sidney Pata died, his remains are about to be moved.
Nelly Pata, his sister, scans the graveyard. She has come to support her mother, Jeanette, a demure woman who raised nine children mostly by herself and has been in and out of the hospital with heart issues in the years since her youngest son's death. But Nelly is also on the lookout.
Her brother's killer is still out there somewhere, and someone has been leaving ritualistic items, including dead chickens and a goat's head, in the cemetery. A worker found a wine bottle with a dead bird stuffed inside near Pata's tomb. His name was on the bottle.
Jeanette doesn't know if the killer and whoever is desecrating the grave are the same person, but she has had enough. He can't stay here.
Workers use a lift to pry open the crypt. They extract the casket so a hearse can take it to another cemetery, the location a secret.
As the casket emerges, Jeanette sobs and Nelly holds her tight. The hearse rolls away. In death, as in life, Bryan Pata finds no peace.
Bryan Pata was 22 when someone killed him — one medium-caliber shot to the left side of his head, execution-style — in the parking lot of his apartment complex just after football practice on Nov. 7, 2006. The 6-foot-4, 280-pound defensive tackle, who had grown up in the grip of poverty, was a few months away from being selected in the NFL draft. One of the first things he'd planned to do with his money — he was projected as a second- or third-round pick — was buy his mother a house. Instead, he was buried in the beige suit he'd picked out for his draft party.
Detectives from the Miami-Dade Police Department chased more than a dozen leads in the early days of their investigation.
There was the club brawl with gang members that ended with a man promising, "We are going to get you!" and a separate dispute over blinged-out — and possibly stolen — rims. There was the turbulent relationship with a live-in girlfriend, and a trash-talking teammate who'd dated that girlfriend. There was the girlfriend's twin brother with a history of violence, and an ex-girlfriend who kept showing up at Pata's apartment, once wielding a knife.
There were possible confessors, one from a jailhouse and another who supposedly died in the rubble of the 2010 Haiti earthquake. Police even flew cross-country to interview a 60-year-old gamer with the screen name Moon Wingz because Pata had sold her a lemon vehicle weeks before his death.
Police interviewed more than a hundred people, and the investigation report ran to nearly 200 pages. But after more than a decade, the work didn't add up to an arrest or even anyone police would publicly call a suspect.
"I don't think they're even working the case anymore. I feel like the case is closed." Jeanette Pata
The family's frustrations were bubbling over by the spring of 2017. Police held a news conference to reignite interest in the case, and they invited the Patas to make a public plea at police headquarters. A line of police stood behind a seated row of family. Detective Miguel Dominguez gripped the shoulder of Bryan's brother Edwin. Reporters' first question was for the still-grieving mother, who was dabbing her nose with a tissue and clutching an issue of Canes Time magazine that had Bryan on the cover. The reporter asked Jeanette how much easier it was to cope with the loss of her youngest child after 10 and a half years — as if such a thing ever gets easier.
Jeanette, a Haitian immigrant with a thick Creole accent and short-cropped white hair, lamented unreturned phone calls from police and a son the world had seemingly forgotten.
"I don't think they're even working the case anymore," she said. "I feel like the case is closed."
"It's unfair that we haven't heard anything in terms of Bryan's case," said Edwin's twin brother, Edrick.
If the moment was awkward for Dominguez, his face didn't show it.
"It's extremely frustrating," he said. "We believe that either somebody close to them, a friend, a family member, somebody has to know who was involved."
The Pata family isn't the first to have their lives suspended in cobwebbed boxes of police files. In 2006, the Miami-Dade Police Homicide Bureau investigated 139 homicide cases, and 56 of those remain unsolved. That's about 40%, roughly the same percentage of homicides that go unsolved nationwide.
But this case, with its high-profile victim, would seem to have had a better chance. For weeks, even months, it grabbed national headlines. Then the interest faded.
Family Gallery
A few months after their news conference with the family, and with no new leads, police reached out to ESPN. Maybe a feature on College GameDay, or any kind of media attention, could produce a break in the case?
In multiple interviews, detectives repeatedly told ESPN they believed someone who had been at the university, possibly someone with ties to Miami football at the time, had key information. With NFL dreams in the rearview mirror and middle age setting in — surely, some of them had become parents and could grasp Jeanette's anguish — someone might be ready to talk.
After doing some initial research in 2017, ESPN decided to dig deeper, ultimately obtaining at least 5,000 documents, photos, audio recordings and videos and interviewing more than 100 people, including some who had never been approached by police. To understand the relationships that defined Pata, ESPN attempted to retrace his steps and interactions during the months leading up to his death.
Pata was not a typical college student. He drove a black Infiniti QX56 sport utility vehicle with custom spinners. He juggled football practice with clubbing and a side hobby of restoring and selling tricked-out cars. He kept a loaded handgun on his bedside table and a shotgun and AK-47 — both loaded and chambered with live rounds — in his closet. He had taped a sheet of paper over his personalized license plate.
In those final days, death was stalking Pata, and he seemed to know it.
Experts at the Cold Case Foundation, a network of law enforcement specialists who work with families and police to crack long-unsolved cases, reviewed materials gathered by ESPN and determined that Pata's killing was not the random act of a stranger.
"The key to the case is the relationship between the victim and the offender," said Greg Cooper, a former FBI profiler. "This individual, whether it's the shooter or whether it's somebody who put the shooter up to it, wanted Bryan dead.
"The closer relationship to Bryan, the higher the probability you're going to find the offender or somebody that knows who the offender is."
That echoed what police have always said, but in multiple interviews spanning more than two years, detectives insisted to ESPN that they never had a prime suspect.
"At the end of the day, it could be anybody," Dominguez said in 2019. "The possibilities are endless."
This summer, under oath in the presence of a judge, police said something very different.
'I'm a guy for speed, man.'
The mid-2000s were a rollicking time at the University of Miami, with yacht parties, deep-pocketed agents and an air of invincibility that comes with winning five national championships. The college football landscape was different then. The SEC had yet to become a suffocating juggernaut — Nick Saban was still trying, and failing, to resurrect the Dolphins — and the Hurricanes were kings of Miami.
They also had a long-earned reputation for trouble. From the 1980s through the mid-2000s, Miami was known as much for its disregard of the rules — pay-for-play scandals, player arrests and improper booster payments made headlines time and again — as for its success on the field. Before practice for the 2006 season even started, Miami linebacker Willie Cooper was shot in the buttocks by an unknown person in his yard one morning. His teammate Brandon Meriweather grabbed a gun and returned fire.
The incident wouldn't even be a top-10 newsmaker by the end of the season. In mid-October, Miami and Florida International were engaged in a bench-clearing brawl so nasty that it merited 31 suspensions and earned a 1,500-word Wikipedia page.
Pata was a four-star recruit from Miami's Little Haiti who probably could've used a change of scenery, but he was set on attending "The U" because he didn't want to leave his family, especially his mom.
"I remember him saying, 'Man, they keep chasing me. These people, somebody, keep chasing me in my damn dream.'" Edrick Pata
Jeanette Pata had worked two jobs and moved her children at least 10 times around Miami, each time a little farther north to places she hoped were safer. The family subsisted on food stamps to buy spaghetti and other high-carb food that was cheap and could feed a lot of mouths.
Bryan Pata's hardships steeled the perfect attitude for football: He wouldn't back down to anyone. According to interviews and police records, he got into a lot of fights — with teammates in the locker room and strangers in nightclubs.
In mid-2006, Pata, teammate Willie Williams and about a dozen others, including Pata's brother Fednol Pierre, were at Club Life, a downtown hot spot, when a fistfight erupted. Williams would later tell police that at least one of the aggressors was a gang member Pata knew, and that the fight spun out of control, with objects flying, and someone being hit with a pipe. The melee spilled outside, and police deployed pepper spray before the crowd dispersed. ESPN found no separate police report on the Club Life incident, and the Pata investigation report includes no mention of anyone having been arrested after the brawl.
Williams told investigators that, as the fight ended, a tall, skinny man wearing a large chain yelled, "We are going to get you!" Williams also told police he later received calls from two different men warning that someone had placed a hit out on him and Pata.
Williams said he was in California when he relayed the warning to Pata.
"I will handle it," Williams said Pata told him. "My people know their people." He said Pata told him the next day: "I took care of it. We are good."
Later that year, Pata threw fists at another club, prompting an adrenaline-pinching chase down the Florida Turnpike until Pata shook the angry pursuer. Afterward, he casually pulled into a Denny's and ordered something to eat.
Edrick Pata Reads Bryan's Essay
"Life has always been a challenge, an obstacle of tests of who I am and what I will become." As read by Edrick Pata
Though he wasn't in the NFL yet, Pata seemed to have plenty of cash as he rolled around town in his Infiniti with vanity plates, spending thousands of dollars he told family members he'd received from an agent he referred to as "my guy." His mother was worried, and she confronted him.
"Slow down," she said.
Pata and his brothers shared a love of cars, especially the high-horsepower '70s and '80s Chevys they'd hear roaring around the neighborhood as kids. Bryan dreamed of opening his own car shop when football was over.
He decided to get a head start, buying old vehicles and customizing them for profit. He partnered with Fednol, who was six years older, and by late 2006, the brothers had a burgeoning side business.
Pata's gearhead side came through that fall when he hung out with Miami Herald reporter Manny Navarro for a video project Navarro wanted to do on Canes players, sort of an "MTV Cribs" meets college football.
"I just remember the feeling of this kid is so happy with his life," Navarro told ESPN. "Like, this is good. Life is good. I got a girlfriend, I got a dog. ... It was sort of this feeling of things are going to get better."
The two rode in Pata's SUV on the way to his apartment. "I'm a guy for speed, man," Pata said in the unpublished interview. "My hobby is to fix old cars and restore 'em, you know, and sell 'em. And that's what I normally do."
In 2006, Pata bought at least two sets of rims for thousands of dollars and sold multiple vehicles, including one with a Miami Dolphins theme for $8,500. Four days after the sale, the buyer complained that the transmission was bad and threatened to file a report with eBay.
One day, Pata told Williams, he was at a flea market when a man confronted him, according to the police report.
"Those are my rims!" the man said.
"F--- you," Pata responded.
After the incident — it's unclear exactly when — Pata's girlfriend Jada Brody was outside their apartment and saw a man she did not know looking at the rims, she told police. Brody went upstairs to alert Pata, but the man had left when Pata came out. The high-dollar rims also raised questions from someone at the university. Then Pata ran over a pothole and cracked the rims. He decided they "were bad luck" and sold them for $5,000 to the owner of a car accessory shop.
As the season went on and Pata inched closer to his NFL dream, he couldn't shake the fear that something, or someone, was going to stop him. He'd talk about nightmares that got so bad he'd retreat into his closet — where he kept his guns — and sleep there instead.
"I remember him saying, 'Man, they keep chasing me. These people, somebody, keep chasing me in my damn dream,'" his brother Edrick said. "He hated death."
Edrick also awoke to a nightmare that fall. His youngest brother was lying in a casket. He mentioned the dream to Bryan, who asked Edrick to pray for him.
"OK, I'll do that," Edrick replied. "But nothing is going to happen to you."
A hot-and-cold relationship
Jada Louella Brody had dreams, too. She wanted to become an obstetrician and open her own practice. In high school, she was a member of the Future Business Leaders of America and would occasionally grab a microphone and talk about the club during morning announcements. When she was 17, Brody was featured in a South Florida Sun-Sentinel article after winning the McDonald's Black History Makers of Tomorrow scholarship.
"I have always looked at my education as a way out of the everyday struggles of poverty to which I have become so accustomed," she said in her application.
Brody was a freshman at Miami when she met Pata through his teammate Dave Howell. Pata was immediately smitten. "I'm gonna make her my girl," he told a friend.
They dated about seven months before moving in together in May 2006. The couple shared a two-bedroom, multilevel unit at the Colony Apartments with Miami defensive tackle Dwayne Hendricks and a Yorkshire terrier named Cheerio. The Colony was a popular home for players because of its spacious units, but also because it's only 10 minutes from campus down U.S. Route 1.
Brody was loud like Pata, and stubborn like Pata. She got Pata's middle name — Sidney — tattooed on her neck. The status of their relationship depended on whom you asked. Some say they were head-over-heels in love; others say they fought constantly. Hendricks and two people close to Brody — a sister and a college friend — told police the couple had a history of domestic violence, but Brody denied this.
Their love song was India.Arie's "The Truth," and teammates said Pata played it over and over, subjecting them to off-key renditions.
How can the same man that makes me so mad ... Turn right around and kiss me so soft ... If he ever left me I wouldn't even be sad, no ... 'Cause there's a blessing in every lesson ... And I'm glad that I know him at all ...
Brody dated a few football players before Pata, including one of his Miami teammates, Rashaun Jones, who'd found himself on the wrong end of two lopsided fights with Pata.
Coach Clint Hurtt Audio
"It could be a little bit of a volatile relationship, from time to time." Coach Clint Hurtt
Jealousy was a big source of the couple's tension, with each of them constantly wondering if the other was cheating. Pata had an ex-girlfriend who would call or show up at his apartment, where she and Brody would get into "I'm the girlfriend" arguments. One time, the woman came wielding a knife, Brody told police, but Pata laughed it off, and the woman left. The woman would tell police she dated Pata "on/off" and last saw him at her residence about a week before he died.
A typical characterization of Jada and Bryan's hot-and-cold relationship came from her father, Jerry Gaines. He told police that in February or March 2006, he'd heard that Brody and Pata broke up, and that Pata was trash-talking her. Gaines got Pata's phone number from his daughter and told him to stop it. A week later, Gaines heard from his ex-wife that Jada and Bryan were making wedding plans.
Pata's sister Ronette Pata recalled — to police in 2006 and in an interview earlier this year with ESPN — how Bryan became upset when Brody told him something from her past, which led to arguments with some of Brody's relatives in the spring of 2006.
She mentioned two phone calls Brody's relatives made to her brother that she described as threatening. She told police in 2006 about one of the calls and said that her brother "interpreted the call as a threat on his life," according to the police report. She and other siblings said Pata didn't give many details, but on the night he received the call, he grabbed his guns and stayed over at her house.
In his final days, Pata looked forward to training for the NFL draft. He told defensive line coach Clint Hurtt that he was thinking about breaking up with Brody. "I'll believe it when I see it," Hurtt told him.
On Nov. 6, the couple went to celebrate their anniversary at a Benihana sushi and steakhouse, but it was closed. Instead, they spent the evening at Lucky Strike Lanes. A friend who bumped into them told police it "was the happiest he had seen Bryan."
But for at least part of the night, Pata was distracted, sending numerous texts to his brother Edwin.
Edwin thought it was strange that on such a big night, Bryan was texting about football and his dog. He eventually stepped outside to talk to his brother on the phone, and Edwin could hear Bryan's feet crunching against the gravel.
"Something was bothering him," Edwin said. "And so I got out of the car (and) we had our last conversation."
Nov. 7 was a Tuesday. Election Day. The Hurricanes had started the season ranked 12th in the Associated Press poll but limped into November at 5–4 and were struggling to become bowl-eligible. Next up was a road game at Maryland.
Pata had an early-morning meeting and workout. He and teammate Eric Moncur registered for spring semester classes and grabbed lunch, and Moncur remembers Jada joining them. The coaches had moved Pata from end to tackle that summer, and Moncur noted Pata's improved play. "Hey, man, your stock is rising," Moncur said. They talked about Pata's bright future. The Hurricanes practiced that afternoon. It was Hurtt's birthday, and his linemen chased the coach down and doused him with ice water. Pata sang in the shower. He was one of the last players to linger at the Hecht Athletic Center.
Just before Pata left, tight end Chris Zellner overheard him engaged in a heated phone call.
"I have never seen him get that annoyed or that pissed off unless it was on the football field," Zellner said in an interview with ESPN. "I wasn't really trying to eavesdrop. I just remember him talking about, like, 'If you want, man, come see me then.'" Zellner said he told police about the call, but that isn't referenced in the main incident report. One of the police officers told ESPN he remembered Zellner mentioning the call, but Dominguez said police did not get any substantive information from reviewing Pata's phone records. He would neither confirm nor deny whether police identified the person to whom Pata was talking.
As Pata steered his SUV out of the parking lot, he saw teammate Josh Holmes and several other underclassmen waiting at a bus stop and offered them a ride to the dorms. Holmes said they laughed and talked about practice, tapping fists as Pata dropped them off.
"All right, y'all boys take it easy," he told them. "We'll see you tomorrow."
It was dark as Pata drove the 4 miles home. His roommate, Hendricks, was headed home, too, but had to stop for gas on the way.
On the ride home, Pata talked to his brother Fednol on the phone and seemed in a good mood. They talked about paint colors for a Chevy they were fixing up. Fednol said he heard wind blowing while his brother was speaking, and then the call suddenly dropped. He thought that was strange; Bryan would never hang up on him.
If Pata took the most direct route home, he would have passed the Dadeland Mall, drove under the Palmetto Expressway and turned left toward the Colony Apartments just before 7 p.m. He pulled into his assigned parking space near a dumpster and some shrubbery.
911 Call
Players Gallery
Inside apartment 220, Brody was cleaning out a dog kennel. She told an officer she "thought she heard an argument downstairs." She left the apartment and walked down to the parking lot, "where she discovered her boyfriend ... unresponsive." Pata was on his back and bleeding on the walkway near his car.
According to the medical examiner, Pata was shot about 3 inches above and a half inch in front of his left ear with a medium-caliber lead bullet that left a 6-millimeter wound.
Brody ran back up to her apartment to call 911, screaming to a dispatcher for help.
About that time, Hendricks drove up in his Dodge pickup. When he saw Pata on the ground, he thought it was a prank. "Get up," Hendricks said. Then Hendricks noticed a puddle of blood behind Pata's head. He grabbed the phone from Brody, who had returned and was hysterical, according to police. The call dropped, and then Hendricks called back.
A man working on his car nearby heard the commotion and ran to help, performing chest compressions as Pata lay unresponsive. Minutes after Brody called 911, rescue personnel arrived and took over. They pronounced Pata dead at approximately 7:07 p.m.
Police had called Pata's father, Junior Pierre, who arrived sometime after 8 p.m. An officer said Pierre's son was dead and to stand by to answer questions.
The killer was fast and precise and apparently took nothing. Detectives estimate about two minutes elapsed between when Pata arrived and when he was shot. His car keys and phone were on the ground near his body, and a black wallet containing nine $100 bills was in his left front pocket.
"If I got home the same time as him, he would've still been alive." Dwayne Hendricks
In interviews with ESPN, police theorized that the shooter had been waiting for Pata, possibly in the bushes or behind the dumpster. Police have never found anyone who saw the shooting, and no security cameras in the area captured it. Some people interviewed at the apartment complex reported hearing loud voices, while others heard gunshots, according to police. It is unclear from documents police have released how many shots were fired.
In an interview with ESPN last year, Lt. Rudy Gonzalez said police interviewed a resident who said he was walking in the parking lot the night of the killing when he saw a man running from the scene. The resident gave them enough of a description to generate a sketch, and records indicate a lineup was shown to an unidentified person. But police have declined to release the sketch to the public or to say if it matched with any suspects they've identified.
All these years later, Hendricks says the memory of finding Pata that night "will haunt me to the end of my days."
"If I got home the same time as him," Hendricks said, "he would've still been alive."
By the time Ronette Pata and her mom made it to the Colony Apartments, the area was surrounded by TV cameras, cops, and flashing lights. Jeanette, wearing her Miami jersey with Bryan's No. 95, ran toward the crime scene.
"Give me my baby!" she screamed.
Police focus on a teammate
As word of Pata's death spread, players jumped into cars and raced toward the apartment complex. A text from Miami's football office appeared on their cellphones: Head to the Hecht Center immediately for a mandatory team meeting.
Hendricks came in late, dazed and with his shirt covered in Pata's blood. The room was dark and eerily quiet. Coaches spoke in reassuring tones, but Clint Hurtt was full of rage and had to leave the room. He punched a hole in the hallway wall.
One teammate was noticeably absent: Rashaun Jones, a 6-foot-1, 195-pound defensive back from Lake City, Florida. He'd been suspended that day after testing positive for marijuana, his third failed drug test, but he was still expected to be at the meeting.
Jones would later tell police that he was home alone the night Pata was murdered, and that when he heard of Pata's death, he headed to the Hecht Center, presumably for the meeting. But other witnesses told police, and more than a dozen ex-players told ESPN for this story, that they had no recollection of Jones being there.
ESPN reviewed police notes that indicate Jones called a fellow student-athlete to borrow money that night to go out of town. Police subsequently interviewed the person who received the call from Jones. That student spoke to ESPN on the condition that he not be named but confirmed that Jones did ask for money; he declined to comment further.
Jones had been dating Miami student Sherry Abramson that semester in what Abramson described to ESPN as an on-and-off relationship.
She said she was working at Pottery Barn on Nov. 7. As she left work, Willie Cooper called to tell her the news that Pata had been killed. Cooper asked where Jones was, and Abramson began to panic. She didn't know where he was. She called Jones' phone repeatedly after that, but said she couldn't reach him. She said she was worried that Jones was hurt, too.
Desperate, Abramson called Jones' grandmother and sister and asked if they'd heard from him. Nobody had. When he finally called a couple hours later, she said, he was upset. Jones already knew of Pata's death from teammates. "He was shocked," Abramson said. He told her about his failed drug test and suspension. She said he shut off his phone to be by himself for a while and process the news of his dismissal.
Eric Moncur Audio
"Are you all really feeling to shoot each other right now over some stupid stuff?" Eric Moncur
Former team chaplain Steve Caldwell, who was talking to players at the Hecht Center that night, told ESPN that Abramson called him "in a panic about Bryan being dead ..." he said, "and she immediately asked me, 'Where did ... what ... is Rashaun there?'"
"And I said, 'No, he's not here.' And I think he was the only player that didn't show up," Caldwell said.
In high school, Jones had been considered one of the nation's best defensive back recruits. But he did not live up to his promise at Miami and was relegated mostly to special teams. In some ways, he was like Pata, trying to better his life through football. But Jones and Pata were not friends.
Jones dated Brody first, and, witnesses said, he reminded Pata of it constantly. Teammates could sense the friction. Moncur recalled an incident in summer 2006 when he and Jones got into an argument. Two other teammates, including Pata, were in a nearby room.
"Bryan just came out of nowhere. He started getting in Rashaun's face, and then their argument escalated and they started fighting," Moncur told ESPN. Moncur said Pata got on top of Jones and started head-butting him, "Five times. Boom, boom, boom, boom, boom."
Moncur jumped in to break up the fight. As the two were separated, Moncur said, Jones issued a warning to Pata: "Boy, you might as well go ahead and clip up."
"There was a very strong sentiment [Jones] had something to do with it." Ed Hudak
Teammates said that one time, Jones was taunting Pata about Brody, which led to a fistfight in the locker room.
According to partially redacted police documents, there were other reasons for detectives to focus on Jones. At some point on the night of Pata's death, Jones went to Abramson's house, and Abramson told receivers coach Marquis Mosely on a phone call that Jones was "out of it." Police also noted that Jones changed his phone number that day.
Coral Gables Police Chief Ed Hudak, a law enforcement liaison for the Hurricanes at the time, told ESPN it wasn't uncommon for players to have beefs. He remembers Jones as someone who had "issues with a bunch of people."
Hudak said he didn't remember Jones and Pata tangling, but as he spoke with players at the Hecht Center on the night of Nov. 7, Jones' name kept coming up.
"There was a very strong sentiment [Jones] had something to do with it," Hudak said. "When that was brought up to me by the players, I made sure that the detectives had that. What came of those leads, I don't know."
A brother with a troubled past
The nearly 200-page investigation report released to ESPN puts names and dates and other details to several rumors and theories Pata's relatives and friends have mentioned: the club fights, the disputes over cars and rims, the money from agents.
It also revealed that police ran background checks on Jada Brody and several of her relatives. Investigators looked into her father, who was released from prison in August 2006 but rearrested on Nov. 13 because of a parole violation. And they checked out an uncle who had just been released from prison that summer, according to the police report.
But most of the legwork into the Brody family centered on Jada's 19-year-old twin brother Jerome, whose lengthy criminal record included incidents involving guns and violence. In October 2006, he had been released on bail after a drug-related arrest earlier that summer in their native Boston.
On the evening of Dec. 7, 2006, a police officer in Boston saw Pata's story on the news and called down to Miami. She made the connection between Jada and her brother, who'd been arrested three days earlier on charges of illegal firearms possession. Two handguns found in the rental car Brody was driving were connected to a homicide from a week earlier, although neither Brody nor anyone else was ever charged in that killing. Those weapons also did not match the gun believed used in Pata's killing, according to police records.
A reporter reached Jada Brody that month and asked her about the rumors surrounding her twin. "That's ridiculous," she said, according to a Boston Globe story on Dec. 14. "Jerome had nothing to do with that." She said he hadn't visited Miami since May.
Det. Dominguez traveled to Boston in mid-December 2006 to interview Jerome Brody in jail. Dominguez noted in his report that Brody appeared "in a bad mood and had an aggressive attitude towards this investigator."
"I will listen to you guys, but I'm not saying s---!" Brody is reported as saying. He told Dominguez that he didn't remember where he was when Pata was killed and he refused to say whether he had ever met his twin sister's boyfriend. "You are all wasting your time up here. You all from Miami and come 1,800 miles to see me? Let me have your card. I will contact you through my family if I remember anything. You all are harassing my family." Then Brody ended the interview.
Two days later, Dominguez visited the twins' father at a prison just outside Boston. Jerry Gaines described his son as a violent person and told Dominguez if anyone was to mess with the family, Jerome "would have peeled them off."
Andrew OBeidy, a Miami-based attorney who served as a Brody family spokesman in 2006, told the Miami Herald that Jerome Brody had nothing to do with Pata's death and that "several witnesses" said he was not in Florida at the time. Reached by phone in September 2020, OBeidy told ESPN that he didn't remember speaking on behalf of the family in 2006 and had no other details.
In an interview last year, Dominguez said police were able to confirm that Jerome Brody was not in Miami at the time of Pata's death, but the detective did not say how that is known or whether Brody was or is a suspect.
Boston Police records do not show Brody in custody at the time of Pata's killing, and a spokesman for the department provided no information as to where Brody was on the day of Pata's killing.
When reached by phone in July 2020, Jerome Brody didn't answer any questions. "How did you get this number?" he asked.
One psychic and two confessions
The first year after Pata's death was filled with random tip line calls and dead-end leads, including a psychic in North Little Rock, Arkansas, who sent police drawings of a football, a gun and a hot tub and words such as "mafia" and "fighting."
In early 2007, detectives traveled to Issaquah, Washington, to investigate one of Pata's final transactions, the sale of a two-tone candy-teal 1996 Chevy Caprice with a Dolphins-themed interior. Bryan and Fednol sold it on eBay to a woman named Tina Peterson for $8,500.
Peterson had bought the car for a man in Arkansas whom she'd befriended while playing World of Warcraft. She considered herself the man's fairy godmother.
Peterson told police Pata seemed friendly over the phone and even told her to watch him play football on television. But when the car was shipped to Arkansas, it was missing headlights and mirrors, and the transmission wouldn't go in reverse. She emailed Fednol and called Bryan but got no reply. The Arkansas man told police he felt bad that Pata was dead but didn't know who killed him.
Police moved on to other leads.
One of the tips took Dominguez to a jail on the edge of Miami after word that an inmate had been talking about Pata. On Aug. 3, 2007, he interviewed Bernard Brinson, then 23 and charged with armed burglary. Brinson recalled a cellmate whose top bunk had been parallel to his. One night after the lights were out, Brinson said, the man claimed he'd been paid to murder a guy "over a girl."
"I was nowhere around no murder ... That's not me." Emanuel Jones
Brinson's account, according to the police report, went like this: It was March 2007 and his cellmate, Emanuel Jones (no known relation to Rashaun Jones), was awaiting trial on a charge of armed robbery. The two struck up a conversation about the biggest crime they ever committed. Jones talked about a $10,000 hit that he refused a few times, but the holidays were coming and he needed money, so he took a $3,000 advance to do the job. Jones said the man paying him gave him a gun and they even rehearsed the shooting. Jones said he killed the guy, but didn't get the rest of the cash. He said he wasn't worried about getting caught because he left no physical evidence.
Brinson, currently serving a 25-year sentence for multiple convictions of burglary and theft, told ESPN by phone in August that the details of the conversation are fuzzy. But he remembered Jones telling him he didn't know who he'd killed until he saw a TV news report on Pata and recognized the location where he had carried out his hit.
After that, Brinson said, Jones, "was 100 percent certain. He was sure."
At the time, Miami-Dade police had Brinson take a lie-detector test that indicated he was telling the truth.
Jones pleaded guilty to the armed robbery in May 2008, and records show that police tried to arrange an interview with Jones in prison that September. None of the information visible in records from Miami-Dade or visitor records from the Florida Department of Corrections indicates they ever interviewed him, but there is a page pertaining to Jones that police withheld, citing an "active investigation."
There is also a notation in the main investigation report that Jones was arrested on Aug. 11, 2006, for the armed robbery and "was in custody at the time of Bryan Pata's murder."
ESPN reviewed copies of the incident report for the armed robbery and Jones' court records, and made inquiries with county and state agencies regarding his incarceration history.
Nothing in those records indicates Jones was incarcerated on Nov. 7, 2006, the day Pata was shot. Records show Jones was not taken into custody for the armed robbery or any other offense until December 2006.
The report from the August armed robbery states that Jones' accomplice was arrested on the scene, but that Jones ran away on foot. A separate incident report from Aug. 27, 2006, says Jones evaded arrest again, driving recklessly in his girlfriend's car and almost hitting a police officer.
ESPN sent a letter to Jones, who is in jail in Broward County, Florida, on an unrelated crime, and he responded in a phone call last month.
Jones said police did not arrest him at the time of the reported armed robbery, and he denied killing Pata.
"I was nowhere around no murder. ... That's not me," he said. "I was a football player myself. I wouldn't do that to nobody. ... I never shot a person a day in my life."
When asked if he could remember where he was on Nov. 7, 2006, Jones replied, "Is this an interrogation? None of that has anything to do with me."
Jones said he remembered the interview with Miami police. He said he didn't remember being asked about Pata, but he did recall that he was asked to identify Brinson. He said he couldn't recall a specific conversation with Brinson.
Jones said the detective told him that Brinson was "f---ing up his leads on the case by saying something about me." Jones said the detective told him that "he didn't believe what [Brinson] was saying."
ESPN asked Miami-Dade police about Jones' statements and the arrest records that contradicted the police report on his whereabouts. They declined to comment and did not confirm or deny interviewing Jones.
The last substantive tip in the case, according to the records provided, came in October 2009. An agent with U.S. Immigration and Customs Enforcement contacted Dominguez and said he had an informant who overheard someone confess to having murdered Pata, and that the person had ties to Haiti.
Gonzalez said that due to the sensitivity of the ICE investigation, the agents denied Miami-Dade police access to the informant, and they were not able to interview the supposed confessor.
Later, police heard from the feds that the person apparently died amid the rubble of the 2010 earthquake in Haiti. An agency spokesman refused to answer any questions from ESPN.
Police said the alleged confessor had a criminal background but no known ties to the Pata family. It's unclear how police determined that, since the Pata family didn't find out about the tip for about 10 years, through the happenstance of a friend who worked for ICE. Police still haven't released the name to the family.
'This case, it was solvable'
To this day, Miami-Dade police do not call Pata's killing a cold case. But to two of the nation's top cold-case experts, it has all the markings of one.
ESPN provided public records, interviews and other information it had compiled to the Cold Case Foundation, headquartered near Salt Lake City. Founders Greg Cooper and Dean Jackson agreed to review the files and provide their analysis of the killing itself as well as the police investigation.
It should be noted that their opinions are based only on information obtained by ESPN. Police redacted passages and entire pages of the investigation report on grounds that the case remains active and made other redactions within the 4,000 pages of supplements.
In some ways, the cold-case experts said, the way in which Pata was shot "execution type" had the "markings of an experienced killer."
"The individual is waiting for him, hiding, has the weapon. The weapon is loaded and the individual is prepared to use it, and to use it immediately. There's no threats," Cooper said.
"The key to the case is the relationship between the victim and the offender. This is a personal cause homicide." Greg Cooper
"The offender has to know [Pata] is going to be by himself," Cooper said, and that person has figured out the short window of time Pata would be alone — while walking from his car to his apartment.
"Bryan is a larger-than-life type of guy," Cooper said, and Pata's conflicts are the key to finding his killer, or the person who hired the killer. "The key to the case is the relationship between the victim and the offender. This is a personal-cause homicide."
Jackson and Cooper said they have their theories about the killer's identity, based on the interviews and evidence they've reviewed, but they said the case file still lacks enough information. Cooper said he didn't think any of the main theories "have been adequately vetted to eliminate them completely."
"It's an average investigation," Cooper said.
When asked, the analysts said Miami-Dade police did not botch the investigation from what they can tell, and they noted that a department's caseload and resources at the time have a lot to do with how aggressively they pursue someone.
Audio From Hearing
"Based on the fact that we are actively working this case, we believe that an arrest will be in the foreseeable future." Lt. Joseph Zanconato
But they said they would have interviewed more people and reinterviewed all the teammates individually, which according to interviews with several investigators was not done. Police never interviewed some players, including at least two of the four who said they rode with Pata as he left the Hecht Center that night.
When ESPN tracked down the two former players, they said it was the first time anyone had interviewed them about what they remembered.
Cooper and Jackson said they would have looked more into the stolen rims and the interactions with gang members at the clubs. And they said they would reexamine evidence, including the phones and the data from them, with today's technology.
While police said they had phone records, they didn't have text messages, and none were in the records they released. Gonzalez went so far as to say "text messaging wasn't being used in 2006" — even though it was, and the main investigation report cites several, including some to Pata. Police provided ESPN with copies of court orders to phone companies requesting call history and cell tower location data but withheld most of the names and numbers of the subscribers and the records provided.
Considering that some of Pata's conflicts were over money, Cooper and Jackson said they would have pulled Pata's financial records, which police told ESPN they did not do, although records show they did request credit reports for Pata and Jada Brody. Miami-Dade police also said they neither examined any laptop he might have used nor requested access to his emails.
"This case, it was solvable," Jackson said. "... The pieces were there. Unfortunately, it's become a mystery, but I don't think it should have been a mystery."
As for whether the investigation qualifies as a cold case, they said the term is in the eye of the beholder.
"You'd probably find it difficult to find a police department who's going to tell you, 'We're not working on that case,'" Cooper said. "You may find a situation where [they say] it's being worked if it's open and we're receptive to receiving phone calls and tips. That's not 'being worked.' It's not being worked until you've got evidence that's being looked at and examined."
The meaning of 'foreseeable future'
Florida law states that an active investigation must be one that is ongoing "with a reasonable, good faith anticipation of securing an arrest or prosecution in the foreseeable future."
During an interview with ESPN in May 2019, Gonzalez said police had done no additional interviews since he started working on the case in 2016, and their work on the case at the time consisted of reviewing existing evidence with a "fresh set of eyes."
Gonzalez said in May 2019 that police planned to interview two former teammates of Pata, including one who ESPN identified had been in the car with Pata before he drove home. But as of this month, that man said police had not contacted him. The other said police called him in May 2020.
Gonzalez and Dominguez also told ESPN on multiple occasions that they had not even identified their top suspects.
Dominguez, a seasoned 11-year veteran with the department when he began working the case, observed Pata's body on the ground and sat in the back of a rescue vehicle with Jada Brody. Stoic with a shiny head and a walrus mustache, Dominguez has the deep-set eyes of a man who has seen too much. He is skilled in responding to every question he's asked, even if he never really answers many of them.
Dominguez and other current and former officers sat for hours in front of microphones during more than six interviews with ESPN over three years. Every time Dominguez was asked if he ever had a prime suspect, he answered the same way: no one person. Everyone's a suspect. It could be anyone.
"We have a strong belief who killed Bryan Pata." Lt. Joseph Zanconato
"Once again, anything is possible," he said. "You know, I can't sit here and point fingers at people and speculate and assume. At the end of the day, it could be anybody."
ESPN's relationship with Miami-Dade police became strained amid the continued push to release additional records. In March, ESPN filed a civil lawsuit alleging that police were in violation of Florida open records laws.
Under oath during online hearings before Judge Oscar Rodriguez-Fonts in July and August, officers' answers began to change.
Lt. Joseph Zanconato, the officer supervising the Pata investigation, said something that contradicted what his detectives had been saying publicly for years.
"We have a strong belief who killed Bryan Pata," Zanconato said. When asked whether the department would make an arrest "in the foreseeable future," Zanconato answered: "Yes."
Miami-Dade police actually do have a "primary person of interest", he said, and it's someone they came close to arresting at least a decade ago. Zanconato said they're just "a puzzle piece" away from closing the case.
Police References to Rashaun Jones
When questioned by a Miami-Dade County attorney, Zanconato referred to pages in the records provided to ESPN — pages with multiple redactions — as an example of the information they're trying to protect.
"[These] pages, rather the redactions, they deal with our key witness information as well as our primary person of, of, of interest," Zanconato said.
The four pages he referenced began with a list of statements about Rashaun Jones. There were blacked-out sentences and paragraphs. The portions that were visible pertained to Jones fighting with Pata, dating Brody, and getting suspended from the team on the day Pata was killed. Visible portions within larger sections of blacked-out material referenced a request to get Jones' cellphone records and a reference to having corresponded in June 2007 with police in Lake City, Florida.
Lake City is Jones' hometown. It is where, in February 2007, Jones' half-brother Johnathon Lee was reported to have accidentally shot himself in the abdomen. Other records show that in June 2007, police compared the bullet recovered from Pata's head to ballistics information from Lee's accidental shooting. The report showed the bullets couldn't have been fired from the same gun.
The main investigative file includes multiple supplemental reports, and multipage packets of information on individuals the police looked into, including several of Pata's and Brody's relatives, friends and teammates, and even sports agents. Many of those packets have what's known as a "cover sheet." Of the more than 100 cover sheets with visible names provided to ESPN, only one contains the word "suspect." It reads: "RASHAUN TRAVON JONES - SUSPECT."
Zanconato testified that a cover sheet wasn't a part of the investigative file. When asked point blank by an attorney representing ESPN if Jones was a suspect, Zanconato refused to give a direct answer.
The lawsuit proceedings on the core question spanned three days over the course of about a month. On July 22, Dominguez testified that an arrest isn't "going to happen tomorrow," but he said the case was definitely moving forward.
"I can tell you that we've renewed this investigation, we have a multitude of leads to do," he said. "And we are most definitely working this actively."
Edrick Pata testified on ESPN's behalf and asked for the records to be fully released, telling the judge that, apart from a few brief voicemail messages and a couple calls about the records request, his family hasn't heard anything from police since the 2017 news conference.
"We've been left out in the cold, in the dark, not knowing what's happening," he said.
After a month of deliberation, Judge Rodriguez-Fonts sided with police and declined to order the release of redacted information.
The cover photo on Rashaun Jones' Facebook page is a wedding picture. He is bearded and wearing a white suit while gazing at his bride at the top of a stairwell. Jones is 35 now and is a father. Less than two weeks after his wedding in 2018, Jones was incarcerated in the Columbia County (Florida) Jail for three months on a probation violation.
His football dreams ended long ago. Jones came back from suspension for the 2006 home finale against Boston College, three weeks after Pata's death. He is captured in a photo, kneeling with teammates in front of a large banner with Pata's image on it.
By 2007, Jones was gone. He was out of football for three years, then arrived at Winston-Salem State in the spring of 2010. Jones recorded two interceptions that season. He was not picked in the NFL draft and later surfaced with the Amarillo Venom of the indoor Lone Star Football League.
For 14 years now, the Pata death has followed Jones. Police looked into other crimes and incidents in which Jones was listed as being involved, and they interviewed his former high school classmates, friends and a former girlfriend. Jones insists he didn't kill Pata. In two brief conversations with ESPN, Jones said he knows police, and even some of his ex-teammates, suspect him. And it doesn't bother him.
"What happened 12 years ago, happened 12 years ago. It's got nothing to do with me ... I didn't do it." Rashaun Jones, April 2019
"Hell no, 'cuz I know I ain't had nothing to do with it," he said. "So why would it bother me?"
He said after the detective in Miami interviewed him and Abramson at the time "that was over for me."
"What happened 12 years ago, happened 12 years ago," he said in April 2019. "It's got nothing to do with me. ... I didn't do it."
Jones wouldn't answer any more questions.
Sherry Abramson, who said she is no longer in regular contact with Jones, said killing someone just wasn't in Jones' character.
"If you ask me point blank, 'Do I think that he did it?' The answer is no, I don't," she said. "He didn't like Pata. There's no secret there. ... Was there anything that would justify him murdering him? No. Nothing that I ever knew of."
For a while, Jones' wife, Ishenda Jones, exchanged text messages with an ESPN producer about setting up an interview. At one point, she asked if the network would pay Jones for an interview. That offer was not made. Days later, she sent a text saying Jones "doesn't wanna be involved. I wish you all well and hope they find closure. We're praying for the family."
She suggested interviewing a distant cousin of Pata's who was friends with Jones and who did speak favorably of him.
"I'm done with the entire situation," Ishenda Jones wrote. "My husband is innocent that's y he s FREE and we just want PEACE. Again, we send our condolences to the family and we're praying for them." In another text this week, she repeated: "His comment was he was innocent. He did NOT kill Bryan. Miami-Dade found no evidence against my husband."
Jeanette Pata has breathing issues now and tires easily. She has been hospitalized recently with heart issues. When Bryan was alive, Jeanette worried about him constantly. She always had a feeling that something bad was going to happen, and she'd call him four or five times a day. Now, her children worry that Jeanette, 69, won't live to see Bryan's killer arrested.
Her son's teammates are now in their mid-30s, with families of their own. But in many ways, Jeanette is frozen in time, unable to move forward. Bryan is forever 22, cracking jokes, bringing home a girl that Jeanette didn't approve of, but then again, what woman would be good enough for her baby?
Bryan Pata's father, Junior Pierre, also still lives in South Florida. He initially agreed to speak to ESPN, but he never responded to follow-up messages.
After Pata's death, Jada Brody pushed forward, although she has posted photos of Pata on social media and spoken fondly of him in recent years. She transferred to Clemson in 2007 and graduated in May 2010 with a degree in philosophy. She did not become an obstetrician, and she wound up back in South Florida.
Brody obtained a Florida real estate license in October 2014 that remains valid through the end of this year, but the last update on her professional Facebook page is from May 2018.
She has 185,000 followers on Instagram, where she promotes a line of swimwear that she and her sister sell at a clothing store in West Palm Beach. Her photos range from images of her then 6-year-old daughter's soccer practice to herself working out or relaxing in a pool.
A few years ago, she pleaded guilty to felony theft charges for stealing more than $1,000 in nail polish from a Walgreens. As of November, she was awaiting trial in a felony marijuana case.
ESPN reached out to Brody for more than two years by phone, text message, social media and through friends and relatives. She never agreed to an interview.
From active investigation to retirement
Miami-Dade officers swore to Judge Rodriguez-Fonts this summer that once the COVID-19 pandemic was over, they'd be out conducting interviews again in the Pata case. They said their work to find the killer would continue in earnest.
But shortly after the judge's Sept. 9 ruling in the redactions lawsuit, ESPN obtained records showing Dominguez, the lead detective who'd gripped Edwin Pata's shoulder during the 2017 news conference, had retired. And police records show that on July 16, three days after his testimony, Zanconato, the supervisor, was set for reassignment out of homicide on Aug. 10.
Gonzalez had retired from Miami-Dade police in August 2019 and took a job as a police commander in another city, but he told the judge he had permission to continue working the Pata case in the same capacity as before. But Maj. Jorge Aguiar, who now oversees Miami-Dade's homicide bureau, told ESPN last month that Gonzalez was not actively working the case. Gonzalez confirmed the department decided to end his involvement.
Aguiar said all three former homicide officers were available for consultation, and he had assigned Det. Juan Segovia, one of the original detectives on the Pata case, to take over. He said Segovia has been reinterviewing prior witnesses, but he gave no further details.
When asked if Zanconato, Gonzalez and Dominguez had lied to the judge by vowing to keep working the case, Aguiar said, "Absolutely not. If need be, I can go explain to the judge everything that occurred. I think he'd be understanding of how that happened."
Aguiar said Zanconato had not known ahead of time that he would be reassigned, and Dominguez's retirement was last-minute. Though the departures angered Edrick Pata, he was not necessarily surprised. Fourteen years without answers have prepared him for disappointment.
"She feels as if people are not caring for this high-profile case. ... She thinks about Bryan every single day." Edrick Pata, on his mother, Jeanette
The first few years after Bryan died, the family tried to stay busy together each Nov. 7, doing interviews and charity work. They made group visits to the cemetery. Now, it's like a grim holiday that family members just try to power through in their own ways.
Edwin plans to go to the cemetery this Saturday. He is an assistant director of recruiting at Miami now, and the Hurricanes play North Carolina State on Friday night. Everything about November reminds him of Bryan, even more now that he's at Miami.
Jeanette is there every anniversary. She brings fresh flowers and a grocery bag with Windex and paper towels. She cleans the tomb and talks to Bryan, about current events and a time when she hopes her family is together again. She sits on the bench for a couple of hours, staring at the graves and the grass and the sun. She's at peace for a moment and feels close to her son.
Then she goes home and waits. "Sometimes she doesn't feel like she has a purpose to live," Edrick said. "She feels as if people are not caring for this high-profile case. It has been draining mentally and physically. She thinks about Bryan every single day."