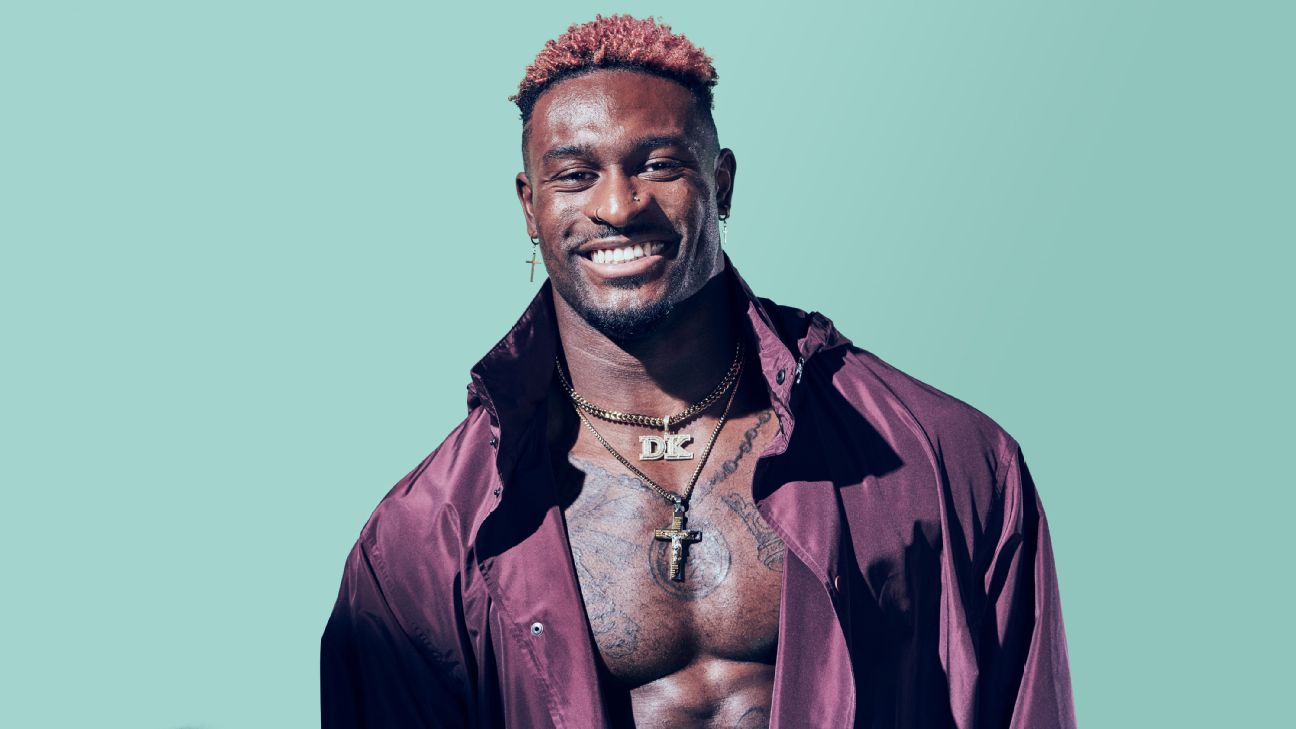 DK Metcalf is chasing glory
A journey that began with a broken neck and draft-day snub might end with the next all-time-great quarterback-receiver pairing.
DK Metcalf talks to his feet.

Running a shallow goal-line cross against the Arizona Cardinals in Week 6, Metcalf, the Seattle Seahawks' second-year wide receiver sensation, watches an errant lob pass float dangerously toward the end zone. Safety Budda Baker breaks on the ball, with nearly 100 yards of deserted, perfectly manicured green grass in front of him. Metcalf sighs and whispers a single command: "All right, go get him."
When his dutiful Grinch-green left cleat plants at the 2, Metcalf is already 10 yards from Baker. By the time he reaches the 30, though, Metcalf has nearly passed 11 players. He flies over the 40 in about 4.5 seconds. And near the 50, after even Russell Wilson, Captain Can-Do himself, abandons all hope of catching Baker, Metcalf is on his own. As he accelerates to nearly 23 mph, which he says is still below his max speed, Metcalf's arms are pistoning so ferociously, he's in danger of knocking out his trademark binky mouthpiece. ("I'm 22. I'm a baby in the league," Metcalf says of the mouthguard choice, "but I play like a grown man.")
Lurching toward the end zone, Baker twists and turns, trying to get a read on the entity creeping closer over his shoulder as Metcalf goes into stealth mode, this time commanding his dogs to be "quiet." This is the snapshot that will launch a million memes. (Metcalf's fave is him as Joe Biden chasing down Baker as Pennsylvania.) Metcalf, who is 6-foot-4, 230 pounds, and built like a human Batman suit, engulfs Baker just short of the end zone.
"How'd he catch my ass?" Baker screams after the tackle. "What the f---?"
It's a response Metcalf has gotten a lot during his breakout season -- a year so off the charts that this particular effort, the tackle Pete Carroll calls "the play of the century," might not even be Metcalf's best work. In Week 2, he bullied and embarrassed New England Patriots corner Stephon Gilmore, the reigning Defensive Player of the Year, to the tune of 92 yards and a TD. He followed that up with jaw-dropping, game-winning grabs against Dallas and Minnesota, and then he had one of the best games ever by a Seattle receiver (12 catches, 161 yards and two TDs) against the San Francisco 49ers. All the while, he has left a yard-sale scattering of demolished, despondent defensive backs in his footsteps.
"He's got superpowers, in a sense," Carroll says. "What can't he do?"
Now in the NFL's top four in receiving touchdowns (eight), yards per catch (18.1) and receiving yards (816), Metcalf has garnered comparisons to a young Calvin Johnson (although the comp Carroll prefers is T'Challa), a new nickname, "Baby Bron," from the Lakers captain himself, and increased chatter about a return to the Super Bowl for the Seahawks. "It feels like nobody can stop you no matter what they do," Metcalf says of the rarefied air he's enjoying right now. "It feels like you're on top of the world."
Two years ago, at the start of Metcalf's unprecedented rise, the view was very different. After a freak neck injury at Ole Miss, vulnerable and scared, he looked up from a hospital bed as doctors informed him he might never play football again. They were wrong. Just a few months later, in fact, Metcalf burst onto the scene as the viral (and often shirtless) star of the 2019 combine and the eventual second-round pick of the Seahawks. And in Seattle, a perfect storm of ingredients -- the Seahawks' veteran leadership, Metcalf's upbringing as the son of an NFL lineman and a budding telepathy with Wilson that was buoyed by a strange (but effective) offseason bonding ritual -- have created a generational talent who is now eyeing NFL immortality.
---
THE ONLY PEOPLE in the world who weren't shocked by The Tackle were seated inside the stadium that night in Arizona, nine rows behind the Seahawks' bench. As their firstborn flew by, Tonya and Terrence Metcalf screamed encouragement to DK, the child they still call DeKaylin. The moment, however, did seem to warrant the invocation of a third option: "Lil Muscle," the nickname bestowed upon DK by Terrence's teammates at Ole Miss, where he was an All-American offensive lineman in 2001 before playing seven seasons with the Chicago Bears.
"He was just a little baby with biceps all shaped up," says Terrence, who introduced his little workout warrior to the weight room when DK was still practically a toddler. "He just showed crazy strength when he was a young kid." Before the Bears' strength and conditioning coaches warned him about stunting DK's growth -- a concern that almost seems comical now -- Terrence swears Lil Muscle could bench 50 pounds and squat 100 when he was all of 5. That's a tough claim to verify, though when the 2006 Bears won the NFC Championship Game, 9-year-old DeKaylin had little trouble hauling the bulky George Halas Trophy back to his dad's locker inside Soldier Field.
When the family moved back to Oxford, Mississippi, Terrence and a middle-school DK would run the steps together at Vaught-Hemingway Stadium and then complete a series of 110-yard sprints -- roughly the same distance, coincidentally, as The Tackle. DK always lagged behind his father, even faking an asthma attack to buy time for a breather. And then, when DK hit seventh grade, something changed. "That day he beat me on every 110," Terrence says. "And I told him, 'There's something special about you.'"
Metcalf followed his dad to Ole Miss and, despite missing most of his first season with a broken foot, hauled in 14 TDs in his first 21 games while averaging 18 yards per catch. But halfway through his redshirt sophomore year, during a rainy, sloppy game in Arkansas, Metcalf was clearing a path on a kickoff return when a helmet caught him under his chin, whiplashing his head back while violently twisting his neck past his shoulder. He returned to the field for another play before a white-hot pain in his left arm brought him to his knees. Ordered to the locker room for an X-ray, Metcalf spent the rest of the game in his street clothes with a soft neck brace, believing he had suffered a fairly common stinger injury.
As a precaution, the next day Metcalf went to a hospital in Oxford for a CT scan. When the results came back, he got a frantic call from the team's trainer imploring him to "rush straight to the emergency room." The hit had created a pepper-grinder action on the top of his spine, chipping off a piece of his C4 vertebra, which had come to rest on a shoulder nerve, millimeters from his spinal cord.
Metcalf didn't have a stinger.
He had a broken neck.
"That's when the doctor was like, 'You may not be able to play again. Football should be the last thing on your mind, and you need to have surgery,'" Metcalf says. "He said if I had gotten hit any harder, the bone would've pierced my spinal cord and I would have been paralyzed."
Sitting by himself in the hospital waiting room, Metcalf began dialing Tonya, who was driving back to Oxford from Little Rock, where she'd stayed with relatives after the game. With each call, DK's voice grew more desperate as Tonya crawled through traffic toward the hospital.
"Outside of football, I'm looking at my child, how he could have been in a hospital bed in our living room for the rest of his life," Tonya says, tears spilling down her face at the memory: the slow-motion agony of trying to reach her child during the lowest moment of his life.
"We get there, rush to the back, and I just hugged him," she says. With her mind racing and desperate to comfort DK, Tonya blurted out, "Son, it's OK, people break their necks all the time and come back."
Although her kids still tease her about her bedside manner, Tonya turned out to be correct. DK spent two gut-wrenching, soul-searching days coming to grips with the end of his football life. He had even started to contemplate culinary school before another neurosurgeon reexamined the CT scan and determined that after surgery and months of rehab, DK would be at no greater risk when he returned to the football field. Processing that sudden change of fortune still seems to give the Metcalfs vertigo. Especially when they remember DK after the procedure, motionless in his hospital bed, on oxygen and wearing a massive neck brace with blood from the neck sutures leaking through the bandages.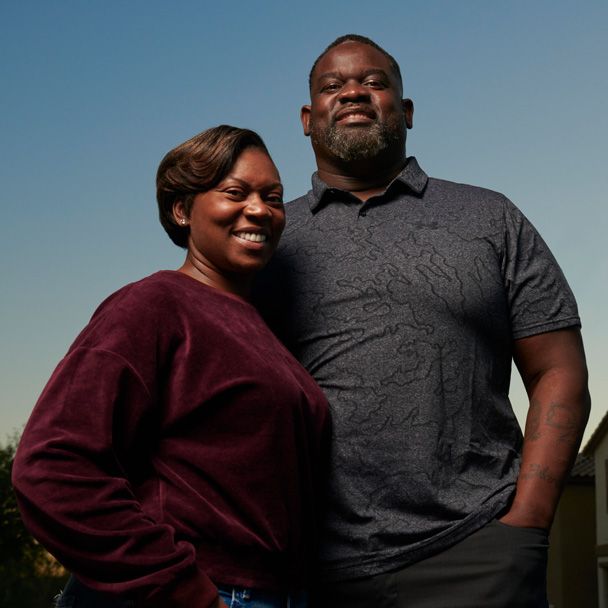 When DK woke up after surgery, Terrence whispered to his son, "Nothing nobody tells you determines your end. It's all about what you do when you get up out of this bed."
To which DK replied, "Yes, sir."
"I found myself, my real calling in life, while I was sitting at home for a month and a half in a neck brace and in a recliner," DK says. "I told myself, 'Remember these days, because these days are going to make you who you are.' It shaped me into the person I am today, just being at home, thinking about life, thinking about what I want to look like in five months or 10 years down the road."
Three months later, doctors released him to start training again. But not for a return to the SEC, the Metcalfs decided -- for a shot at the NFL. It was a risky move. After the foot and neck issues, scouts were going to flag DK as injury-prone. And with less than two seasons of action, DK's fortunes as a pro would come down to landing with a franchise that didn't mind investing a high draft pick and some patience on a player still in need of a lot of development.
The upside: While most college players get eight weeks to train for the combine, DK had three full months to focus and mentally prepare -- and he did it with the renewed vigor and joy of someone who had been a millimeter from losing it all. After 30 days at the EXOS training facility in Florida, with the word "miracle" now tattooed on his back, DK sent his parents a picture to show off his progress. His body fat was already near 2%. The Metcalfs barely recognized the kid who a few months earlier had been lying motionless in the hospital bed. A lifelong workout warrior had been given the superpower of perspective at the ripe old age of 21: DK attacked even the most mundane and painful workouts as if they were a privilege.
Weeks later, Metcalf was crowned the breakout star of the combine after a 4.33 40-yard dash ("I thought he'd run faster, like a 4.29," says his dad), a 40½-inch vertical and other herculean feats that drew praise from Patrick Mahomes and Jerry Rice on Twitter. Before he even left the field at Lucas Oil Stadium after the drills, Metcalf shared an emotional FaceTime with his family to commemorate his first major step toward the NFL. As Metcalf genuflected to the turf, with the phone screen an inch from his face, Tonya's words opened a window into the considerable mental challenges he faced. Very little college experience. Recent spinal surgery. The self-doubt. Some recognition on social media but not much else.
"You deserve this, son, I promise you," she said.
To which DK replied, "Yes, ma'am."
Along with the tears, his combine performance also inspired one of the strangest interviews in draft history. As pictures of a shirtless, impossibly swole Metcalf were going viral, and to break up the monotony of player evals, a Seattle scout pressured Metcalf to rip off his shirt before sitting down with the Seahawks. Carroll, of course, didn't miss a beat, immediately pulling off his shirt as well. "A scary sight," Metcalf says, laughing. "He missed a few ab days, in my opinion. But he showed the type of person he was and the type of coach he was. It was a calming moment. The meeting went very well."
"There's a whole other level of the game that we thought we could really go to' me and him. We want to make it one of those special Joe Montana-Jerry Rice type relationships."
- Russell Wilson
Winning the Underwear Olympics moved Metcalf up most media experts' draft boards. It also earned him an invitation to the first round of the draft. But there were doubts: Teams are always gun-shy about drafting the next Mike Mamula, a combine sensation and a first-round pick in 1995 who was a colossal disappointment for the Eagles. And despite the 95-plus-percentile scores in the bench press, 40 and broad jump, Metcalf's pedestrian efforts in the three-cone drill (2nd percentile) and shuttle run (3rd) raised eyebrows. The word being whispered around was "tight": It's scout-speak for an unpolished player, usually on the larger side of the position's prototype, who struggles with anything other than predictable, straight-line routes.
All of this conspired to make Metcalf the Aaron Rodgers of the 2019 draft. With cameras glued on the family, DK waited around all day in Nashville without hearing his name called. Instead of sticking around for more televised torture on Day 2, that night the family drove four hours back to Oxford -- in total silence. By the time the Seahawks called before drafting him with the last pick of the second round, an emotionally drained Metcalf, sniffing through tears, asked Carroll, "Why'd y'all wait so long, man?"
For a while, Metcalf used the perceived draft slight as motivation, even posting the number (64) in his new Seattle locker. It's a hard thing to process, being rejected 63 times in a row, most of it captured on live TV, by the thing you love more than anything else in the world. But the first step in Metcalf's whirlwind transformation was how quickly he was able to accept just how fortuitous a fall it was. Five picks later, he's now a Jag and probably converted to linebacker. Six picks earlier, he's now a Cowboy, slogging through the NFC East catching passes from a future podcast host.
Instead, Metcalf ends up with exactly what he needs, a football family: a Pro Bowl quarterback who leads like a sitcom big brother, a new age players' coach who motivates like a stepdad and a locker room full of mentors who push and protect him like den mothers. "The best 64-spot fall I've ever had," Metcalf says now. "I landed in the perfect spot."
Actually, he floated there.
---
"BE ONE WITH the water" is the last thing Metcalf hears from Russell Wilson before sinking below the surface.
Because the quarterback-receiver connection -- based on anticipation and requiring a nearly telepathic level of reading and reacting to the defense -- is so vital in today's pass-happy NFL, the rituals that bond quarterbacks and receivers are more important than ever. Since Metcalf was drafted, he's spent countless hours on fields in San Diego, L.A. and Seattle, often starting at 5:20 a.m., perfecting and expanding his route repertoire under Wilson's watchful eye. "There's no secret formula. It's time, it's reps, it's having the intent to improve," says Seattle tight end Greg Olsen, 35, who was drafted by the Bears in 2007 and has the distinction of playing alongside two generations of Metcalfs. "And DK is kind of wide-eyed, open ears, and wants to take it all in."
Wilson and Metcalf spent so much time together that both players say at some point they became more like brothers than teammates. "We're both trying to figure out what greatness looks like," Wilson says. So when COVID-19 hit, and with his wife, Ciara, expecting in July and unable to leave their normally private offseason hangout, Wilson invited Metcalf to join them on the southern tip of the Baja peninsula. And it was here, after the duo took QB-WR bonding to a whole new level, that Metcalf began to fully unlock his ridiculous potential.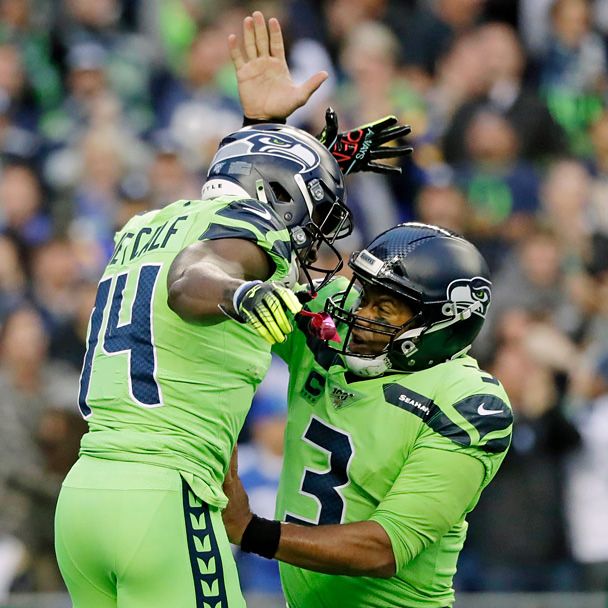 Metcalf had never been outside the U.S., but he knew exactly what to pack for a vacay with Wilson.
"Bring your cleats?" Wilson inquired as soon as he landed.
"Of course," Metcalf replied. "Brought my helmet too."
Between the golf and the workouts, Metcalf revealed to his new big bro his one athletic shortcoming: He was terrified of water and couldn't swim a lick. When DK was 4, his mom put him in swim lessons, but on the first day, with Tonya filming the entire ordeal, DK followed some more advanced swimmers right into the pool. After a big splash, the other kids resurfaced and started paddling. DK sank. And he remained at the bottom of the pool, gazing up at the surface, puzzled, for several seconds before Tonya dropped the camera and fished him out. She tried again when DK was 8, but he wouldn't get within 50 feet of the pool. "He never went back," she says. "He just could not get over that fear."
Somehow, though, Wilson was able to coax Metcalf into the shallow pool at his vacation home near El Dorado using techniques gleaned straight from Michael Phelps himself. As swim instructors go, "God is the next-best option, in my mind," Metcalf says. Wearing borrowed goggles, Metcalf followed Wilson's instructions to first get comfortable blowing bubbles underwater. Once Metcalf was relaxed -- and confident that Wilson had his back -- the progression was much like it went on the football field: His athleticism took over and he stopped overthinking, and pretty soon he was unburdened by gravity, cruising rather than sinking. "In a couple years," Metcalf says, "I'll be looking to take down Michael Phelps."
For Metcalf, the extensive one-on-one time with Wilson in Mexico was also a baptism into the big time. "There's a whole other level of the game that we thought we could really go to, me and him," Wilson says. "We want to make it one of those special Joe Montana-Jerry Rice type relationships. We've spent a lot of one-on-one time just putting the extra work in, and it's definitely shown up in so many different ways so far."
In one of their throwing sessions, filmed on a soccer pitch quite expertly by Ciara, Metcalf runs a fade to the sideline, settling into a pocket of open space created between zones in a Cover 2 scheme. Instead of continuing to the sideline or coming back to the ball, Metcalf stops and once more instructs his feet: Elevate. Anticipating this move, Wilson puts the ball where only Metcalf can get it. If they're not on the same page, the ball sails 5 feet over Metcalf's head. Instead, Metcalf soars and grabs the ball.
Fast-forward to Week 5, during the game-winning drive against the Minnesota Vikings. Trailing 26-21 with 1:21 to play, the undefeated Seahawks were facing a do-or-die fourth-and-10 on their own 23. Wilson and Metcalf connected for 39 yards on a stop, settle in space and elevate sideline pattern -- similar to the one Ciara captured in Mexico. In fact, several of the completions on this drive mirrored the routes and timing they worked on in Mexico. Like Olsen said, there's no magic wand to becoming an All-Pro pass-catcher -- it's about endless reps and mind-numbing amounts of study.
"I had a 100 percent feeling he was going to throw the ball to me," Metcalf says. "It was just going to come down to: Am I going to let the ball just fall into my hands or am I going to go attack the ball and be better than last year? Because last year I would just let the ball fall into my arms and not go attack it. So I would say that's a year of growth, of him trusting me more in that situation. And it all comes from the practices and the workouts in Mexico."
After hearing horror stories from his dad about the way NFL rookies were often treated, DK says he went into his first Seahawks camp "looking to fight -- just to show you're not going to punk me." But a lot has changed in the NFL since his pops played, especially under an enlightened, unconventional players' coach like Carroll who allows music during practice, incorporates yoga, meditation and self-actualization into game preparation and is constantly preaching about the power of mindfulness and positive group energy.
In Carroll's belief system, veterans don't menace rookies, they mentor them. Even on Tuesdays, normally the players' off-days, DK hangs with five-time All-Pro linebacker Bobby Wagner. They start at 7 a.m. with Kendrick Lamar as their soundtrack and some light ab and leg work, and then Wagner breaks down the game film and more. "We talk about life stuff," Metcalf says. "He talks about books that he wants me to read, that I've yet to read. He talks about how he takes care of his family and how he's saved his money. Pretty much just Life Lessons From Bobby."
In less than a year, Metcalf has gone from a robotlike rookie -- with essentially three routes in his repertoire (fade, slant, cross) and without the technique to disguise his path or use his ridiculous hand strength to create separation -- to a one-man wrecking crew. He is a key ingredient in offensive coordinator Brian Schottenheimer's #LetRussCook scheme -- no small task for an offense faced each week with the monumental burden of trying to score more points than the Seahawks' anemic defense allows. And nowhere was his arrival clearer than during Seattle's Week 2 matchup against New England.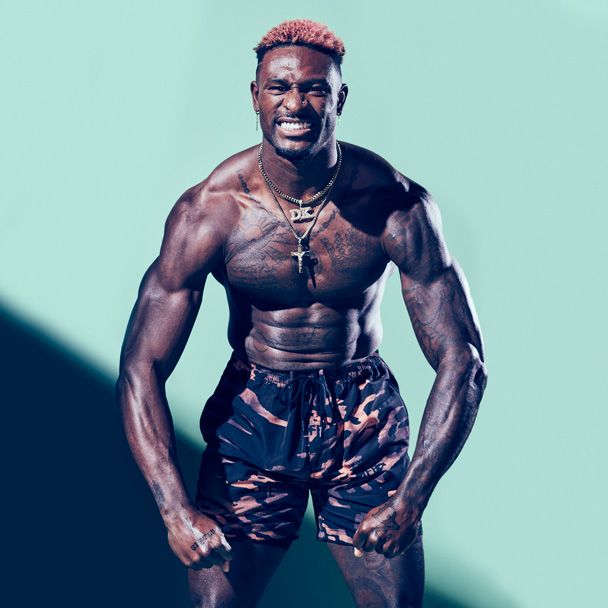 Facing Gilmore, one of the top defenders in the league, Metcalf sets the tone on the first snap -- with an homage to his pops, practically blocking Gilmore into Puget Sound. "I knew I was going to try to drive his head into the ground," Metcalf says. "It always goes back to being a dog, to bring that mentality out of the receiving position: a street fight every time you line up."
Already physically outmatched to the tune of 3 inches and 30 pounds, Gilmore is set back on his heels even more when, on second-and-8 at the Seattle 46, Metcalf lines up in the slot. Most of the film Gilmore studied would have shown Metcalf as a rookie lined up in a wide, or plus, split outside the numbers. From that spot, he was sure to run either a fade or a slant -- less technical and more physical routes. When he did line up inside in 2019, Metcalf was limited to running deep or shallow crosses, which he often telegraphed with the body language of his stem, the first three to five steps of the route.
Things are different this year.
"He's a special type of player. And there's so much room for growth. He's probably just scratching the surface, and that's a scary thought."
- Greg Olsen
"I feel like confidence is the word for this topic," Metcalf says. "Confidence in myself. Confidence in my work that I've put in throughout the whole summer. Confidence that every time the ball's in the air, I'm going to come down with it. Confidence that I can make any play out there on the field, whether it's to tackle somebody or throwing a block."
After the snap, there's no such tell this time. Now, recognizing that the Patriots are in Cover 1 (a single deep safety), Metcalf cuts inside knowing he has to accomplish two things with his head and hands while moving at top speed: first, threaten the deep climb route just enough to freeze the safety over the top and, second, get a ball hawk like Gilmore to bite on the shallow cross, moving down to Metcalf's bottom hip in order to jump the route for a possible pick.
With the safety cemented and Gilmore creeping, Metcalf tells that obedient left foot of his to plant, and in a breathtaking display of agility and power, he instantly changes directions, separating from a stunned Gilmore as he heads toward the end zone pylon. Russell lofts the ball, but it's underthrown, so Metcalf's work isn't done. First he has to "stack" Gilmore -- a move similar to boxing out in basketball that requires advanced strength and body control -- before securing the duck, shaking Gilmore off his back like an overcoat and striding into the end zone.
This touchdown, against the game's best corner, is as technical, nuanced and explosive as route running gets. It's Metcalf's answer to the message his dad texts him nearly every day: Be. Legendary. "He's a special type of player," Olsen says. "And there's so much room for growth. He's probably just scratching the surface, and that's a scary thought."
It's something Wilson has already contemplated, of course. Metcalf recently got a text from his QB that said: Peyton Manning and Marvin Harrison hold the record for the most touchdowns for a quarterback-receiver duo with 114. Even at their current pace, it would take Metcalf and Wilson the better part of 10 seasons to chase down and tackle that milestone. "I keep that in the back of my mind every time I go play, every time I go practice," Metcalf says. "That's the record that has to be taken down by us. That's who we're chasing."
With Metcalf now in pursuit, just ask Budda Baker what happens next.
Senior writer David Fleming joined ESPN the Magazine in 2000.
Grooming by Casey Gouveia/Art Dept; styling by Victoria Simons & Meg Schmitt; production managing by Nikki Sherritt; jacket and sweater by Balenciaga; shorts by Ksubi