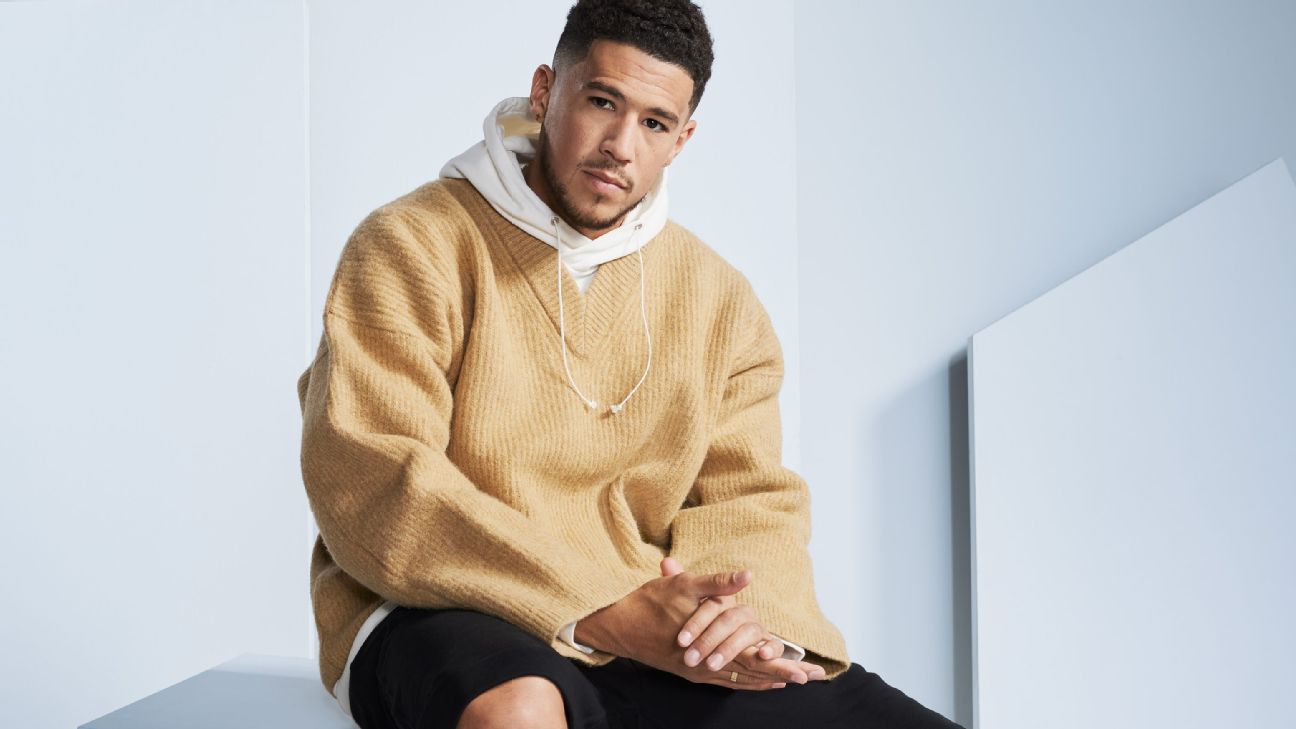 The rise of Devin Booker
Kobe mentored him. Chris Paul challenged him. Now the Phoenix Suns guard is on a quest to become legendary.
In March 2016, Kobe Bryant was in the final weeks of a storied 20-season career. Devin Booker was just coming through his first year in the NBA. So what did the 19-year-old Suns rookie do when he found himself with the ball and matched up with his basketball idol in what would be Bryant's final game in Phoenix?
"I went right to his move. I went right to the Kobe fadeaway," Booker says.
His shot fell short. But after the game, Kobe came up to him and said, "You know what? I did the same thing when I matched up with MJ the first time."
Kobe asked Booker to continue the conversation off the floor. "No ice that day," Booker remembers. "Straight to the shower, straight to the visitors locker room... and I thought it was going to be a two-, three-minute convo, and it ended up being 15, 20 minutes postgame."
They exchanged numbers, and Kobe signed shoes for Booker. "One shoe said, 'To the young one,' and the next one was, 'To Book, be legendary,'" Booker says, smiling at the memory. "He didn't only just write 'be legendary,' he told me what it was going to take to get there. ... He told me I have the footwork, I have intangibles to be legendary. It's finding more and wanting more and going to get more."
The big brotherly conversations would continue, like the night, March 24, 2017, when Booker became the youngest player in NBA history to score at least 60 points in a game as he put 70 on the Celtics. "He just sent me the flexing emoji, and I remember he sent a tweet out ... and he said, 'Book him,' and from hearing from everybody after that night, obviously Kobe sending a tweet out was the most touching to me."
Fast-forward four seasons and it seems Kobe had a pretty keen sense of who he was encouraging -- or anointing. Booker drained perhaps the most dramatic shot of the NBA's 2020 bubble restart, the buzzer-beater over Kawhi Leonard and Paul George, two of the league's best defenders, to beat the Clippers in August. Six months later, the 24-year-old made a game-winning jumper with 1.5 seconds left on his return to the lineup after a hamstring injury, sending the Mavericks to defeat in Dallas and reinvigorating a Suns team stumbling in his absence.
Each Mamba-like moment brings it back -- those weren't just words on the shoes or in the tweets: They were fuel, and they last.
As he tells the story, Booker slowly rolls up the sleeve on his left forearm to reveal a simple script tattoo, etched in the writing once scrawled on a teenager's shoe: Be Legendary.
---
AND YET, HERE he is at the start of his sixth NBA season, after averaging 25, 27 and 27 points the past three, after drawing comparisons from some in his fraternity to a young Kobe, finding it necessary nonetheless to fire off a tweet to tell people his name. "It's Book or DBook," he wrote in December, not Devin.
And here we are realizing how little we've known about Book, which is what happens when you've never been to the playoffs, when you're rarely involved in prime-time nationally showcased games, when your franchise has been irrelevant for 10 years.
Thirty-one points a game on 50% shooting in the bubble and it turns out that in a league of one-name stars, many of them not as prodigious, as efficient, as consistent, as charismatic, or with as fascinating a backstory as Booker, we are just now finding out his name. Book. You could, if you weren't paying attention to the Phoenix Suns the past five years and didn't know he already has a 70-point game on his résumé, make the case that the bubble was the venue of Book's coming-out party. Just don't make the case to him.
There was already a party, as he sees it, it's just that in the bubble "more people got invited." Tweets aside, Book knows "the extra things are going to come with team success, the playoff experiences. ... They're on the way, and I'm going to work and get there no matter what."
It doesn't seem like an empty promise either, what with the Suns right in the middle of the NBA Western Conference chase 20-some games into the season, having acquired future Hall of Fame playmaker Chris Paul, a real-life Exhibit A of a player who makes his teammates better. While the CP3-Book tag team is undoubtedly at the center of the Suns' story, they're putting together a nicely diverse ensemble, including Deandre Ayton, the hugely talented but late-blooming young center, and equally inexperienced but also talented small forward Mikal Bridges.
But the most necessary piece for any team with serious expectations to contend is the superstar -- or a player moving in that direction. For the Suns, that's Book, and he seems totally unafraid of the process it takes to turn potential into greatness. "My job is to lead this group, listen to this group, lead by example," he says. To do that, he will have to impact the game not only by scoring but also defensively -- and in at least a half-dozen intangible ways. He'll have to, on many nights, scare the opposition and keep his teammates on edge. He'll have to handle the pressure and deliver on the promise Kobe and others have seen in him -- and do it when the stakes matter most. It's all a prerequisite of becoming legendary.
---
BOOK GREW UP with his mom, Veronica Gutierrez, in Grand Rapids, Michigan, as one of three siblings, including his younger sister, Mya, who has a chromosomal abnormality called 22q deletion syndrome that causes a developmental disability. His dad, Melvin, played two seasons in the NBA during the '90s and spent 11 years playing in Europe and Asia, compiling a lifetime's worth of knowledge and experience that, while he didn't know it at the time, would be the A-to-Z of what he would teach his son about basketball life.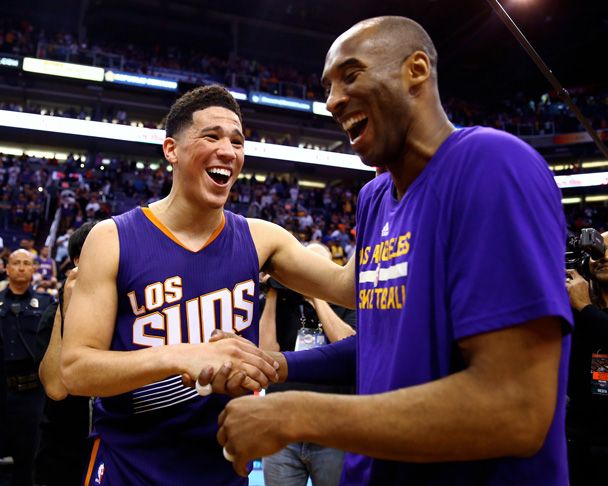 Melvin credits Veronica with keeping father and son connected when he was abroad. "You know how hard it is to call a 9-, 10-year-old and try to talk on the phone? She did a great job to keep the bond," he says. "Every opportunity that I was able to come to the States, if I had a break overseas or in the offseason, she allowed Devin to come to Mississippi with me."
Culturally, Mississippi was the other side of the world from Michigan. "On Devin's first visit to Mississippi, he called cornbread 'cake,'" Melvin says. "'Dad, can I have another piece of that cake?'"
During his visits, Devin would spend time with his dad and his dad's friends, playing ball and listening to their stories. Devin's friends and family often describe him as an "old soul," which his dad thinks "he picked up always being the youngest guy in the room, just soaking it all in."
When Melvin retired and returned to the U.S. in 2008, he asked Devin to come live with him in Moss Point, Mississippi.
"I spent the first year [after retirement] just recruiting him," Melvin says. "I'd fly to Michigan and watch him play, and try to convince him and his mom."
Melvin had two agendas, one athletic and one cultural: "I wanted to put him in an environment where he played in predominantly Black gyms, that [show him] the speed of the game was different. Socially, he had to walk the hallways ... where some of these kids didn't have fathers in their lives, and some kids were living a rough life that Devin never experienced. It opened his eyes to a lot of things."
Book tells the story with great fondness now, how it felt to navigate, after his freshman year in high school, the move from a largely white Midwestern community to the Deep South of his dad's upbringing. He is a child of interracial parentage -- Mexican American mom, African American dad -- whose ability to adapt was put to the test immediately.
"[Kobe] told me I have the footwork' I have the intangibles to be legendary."
- Devin Booker
"It was a tough transition," he says. "My pops, he brought me down to the 'hood, man. I learned a lot. Being that young and having to understand different cultures and understand these kids were raised differently than I was used to ... I had to earn people's respect. It wasn't going to come easy, coming from an out-of-towner right to the court. People were going to come after me, and I was fine with that. But it was an adjustment period for me."
If the move from Michigan to Mississippi reinforced the need to appreciate and maximize the grind, the boring but necessary elements of chasing success, then the father has a well-deserved "told you so" coming when the son starts to find the bigger rewards. Melvin and Paul appear to be the bookends who make sure Book doesn't forget the grind.
"I fell in love with the grind," he says. "I fell in love with the process. I fell in love with being in those gyms. Me and my dad always joke about it, but he said I need to bring that dog out. Being in those gyms down in Moss Point brought the extra dog out of me. Having my father around, his stern voice, shaped and molded me into what I became and what I'm becoming."
---
WHEN BOOK WENT to the University of Kentucky in 2014, Melvin, presuming he'd have plenty of time to attend his son's games in Year 2 or even Year 3, didn't plan to attend many. The teenager slotted into John Calipari's two-platoon system with a bunch of other future NBAers (Karl-Anthony Towns, Willie Cauley-Stein, Trey Lyles, Alex Poythress, the Harrison twins and Tyler Ulis among them). He relished being in the gym with all of those budding stars. And he relished the fight.
"Before Kentucky, having conversations with my family, I just wanted to be a part of that. I know how hard I work, and I want to go match up with the best talent in the world," he says. "Once I was there, I was comfortable. I'm not saying it was easy every day, but I didn't feel like I didn't belong."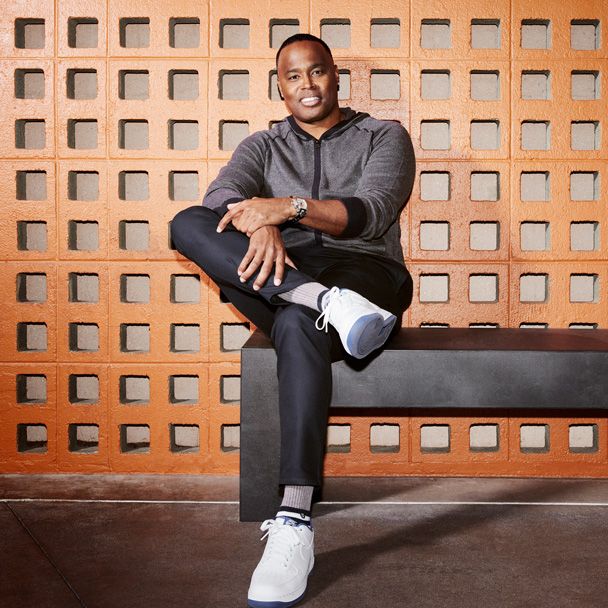 Book averaged 10 points and 21.5 minutes per game as a Wildcat and was the SEC's Sixth Man of the Year in 2014-15. He didn't start a single game, but he had so many scoring explosions in limited playing time that scouts had seen enough. The Suns drafted him 13th overall in the first round.
At just 18, he left the well-oiled machine in Lexington for one of the worst franchises in the NBA. In Book's first four seasons in Phoenix, the Suns were at the bottom of every list: fewest wins, 29th-ranked offense, 30th-ranked defense. They went through four coaches. But like he learned with his dad in Mississippi, Book kept grinding. He had that 70-point game, those back-to-back 50-point games. He kept working.
"He understands the science of scoring," says Eddie Johnson, who has broadcast Suns games for even longer than the 17 seasons he played in the NBA. "A lot of young guys don't know the science of scoring; they just want to jack up a bunch of 3s. LeBron gets 20 in his sleep. James Harden, Dame Lillard, CJ McCollum -- these guys understand the science of scoring. I guarantee you Kobe had that conversation with Book."
So when the invitation came to travel to the bubble last summer, Book knew it was time to invite more people to the party.
---
THE MOMENT THE trade bringing Chris Paul to Phoenix was official, Book and Paul started making plans. "We immediately went to conversation about, 'How's this going to work? How are we going to lead this team, take it where we need to go?'" Book says.
Paul is entirely comfortable, in his 16th NBA season, not only with not being the face of the franchise but also with helping Book be exactly that. Suns head coach Monty Williams coached Paul in New Orleans when they were both a lot younger and after last season in Phoenix thought Book was, "as competitive as anybody I've ever been around. He now has a partner in Chris that complements his competitive nature."
On the first day of practice, both guards came ready to compete. "Watching those two guys get after each other," Williams says, "it was like two steps away from a fight, but it was controlled. It set the tone for the rest of camp. Sometimes young teams can take it personally when you're going after each other in practice. Chris and Devin both know if we don't go after each other, we can't be the best team that we can be."
NBA history is littered with players, particularly young ones, and teams that couldn't adjust to this big a shift in personnel and personality dynamics, like a demanding vet walking through the door on the eve of a new season. But in Paul, Book and Williams believe they've found what they've been looking for.
"You just understand every little detail of the game matters," Book says. "Chris is going to demand that. The little things you think you can slide by ... he'll let you know. We can't shortcut anything we do."
Book is something of an anomaly in a generation of players who often resent Hall of Famers as "old heads" they want no part in listening to. "I saw right away," Johnson says, "that he listens, he wants to be coached. ... From day one, you're talking to him, he never just walks away. He grabs onto what you're saying."
As a kid, he grabbed onto advice wherever he could get it. Hearing for the thousandth time that he's an "old soul" produces a smile instead of an eye roll. He's constantly ready to hear another old story, has an eye for vintage 1950s cars and revels in listening to "my vets," which at some point included Tyson Chandler, whose NBA career began when Book was 5. Whenever Paul texts him at night, he knows Book will be watching games, and Book is one of the only young guys in the locker room who shares Paul's love for Jay-Z.
Knowing full well that CP3 and Jay-Z are good friends, that his new teammate was in the studio for a bit during the making of the album "4:44" in 2017, Book asked, "'Chris, when are you linking with Hov, man?' Because my dad is the biggest Hov fan since day one, so I grew up listening to a lot of the music.'" Paul hit FaceTime and damn if Jay-Z didn't see who's calling and pick right up.
"To know how Book is about Jay, he's comfortable with who he is," Paul says. "He's not trying to be who he's not."
So while the basketball world comes to know Book, game to game, month to month, season to season, the perfectionist stays obsessed with the grind, the minutiae of becoming the best player and teammate and leader he can be, listening intently to Monty Williams and Chris Paul, picking up a story here from vets around the league, some wisdom there from former greats.
---
EVEN THOUGH BOOK is still only 24, Williams and Paul know they're working with a player fairly close to complete. At 6-foot-5 with one of the game's best jump shots and footwork that impressed Bryant, plus an understanding of the science of scoring and an obsession with preparedness, Book seems to have all the necessities and then some. "Book is one of these guys who, every time he shoots the ball, it looks the same. Every single time," Paul says. "When I make a pass to him and he steps back, boom. I'll be looking like, 'Damn, I can't do that.'"
So what's left? What can Williams and Paul and Melvin Booker help hone at this stage?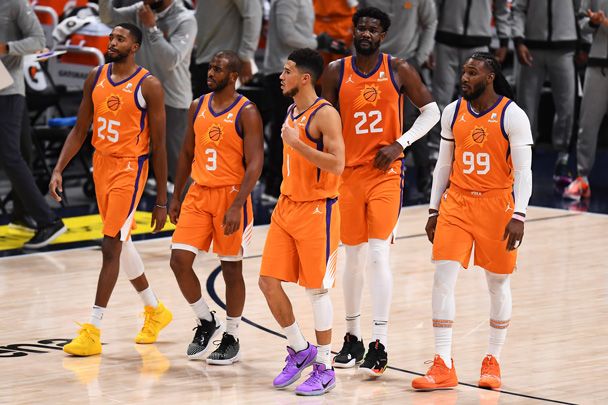 "There are times where his competitive edge gets him in trouble on defense," Williams says. "We have to talk him out of matchups sometimes because he wants to guard his guy. I get it in the beginning of the game, but as the game wears on, I need you to guard another guy because I need you fresh in the fourth quarter. But his mindset is like, 'I need to stop him.'"
But it's become apparent, especially lately, that Book's competitive drive serves him well in other ways peculiar to NBA culture. Williams and Paul are thrilled that Book isn't one for fraternizing, like so many young players who've known one another since their AAU days, or because they played together in college or were repped by the same agent. His coach says: "Devin doesn't powwow with other players. I love that. When you step on that floor, there's a competitiveness that you need. The thing I like about Book is, he's not out there chest-bumping with players from other teams; he's about his team."
"Chris and Devin know if we don't go after each other' we can't be the best team that we can be."
- Monty Williams
Williams knows he doesn't have to worry about Book off the court: "He's committed to his family." That includes not just being an adoring older brother to his sister Mya, but committing to helping other children with disabilities too. He has worked with the Special Olympics and its members since 2015 and, in April, became a global ambassador for the group.
"She puts things in perspective for me a lot and keeps me grounded," he says about his sister. "Good game or bad game the night before, there's still a smile on her face, and she wants to take that Starbucks trip the next morning."
At some point, but only if the Suns can start playing into early May at the very least, Book's game and personality might finally become apparent to more than his coaches and teammates.
Williams believes people around the league know, but "as far as being a household name," he says, "he didn't get the recognition his talent deserves because he wasn't winning. That was the one thing I hoped to help him with: Let's build a culture of winning more games because people need to know who you are."
When asked recently whether he knew, back when he was coming off the bench on a stacked Kentucky roster, when he was grinding on a Suns team that won just 19 games in 2018-19, that he could one day be this guy, Book doesn't answer immediately. He looks down, takes a breath, then nods: "Yes."
Does the disproportionate pressure that comes with that, the extraordinary expectations, feel unfair for a guy who's only 24?
"It's not unfair," he says. "It's everything I've ever asked for."
Wilbon is an award-winning columnist and the co-host of ESPN's Pardon the Interruption.
Styling by Browne Andrews; grooming by Diane Aiello; production by Caroline Jackson Crafton; trench coat by Jil Sander; sweatshirt and sneakers by Nike; trousers by Prada; sweater by Marni; hoodie by Camiel Fortgens; shorts by Jil Sander; overshirt and trousers by Second/Layer; sneakers by Nike; shirt jacket by Lemaire; hoodie by Evan Kinori.