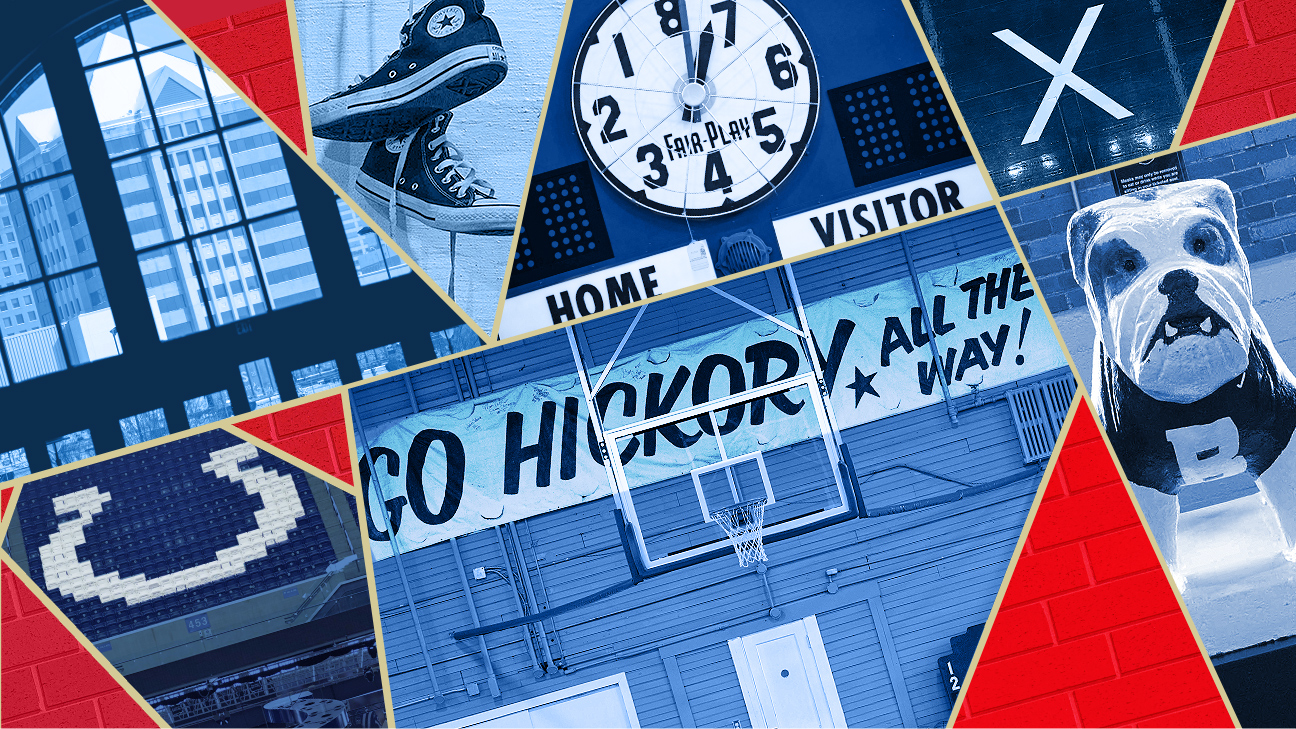 The storied Indiana venues hosting the 2021 NCAA tournament
Indiana will be the center of the basketball universe next week. Here's a look inside the historic buildings that will play host to an NCAA tournament like no other.
Indiana's Hallowed Hardwoods
By Kelly CohenPhotography by Andrew Hancock
March Madness is going to look a little different this year because of the coronavirus pandemic. It's the first time a singular state will host the entire NCAA Division I men's basketball tournament -- and the NCAA could not have picked a better place.
Basketball to Indiana is what football is to Texas: a religion, a way of life, where you'll find a majority of people on a Friday night. The state has produced basketball icons old and new -- think Larry Bird and Victor Oladipo -- as well as iconic hoops movies about more than just hoops -- think "Hoosiers."
The historic gyms of Indiana come in different shapes and sizes. Some are in big cities, like the state capital of Indianapolis, and others are in tiny towns, like Knightstown, with fewer than 2,500 people, yet boasting one of the most famous gyms in the country. Some are older than the NBA, while others are younger than the NBA's youngest players. But they are all connected through design elements, such as Indiana limestone, domed roofs and large glass windows.
Take a trip around Indiana and step into some of basketball's meccas. These storied gyms that have produced household names for decades are now hosting the NCAA tournament, known for its legendary moments.
Indianapolis

Hinkle Fieldhouse

The original Cathedral of Basketball, Hinkle is the venue by which every other Indiana gym is measured
When completed in 1928, Hinkle Fieldhouse -- then known as Butler Fieldhouse -- was the largest basketball stadium in the U.S. Renamed after the longtime coach and athletic director Paul "Tony" Hinkle in 1966, the fieldhouse is one of the most iconic basketball arenas in the U.S.
Former Butler guard Shelvin Mack said there was nothing like walking into the fieldhouse known as "Indiana's Basketball Cathedral" on a Saturday afternoon for a game "with the sun coming in and [everyone] singing the Butler fight song."
Mack played for the Bulldogs from 2008 to '11 before going into the NBA. He currently plays for Panathinaikos B.C. in the EuroLeague. In the 2010 national championship game, Mack's teammate Gordon Hayward missed a half-court shot that would have given Butler its first championship.
"Butler family means family for life," Mack said. "We still all talk to each other [to] this day. We have a text group and once a year we get on a Zoom call to just keep everyone updated on what's going on in their world."
Knightstown

Hoosier Gym

Anyone who ever dreamed of taking the shot to win state can live out their cinematic fantasies at the "Hoosiers" gym
After roughly 50 years away from Hoosier Gym, Knightstown local Bob Garner returned in 2015, and he said to himself, "Why did I ever leave?"
"Walking in, it looks identical from when we played the last game there [in 1966]," Garner said. "Modern scoreboards, but other than that, it is the same place. The locker room is the same. That's what appealed to me."
Garner, in his words, warmed the bench for the last Knightstown High School team to play in what is now known as Hoosier Gym, because it was the filming location for the 1986 movie "Hoosiers." More than 70,000 fans still show up annually to live out their Jimmy Chitwood dreams, but it's more than a gym now. It's both a museum and a community center, where Garner has managed events since 2015.
"More than the gym itself, the physical structure is amazing, how well it's been kept up," Garner told ESPN. "It's a remarkable place. It's a can't-miss visit in Indiana if you're a fan of basketball."
Bloomington

Assembly Hall

Indiana University fans pride themselves on making this one of the hardest places to get a road win
Assembly Hall opened the same year future Naismith Memorial Basketball Hall of Famer Bob Knight made his head-coaching debut. The next season, a future College Basketball Hall of Famer, Quinn Buckner, arrived on campus. By Buckner's senior year the Indiana Hoosiers were undefeated national champions. No team has repeated that feat since.
"I knew it was difficult for other teams to come play [at Assembly Hall]. You can sense when people are uneasy being there, because they knew the fan base was rabid," Buckner told ESPN.
Known as the Carnegie Hall of Basketball, Simon Skjodt Assembly Hall at Indiana University in Bloomington fits 17,222 people inside -- and opponents can hear every last one of them. It's the sheer loudness of all the fans screaming, cheering, booing, watching players' every move.
"In its truest sense of a fan, it was fanatical. It created a real positive effect for our team," Buckner said.
French Lick

Springs Valley High School

Before the world knew Larry Bird's name, he and his younger brother Eddie were tearing up French Lick
Step into the gym at Springs Valley High School and the first thing you will see is Larry Bird's various jerseys adorning the rafters. He was nicknamed "the Hick from French Lick" after all.
The yellow walls, wood beams and wood seats of the Springs Valley High gym witnessed the high school career of Bird, one of the greatest basketball players of all time. Now, the school is on Larry Bird Boulevard.
Todd Marshall, a lifelong resident of French Lick now serving on the school board, was five years behind Bird at Springs Valley. He remembers going to Bird's games and seeing the packed gyms, full of the entire town, people from other towns and college coaches.
"One day in class during Larry's senior year he told us we had to be quiet because he had a famous person coming by to see him," Marshall said. "A little later there was a knock on the back door and in walked Bobby Knight."
Marshall had keys to the gym as a student manager for the football and basketball teams. He would post newspaper clippings about the success Bird was having at Indiana State outside the locker room, and listen to the games with his friends on the radio in the gym while putting up shots.
"The Springs Valley High School gym was my sanctuary when I was in school," said Marshall, who estimates he spent more time there his senior year than in the classroom. "There is nothing more satisfying, relaxing and meditative than to shoot hoops. Even today, to relax, I will go to our high school gym and shoot hoops."
Indianapolis

Indiana Farmers Coliseum

Presidents, Rock 'n' Roll Hall of Famers and NBA champions have celebrated career moments inside this facility
The Coliseum has been a hub for basketball for decades. The first hoops game in the building was a 1942 contest between the Kentucky high school all-stars and the Indiana all-stars. It hosted high school state championship games between 1943-45, and was home to the Indiana Pacers for their first seven years and first three championships in the ABA. It's now home of the IUPUI Jaguars.
Compared to its "cathedral" cousins, the massive space originally erected to show livestock gets a bad wrap. There still exists a ton of history within its walls -- even if it's not all hoops-related.
The multipurpose facility hosts 150-plus wildly different events yearly. In addition to the Jags, the ECHL's Indy Fuel also play their home games at the Coliseum. There have been rodeos, boxing matches, boat shows, high school graduations, presidential speeches and concerts. Lots of concerts.
When it was renovated in 2012, the inner structure was found to have been built with a two-inch gap between it and the exterior of the building. That meant everything inside could be gutted and rebuilt from within without disturbing the original facade. The result was a much needed step into the 21st century, but care was taken to make sure its present honored its past.
Martinsville

John Wooden Gymnasium

In Martinsville, the middle school and high school gyms are shrines to the greatest coach the game has ever known
Famed NCAA coach John Wooden, who won 10 NCAA national championships in 12 years as head coach of the UCLA Bruins, played his high school games at Martinsville High School. He led the team to a state championship in 1927 -- back when the population of the small town south of Indianapolis was less than 5,000.
"Basketball galvanizes small communities in Indiana," Kip Staggs, current athletic director and boys' basketball coach at Martinsville High, told ESPN. "Our community really wraps their arms around our teams. ... It's completely like family."
The population has since doubled, but Martinsville still loves its hoops. Pre-pandemic, there was nowhere else to be when the high school team was playing and playing well, Staggs said.
Martinsville built a new gym in 1977 and named it after their most famous alumnus. The original arena, pictured above, was built in 1924 and renamed Glenn Curtis Gymnasium after the head coach of those Wooden-led championship teams. It now functions as the home gym of John R. Wooden Middle School. Both places have the Wizard of Westwood's memory all over them.
West Lafayette

Mackey Arena

When something good happens at Mackey, you'll know it. The Boilermakers' home court is among the loudest in the Big Ten
All Purdue does at Mackey Arena is play basketball.
"You aren't having concerts, you're not having tractor pulls, there's nothing crazy going on," Purdue head coach Matt Painter said. "You just play basketball. It's a great venue."
Mackey Arena opened in 1967, originally as Purdue Arena before being renamed in 1972 to honor longtime athletic director Guy "Red" Mackey. The domed aluminum roof means it is one of the loudest venues in the country, when it's full. Painter knows what advantage consistent sellouts, loud fans and a dedicated student section gives his team.
Painter cited the 2017 win against Indiana that won the Boilermakers a share of the Big Ten title as an example. He called the crowd truly "unbearable."
"There are a lot of venues like that in the country," Painter said, "but I think ours is one of the best, when you consider what we hear from our opponents with how loud our fans can get. It's one of those special places across the country that gives you a true advantage when you play a home game."
Indianapolis

Bankers Life Fieldhouse

The Indiana Pacers and Fever's home arena was deliberately designed with "retro" touches that pay homage to legendary courts across the state
How many times does an arena open and host the NBA Finals in the same season? Bankers Life Fieldhouse became one of only six such arenas when it hosted three Finals games between the Los Angeles Lakers and Indiana Pacers in June 2000. The place then known as Conseco Fieldhouse opened in the heart of Indianapolis seven months prior.
Rick Fuson, the Pacers' president and COO, has been with the team since 1984 -- back when they were part of the ABA -- and has seen Bankers Life host everything from graduations to WWE events to Cirque du Soleil. But it's basketball that means the most.
"I've lived Indiana sports, especially basketball, my whole life. It's part of my heritage," said Fuson, who was part of the large group that helped design and open what is now Bankers Life.
Fuson, who grew up in Indiana, took inspiration from the mecca of all Indiana gyms, Hinkle Fieldhouse at Butler University, when creating Bankers Life.
"People would say, 'Why are you trying to make this new fieldhouse look like Hinkle Fieldhouse, because of the barrel roof?' And I told them, 'Well, I don't think anybody's mad at Tony Hinkle. He's one of the greatest coaches of all time,'" Fuson explained.
Fuson remembers how special it felt for the Pacers to host NBA Finals games the year the arena opened. Indiana faced a Phil Jackson-coached Lakers team made up of legends like Kobe Bryant and Shaquille O'Neal.
"That's a memory in itself, especially in a new building," Fuson said. "We opened in November! We were learning on the fly."
La Porte

La Lumiere School

With three first-round NBA draft picks in three years, the secret is out on this boarding school in the woods
Off the beaten path in La Porte, Indiana, situated on a beautifully kept 150-acres is a half-boarding, half-day private prep school known by residents as La Lu.
Despite having an enrollment of less than 200 students from grades nine to 12, the La Lumiere boys' basketball team is consistently ranked one of the best programs in the country. They were national champions in 2017.
Basketball stars left and right have been produced by La Lumiere. The past three years an alumnus has been taken in the first round of the NBA draft -- Memphis Grizzlies forward Jaren Jackson Jr. (No. 4 overall in 2018), Golden State Warriors guard Jordan Poole (No. 28, 2019) and Detroit Pistons forward Isaiah Stewart (No. 16, 2020). At least five former Lakers will represent La Lu in the NCAA tournament, including Purdue standout freshman Jaden Ivey.
Marsch Gymnasium is a half-pipe-shaped, on-campus structure built in the 1970s to replace "The Barn" which now acts as a practice facility. As a prep program, the Lakers aren't affiliated with the state basketball association. Instead, they host and travel to play top prep schools around the country.
Those matchups between the best high school talent in the country is a big reason why Marsch is among Indiana's premiere gyms.
Indianapolis

Lucas Oil Stadium

The "House That Peyton Manning Built" hosts its third Final Four this year
Lucas Oil Stadium, the site of the 2021 Final Four, opened in downtown Indianapolis in 2008 with 70,000 seats and a state-of-the-art retractable roof. The City of Indianapolis and the State of Indiana spent $620 million to build the stadium.
The Indianapolis Colts have had some of the franchise's greatest moments at their home inside Lucas Oil Stadium, which has also been dubbed the "house that Peyton Manning built."
Two of the most famous games feature the former quarterback, who spent 14 seasons with the Colts. The first was Nov. 15, 2009, when Manning brought his team back against the New England Patriots by throwing a touchdown to Reggie Wayne in the final 13 seconds. The Colts remained undefeated.
Manning also put together another juggernaut performance in the 2010 AFC Championship game, leading a comeback against the New York Jets in which he completed 26-of-39 passes for 377 yards and three touchdowns.