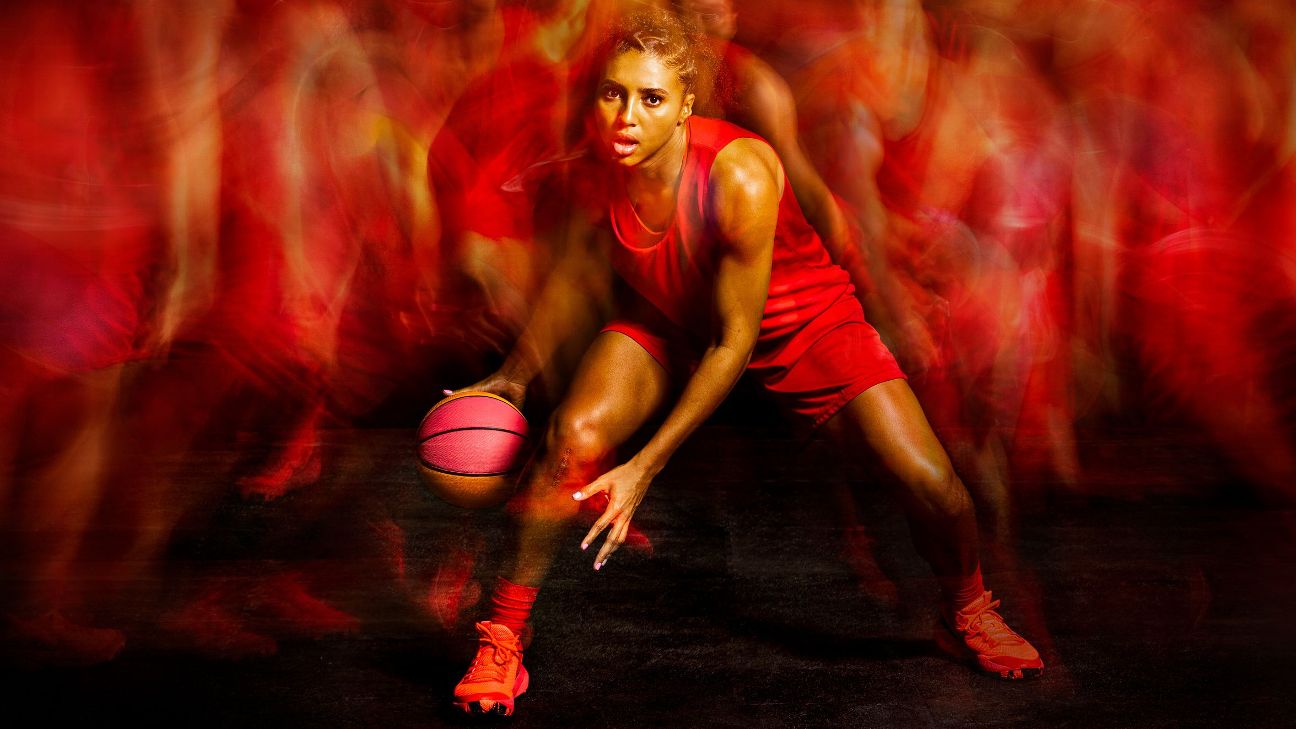 Azzi Fudd is unbreakable
Basketball's best prospect in decades couldn't be derailed by a devastating knee injury or a pandemic. The next step in Fudd's ascension: teaming with Paige Bueckers at UConn.
Editor's note: This story was originally published on Feb. 25, 2021.
The only thing Azzi Fudd can bring herself to look at is the falling snow. She can't look at her mother, Katie, who's sitting in the passenger seat, too distraught to drive. And she won't look at her knee, which no longer looks like her knee anyway.
Her grandmother, Karen, navigates their rented black SUV through the accumulating snow. It's April 13, 2019, and they're rushing from the USA Basketball 3-on-3 U18 nationals in Colorado Springs to Denver, some 75 miles away, for an emergency MRI to see whether Azzi's injury is as bad as they all fear.
The snow grips like quicksand. Precious minutes tick away. Azzi needs to get in today, Katie thinks. Their flight home to Virginia leaves tomorrow, and the swelling in her daughter's right knee will only worsen. The stakes are high. Waiting isn't an option.
This is, after all, Azzi Fudd, the top girls' basketball prospect in the country, a shooting sensation who has wowed everyone from two-time NBA MVP Stephen Curry to two-time WNBA MVP Elena Delle Donne to 11-time NCAA champion Geno Auriemma. She is, by most accounts, the best high school talent the game has seen in decades.
She was one of the first girls to attend Curry's SC30 Select Camp, and by the end of it, he had handed her a trophy for being the best 3-point shooter there. "I had never really experienced people's perspectives opening right in front of their eyes," Curry says. "It was like, 'This girl's out here doggin' these guys.'" Delle Donne also has handed a trophy to Fudd, when she became the first sophomore in history to be named the Gatorade National Player of the Year, winning the award over her close friend and future UConn teammate Paige Bueckers.
As a sophomore at St. John's College High School in Washington, D.C., Fudd put up an absurd 26.3 points, 6.2 rebounds and 2.5 assists per game, and by the time she was 16, she already had led Team USA to two international gold medals. Scouts across the basketball landscape were comparing her to everyone from Diana Taurasi to Maya Moore. "She's just better at basketball than everyone else," says Jonathan Scribner, her high school coach.
Auriemma, for his part, first saw Fudd play when she was in eighth grade. "You expect [young players] to be a little bit big-eyed and clumsy and in a rush to do something," he says. "You never saw any of that in Azzi."
But back in the car, just a month after Delle Donne had surprised her with the Gatorade award, Fudd's right leg rests gingerly on the back seat. All of the expectations, all of the promise, all of the hope -- all of it in peril.
What they'd soon find out in Denver confirms their worst fears. But it is merely the first loss in a two-year stretch full of sorrow. She'll lose friends and loved ones, old and young. She'll be forced to heal from a devastating injury alone, isolated by a pandemic that ripped away her senior season. Most of all, she'll be robbed of an identity, of a certainty: that when she steps onto the floor, she's unquestionably and undeniably the best player there.
Fudd looks out the window, tears rolling down her cheeks as she stares at the mountains passing her by. She can't stop thinking about her mother's pain-filled eyes looking at her as she lay on the floor after her knee gave way. She thinks about how much rehab she'll have to do just to play again. She thinks about everything she is going to miss. As the searing pain pulsates from her knee, she wonders what everyone in the gym that afternoon wonders.
Could she still be Azzi Fudd after this?
---
THE OTHER TEAM is loaded -- a who's who of future college standouts: Hailey Van Lith (Louisville), Samantha Brunelle (Notre Dame), Haley Jones (Stanford) and Bueckers (You may have heard of her? UConn). A national 3-on-3 title is on the line, and a spot on the U.S. national team is up for grabs. The ball, naturally, is in the hands of the 16-year-old Fudd.
Wearing her white Team USA jersey and two black knee sleeves, Fudd, a 5-foot-11 guard, attacks from the right wing. She fakes left, then crosses over back right and drives toward the basket. As she enters the lane, Fudd jumps, attempting to shed her defender for a power layup. But as she lands, her right knee buckles and she collapses backward to the floor.
The gym falls silent.
Katie, filming from the sideline, screams, piercing the rubbery walls of the gym -- and runs.
From her perch on the bench, Bueckers looks on in horror as her friend crumples to the ground. She prays it isn't serious as she sprints onto the court after Katie.
Azzi knows immediately that something is very wrong. When she lands, she hears a crack. Then a snap. Then a pop. Pain explodes through her knee.
"Oh my god ... oh my god ..," Fudd whispers into the silence.
Katie scoops Azzi off the floor with help from an athletic trainer and carries her to the training table on the side of the court. As they slowly remove her knee pads, the damage is exposed -- in minutes, Azzi's right knee has already swelled so much that she can barely make out the bone.
Tim Fudd is coaching when it happens -- nearly 2,000 miles away in Manalapan Township, New Jersey, a small town 50 miles south of Manhattan. His AAU team is in between games and there's no cell service in the gym, so he grabs a soda from the concession stand and walks across the parking lot to his car. He's dying to hear from Azzi and Katie about how things are going in Colorado Springs. As he folds his 6-7 body into the front seat of his minivan, he takes a sip of soda. His phone buzzes with a message from Katie.
Azzi got hurt.
Then another one.
I think she may have torn her ACL.
As he reads the words, his eyes brim with tears. He punches the steering wheel. He hits it again. And again, pounding the wheel over and over, his thoughts spinning as he sits alone in the parking lot. He hadn't wanted Azzi to go out there in the first place. But he never told her that. Why didn't he tell her? She wanted to play, and he let her. Why did he let her?
News of Fudd's fall quickly spreads across the country. Texts and calls fly from Colorado Springs as quickly as teenage fingertips can send them. Former high school teammate and UNC Tar Heel Malu Tshitenge receives a FaceTime from a friend in the gym, who walks the phone over to Azzi.
Tshitenge has known Azzi since she was in eighth grade and Azzi was in sixth. "She is like my little sister," Tshitenge says.
Tshitenge sees the fear in Azzi's eyes. She's back to being the quiet little girl with bouncing pigtails. "Something happened," Azzi tells her friend. "Like, something bad."
---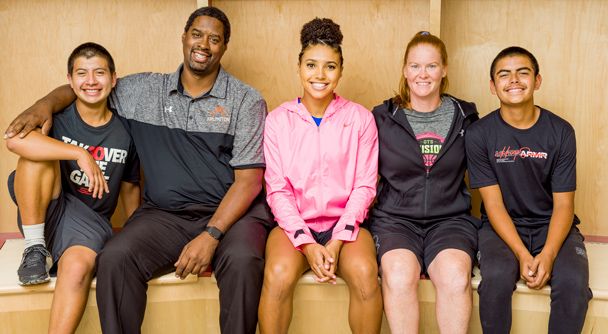 HOBBLING ON CRUTCHES, Fudd returns home the next day to find her dad lying on the couch in the dark. She slowly lowers herself onto the other couch across the room and digs into her McDonald's fries. Tim looks at Azzi and tries to listen to what Katie is telling him. Azzi has torn her ACL and her MCL, she says. The good news? Katie knows a guy.
Katie too was once a budding basketball star, a red-hot recruit in the Washington area some 25 years ago. Then Katie Smrcka-Duffy, she was the ACC Rookie of the Year at NC State in 1997 before transferring to Georgetown and becoming the first Hoya drafted into the WNBA, in 2001. Katie's professional career was cut short -- very short -- by injuries, including her own torn ACL. In 2002, she gave birth to her daughter -- one who would eventually claim Katie's old number, 35, as her own -- and named her after a player she admired, 1996 Olympic basketball gold medalist Jennifer Azzi.
Katie knows who can fix Azzi, she tells Tim. She's going to call Dr. K. Donald Shelbourne, who is based in Indianapolis and specializes in ACL tears and knee repairs. He's the same doctor who treated Katie all those years ago, she says, and he's the only one she trusts to operate on their daughter.
Tim looks at Azzi, then looks back at Katie, who walks over to Azzi. As she slowly tries to straighten and bend Azzi's knee, Tim rises from the couch and plods down the hall, away from it all.
"I really got sick to my stomach," he says. "This is a graceful basketball player who ... is struggling to bend her knee."
Having fractured his patella during his senior season at American University, Tim also knows what's ahead for his daughter.
"He couldn't even look at me," Azzi says. "He felt so bad, like it was partially his fault."
The first time Azzi called Tim "Dad" was a little before her second birthday. He had met Katie when Azzi was a year and a half or so. He had taken them out to dinner for his first date with Katie, and Azzi had been toddling about on a ledge by the window where they were seated. Sometimes she would reach out and tap him on the shoulder. "I've always felt like God placed them in my life for a reason," he says.
Azzi's two younger brothers, Jon, 16, and José, 15, joined the family in 2011, when Azzi was in third grade. They had originally been fostered by Tim's mom, but after her diagnosis with stage 4 lung cancer, the courts rushed the transfer of custody. She bequeathed the boys to Katie and Tim, who adopted them upon her death five weeks later.
"I'm supposed to protect them," Tim says. He swallows. "I'm supposed to be able to do that."
---
TWO DAYS LATER, Katie Fudd is back on the court, coaching the Fudds' AAU team as Azzi sits and watches. Katie's phone rings.
"We can see you at 9 a.m. tomorrow morning," Dr. Shelbourne's assistant says.
Shelbourne Knee Center is just east of downtown Indianapolis, nine hours away. Tim loves driving, Katie thinks to herself. They can make that work.
"That's great," Katie says. We'll be there."
It's spring break for St. John's College High School, and Jaidyn Harper, one of Azzi's AAU teammates, is sleeping over. "You're coming with us!" Azzi tells her.
Around 10 p.m., 11 hours before their appointment and some 600 miles away, Katie grabs some ice and throws a couple of beanbag chairs into the van. With Azzi and Harper in the back, Tim at the wheel and Jon and José staying with Grandma Peggy, the Fudds drive through the dead of night to the middle of Indiana. They arrive around 7 a.m., early enough to grab breakfast at Panera and brush their teeth before heading to the appointment.
The prognosis is alarming. The MCL, they learn, must heal before Shelbourne can reconstruct Azzi's ACL.
"Any time you have an athlete of her caliber that tears their ACL just alone is significant," says Laura Bray-Prescott, a physical therapist at Shelbourne Knee Center who has worked with Fudd since her injury. "But when you tear two ligaments in one injury, that is significant."
Thirteen hours after they had left home, with Azzi's leg wrapped in a white cast and an Ace bandage (that Katie would later dye pink), the family once again piles into the van for the trip back east. But this time the mileage wins, and they stop in Wheeling, West Virginia, for the night. The next morning, they detour to a Walmart, where Azzi breezes around the store on crutches. Harper persuades Azzi to get a tutu. In response, Azzi persuades Harper to wear her tutu when they get back to Virginia for practice that night. A touch of joy before the longer journey still ahead.
Sleep evades Azzi, the constant pain and uncertain future filling her every thought. And each week for the next month, she travels to Annapolis, Maryland, to get refitted for a new cast. Her quad shrinks with each sleepless night.
"The atrophy was incredible," Fudd says. "My right leg was this little bony leg."
But as the muscle shrinks, the MCL heals. Six weeks after Azzi injured her knee, the Fudds schedule another trip to Indianapolis. This time, they plan to stay for a week. On May 29, Azzi undergoes surgery to repair her torn ACL, using the patella tendon from her healthy left leg as a graft.
With fresh scars and a racing mind, Azzi returns to the family's hotel room to find it filled with unicorn stickers, notes from Katie with positive messages, a phone clip and a stuffed narwhal she names Mr. Bigglesworth.
The first week after surgery, Fudd is bedridden, cooped up in the hotel room. She cycles through exercises four or five times a day -- bend, extend, lift, bend, extend, lift. Bend. Extend. Lift. When she returns home, the monotony only accelerates.
The days run together. Then the weeks. Then the months. Wake up, leg extensions and curls. Then it's time for seated ballhandling and shooting. Eat lunch. Leg lifts. Eat dinner. More leg lifts. More seated shooting. Go to bed. Rinse. Repeat.
All the while, she thinks about what awaits her -- travel with her AAU team, a full senior season, maybe a couple more championships. Most of all, a chance to be who she was before.
"All she wanted to do was hoop. And honestly' she wasn't ready. We had to' like' pull her off the court. With that impatience' you could tell how much the game meant to her."
- Stephen Curry
She persists for herself; she persists for her mom.
"I want to achieve her dreams that she didn't get to achieve," Azzi says, "and do the things that she couldn't do."
In August, she returns to the Bay Area for Curry's camp, the same one where he had awarded her a trophy the previous year for being the best shooter there. Soon after arriving, though, her knee begins to swell again.
"All she wanted to do was hoop," Curry says. "And honestly, she wasn't ready. We had to, like, pull her off the court. With that impatience, you could tell how much the game meant to her."
Fudd is allowed to shoot in the 3-point contest, but only if she walks from spot to spot. She still wins.
---
SEVEN MONTHS AFTER surgery, Azzi whispers a question in her mother's ear after practice: "How do I know if I'm ready to play?"
"You'll just know," Katie says.
Azzi rocks forward on her toes: "I'm ready to play."
The next night, on Jan. 3, Fudd warms up with her St. John's teammates just like she has done all season. Layup lines, jumpers, bounce passes -- familiar drills that for years had signaled the impending Azzi Fudd show.
Just after tipoff, Fudd sheds her earrings and slides her knee pads over her shoes. Her heart thumps in anticipation. It's been nearly nine months since she last played organized basketball. She wonders whether her shots will fall; she wonders what she has lost.
"I was worried that I'd get crossed up and end up on someone's highlight reel," she says.
The buzzer sounds, and Fudd walks onto her home court to a standing ovation. She scores 18 points in her season debut and leads her team to victory.
---
FUDD IS GETTING ready with her teammates in the locker room ahead of their game against league rival Paul VI. It's Jan. 26, 2020.
She's been playing well, slowly regaining the confidence and strength the injury had robbed from her. With each bucket, each savvy move, she reminds the basketball world why she received her first Division I offer in sixth grade and why she's been the top 2021 recruit nearly every minute since.
But today Fudd's knee is reminding her of something else. In what would have been her ninth game back, her knee needs to rest. Taylor Napper, one of her teammates, scrolls through Twitter while performing her duties as locker room DJ. The music is bumpin', and things are light.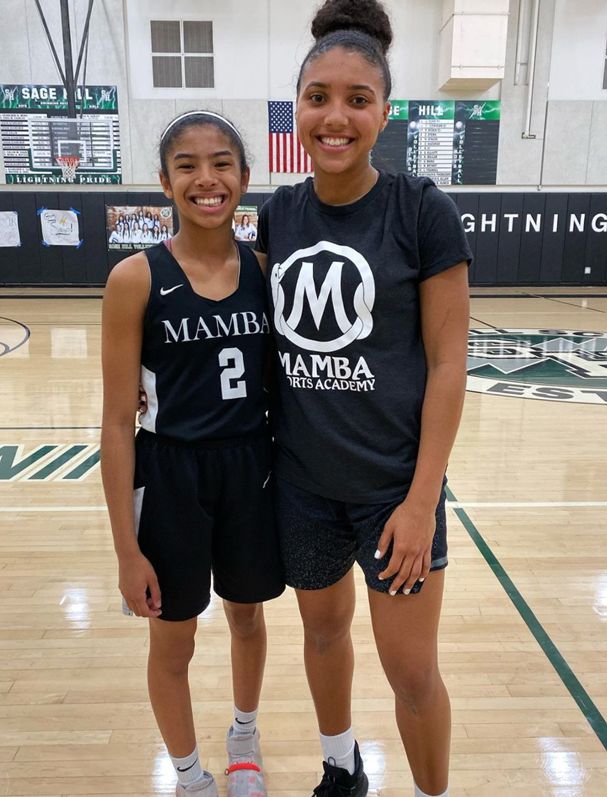 But Napper keeps running into tweets about an accident in the hills of Los Angeles. Something about a helicopter. A crash. Kobe. She reads one of them out loud.
"Wait, what?" Fudd says from across the room.
Napper reads another one. And another. A sick joke, Fudd thinks. Then her dad comes in. He takes Azzi into the hallway and wraps his arms around her. "I knew," Fudd says. "My first thought was of Gigi."
Azzi had first met Gigi Bryant three months earlier in Los Angeles. She had sent Kobe a direct message asking if she could work out with him while she was in town. Kobe agreed. And, of course, Gigi had been there too. Azzi couldn't help but see pieces of herself in the younger Bryant. Like Gigi, Azzi had grown up in gyms, following Tim and Katie around and looking up to the older players. She'd see Gigi again in New York City just a few weeks later.
Back in D.C., Fudd, reeling from the news of Kobe's death, takes her spot on the bench. Her mind swirls, everywhere and anywhere away from the court. She thinks of the texts she wants to send Gigi as soon as the buzzer sounds.
All she wants to do is tell Gigi that she's here for her, that she loves her.
At halftime, Tim tells Azzi that Gigi Bryant was in the helicopter with her father.
"[Our relationship] was just budding," Azzi says now, tears stinging the corners of her eyes. "I wish I could have spent more time with them."
Fudd plays in 11 more games for St. John's during her junior season, averaging 19.2 points, 3.5 rebounds and 2.0 assists. Recovery seems within reach.
But then, on March 11, the world stopped.
---
AZZI AND HER parents are in the bleachers of Williams Arena, the cavernous home of the Minnesota Golden Gophers. It's the evening of March 12, and Azzi's abbreviated junior season is over. The Fudds are there to cheer on Bueckers in the Minnesota 4A state semifinals. Bueckers powers her team to a win, but the championship game is never played.
The night before, the NBA had suspended its season indefinitely after Utah Jazz center Rudy Gobert tested positive for COVID-19, and in the hours after, most of the major men's and women's leagues followed suit.
By the time the Fudds return home, it is a different world than the one they'd left. Gone is in-person school -- and access to the St. John's gym. Gone is the upcoming AAU season. Gone is the weight room. Gone are the rehab appointments. Gone is the chance to show that Fudd's ACL injury is a worry of the past.
With her parents looking on beside her, Fudd dribbles basketballs and tennis balls in the street. When it rains, she moves to her basement. She sneaks into a park to put up shots and play one-on-one against José. She drives to a vacant track to run sprints.
"It was really hard trying to see the light," Azzi says.
The Fudds don't even have a permanent hoop at home, so they buy one and spray-paint lane lines on the street to create a makeshift court. They scramble to get boxes, bands and weights.
And when body-resistance exercises simply won't cut it, the nation's top prospect straps every ankle weight she has in her room to her leg and climbs to the top of her childhood dresser.
Sitting atop the narrow wooden surface, the weights pulling against her, she fights to straighten her knee.
---
SIX WEEKS LATER, after her own season had been shut down, Bueckers pulls up to the Fudds' home. Like Fudd, Bueckers has been in remote learning for more than a month, and her spring club basketball season seemed more doubtful by the day. She'd heard all about Fudd's piecemeal routine and decided she needed to be there too.
"The way they just find places to work out, even if it's in their house," Bueckers says. "I wanted to be a part of that."
Every morning, Bueckers says, the alarm goes off at 6 or 7. If she and Azzi don't get out of bed, Katie yells down the stairs to get them to move. The first stop of the day is to get shots up at District Sportscenter in Alexandria, Virginia, empty except for them. Then they get breakfast before helping Katie with the camp she runs outside for a group of girls in the neighborhood. Strength and conditioning is in the afternoon, either at a track or in the yard or street, anywhere they could run. Then maybe more shooting on their makeshift court or some more cardio.
"It was almost two- or three-a-days that we did," Bueckers says. "She never gets tired of working out."
Azzi and Paige sometimes play one-on-one. But it's never just one game; always a series. Best of five games from each corner, each wing and the top of the key.
"At the high school level' I don't think I've ever worked with anyone that could shoot the ball as well as she does."
- Trainer Chris Brickley
The ball bounces between them. Check. Over and over, move after move. Sweat pours as they grind -- iron sharpening iron. Fudd hasn't played consistently in weeks. Her knee still bothers her. And Bueckers, the top recruit in the 2020 class, is formidable. "She might have won two spots," Bueckers says, "but I always won three. If she told you any different, then she's lying."
"I think if we played now, I'd definitely be more of a competition," Fudd says.
Even after Bueckers moves on from the Fudds' and heads to UConn, Azzi continues the routine. Up early to shoot. Run wherever she can. Ballhandling in her basement. She heads to New York for private sessions with renowned skills trainer Chris Brickley, or to South Carolina to work with Brandon Payne, who trains Curry.
"She is, quite frankly, better than some of the NBA guys I've worked with at understanding what needs to be done day in and day out to create new improvement opportunities for herself," Payne says.
Says Brickley, "At the high school level, I don't think I've ever worked with anyone that could shoot the ball as well as she does."
---
THE FUDDS CROWD around the farmhouse table in their dining room on an October evening. Katie hands out orders from Café Rio, a Mexican restaurant nearby. It's Tasty Tuesday, a Fudd tradition. Azzi walks into the room after pouring water into a Game Ready, a portable contraption that sends icy water to a compression sleeve she wears around her knee. It looks like a red toolbox with buttons. Azzi makes eye contact with her younger brother José. "I'm sitting there," she says, motioning to the chair he is also eyeing. "I have to Game Ready."
José settles across the table as Azzi sets the box down next to her and slides the sleeve over her right knee. He often rebounds for Azzi; he sees it as his job, he says. It's what he will miss the most when she leaves for college.
Azzi still isn't in school. She's been attending classes remotely for the first few weeks. That's supposed to end soon. And the school basketball season is supposed to start in November, but no one knows whether that will actually happen. A year ago, she was waiting to get back on a basketball court as she rehabbed her knee. Now, like so many others, she waits again.
Azzi sits in the middle seat of the table with a view into the living room that displays most of her big awards, including the Gatorade Player of the Year trophy from her sophomore season. A photo of Gigi Bryant rests on the window ledge.
"I've lost a lot of people this year," Azzi says. A childhood friend had died at the end of November 2019. Kobe and Gigi in January. And then Warren "Bo" Bouknight, an older man who worked at a community center Azzi frequents for workouts, died in the spring. He and his wife used to come to all of Azzi's games to cheer her on.
Sometimes when she's sad, when this all gets to be too much, Azzi crawls into Katie's arms. "She makes me feel better," she says.
The machine whirs all through dinner; like her rehab, the sound is omnipresent. Azzi picks out the middles of the folded tortillas, turning them into tortilla snowflakes. "That's where the cheese is," she says.
Azzi teases José about beating up on him in practice earlier that evening. José remains unfazed. "Whenever you talk trash, you miss," he says.
Azzi playfully glares in his direction. José and Jon are definitely little brothers. They routinely siphon shorts and other apparel from her closet. But to Azzi, that's better than the time Jon ate a jar of her beloved Nutella. "I would rather them steal my clothes than eat my food," she says.
---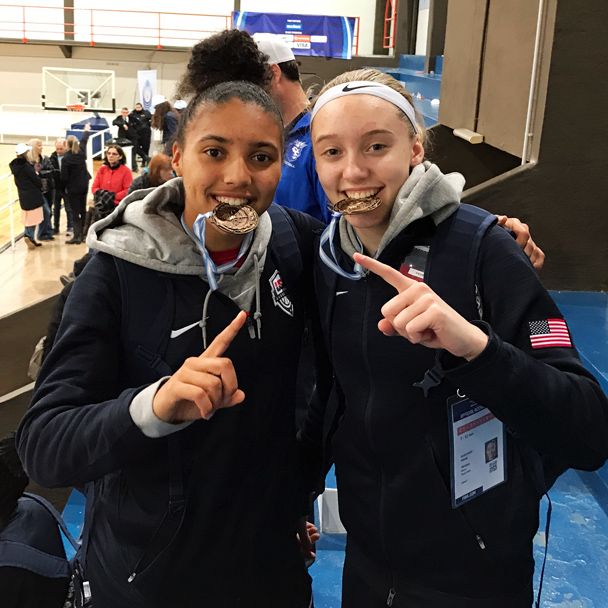 FUDD PEERS OVER the railing in a corner of Knoxville's Thompson-Boling Arena. She has traveled 460 miles with her family in a rented RV to watch her soon-to-be Huskies teammates play their biggest game of the 2020-21 season, against their longtime rival, the University of Tennessee. It's the first time she has seen Bueckers play in a UConn uniform in person.
The Huskies guard is having the worst game of her young career. Shot after shot nets clang after clang, to the tune of a 2-for-13 shooting night as the game clock winds down to its final minutes. Now things are even worse. With just 3:12 remaining, Bueckers sits on a table with a UConn trainer rolling tape over a badly twisted ankle. She can barely move. She catches Azzi's eye.
Fudd watches as her friend grimaces in pain. Twenty-one months ago, on a training bench in a Colorado Springs gym, with ice packs encircling Fudd's rapidly swelling right knee, one person squeezed closer to Azzi than anyone else. It was Bueckers. She leaned over Fudd's left leg, her healthy one, like she wanted to protect it.
They've risen together. They've fallen. They've picked each other up. Now they know the future is theirs to own.
And that tantalizing future begins shortly. Fudd signed a national letter of intent with UConn last November, and excitement (or dread) for what a Bueckers-Fudd backcourt will look like has erupted ever since. Comparisons to the legendary Sue Bird-Diana Taurasi backcourt of the early 2000s are already being tossed about. Talk of extending -- or reviving -- perhaps the greatest dynasty in the history of sports is more than mere chatter.
Bueckers, in her freshman season, has blasted onto the college basketball scene, showing a swagger, a flashiness, in leading the Huskies to an 18-1 record and the No. 1 ranking. She's among the nation's leading scorers (20.5) and 3-point shooters, averaging 53.7% through her first 18 games.
And Fudd -- who once hit 256 NBA-range 3s in 18 minutes during a catch-and-shoot drill -- might be even better, bringing a steadiness, a constancy to match Bueckers' unrelenting flair.
In other words, they're a perfect pair.
Says Bueckers: "You just have to see us play. That would be a better way to explain it."
Back in Knoxville, Bueckers hops off the table and limps back onto the court. UConn is up two with 30 seconds to go. As the shot clock nears zero, Bueckers catches a pass on the left wing and shoots over a converging double-team. She lets out a roar as it slips through the net.
"I knew it was good because she's built for moments like that," Fudd says now.
---
WITH LESS THAN 30 seconds left in the first half and Fudd's Cadets leading 35-21, she slowly dribbles up the court and wipes the bottoms of her shoes with her hands. Her senior season was officially canceled, but St. John's has been picking up games where it can under the unofficial moniker of D.C. Cadets.
She has thought about leaving early to go to UConn, where there would be better competition, games that counted and an additional season with Bueckers. Instead, she's here, home. "Being a St. John's graduate is really important to me," the 18-year-old Fudd says. She's the vice president of the student body, and she wrote to the principal of the high school, asking to be allowed to play ... unofficially. When that was granted, it was an easy choice. "I want to be here," she says. "I'm glad I get to finish this out with my teammates."
Without a conference title or D.C. championship to chase, Fudd plays in games like this one in mid-January -- exhibitions against whoever will play the Cadets. The seconds tick closer to five. Her mask loops over her ears. She leans into her opponent, dribbling with her left hand before backing up and bouncing the ball between her legs to go right.
She crosses back over to her left and attacks. After one dribble, she hesitates and crosses back to her right. At the 3-point line, Fudd pounds the ball one more time toward the basket. As the ball bounces back toward her hands, she steps with her left and then her right, elevating into a contested right-handed floater in the lane.
Her eyes fix on the ball as it rises through the air -- and drops softly through the net.
Hair & Makeup by Demetress Valentine/THE Artist Agency; Styling by Liza Collis; jerseys and shorts by Augusta Sportswear; red and orange looks: shoes by Under Armour, socks by James Fiallo; blue and yellow looks: shoes by Adidas, socks by Hattie Doolittle; pink jacket and black shorts by Nike; basketball by Chance.