Messi at Barcelona: The Ultimate History
This summer, the unthinkable is possible: Lionel Messi could leave Barcelona. It's the only club he's ever known as a professional, a place where he's won every trophy imaginable. But the relationship between Messi and Barcelona has soured over the past couple of years, and last summer, he tried (and failed) to get out. The clock is ticking: His contract expires on June 30, at which point he'll be free to sign wherever he wants, with Manchester City and Paris Saint-Germain the only likely alternatives. But will he leave? We look back at how we got here and whether or not his rich history with Barcelona is enough for him to stay.
Stream: La Liga's unforgettable moments, top players and top managers on ESPN+
2000-2008
The legend begins
Every superhero has an origin story. For Messi, it was clear at a young age that he had the talent; scouts in Argentina spotted him and sent word to Europe that this kid was something special.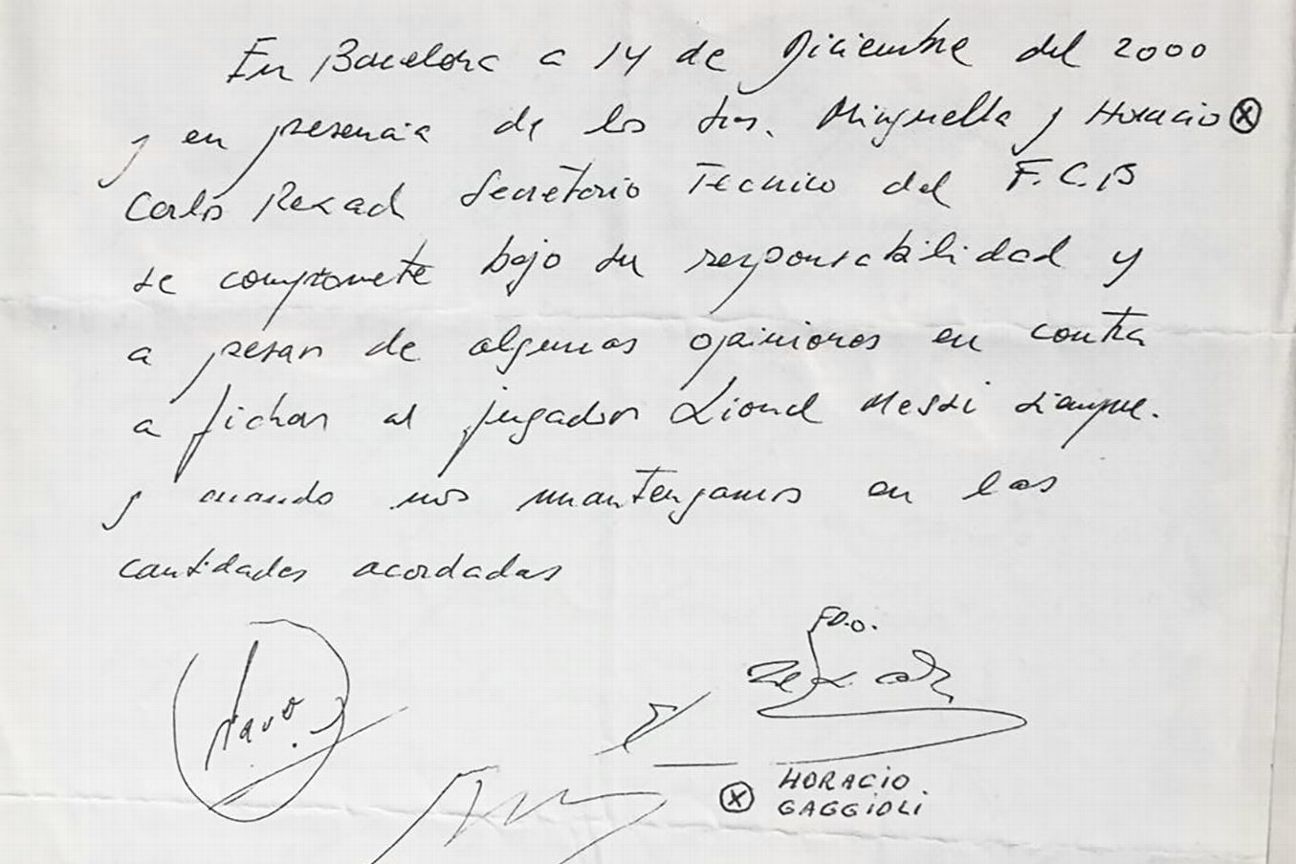 The napkin that started a legacy
"In Barcelona, on Dec. 14, 2000, in the presence of [Josep Maria] Minguella and Horacio [Gaggioli], Carles Rexach, FC Barcelona's sporting director, hereby agrees, under his responsibility and regardless of any dissenting opinions, to sign the player Lionel Messi provided that we keep to the amounts agreed upon."
The above words, scribbled on a napkin following a game of tennis in Barcelona, were hastily written to assure Messi's father, Jorge, that the club was committed to signing his 13-year-old son. The game would never be the same.
Subscribe to stream the top leagues, tournaments, and players from around the world
The cost of greatness
$
Barca director Joan Lacueva reportedly paid €1,000 for the initial phases of hormone treatment for Messi's growth deficiency, which he was unable to get from any clubs in Argentina. Barca picked up the cost of the treatment once he officially joined the club.
Messi's first deal
It may not be as epic as that napkin, but Messi's first professional contract, signed aged 16 on Feb. 4, 2004 -- nine months before his official first team debut -- was an important step, too. Barca were in the middle of a six-year trophy drought, but good times were around the corner.
An impressive debut
Messi played just nine minutes as a substitute in the Catalan derby vs. Espanyol on Oct. 16, 2004, but his talent was evident. Said longtime friend, Maxi Rodriguez: "I was amazed by his skill and natural ability. He stared down his opponent so naturally and that really caught our attention given his age. Messi was never afraid to face his opponent. What stood out about Messi then is what stands out now: He makes everything look easy."
"Once they said they can only stop me with a pistol. Today you need a machine gun to stop Messi."

Hristo Stoichkov, former Barcelona and Bulgaria player
The first goal in Barca colors
At 17, Messi became the youngest player to ever score for Barcelona in the league (he's since been overtaken) when he netted the second goal in a 2-0 win over Albacete on May 1, 2005. In the 87th minute, coach Frank Rijkaard brought Messi off the bench for his ninth appearance. A minute later, he'd scored, chipping past the goalkeeper. It was ruled out for offside (though it wasn't) so moments later, Messi did it again, with an even better chipped finish. Barca won the league two weeks later, their first league crown since 1998-99.
The club wastes no time with their new star
$M
Fully integrated into the first-team, Barca knew they had an all-world talent in their squad. Therefore they moved quickly, offering him a new contract in June 2005, that would keep him at the club until 2010. The deal included an eye-catching release clause, meaning anyone looking to sign the 18-year-old would need to break soccer's world-record transfer fee in order to do it.
Who is this kid?
It's impossible to imagine now, but Messi came close to joining cross-city rivals Espanyol -- who had just finished fifth in La Liga -- on loan in the summer of 2005. Those plans were shelved after his stunning performance against Juventus in the Gamper Trophy: Messi caused havoc that night, creating a goal for Andres Iniesta. Juve coach Fabio Capello was so impressed that he didn't even wait for the final whistle to ask if the Italians could take him on loan. "In my entire life I've never seen a player of such quality and personality at such a young age," Capello said later.
Another contract? Sure, why not!
Less than three months passed before Barca felt the need to hand Messi another extraordinary new contract in September 2005. This extension would run until 2014, with reports in the Spanish media suggesting he doubled his salary, too.
"I have seen the player who will inherit my place in Argentine football and his name is Messi. Messi is a genius."
Diego Maradona
If you want Messi, it will cost you
$M
Joan Laporta, who was club president from 2003 to 2010 and was elected again this year, claimed in 2020 that Barca turned down a world record $467m (€250m) bid from Inter Milan in 2006. "They were prepared to pay... but I always felt reassured by my relationship with his dad, Jorge. I told him: 'They'll have to pay the clause because I won't sell. He'll be happy here, he'll get glory. There, he'll only win financially. Your son's destined to be the greatest in history and here he'll have a team to help get there. He'll enjoy it.'"
"Messi does not need his right foot. He only uses the left and he's still the best in the world. Imagine if he also used his right foot, Then we would have serious problems."

Zlatan Ibrahimovic
Another new contract
$K
The superstar signs a new deal in March, his fourth in three years, and it's reportedly worth $132,000 (€100,000) a week in wages. Messi wouldn't turn 20 for another two months.
Messi's first heroics vs. Real Madrid
If anyone still needed definitive proof that Messi was special, it arrived in the Clasico at the end of the 2006-07 season as Barca and Real Madrid tussled for the title. Madrid led three times at Camp Nou; three times Messi levelled the score. The final goal, which completed his hat trick and the first in a Clasico in 12 years, came in the final minute of a frenzied encounter.
Messi's own 'Hand of God'
The little genius wasn't above shenanigans. He scored with a blatant, but artful, punch against local rivals Espanyol -- a move reminiscent of another Argentina legend, Diego Maradona, who did the same thing against England at the 1986 World Cup. Imitation is the sincerest form of flattery.
Another 'Maradona moment'
A cup tie against Getafe doesn't exactly scream "career high," but for many, this was Messi's masterpiece -- his true Maradona moment. It was a goal that, in terms of sheer individual brilliance, he has never quite been able to match. Barca were up 1-0 in this first leg of a Copa del Rey semifinal at Camp Nou when Messi picked up the ball inside his own half. What happened next drew understandable comparisons with El Diego: a run that started with two nutmegs and ended with a right-footed finish after rounding the goalkeeper.
2008-2015
The best years
In every origin story, there's a moment when the superhero is called to action. With Barcelona in transition, getting rid of established players like Ronaldinho, Deco and Gianluca Zambrotta -- and announcing some guy named Pep Guardiola as their new manager -- the stage was set for Messi. And Messi answered the call.
Messi becomes 10
The No. 10 is iconic in soccer: think Maradona or Pele. Messi would claim the No. 10 shirt from 2005 Ballon d'Or winner Ronaldinho before the 2008-09 season as the Brazilian star joined AC Milan. Messi also signed another new contract, this time reportedly making him the club's highest-paid player.
Messi's head does the talking (for once)
There was something almost comical about the most important goal of Messi's career to date -- his first in a Champions League final -- being a header. The 5-foot-7 forward isn't known for his aerial prowess (less than 5% of his 700-plus career goals have been headed) but when Xavi spotted him lurking in space behind Rio Ferdinand, he rose high to nod deftly past keeper Edwin van der Sar, clinching the Treble for Barcelona.
Another bump
$M
In September 2009, Barcelona moved to further extend Messi's contract with a seven-year extension (his sixth new contract since 2004) to keep him at the club through 2016. The reported release clause was second-highest to Ronaldo, while the media in Spain reported his salary increased to $15.3m (€10.5m) per year. Said Guardiola, "It's a privilege for Barca."
"Don't write about him, don't try to describe him, just watch him."
Pep Guardiola
Messi clinches a sextuple
The year 2009 was the best in Barcelona's history -- and arguably the best for any club, ever -- as Guardiola's team won an unprecedented six trophies. The FIFA Club World Cup, played in the United Arab Emirates that December, was the last of them, and it was a scrappy goal off Messi's chest -- he told FIFA.com it "might have come off the badge" -- that won it. "We are happy at having made history," said Messi, "but make no mistake, we'll be out to win everything again next year."
Catch him if you can, foul if not
Barcelona's 5-0 rout of Real Madrid on Nov. 29, 2010, was the ultimate expression of Guardiola's team's superiority that season. Messi didn't score, but he did just about everything else, including being kicked late on by a furious Sergio Ramos (himself no stranger to the "dark arts") to spark a mass brawl. The incident was typical of a rivalry between the two sides that became, for a time, genuinely toxic.
"Messi is the god of football. When Messi has the ball, one-on-one, you're dead."

Jose Mourinho
Messi's first individual prizes
Messi's coronation as a superstar was confirmed with back-to-back Ballons d'Or, the prize given to the best player in the world. He became the sixth player ever to do it back-to-back, and followed that by becoming the second men's player to win three in a row after Michel Platini (1983-85).
Messi makes a mess of Arsenal
Messi would become a force in the Champions League, winning four of them with Barcelona, but his dominance was evident in the 2011 round of 16, second leg. With English side Arsenal winning 2-1 from the first leg, Messi took over, scoring twice -- including an impudent "self-assist" flick over the goalkeeper to himself -- to put his side into the final four.
A wag of the finger...
A 5-0 win over Mallorca in 2011 might not be one of Messi's most memorable games, but you'll recognize how he celebrated his first goal of three on the night. After scoring from the penalty spot, he turned to the cameras and gave a wink and finger wag, which has become a GIF, meme and calling card all in one.
One of the best of all time
For the second time in three years under Guardiola, Barcelona beat Manchester United in the Champions League final. Ten minutes into the second half, Messi surged into space and gave his side a lead they wouldn't surrender. His celebration was wilder than usual, kicking a pitchside mic and the advertising hoarding as he sprinted to celebrate in front of the Barca fans. The win and team performance on May 28, 2011 lent weight to the argument that this Barca side was one of the best ever.
Third time's a charm
Messi collected his third Ballon d'Or in three seasons in 2011, claiming nearly 50% of the overall vote. (His nemesis, Cristiano Ronaldo, was second that year with 21% and Messi's teammate Xavi finished third.)
Five in a game
Messi holds a lot of records, but on March 7, 2012, he became the first player to score five Champions League goals in one match as Barcelona thumped German side Bayer Leverkusen 7-1. Not everyone was impressed, though: Brazil legend Pele famously quipped "when Messi's scored 1,283 goals like me... when he's won three World Cups, we'll talk about it."
THIS is how you break a record
Messi's scoring accelerated at such a rate that he overtook Cesar Rodriguez -- whose 232-goal record had stood since the 1950s -- as Barcelona's top scorer on March 21, 2012. Not bad for a 24-year-old. Messi's strike rate peaked that year, too: He tallied an unprecedented 50 league goals (38 games) that season. (Only 12 players have ever scored more than 50 goals in a single season, though Messi did it that year in the league only, scoring 73 in all competitions.) Said Guardiola, "We are witnessing the best player in every sense. I'm sorry for those that want to sit on his throne, but this lad is the best."
2012: Another unforgettable year
Messi ends the calendar year nine goals short of a century, notching 79 for Barca -- 59 in La Liga, 13 in the Champions League, five in the Copa del Rey and two in the Spanish Supercopa -- and 12 with Argentina. There is some dispute as to whether or not this is a record (there's no official record in this category), but it's impressive all the same.
Another year, another prize
Messi wins his fourth Ballon d'Or in 2012 -- and fourth in a row! -- with 41% of the overall vote, beating his nemesis Ronaldo into second place again.
"For the world of football, Messi is a treasure because he is a role model for children around the world... Messi will be the player to win the most Ballons d'Or in history. He will win five, six, seven. He is incomparable. He's in a different league."

Johan Cruyff
Messi's first brush with the law
The early 2010s saw Spain's tax authorities go after several La Liga stars, alleging fraud over unpaid taxes on their image rights. In June 2013, Messi and father Jorge were accused of defrauding the state of over $6.4m (€4m) by using tax havens in Belize and Uruguay (along with, reportedly, Switzerland and Great Britain) to conceal those earnings from 2006 to 2009. Months later, Messi made a voluntary payment of $8m (€5m, or the money owed plus interest), but would face trial nonetheless.
Not just the GOAT on the pitch
In December 2013, Messi appeared in a Turkish Airlines ad with Kobe Bryant titled "Kobe vs. Messi: The Selfie Shootout." According to YouTube, it generated 25m views in its first three days. In 2015, it is named "Ad of the Decade" after a vote held by YouTube and The Webby Awards.
The first whispers of leaving the club
In May 2014, PSG, Chelsea, Man City and even Real Madrid were all credited with an interest in Messi after a difficult season. Messi was also reportedly annoyed at how the campaign had gone under Tata Martino. Barca won nothing except the Spanish Super Cup -- losing the league on the final day of the season at home to Atletico Madrid, who also knocked them out of the Champions League -- and he felt the supporters were blaming him for the team's shortcomings. Despite that, he did eventually sign a "revised" deal, with reports in Spain claiming his salary increased from $17.75m (€13m) net to around $27m (€20m) net.
You don't bench this guy!
Messi (among others) is named as a substitute by manager Luis Enrique -- though it was always framed as a "rest" after Christmas -- as Barca lose 1-0 to Real Sociedad in La Liga on Jan. 4, 2015, sparking a fresh round of questions about Messi's future.
Things turn uglier
Just over six months since the last fuss over Messi's future, questions arose again. After that "benching," he missed an open training session. When he began to follow Chelsea players on Instagram, rumors of a move to the London club went into overdrive. It was suggested his relationship with Luis Enrique was at a breaking point. However, with the help of Xavi, the coach and Messi reconciled. Messi appeared on Barca TV to deny rumours of a Chelsea move, branding the links as "lies" and telling the media to "stop throwing s---."
Bye, bye Boateng
In the season after losing the World Cup final to Germany, Messi got a small measure of revenge vs. Bayern Munich, humiliating two of Germany's players from that tournament en route to his third Champions League title. First he turned Jerome Boateng (one of the world's top centre-backs at the time) into a meme by making the defender fall over his own feet, before arcing a chipped finish over the helpless Manuel Neuer in goal.
Majestic Messi at his best
Another cup final, another hall of fame goal -- this time against Athletic Bilbao in 2015's Copa del Rey. Barcelona had won La Liga and were on their way to completing yet another Treble when they dismantled Athletic, coached by future Barca manager Ernesto Valverde, 3-1. Messi's 20th-minute opener was the highlight: He picked up the ball just inside the Athletic half on the right and toyed with three defenders before cutting inside and finishing at the near post.
Another golden ball for the GOAT
After two years of finishing runner-up in the Ballon d'Or voting to Ronaldo, Messi claimed his fifth crown in 2015. The coach with whom he'd been feuding, Luis Enrique, won Manager of the Year.
2016-2020
Falling back to earth
Setbacks can happen. The magic fades, the hero wanes, the supporting cast stumbles, or falters. For Messi and Barcelona, some notable humiliations started to show their (and his) vulnerabilities as other superteams (Manchester City, PSG) emerged as rivals.
He's staying!
Having won the Treble the previous season, Messi firmly states he wants to finish his career at Camp Nou. "I've always said that I can't leave Barcelona. It's always my response. I want to finish my career at home and my home is Barcelona. Football changes so much. A year ago, we were all getting criticised and we ended up winning nearly everything. My intention is to terminate my career where it started, in Barcelona."
Messi found guilty
In 2016, Messi and his father are found guilty of tax evasion. They were sentenced to 21 months in jail -- although sentences under two years in these types of crimes are suspended in Spain. A court also ordered Messi to pay a fine of around $2.2m (€2m), while his father was dealt a $1.65m (€1.5m) fine. A year later, in June 2017, prosecutors said they were happy for Messi's punishment to be replaced with a fine of around $450 (€400) per day -- roughly $285,000 (€255,500) in total -- for the duration of the sentence.
Guardiola reunion in Manchester?
Guardiola, now at Man City, and City CEO Ferran Soriano dismiss stories in Mundo Deportivo that City tried to sign Messi in the summer, saying they would never contact him. However, both are also keen to point out that if he ever decided to leave Barca, they'd be waiting at the front of the queue.
"It is clear that Messi is on a level above all others. Those who do not see that are blind."
Xavi
Messi hits 500
Messi's 500th Barcelona goal couldn't have been timed any better, a 92nd-minute winner to deliver a 3-2 Clasico win over Real Madrid. The stage was perfect, too, a packed Bernabeu bearing witness to Messi's brilliance once again as well as to what followed. It was perhaps *the* iconic Messi celebration, and a rare display of in-your-face bravado from a guy not known for expressing himself in that way: Messi took off his shirt and held it up to the Real Madrid fans, name and number facing them, as if to say: "I'm still here." Yet Madrid went on to win the league...
Messi, Neymar and the 'Remontada'
Barca complete an amazing 'Remontada' ('comeback') over Paris Saint-Germain in the Champions League. Neymar was the star on the night, scoring twice in the final three minutes and providing the crucial cross for the winning goal, but Messi was just as instrumental as the Spanish giants rallied from a 4-0 first-leg defeat in Paris to win 6-1 on aggregate and advance to the quarterfinals.
Messi gets married
Messi and Antonela marry in June at a big ceremony in Rosario, Argentina, shortly after Messi turns 30. Barca teammates past and present like Xavi, Cesc Fabregas, Luis Suarez, Neymar and Gerard Pique (and his wife, pop star Shakira) were at the event, as well as some of his Argentina teammates including Ezequiel Lavezzi.
Messi the amusement park?
In October 2017, plans were revealed for a Messi theme park in China, which was due to open in 2020 before the coronavirus pandemic. The park, in Nanjing, is a "homage to Messi and to football" and plans to use robotic attractions and virtual reality to help take fans even closer to the Barca star.
Messi on the losing end of a 'Remontada'
The biggest sign of Barcelona's powers fading would come in the Champions League; one season after their own comeback vs. PSG, they were on the receiving end as Italian side AS Roma completed a 'Roman-tada' of their own. Messi & Co. threw away a 4-1 first-leg lead in the quarterfinals to lose 3-0 in the return fixture and exit the competition on away goals. Messi's last European crown was in 2014-15; he hasn't come close since.
Messi speaks out
The notoriously shy Messi was forced into a more vocal leadership role when he took the Barcelona captaincy from the departing Andres Iniesta. As is customary, the captain addressed the Camp Nou crowd before their Gamper Trophy match with Boca Juniors on Aug. 15, 2018. "Last season was really good... but we all felt bad about how it went in the Champions League," he said. "We promise that this season we'll do all we can to bring that beautiful trophy back to Camp Nou."
Messi tries to win the best goal prize
Messi had found the net twice at the Benito Villamarin -- with Barca 3-1 up against Real Betis in March, 2019 -- when he scored the goal that would see him secure his seventh nomination for FIFA's Puskas Award for goal of the year, receiving the ball from Ivan Rakitic just inside the Betis box and casually lifting it, with his first touch, over goalkeeper Pau Lopez. The fact that Messi has never won the prize is a bizarre quirk of his incredible career.
He came this close to leaving
Messi revealed in 2019 that he considered leaving Barcelona and moving overseas when he was being investigated by the Spanish tax authorities back in 2013. "It was difficult for me and for my family," said Messi. "During that time, I considered leaving Barca. Not because I wanted to leave Barca, but because I wanted to leave Spain. I felt I was being mistreated and I didn't want to spend much time there."
Messi joins the circus
Cirque du Soleil's new production based on Messi's career, "Messi10," begins two-month run in October.
Another golden ball
In 2019, Messi won a record sixth Ballon d'Or. Of course, he can't relax, as Cristiano Ronaldo is right behind him on five. No other men's player has ever won more than three.
Another horrible Champions League night
For the second season running, Barca threw away a three-goal, first-leg lead in Europe's top competition. This time, they were beaten 4-0 by Liverpool at Anfield in the semifinal just days after winning La Liga. The defeat still hurts Barca to this day, the pain magnified a few weeks later when they suffered a surprise defeat to Valencia in the Copa del Rey. A Treble had been snatched from Ernesto Valverde's side to the point that not even the league title -- Messi's 10th at Barcelona -- felt like a consolation.
Eight goals to two
The ghosts of Rome and Liverpool appeared in Lisbon as Barca were destroyed 8-2 by Bayern Munich in the 2020 Champions League quarterfinal. The result led to the sacking of coach Quique Setien and was the final game for some of Messi's closest friends in the squad, like Luis Suarez and Arturo Vidal, as the club decided profound changes were needed following years of stagnation.
Messi wants out... but it's expensive
$M
On Aug. 25, nine days after that shocking 8-2 loss, Messi tells Barca he wants to leave. Messi notified them of his decision via burofax, a form of certified mail used in Spain for official documents. The club responded to Messi via the same service saying they want him to finish his career at the club. The following week, on Sept. 4, Messi makes a dramatic U-turn by announcing he will stay after Barca claimed that he or his next club would have to pay his $833m (€700m) release clause or face legal action if he left. "I always said I wanted to end my career here and I do," Messi said.
Farewell, Diego
The soccer world celebrated the life and mourned the death of Argentina icon Diego Maradona on Nov. 25, 2020. Messi's first goal after Maradona's death came on Dec. 2 in La Liga against Osasuna. The goal itself was insignificant -- Barca won 4-0 -- but he paid homage by lifting his shirt in the celebration to reveal the kit of Newell's Old Boys, the Argentine club where both he and Maradona played. La Liga fined him $732 (€600) and the club $220 (€180) for the infraction.
Over half a billion dollars
$M
In January 2021, Spanish newspaper El Mundo published a copy of Messi's Barcelona contract, claiming the figures confirm the star player's deal is the biggest in sports history. Including signing on fees, performance bonuses and base salary, Messi stood to earn a maximum of $655m (€555m) over the course of the four-year deal. El Mundo suggested the contract had "ruined" Barca financially, but Barca president Joan Laporta has said Messi's wages were justified because he generates around a third of the club's revenue.
2021
Will he stay, or will he go?
With his contract expiring in June, Messi faces a seismic decision: renew and remain at Barcelona, or follow through on what he tried to do last summer and leave. There are few clubs that could have a chance with him if he does decide to move on. What will the future hold?
Graham Hunter's view
Whether this season of remarkable discoveries (Pedri, Ilaix Moriba, Ansu Fati) and remarkable evolutions (Frenkie De Jong, Oscar Mingueza, Ronald Araujo and Ousmane Dembele) has been enough to convince Messi to stay at Barcelona is a hot topic. And a confusing one.
Is he keen to leave? No. Will his family be a big influence in what happens next? Yes. Perhaps not an outright determining factor, but if Messi were convinced that he's about to be paid what this debt-ridden club can genuinely afford in order to retain his services, and if he were convinced that there was the will, plus the budget, to reinforce two or three positions where the Blaugrana squad is "short," he'd likely have announced his intention to stay already. But the Camp Nou financial situation is so precarious that he isn't yet sure.
My best guess? 60-40 he stays, but the 40% isn't to be discarded, After all, Messi has been doing "against the odds" things his entire career.
36 club trophies in 16 seasons
Since his Barcelona debut in 2004, Messi & Co. have won the following trophies: 10 league titles, seven Copas del Rey, eight Supercopas de Espana, four Champions League crowns, three UEFA Super Cups and three FIFA Club World Cups. Also, his tally of six Ballons d'Or, the prize given to the best player each year, is a record.
Sid Lowe's view
All season long, the focus has not just been on how Messi plays, but on how he feels, and yet, those two things have always felt like they go together as well. So while every move is psychoanalysed, every gesture interpreted and every line read between, it's been how he has been on the pitch that has felt like the best indicator of his future. And the good news is that he has played very well indeed since the turn of the year, the needle on the Messi Happiness Indicator creeping upwards.
The thing is, that's an impression, not a piece of information; making a call remains complicated, and your best guess wavers constantly, too. You wonder if Neymar's renewal at PSG makes Messi less likely to stay in Spain, but it also seems doubtful that anyone else can really find the money and the motivation to convince him. It seems hard to believe he will actually leave -- not now. Messi stays.
"I love Barcelona and I'm not going to find a better place than here. Still, I have the right to decide. And tomorrow I could go back, because here in Barcelona I have everything."

Lionel Messi
Written by Sam Marsden, Alex Kirkland, Graham Hunter, Sid Lowe and James Tyler
Additional research and writing by Tony Mabert and Dan Hajducky
Photography from Getty Images, AP Photo, Offside, Barcelona FC
Illustrations by Alexander Wells