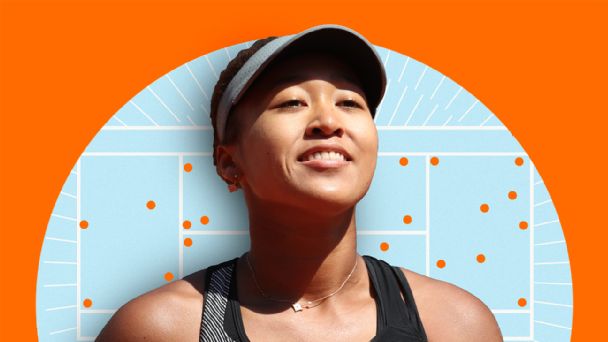 Tokyo Olympics 2021: How Naomi Osaka carved her own path to land on world's biggest stage
Since winning her first Grand Slam title in 2018, Naomi Osaka has tried to balance her on-court success -- and the spotlight that comes with it. As she gets set to play for her home country at the Olympics, we look back at the tennis star's path to Tokyo.
How Naomi Osaka carved her own path onto world's biggest stage
A Grand Slam winner who has called herself an "advocate for change." The highest-paid female athlete of all time. A fashion icon in the making. Yes, Naomi Osaka is all those things, and she says her one constant through all of it has been staying true to herself.
But since winning her first Slam singles title at the US Open in 2018, the 23-year-old tennis star has seen the highs and lows of global fame.
That first victory in 2018 was a microcosm of both, with Osaka reaching the top of the tennis world amid a controversial call against opponent Serena Williams that turned up the heat from the New York crowd. Osaka described the moment as not "necessarily the happiest memory" and recently said it contributed to "bouts with depression and anxiety." A self-described introvert, Osaka has since tried to balance the platform -- and the spotlight along with it -- that has come from her on-court success.
Along with winning three more Slam singles titles, she has struggled with public interviews. "I am not a natural public speaker and get huge waves of anxiety before I speak to the world's media," Osaka wrote after withdrawing from the French Open, citing mental health issues. But she has seemingly searched for other ways to speak out, whether it be through protests against social injustice or by appearing on the cover of Vogue to releasing her own Barbie doll.
"I think the amount of attention I get is kind of ridiculous. No one prepares you for that," Osaka says in her recently released Netflix documentary. "I always had this pressure to maintain this squeaky-clean image, but now, I don't care what anyone has to say."
As Osaka prepares to step onto the biggest international stage of her career in her home country at the Tokyo Olympics, we look back at the evolution since her first Slam victory in 2018.
RISE TO ON-COURT GREATNESS
In just three years, Osaka has become one of the most accomplished tennis players of the Open Era. She has won four of the past six hard-court Grand Slams (2018, 2020 U.S. Opens and 2019, 2021 Australian Opens). Only six Open Era women have won more: Serena Williams (13), Steffi Graf (9), Chris Evert (8), Martina Navratilova (7), Margaret Court (7) and Monica Seles (6).
With the Olympics tennis tournament taking place on her best surface, Osaka has an opportunity to add a gold medal to her résumé. Her game is still developing on other surfaces, but with her Serena Williams-esque serve and crunch-time composure, there is reason to believe future Wimbledon and French Open titles are within Osaka's grasp.
Career Highlights
Osaka has already ruled hard courts in her short career.
126-54
Her overall record on the surface.
4
Number of Slams she has won.
0.7
Average number of Slams she could win per year over next decade.
IT'S ALL ABOUT THE SERVE
Over the past 52 weeks, Osaka has won 65% of her service points (first on the WTA Tour), and 76% of her first-serve points (first) and has held 83% of her service games (first).
ESPN television analyst and 21-time Grand Slam doubles champ Pam Shriver says Osaka's serve has improved in the past few years.
"It's really a thing of beauty. She gets her opponent off the court with a big serve out wide on either corner, and it's just perfect because of how hard she hits the ball into the open court."
Shriver on Osaka's serve
"When she's confident on the court, it comes through the screen. When she finishes one of those three-setters, when she puts her head down and is sprinting to the finish line, it's incredible to watch."
Shriver on Osaka's toughness
International appeal
Born in Japan to a Japanese mother and a Haitian father and having grown up in the United States, Osaka's multicultural background has given her a strong connection to fans in all three countries -- and beyond.
"She really touches all continents, which very, very few, if any, athletes do, and she's biracial and female at an interesting time in history," said Osaka's agent, Stuart Duguid. "She's very representative of people her age, in that she's authentic -- what you see is what you get with her. So, all those things together kind of add up and it's been, I suppose, the perfect storm."
Record Viewership
Osaka's 2019 Australian Open final against Petra Kvitova attracted a peak audience in Japan.
"Part of the genius of what she's doing is she's just getting started. If she continues to stay healthy and perform on the court, and stay true to her message, she has the opportunity to build quite the empire."
DAVID CARTER, professor of sports business at USC
Cover Story
Osaka has appeared on an estimated 50 magazine covers, most recently as the first Haitian and Japanese woman to appear on the cover of Sports Illustrated's famed Swimsuit Issue. She has also twice been named to Time Magazine's list of 100 most influential people in the world.
The power of her message
From social justice to mental health awareness, Osaka has used her platform to help others and push those topics further into the spotlight. Osaka flew to Minneapolis to protest the death of George Floyd in May 2020 and also boycotted her semifinal match at last year's Western & Southern Open, joining athletes and teams in protest of the Jacob Blake shooting.
The pandemic pause "was a reset that perhaps I greatly needed. I asked myself, 'If I couldn't play tennis, what could I be doing to make a difference?' I decided it was time to speak up."
OSAKA IN AN OP-ED FOR ESQUIRE
POWERFUL PROTEST
After Osaka decided to boycott her match at the Western & Southern Open, organizers decided to halt the day's play entirely, demonstrating the influence she has.
I don't expect anything drastic to happen with me not playing, but if I can get a conversation started in a majority white sport I consider that a step in the right direction.
"She's showing a true sense of who she is. I don't call it bravery; I just say it's heroic to bring attention to people of color who lost their lives in unfortunate situations. An athlete like Naomi understands, at a young age, her value and the position that she's in."
JACKIE JOYNER-KERSEE
Osaka's Mask Tribute
During the 2020 US Open, Osaka wore seven different masks with seven different names of Black people who were victims of racial violence.
"I feel like I'm a vessel at this point, to spread awareness and hopefully -- it's not going to dull the pain -- but hopefully I can, you know, help with anything that [those victims] need."
Naomi Osaka
"I just want to say thank you to Naomi Osaka for representing Trayvon Martin on your customized masks, and also for Ahmaud Arbery and Breonna Taylor. We thank you from the bottom of our hearts."
Sybrina Fulton, Trayvon Martin's mother
"Naomi, I just want to tell you thank you for the support on my family and God bless you for what you're doing and your supporting my family and our son. My family really, really appreciates that. And God bless you."
Marcus Arbery Sr., Ahmaud Arbery's father
"I had been so stressed out because of the lack of public awareness about my son's murder and when I saw Naomi Osaka showing her support for Elijah's justice, it was overwhelming! That's one of the ways that I knew my prayers had been answered!"
Sheneen McClain, mother of Elijah McClain
"I was in Minnesota when she wore the mask, we were in a meeting fighting for social justice when I got a message about what she had done. It was phenomenal to see and me, my nephew and my brother, we were just smiling with tears dropping out our eyes when we saw the picture of her in the mask. To see others using their platform to fight, it was exciting."
Philonise Floyd, brother of George Floyd
Star power
With each Grand Slam victory, the pace of Osaka's endorsement deals, major ad campaigns and viral moments picked up speed. She is believed to have 18 to 20 partnership deals, which include confirmed deals with Nike, Louis Vuitton, Tag Heuer, Beats by Dre, Mastercard, Nissan and Google. Said Duguid: "The very first question about a potential new partner is: What does the brand stand for and does it align with her values?"
Osaka's second priority, according to Duguid, is partnering with a brand with which she can be directly involved -- whether it's helping design capsule collections with Nike or serving as CEO of Kinló, a skincare brand she launched in partnership with A-Frame Brands, designed "specifically for people with melanated skin tones." Even the name has a personal connection: "Kin" means "gold" in Japanese, while "ló" is "gold" in Haitian Creole.
"The fact that she's described as a female athlete is a miss," said Chris Thorne, the chief marketing officer of Beats by Dre, which featured Osaka in a campaign last fall. "She's as big and impactful as anybody on the planet right now."
Superstar Peers
Over a calendar year from May 2020, sports business media company Sportico estimated Osaka's endorsement earnings were comparable to some of the biggest male sports stars in the world.
Messi
LeBron
Osaka
SHOW HER THE MONEY
Osaka is an athlete with ample star power. Here is how her 2020 earnings (combined salary and endorsement deals) compare to other sports stars.
1ST
ranking among female athlete earnings in history
4TH
in endorsements, behind only Roger Federer, LeBron James and Tiger Woods
15TH
highest-earning athlete (and top-grossing female athlete) from May 2020-May 2021
Deal With It
Osaka has endorsement deals with more than 15 companies and an equity stake in four others.
The Osaka Effect
While Osaka says there was no way to prepare for the attention she has received since becoming one of the best tennis players in the world, Osaka's agent has said it has been important to her to find ways to pay it forward. Inspired by other celebrities' involvement in women's soccer, she joined the NWSL's North Carolina Courage ownership group in April, drawn to the club's inspiring female athletes and commitment to social justice. Last summer, she also created the Play Academy program with sponsor Nike. The group works with various organizations in Tokyo to provide "sport offerings, workshops, leadership training and events" for nearly 350 girls and young women. Play Academy has since expanded into Los Angeles and Haiti.
Growing audience
Osaka's social media following has grown since she won her first Grand Slam title. Her name also has helped other entities raise their profiles.
4.6M
Osaka's total social media following (Twitter, Instagram, Facebook, TikTok); she had roughly 554K total followers back in August 2019.
100K
nccourage.com impressions on day Osaka purchased stake in team.
10,587
Instagram likes on the announcement post
"The women who have invested in me growing up made me who I am today and I cannot think of where my life would be without them. My investment is far beyond just being a team owner, it's an investment in amazing women who are role models and leaders in their fields and inspirations to all young female athletes."
OSAKA ON HER DECISION TO PARTNER WITH COURAGE
R-E-S-P-E-C-T
Osaka continues to leverage her brand power to support and uplift female athletes across the world.
Sport taught me from an early age that I can do anything. That's why I'm so excited to team up with @nike and @laureussport to launch Play Academy - a grassroots sports program for girls, starting in Tokyo.
In The Spotlight
Osaka has repeatedly described herself as an introvert who has never been comfortable with public speaking. Dealing with interviews was one area of concern, culminating with her withdrawal from the 2021 French Open. She chose not to do news conferences after her first-round match, which resulted in a $15,000 fine and a lot of public reaction from media outlets and fans. Saying she did not want to be a "distraction" during the tournament, she withdrew ahead of her next match, and she later announced she would skip Wimbledon to prepare for the Tokyo Olympics.
Explaining her point of view
In a statement posted on her social media accounts, Osaka described how wearing headphones before matches was one of the ways she tried to "dull her social anxiety."
"Naomi Osaka's decision reminds us all how important it is to prioritize personal health and well-being."
Statement from one of Osaka's sponsors, Mastercard, after her withdrawal from the French Open
Taking back the stage
Osaka appeared at the recent 2021 ESPYS to accept her award for Best Athlete in Women's Sports. She said: "[This year] hasn't even finished, but it's been really tough for a lot of us. For me, I just want to say I really love you guys."
Her next step
After the Tokyo Olympics, Osaka is set to return to New York in late August to defend her US Open title. Given that hard courts are her favorite surface, she'd enter the tournament as the favorite of the women's draw, regardless of how she fares in Tokyo.
Either way, Osaka seems optimistic about the future, especially off the court. As she wrote in a recent essay for Time magazine, "It's OK to not be OK."
"Michael Phelps told me that by speaking up I may have saved a life. If that's true, then it was all worth it."
OSAKA, FROM HER ESSAY IN TIME MAGAZINE
Writing and Reporting by Jerry Bembry, Bill Connelly and D'Arcy Maine. Additional Reporting by Sachin Chandan. Editing by Joy Russo and Glenn Yoder.
Produced by ESPN Creative Studio: Jarret Gabel, Lori Higginbotham, Sean Hintz, Rami Moghadam, Sarah Pezzullo and Beth Stojkov.
Photo illustrations by Máximo Tuja.