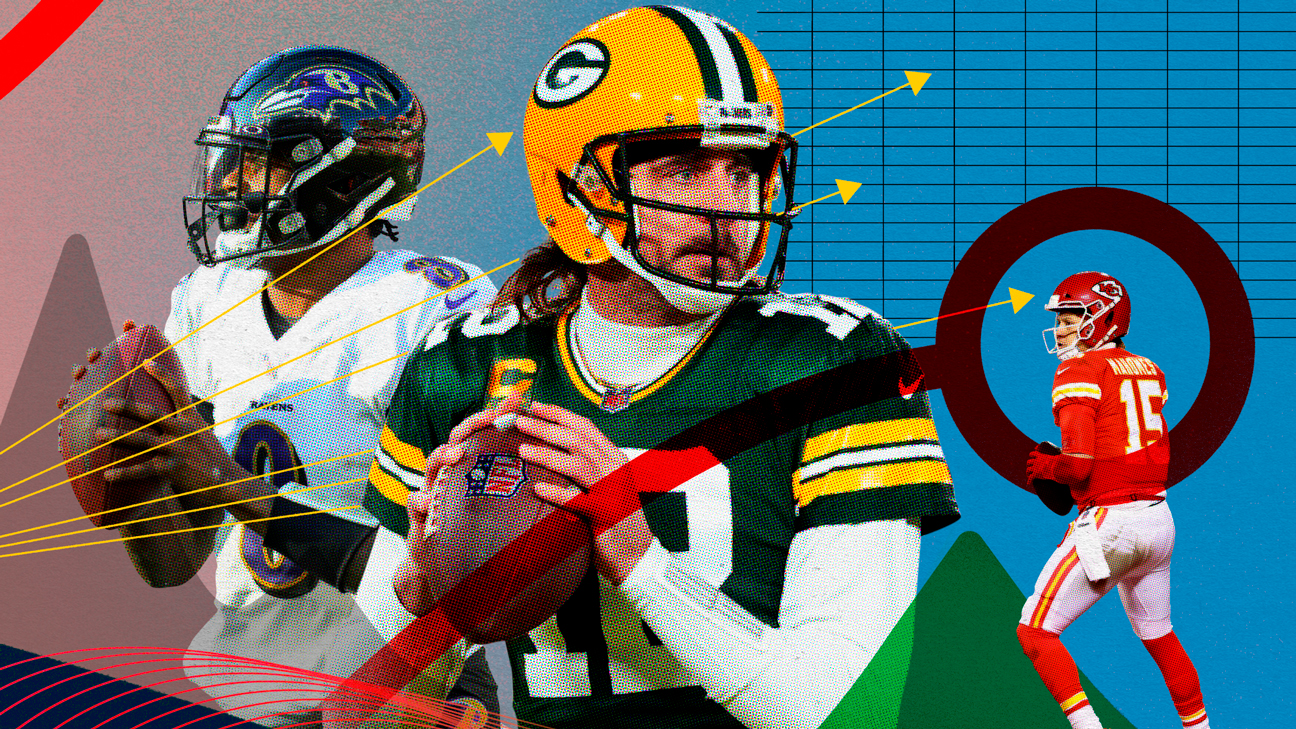 NFL quarterback projections for 2022: Best matchups, fantasy stars, stat leaders for all 272 games, plus an MVP top three
We have predicted yards, touchdowns and passer rating from all 272 games, with highlights from the most anticipated matchups.
Projecting QB performances for all 272 games
Published September 5, 2022
Have you ever wanted to know exactly how the NFL season -- and MVP race -- would shake out before Week 1 even began? Well, now you've got your wish for 2022. We asked ESPN fantasy football guru Mike Clay to crunch the numbers and project the passing lines for every quarterback matchup of the season. Yes, all 272 games. We have yards, touchdowns, passer rating and more, highlighting the most anticipated matchups along the way. Clay also gives you fantasy tips for all 18 weeks, concluding with the top performers of the season. Dig in; you might learn something.
WEEK 1 CAN'T-MISS MATCHUP
WILSON VS. SMITH
Team favored
You thought we'd highlight a different game here?
Russell Wilson
's first season in Denver starts with a return to the city he brought a Super Bowl title to in 2013.
Geno Smith
will be starting for the the Seahawks after winning the QB battle against
Drew Lock
-- who was also included in the megatrade that landed Wilson with the Broncos. This one will be fun.
67%
Completion percentage for Derek Carr in Week 2 (24 for 36)
WEEK 3 CAN'T-MISS MATCHUP
rodgers vs. brady
Team favored
Will the
Aaron Rodgers
-
Tom Brady
showdown in Tampa live up to the hype? Rodgers has dropped three straight head-to-head matchups with Brady, losing by an average of 15.7 points and completing an un-MVP-like 57.9% of his passes. Expect both to clear 35 pass attempts in what projects as a tight game.
WEEK 4 CAN'T-MISS MATCHUP
allen vs. jackson
Team favored
Can you name the only two QBs over the past three seasons to have a QBR over 60 with at least 1,100 rushing yards? If you guessed
Josh Allen
and
Lamar Jackson
, who square off in Week 4, you'd be right. Bills-Ravens could be an early AFC postseason litmus test.
223
Passing yards for Ryan Tannehill in Week 5
WEEK 6 CAN'T-MISS MATCHUP
prescott vs. hurts
Team favored
Did you know the NFC East hasn't had a repeat champion since the 2004 Eagles?
Dak Prescott
and the Cowboys won it last season, but
Jalen Hurts
' Eagles are on the rise. The QB who gets the best of this matchup could put his team on the early track to a division title.
11
Total passing TDs for Jameis Winston through Week 7
WEEK 8 CAN'T-MISS MATCHUP
wentz vs. ryan
Team favored
It's the battle of QBs in new places, with
Carson Wentz
leading the Commanders at
Matt Ryan
's Colts. Wentz, on his third team in three years, could play his way into a new contract -- or into a backup role. Ryan, meanwhile, has a chance to put his Hall of Fame candidacy over the top after 14 seasons in Atlanta (with one MVP).
86.6
Jared Goff's total passer rating in two games vs. Green Bay
WEEK 10 CAN'T-MISS MATCHUP
murray vs. stafford
Team favored
Kyler Murray
and
Matthew Stafford
both signed new long-term contracts this offseason, but one QB is coming off a Super Bowl title, while the other had one of the worst performances of his career in his final game (7.9 QBR!) of the 2021 season -- which came against Stafford's Rams. Can Murray and the Cardinals put everything together?
WEEK 11 CAN'T-MISS MATCHUP
mahomes vs. herbert
Team favored
Justin Herbert
has yet to beat
Patrick Mahomes
' Chiefs in a home game, losing in overtime in both instances. Will that change in Week 11? Both project as top-three fantasy QBs this week, with each over 275 yards and Herbert No. 1 at the position in touchdown passes.
3,028
Total passing yards for Baker Mayfield through Week 12
WEEK 13 CAN'T-MISS MATCHUP
tagovailoa vs. Lance
Team favored
This could be the battle of the unknowns, as
Tua Tagovailoa
's Dolphins and
Trey Lance
's 49ers are two of the toughest teams to project in 2022. If things are clicking for both QBs, they could be in the MVP discussion. If things are going poorly, well, they might not actually make it to Week 13 as starters -- and their teams could be out of the playoff race.
102.2
Passer rating for Kirk Cousins in Week 14
WEEK 15 CAN'T-MISS MATCHUP
BURROW VS. BRADY
Team favored
Joe Burrow
has been compared favorably to
Tom Brady
, but after a surprise run to Super Bowl LVI last season, he still needs nine more title game appearances to catch the GOAT. The Bengals and Bucs both believe they're contenders again, and this matchup could have massive implications for the playoff field.
WEEK 16 CAN'T-MISS MATCHUP
LAWRENCE VS. WILSON
Team favored
No, the Jaguars and Jets are not likely to be playoff contenders this season, but they have their quarterbacks of the future ... right?
Trevor Lawrence
, the No. 1 pick in the 2021 draft, faces
Zach Wilson
, the No. 2 pick in the same draft. They both struggled as rookies but have the talent around them to take a big step forward in 2022.
WEEK 17 CAN'T-MISS MATCHUP
WILSON VS. MAHOMES
Team favored
ESPN's Football Power Index
gives all four AFC West teams at least a 46% chance to make the postseason, which means this Broncos-Chiefs matchup could decide things down the stretch.
Russell Wilson
and
Patrick Mahomes
each could need a classic MVP moment to help put them over the top in the race.
WEEK 18 CAN'T-MISS MATCHUP
JONES VS. ALLEN
Team favored
Will the AFC East already be decided by Week 18?
Mac Jones
and the Patriots obviously hope that's not the case, with
Josh Allen
's Bills the heavy favorites in the division. Still, Jones is expected to take a step forward in Year 2, but it might not show much in his overall numbers, especially against a tough Buffalo defense.
MIKE CLAY'S TOP PERFORMERS
1st
Allen
2nd
Mahomes
3rd
Herbert
There should be no surprise here if you follow my full projections. Two-time reigning No. 1-scoring fantasy QB Josh Allen puts together the best statistical season, based on my projections. A strong Buffalo roster and Allen's dual-threat ability position him as the favorite for league MVP. If you didn't notice, the Chiefs have an incredibly tough schedule, so Patrick Mahomes coming out on top in passing yardage and touchdowns is quite the feat for the former league MVP. AFC West competitor Justin Herbert finishes in the top five in passing yards and TDs. With the Chargers projected for one of the league's best records, he has a strong case to win the award.
Written by Mike Clay. Research by Kyle Soppe. Edited by Dane Beavers and Sarah Corso.
Produced by ESPN Creative Studio: Matthew Becker, Dominique DeMoe, Jarret Gabel, Luke Knox, Daniel Pellegrino, Jason Potterton, Beth Stojkov, Rachel Weiss.
Illustrations by Brian Stauffer, Eric Heintz. Photography by AP Photo, Getty Images, ESPN Illustrations
---