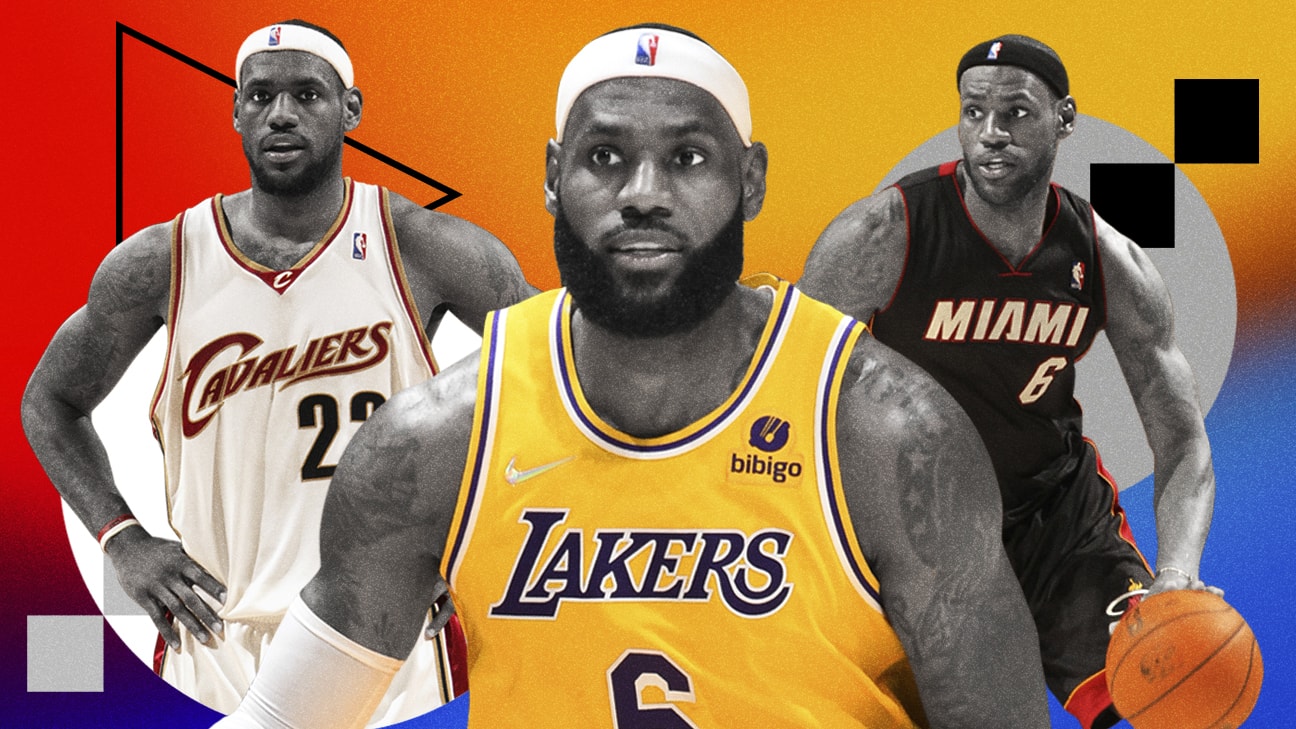 The endless wardrobe of LeBron James, the NBA's new scoring king
38,388 points (and counting) -- and 54 different jerseys. LeBron James, the NBA's new all-time leader in career points, might also be the NBA's unofficial leader in unique looks.
The King's Quest
The Endless Wardrobe of The NBA's New Scoring King
The Endless
Wardrobe of
The NBA's New
Scoring King
With a fadeaway jumper against the Oklahoma City Thunder, LeBron James passed Kareem Abdul-Jabbar as the NBA's career leader in points scored. When you think of James scoring, you can probably picture him soaring through the air for a massive one-handed dunk.
But what jersey are you picturing him in?
In his 20 years in the NBA, spent with three teams, James has worn dozens of different jerseys -- 54 to be exact, some of which he wore for just a single game. We broke down James' scoring prowess based on the many different looks he has sported through his career.
Consider this your guide to all the colors of the King's scoring rainbow.
James has worn 54 different primary jerseys in the regular season (not accounting for various patches).
James has scored as many as 6,656 points and as few as 17 in different jerseys. The circle sizes below correspond to his point totals.
Our timeline clearly labels the three teams James has played for over his 20 seasons: the Cleveland Cavaliers,
Miami Heat,
and Los Angeles Lakers.
Keep scrolling for a detailed breakdown (all stats through games of Feb. 7)
James spent most of his first seven years in Cleveland wearing either the Cavs' white or red jerseys, both of which were new when he came into the league in 2003.
CAVALIERS '03-'10
CAVALIERS '03-'10
James played more games and scored more points in this jersey than in any of the others he has worn in his career.
CAVALIERS '03-'10
"It means a lot to go down in the history books as the all-time leading scorer in franchise history."
LEBRON JAMES
CAVALIERS '05-'10
The Cavs introduced the first regularly-worn alternate jersey of LeBron's career during the 2005-06 season.
CAVALIERS '06-'17
James has worn eight different jersey colors during his career, but this is the only orange look he has ever sported.
CAVALIERS '10
While James has scored more than 8,600 points wearing red, he only wore this specific jersey twice.
CAVALIERS '08-'09
The Cavs expanded their jersey lineup by mashing up throwback looks -- like this classic gold jersey from the '70s -- with different color schemes.
TEAM '09-'10
While James grew up in Ohio, he wasn't a fan of the Cavaliers when they were sporting these jerseys in the 1980s and 1990s.
"I was a Chicago Bulls, Michael Jordan fan growing up."
JAMES, WHO PASSED JORDAN ON THE ALL-TIME SCORING LIST IN 2019.
James scored 7,919 points in his four years in Miami, doing so in an astounding 17 different jerseys -- more than four per season.
HEAT '10-'14
This was LeBron's most frequently worn Heat jersey -- and the one he was wearing when he scored a career-high 61 points against Charlotte in 2014.
Heat '10-'14
Among the 15 jerseys he has worn at least 30 times, James' 25.3 PPG in this look is his second-lowest scoring average.
"I'm not a scorer. I don't want to be labeled as a scorer. I'm a playmaker."
LEBRON IN 2017
Heat '10-'12
Heat '10-'14
James wore two versions of Miami's Noche Latina jerseys, one with sleeves and one without.
HEAT '12-'13
The Heat leaned into a monochromatic theme during James' time in Miami, introducing an alternate version for each of their three primary colors.
HEAT '12
This is the only time James has sported pink on a jersey in his career, as the Heat broke out throwbacks inspired by the ABA's Miami Floridians.
HEAT '12-'13
The Heat wore special edition jerseys for their banner-raising nights in 2012 and 2013, adding gold to their traditional home whites.
HEAT '12-'14
After sporting "Heat" on the front of their road jerseys for their entire existence, Miami changed to the city name starting in the 2012-13 season.
HEAT '12
James has scored more points on Christmas Day than any other player on any single day in NBA history.
"It's always exciting and an honor to be able to play on Christmas."
JAMES IN 2021
HEAT '13-'14
James has worn eight "Hardwood Classics" jerseys in his career, including these two throwback Heat looks.
HEAT '13
LeBron was not happy with these "Big Logo" Christmas jerseys, which had sleeves and looked more like pajamas than basketball uniforms.
HEAT '14
James' second stint with the Cavs saw him score fewer points (7,868) but wear far more jerseys -- 13 in four seasons, not counting a few repeats from his first stint.
CAVALIERS '14-'17
In 2014, James returned to Cleveland where the roster -- and the jerseys -- had a much different look.
CAVALIERS '14-'17
The Cavs had introduced this new set of jerseys in 2010-11, the season after LeBron originally left. They were still around when he came back.
CAVALIERS '14
James scored 30 points against his former Heat teammates in his first Christmas game back in Cleveland against his former Heat teammates.
"We didn't have a bad breakup. We played against each other for seven years, man."
WADE ON FACING JAMES AFTER HAVING BEEN HIS TEAMMATE FOR FOUR SEASONS.
CAVALIERS '15-'17
CAVALIERS '15-'17
For the second time in LeBron's career, Cleveland remixed this jersey, mixing the CAVS logo from the '80s with the modern colors and number font.
CAVALIERS '15-'16
CAVALIERS '17-'18
The Cavs re-designed their jerseys again in 2017 in what would turn out to be James' final season in Cleveland.
CAVALIERS '17-'18
CAVALIERS '17-'18
James has averaged 27.8 PPG in black in his career; it's one of two colors (white being the other) he has worn with all three of his teams.
CAVALIERS '18
James was living with "The Land" in this City Edition jersey -- the only gray jersey he has worn in his 20 year career.
The 15 different jerseys James has worn during his five seasons as a Laker accounts for his number change, going from 23 to 6 before the 2021-22 season.
LAKERS '18-'21
James'
arrival in Los Angeles in 2018
coincided with the Lakers returning to their Showtime-era look, which they wore for most of Abdul-Jabbar's career as well.
LAKERS '18-'21
Magic Johnson was the man who brought LeBron to L.A., so it was fitting that in his first season as a Laker, LeBron wore a purple pinstripe jersey inspired by Magic.
LAKERS '18-'21
The Lakers didn't wear white jerseys during Abdul-Jabbar's career -- they were strictly purple and gold up until the 2002-03 season.
LAKERS '19-'20
The COVID-19 pandemic put this jersey away earlier than planned -- it wasn't among the looks the Lakers brought to the
NBA Bubble
.
"You have to really love basketball to be here because there's no extra motivation ... from the crowd and things of that nature."
JAMES ON PLAYING IN THE BUBBLE.
LAKERS '20-'21
While blue was a major part of the Lakers pre-1960s color scheme, this throwback to the Elgin Baylor days is the only blue Lakers jersey LeBron has worn.
LAKERS '21
This is the only black jersey James has worn in the regular season as a Laker. He wore their Mamba-inspired jerseys in the NBA Bubble in 2020 after Kobe Bryant's death, but
only during the playoffs
.
LAKERS '21-'23
After playing his first three years as a Laker in No. 23, James
switched to No. 6
for the 2021-22 season.
LAKERS '21-'22
James' 33.9 PPG average in the Lakers' 2021-22 City Jersey is his highest in any of his 54 unique looks.
LAKERS '22-'23
The Lakers tweaked their purple jersey again for the 2022-23 season, going to black numbers.
LAKERS '22
While white wasn't part of the Lakers' color scheme for decades, it's become more frequent for alternate looks during the LeBron era.
Crosscourt
---
So when LeBron's career is complete, what jersey will you picture him in? That's the question Ros Gold-Onwude posed to ESPN's Nick Friedell and Israel Gutierrez on "Crosscourt." And while a Cavaliers jersey was the first one mentioned, it might not be the one you're expecting.
Accessories
---
Headband: The headband was LeBron's signature accessory during his early years, though its usage has faded with time.
Shooting sleeve: James hasn't been known for his outside shooting, which might be why he hasn't always rocked a shooting sleeve.
Compression pants: Dwyane Wade helped popularize the "tights" look, but LeBron has rocked them for nearly 25% of his career scoring.
Mask
: Injuries forced James to
don a protective mask
for two stints during his career, once in Cleveland and once in Miami.
What's Next?
---
Where James takes the scoring record remains to be seen. He's under contract with the Lakers for at least one more season -- which means a new City Edition jersey to add to his collection. And if he changes teams before he retires, he could add a whole new set of jerseys as he shoots for 40,000 points and beyond.
Written by Adam Reisinger
Produced by ESPN Creative Studio: Matthew Becker, Chris DeLisle, Dominique DeMoe, Jarret Gabel, Luke Knox, Rami Moghadam, Jason Potterton, Rachel Weiss.
Hyperlapse by Cole Quigley. Photo illustrations by MASA. Photography credits: AP Photo, Getty Images and IMAGN.