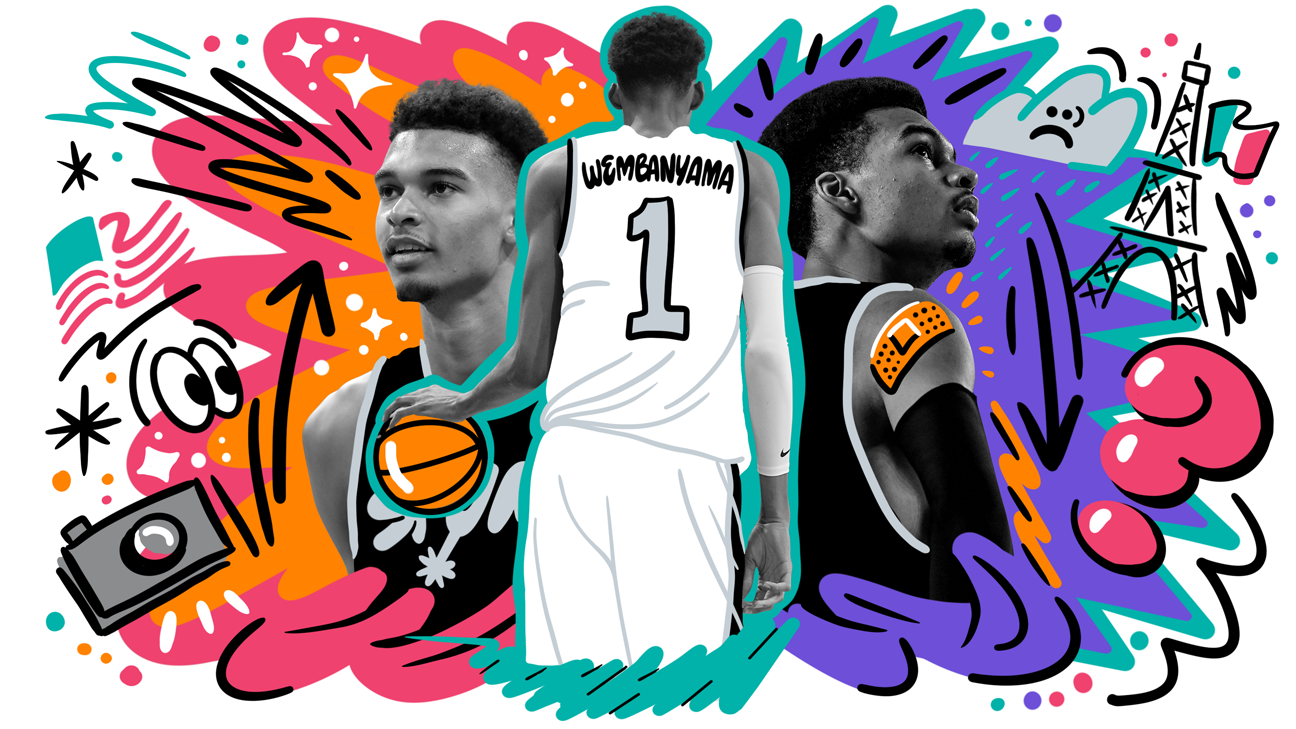 NBA draft 2023 -- Wembanyama's two career paths on Spurs
The projected No. 1 pick has undeniable talent, but his physique and international experience raise questions about his upcoming NBA transition.
Victor Wembanyama, a 19-year-old, 7-foot-5 phenom from France, is expected to be selected No. 1 overall by the San Antonio Spurs at the 2023 NBA draft on Thursday. If you haven't heard, pretty much every NBA insider expects him to be an instant superstar.
His talent is undeniable -- bordering on otherworldly -- but his physique and international experience have made some wonder out loud how he'll transition to the NBA. To give fans a chance to explore both sides of the hype, we present an interactive experience with two sides: fantastic and realistic.
Written by senior NBA writer Brian Windhorst, the fantastic side explores what Wembanyama could be if he lives up to the dreams Spurs fans undoubtedly have for him. The realistic side gives a more down-to-earth view of what to expect when he suits up in an NBA uniform for the first time this fall.
Victor Wembanyama is unbelievably tall
Fantastic
With his 7-foot-5, 230-pound dimensions, which allow for quickness, Wembanyama can do something revolutionary for the modern game: He can defend the rim and the 3-point line at the same time thanks in part to his 8-foot wingspan. This may sound impossible. That is what players in the French LNB Pro A league thought until they saw him get out to block a corner 3 after denying a drive to the rim on the same play.
Realistic
There are absolutely going to be times when Wembanyama goes viral because a stronger player gets him off balance and makes him look bad. He has a high center of gravity, and it will naturally be easy for 6-8 to 6-10 power forwards to use their shoulders and move him. But he will win more battles than he loses because his long arms and enormous hands will cover ground that opponents simply can't.
He could get even bigger
Fantastic
Wembanyama's height is listed at only 7-3 on some rosters because European players are generally measured without shoes. But those closest to him say he's already 7-4 barefoot, 7-5 when measured in shoes -- which would have made Wembanyama the tallest player in the NBA this past season just ahead of Boban Marjanovic. Here's a scary fact for the other 29 teams in the NBA: Wembanyama may continue to get taller and will naturally put on more weight to his frame with age.
Realistic
Wembanyama has no interest in the howls that he must pack on pounds. When he hears someone say he needs to "bulk up" he thinks some players need to "skinny up." He will add weight, and his body will fill out as he gets into his 20s. But he's not in a hurry. He and his trainers and agents believe adding weight for the sake of adding will only make him more likely to get hurt.
There's a prestigious international model to follow
Fantastic
The past five NBA MVP awards have gone to international players -- Philadelphia's Joel Embiid (2023), Denver's Nikola Jokic (2022, 2021) and Milwaukee's Giannis Antetokounmpo (2020, 2019) -- and Dallas Mavericks star Luka Doncic isn't yet one of them. Many of the uber-elite players in the modern NBA aren't Americans as the league continues to become more popular and accessible internationally. Wembanyama as a teenager is the most impressive of the recent international prospects.
Realistic
Even if Wembanyama doesn't one day win NBA MVP and achieve the same level of individual success as Nikola Jokic or Joel Embiid, he could join a long list of international big men who arrived in the NBA and went on to have Hall of Fame-worthy careers, such as Pau Gasol, Yao Ming and Dikembe Mutombo. The Spurs' approach to building a team around his strengths will ultimately play a major factor in how quickly Wembanyama could see success.
He doesn't need the NCAA -- he's already a pro
Fantastic
International basketball is more physically demanding than college. There is competition against players in their primes -- ranging in age from late 20s through early 30s -- that makes it more akin to the NBA. However, games are more spread out on the calendar, and playing more than two games a week is rare. There is more practice time and no college obligations to worry about. Travel is easier because there's less distance to cover between cities.
Realistic
College basketball athleticism better prepares players for the rigors of the NBA. The heightened national media attention and experience of competing in pressure-packed environments such as conference tournaments and the NCAA tournament have long been a proving ground for NBA success. There could be a learning curve for how Wembanyama handles playing under the spotlight, starting as soon as his first preseason game in October.
His game is a mystery everyone will be trying to solve
Fantastic
He's more than a unicorn. The NBA has never seen a player with Wembanyama's skill set before, which is what led Los Angeles Lakers star LeBron James to dub him "more like an alien." He has a shooting touch that's been compared to Kevin Durant's, ballhandling that was inspired by watching tapes of Hall of Fame guard Pete Maravich and the potential to become one of the most impactful defensive players the moment he steps on the court.
Realistic
Because of his frame, he tends to lose his balance at times, and he will be at a strength disadvantage to almost everyone he plays against despite his height. Getting to his sweet spots will be harder in the NBA than anything he's seen before in Europe. And while he shot the ball brilliantly from the outside during his two games last year against G League Ignite, right now that is an outlier, as he shot less than 30% from 3 for Metropolitans 92.
He's motivated to be a star right away
Fantastic
He decided he was going to be an NBA player around age 11 or 12 and centered the big decisions in his life around the goal ever since. He's studied clips of Dirk Nowitzki and Kevin Durant in hopes of honing his game toward an NBA style. As the face of the LNB Pro A league in France, he won league MVP and led his team to an unexpected trip to the finals, much to the surprise of experts. The Spurs will be getting a rookie in Wembanyama who told ESPN on lottery night he is "trying to win a ring ASAP, so get ready."
Realistic
It's rare for even the most NBA-ready players to truly lift their teams in the first few seasons. Two of the most NBA-ready teenagers to ever join the league -- LeBron James and Luka Doncic -- missed the playoffs in their first two seasons with Cleveland and Dallas, respectively. Wembanyama is still physically immature, and even though he might produce excitement, he is probably some time from becoming the type of player he envisions.
Spurs history is bound to be repeated
Fantastic
The two previous times the San Antonio Spurs won the draft lottery, they selected first-ballot Hall of Fame big men who led them to multiple NBA titles: David Robinson (1987) and Tim Duncan (1997). In their rookie seasons, both Robinson and Duncan won Rookie of the Year, and their respective teams won 56 games. Can Wembanyama make it a third and accomplish what his predecessors were able to do?
Realistic
There is a risk in taking a player of Wembanyama's size. Many NBA prospects before him in that size range suffered serious and sometimes career-ending injuries, often to their feet. Even though he's not relatively heavy, it's still a concern. It's a no-brainer for the Spurs to draft Wembanyama as his talent is undeniable, but basketball history tells us there is no such thing as a guarantee when it comes to players living up to their potential.
He's a big star in a small market
Fantastic
He is no Tim Duncan who didn't want to be the center of attention. He likes -- and is comfortable with -- being in the spotlight. Wembanyama is interested in announcing himself to American fans who, on draft night, might not yet be familiar with him, and he is interested in being accessible. He could end up quickly becoming one of the faces of the league thanks to his viral highlights and instantaneous marketability, regardless of the size of his home market, and will continue to have a strong fan base in France.
Realistic
Being in San Antonio absolutely hurts his marketability and exposure on a national level. Young players have broken through from small markets repeatedly over the past decade such as Memphis Grizzlies guard Ja Morant, but it took multiple seasons to develop enough success to become one of the top teams in the league. Even though Wembanyama will have more opportunities to play on national television than most rookies, the Spurs will need to transform into playoff contenders to sustain the interest following his rookie season.
He's the greatest NBA prospect we've ever seen
Fantastic
He's 7-5, dribbles like a guard and shoots one-legged 3s.
Realistic
There's only been one LeBron James.