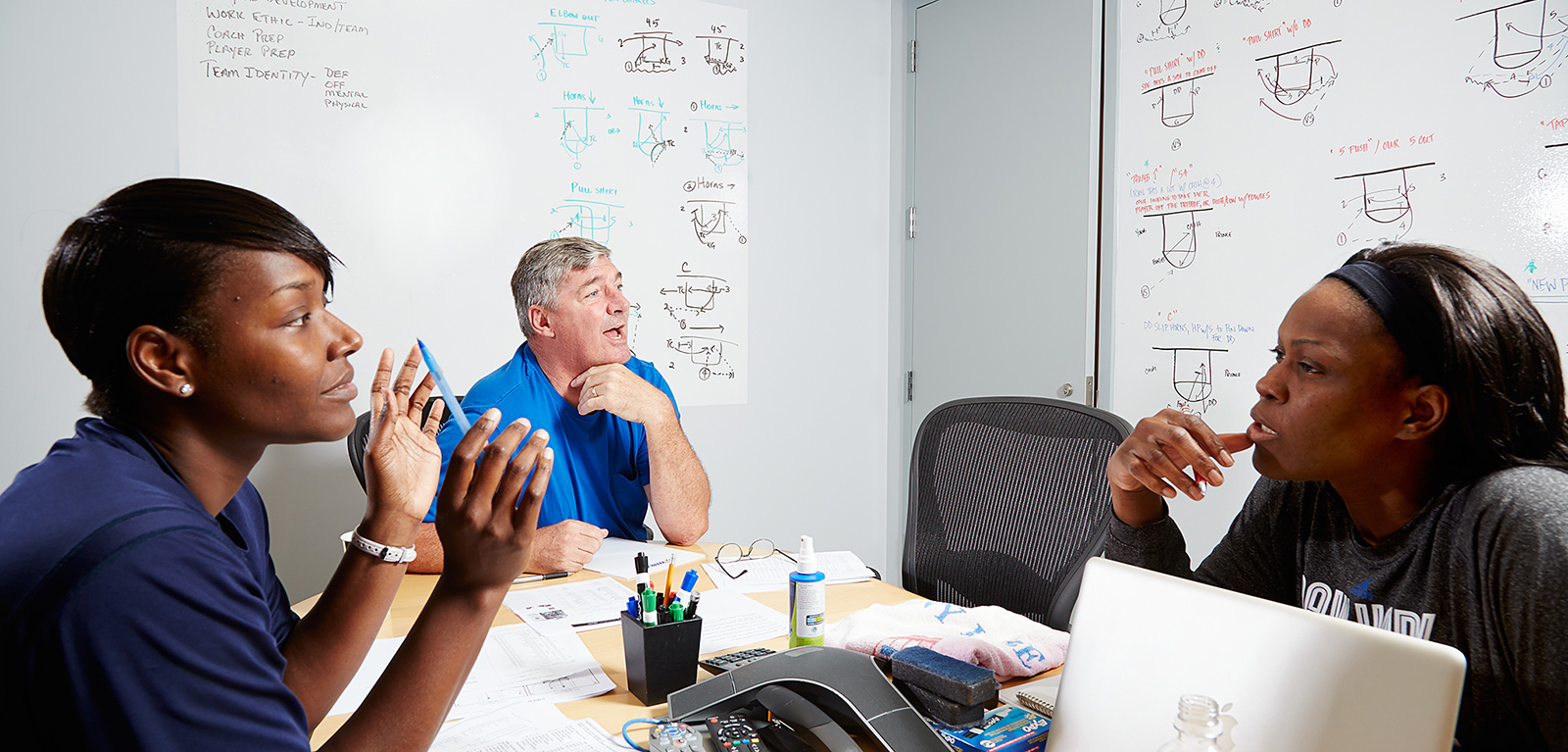 The Feminization of Bill Laimbeer
The former Detroit Pistons star is the same old Bad Boy. But while he still irritates the NBA, his edgy style is perfect for the WNBA.
Laimbeer at work
In the photo above, New York Liberty coach Bill Laimbeer works on his latest strategy with assistant coaches Barb Farris, left, and Taj McWilliams-Franklin. Both played for Laimbeer in the WNBA.
Bill Laimbeer wants to know if I've seen the movie "A Few Good Men."
"Of course," I say. "Who hasn't?"
We are sitting in a conference room at the Madison Square Garden Training Center, in Tarrytown, N.Y., about 25 miles north of the real MSG. The 6-foot-11 Laimbeer, who is in his first season as head coach and general manager of the New York Liberty, leans so far back in his chair that he's almost parallel to the ground, the spine of the chair straining from the effort. With a gentle flick of his right wrist, he spins an orange-and-cream-colored basketball into the air, catches it, and softly launches it again.
"He's Tom Cruise," says Liberty assistant coach Taj McWilliams-Franklin.
"And this is my bat," Laimbeer says, holding the WNBA ball in his palm, underhand, as if offering it to me. Then he tosses it off the white wall and catches it. (In the movie, Cruise's character does his best thinking when holding a baseball bat.)
"He freaks out if the ball isn't somewhere in the room," says Barb Farris, the Liberty's other assistant coach. She and McWilliams-Franklin played for Laimbeer with the Detroit Shock.
Starting over
Since mid-July, the Liberty have plummeted in the standings, falling to 11-21 after losing at home against the Phoenix Mercury on Tuesday. This isn't entirely surprising: New York lost second-leading scorer Essence Carson to an ACL injury in early June, and Laimbeer inherited a team that went 15-19 in 2012. The Liberty have been mired in mediocrity since they last reached the WNBA Finals in 2002. (They've never won a championship.) The good news for New York fans is Laimbeer has shown he can turn things around quickly. The Detroit Shock were the worst team in the league when he took over as coach and GM midway through the 2002 season; the next year, they were WNBA champs.
Laimbeer is at the head of the conference table, occasionally leaning forward to scribble reminders for practice ("360-degree jump passes -- NO!") or diagrams of plays on the large dry-erase board. On the table is the scouting report for the Indiana Fever, the Liberty's opponent the next evening, in a mid-July matchup of struggling Eastern Conference teams trying to stay in the playoff race.
The door of the meeting room is open, and players wander past as they arrive for practice, some stopping to say hello. After each brief interruption, Laimbeer and his staff return to the task at hand, dissecting the team's deficiencies and singling out some of those very same players. "We don't have enough of them who can think the game," he says.
The 56-year-old talks about hoops as if he invented it, as if everyone views basketball the way he does: in slow motion. When watching film or practice, he easily untangles the cluster of motion and spots the moment when it all falls apart. ("Right there! Why are we trailing that cross-screen?!") Or when it clicks. ("See? We're most efficient when we get her that pick on the wing.")
"Tortured geniuses drive me crazy," says McWilliams-Franklin, rolling her eyes in mock annoyance. She has just had a pinball exchange with Laimbeer about one of their new offensive sets that he tweaked, even though he doesn't remember doing it. She must repeatedly remind him that the slight modification drastically improved the play's effectiveness. Finally, Laimbeer yields -- kind of. "If you say so," he says, lobbing the ball into the air.
"I call him 'Beautiful Mind,'" Farris chimes in. She closes her eyes and raises her arm, pretending to scribble furiously on an imaginary board. "He's just up there, diagramming, all Rain Man-like."
Laimbeer is generally regarded as the baddest of the former Bad Boys, a versatile big man who played hard -- and dirty, by many accounts -- won back-to-back NBA titles in 1989 and 1990 with the Detroit Pistons, and was a four-time All-Star. Along the way, he picked up about a dozen enemies for every friend. Not that he cares. Because he doesn't.
Girls? Women? Ladies?
When asked why he calls the WNBA "the ladies' league" -- a term invoking images of older women playing bridge -- Laimbeer appears confused. "What should I call it?" he asks. Well, how about just women's basketball? He nods, then offers this explanation: "When I started coaching my daughter's AAU team, they were just girls, so I called it 'girls basketball.' When they got to be 15 and 16 years old, they didn't seem like 'girls' anymore, but they also didn't seem like women yet. So when I brought them into the huddle, I'd say, 'Let's go, ladies.' That seemed respectful and appropriate."
He was, and still is, unapologetically exasperating, with a personality that has not played well on the NBA side. But that same demeanor has served him quite well in the WNBA -- "the ladies' league," as he calls it -- where he won three titles in six seasons as coach of the Shock. (The franchise moved to Tulsa in 2010.)
There are two kinds of people in WNBA circles: those who heartily endorse Laimbeer's straightforward brand of coaching, labeling him a genius with X's and O's, and those who begrudgingly admit he knows what he's doing -- that he has a knack for getting the top women's basketball players in the world to play to the best of their abilities -- even if he is kind of a jerk.
NBA executives, meanwhile, are much less impressed. Except for the common thread of "He's a real ass," they provide a completely different take on Laimbeer and his abilities as a coach.
The contrast is so stark at times that it's as if Laimbeer is the human version of Rubin's vase, the famously ambiguous picture that looks like either a vase or two faces in profile, depending on your focus.
Laimbeer is a terrific coach. [Blink. Tilt head.] Laimbeer is a terrible coach.
Which side you land on depends, in large part, on how you view basketball, the expectations you have for a coach, and -- perhaps more than anything else -- whatever memories you have of Laimbeer as a player.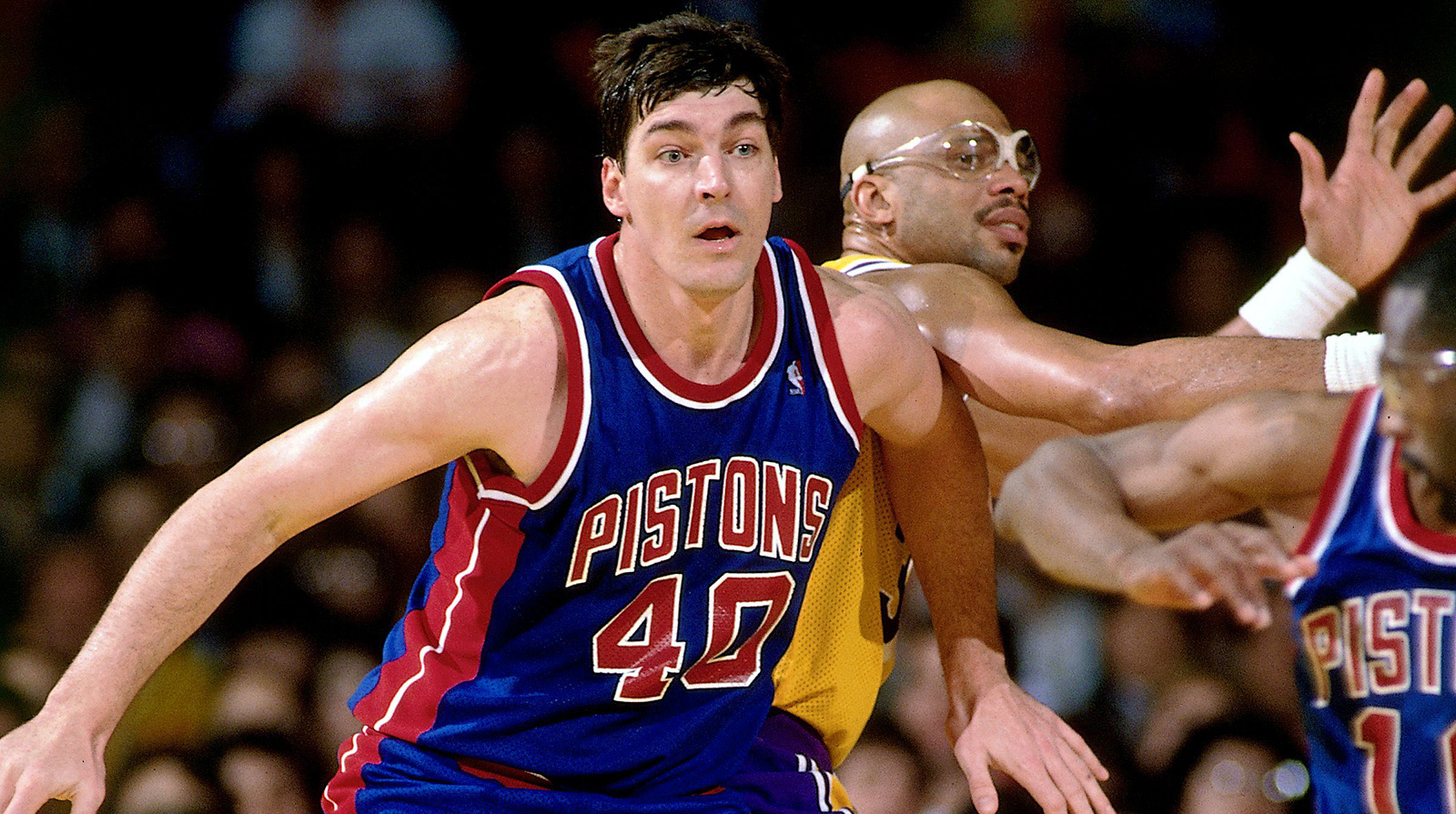 In 2009, Laimbeer resigned from the Shock to pursue his lifelong dream of coaching in the NBA. He joined the staff of former Los Angeles Lakers forward Kurt Rambis, who had just been hired to coach the Minnesota Timberwolves. Two seasons later, Rambis and his staff, including Laimbeer, were fired after compiling a 32-132 record.

"I call him 'Beautiful Mind.' He's just up there, diagramming, all Rain Man-like."
- Barb Farris, New York Liberty assistant coach
The NBA coaching fraternity is a little bit like the Supreme Court: It's really hard to get a spot on the bench, but even more difficult, practically impossible, to get kicked off. Once you're in, you're set for life. Although Rambis (now an assistant with the Lakers) was technically accountable for those two disastrous seasons in Minnesota, most NBA general managers I spoke with said he likely will, at some point, land another head-coaching job in the league because he is seen as a good guy who just didn't have enough talent with the Timberwolves. When I mentioned Laimbeer, though, the reaction was visceral.
He's lazy.
He's a buffoon.
He can't relate to NBA players.
He treats them like it's college.
Guys just won't play for him.
Laimbeer's tenure with the Timberwolves is seen as a resounding failure, probably the final nail in his NBA coffin. Never mind this is the same league in which losing and getting fired seem like badges of honor for other coaches, something that happens every few years, like the Olympics, or the Sixers making the playoffs.
Unfortunately for Laimbeer, the popular opinion of him as an NBA coach can be crystallized in one key moment when he acted very Laimbeer-like, his behavior confirming for those who witnessed it that the label they have for him -- a whiny crybaby no one wants to play for -- is not just a stereotype, but God's honest truth.
Before the 2010 NBA draft, many of the league's top decision-makers flew to Minnesota to watch a few prospects work out for the Timberwolves, who had a high pick. As one NBA general manager explains it, the purpose of these sessions is usually twofold: "The team is trying to impress the players as much as the players are trying to impress the team. And everyone with half a brain in the NBA understands this."
Laimbeer was on the court that day, running the workout. He set up one drill, telling the players to outlet the ball to him with a crisp chest pass, then run the lane and finish on the other end. Pretty basic stuff. Once the drill started, though, the players occasionally forgot the whole "outlet the ball" part, and Laimbeer, as he is known to do, called them out in a sarcastic manner. The next time around, the players remembered to outlet the ball but forgot about the chest pass. Laimbeer became visibly agitated by their inability to run the drill correctly. "By the end of the workout, we all thought there might be a fight on the court," one GM remembers. "Why make yourself the center of attention like that? For some executives, that day is all they know about him. And everyone left that gym with the same impression, that Laimbeer doesn't understand how the NBA works."
So how does the NBA work?
Perception is often reality. And in NBA circles, Laimbeer has a perception problem, compounded by his "I-don't-give-a-s---" attitude about it. He doesn't care how he's viewed, even if how he's viewed is keeping him from achieving the very thing he says is (or at least was) his ultimate goal: a head-coaching job in the league.
"I've had to get over that," Laimbeer says. "It hasn't happened, for whatever reasons. If it does happen, it would be an oh-my-God moment. But I don't really care what NBA people think. I've always been who I am, and I'm not going to change my style to fit their mold. I'm just not a career assistant. I'm not that guy. I had to decide if going into the ladies' league would hurt my chances to be in the men's league, and I came to the conclusion that I didn't care. I thought, 'Coaching basketball is coaching basketball.'"
But it's not. There is coaching basketball, and there is managing egos. And most people can agree on which league requires more of which skill.
Laimbeer came up in a time when hard-nosed coaches such as Chuck Daly and Bill Fitch made players run wind sprints if a drill wasn't executed properly. These were the days before guaranteed contracts, when players had to prove themselves daily -- to the coach, more than anyone -- prove that they were worth keeping around. There was a traditional hierarchy in which the coach, who was at the top of the food chain, gave straightforward, honest feedback to the players. No one benefited if the coach said one thing ("Of course we want you to take that off-balance jumper") but actually meant another ("Stop taking such a low-percentage shot!").
Today's NBA is a very different place, filled with half-truths and players who believe there are no weaknesses in their game -- guys who boast hefty guaranteed contracts as their proof. A head coach might be the fifth-highest-paid employee on the team, if he's lucky. And before criticizing a player's game, he must weigh the risk-reward, as well as the amount of money left on that player's deal. If one of the three best players on an NBA club has a skewed belief in his ability as an outside shooter, the coach must be careful about how he critiques that guy's outside shot. He can't have a player who accounts for 30 percent of the payroll tuning him out, and influencing the rest of the team to do the same.
Laimbeer still sees basketball as a meritocracy in which the truth is revealed daily on the court, with the coach as the arbiter of skill and effort. But this is actually true only in the WNBA, which more closely resembles the old-school NBA than the current NBA. "Some coaches only give you half the truth," says Liberty guard Cappie Pondexter. "They'll say, 'Way to go hard,' when you know in the back of your head that you didn't. Bill doesn't operate like that. And I like it because I'm a competitor. So, Bill and I are perfect together."
---
Laimbeer the GM has one week left before all of the players on his roster become guaranteed for the season. He is thinking of making a change, so he has flown in Chucky Jeffery, a rookie free-agent guard from the University of Colorado, for a two-day tryout. He calls her into the conference room, and she sits at the table, with Laimbeer on one end and his two assistants on the other.
"We brought your ass in to eyeball you," he says. Jeffery nods, but says nothing, swiveling nervously in the rolling chair. "Are you mentally a knucklehead, or can you pick up s--- quickly?" he asks. He already has enough players who, as he euphemistically puts it, "Don't exactly have the highest basketball IQs."
He wants to be able to design a play in the heat of a 20-second timeout and have players who can understand and execute. Jeffery assures Laimbeer that, yes, she picks things up quickly.
Wheeling and dealing
When Laimbeer took over the Shock in 2002, he started calling around the league, looking to make trades and bring in players who fit his gritty brand of basketball. Back then, there wasn't much dealmaking in the WNBA, but Laimbeer brought an aggressive approach, building rosters the way NBA guys did: swapping draft picks, picking up veteran players on the open market, offering this for that, all in an attempt to get exactly what he wanted. Expect more of the same in New York. Laimbeer signed rookie free agent Chucky Jeffery to a seven-day contract on Aug. 5 because he liked her confidence as a point guard. But when veteran forward Delisha Milton-Jones became available, the Liberty claimed her off waivers the day Jeffery's deal expired.
"This is going to be a little awkward today," he says, wrapping up the meeting. "But play right through it. Remember, you're looking for a job." Later, Laimbeer will say to his assistant coaches, "I don't care what the players think about me bringing Chucky in. I'll do what's best for the team."
---
Isiah Thomas has just explained how Laimbeer, his good friend and former Pistons teammate, can be viewed as a brilliant coach by women while evoking far less flattering adjectives from men.
"It's a known fact that women are smarter than men," Thomas says after thinking through the question. "And in this case, I agree with the women."
He pauses for a second, then continues. "I'll put it to you this way: Not to compare Bill to Pat Summitt, but just to use her as an example. Pat Summitt would have been a great coach in the NBA or men's college basketball, just as she was in women's college basketball. Knowledge is knowledge. This game does not discriminate in terms of gender. Now, people may discriminate, but the game doesn't."
So, who is discriminating? And why?
"I think people respected Bill's playing career, but there are some people who are still mad because he beat them, and they may never get over that," says Thomas, who has served as coach of the New York Knicks and Indiana Pacers. "[Neither] he, nor I, nor any of our Piston teammates will ever apologize for beating other teams."
(Of course, two of Laimbeer's archnemeses, former Celtics Larry Bird and Kevin McHale, beat a lot of teams, too, in their playing careers, but neither of them seems to have engendered much animosity in the coaching ranks.)
People often say the biggest difference between coaching women and men is that women are more emotional and cling longer to past wrongs, that women let slights fester but men fight and then bury the hatchet. Yet here's a former NBA champion getting the cold shoulder nearly 20 years after the end of his playing days. Then again, people tend to see Laimbeer more as a bully than a champion. They don't disagree he always finds a way to win, but they view his methods as guerrilla warfare -- and that's not necessarily the path to victory everyone wants to take.
"We as former Pistons are still Pistons," Thomas says. "We lived by a certain code of honesty. Unfortunately, in some places, honesty is not valued. As a matter of fact, they tell you, 'Don't be honest.' People like Bill Laimbeer and I have a hard time not telling players the truth."
Laimbeer speaks candidly, as if he possesses a certain level of respect. But in reality, very few people in the NBA seem to hold him in high regard, so his brand of honesty has no wings. Even worse, it's seen as bloviating, coming from a place of insecurity. Same ol' Bill Laimbeer.
---
The WNBA has always had a fascination with hiring former NBA players as head coaches. An incomplete list: Muggsy Bogues, Henry Bibby, Dee Brown, Dave Cowens, Tree Rollins and Michael Cooper. In most of these cases, as was true with Laimbeer, the cachet of hiring a big-name star outweighed concerns about his complete lack of experience coaching women -- and, in many cases, a lack of any coaching experience at all.
Laimbeer took over the Shock in the middle of the 2002 season after the team's 0-10 start. One of the first games of his tenure was against the Charlotte Sting, coached by Anne Donovan, a women's basketball lifer. On her staff as an assistant was up-and-comer Cheryl Reeve, who would go on to work with Laimbeer in Detroit and is now head coach of the Minnesota Lynx. "I remember we were standing at half court before shootaround and we ran into Bill," Reeve says. "Anne said to him, 'Welcome to the women's game.' And Bill said, 'Oh, I've been in the women's game. I coached my daughter's AAU team.'"
That was the extent of Laimbeer's coaching experience. And, for Reeve and Donovan, his pronouncement was the equivalent of saying, "Oh, I've been a chef before: I once microwaved Spaghetti-O's." The two women walked away rolling their eyes and thinking, "Here we go again." Laimbeer was just another NBA guy swooping in to take a coveted job, an opportunity many female assistants in the league believed they would never get.
Reeve summarizes the WNBA's thinking at the time: "'Hey, we got an NBA guy sitting around here somewhere? He should be able to do something.' We saw so many NBA-type gimmick hires that were just awful, and terrible for the game."
In other words, Laimbeer had to earn the respect of his female counterparts. He needed to prove he wasn't just another glossy hire who would quickly go down in flames.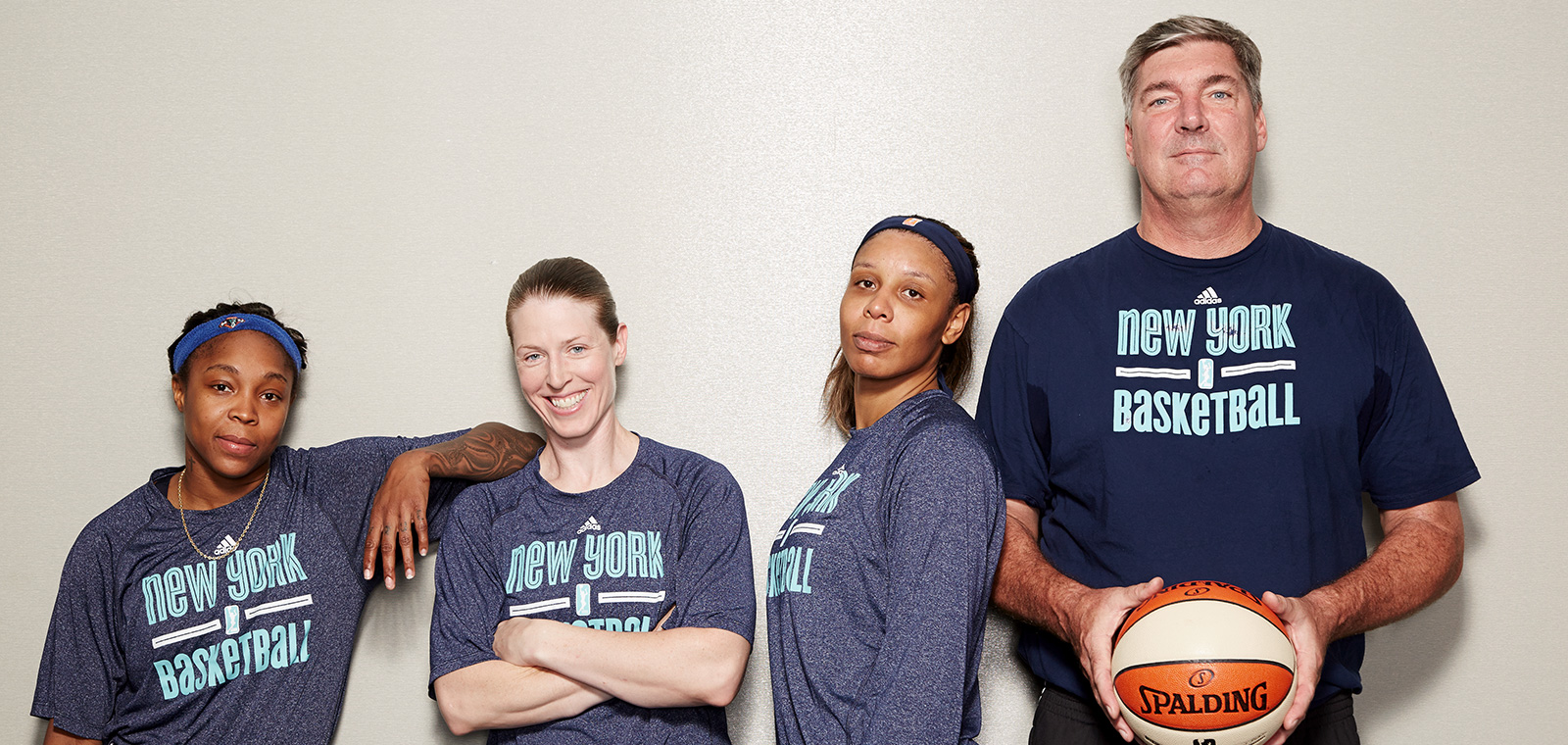 "How old are you?" Laimbeer has his arms folded on the conference room table.
"Me?" I say stupidly.

"The game does not discriminate in terms of gender. Now, people may discriminate, but the game doesn't."
- Isiah Thomas
"Yeah, you," he says impatiently. "How old are you?"
I look from Laimbeer to Farris to McWilliams-Franklin; they're all waiting for the answer.
"I'm 31," I say.
Laimbeer throws up his arms and glances quickly between his two assistants. "See?" he says to them. "I told you she was older than that."
"I guessed 27," Farris says.
Laimbeer interjects, "I told them I thought you looked like you're 35." He smiles, waiting to see how everyone will react to this.
McWilliams-Franklin takes the bait. "Bill!" she says with exasperation. "You don't say that!"
"What? Why not? It's the truth!" He seems pleased with himself, the guy who shoots straight at all costs, even when the only point of honesty is to offend, to rile -- to test. For Laimbeer, this seems like his favorite kind of honesty, as if the whole thing is a flawed play he has drawn up just to see how people respond when things break down.
This is classic Laimbeer shtick. The next night, after he spots two bright dresses hanging in McWilliams-Franklin's cubicle before the Indiana game, he looks up from his scouting report, reading glasses perched on his nose, and says, "What -- are you going to the prom?"
She cuts him a look before firing back, "Yeah, I'm not sure I should be taking fashion criticism from you, Bill."
Reeve spent three seasons with Laimbeer in Detroit. "It was the time of my coaching life," she says, noting his uncanny ability to break down the game. "He's extremely smart. And, trust me, I walked into my interview thinking, 'I'm really going to work for this guy? I can't stand him.' But he turned out to be this cerebral guy who was always three steps ahead. That was something I really enjoyed, anticipating where he might be in his thoughts. It was challenging."
But everyone who works with Laimbeer has also been stung by his particular brand of communication. He throws darts, and occasionally one wanders off course and pierces the heart.
Reeve considers Laimbeer a friend, almost like a big brother. He helped her get the head gig with the Lynx, lobbying the organization and telling team executives she deserved the opportunity. (Reeve led the Lynx to the 2011 WNBA title.) But while the two coaches were working together in Detroit, Laimbeer made a comment to Reeve -- issued a challenge, really -- that has stuck with her ever since.
"He said that I didn't have a big enough presence to be 'The One' over Michael Adams or Tree Rollins or any of those NBA guys who become WNBA coaches," she recalls. "And that always motivated the heck out of me. I remember winning the title in 2011 and feeling like, 'Well, I guess my presence is solid enough.' I don't think he realized the impact on me. A lot of times with Bill, you need to listen to the message and tune out some of the male-dominance stuff. I don't think he was trying to hurt my feelings. It's really how those NBA guys thought, that a woman couldn't have a big enough presence."
Laimbeer is always looking for the right button to push. And he found it with Reeve.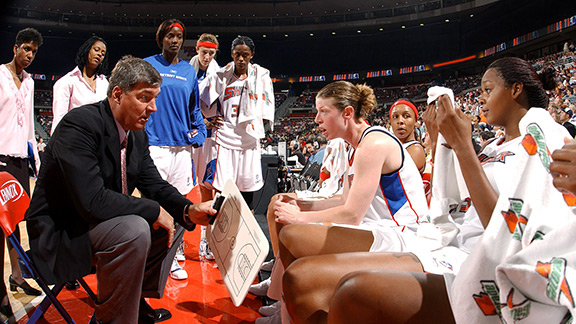 Katie Smith settles into a courtside seat after practice and kicks her feet in front of her, crossing them at the ankles. The 39-year-old guard has played for Laimbeer in two cities, first Detroit and now New York. She's gritty and smart, and she owns one of the smoothest in-between games in WNBA history. Before joining the Shock in 2006, Smith had already played seven seasons in the league. "But when I went to Detroit, all of a sudden I became one of the Bad Girls," she says. "All of a sudden I was a dirty player. Just because of who was coaching that team, all of us got that label. I was like, 'Wait, but I'm playing the exact same way I've always played.'"
Smith shakes her head. She understands there is always a price attached to winning, and she would do it all over again the same way if given the chance. She plans to retire at the end of this season, after which she likely will join Laimbeer's coaching staff. (Farris is on a six-month leave of absence from her job as the head girls' basketball coach at John Curtis, a high school in New Orleans.)
Laimbeer doesn't want his assistants with him for more than a season or two. The hope is they learn and grow, then move on to a better job -- maybe a top assistant position in college -- empowered to eventually become head coaches themselves. He already treats Smith as if she is the Liberty's third assistant, routinely calling her into coaches' meetings to pick her brain about what's working and what's not. "He has never treated any of us as if we're 'just' women's basketball players," Smith says. "He treats us like we're NBA players. He gives the same, and he expects the same."
I tell Smith I have a question to ask Laimbeer but want her take first.
She leans forward, intrigued. "What is it?"
Would he consider himself a feminist?
Smith laughs and crosses her arms, then leans back and thinks for a few seconds. "I don't think he's going to like that," she says. "I don't think he would say that he is. But considering how he treats female coaches and players, he kind of behaves as if he is."
Smith is right: Laimbeer does not consider himself a feminist. As a matter of fact, he seems offended when I ask, putting up his hand as if to block the idea from drifting any nearer.
"A what?" The inflection in his voice teeters toward annoyed. "I don't think I'm that way at all," he says. "I'm not into that I-am-woman, hear-me-roar type of stuff. That's what I think of when you say that word, someone out there trying to impose their will and belief on people."
Feminism (n):
the theory of the political, economic, and social equality of the sexes. (Source: Merriam-Webster.)
OK, so Laimbeer is not a feminist. He just treats women as equals.
In his mind, that means saying exactly what he thinks and testing them, all the time, to see how much he can get away with, to see who around him is willing to compete. Sure, coaching in the WNBA is smaller in scale than the NBA, but Laimbeer sees basketball like chess: There are pieces and moves and strategy, and he doesn't really care if his bishops and knights and rooks aren't turbocharged.
"Men demean women's basketball because it's not what they're used to," he says. "They try to equate it to what they know, which is the NBA or the men's college game. But it will never be like that. Never. So unless they change the way they think, they'll never give women's basketball the respect it deserves."
---
Rubin's vase
The differing perspectives on Laimbeer are almost comical. NBA executives offer a harsh assessment of his tenure as an assistant with the Minnesota Timberwolves, saying he treated players like college kids while he himself didn't want to work all that hard. But Liberty assistant coach Barb Farris says when Laimbeer took over the Shock in 2002, he treated the players as pros -- a new experience for a lot of them. Up until that point, many WNBA coaches were from the college ranks, so there was a tendency to carry over certain customs, such as shared meals and curfews on the road. Laimbeer considered those rules ridiculous, saying he was not in the business of babysitting. Minnesota Lynx head coach Cheryl Reeve, who was an assistant for Laimbeer with the Shock, adds this: "He works really hard, often when nobody's looking."
On the day before the Liberty's game against the Fever, Laimbeer and his two assistants are deciding whether to hold shootaround the next morning. Laimbeer says he'll let the team decide, which prompts Farris to say, "If you leave it up to them, they'll want to sleep in."
Laimbeer tells a story about his time with the Pistons under Chuck Daly. When the team was younger, and not winning yet, the players would moan and complain about having shootarounds, and Daly told them, "When you get good enough, I'll let you decide if you want them." Of course, when the Pistons became good enough, and Daly gave them the option, they never wanted to miss a session because they liked winning more than they disliked shootarounds.
This, too, is quintessential Laimbeer. He considers Daly a mentor, and he empowers his players the way Daly once did with the Pistons, encouraging them to take ownership. "I think they'll want to have shootaround," he predicts, but Farris and McWilliams-Franklin aren't convinced. In the huddle before the start of practice, Laimbeer is running through his checklist of items, then says, "Oh, and about tomorrow: We can either have shootaround in the morning, or we can just meet at the arena at 5 o'clock. It's up to you all." The players look around at one another, nodding without talking.
Then veteran Plenette Pierson, who played for Laimbeer in Detroit, speaks up. "Let's do shootaround."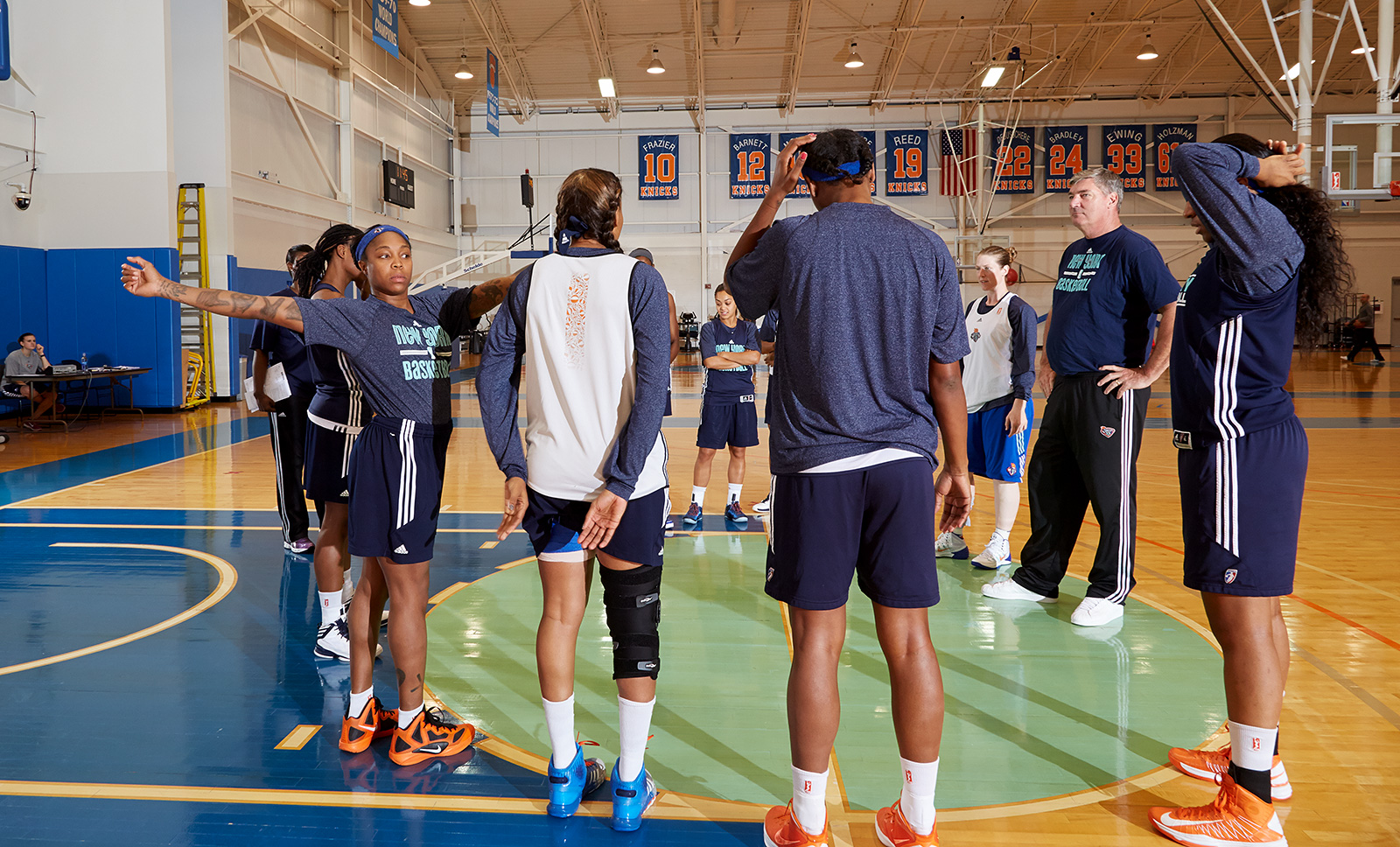 The Liberty have just lost, badly, to the Fever. The stands in the Prudential Center have emptied (the Liberty are playing their home games in Newark, N.J., while Madison Square Garden undergoes a summer renovation), but Chris Laimbeer, Bill's wife, is still sitting courtside with a friend. I walk over to sit with her because I want to understand what she thinks of her husband coaching in the WNBA. Is she especially proud of him? Does she not care either way? Basketball is basketball?
"Our life has always been a partnership," says Chris, who has been married to Bill for nearly 35 years. "He grew up with older sisters, and he has always been comfortable working with women, even having women as bosses."
Free ride
Laimbeer was only four years removed from his playing career when he started coaching AAU ball -- a former All-Star still calibrated to the highly competitive world of pro sports. And he brought that goal-driven perspective to daughter Keri's team. "For them, basketball was an avenue and a vehicle," he says. "The vehicle was a free education. That's what I told the players: We wanted all of them to be on the varsity team as freshmen, and we wanted them to have a college scholarship at the end of high school. And I think everyone on that team, all but one, hit that goal."
Chris says her husband was so used to living with women that when the couple's younger child, Eric, was born in 1985, Bill's reaction was, "Wow, this is going to be different, having another boy in the house." In 1997, Bill began coaching daughter Keri's Michigan-based AAU team, and two things became readily apparent to him: The girls played really hard, and there was a specific end goal -- college scholarships -- that could serve as another measure of success and satisfy his endless craving for competition. (Keri would go on to play for Syracuse University.)
"A free education, that was our target as a team," Bill says. "I wasn't going to get into AAU just because my daughter was playing and they needed a coach; I was going to help create and build a team that could compete at the highest level. And if some players couldn't be on that team because they weren't good enough, well, too bad. That's the way it was."
It should come as no surprise that Laimbeer gravitates toward players who are desperate to win, who will do exactly what they need to do, even if they aren't the fastest or most athletic. He never was, either.
"If someone proves their worth, that's all Bill cares about," Chris says. "It's funny, though. Some of our old NBA friends, they'll never understand what Bill sees in the women's game because they're not willing to look outside their little box about what they think basketball actually is. To them, basketball is solely defined by the NBA. Bill has never thought that way. He just sees the game itself."
Chris continues: "I remember his first year in Detroit, I overheard him on the phone, arranging travel for one of his players who had just given birth to triplets. He was saying, 'Don't forget the breast pump -- we need one of those -- and the car seats for the bus.' I remember thinking, 'If anybody overheard that conversation, they would not believe their ears.' But for him, it's about competition, it's about finding a way to win, with men or women."
---
Laimbeer is walking across the Liberty practice court, which is empty because the players are lined up against the far wall, stretching their calves. Three banners hang from the ceiling, celebrating New York as Eastern Conference champion in 1999, 2000 and 2001.
Laimbeer tilts his head up at them, then walks to the sideline, where the support staff is sitting. "You know what I tell the players those mean?" He lifts his right hand to his forehead, forming an "L" with his thumb and forefinger. "Losers," he says. "I tell them that those banners represent losing." He walks away, with a lean in his step that is either a swagger or just the way he walks after so many punishing seasons of professional basketball.

"He has never treated any of us as if we're 'just' women's basketball players. He treats us like we're NBA players. He gives the same, and he expects the same."
- Katie Smith, New York Liberty guard
It's one of those moments that feels as if Laimbeer is consciously playing the clichéd version of himself. Same ol' Bill. But he also has a point, if you're inclined to see the game the way he does, if you believe that the purpose of pro basketball is to win championships. His three titles with the Shock came in six full seasons as coach, which means that when he walks into a gym now, the players know that if they follow his lead, there is a decent chance they'll become champions, too.
For Laimbeer to be successful, he needs players who require minimal coddling, who will do what he tells them. But he's also looking for something else, something that's not so easy to define.
At today's practice, the Liberty are running their first thinking drill of the session, a 5-on-0 fast break, with Laimbeer calling out a specific option he wants run on the far end, and another on the way back. Rookie forward Toni Young is with the first group, struggling to run at top speed while also processing the variation of the offense Laimbeer has demanded. She sprints the lane, then finds herself stuck between the wing and the block, unsure whether she should pop out or set a screen.
"I knew you'd f--- it up," Laimbeer yells, as if the point of the whole drill was to test Young. A few seconds later, he adds, "That was some sloppy s---."
Young walks to the sideline, deflated, but immediately starts consulting with teammates, pointing and nodding. She doesn't want to disappoint him. Young was the No. 7 pick in the 2013 WNBA draft. She is athletic and talented, a 6-2 high jumper with loads of potential, especially for someone who didn't start playing hoops until her sophomore year of high school. All Laimbeer sees is the player she could become, an All-Star if everything goes right.
Believe it or not, the man who was once dubbed "His Heinous" is actually an eternal optimist when it comes to players, sometimes so stubborn in his convictions that he sticks with someone long after everyone else has given up, believing the turning point is always around the next bend.
Or, as Reeve says, "It takes him way too long to realize that some players are never going to be the best versions of themselves."
---
The hard salary cap for each WNBA team is $913,000. The average salary in the league is $72,000, with a minimum of $32,000 and maximum of $105,000. There are 12 teams in the league and 11 roster spots for each. That's a total of 132 jobs available in the best professional women's basketball league in the world.
Just for comparison, the team salary cap for the upcoming NBA season is $58.7 million, and there are 450 players in the league. The average salary is about $5 million, the minimum is $490,000, and this season Kobe Bryant will make a league-high $30.5 million.
The point of these numbers is the power that comes with them. In the NBA, individual players have the clout to hold entire franchises hostage if they are unhappy. It's a business first, then a game, and those massive dollar signs cast a long shadow. The NBA is about getting a star player and keeping him, more than X's and O's and team structure from top to bottom.
No player in the WNBA possesses any more power than the franchise and coach want to give. Most stars in the league have stayed on the same team for their entire careers. A coach puts together a roster of 11 players he or she believes can compete together, and if one of those women doesn't want to listen, doesn't think it's important to run the plays the way they're drawn up, then she is waived eventually, usually without a dollar owed.
In the end, it's not hard to see which league better suits Bill Laimbeer.
Coaching in the NBA might still be his dream, but the WNBA is his reality.
Kate Fagan (@katefagan3) is a columnist for espnW.com.
Follow ESPN_Reader on Twitter: @ESPN_Reader. Follow Outside the Lines on Twitter: @OTLonESPN.
Join the conversation about "The Feminization of Bill Laimbeer."