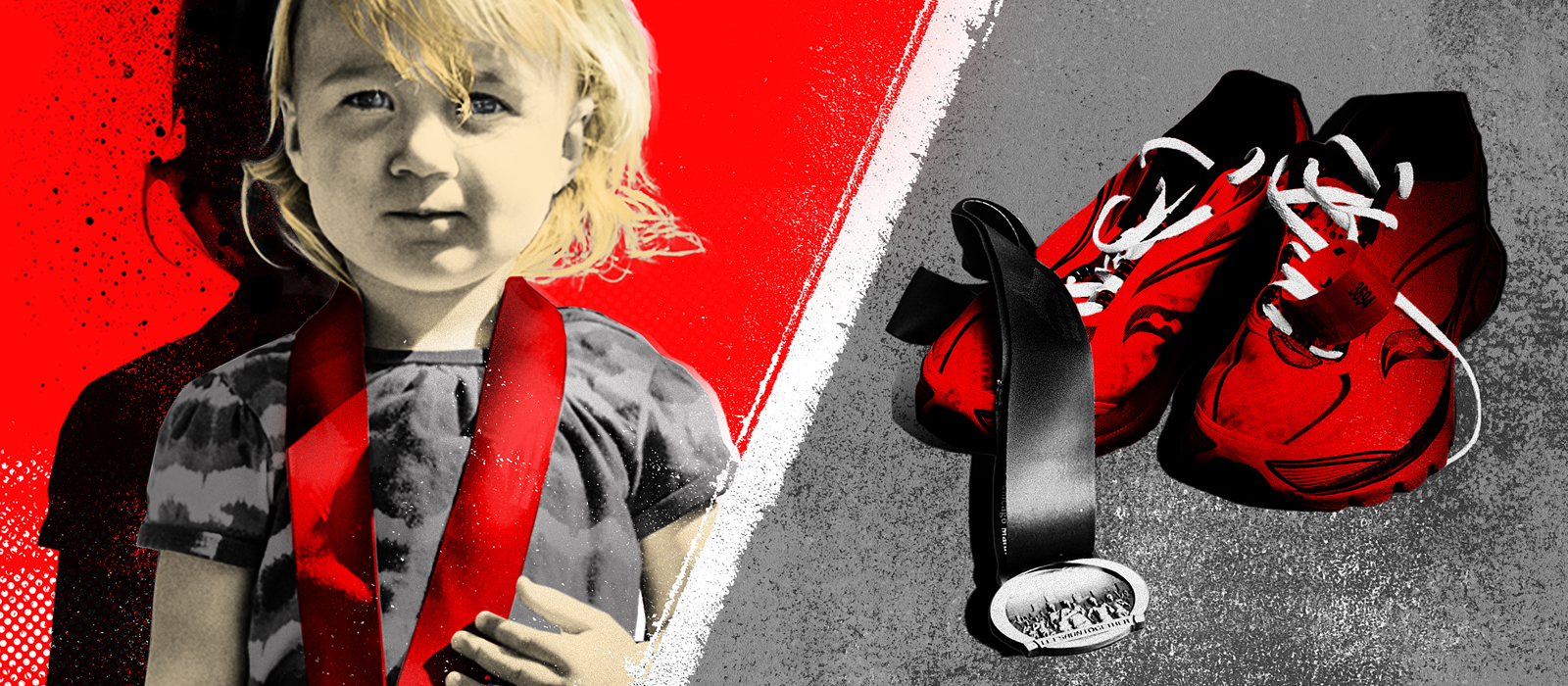 The Marathon of Their Lives
Runner No. 3694 in the Chicago Marathon was known as Superman. Runner No. 21385 was nine months' pregnant. At Mile 26, their paths diverged. And there's no explaining why only one crossed the finish line.
The collision between life and death at the Chicago Marathon was set in motion by a single scuffed shoe.
In November of 2010, Will Caviness, 34, a firefighter from Greensboro, N.C., was cruising through his first marathon, slicing through the salty, warm air of the Outer Banks at a 6:50 per mile pace when, just 5 miles from qualifying for his first Boston Marathon, disaster struck.
A multisport standout athlete in high school and college, Will took to running in 2009, two years after the birth of his son, Jack, at a time when, like most new dads, he felt the need to increase his stamina. It began with short jogs in dizzying circles around the property line of Fire Station 5, in order to stay within earshot of the alarm. A year after that first lap, Will had completed several 5Ks and 10Ks and two half-marathons, and his friends had become accustomed to seeing his black buzz cut, his wraparound shades and that distinct, impossibly square jaw of his, pushing Jack in a jogging stroller down the endless country roads that frame the old tobacco fields on the outskirts of Greensboro. Heading into the Outer Banks race, Will was so confident in his newfound running ability that his older brother, Sean, a fellow firefighter, had already looked into Boston hotel rooms and Red Sox tickets for the entire family.
At an aid station near the 21-mile mark, however, the runner Will was drafting behind pulled up unexpectedly after catching the tip of his foot on the pavement. With no time to react, Will plowed him over, sending them both sprawling to the ground in a heap. Will growled a few choice words into the street. Then he stood back up, shook out his legs and darted off toward the finish, knowing full well that time was no longer on his side. Just a few strides in, he felt it: the telltale drying-concrete sensation of his hamstrings beginning to tighten. Will tried to fight through it, but his pace plummeted over the final 5 miles and he crossed at 3:17:26 -- just above the qualifying time for Boston.
The botched finish at Outer Banks left Will overcome with disappointment and regret for almost a full 10 minutes after the race. He then spent the rest of the day laughing and chasing Jack around a nearby coastal aquarium so that his wife, Jenny, pregnant with their daughter, Caroline, could rest on viewing benches in the air conditioning. "What can I say?" says Jenny. "I married Superman."
With his goal to run Boston postponed by a year, Will, always the pragmatist, simply sat down at his home computer a few days later and started scanning message boards and running magazines for potential qualifying races in the fall of 2011. Looking for a flat course in a fun city that would allow him to run for a cause, Will eventually landed on the website for the Chicago Marathon.
The theme for the 2011 race: Let's Run Together.
---
Amber Miller didn't intend to run Chicago either. Two days after she sent in her $145 entrance fee for the race, Amber found out she was pregnant with her second child. When she adjusted her due date based on her first delivery, little June was likely to arrive Oct. 10, the day after the race. Amber, 27, was mildly disappointed, but on some level the date was a relief to both her and her husband, Joe, who live in Westchester, about 20 minutes west of downtown Chicago. Because once she committed to something, especially something related to running, childbirth was maybe the only thing that could keep Amber from completing it. Maybe.
Amber discovered running in middle school in Wichita, Kan., where she finished her first cross country meet so far ahead of the field that in the final stretch she spun around to look for other runners, convinced she had made a wrong turn. It would be years before someone caught her, but no matter how often or how fast she covered that distance, it never quite provided the deeper challenge Amber craved.
As a member of the cross country team at Indiana Wesleyan in Marion, Ind., Amber went on long training runs on the serene farmlands west of campus, and they began to take on a meditative quality. The longer and more challenging the run, the more meaningful. After college, while working as an elementary school teacher in the Chicago suburb of Cicero, Amber made the jump to 26.2 miles. Using a daily mileage regimen somewhere just shy of obsessive, she cruised through her first seven marathons, collecting a PR of 3:25 in Columbus, Ohio.
Running had become such a vital part of her life that, at first, Amber was apprehensive about getting pregnant. She assumed that it meant hanging up her favorite blue Nike Frees and retiring from the road. But her doctor assured her that continuing to exercise during a normal pregnancy did not put the child at risk or increase the rate of miscarriage. Many studies, in fact, suggest just the opposite. Marathon world-record holder Paula Radcliffe ran up to 14 miles a day while pregnant. American runner Kara Goucher put in as many as 80 miles a week before giving birth to her son. Amber herself ran the Indianapolis Marathon when she was 18 weeks pregnant with her son, Caleb, and kept running right up until the day he was born in 2010. In the months leading to Chicago, she repeated that program with June, even sporting a T-shirt that said "You just got passed by a pregnant lady." "Pregnant women are not disabled," Amber insists. "We are so afraid of marathons and so overprotective of pregnancies, it forms this kind of perfect storm. In my mind, I wasn't doing anything great or amazing. Running like this, it's just who I am and how I am."
The week before Chicago, now too far along with June to fit into her "pregnant lady" running shirt, Amber sailed through a 12-mile training run. Days before the race, after consulting with her doctor about the risks one last time, Amber made up her mind and informed her family: I feel great, I've already paid the entrance fee, I'm gonna go. They all agreed that Joe and Amber would jog and walk maybe half the course together, enjoy the great crowds and the nice weather, then skip ahead to the finish to pick up their medals.
The next night at a friend's wedding at the Wilder Park Conservatory in Elmhurst, word traveled quickly around the reception that Amber was headed downtown the next morning to casually run part of her hometown marathon -- a rather dubious plan to the people who really knew, and loved, Amber's drive.
"Good luck Amber," her brother-in-law said with one eyebrow raised as they departed the reception. "I guess we'll see you on the news tomorrow night."
---
On race day, Will bolted out of bed at 4:45 a.m., eager to get started. He, Jenny and Sean had come to Chicago two days earlier to enjoy the city. They left their kids, 4-year-old Jack and 10-month-old Caroline, with grandparents back in North Carolina and rented a brownstone in the city's historic Gold Coast neighborhood. On Friday night they enjoyed a deep-dish pizza at Lou Malnati's. On Saturday they took Jenny shopping on Michigan Avenue. At a pasta dinner for runners the night before the race, Will declared that if he ever moved to a big city, it would be Chicago.
The next morning, they were the first to arrive at Engine 13, a fire station near Millennium Park that served as the rendezvous point for runners raising money for the International Association of Fire Fighters' burn foundation. Will had a small meal of oatmeal, yogurt and bananas. Then the IAFF team -- wearing matching white tank tops fringed in blue flames with a large Maltese cross on the chest, like a superhero symbol -- posed for pictures in front of a fire truck.
The son of a cop, and a man of few words who saw things as either right or wrong, Will was an old soul, a tinkerer and a silent Samaritan. If you happened to mention at a friend's cookout on Friday night that your lawn was looking shabby, you could expect to wake up early Saturday morning, glance out your kitchen window and see Will crisscrossing your yard, aerator in one hand, bag of fertilizer in the other.
In the months leading to Chicago, Will, the first of his peers to make fire captain, quietly raised $2,895 for IAFF. But when asked to pose for a prerace photo, he stood on the far left of the group, barely glancing at the camera, his mind and body already halfway out the door.
Right after the photo, in fact, Will kissed Jenny goodbye, then headed straight for the exit. He was ready, unafraid. But in the doorway of the fire station, he paused and turned around.
"We got this," he said.
Then he disappeared into the cool, violet predawn light.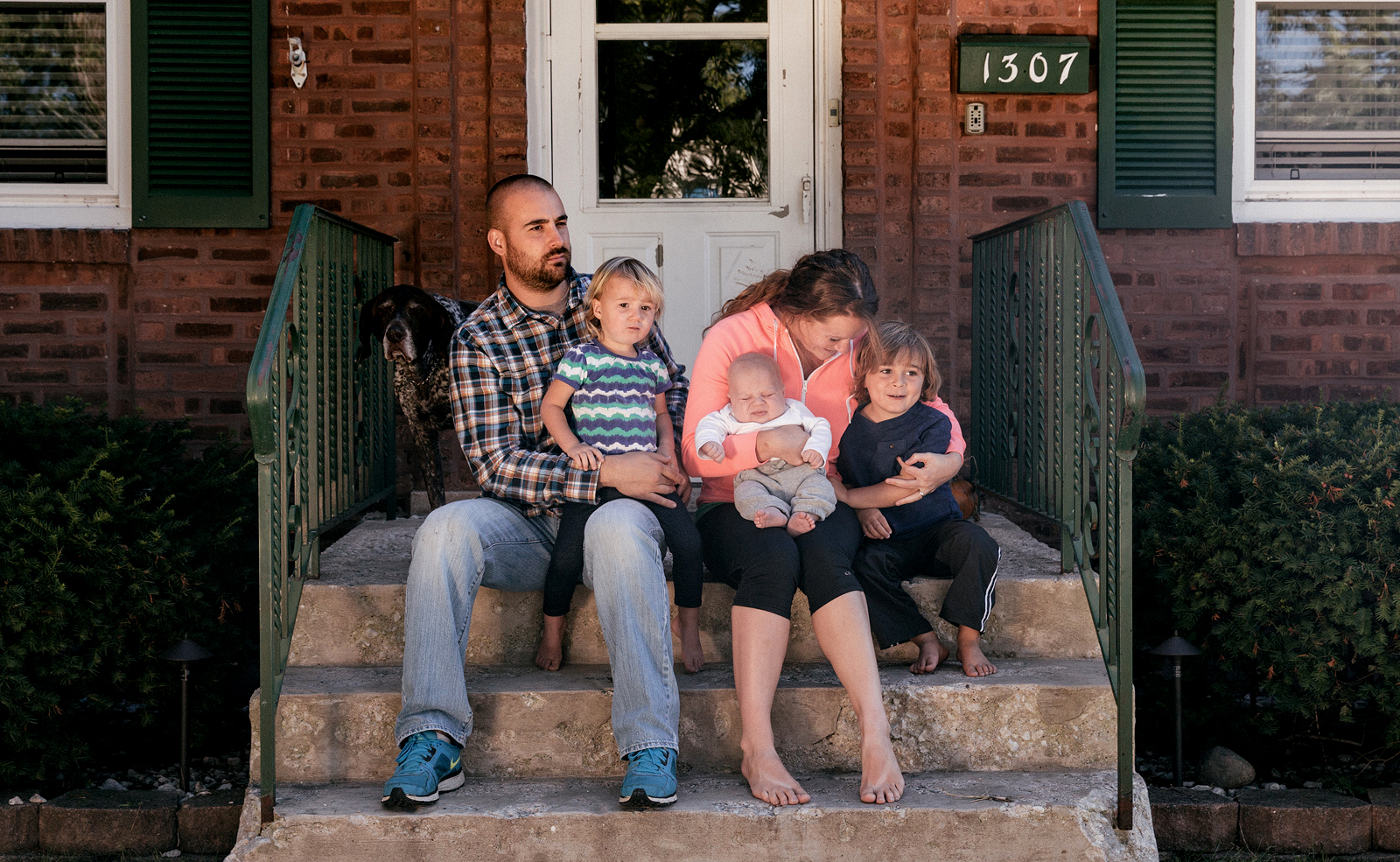 As Will made his way to the starting line, Sharon Rovenstine pulled up in front of her daughter Amber's modest red brick colonial home, put her minivan in park and waited. A fast runner, Amber had always been a notoriously late starter. When she ran Boston in 2009, she nearly missed the start of the historic race, jogging and pinning her bib onto her shirt as the gun went off. On this day, it was well after 6:30 by the time she and Joe got up and moving.
They ate a quick bite, got Caleb ready and piled into the car. Caleb is a runner too. When he jogs with his mom on trails at Bemis Woods near their home, Caleb likes to drag his feet, kick up dust and yell, "Me make smoke Momma!" June was awake now as well. Feeling her movements, Amber spread her fingers open and placed them on either side of her belly as a comfort to both mother and child. Petite but sturdy, with a freckled face and a wavy shock of strawberry blond hair, Amber is pleasant and warm but in a direct, no-nonsense way. "In our culture, people live in fear of everything," she says. "You cannot live like that. At least I can't. And I knew if I went into labor, the marathon would be the easiest part of my day."
With little traffic and most runners already out on the course, Joe and Amber scrambled to the deserted starting line like a couple of giggling truant teenagers. Half an hour after Will began his race, the Millers were shooed out of the park and north on Columbus Drive by cleanup crews with brooms and garbage trucks sweeping up the debris left behind by the nearly 45,000 runners ahead of them.
For the moment, the fate of bib Nos. 3694 and 21385 had not yet intersected, and the world still made perfect sense.
---
When Will and his brother, Sean, were kids, at the end of long summer days packed with adventure in the woods of central North Carolina, their grandfather would stand on his porch and call them back to civilization with a high-pitched two-tone whistle. SzeetsZaaaw. Sean is the only one in the family who can reproduce that distinct sound, which came in handy near the halfway point of the race in Chicago. In the first 3 miles, the course zigzags across the river three times before runners have a chance to spread out while heading north 4.5 miles toward Wrigley Field. Unable to locate Will early on, Sean and Jenny decided to stay put and wait for him under the "El" tracks near Wacker Drive, just past the 12-mile mark.
They didn't have to wait long. Less than 90 minutes into the race, with the sun leaking between the skyscrapers and turning everything a blinding white, they spotted Will moving over the Franklin Street bridge. At 6 feet and almost 180 pounds, Will ran upright and effortlessly, with an air of purpose and inevitability to his stride. For Will, running was all about will. He enjoyed the primal challenge of it all, the way the miles stripped away the modern conveniences and the B.S. of everyday life.
Will cleared the south side of the Chicago River wearing wraparound shades and black earbuds, almost certainly blasting AC/DC, his favorite band. Although he had been clicking off sub-seven-minute miles, he didn't have as much as a bead of sweat below his black buzz cut. He was in the zone and having a blast. When Sean hit him with granddad's whistle, though, Will instantly popped his head up and followed the sound directly to its source.
A confident, cool smile unfurled across his shadowed jaw, and with his left hand Will reached up and pointed right at Jenny. The simple, silent gesture from a man who lived by a nearly extinct definition of masculinity -- do more, need less -- reminded Jenny of their first date. Will had asked her out when they were teenagers but Jenny said no. Then, home from college on Dec. 23, 1998, they were at a bar in Greensboro when a strange guy followed Jenny from the bathroom out to the dance floor. She gave Will a look and he stepped between them, stiff-arming the guy in the chest "like Clint Eastwood," says Jenny. "There a problem?" The guy looked down and shook his head no. "Will goes: 'No? I'm gonna ask her now, and if her answer isn't the same as your answer, you actually do have a serious problem,'" recalls Jenny. "The dude climbed over like four tables to get out of the bar."
Three days later, they had their first official date. Three days after that, Will told Jenny he loved her. Two weeks later he asked her to marry him. "Women still look at me and go, 'That kind of true love, like in the movies, really exists?'" says Jenny. "And I'm like, 'Uh yes, why would you settle for anything less?'"
Now, as Will moved away from them down Franklin Street, about to head west through Greektown and into the second part of the course, Jenny jumped up and down with excitement on the sidewalk.
"Go!" she yelled at her husband.
"Go!"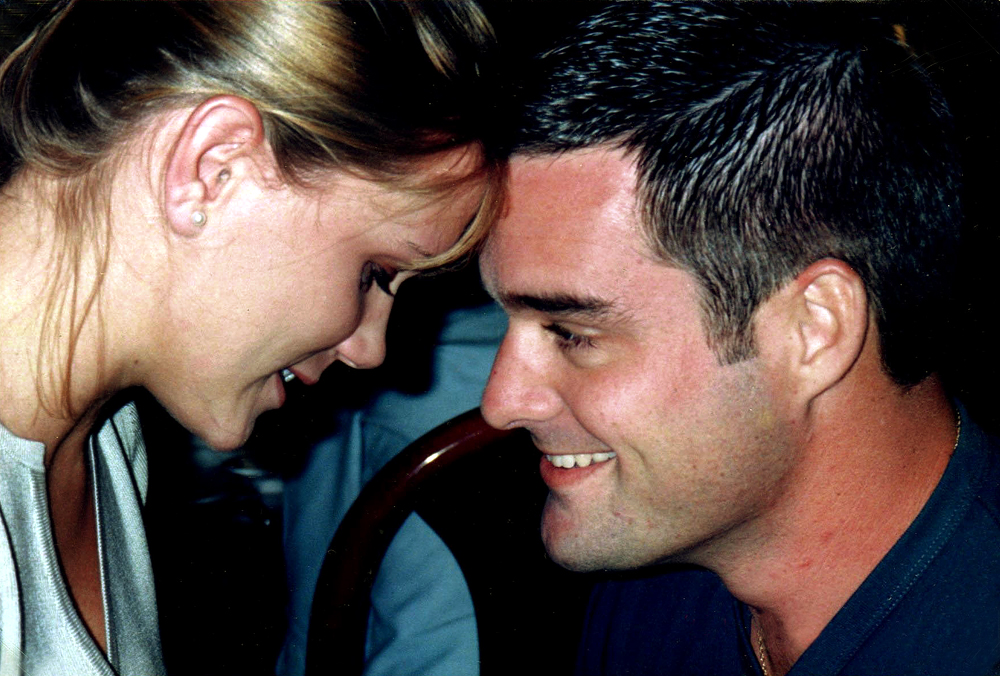 Her ponytail still perfectly in place, Amber crossed the Franklin Street Bridge three hours after Will but with the same textbook form and high spirits. She looked radiant and relaxed, with a short, efficient, resolute stride. Fully to term, her feet still hit the pavement so softly that they barely made a sound. Amber was lucky, she knew, that she carried her kids low and close to her body, allowing her to stay balanced and move with amazingly little discomfort. At times, in fact, it was hard to tell she was pregnant at all, except when her race bib rode up on her white Dri-FIT shirt, exposing a prodigious "outie" bellybutton.
Her strategy -- run 2 miles, then walk 2 miles, refueling with two full cups of water and a bagel or banana at every aid station -- had just one flaw. Amber and June were well-prepared and enjoying the ride. Joe, on the other hand, had quit training the minute they found out Amber was pregnant. Busy as a security specialist at Convergint Technologies, his entire prep consisted of rushing out to buy new socks the night before the race. By Mile 8, his right knee had begun to bother him, so after transferring the cellphone to Amber, who strapped it to her left biceps in case of emergency, Joe slowly fell behind and out of sight.
Unaccustomed to moving at such a slow pace, Amber was developing large nasty blisters on her feet. And without Joe around, at the end of each self-imposed circuit, she was having a hard time finding the willpower she needed -- not to keep running, but to stop. Amber's racing style had always been to put her head down and grind without looking up for 26.2 miles. In 2009, dangerously hot temperatures caused her to walk off the Chicago Marathon course just shy of Mile 14. When her uncle tried to cheer her up by talking about some of the race's landmarks, like the Lincoln Park Zoo, the male cheerleaders in Boystown and the iconic United Center, Amber couldn't recall a single one. She connected the joy of running only to her time and finish -- until June forced her to slow down. "This time I saw the city," she says. "I took in all the sights and sounds. All the different neighborhoods. All the great people. This time I enjoyed it. I felt changed. The whole day, I never expected to finish. I just kept going because I was feeling great and loving the experience."
As Amber followed in Will's footsteps down Franklin Street, through Greektown and onto the second part of the course, shocked spectators would jump out of their seats and cheer her on as she passed.
"Go pregnant lady," they yelled.
"Go!"
---
Back in Greensboro, Brad Shumate felt his cellphone vibrate. Will's best friend since the fifth grade, his roommate at college and now a fellow Greensboro firefighter -- "If I hadn't married Will, Brad would have," jokes Jenny -- Shumate had signed up for automatic text updates of Will's performance in Chicago. A few days before the race, Brad and his wife had thrown an impromptu cookout where Will held court at the kitchen table, entertaining them all with his detailed race strategy to qualify for Boston. Three-quarters of the way done, he was still hitting all of his marks. At 9:40:57 a.m., the text read: Will Caviness (3694), 30K, Elapsed time: 02:09:56, Pace: 06:59, Est. Finish 10:34 am (UNOFFICIAL).
---
Amber's family members were receiving the same kind of text updates. So before her mom answered her cellphone, she knew her daughter and granddaughter had made it safely all the way to the shady, tree-lined urban campus of the University of Illinois Hospital and Health Sciences System -- Mile 18. Typically, this is the moment of truth for marathoners: the place where glycogen stores and willpower bottom out, just as the dreaded wall begins to go up. But Amber was talking fast, her voice full of energy and spirit. The blisters on her feet were painful but she had yet to feel winded or discouraged. The day, she explained to her mom, was unfolding like one long, pleasant walk. Amber was thrilled to learn from her mom that Joe was still on the course, gimping along 15 or 20 minutes behind her. Up ahead was Pilsen, the heart of Chicago's Latino community and one of her favorite parts of town. For Amber, the path to the finish line on the south side of Grant Park seemed to be tilting ever so slightly downhill. "Mom, wow, I feel great," she exclaimed. "I think I can do this, I really do, I'm gonna keep going."
She hung up the phone and turned south on Ashland, crossing in front of a huge church steeple, then over Roosevelt Road.
At that moment she was just 2.5 miles due west of where Will had approached the finish line a couple of hours earlier.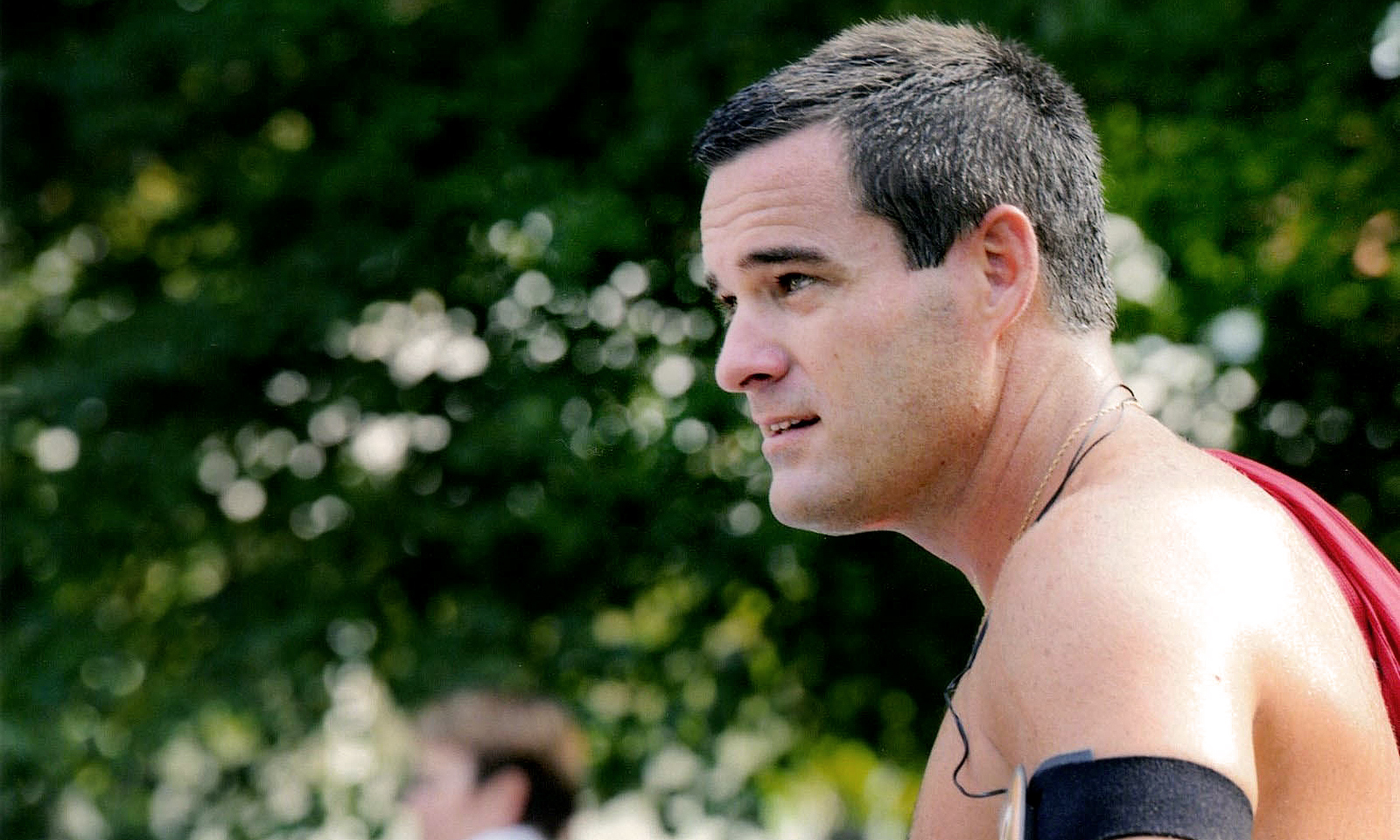 After a 2.5-mile stretch up the cavernous Michigan Avenue, the final challenge of the Chicago Marathon is a small hill on the southwest side of Grant Park at Mile 26, which exhausted marathoners have nicknamed Mount Roosevelt. Just ahead is the Shedd Aquarium, the cobalt waters of Lake Michigan and the finish line. Down to the left is the park and Agora, a massive, mesmerizing sculpture by Polish artist Magdalena Abakanowicz. The piece features 106 headless and armless 9-foot iron figures that appear to be lost, wandering souls milling around some cosmic way station, much like the spent runners at the end of a marathon.
Stationed at the top of Roosevelt Road where the crest of the hill blocked their view, Jenny and Sean couldn't see a thing. But Sean, having spent his entire life at his brother's side, most of it on athletic fields, has reconstructed what he thinks happened next:
Less than 500 yards from the finish, Will turns onto Roosevelt Road where the course is now framed by metal crowd-control barriers covered in bright red bunting. Will is close enough to see the finish, to hear the roar of the crowds and the electric crackle of the PA announcer. Sunlight flickers off the lake and the glass skyscrapers in the distance. He's home. He knows it. He looks at the watch on his left wrist: At just past three hours he's done it, qualified for Boston by more than 10 minutes. He could walk up the brutal final hill, but that's not Will's style. Instead, he puts his head down and leans into the incline, bracing for the race's final sacrifice. A few steps later Will shivers, his legs lock and he gulps in a stuttered breath of air. His heart has stopped. He doesn't cry out or fall forward helplessly onto his hands and knees. No, Will would have shaken it off, the way he did with everything else, and stood defiantly before his head slumped onto his right shoulder and his body followed suit, crumpling straight down, his long limbs telescoping inward into a heap, like an overcoat falling off a coat rack.
However it happened, emergency physicians and EMTs near Mile 26 responded to Will within seconds. And they were able to get a pulse back before transferring Will to an ambulance.
Unaware, Jenny and Sean stood on their tiptoes, half a block away at the top of Roosevelt Road watching, waiting.
Nothing.
"All right, all right," Sean said out loud, to no one, checking his watch, "come on ..."
Will should have finished at 10:34 a.m. At 10:45, when they still hadn't spotted Will, his wife and brother made their way through a maze of people and fences to the corrals of finishers on the Lake Shore Drive side of the park. They were standing at a gate manned by a security guard, craning their necks, frustrated and a little nervous, when Sean's phone rang. He looked down and, not recognizing the number, let it ring. After a few more minutes passed with no sign of Will, Sean asked the security guard what the Chicago area code was.
He told him 312. Sean looked back down at his phone and saw 312. He dialed the number. "This is Mercy Hospital. Your brother Will is here. We need you to get up here as soon as possible. It's serious."
"On our way," Sean replied, taking Jenny by the arm, pushing the security guard out of the way and making a beeline for Michigan Avenue.
"What is it? What is it?" said Jenny, frantic.
"I don't know. All I know is Will's at the hospital and we need to go there."
Mercy Hospital was on the course, about 2 miles down on Michigan. Will had jogged past it just minutes earlier. As the cab sped south, it passed hordes of runners all moving in rhythm in the other direction, giving Jenny and Sean the dizzy feeling of moving backward in time. The internal bargaining had already begun. It's an ankle. Or his hamstring again. Or dehydration. Everything's OK. Everything's OK. Please, God. Please. Make everything OK. But Sean couldn't get the hospital administrator's voice out of his head. "It's serious." There was something about the tone.
As they exited the cab and raced through Mercy's art deco concrete entryway and into the hospital, Sean felt his chest constrict.
As a firefighter and EMT, he had used the exact same tone with family members when they arrived at the scene of an accident.
---
When Amber finally reached the top of Mount Roosevelt, she was overtaken by the strangest phenomenon: The gusting winds off Lake Michigan that give Chicago its nickname seemed to be gently pushing her to the finish. Although her 2-and-2 plan called for her to walk the final 0.2 miles, Amber, buoyed by the spirited winds, couldn't help herself. Footsteps from where Will's race had come to an end, she began to run. The wind still at her back, Amber entered the homestretch just ahead of a group of runners dressed in matching orange T-shirts who had clasped hands and blocked most of the finish line.
Later, when Amber's finish became national news, she was accused of being a running-obsessed nutjob willing to put a child at risk for her own glorification. But that kind of compulsion and the individualism it requires -- at once, noble, selfish and risky -- is what draws any human to sports, and to the challenges of marathons in particular. She knew the risks to her child. She knew what she was flirting with. And she was at peace with it. Whether people see that as a flaw or a strength is of little concern to Amber. "Everything you do when you're nine months pregnant involves risk," she says. "Some women gain 100 pounds when they're pregnant and they're putting their baby in danger, too. There are more women doing that than running marathons, but no one ever calls them selfish."
Nothing, though, spoke louder on the subject than Amber's final steps. As the women in orange shirts slowed to a crawl, playing to the crowd and basking in their moment, Amber moved to the far left, near the long shadows cast by the course barriers, slipping across the finish line, head down, virtually unnoticed. Her personal chip time was 6:25.50.
Amber collected her medal, moved to a shady part of the curb and sat down, watching, waiting. Three different times members of the medical team near the finish line came over to ask if she needed assistance, or a wheelchair even. And three times Amber looked up, smiled softly and said, "No thanks." After 19 minutes, she saw Joe in his gray shorts and white T-shirt hobble around the corner. She went to him, and together they walked down the finishing chute. Amber had seen lots of other people crying at the finish line of marathons, but today she was the one overcome by emotion. "This was not something I ever meant to show to the whole world," she says. "We had no idea this was gonna turn into all this. This was just me being me. But I'm not gonna lie or downplay it; I shouldn't have to. What I had been able to do at nine months pregnant? Very cool. It was a special moment for me, for us, for our family."
A family that was on the verge of expanding. After meeting up with Amber's parents, the five of them were walking across Grant Park and back to their car when, not far from Mount Roosevelt and the Agora sculpture, a contraction hit Amber hard enough to stop her in her tracks. "It wasn't really, really painful, not an oh-no moment like in the movies," she recalls. "It just kinda made me wonder: Hmm, this feels different. Is this labor?"
Caleb had been born in 4.5 hours, and Amber's obstetrician had warned her that the next baby might come even faster. By the time they got to her mom's van, the contractions were coming every five minutes. About 15 minutes later, Amber thought she needed some sustenance, in case this really was it. So they stopped by Jason's Deli near their home in Westchester to grab something to eat. Halfway through a turkey Reuben, though, Amber was doubled over in pain, unable to stand.
Had she made a horrific mistake?
"Nothing ever felt wrong-wrong," she says. "The thought that I had done something bad or made a mistake by running the marathon never crossed my mind. Labor is so much harder and intense than a marathon, you can't even compare the two. Trust me: The race was forgotten, and quickly."
They dialed her doctor and explained what was going on.
Go to the hospital, he said.
Still in her race clothes when she arrived, the first thing Amber did was inform the staff she had just finished the Chicago Marathon. No one seemed alarmed or even all that concerned. That, or no one believed her.
Seven hours later, though, June Miller, runner No. 21835b, was born at 10:29 p.m. She was perfectly healthy, weighed a robust 7 pounds, 13 ounces and had the deep brown eyes of her father.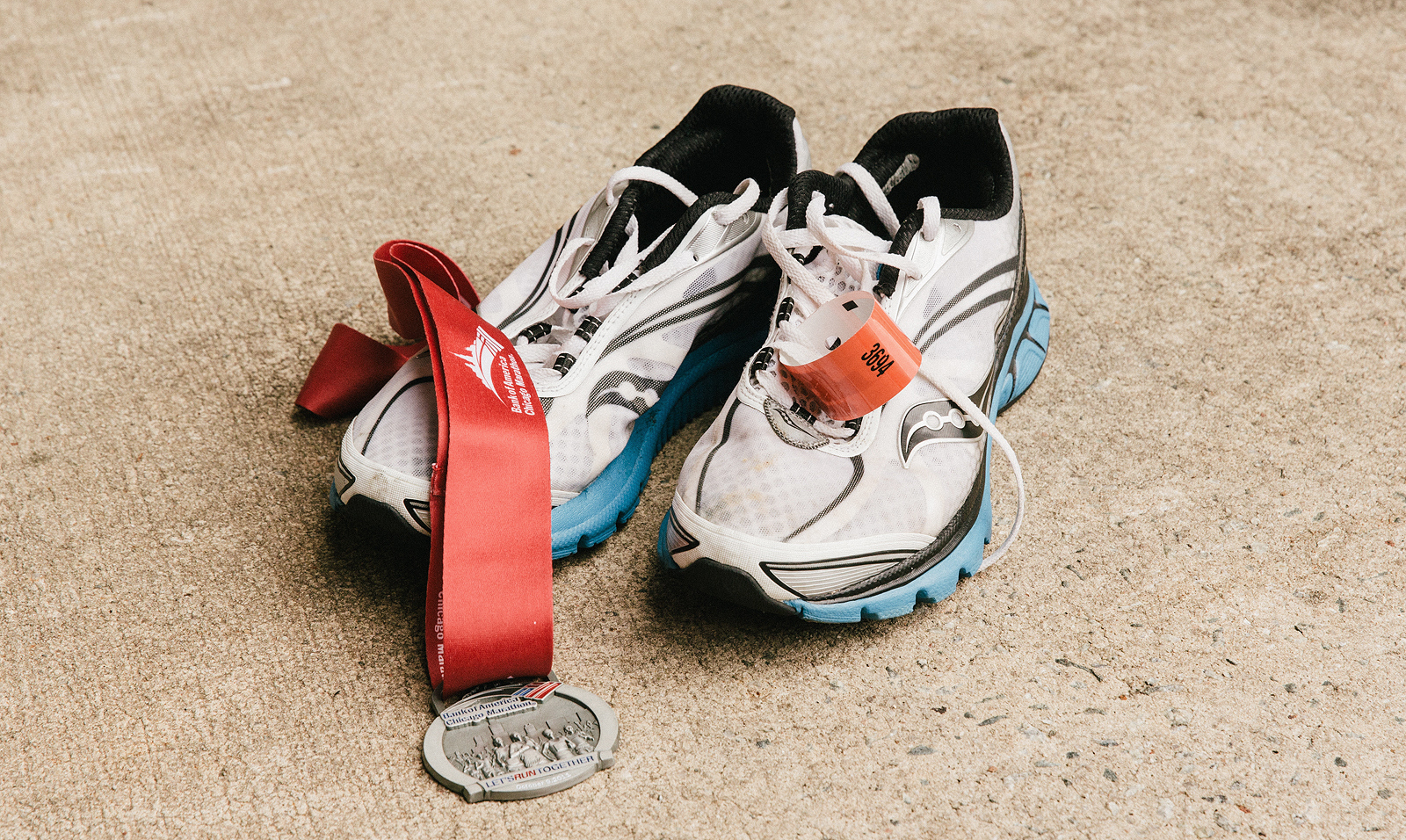 Will's running shoes and race bib were in a bag in the corner of the emergency room. He was on a gurney in the middle of the room, motionless, and mostly hidden behind a team of six doctors and nurses. They swarmed about in an urgent and increasingly frantic scramble around an intricate tangle of beeping and flashing monitors, machines, wires, tubes and crash carts full of medicine. "It's not a pretty sight," says Sean, a trained EMT. "It's work, what they're doing. There's a lot going on, things are just going nuts all around."
Jenny had immediately demanded to see her husband. After pushing through the hospital lobby, she turned a corner and arrived upon this scene, screaming out in horror -- crying, questioning, begging -- then, catching herself in mid-collapse, ordering them all: "Keep going, keep going! Do something, do everything. KEEP GOING."
The medical staff dutifully complied, and there were periodic flickers of heart activity but nothing they could sustain. Sean watched as they tried everything, in every possible sequence. CPR. Crash paddles. Epinephrine. Atropine. Lidocaine. Sodium bicarbonate. Nothing. The doctors simply couldn't find a problem, a solution or an answer. They never would. Each time they checked on Will, Sean and Jenny were forced to move ever so slightly away from praying for a miracle and toward seeking the strength to deal with the gruesome reality.
On his last trip back to where Will was in the ER, Sean noticed the doctors had been at it for more than an hour. Jenny, too, saw the exhausted, exasperated faces peering over Will, crying.
"You gotta stop," they told them.
At 12:03 p.m., Will Caviness, runner No. 3694, was pronounced dead.
Moments afterward, Sean retreated one last time into Will's room. He stood at the side of the table, talking with his brother. "It felt like he was still there," says Sean. "Still does, really." Standing there his eyes were drawn to Will's Maltese cross necklace. It's an eight-pointed cross adopted by firefighters as a symbol of sacrifice and honor, and Will always wore it around his neck. Without thinking, or even realizing what he was doing, Sean leaned over and grabbed the cross. "This is Will," Sean thought. "This is what he is, what he did, what he is proud of, and now, it all belongs to his family."

"It's very interesting to have the circle of life and death all in the same race, passing by the same place just a couple of hours of each other."
- Amber Miller
Sean turned and exited the tiny room just as Jenny was entering. Her face, twisted and hysterical for the past hour, softened with every step she took closer to Will.
And as they passed in the doorway, Sean reached over and placed the Maltese cross in the palm of Jenny's hand.
---
With June resting peacefully, Amber and her dad, Allen Rovenstine, sat in the dark and still hospital room in Winfield, Ill., quietly reflecting on the day's events. Earlier in the evening, they had learned of Will's fate from a TV news report on the race. They didn't speak much in those hours about the connection between Amber, June and Will. Didn't need to, really. Sitting there in the dark, exhausted but joyful and fully at peace, they could feel their own sense of perspective and gratitude expanding with regard to the day's incredible events, and with it, their connection to Will.
In a few weeks, Amber would feel well enough to pull on her running shoes and venture out on a short, slow jog. It wasn't long before the meditative rhythm of her feet on concrete drew Amber's thoughts back to the marathon, to June, and to Will.
"It's very interesting to have the circle of life and death all in the same race, passing by the same place just a couple of hours of each other," says Amber. "But I was thinking more about how, on the next Oct. 9, and after, we will be celebrating June's life and his family will be remembering the loss of Will. Thinking about it makes me even more so want to cherish each moment with my children and family. I never know when it will be my last moment or their last moment. I thought about how everything we do involves risk. And I hoped, again, that Will passed away doing something he loved."
After so much time off, Amber knew her form was clunky and her speed well below her normal pace. But that's not how it felt to be running again.
"It felt like I was flying," she says.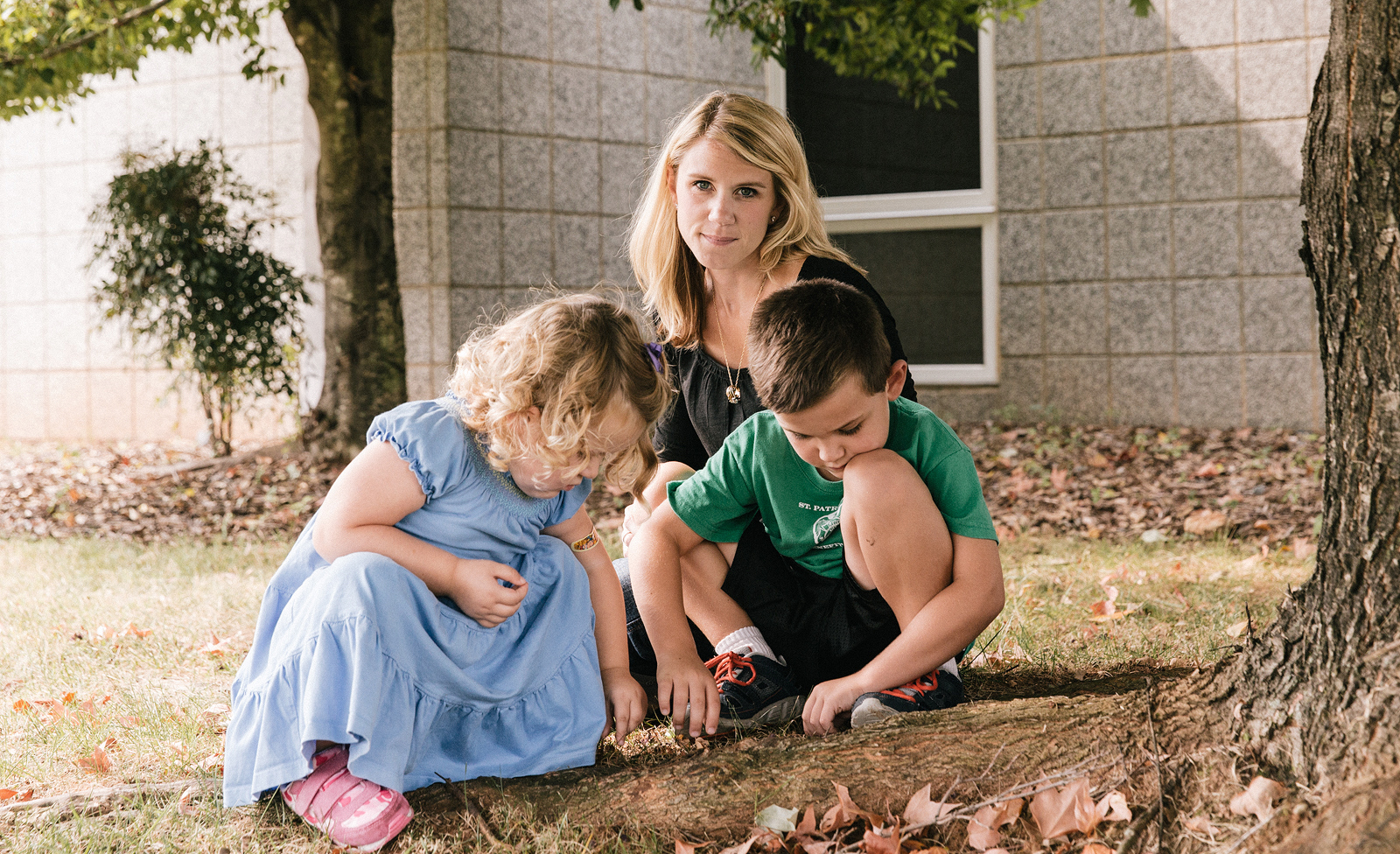 Playing at a friend's house in Greensboro that Sunday while his parents were in Chicago, 4-year-old Jack Caviness proudly proclaimed: "My Daddy's running a big race today and he's gonna run it fast, I know it!" Back in Chicago, after her time at Will's side in the hospital, Jenny thought of her two children. She needed to be with them. So when Chicago Fire Department Commissioner Robert Hoff came to Mercy Hospital and promised Jenny he would look after Will as if he were one of CFD's own, she and Sean decided to fly home. There, they could be with their families and begin planning Will's funeral. Jenny managed to persuade their church organist to end Will's funeral with AC/DC's "Back in Black." As the procession exited the church, Jenny watched as people stopped in their tracks, tilted their heads to listen -- Is that what I think it is? -- then smiled, if just for a second, as they thought about Will. What about all their plans? Jenny found herself wondering. They were supposed to grow old together. Move to the beach. Buy a house big enough for all their grandchildren. She would buy a metal detector. Superman would fish every day. The world's last true soul mates.
"I was supposed to die first because Will was certain I couldn't live without him," says Jenny, a division manager for the city of Greensboro. "This all still feels like some big cosmic mistake. That someone, somewhere, in charge of something made a big mistake. Because I was certain nothing on this planet was strong enough to kill Will Caviness. I just get so mad at times, but never at him. I just miss him."
She squeezes a fist around a tear-soaked tissue and continues. "It's not the unfairness, I guess, as much as the shattered sense of reality. I didn't just lose my spouse, I lost my entire sense of the world. We are taught our whole lives if you do good things this kind of stuff won't happen. But sometimes the big lesson is there is no big lesson. Sometimes people just die and no one can tell you why."
All the tests and blood work, the doctors' trauma notes, even the autopsy concurred: They found no pre-existing conditions, no problems with Will's heart, lungs or brain. Nothing in the toxicology report. No odd bleeding. Fitness-wise, Will was in the top 5 percent of men his age. His odds of dying in a marathon were 1 in 266,000. The best anyone can surmise in cases where instant and untraceable death occurs at the end of a marathon is that it's either the result of cardiac arrhythmia, an irregular heartbeat that cannot be corrected, or hyponatremia, cell swelling in the brain that's triggered when a runner's sodium falls to lethally low levels.
As much as we tend to complicate and mythologize death, especially in sports, sometimes it's not about destiny or dogma or some great and noble cause. Sometimes it's as horrifyingly simple as low salt. Sometimes, many times, the wrong people die at the wrong time, with no warning and for no good reason at all. For everyone who loves Will, this has been the hardest thing to accept, the lack of meaning and the cruel randomness of his death. "You keep asking for answers and looking for the great scales of justice and fairness in all this -- until you realize they don't exist," says Sean. "Everything happens for a reason? You know what I learned in Chicago? No, the hell it don't."
The levels of human endurance tested at the 2011 Chicago Marathon, and again this spring in Boston, ended up having less to do with distance, time or performance -- and more to do with enduring the random, cruel balance of life. There were 100 other births in Chicago that day, all of them miracles to someone. There were 60 other deaths, all of them tragedies to someone. "Life ending as life begins," says Jenny, softly. "I get the connection between Will and the baby that was born, but the mother in me hopes it has never occurred to [Amber], never even crossed her mind. Lots of people have asked if I reached out to the mom, but what would I say? 'Hey, my husband died right about the same time and same place that your baby was born. How do you feel about that?' That's such a crappy thing to do to another mom. That's a mom's moment, and that moment is pure. So I just don't see how I could connect with her in a way that wouldn't make her associate one with the other, her birth with my death."
Amber flirted with danger and turned out fine, thus reaffirming everything we love about sports, running and life. Will flirted with the exact same risks and his marathon ended in tragedy, thus reaffirming everything that terrifies us about sports, running and death. It's almost too easy to imagine interchanging the fates of each runner: Will alive and heading to Boston and Amber facing complications with June's birth. Amber and Jenny don't need to meet to remain forever connected by the 26-mile marker in Chicago. They will always see, and be haunted by, the possibility of a different ending to their own race reflected in the other.
On Tuesday after the race, June went home. The next morning, it was Will's turn.
With Jenny back in North Carolina, Brad Shumate, Will's best friend, and Justin Price, another fellow Greensboro firefighter, flew to Chicago in a donated jet to escort Will's remains home. Early Wednesday morning they stood in the parking lot behind the Blake-Lamb Funeral Home on the South Side of Chicago waiting for Will's hearse. When it arrived, though, there was no coffin inside. Will had chosen to be cremated, so his body had been transported from the Cook County morgue in a plain plywood box with his name handwritten in black ink across the top.
Already shaken by the stark reality of that box, Shumate, Price, Hoff, the fire chief, and Tom Flamm, a retired member of the CFD, lined up at the back of the vehicle and prepared to move Will's body, only to be halted by a funeral home employee. State health regulations forbid pallbearers from entering a crematorium. "You're not understanding," growled Hoff, his body taut with anger. "This is one of our brothers in here and we are taking him to his final resting spot -- now move aside." The tense standoff continued at the back door of the hearse for several minutes.
Once the firefighters agreed to sign release forms, they were allowed to carry Will inside and place him on the stainless steel table near the retort, or the cremation chamber. "That was the true end point for me," says Shumate. "The doors open and the box goes in and your best friend, the healthiest person you know, the best person you know, he is no more. Standing there, part of me thought, Is this all that life comes down to, even for the very best of us, a wood box with your name on it in ink? And part of me thought, No matter when it happened, in 20 more years or 50 more years or a 100 more years, Will would have always been too young to die."
A few hours later, the cremation complete, Shumate took possession of Will's remains. Cradled in his arms, they probably weighed no more than 6 or 7 pounds. Will would depart this world in a form roughly the same weight as June entered it. Moving in silence, Shumate transferred Will's remains to the hearse and prepared for the short drive to O'Hare.
Out on the busy street in front of the funeral home, school buses and garbage trucks rattled by, just like it was any other Wednesday.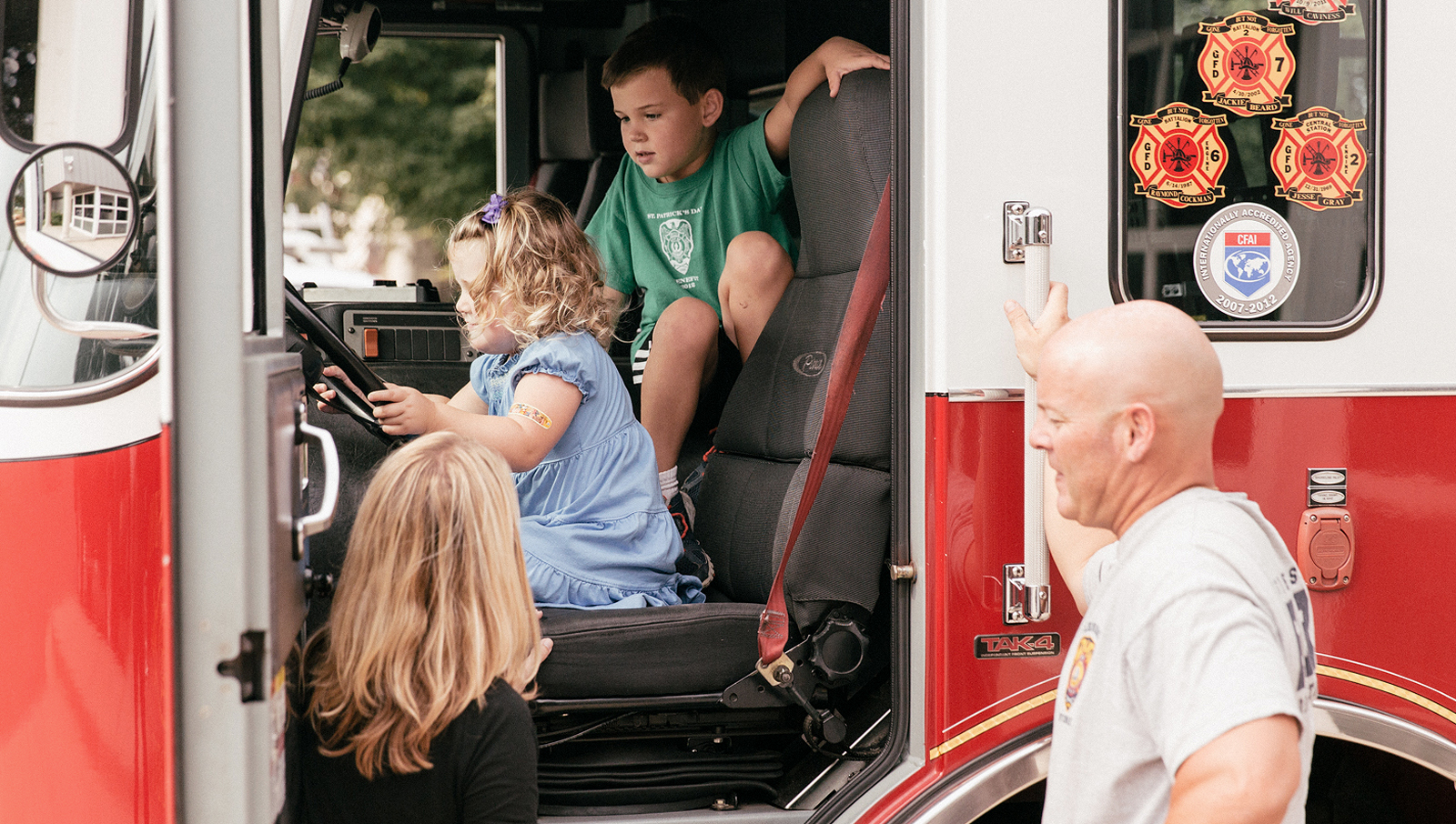 David Fleming is a senior writer for ESPN The Magazine and the FlemFile columnist for ESPN.com. He can be reached at Dave.Fleming@espn.com. Follow him on Twitter: @FlemESPN. Follow ESPN_Reader on Twitter: @ESPN_Reader. Follow the Mag on Twitter: @ESPNmag.