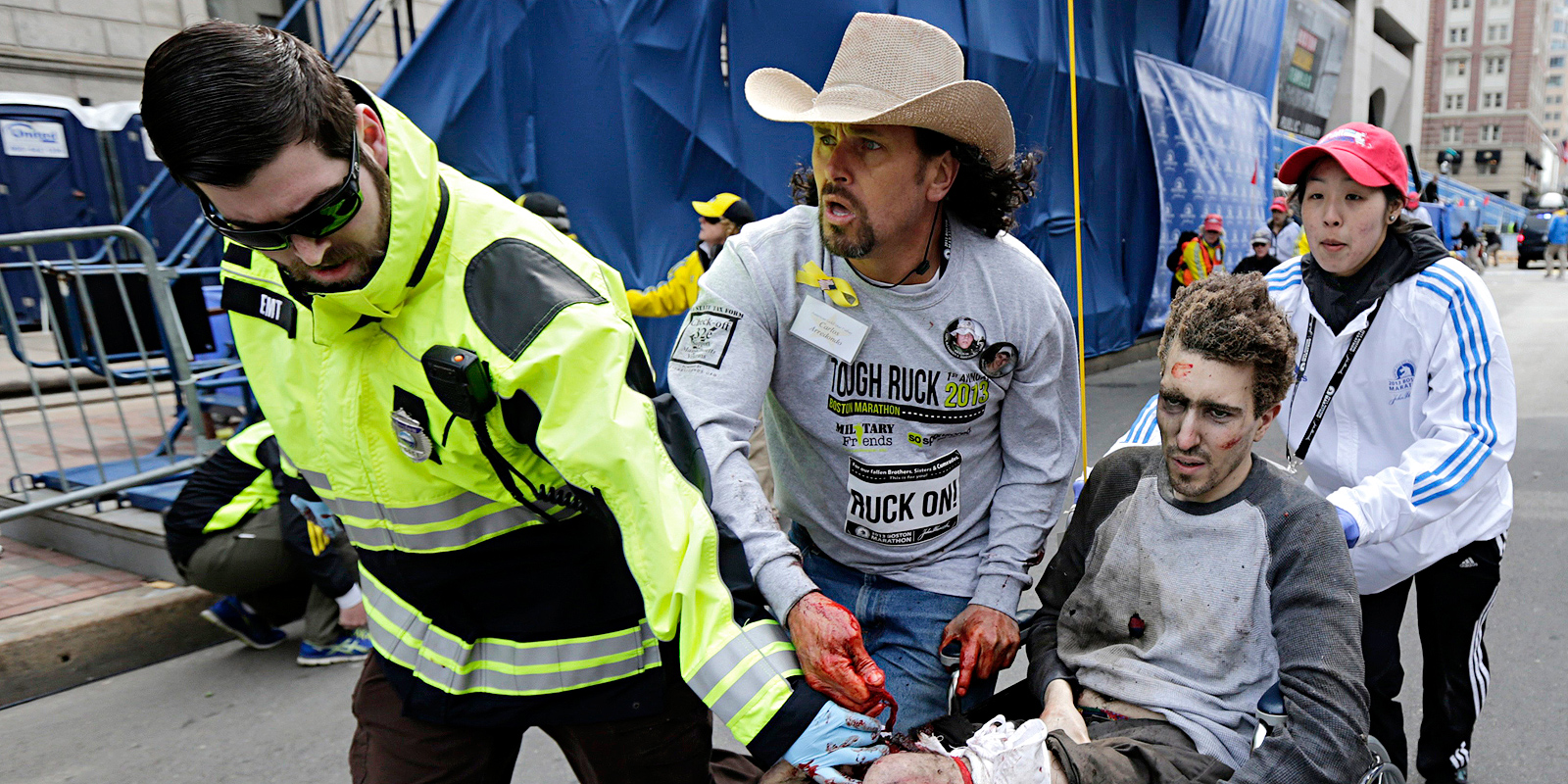 Portrait of a Rescue
The photograph captures the terror and swift response after the Boston Marathon bombings. It also shows Devin Wang, the woman behind the wheelchair, doing what she can to help.
BOSTON -- After the second explosion, Devin Wang didn't think. She just reacted. Go now. She rolled an empty wheelchair the wrong way across the Boston Marathon finish line, past the fallen flags of the world and broken glass and splintered storm fencing torn down by cops and soldiers and spectators who had clawed at the barriers with their bare hands. She smelled seared flesh and saw money littering the pavement. People's limbs had been blown off and now bills lay scattered amid the pooling blood as if a random, grisly sweepstakes had just been lost there.
She stood paralyzed for a few seconds. She was a student athletic trainer four days shy of her 21st birthday. She was a 5-foot-2, 111-pound figure skater whose shoulders were swimming in an official white medical windbreaker at least one size too big. What could she do?
Then a man in a cowboy hat yelled for a wheelchair.
She threaded through the knots of people treating the wounded and reached his side. She kept her face calm. She was there to help, and it was important not to give in to any emotion. She held the chair steady as the cowboy-hat man and someone else settled a man in a gray baseball shirt into the seat. She began to push, with the cowboy-hat man at her side. The little red pennant attached to the chair bent backwards on its yellow plastic stem and fluttered.
What she wanted, what they needed, was a clear path. They needed space and there were people angling every which way across her line of vision. She bent forward from the hips, gripping and running and pushing hard but mindful that the silent, ashen-faced man in the chair was in pain. Give him as smooth a ride as you can, she thought.
She knew he was gravely injured, but she didn't register the details. It wasn't her job to examine him. For the first few hours of the race, she'd been assigned to spot runners who were dehydrated or limping and get them to the medical tent. Now her job was to transport this patient. She was only a college junior with gauze and gloves stuffed into her pockets and no experience with major trauma, but she couldn't hesitate. It had to be done.
The three of them headed diagonally across Boylston Street. The tourniquet around one of the man's legs came loose and tangled in the wheel, and they had to stop so the cowboy-hat man and an EMT could free it. The EMT stayed with them. The cowboy-hat man was holding onto the armrest and something else, she didn't know what, as he jogged on her right. Sirens wailed. People milled in shock. She saw runners with bibs still pinned to their shirts, race volunteers in yellow jackets, police and firefighters in neon green and black, more white windbreakers like hers.
She could navigate through the congestion. She competed for one of the world's best synchronized skating teams, 16 of them on the ice at a time, forming lines that glided toward each other and meshed seamlessly. She could slip through an arm's-length gap between two of her teammates without a wobble and hold her position from blade edge to fingertip.
But anger and anxiety spiked through her when she saw photographers and television cameras. She hadn't given her permission. This patient hadn't given his permission. The way they looked right now -- his legs, her face, the man rushing alongside them -- wasn't important. No one had asked for this to happen. This was not an image that needed to be shared. She was afraid of anything that might slow them down.
"Get out of my way," she screamed when she saw lenses swing toward them. "Move!"
They ran on. Time evaporated. Within a few hours, she began to realize one of the pictures never would.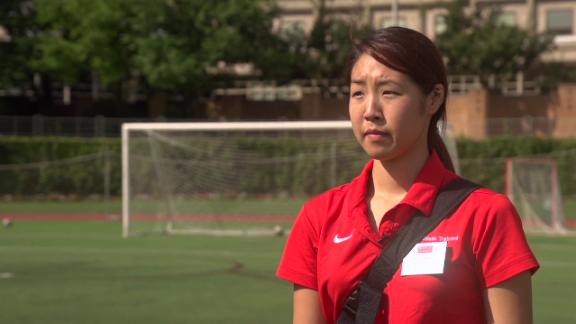 The little girl was gifted. That's what everyone told Joyce Ho and her husband, Steve Wang: the skating coach, the rhythmic gymnastics coach, the tap and ballet teachers. Her parents -- software engineers born in Taiwan who settled in the San Francisco Bay Area when Devin was 4 -- doted on their daughter, but they did not want her life channeled into a narrow rivulet too early. They encouraged her to do what she enjoyed.
Devin thrummed with a quiet, restless energy. If she had a few steps to walk, she might cartwheel. Waiting in line to see a movie, she would practice a Salchow jump, twirling and landing softly, then trying again. But she wasn't a great technical jumper. She reveled in the repetitious elements most kids find boring: footwork, balance and edges. And she didn't like competing by herself. She was an only child and had enough of that at home.
She discovered synchronized skating when she was 8 and it was perfect for her psyche. Each skater's goal is to be excellent but not stand out. There are no stars. As in other skating disciplines, the point is to make the difficult look effortless, but synchro requires focus on unison detail, the curve of a neck or the alignment of a knee, along with enough speed and power to transition between complicated formations and lifts.
Synchro is not an Olympic event and thus labors in obscurity even among skating fans. Devin didn't care about that and she didn't mind getting to the rink at 6 in the morning. No one had to tell her how to manage her time or nag her about homework. Her teammates were her friends, the sisters she never had.
At the world level, synchro is about finding the highest common denominator among 16 athletes. And the Haydenettes, based in suburban Boston, are the epitome of that athletic aesthetic in the United States. Devin did not think she was talented enough to make that team.
She applied to Boston University because there were other synchro programs in the area that would enable her to skate while she pursued a degree in athletic training. Devin was fascinated by the mechanics of the body, how all the gears and pulleys functioned and how that knowledge could be used to help athletes recover from injuries. She loved hockey, and sometimes imagined what it would be like to work with her favorite team, the San Jose Sharks.
She was right about how much she would like the program at BU. She was wrong about her potential on the ice.
Haydenettes head coach Saga Krantz, a former competitive synchronized skater from Finland, gave Devin a spring training slot after her first audition and put her on the senior team for the 2012-13 season. Devin was light but strong, elegant and flexible, a skater with lyrical body language. She listened. She was uncommonly controlled and mature for her age. She was humble but didn't let people walk over her.
The 2013 synchronized skating world championships took place in early April at, coincidentally, the Agganis Arena on the BU campus. After the Haydenettes skated their long program, they knew they had secured a spot on the podium. They huddled in a circle, looking at each other, as the last team performed. They'd done all they could. When the scores were announced, they had won a bronze medal for the fourth straight year.
This is a dream-come-true moment for her, Devin's mother thought in the stands. All the hard work has finally paid off. But when she said as much later, on the phone from California, Devin's response was almost defiant.
"What do you mean, the work is done? We're not gold medalists yet."
Joyce Ho listened to her daughter with a mixture of marvel and concern at the pressure she put on herself, the daily stress she absorbed. She couldn't have imagined how much Devin would be asked to bear in a little more than a week, a couple of miles away.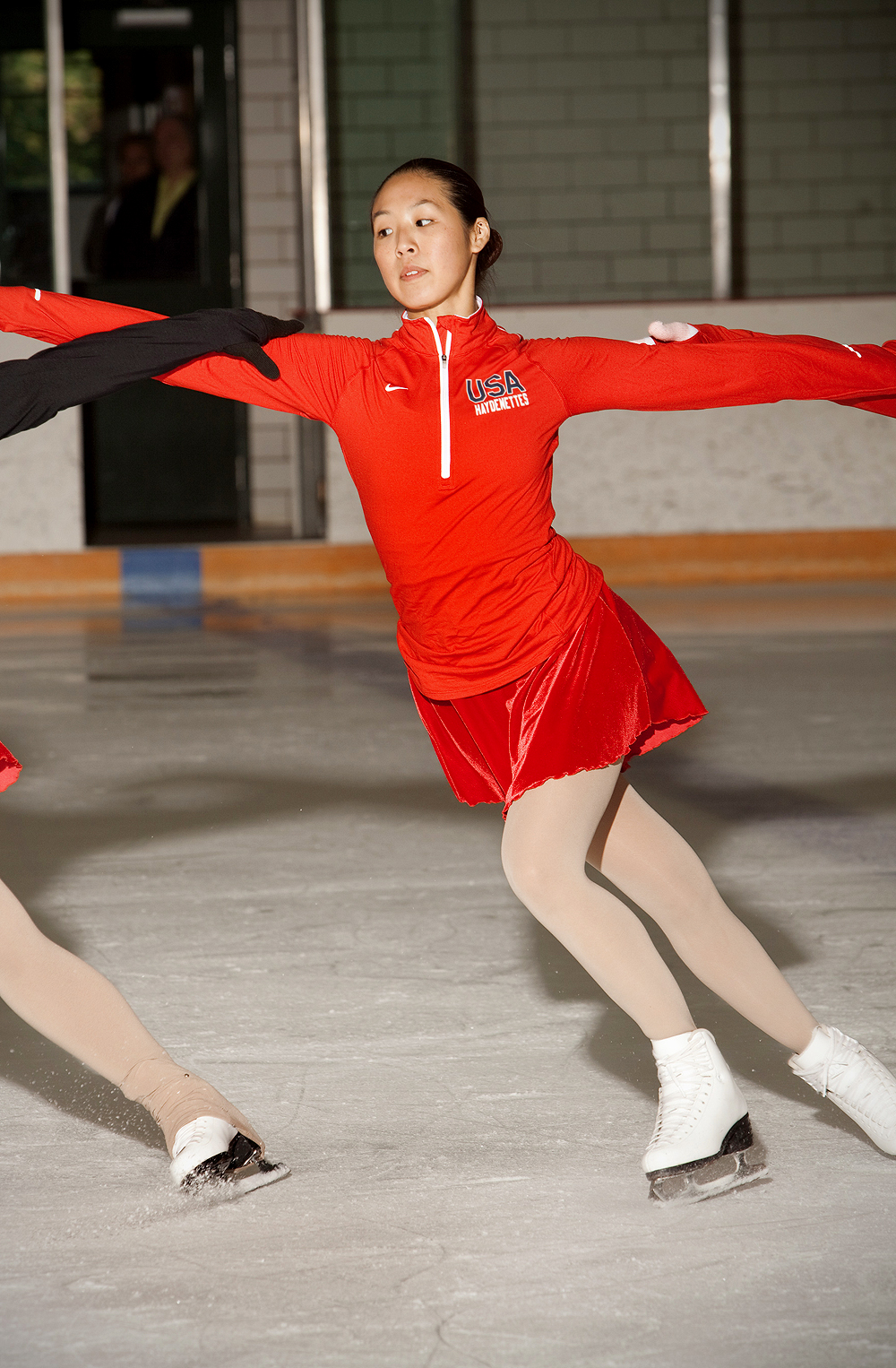 THE THREE BU classmates posed near the finish line early on marathon morning, Devin smiling with her arms around Phil Welsh and Kostas Andreo. The air was crisp under a blue sky. What a relief. This race would be a piece of cake for the medical team compared with last year, Devin thought, when it had been steamy, over 80 degrees.
Certified athletic trainers and faculty members from sports medicine programs all over the country volunteered at the marathon every year, bringing their students. After the elite runners finished, the students in the wheelchair sweep team lined up single file behind the chutes that funneled the finishers to either side of Boylston and watched the amateurs stream in. They checked people's faces and gaits for telltale signs they needed attention.
Things weren't terribly busy for the first few hours. Welsh saw a few runners fall to their knees near the finish line and began to move toward them, only to realize they were simply saying a prayer or kissing the ground in exultation. Each of the students took a handful of patients back to the spacious, well-lit enclosure of Medical Tent A, parallel to the grand façade of the Boston Public Library on Copley Square. Mostly, they acted as cheerleaders, shouting encouragement on a festive day.
One who did need a wheelchair was Dan Benshoff, creative director of ESPN digital media, who was running in Boston for the first time. The course had chewed him up and he was disappointed by his time of 3 hours, 23 minutes -- five minutes slower than his goal. A few minutes after he finished, his head began to spin. He called for help and was escorted into the tent, assisted onto a cot and given anti-nausea pills and chicken broth.
Benshoff was impressed with the care he received for dehydration and spasming leg cramps. They wouldn't let his wife come in and sit with him, but a nurse, an Army veteran, stayed by his side the entire time. The public address announcer kept things light, updating the score of the Red Sox game, delivering the occasional cheery message -- You guys are doing great! -- for depleted runners like him.
After about 45 minutes, Benshoff swung his legs over the side of his cot and sat up.
It was 2:49 in the afternoon.
A percussive boom echoed down the street.
Benshoff and others in the tent instinctively ducked their heads and hunched their shoulders and turned toward the front entrance. Maybe it was part of the Patriot's Day celebration, he thought. A cannon or something.
Welsh saw the column of smoke billowing skyward and flashed to a scene from a video game, Call of Duty. He thought: Am I dreaming? Is this real life?
Andreo, standing behind the runners' chute on the left side of Boylston, grabbed Devin's arm and pulled her backward. They clutched each other, trying to interpret the sensory messages.
Then the sound repeated itself, a fraction more distant. As it faded, the students heard a ragged, rising chorus of screams.
Inside the tent, Benshoff heard the PA announcer say, "You all know what to do. You've been trained for this."
Terrorism, Benshoff thought. Bombs. His wife found him. They began walking slowly toward the daylight at the entrance.
Welsh looked down at his white jacket and his mind cleared. He turned and sprinted into the tent. He was part of the medical team. He had to help.
Andreo bolted toward the area where medical supplies were stacked. Someone pushed a box of rolled gauze into his arms. He took off in the direction of the first explosion.
Devin put her hands on a wheelchair.
"Clear the main path," the announcer barked inside the tent.
Chapter 1
test
ASSOCIATED PRESS photographer Charles Krupa also reacted out of instinct and duty when he heard the explosions from inside the media workroom at the Fairmont Copley Plaza hotel.
He had documented the aftermath of several devastating events, including the Newtown school shootings, 9/11 and the crash of TWA Flight 800. He never expected his 25th Boston Marathon to be one of them. But as journalists were being told the Fairmont had been locked down, he glanced around the room he knew so well and noticed an unattended door. Seconds later, he was hustling toward the finish line.
Krupa saw a small group of people, one wearing a cowboy hat, barreling down Boylston. He ran up to them, staying to one side. He took a few strides backward as they rushed by and shot seven frames in a second and a half. Fifteen minutes later, reviewing the images, Krupa felt the horror of what had happened and the beauty of the selfless, humane response.
He was not the only one to capture part of the journey.
Boston.com sports producer Steve Silva was filming at the marathon finish line when the bombs went off. He kept shooting continuously for another 20 minutes, walking back toward the medical tent after police began sweeping people away from the scene.
He pointed his camera up the course. From the other side of Boylston, his lens found and followed Devin pushing the wheelchair, the man in the cowboy hat running alongside and an EMT running just in front of them. They traveled the length of the public library toward Copley Square. Andreo, running the opposite direction on another trip with supplies, saw Devin's face floating in a ghastly tableau and thought, This is someone I know.
According to the time code on Silva's unedited footage, they arrived at the entrance to the medical tent less than 7½ minutes after the initial explosion.
Benshoff and his wife were standing just inside, a few feet away. His eyes recorded what he saw as something too vivid to be real, a frame from a violent comic book. The stumps of the man's legs ended in exposed bone and they were burnt and bloody. The gruesome sight blotted out everything else. Benshoff didn't notice the person pushing the wheelchair.
The man looked shocked, terrified and fully aware of his truncated body and his suddenly, irrevocably altered life. Benshoff couldn't believe the man was conscious. The man's hands were on the outsides of his thighs, just above where the rest of his legs should have been.
Devin heard one of the supervising doctors yell: "Double amputee! Double amputee coming in!"
They ran down the aisle flanked by cots all the way to the back entrance of the tent toward the waiting ambulances.
Benshoff put his arm around his wife. They got his discharge paperwork signed and walked outside. He began taking photographs with his phone. In several of them, there is a man wearing a cowboy hat walking away with blood on his hands.
As soon as the man was loaded into the ambulance, Devin ran the long block back into the bomb zone and ferried another patient out, a woman with lacerations on her legs.
Andreo distributed gauze to the athletic trainers and doctors tending to the wounded near the finish line. He saw people inside the shattered windows of the adjacent Marathon Sports store and went in to help a woman with a head injury. Welsh stayed in the medical tent, handing out supplies and water. He crossed paths with Devin, who had come back in and was talking to patients, trying to comfort them. She looked pale. "If you need to sit down, let me know," he told her. But neither of them could stop moving.
Ho was on a conference call in her office in California when she got Devin's first text within an hour of the explosions: "There was a bomb at the marathon and I'm OK.'' She texted again: "I'm still at work." When they spoke later, Devin sounded exhausted but collected, low-key, herself. Joyce and her husband, who was visiting family in Taiwan, texted back and forth, grateful.
---
STUDENT ATHLETIC TRAINERS and their supervisors from BU and elsewhere gathered in the Public Garden. Many had been in the thick of the chaos, but now realized they were all accounted for and safe. They hugged. They checked their phones, which were flooded with texts and emails and social media mentions from friends, family, relative strangers, people who cared, people they didn't even know that well who were glued to the TV and just wanted some connection to the event.
A friend posted a picture on Devin's Facebook page. It was one of the seven frames Krupa had shot, and it was already on its way around the world.
She looked at it and saw herself behind the man in the wheelchair. The photo had been cropped in such a way that his lower legs were not visible.
"Is that you?" The friend wanted to know.
She wrote back. "Yes that's me! ...I'm safe and sound."
She couldn't feel much other than a slight curiosity. I have this photo of me now. Now what's going to happen?
Devin sent the photo to her mother. I'm so glad she was able to be there to help, Ho thought when she got it. I'm counting my blessings she was able to pull herself together and help other people, glad she had some medical training.
The students walked the long way back to campus along the Charles River, circumventing the swath of Back Bay that was cordoned off with crime-scene tape and crawling with police, military vehicles, bomb investigators. They filed into a room at BU's Sargent College for a debriefing.
Mark Laursen, an associate professor and director of athletic training at the university, did most of the talking. The students were told where they could get counseling. "We don't know the details of what happened, we don't know if it was a terrorist act," Laursen said. "There was a lot of bravery shown by all of you. It's not something we trained you for and not something we expected to deal with."
None of the students wanted to take off their white jackets, even though some had blood on them. Devin had a small spot on one of her sleeves. They ate dinner at one of the BU dining halls, still wearing them. They got some strange looks, but they concentrated on supporting each other, they were still filled with a weird adrenaline, suffused with solidarity. They had survived something, it had been huge and terrible, they were sad, but they were fine, they would be fine.
Two students from another school were staying with Devin and her roommates. At her apartment near Fenway Park that night, they talked about the experience, how it didn't seem real. She felt anxiety rising in a place she couldn't tap into yet. "It's going to hit me,'' she told them.
The photo had let people know she was OK, and at first she was glad about that. But now it had gone viral on the Internet. It was all over TV. The names of the man in the gray baseball shirt, Jeff Bauman, and the man in the cowboy hat, Carlos Arredondo, were spreading. Devin wasn't identified, but people on her Facebook page were calling her a hero, an angel.
No she wasn't. She had just done her job. She wasn't special. So many other people had done the same or more. It had been a team effort.
She was beginning to feel as if she were alone on the ice with everyone's eyes on her.
She ought to be gracious, she thought. She posted a thank-you note on her timeline. She kept wondering how Jeff Bauman was doing. A friend had told her he was on Facebook. Would it be right to reach out? She found the account she thought was his and sent him a message.
Hi Jeff,
If you have seen the photo that is posted all over the internet, I just wanted to let you know I am the girl in the back pushing your wheelchair.
I pray you have a speedy recovery and let me know if you ever need anything! Stay strong and I am so sorry you had to go through what you did today.
- Devin Wang
It was morning in Taipei by then. Her father bought a newspaper on the street and gasped when he saw the uncropped version of Krupa's photo, the bare bone, the jagged stumps, the man in the cowboy hat pinching a severed artery from one of the injured man's legs between his fingers. His daughter had been exposed to that? The horror washed over him before it fully engulfed her, as if it had an ocean to cross first.
CHAD CLEMENTS WALKED into a pub in Hoboken, N.J., late on the afternoon of the marathon with his laptop, intending to catch up on some work before he met with a friend. He was the only person in the place. He asked the bartender to turn on the TV news.
Clements was feeling both relieved and sick. Relieved that everyone he knew was safe, sick for the victims, sick for the city, sick for his students. An assistant professor and coordinator of clinical education at BU, he was the one who oversaw their paths through the program and he couldn't escape the sense that he should have been there to shield them. In past years he had worked the marathon, but he'd been on the road this week and had heard the initial reports of the bombing on his car radio.
The television lit up. The first image Clements saw was Devin's purposeful face behind the wheelchair.
This is not something our students should be seeing right now, Clements thought. This is not what this event is about. It's such a great event. He kept watching, picking out the white jackets in the video footage and still pictures, opposing waves of pride and helplessness crashing in his mind. Everyone was doing what he or she was supposed to be doing, a best-case reaction to a worst-case scenario.
The picture appeared over and over. Clements knew intuitively that the spotlight would not suit Devin. She had a fierce aversion to drawing attention to herself. That lack of ego was a trait that would make her a good athletic trainer. That, and her empathy. She used herself as a camera, recording the way athletes moved and talked and reacted, using those observations to treat an injury or design rehab exercises. "Let's make believe you're driving toward the net," she'd tell a hockey player during a tedious session. She understood their mindset.
In truth, whether she liked it or not, Devin was special: the first elite athlete in years who was on track to complete the athletic training degree. Clements had seen varsity players try, but it was just impossible to put in the hours of clinical training on top of the hours of team practice and classes. He was used to having unpleasant conversations with them, telling them to find another focus.
Devin wouldn't take no for an answer. She reported for duty before the school year began. She worked through vacations. She was such an interesting combination of assertive and insecure, so competent, yet never confident she was doing enough.
By the next afternoon, Clements was back on campus and he could tell the emotional anesthesia had begun to wear off for the students who'd been at the finish line. Repressed scenes were surfacing and scrolling through their heads in a loop they couldn't pause. Emails began trickling in. They needed to talk.
At about 5 o'clock Tuesday, his phone rang. It was Devin.
"Are you OK?" Clements asked.
She began to cry.
"I was until I heard your voice," she choked out.
Clements knew Devin's identity was rooted in her composure, her insistence that she could manage anything, her reserve. If she was cracking over the phone, she was in trouble. She had to start to move through the blood and bone and deconstructed human tissue she had seen on the pavement near a store called Sugar Heaven -- no one could process that in 24 hours -- but she was stuck inside a freeze-frame of shock because people kept putting her back in the picture. Her trauma was different.
"You need to call Behavioral Health," he told her. "You need to go tonight.
"And don't say, 'I'm Devin Wang, and I need to talk to someone.' You need to say, 'I'm Devin Wang and I'm the person in that picture, and I need to talk to someone.'"
---
WHAT THEY SEE when they look at the picture:
Joyce Ho: "I keep on telling her, 'This is going to be the picture, every year. Every time they talk about this event, this picture is going to be shown. Be prepared. You are just another volunteer. You were lucky to be there to help people. Give respect to other volunteers. Don't let other people measure who you are based on this picture.'"
Phil Welsh: "I think it's a great picture. She's doing what she has to. In that picture, she's not scared, she's focused on what she's doing. That's the sign of a great medical professional. Devin doesn't screw around. When she needs to get something done, no one is going to get in her way. My guess is that, in 10 or 15 years, she's going to look at that picture and say it's something she's proud of."
Kostas Andreo: "I look at [Bauman's] legs and see horror. I look at his face and see the shock and the flat affect. Knowing that Devin is in that picture, I feel bittersweet. She's doing what I know is right. I know she's scared. I feel sad that [the bombers] stripped her of her innocence because of what they decided to do."
Charles Krupa: "Two hundred and sixty people were hurt on that street, and a lot of people weren't trained to deal with the trauma they saw. She really stepped up, and what she did was honorable. No matter how terrible something was that I covered, I fall back on the acts of kindness you see. I still look at the picture and see three people helping someone who is at their absolute worst. They're heroes."
---
DEVIN WENT FOR counseling. It was one of the hardest things she'd ever done, until the next day and the next week and the next month.
All she wanted was to get back to normal, to be busy, to be treated like everyone else, but the craziness kept escalating instead of diminishing. She spent that Friday, her 21st birthday, indoors along with the rest of Boston, asked to "shelter in place" as police conducted a manhunt for the second of two bombing suspects. Bauman had helped identify them. Now people were congratulating her for that.
She didn't want any credit. She didn't want to be singled out. She couldn't stand the sight of her Facebook page anymore. She deactivated it. She hadn't been identified publicly, and that was a good thing. Maybe she could keep it that way.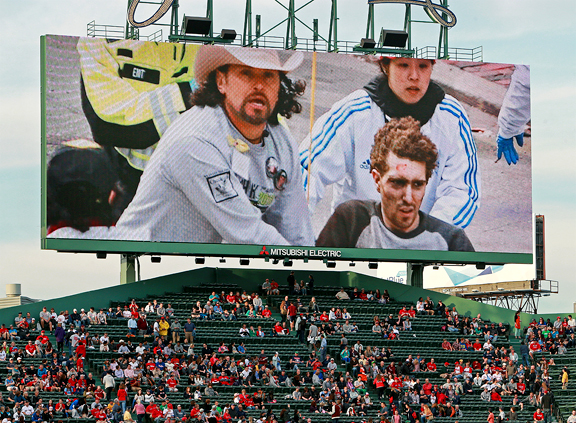 One of her mentors asked her to join other first responders at a Celtics game where they were honored as a group. She did it, but then she withdrew. She sat in class listening but heard nothing. She read and didn't absorb the words. The construction noise outside her apartment made her want to jump out of her skin.
Andreo understood. Sometimes, riding public transit, he felt his heart rate rise and his eyes flicker around involuntarily, watching for something abnormal in an ordinary crowd.
Something would not stop gnawing at Devin from the inside. She asked her friends to stop bringing up the photo, and they respected that, but they kept her in sight. Her classmates, her professors, her teammates, her coach -- they emailed Devin, called, asked her out for coffee. She allowed herself to cry in front of them without feeling ashamed. She had always wanted to take care of people instead of the other way around, but she let them. She thought of them as a protective cocoon.
"Take time to get yourself well," Clements told her. Still, it was painful to have to take incompletes in her classes, to postpone her finals and project deadlines past the end of the semester in May. That wasn't her. She was always on time, early, even. She spent 10 days at home in California and, gradually, the fog in her head began to dissipate. When she got back to Boston, she had a to-do list in her head and the first thing on it was to go to Copley Square.
She went alone. She wasn't sure how she would react, and she didn't want to burden anyone. She visited the temporary memorial and looked at the teddy bears and hand-lettered signs and running shoes. She made herself go to the finish line and didn't try to stop the flashbacks. They had to come to her in order to leave her.
People passed Devin on the sidewalk without knowing who she was. She still had some breathing room despite the picture.
She returned to the rink. The Haydenettes added a new and difficult maneuver to their long program this season: a split lift, in which a skater holds a split position, lifted by three other skaters. Devin was chosen to be hoisted into the air, because she is small and because she has excellent balance and body control.
Saga Krantz thought the ice, a sheet that starts out equally pristine every day, was a place Devin found comforting. But the air around her still seemed charged. She was altered.
Devin finished most of her coursework in June, went home again, wrapped up her last class project in August. Clements watched her closely. She is figuring out what has to be done now and what can wait, he thought.
He asked her whether she would want to meet Bauman someday. She said she might. She was not in a hurry. She had seen his public appearances and read his interviews. She knew he had been fitted with prosthetics and was learning to walk again. That meant everything. That was enough for the time being. She understood how profoundly the picture resonated with people because he had survived and was recovering. She was not sure he had ever received her Facebook message, but that was for the best. She needed space to detach and heal.
She threw away the shoes and pants she'd worn on race day. She had her white jacket washed to remove the small bloodstain from the sleeve, and kept it.
---
DEVIN HAS BEGUN her senior year at BU. Her clinical assignment is at a local high school with a small staff where it's sometimes challenging to get a team taped in the allotted time. One class required her to observe emergency care in several hospitals. Nothing she saw fazed her.
Someone recently introduced her as "the girl in the picture." She wishes they hadn't. That is not the first thing she would mention about herself.
She would say she is a 21-year-old student athletic trainer at Boston University and a world-class synchronized skater. She feels she owes a lot to those intertwined pursuits. She thinks the discipline they taught propelled her on the path into the bomb zone and out again, enabled her to do what she did and learn from it despite the sliver of doubt that has always plagued and driven her.
This is what Devin sees when she looks at the picture: "That face, face of worry, face of 'I don't know what I'm doing, am I doing the right thing?'"
Of course, she will never be objective about it. It is a raw, dramatic, dynamic photograph. It encapsulates everything terrible and inspiring about that day. But it doesn't tell the story of why she was there and who eventually helped her to safety. That is something she wanted people to know, once she got used to the idea that the picture will endure.
But, like all snapshots, it belonged to the past the moment it was taken. Devin Wang is already someone else now.
Bonnie D. Ford is an Olympic sports and enterprise reporter for ESPN. She can be reached at bdfordespn@aol.com. Follow her on Twitter at @Bonnie_D_Ford.
Follow ESPN_Reader on Twitter: @ESPN_Reader. Follow Outside the Lines on Twitter: @OTLonESPN.