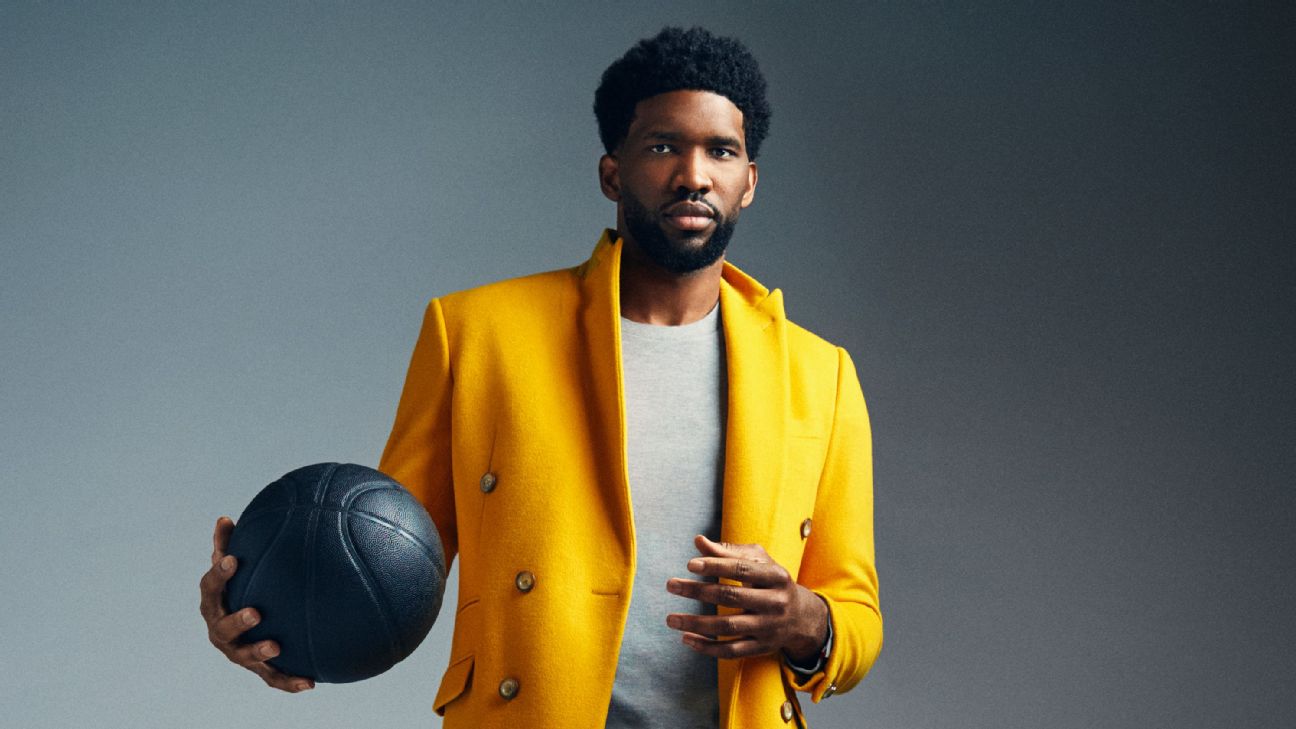 Joel Embiid means business
How fatherhood, failure and a near-catastrophic injury have the Sixers big man chasing after bigger goals than an MVP
If you watch Joel Embiid play basketball enough, you eventually get used to the sight of a 7-foot, 280-pound man falling to the ground like a giant oak tree that's just been struck by lightning. But first-year Philadelphia 76ers coach Doc Rivers is still adjusting.
"His falls are terrible," Rivers says.
One minute he's a dominant center gliding around the court, swatting shots on defense or scoring more points per game (29.2) than any center since Shaquille O'Neal won his MVP in 1999-2000 (29.7). The next he's a wet noodle, going limp as he flops down to the floor several times a game.
After one game, Rivers says, he heard from his daughter, Callie, who is married to point guard Seth Curry. "[She] called me and said, 'Joel scares the s--- out of me every game.'"
Embiid swears these falls are by design. He learned them from watching soccer players flop but also through his own deductive reasoning.
"People are always worried, asking, 'Why does he fall so much?'" Embiid says. "I always just fall because I don't want to land awkwardly and put too much weight on my lower body. That's why a lot of injuries don't happen."
But on the night of March 12, Embiid's mind was in a different place. He'd just gotten out of a seven-day quarantine after coming into contact with a barber who later tested positive for COVID-19. He had avoided contracting the virus but was annoyed at missing the NBA All-Star Game and was ready to take it out on the first team he faced -- in this case, the Washington Wizards.
Midway through the third quarter, in just 20 minutes on the court, Embiid had 23 points, 7 rebounds and 3 assists on 8-of-11 shooting. The Sixers were up 18 and cruising to an easy win. But Embiid wasn't finished reminding the rest of the NBA why he had become the front-runner for the MVP award.
When teammate Tobias Harris found him on a dribble handoff, Embiid went up strong, turned slightly in the air as Wizards guard Garrison Mathews made contact, then threw home a right-handed dunk.
But instead of falling like a 7-foot tree, he landed hard, with all of his weight on his left leg. His knee bent backward, hyperextending like a matchstick snapped in half.
"As soon as I fell, the first thing that I'm thinking is: 'My season is over,'" Embiid recalls. "'There's no championship. There's no more MVP. There's no more Defensive Player of the Year.'"
For six years, Philadelphia fans have been waiting on Embiid and the Sixers to complete "The Process" and make good on their enormous potential by winning a championship. This year felt like it was finally coming together. The Sixers had the second-best record in the league and had been leading the East since Jan. 20.
So this seemed like more than just an unfortunate fall. It felt more like the latest stumble in a recurring theme.
So many of Embiid's best moments -- and by extension, Philadelphia's -- have been followed by setbacks. As he lay on the court of Capital One Arena in Washington D.C., all those awful thoughts and memories ran together. It was hard not to question his fate, and his faith.
"I was like, "Why does it always have to happen to me?'" Embiid remembers. "'I get so close every single time. Something always has to happen.'"
---
BACK HOME IN Philadelphia, Embiid's 6-month-old son, Arthur, woke up from a deep sleep around the same time his dad hit the ground in agony.
"Arthur sleeps through the night, every night," says his mother, Anne de Paula. "But he woke up crying hysterically, almost like he had a nightmare."
She'd been watching the game upstairs, cringing as the man she loved lay on the court in pain, when she heard Arthur crying on a monitor.
"They are like best friends," she says. "When Arthur sees him, there is no one else in the room. It is the most beautiful thing ever.
"It almost felt like, with their connection, Arthur sensed something was going on."
Embiid checked the baby monitor on his phone as soon as he went into the locker room and saw that Arthur had woken up.
He named his son as a way to honor his younger brother, Arthur, who was killed in a car crash in Cameroon shortly after Embiid was drafted at No. 3 in 2014. They'd been close growing up, despite their seven-year age difference. Arthur was just 13 when he died. Embiid hadn't seen him in four years.
"What I remember from him the most was how great of a person he was, even at his age," Embiid says. "He used to take stuff from the house and go help people around the neighborhood. People that didn't have anything. ... So when I found out [de Paula was having a boy], I just knew his first name was going to be Arthur."
"If the MVP wasn't supposed to be mine this year, I guess maybe it is not. But maybe that's what keeps me healthy to make sure I'm ready for the playoffs."
- Joel Embiid
Everything in Embiid's life has changed since his son was born last year. His priorities, his focus, his personality. The petty squabbles he'd get into on social media seem like a waste of time and energy now. The endless fascination with The Process and whether he and fellow superstar Ben Simmons can play together and fulfill former general manager Sam Hinkie's radical team-building-by-tanking strategy feels like an old script that needs a write-through.
"I want [Arthur] to see me at my best, just like I saw my dad," Embiid says. "I want him to see his dad as the best player in the world."
That was what he was working toward this season, working with his two longtime skills coaches, Drew Hanlen and Chris Babcock, to build his body and his game for a breakthrough year.
Even during Embiid's midseason quarantine, Hanlen had given him workouts so he wouldn't lose any of the conditioning he'd worked so hard to build. But the unscheduled break had already cost him one of the goals he set for himself for 2020-21.
"This season Joel wanted a clean sweep of MVPs," Hanlen says. "He wanted to win the regular-season MVP, he wanted to win the All-Star MVP, and he wanted to win the Finals MVP."
Embiid was a near-unanimous selection to the All-Star Game, his fourth straight, having averaged 30.2 points and 11.6 rebounds in the season's first half. On March 10, he overtook Los Angeles Lakers star LeBron James as the favorite to win the league's MVP award at Caesars Sportsbook by William Hill, going from a 40-1 pick at the beginning of the season to a +200 favorite.
"At that time he was the favorite to win the MVP, and he wanted to go and dominate the All-Star Game so he could prove that he was the best player in the world," Hanlen says.
"That opportunity got taken away from him. That, obviously, was out of his control. But something he could control in the second half of the season was making sure everybody realized that he was the best player in the world."
And then he forgot to fall like a tree on the night of March 12.
---
IT TOOK A FEW hours to get the results of the MRI, but Embiid didn't have a good feeling about it. He couldn't put any weight on his left leg. The pain was intense. He used crutches to board the team plane and to go to the hospital once the team landed back in Philadelphia.
Rivers wasn't optimistic, either.
"I didn't have a great feeling right away," Rivers says. "I had an ACL [injury] once, and he fell the way I fell. He didn't land normally, he landed on the back of his heel."
The coach tried to sleep. But the reality of the Sixers' season without Embiid loomed large.
All of the work they'd done together -- running the offense through Embiid in the post, learning to manipulate defenses with his passing, skill and basketball IQ, anchoring the Sixers' top-ranked defense -- all of it seemed to crumple up in Embiid's mangled knee.
"Listen," Rivers says, "we would've still played OK. But we aren't winning anything without Joel."
But this time, the pattern was interrupted. Fate was kind to Embiid. It wasn't a season-ending ACL tear. Just a bad bone bruise. The injury cost him 10 games and his lead in the MVP race -- Denver's Nikola Jokic, who has played in all 69 of the Nuggets' games this year, is now widely regarded as the favorite -- but not his larger goals.
"I could get sad and mad about it, but I feel like everything that happens in my life happens for a reason," Embiid says. "And if the MVP wasn't supposed to be mine this year, I guess maybe it is not.
"But the positive that I also took away from it, is that maybe that's what keeps me healthy to make sure I'm ready for the playoffs. Because if I were to chase after the MVP, maybe I would have burnt out like two years ago."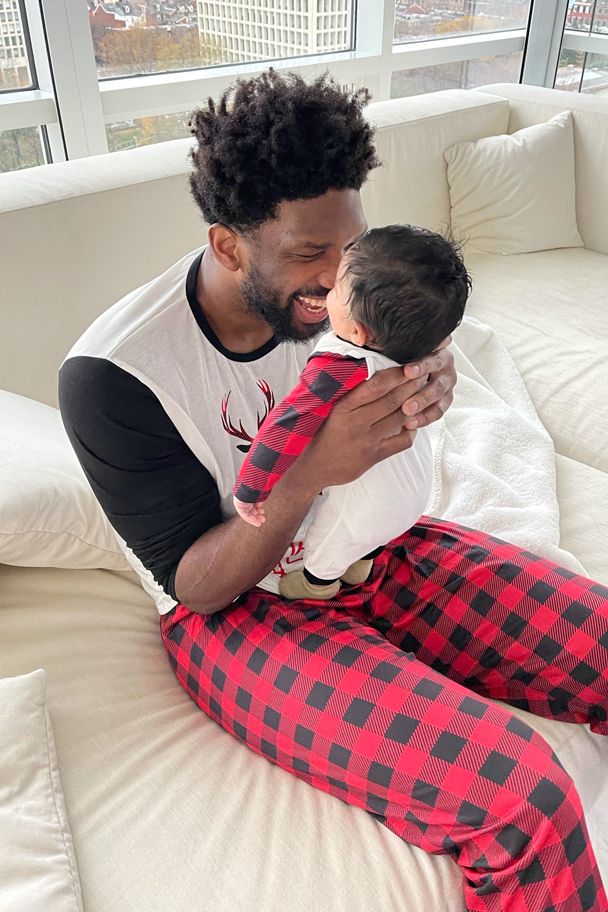 That year (2018-19), it seemed as if the Sixers were finally putting it all together. Embiid had been dominant in the regular season, averaging 27.5 points and 13.6 rebounds and leading the Sixers to a first-round playoff series sweep of the Brooklyn Nets. Then he aggravated a knee injury and got sick during a seven-game Eastern Conference semifinals loss to the eventual champions, the Toronto Raptors, when Kawhi Leonard's 3-pointer from the corner famously bounced on the rim an impossible amount of times before falling through the net.
Instead of building off that year, Philadelphia regressed, falling all the way to sixth place in the Eastern Conference in 2020. In October, Rivers and president of basketball operations Daryl Morey were brought in to cast a fresh set of eyes on the situation.
The Sixers were nearing their sell-by date. The window to win with Embiid and Simmons as their franchise cornerstones could soon close. It was time to get ruthlessly honest about what had gone wrong in the past, then decide whether it was fixable without major personnel changes.
Trading Simmons for disgruntled Rockets star James Harden was discussed, before and during the season, sources said, but both Rivers and Embiid hoped the Sixers would give the original pairing another shot.
"I love that we stuck with it," Rivers says. "They're young. Give them a chance."
But if Philadelphia was going to run it back, everyone had to look in the mirror, starting with Embiid.
"Last year, no one knew their roles," Embiid says. "People were just doing whatever they wanted. And I'm not the type of guy to come in and just jack up shots."
Instead, Embiid would get passive-aggressive. He'd pass up good looks and settle for bad ones. He would hang out beyond the 3-point arc to overemphasize creating space in the lane, throwing up his hands in frustration when it didn't work. That wasn't good either, and Embiid had to own that.
Rivers told him that he would clarify roles early on, making sure the team played through Embiid in the post more, but that Embiid had to hold himself accountable for his attitude and making better decisions.
"I did that day one," Rivers says. "'We are playing through Joel. But Ben [Simmons] is the facilitator.'"
They also agreed that Embiid had to set the tone for everyone by coming to camp in top shape.
"I asked him, 'Have you ever seen an out-of-shape MVP?'" Rivers says. "He started laughing. And I said, 'It doesn't exist.'"
Embiid got the message.
"He told me that I needed to be a leader," Embiid says. "If I came back in shape, it also meant to my teammates, 'It's time to go. Joel is ready, he came back, he's in great shape, that means you guys have no excuse to not be in shape.'
"So that's what I did. I took it to heart."
---
EMBIID HAS HAD the talent to dominate the NBA for several years now. He has had the basketball IQ, the footwork, the skill and the drive. The only thing he lacked, it seemed, was consistency.
The discipline to eat right, to go to bed early -- every day, not just most days. To come into camp in top shape, not play himself into shape throughout camp.
He started working with a nutritionist, Dr. Louise Burke, on a diet that would help him sustain his energy throughout the season and deep into games. And he was consistent about it, hiring a full-time chef to prepare meals the way Burke recommended, not cheating with comfort food.
"This year, by taking his nutrition more seriously, weightlifting more seriously, spending more time doing film work," Hanlen says, "his approach to the game has been taken to the next level."
Rivers knew that his offseason talk with Embiid had gotten through on the first day of practice.
"I knew it was going to be a different season when we went three-plus hours in practice and Joel didn't miss one second," Rivers says. "One of the coaches who was here last year said, 'Joel has never gone [like this]. And I'm like, 'Get the f--- out of here.' I didn't believe it.
"Then Joel says to me on the second day, 'I've never gone this long.' I was like, 'Well, this is what you should do.'"
Rivers likes to say you never really know a player until you coach him and see his habits and personality up close, day in and day out.
But he also likes to remind you that players change over time, based on their experiences. His lone championship came in 2008, with a Boston Celtics team led by Kevin Garnett, Paul Pierce and Ray Allen, at a moment in their careers when they were, as Rivers puts it, "ready to win."
He took this job in the hopes that he could get Embiid and Simmons to that point, too.
"Being around Joel every day, you don't realize just how dominant he is," Rivers says. "He does things that no other big can do.
"He's not as intense as Garnett, but he's on that level. Just his IQ defensively, and his ability. He does what Kevin did well -- he talks. And he sees [things] early, before it happens, or warning guys before it happens. He's already relocating to the right spot, before it happens."
Offensively, Rivers has noticed the same kind of big-picture thinking.
"The biggest change we've made in Joel probably is his passing," Rivers says. "It's fun watching him bait people on the post now. Where last year he panicked."
In the playoffs, when defenses will collapse and key on Embiid even more, that will be critical for the Sixers. Three years ago, Boston thoroughly frustrated him, and Philly's offense, by double-teaming and trapping him, and every team has done some version of that tactic ever since.
It's on Embiid to find a counter.
"Drew and I always talk about the playoffs," Embiid says. "We're always thinking ahead: 'How are you going to be guarded? You need to add this to your game. You need to handle the ball. You need to shoot off the dribble because if you just end up being a post player, that's not going to get you anywhere. That's easy to guard. That's easy to double, so you need to do something else.'"
Hanlen has worked with Embiid since he was a rookie, trying to help him prove he was worthy of the faith the Sixers had shown by drafting him third overall after just one season in college and five years after he first picked up a basketball.
Embiid used to prefer private workouts back then. He'd ask Hanlen to close the gym to his other clients and curious onlookers. He never posted videos of their workouts on social media.
"The first part of his career, he had to learn how to do everything," Hanlen says. The tapes he'd send Embiid back in those days were of skills to work on and individual matchups he'd be facing.
This year, however, Hanlen has noticed a sophistication in Embiid's approach.
"He's not trying to score against defenders anymore," Hanlen explains. "He's trying to score against teams.
"No one guards him one-on-one anymore. So now he's got to manipulate everybody.
"In years past, he's maybe tried to prove to everybody how good he was. This year his focus has been proving to everybody that he can impact winning, which is the No. 1 thing that matters."
---
THE FIRST YEAR they worked together, Hanlen asked Embiid if he could record him talking about his career goals. He knew he would use them for motivation and accountability, but also to remind Embiid where they started.
Embiid was quite a bit skinnier than he is now. He lived alone in an apartment, where the only signs of life were some well-worn video game controllers.
"He didn't even have a couch at the time because he's a cheap ass, so we're sitting on the damn floor talking about how he wants to be one of the greatest of all time," Hanlen says. "This was before he ever played a game."
Hanlen has played that clip for Embiid several times over the years:
"I want to be so successful in this business," the young Embiid says in the clip. "It's going to take a lot of work, and I'm willing to put it in. But I want to be, when people hear my name, I want to be mentioned as one of the greatest. That's my goal. And obviously being a Hall of Famer. But you've got to take step by step, one day at a time. But it's just about being one of the greats, that's what I want to be."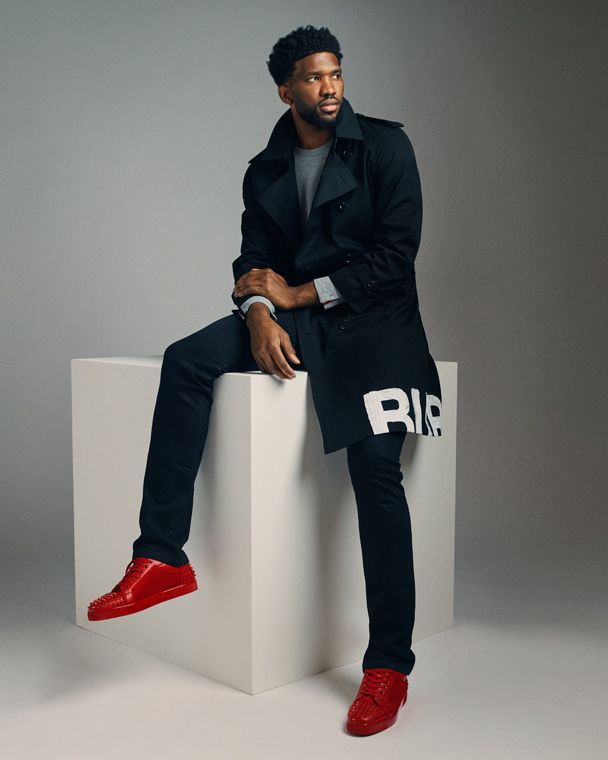 Each time Embiid sees that video, it lands a little differently.
Watching it now, after everything he's been through, he smiles. "That's the young Joel," he says.
That Joel had no idea what challenges were in store for him.
"But the goal hasn't changed," he says.
The original goal of The Process, Hinkie's radical tanking experiment, was to find multiple superstars at the top of the NBA draft who could lead a team to a title. And this year, Embiid and the Sixers will be the top seed in the Eastern Conference, having won eight of their past nine games heading into Thursday's game against the defending conference champions, the Miami Heat.
Over the years, Embiid has leaned into everything that went along with The Process, even co-opting it as his nickname for a while. He liked the boldness of Hinkie's ambition, and the role he was cast in.
But having a family changes a man. His apartment is full now. So is his heart.
"Being around Joel every day' you don't realize just how dominant he is. He does things that no other big can do."
- Doc Rivers
He met de Paula when he wasn't looking for anyone. They just happened to attend the same dinner with a mutual friend in New York City in 2018. And as she remembers it, neither of them really said much during dinner. She didn't even realize he was a basketball player until he stood up at the end of the meal and she saw how tall he was.
She liked that he prayed before each meal, to give thanks. That they'd each left home -- she from Brazil, he from Cameroon -- as teenagers to pursue their dreams in America.
"It started off as a beautiful friendship," she says. They both loved soccer, both spoke French and both wanted a family more than anything. "We FaceTimed every day for a while. ... He just has this personality where he wants to motivate you. His friends, his family and now with Arthur -- he pushes all of us to be the best of ourselves.
"That's the type of person you want to have around."
Arthur and de Paula were waiting for Joel when he came home after forgetting to fall like a tree on March 12. So were his parents, Thomas and Christine, who had flown in from Cameroon to meet their grandchild.
While he was injured, Embiid was able to spend more time with them than he otherwise would have. That gave him time to reflect, time to notice things he might have missed.
Growing up, he remembered his father as a tough guy with a serious face. He was a general in the army and a star handball player. But while Thomas was in Philadelphia, recently, Joel noticed something new about his father.
"I was just telling Anne, 'I've never seen him smile my whole life,'" Embiid says. "'And since he's been here, he's just been smiling all over the place. Every time he sees [Arthur], when he's holding him. I've never seen this in my life.'"
Surrounded by his loved ones, playing the best basketball of his life, Embiid is as close as he ever has been to the person -- and player-- he has always wanted to be. But there is still so much to do.
"We've got a chance to win a championship this year," Embiid says. "We've got a chance."
Shelburne is a senior writer for ESPN and has written stories on
Wardrobe styling by Whitney Michel; prop and set styling by Allen Worley; grooming by Ioana Chiorean; production by Bennie de Grasse/Very Rare Productions; yellow coat by Garcon Couture; shirt by Thom Browne; red bomber jacket by Givenchy; T-shirt by Levi's; navy cashmere coat by Prada; hoodie by Lacoste; black trench coat by Burberry; gray shirt by Thom Browne; sneakers by Christian Louboutin.