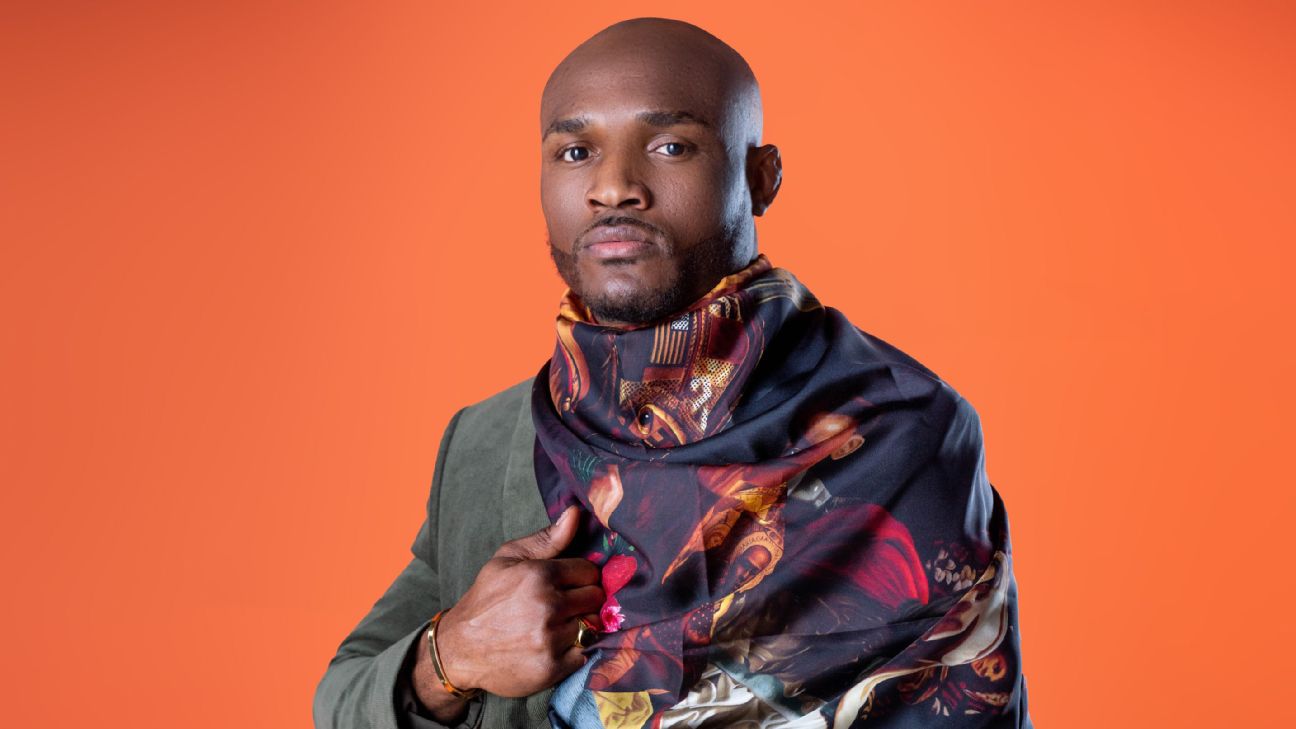 The reign of Kamaru Usman
Champion. Immigrant. Nigerian Nightmare. Kamaru Usman has earned many titles, including UFC superstar.
Last summer, after he defeated Jorge Masvidal at UFC 251 and flew back to his home in Denver, Colorado, Kamaru Usman thought he might die. He woke up in his bed one morning and felt weak and sick. He spent the day inside trying to shake it off. He lost his appetite and hardly ate for three days.
"Man, I just made all this money and I'm not gonna be able to spend it," he thought to himself, only half kidding.
Four days later, he was so dehydrated that he was urinating blood. He lost his sense of smell and taste. On Day 5, having surmised that he might have COVID-19, he drove himself to the emergency room. After being admitted, he tested positive for COVID-19 and was prescribed antibiotics. He lived on fruit and vegetable smoothies delivered to his door and told his mother and other family members to stay away from his apartment for their protection. Eight days after that first morning of symptoms, he had lost 17 pounds.
I keep thinking about this story once we part ways after lunch in a modish health food spot in central Denver a couple of weeks ago. More than the details of his illness, more than the six weeks it kept him out of the gym, more even than the fact that almost no one outside of his inner circle knows this story he casually relates between bites of turkey burger and salad, is my sense that Usman's candor and charm and good humor are actually what most render him enigmatic, blurry around the edges.
"100 percent Kamaru is inward. It's hard to chisel that stone shell he has. And that's why I'm always so intrigued to learn more about him," says Usman's coach, Trevor Wittman. The two men started working together last summer. "He's got this thing that he doesn't talk about these very important things. If they're important to him, I think he carries that with himself."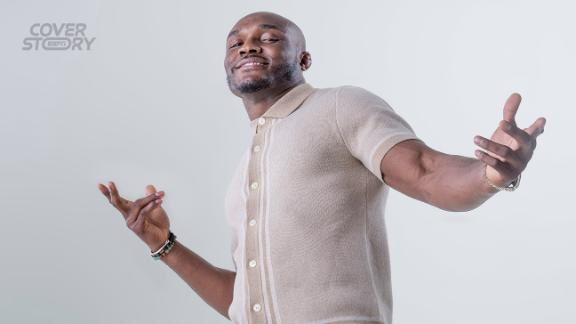 Usman, 33, is currently the UFC's most dominant champion. Still, as he heads into a rematch with Masvidal at UFC 261 on Saturday, Usman is much less distinct in the public imagination than his opponent, whom he outclassed last summer but didn't dismantle.
Ask Usman about any of his life's details, and he'll answer thoughtfully: his family's emigration from Nigeria when he was 8; his success as a scholastic and collegiate wrestler; his mentorship by former UFC light heavyweight champion Rashad Evans; his father's imprisonment for healthcare fraud; his family's closeness and resilience; his historic streak of dominance; even his high school nickname, Marty.
And yet his thoughtful answers don't reveal what's essential about him -- they're true enough without being the truth. His single-mindedness is both source and sum of a deep complexity.
The surprise of that complexity, its paradox, is that, of course, it reveals itself on the surface all along, not hiding nor needing to be rooted out, instead moving in the plain truth it took me too long to see.
---
KAMARU USMAN VIVIDLY remembers the first time he was conscious of meeting his father. "Everyone in the village is around. There's a car. I can't quite make out what kind of car it is, but there's people in front and around the car. ... Papa Kash [Kashetu, Kamaru's oldest brother] done come, everyone's screaming. ... In my head, I'm making my way through the crowd, everyone's tall and I'm little. ... The first thing I see, I see his shoes, and I notice he's rocking the snakeskin, snakeskin cowboy boots. And I'll never forget that. Gray, white, blackish, python, snakeskin colors.
"... From what I could comprehend, I don't think he looks like me, but everyone's like, 'Of course you guys look alike. You look just like him.' But I'm a kid. I don't know. But they're like, oh, that's my dad. ... I don't remember if I hugged him. I don't remember if I ran up. I don't know what else happened, but I remember, boom, that was the first time I saw him."
Usman estimates he was about 4 years old when his father, Muhammed Usman, returned to their part of Auchi, a city in Nigeria's southwest region. A Nigerian Army officer, Muhammed left Nigeria in 1989, when Usman was about 2, to pursue an advanced degree at the University of Texas at Arlington. Besides Muhammed's occasional visits home, the family didn't reunite until Usman, his mother and his two brothers joined Muhammed in the Dallas area in 1995. The family added its final child some two years later when Usman's sister, Ashlynn, was born.
The awe of that first memory has never really left him. "My dad's the kind of dad that we would try so hard to impress," he says.
There are other vivid homecomings in his head -- all three boys are in school in Arlington, Texas, and every weeknight, they clean the house after dinner in preparation for their father's return from work. Usman's father would walk in, look around and ask, "What's that? Pick that up, pick up what's on the floor," Usman recalls. "It's like, 'We just vacuumed the whole house, and you come in, and the first thing is maybe a little piece of something that's on the floor.' That's how tough my dad was to where, honestly, I didn't remember my dad telling me he loved me until maybe I was in college."
While her husband was away in the United States, Usman's mother, Portia, was a teacher and shop owner. After the family moved to the U.S., she went to cosmetology and nursing school, working several jobs at once to help keep the family afloat.
"If somebody like that can always find a way, what is our excuse?" says Mohammed Usman, Usman's younger brother and a budding mixed martial artist in his own right. "Everything we do is for them, for their energy, for their legacy, for them to be able to sit back now like, 'Our kids did it. Our kids made it happen for us when we came to America.'"
This is thornier than immigrants, we get the job done -- a bogus claim for legitimacy and acceptance that takes on all sorts of white and capitalist assumptions about the worthiness of non-white immigrants to this country. What Mohammed describes is a complex debt. What do you owe people who give you your sense of self-respect in a place where all you understand yourself to be -- name, mother tongue, skin, even the smell of your food -- does not seem to belong? What do you owe people who rescue you from the deranging feeling of dislocation? You owe them more than everything. You can never pay enough. "[Kamaru] feels like, no matter what, I have to prove extra. We know. Being from a different country, being a Black American, he puts a lot of responsibility on himself," says Jorge Santiago, Kamaru's Brazilian jiu-jitsu coach and close friend. "He's defending his family. He's defending his daughter and his parents. For everything, for how they raised him."
"They ask me all the time," Usman says. "Who are your heroes? Who are your idols? I don't really have idols or anything like that. But I hold my parents in very, very high regard."
In 2010, the U.S. District Court for the Northern District of Texas sentenced Usman's father to 15 years in prison in the culmination of "Operation Easy Rider," an FBI sting of ambulance companies across Texas. Federal prosecutors charged Muhammed's companies with fraudulently billing Medicare, Medicaid and the Federal Employees Health Benefits Program, among others. Muhammed insists his subordinates engaged in unethical billing practices without his knowledge. This is why he has never seen his son fight as a mixed martial artist. He was released from a Texas prison last February after serving just under 10 years. Muhammed will be allowed to leave the state for the first time when he attends UFC 261 at VyStar Veterans Memorial Arena in Jacksonville, Florida.
When Muhammed was sentenced, Kashetu called his younger brothers to tell them, now more than ever, they had to avoid doing anything that would embarrass their father. After Muhammed broke down during a family visit early on in his sentence, Usman called him and told him not to let the family see him weep. Muhammed cannot tell the story of that call without his eyes welling up.
The debt ennobles you, anchors you amidst the vicissitudes and emptiness of modern life -- and it hurts. Those raised with the debt and who fail either are crushed by it, spiral into self-loathing, or else achieve a tender grace. They learn to be at home with weakness and fracture. Those who succeed, who can bear the impossible weight of the debt, achieve a terrifying severity. They become steel folded several times over, sharp and cool to the touch.
"My dad was always at work," Usman says of wrestling in high school. "And I had kids on my team that were talented. Their parents were there at practices. And then we'd go to a meet and their parents were not there, the kids would be mad or sad, depressed, and they'd go out there and lose and just give up, not try. I never had that. I was trying to beat everybody every time, whether my dad was there or not."
---
I'VE BEEN WATCHING Usman train for more than an hour before it hits me that he's hardly said a word since he welcomed me to the gym. As soon as he steps from the wood floor onto the rubber mat of Wittman's ONX gym a few minutes west of Denver, as soon as Olamide and Wizkid and Burna Boy pulse out of the speakers, he turns inward, inscrutable. Watch him go to school on a six-punch combo -- one-two, one-two, slip left hook, pull right counter. Watch him sway, with 10 seconds left in his one-minute breaks, bent at the waist and arms dangling in front of him, the way he does between rounds in a real fight. Watch him roll round after round after round with Santiago or fellow UFC fighter and Wittman pupil Justin Gaethje. He needs no urging or encouragement from coaches. Watch the head wreathed in veins, eyes folding in on themselves, spooky quiet, the great centripetal force at the core of him, the engine of responsibility and self-possession that he tends to and feeds at all times.
"I always wondered what that was like for coaches when they watch me," Usman says. "How they feel, whether they're like, 'Oh, this guy is a little off,' or 'I can't get him to smile today' ... and Trevor is kind of starting to experience that."
Usman tells a story about coming into the gym the day after a bad sparring session.
"Oh, you didn't put music on?" Wittman asked.
"I don't deserve music today," Usman replied.
Wittman laughed. "What? Why?"
"The way I sparred yesterday, I don't deserve music today."
"I could tell he probably felt like, what?" says Usman. "But that's just how my mind works."
Everywhere he looks, he sees tests of his seriousness, standards to uphold or fall short of, punishments to exact on himself. And as far back as he can remember the contours of his mind, he remembers being this way.
As a young child, "there were certain moments that I would think to myself like, I'm in my head, I'm the only one here. No one is here with me. I'm the only one going through this. I see the world how I see the world. No one sees the world the way that I do. No one experiences things the way that I do."
"100 percent Kamaru is inward. It's hard to chisel that stone shell he has. And that's why I'm always so intrigued to learn more about him."
- Usman's Coach, Trevor Wittman
Simple tasks obsess him. When his mother would ask the boys to carry in the groceries, "I had to do one trip," Usman says. "It was something in my mind. I was like, the way that I approach this, I'm gonna do one trip. I don't care if I have to put them around my neck and my back, tie them to me. I'm only doing one trip. My brothers might, you know, take some and go back, take some and go back. No, I'm doing it one time.
"Just in my mind, I go to a place where I know no one else is, is doing this. No one else is here with me, and it serves me in my athletic career."
What stands out about this isn't his compulsion or ability to focus. Many athletes at Usman's level have that. When basketball players put up hundreds of shots every day in the offseason, they casually demonstrate both. What stands out is how lonely it sounds. Usman is a perfect vessel for the debt, which isolates while binding the debtor to others. It makes you responsible.
"He's definitely hard to get to know," Rashad Evans says. Usman describes Evans as a big brother, and the older man has observed his protege closely. "Coming into a country where they had to adjust ... he was the odd man out a lot of times. And a lot of times, he would have to find that solace just in himself."
During a spell at the Olympic Training Center in Colorado Springs after college, when Usman was trying to make the 2012 Olympic wrestling team, he was invited to spar with Evans to help keep the latter's wrestling sharp. Their first session together became competitive.
"We're drilling, and the drill graduated into a live wrestling match," Evans recalls.
The two men grew close. It was Evans who first encouraged Usman to pursue a career in MMA. As he transitioned out of wrestling, Usman moved in with Evans in South Florida. Evans marvels at the change he has seen come over Usman over the roughly 11 years of their friendship. "When I met him, he was Marty," says Evans. "Because he didn't know how to handle that pressure of just being who he was."
---
DAVID MUDGETT IS still the wrestling coach at Bowie High School in Arlington, Texas. He's been there for 27 years. He was the one who called Kamaru "Marty" at the start of his first practice. Coach Mudgett gave everyone on the team nicknames as a way of bringing the group together. When he arrived at Kamarudeen Usman on the roll, he stopped.
"I knew I wasn't going to be able to pronounce it. It was way too much for me. So I'm staring at it. He's waiting for my response. So I look at it, and the words M-A-R and D-E-E stood out to me. And so, I was thinking. Because we had a Cam already for Cameron. So I'm thinking, and I'm thinking, and I said, Mardee, M-A-R-D-E-E. And one of the wrestlers goes, 'Coach, he don't even look like a Marty.' And it made me laugh so hard because hell, he don't look like a Marty."
The summer after his freshman year, Usman's club wrestling coach, Allan Rodger, gave him another nickname, U.S. Man. All of this, the teenage Usman was meant to take in his stride, and he did. This was supposed to be affection, and so it was -- white people and the tiny amputations they require as the price of admission to their mainstream. The name followed Usman to college at the University of Nebraska at Kearney, where he won an NCAA Division II national championship in 2010, and eventually, in the hands of adversaries like Colby Covington, into the UFC.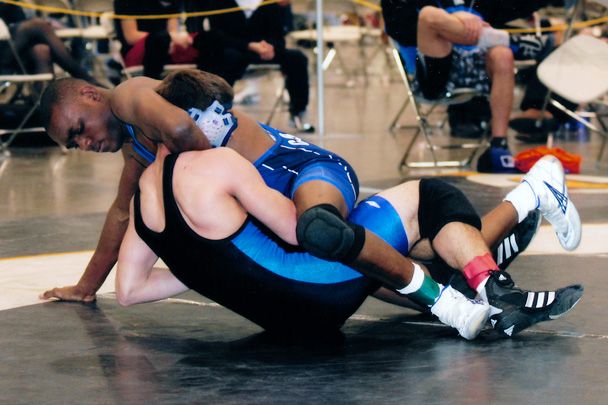 "I love it because nobody remembers the mediocre guy," Usman says. "If Marty sucks, and Marty's not very good, guess what? No one cares. No one remembers Marty. But when Marty starts putting it on guys and starts whupping everybody ..."
Like any story about assimilation, the one about Marty Usman is too complex to parse for anyone but the person deciding on what terms he stops being an outsider, a child with a weird name and strange accent. Kashetu calls the whole thing "lazy and disrespectful" in retrospect, and like every member of the Usman family I spoke to, he also insists there was no harm meant in it and none done. Both Rodger and Mudgett and his wife remain close family friends with the Usmans. Hanging in Mudgett's small office, framed under a rack of trophies, is a poster of Usman's first UFC event signed with a note from Usman that reads, "Thank God for bringing you into my life. Thank you for introducing me to this sport."
But the meaning of the name, and the difference between it and the name given to him by Muhammed and Portia at birth, is clear when "Marty" is used with a particular tone by particular types of people. Before a news conference for UFC 235 in March 2019, Usman stands backstage with Dana White and other fighters when fighter Ben Askren says to White, "Can me and Marty sit next to each other?" Usman's reaction is so sudden that he's already covered the few paces between him and Askren before anyone registers the temperature change in the hallway. White is still smiling a couple of feet away from the two as Usman says a few inches from Askren's face, "Marty. Do you know me?"
White and two security guards step between them.
"Be quiet," Usman says as he's guided away by security. "You don't know me."
"What allowed him to be called Marty was just wanting to get along, wanting to not cause too much ruffles, not wanting to stand out too much," Evans says now. "But as he became who he is now, [Kamaru] realized why he never fit in. Because he wasn't supposed to. He wasn't supposed to because he is special. You don't need to be Marty no more because you don't need to fit in. It's OK to be different. It's OK to be exceptional. And that's what I watched Kamarudeen grow into. I watched him grow into his own name."
---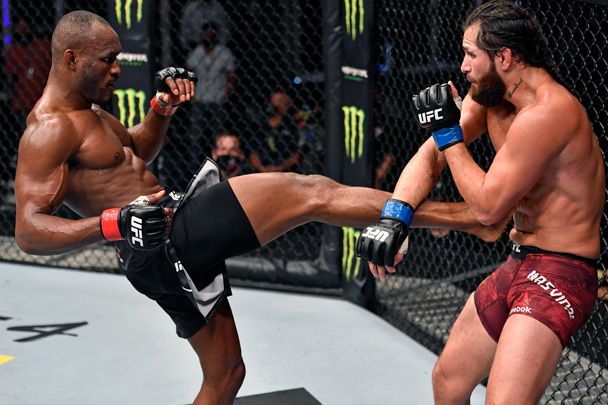 A PERSON WHO lives his life as if it's a test of seriousness, Usman cannot help but become a test of others' seriousness. This is what makes Masvidal a perfect foil. Masvidal is wildly popular with fans, known for his brashness, his history as a street fighter and his dramatic knockouts of Askren and Darren Till. He's "authentic," which is shorthand, in this case, for a reputation of recklessness outside the Octagon.
After knocking out Till at UFC 147 in 2019, Masvidal got into an altercation backstage with fellow fighter Leon Edwards, punching him in the face three times in a flurry he memorably described as "a three-piece with the soda."
That kind of behavior is anathema to Usman. "That's assault. I do that, and my daughter has to see that for the rest of her life. Is that the example that I wanna set? I care about setting an example. For him, he's, kind of, like, 'Eh, I don't really care, I'm gonna do me, I'm gonna have fun, I'm gonna do this,'" says Usman. "No one's worried about the future generations to come, at what they leave or the legacy that they leave. And, I am."
This is another aspect of the debt: That which is owed to the past becomes that which is owed to the future. Usman exempts no part of himself from merciless self-examination, the constant weighing and measuring through which he seeks to strip himself of all excesses. He is a living superego, a mouth gritting its teeth.
"Kamaru just can't stand that bravado that Masvidal walks around with and that he just tries to raise his leg on people," says Evans. "He's like, 'I know this guy's heart. I watched him fight. I watched him fight growing up in the sport, and I've seen what his heart is about. Now all of a sudden, you want to act as if you're that guy?' That's how Kamaru feels about him. And he wants to break him because of it."
Pay special attention to the word "break" -- it comes up often in Usman's camp and from Usman himself. If he has a pleasure principle, this is it. The ascetic's moment of ecstasy, the instant he comes up for air.
"Once I've broken his will, that's my stamp of approval," Usman says. "When we're in there, it's intimate, it's very intimate, it's between me and that other opponent. And, they know what I've done, and I know what I've done. So, once I get that feeling ... I guess you could call that my high. Once I get my high, I'm good."
"It's the real victory in the fight. Getting the money's one thing, having your hand raised is another," Evans says. "And it's such a subtle thing, but it's such a great feeling because you feel as if not only did you conquer him, but you conquered yourself."
Usman lost one round on one judge's scorecard against Masvidal last summer, and he entered the fight with a broken nose. Yet he was disappointed. As the two men embraced after the fight, Masvidal said, "I'll get a couple wins, and we'll run it back." He wasn't humbled.
"I didn't fully break him to where he just was done, and that didn't sit well with me," Usman says.
When Usman fights, he asks his opponents and the audience that has yet to glom on to him the way they do fighters like Masvidal: Have you gone as far as me? What's important to you? How important is it? What do you value? How serious are you?
---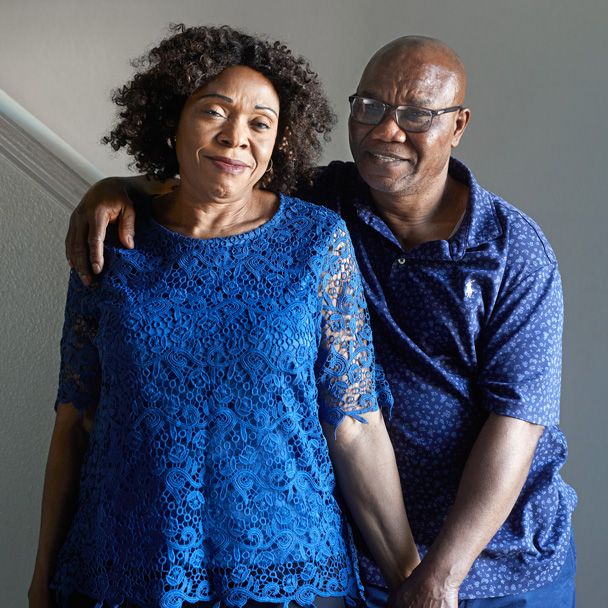 "I THINK KAMARU'S trying to be his last self," Wittman tell me. He means ultimate, in both usages of that word. Where does one locate another's self? After several days of speaking to confidants and family members, of watching him out in the world, or relaxing in his home, or training -- I feel I'm staring too hard and standing too close. I went back to the beginning of the process and put on a bunch of his fights.
I arrive at the night in March 2019 when he won the title against Tyron Woodley at UFC 235. In the arena that night is Portia, whose nerves are so bad she has to go to the bathroom five times between the end of the preceding fight and the start of her son's title challenge. She covers her head and face with a scarf when the match begins, lifting it for only seconds at a time when a cheer goes up in the crowd.
In the first minute of the fourth round, Usman and Woodley are in a clinch against the cage and begin a brief exchange of right hands to the ribs. The exchange is brief because Woodley throws four right hands, but Usman keeps going. Methodically, not too fast, not too slow, pulverizing Woodley. When Usman stops, he has thrown 19 consecutive right hands to Woodley's ribs. In the immediate aftermath of the fight, Woodley twice describes his experience that night as "a bad dream."
"That's my son!" Portia shouts as she embraces him in the Octagon, the belt now around his waist. Usman picks up his daughter, Samirah, just a bit older than he was in his first memory of his father. Usman grabs the microphone from Joe Rogan. "I come from humble beginnings, all the way from Auchi, Nigeria. I never dreamed I'd have a platform like this one day. And when this little girl came along she lit a fire under me."
Usman looks at his daughter. She has her fingers in her mouth. "Daddy did it. When you grow up, I want you to remember this day forever," he says, and you can almost see the debt get passed on.
I play the sequence from 4:25 to 4:12 in the fourth round over and over until it reminds me of watching Usman spar a few days earlier. There he is, I think.
---
Over in in one corner of Easton Training Center's large open training floor are two men lying down, legs coiled intimately, excitedly discussing the most efficient way to snap each other's limbs. Today is a light sparring day for Usman, five rounds with alternating opponents, shin pads and full contact.
"No one is getting paid today," one of the gym's trainers says as he gathers the room of some four dozen fighters and coaches near the Octagon. "Unless you drop Gaethje to the body -- $500 if you drop Gaethje to the body."
"Does he have to be looking?" one fighter quips.
The group dissolves, and people pair up throughout the gym. Usman climbs the short steps into the cage. The first round is comfortable, he's working on some things. The second round picks up intensity as Gaethje steps in with him. Santiago circles the cage with them, while Wittman records the two for future study. During the third round, Gaethje, panting, stands with me cageside and barks instructions at Usman.
"Cut him off there, don't follow him! ... Get off the f---ing cage! ... Position!"
"No one's worried about the future generations to come' at what they leave or the legacy that they leave. And' I am."
- Kamaru Usman
Usman descends to the training floor for his final two rounds. His opponent from the first round returns for the fourth, and by the end of the round he sinks to his knees. Gaethje reenters the fray for the final round, but only half of it.
"Two and a half minutes of ground and pound to finish!" Wittman says, and Santiago drags a long black leather grappling dummy to Usman's feet.
Usman drops to his knees in full mount and starts to throw punches and elbows at the dummy's head. Every strike brings a loud grunt. Gaethje grabs the dummy's legs and tries to swivel it around, forcing Usman to scramble with his knees to stay directly on top. Then Santiago starts grabbing Usman, pushing and pulling to get him off.
Usman is open-mouthed now, and the grunts are screams.
"One minute!" Wittman shouts.
Usman stands up over the dummy and, bent at his waist, starts to rain punches down on its head.
Santiago and Gaethje watch.
Usman screams and punches, screams and punches.
Other people in the gym are staring now too. "30 seconds!" Usman empties himself. Streaks of his sweat streak the side of the dummy's head. Usman's screams go up in pitch. He keeps screaming and punching, coming into sharp relief, just as he does in those 19 straight punches against Woodley. There he is, I think.
I cannot explain him any better than he explains himself in this moment. He cannot reveal any more. This is his biography, this relentlessness is his means and his end, this need to compress his being into a diamond, to reach the bottom of himself and keep going. There is the truth, the debt, the son, the father, the striver, the man alone. There is the child emigre; the "bad dream" Woodley walked into, Marty and Kamarudeen. There he is there he is there he is there.
Akintoye is a staff writer for ESPN.
Local production by Summer Productions; Grooming by Nyla Nasser; Styling by Southern Gents; olive suit by Express; bracelet and ring by ChainsPro; scarf by Ikire Jones; vintage polo by J.Crew; tuxedo by Southern Gents; bowtie by Well Groomed Man; loafers by Aldo Shoes; blue suit by Express; striped t-shirt by Amazon Fashion; watch by Skagen Denmar