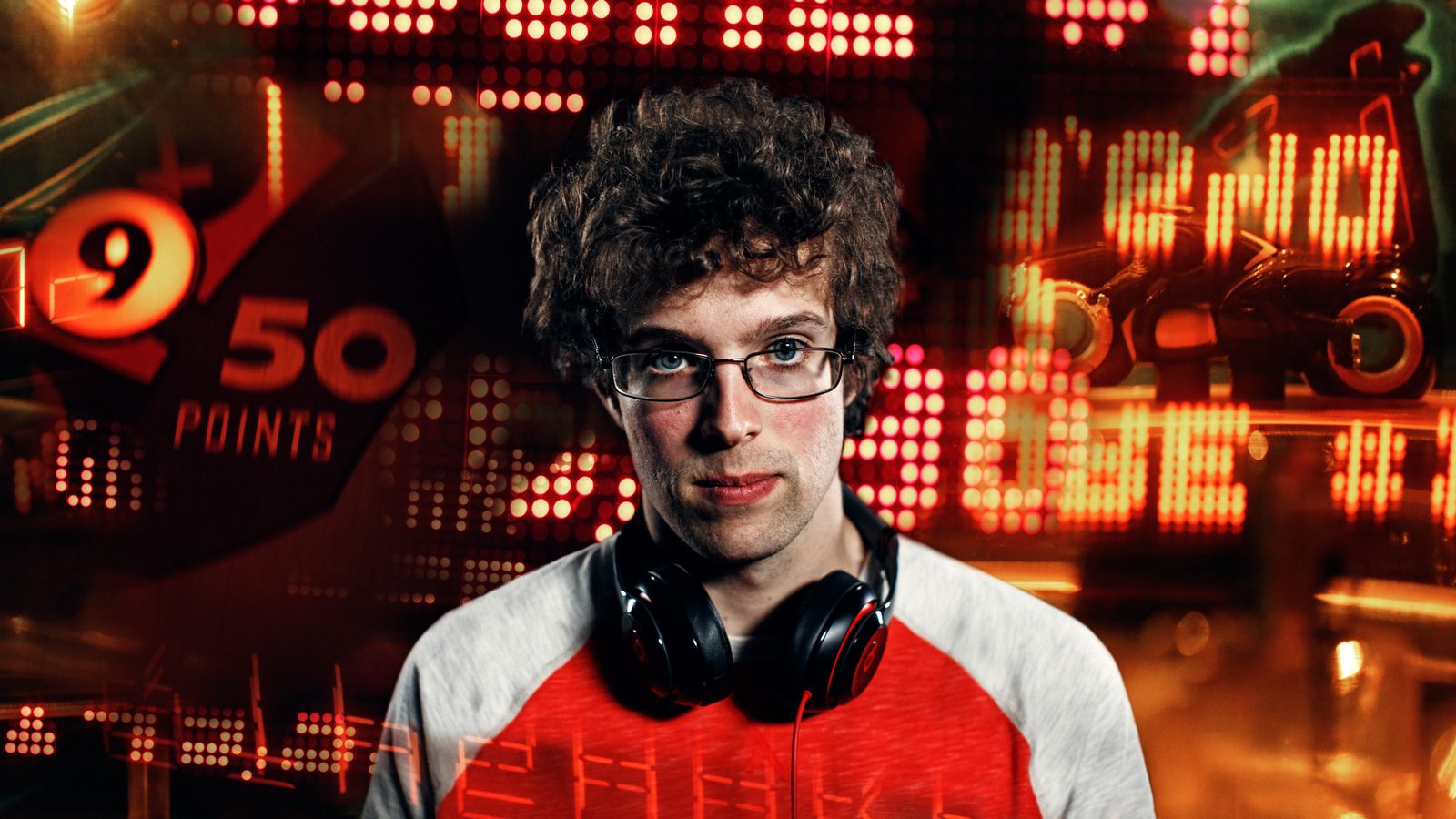 The Charmer
Robert Gagno is a pinball savant, but he wants so much more than just to be the world's best player.
11/13/16 | ESPN THE MAGAZINE
Robert Gagno is a pinball savant, but he wants so much more than just to be the world's best player.
The kid begins each game the same way. Black headphones over his ears, he cocks the plunger and looks to the ceiling. Sometimes he grins. Sometimes he giggles. Sometimes he whispers a line from "King of the Hill" or a funny string of syllables like "Schipperke," an allusion to the rare Belgian breed of dog that waits for him at home. Sometimes you wonder whether he'll ever let go. Like he's awaiting instructions.
Some players on the professional pinball circuit lean into a game as if it's a tackling sled. Others are lithe as marionettes. Keith Elwin, who is probably the best player of all time, stands effortlessly, like he's riding a longboard down a gentle incline. But when the kid is on his game, he folds his upper torso over the glass at almost a 90-degree angle, mirroring the machine's rigid geometry. It's an unorthodox stance, hips back, knees knocked together like a skier. He'll catch two balls on one flipper and pass them back and forth, along with a third and fourth, hitting combinations of shots that seem to unlock the secret dreams pent up inside each cabinet.
He was 5 the first time he saw a pinball machine, at Wally's Burgers in East Vancouver, British Columbia. They had to stand him on a wooden crate just so he could see what was under the glass. The game was called "Twilight Zone." Something in his brain lit up. Even then, they knew he was different. There were doctors at the time who suggested he might never talk, that reading and writing were out of the question, that foster care was an option. His parents remember days when he was content simply to spin for long periods of time in one place. He was drawn to the electricity in exit signs. If he was left alone for a moment, he would bolt. He connected to the world by solving puzzles. "Twilight Zone," among the most complex pinball games ever created, made perfect sense to him. In its realms of chaos, he found something that approached control.
By the time he was 9, kids would surround him at the roller-skating rink while he played "Space Jam" all afternoon on a single coin. They said what he did was inhuman. They joked he would get banned from the rink. The kid didn't always understand jokes, but he came to revel in the attention.
On his 10th birthday, his father, Maurizio, brought home "Whirlwind." Later, he heard another player on the circuit say, "That first machine is like bringing a roller coaster into your house." Maurizio and his wife, Kathy, watched their son nudge and coax the game, able to express some inner capacity for guts and guile. In turn, they nudged and coaxed the kid, working on the sounds and words he made. At 13, logging another high score, he learned to write his initials: REG. Over time, the strained words turned into telegraphic speech, and he ventured further into the world. In 2008, Maurizio took him along on a business trip to Toronto. They registered for the Canadian Pinball Championships. The kid finished 12th.
At home, Maurizio scoured Craigslist for games and parts and playing fields -- "Dirty Harry," "Grand Lizard," "World Cup Soccer" -- eventually filling the family's garage with more than a dozen such cabinets, spanning five decades of provenance. They wandered deeper out on the road, looking for anyone who could give the kid a good game. In the pockets of America where pinball was still played, REG spread like a graffiti tag.
In 2011, Maurizio took his son to Pittsburgh to compete in what is now the biggest tournament in pinball: Pinburgh. Even among the idiosyncratic types who travel across the country for a pinball tournament, the kid stood out. He mumbled questions about infamous hockey agitators. "Is Brad Marchand good at hockey, or is he a pest?" In the middle of a conversation, he would sometimes pull his headphones over his ears and walk away. One minute he appeared to be a novice, slamming both flippers cluelessly at once, the next he looked like he possessed some understanding that predated the addition of flippers to machines.
"The first time I saw him play, I was like, 'Holy crap,'" professional player Penni Epstein says. "You felt your heart warm when he did something great. You live and die on every ball like nobody else." That year at Pinburgh, the kid made it to the final group of four alongside Elwin. He was 22.
At the same time, pinball itself was being reborn, luring a new breed of competitor more fluent in (esports than Who nostalgia. The IFPA now ranks nearly 45,000 players around the world. A pinball tournament is played somewhere on earth almost every day of the year. Prizes are growing and machines are becoming more technical. The kid climbed into the top 10. He won the U.S. nationals in 2015 and cracked the top five soon after. He is thought by some to perceive things in a pinball machine that nobody else can, and Maurizio believes that once he has seen and learned enough machines in enough different contexts -- if he can somehow control everything else he perceives -- the kid, his son, Robert Emilio Gagno, will be the best player in the world. He will win Pinburgh. He will be something no one has ever seen before.
---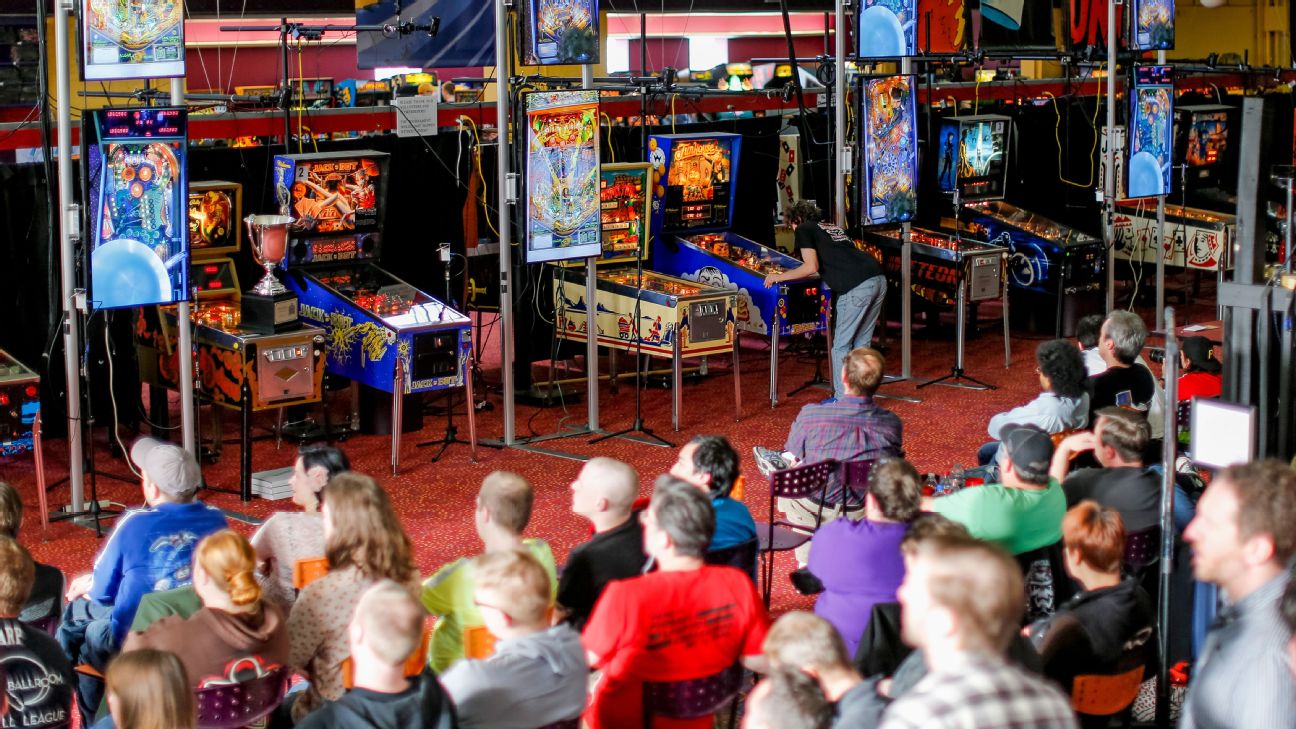 PROFESSIONAL PINBALL PLAYERS flying east to Pittsburgh like to route through Minneapolis-St. Paul. Robert, 26, zigzags left and right on the automated walkways that move through Terminal 1 as if his every move is controlled by magnets. "Are you worried there will be a baby seated beside you?" he asks. "Oh! A crying baby?"
He claps his hands in front of his chest, pushes the glasses up his nose. He nods for a step, twists backward, looks to the glassy ceiling and cracks a smile that is almost too big for his jaw. He pulls his headphones down to his shoulders. They rest there for a beat and then go back up again.
Just past the Body Shop, he tilts his head and sticks a finger in the air. "It's kind of like a mall, don't you think?" he says, standing perfectly still, inhaling the rush of synthetic flora through both nostrils. "Don't you think it smells beautiful?" Up ahead, in a nook opposite Gate C1, he sees it. "Mustang!"
There is something about discovering a pinball machine in the wild. A week earlier, Robert put the high score up on "Mustang" at a little arcade in Reno, Nevada. Four months before that, in Vegas, when Robert won the U.S. nationals, Stern Pinball sent him home with a "Mustang" machine from its factory in Chicago. "It's got flow," he likes to say, which means it's played somewhat chaotically throughout, one combination leading naturally into the next, in contrast to the meticulous catch-and-shoot style it takes to grind down great wide-body games of the '90s like "Twilight Zone." A flow player is thought to be a more natural entity, unpredictable and pure. Robert likes to think of himself as a flow player. And sometimes this instinct gets him into trouble.
If he had 20 minutes right now, he would make it so every player coming through Minneapolis would see REG flashing off "Mustang's" back glass. Then when he'd meet them, one by one, in the lobby at the Pittsburgh Westin, he could ask, mischievously, how they got to Pittsburgh and if they happened to notice the little arcade in Terminal 1 that had a new game. It would be the perfect conversation starter.
But what if Delta begins boarding his section just as he's lit multiball on "Mustang?" What if he has to give back to the pinball gods the bonus points he so artfully has accumulated on his third ball?
The third ball. The last time Robert played Pinburgh, he made it back to the final round of four along with this smooth cat out of Riverside County, California, named Jim Belsito. Their match came down to the final ball on a game called "FunHouse." A mechanical ventriloquist's dummy named Rudy sits atop the playfield. He and Belsito each racked up tens of millions of points. Then came Robert's third ball. Almost everything in pinball happens on the third ball, when all the targets and combinations have been hit and the points begin to increase exponentially. "He had everything lined up," Maurizio says. "All he had to do was shoot the ball into Rudy's mouth." Instead, well, if you've spent any time near an arcade, you've heard what Rudy tells everyone in the vicinity when that last ball drains: "The FunHouse is closed."
All of Robert's life, Maurizio has eased his son through these scenarios. Good balls. Bad balls. Life. Airports. They used to practice going to airports together before they actually flew anywhere. They practiced lineups, checkpoints, the sudden beeping of metal detectors, the endless questions -- all the seemingly trivial social exchanges that for Robert might quickly ripple into anxious thoughts. They could anticipate almost every situation. But a couple of days before this trip, Maurizio quietly informed his son that he wasn't coming. It was time. Eventually, you must trust all that you and your son have practiced. You have to trust the strangers rushing through the world around him to have some latent human capacity for empathy. But now Robert is nervous. The biggest pinball tournament in the history of the world and Maurizio isn't with him? "You have to admit, that's a little bit unusual," Robert says.
For a moment, he is caught between these looping thoughts: airports and crying babies and his dad and his dog, Lupo, the schipperke, who hasn't been feeling too well, and Rudy and the failed third ball and the depth of the Allegheny River and, finally, is Brad Marchand any good at hockey or just a pest?
"Do you think Brad Marchand is really that great of a player?" Robert asks.
Why are you so obsessed with Marchand?
"Because when Marchand gets hurt, people get excited."
You spend a lot of time thinking about him.
"He's just a pest! Like -- what about Raffi Torres?"
What about Raffi Torres?
"Is he a pest or not really?"
Do you think you would be a pest if you played hockey?
"No. Well ... maybe a little bit. You know who some say was a dirty player himself sometimes? Aaron Rome. That was a dirty player! That hit on Horton in the Stanley Cup finals." Robert smashes his fingers together in delight.
How many times have you watched that hit?
"Like a hundred times."
Which hit have you watched more than any other?
"Raffi Torres."
On whom?
"Hossa."
How many times have you watched the Hossa hit?
"Like -- hundreds of times." He is now silently clapping his hands.
Why so often?
"Some think the Chicago Blackhawks did not deserve a hit like that! Some say it's probably one of the baddest hits in like -- 10 years! It's probably going to be a top five baddest hits! Do you think it deserves to be in that spot?"
The loop accelerates. From Torres to Marty McSorley to Claude Lemieux. Robert is deep inside this airport now. And Robert is rallying.
---
Gene X Hwang/Orange Photography
PINBURGH IS A match-play tournament. In the early rounds, unranked players can find themselves in a bank of machines against the world's elite. Pinburgh is where a young player will see Elwin up close. "I've never seen anyone play in a way like that," Robert says. "Controlling balls. Having multiball abilities. It's like Keith Elwin can read the ball five seconds ahead of time. He knows exactly how its behavior is." After they played the first time, Elwin told Robert: "You have good aim. The thing you have to understand is that certain combinations open things up."
To properly learn the game, Robert sifted through the jumble of manuals online, watching video tutorials, piecing together strategies off pinball discussion forums. This is how he conquered small talk and ordering food at a restaurant and his 12th-grade departmental exams. He learned about players who take the glass off machines and practice dropping and catching with each flipper. He repeated these acts, dropping and catching, dropping and catching.
Those on the circuit have not always known what to make of Robert's game. In the 2014 final, Twitch.tv commentators puzzled over some of his decisions yet marveled at his feel for the game. "Robert likes control so much, he is willing to give up opportunity in order to maintain control," one said, and then moments later: "The little flicks that he's doing on the flippers ... there's another triple! My god!"
Robert claps behind his back while keeping the ball up on triple jackpot. He bounces on his toes, vibrating. When something is about to blow up, Robert likes to take one hand off the flippers, stand on his toes, raise his eyebrows and point at where you just might want to look. This is what he calls charm. More than his wanting to be the world's best pinball player, Robert wants to be its most charming. Alone in the garage, between the drop catches and target shooting, he diligently practices charm. Unlocking wizard mode on "World Cup Soccer," he lets his jacket fall down his back like Michael Jackson, imagining his fans are watching in chat rooms online. "I like feeling charming with them," he says.
It can be a challenge for Robert to talk to more than one person at once. In January, around 400 people sat in an old movie theater in East Vancouver to watch Robert play pinball. The host of the event asked what Robert listens to when his headphones are up. The audience shouted guesses as Robert did a number on the "Walking Dead" game, shaking his head in delight with each incorrect guess.
"Pinball Wizard!"
"Eminem!"
"Classical music!"
Robert liked this last answer but just whispered, "How many walkers you kill today?" then looked back down at the game. The crowd fell silent.
A few nights before Pinburgh in the summer of 2015, I ask whether he has invented any shots, as some of the other greats have. "No," he says. The realization seems to unsettle him. He looks down at Metallica and begins to address the machine -- or more specifically, the ghoulish character in the electric chair between the two ramps. "Hey, Sparky, can you do a backflip?" he asks. He nudges the machine sharply, the way he would to keep the ball from draining. Sparky's head shakes in different directions, then settles into a horizontal movement. Robert asks more questions. And Sparky answers with similar head gestures. Some yes. Some no. "Sparky, do you know what a schipperke is?" "Sparky, am I going to win Pinburgh?" Sparky indicates in the affirmative.
"How do you know Sparky's telling the truth?" (I ask.
"Hey, Sparky, do you always tell the truth?"
Sparky nods again. Robert looks me dead in the eye. He once told his mom that looking in someone's eyes hurts his head. It's unclear in this moment whether the shot he has invented is to solicit truth from a pinball machine -- to reveal its true soul -- or whether, more than revealing the soul of the machine, he is controlling it with such precision that it will give him the answers he wants.
Pinball Wizards
These pinball fanatics explain what fuels their obsession with the game they love.
MAURIZIO ALWAYS THOUGHT it was because the umbilical cord strangled Robert when he was born, cutting off oxygen to his brain. What else could it be? They would spend years asking: What does he have? It is difficult to answer precisely, even today, because autism falls on a spectrum.
Robert remembers his trip to the Mayo Clinic: "It was so cool getting an MRI just because you go inside this machine and you hear noises around you that sound like jackhammers. It sounds like jackhammers are going above you, below you, next to you, it's like there's jackhammers all over the place." He remembers hearing an Anne Murray song for the first time inside the chamber too, how pretty she sounded. He was 22, and for the first time he heard the word "savant."
"He doesn't see the world like you and I see the world," says Dr. Andrew Reeves, the neurologist at Mayo. "He just can't. I can't see where the ball's going to be like two bounces down the road. I don't know about you, but I don't do that. But he does that."
When Robert looks at a pinball machine, one part of his brain that lights up is the fusiform gyrus. It's the part that glows when the rest of us see a face. Not the individual components -- eyes, mouth, nose -- but the sum that is someone we know. When Robert sees the playing field on a pinball machine, to him it has a familiar face. "It's the difference between seeing something and recognizing something," Reeves says.
Reeves believes this has consequences: "If he's going to have all this horsepower going to visual spatial analysis and focusing on pinball, he may not have enough horsepower to do everything else normally." There is only so much horsepower.
---
YOU CAN SOMETIMES tell when things begin to go awry. His smile will grow so big you can see the roots of his gums. "If Robert tells you he's OK," Maurizio explains, "it doesn't always mean he's OK." It happens in the Minneapolis airport when the boarding gate is switched from C24 to C15 with no explanation. And 15 minutes before he's supposed to board, they switch the gate again. "OK," Robert says, grin widening, determined to be outwardly cool. "You have to admit this is unusual. Don't you think it's unusual to switch three times?" His stomach hurts. He downgrades his review of the airport food court. "I think the chicken was a mistake."
But when Delta switches the gate to C10, he finds a hint of flow. Robert is always rallying. Ten is a good number. He won betting 10 at a roulette table after he won nationals. Ten is a perfect score in gymnastics. It's how many minutes you get for being a major pest in a hockey game. "Do you know one thing about schipperkes?" he asks. "They're very rare."
He's sitting on the plane beside an otherwise sweet woman, who is looking at her phone during the safety presentation. The airplane picks up speed down the runway. And like a silver ball racing up the long left ramp on "Tales From the Crypt," it's off up into the night. He lets himself think of the burger he's going to eat when he arrives in Pittsburgh.
And then the pilot says something that nobody quite hears.
"Did the pilot just say 'air bleed'?"
Robert sees the flight attendant sprint to the end of the plane, which is now turning back to Minneapolis. Nobody around him quite understands what is happening here. And then he's back at another departure gate. Headphones up. A grin like Heath Ledger in "The Dark Knight." "It's kind of amazing that we're back in Minnesota," he says, as they're all ushered off the plane.
The anxiety he has felt all day is written on the faces of everyone waiting at Gate C11. Right now they're all burdened with the hyperawareness of seeing five shots ahead.
Robert thinks back to that third ball on "FunHouse," which bounced down the left outlane. Rudy cackled. He shook the machine, trying to jar the ball back into play. He heard himself scream, "F---er!" He put his hand to his face in shock. Nobody had ever seen him lose his temper. "I didn't know I could get so angry," he says. "I was feeling pressure building in my head." Deep down, though, it also felt pretty good. "It was kind of unexpected!" he says, giggling.
Robert pulls four juggling balls out of his backpack. His rhythm is haphazard at first, but eventually all eyes are on him. "Did you expect to see someone juggling in an airport?" Robert asks the woman closest to him. He's wearing a pinball T-shirt and crinkled cargo shorts, which he'll wear again tomorrow and the next day. Her eyes light up. She can't help herself. "Who exactly are you?" she asks.
---
"He doesn't see the world like you and I see the world."
- Dr. Andrew Reeves, neurologist at the Mayo Clinic
ALL WEEK, ROBERT has thought about what he's going to say when he sees Penni Epstein's longtime partner, Lyman Sheats, a revered pinball machine programmer who for years was considered the best player in the world. When he spots Robert in the lobby of the Pittsburgh Westin, Sheats leaps to his feet. "Hey, Lyman," Robert says, "do you like exploding stuff?" Lyman pulls up a video on his phone of a screecher coming out of a beer bottle. They talk excitedly about Roman candles. About squealers. About Texas Hold 'em and pinball strategies.
It can take 20 years to master the 200-plus machines you might draw in any given bank at Pinburgh. There are 10 rounds just to qualify for the final day, and in the early rounds, a top player could easily lose on a game from the 1960s to someone outside the top 100. "The skill of the game is controlling your luck," Elwin says. But it's hard not to feel singled out by the universe when three balls drain quickly down the outlane without an opportunity to even swing a flipper.
"How'd you do in the first round, Robert?" a player asks him a few hours into the tournament.
"Five points," Robert answers, his gaze locked on a game called "Frank Thomas' Big Hurt."
"That's all?"
"Yeah."
"You still have four rounds today."
His ball ricochets sharply down the left outlane. "A schipperke has really good reflexes," he says.
Robert draws "Avatar," "Fireball," "Taxi" and "Cleopatra" in the second round. He doesn't quite trust his touch this morning and right away must fight the urge to tilt too hard to keep a ball in play. He steps back abruptly after the first ball drains. "I think I did the right thing." He repeats this assessment to the other players until it begins to sound like a question.
The Wi-Fi at the convention center is overloaded; the 2,500 miles between Robert and Maurizio is now more than geographic. He begins to nudge the machine more aggressively, which leads to a series of tilts. He mumbles about the outlanes -- "They're haunting me ... they're hungry" -- before daring to address one of them directly. "I'll make sure it gets its dinner!" He tries to explain this new strategy to one of his opponents. "I figured if I asked for the outlane, it would give it to me."
Who are you asking?
"The pinball gods."
Where do they live?
"In hell."
In the fourth round, he encounters a player he knows from other tournaments, Steve Daniels. As Robert builds up points, Daniels can't help but cheer him on. "He's really accurate. He does almost nothing wrong." Deep in the crowd, a woman whispers: "I've seen this game before, I've just never seen a score like that." Robert inches up to a tie for 27th in the standings; the top 40 make the finals.
As a fifth-round opponent, Sean Grant, battles a ball, Robert wanders aimlessly between banks of games. Natural light from the convention center windows disappears, and the cavern beneath pulses with a glow from the games. It can be hard to tell when Robert feels something for real and when he is acting as he has seen others act in a situation. He remembers one Christmas. "My dad was videotaping me opening presents, but every single time I opened one, I did not react to the gift," he confides. "I just sat there stone-faced. When I open gifts now, though, I try to fake being excited."
Robert stops now to watch Elwin. When he returns to play "Quicksilver," he has his first good ball of the round. But he can't sustain the momentum. Larry Scott from Cincinnati stands nearby and watches Robert's last ball disappear. It's almost 10 p.m., and the other banks have cleared out. Robert is now in 58th place. He trembles, crestfallen. "For a moment I looked like I was in a little bit of shock there," he says to Scott. "Like I didn't know how to react?"
A few hours later, on the bed in his hotel room, Robert lies motionless. Headphones down, glasses at his side. "I. Feel. Like. Nothing. Is. Going. To. Go. Right. Again." Maurizio sends a text, telling him it's really not that bad. And then they're talking on the phone. "Today was not that bad," Maurizio says. "The thing you need to be concerned about is getting a good sleep tonight. Get some rest."
Robert will never admit how good it is to hear his dad's gentle voice. "You're only going to get 'A' players tomorrow," Maurizio says. "You're an 'A' player. You play against the best." Robert knows this pep talk. "If you're really close," Maurizio continues, "go for ramps and loops, whatever is safer. If you're behind, go for the multiball. Your first round is 10 a.m. Round 6. You may want to get up at 9. If you have breakfast and a shower, you look good, you feel good and play good."
Robert asks what Lupo has been doing.
"It's getting late for you," Maurizio says. "I'll watch on the iPad tomorrow."
Something heavy has disappeared from the room. "Good night," Maurizio says. Robert hangs up the phone. He springs up from bed and puts his glasses back on. His appetite is back. "If you want to risk bar food, I'm up for that," he says. "I'm up for that risk!"
---
Gene X Hwang/Orange Photography
SOMETIMES AT LUNCH he tries to balance a knife on a fork for more than 5 minutes and 20 seconds -- his personal best. One night each week, he plays board games at a neighborhood restaurant back home. He takes classes at a regional technical college. He works two days a week at the local credit union. On his free nights, he goes to circus school or does gymnastics. He plays poker. He watches hockey. He reads Wikipedia. IMDB lists him as the double for baby Mikey in "Look Who's Talking Too." He has more than a thousand followers on Facebook. His fans range from Alice Cooper to Mac DeMarco. He's the subject of a new feature documentary. And in the way that all pinball players are aware of (Elwin, they seem to know about Robert too. And about the Mayo Clinic. Some see him as vulnerable, some as superhuman. When Robert gets on a run, finds the flow, it's like when Steph Curry pulls up from way behind the 3-point line, just because. Even those who compete against him stand on their toes to get a glimpse.
Few subcultures in America are instinctively wired like the culture of pinball to see autism as a gift rather than a disability. Your average pinball player understands the allegory of "X-Men," which asks the question: Would you trade your superpowers to be normal? One isn't afflicted but chosen. Steve Silberman, author of "NeuroTribes: The Legacy of Autism and the Future of Neurodiversity," writes: "If science eliminated these genes, maybe the whole world would be taken over by accountants."
Elite players like Elwin seem to relish playing Robert. They recognize, beneath the alleged superpowers, a craft honed over tens of thousands of hours and feel a kinship. "Robert and I will try to catch the ball," Elwin says. "Plan our shots." When they draw each other on the second day at Pinburgh -- Elwin tied for fourth after six rounds, Robert up to 18th -- their round ends so evenly that they're slotted against each other in the next two rounds.
"Sometimes I wish I could get into his soul and get his power to get into me," Robert says later. "I could just switch souls with him. Temporarily."
Would that be cheating?
"It would be evil, it would be a dirty trick."
Is pinball played with the soul?
"Yes. You either have a soul for this or you don't."
Do you have the soul for it?
"Yes."
In the two rounds that follow, Robert begins tilting more fiercely at the machines, fighting the pinball gods. He knows how close he is to missing the cut. He disappears out into the convention center, where a string quartet is playing a song from "Zelda." When he arrives for the ninth round, there is a tribal Mike Tyson laurel painted down the left side of his face.
His gaze drifts to the fourth game in the bank: "Airborne." "This is not a good bank for me," he says. He's never seen "Airborne." He spots Lyman a few banks down. He walks quickly toward him, then begins to sprint. "Lyman! How do I play 'Airborne'?" Nobody knows what to do on "Airborne." They try Googling it. "My advice is not to play 'Airborne,'" Lyman says.
There's a saying in pinball: "You play the machine, not the player." But there are fingerprints on every pinball machine. All the sweat and collective anxiety sticks to the flipper buttons. You are playing every young dude who lost something to the machine. As a spectator sport, pinball is peculiar. Not only must each player turn his back on the crowd to compete, his body actually shields others from the playfield. "It is an activity where it's OK to turn your back on someone and play on your own, at least for a little while," says Robert's mother, Kathy. Legendary pinballer Roger Sharpe talks about the thrill of hitting the steep right ramp on "Dirty Harry": "Like a left-handed hitter pulling a changeup over the right-field fence with three on and two out." At the same time, players stand outside the stadium, shaking it like a snow globe, sometimes feeling that something much bigger shakes them and the machine. The great ones don't play the player or the machine. They play with the machine, against the tempestuous forces of the universe.
Back at home, Maurizio puts Lupo into the car. They make a final trip to the vet. They don't want to distract Robert during Pinburgh, but they know he knows. "Robert's very acute when something is happening," Kathy says. When he gets home after Pinburgh, Robert will send me a text: Well hoping you tag along for my birthday party and no longer have a dog.
---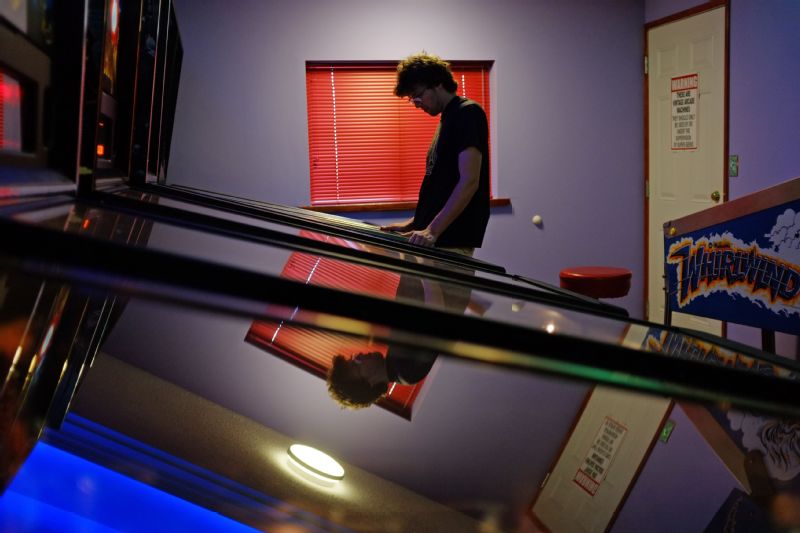 THE FIFTH EDITION of "Diagnostic and Statistical Manual of Mental Disorders" defines Robert's condition simply: a person who is able to speak in full sentences and engages in communication but whose to-and-fro conversation with others fails, and whose attempts to make friends are odd and typically unsuccessful.
"He would like to be married one day and have his own family and be able to live independently," Kathy says. "Things are tough right now because he is at the age where a lot of his old classmates and neighbors and same-age cousins are doing things like getting married, moving out, starting a family, etc., and he is realizing that he's a bit different in some ways, and I think this is upsetting to him, sometimes more than others. We have always been open about his autism, and he understands that it basically means he has some differences, but he hopes that people will understand that his goals and dreams are just like most people's: He wants friends, love, independence, success, a 'happy life.'"
Robert doesn't want to be that autistic pinball player. In part, this is why he attempts to disarm everybody he meets with his notion of charm, why he wants to introduce you to the things you'll least expect: the endless arsenal of trivia, the juggling, the circus school acrobatics, the risky shots at unexpected moments, jumping on his toes and clapping his hands behind his back. Robert wants to surprise you in every act he undertakes so that you will not reduce him to a prognosis made 23 years ago.
In the airport in Minnesota, when everything is harum-scarum, he shares with me his secret: Bryan Adams and Anne Murray. "I'm listening to Bryan Adams if I want to get pumped up." Anne Murray if he wants to settle down.
He thinks back to the MRI machine at Mayo, surrounded by the jackhammers. And the way her voice first sounded. "It's like the moon kind of thing," he says. "Isn't 'Shadows in the Moonlight' a romance song kind of thing?" He makes eye contact. He needs you to understand this. He slowly begins to sing. "Da-a-a-rling I'll meet you at midnight ..."
"Before she became a singer she was a phys ed teacher," he says. "Anne Murray has a very charming voice."
---
HE KNOWS IT is mathematically impossible to qualify for Saturday, but still he waits, broken, in front of all the other players. It takes an hour to tabulate the scores. He has fallen to 51st. He is out.
And now he sits in the hotel bar, late on Friday night, menu in his hand, fingers trembling, not knowing what to order. Eventually, he settles on a plate of hot wings. But he keeps scanning the menu, as if he'll find the ball that eluded him all through Pinburgh. "Oh!" he shouts, jumping out of his seat and up after the waitress. "Cherry pop tart!"
Always. Be. Rallying.
Soon, Lyman has his arm over Robert's shoulder. "I don't even want to know what they talk about," says Penni, going up to her room, leaving Robert and the rest of the pinball family to shut down the bar. When everyone has left, Robert takes the elevator back up to his room on the fifth floor. He hears something faint down the hall.
It's the middle of the night, but he knows this sound. He knocks loudly on the door to a room where the sound is coming from.
A young woman appears. There's a moment of uncertainty. Her jaw drops. "It's Robert Gagno!" she screams. Inside, someone shouts: "Oh my god!" They're all crowded around a pinball machine called "Monday Night Football." It's a somewhat rare machine that this couple from Montreal has bought from another player at Pinburgh. They all want to see Robert Gagno play. They want his energy in the machine.
He plays with one hand. He plays tandem with the women. He uses every pinball trick he knows. Others knock at the door. A pair of enormous bikers from Buffalo appear. "Pinball?" they ask in disbelief. They're whisked into the crowd, and sure as hell there's a pinball machine. In a hotel room.
Robert pretends to wrestle with one of the bikers, whose name is Kel. "You haven't been to a lot of parties, have you?" Kel asks, eyeing the inky laurel smudged on his face. They talk about life and girls and pinball. The latent human capacity for empathy twinkles in the most unexpected nooks of the American night. Robert decides that when he becomes No. 1 in the world he will hire Kel as a bodyguard. "Bikers are actually fun if you know how to stay on their good side," he says. Someone asks: Is this better than winning Pinburgh? And there's no thinking about how to act nor what to say. Robert nods like a wigwam in a warm prairie breeze. This is flow.
In a week, he will start his first job at the credit union. A month after that, in Seattle, he'll beat Elwin at the NW Pinball Championships -- and then win the World Championships. He will play pinball with Alice Cooper in Phoenix. He will land his first round-off back handspring at circus school. Kel will tag him on Facebook. He'll put together an online dating profile: "I'm someone that loves doing acrobatics. Play pinball. And having mathematical abilities in me. Three things like that together -- to me that's a rare combination right there."
Soon he will be on his way to another airport. Another pinball tournament. But in this loop, which on this night spins through a party in Pittsburgh, we'll be shadows in the moonlight, right up 'til the light of day.
Koentges is a writer based in Vancouver.