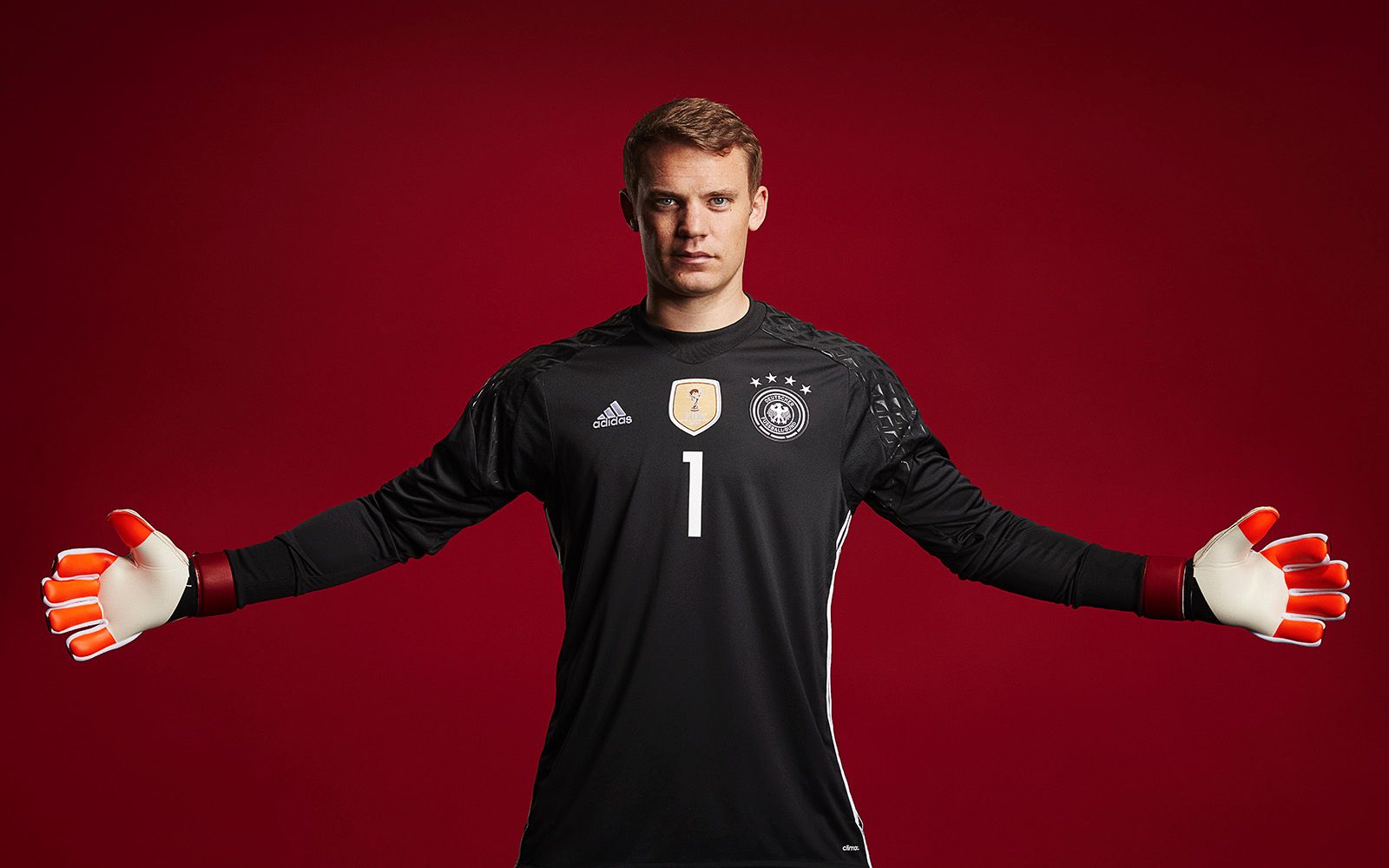 The Stunning, Strange, Beautiful Game of Manuel Neuer
The German goalkeeper plays the position like no one else in the world -- mostly because no one else has the Nervenstärke.
This story appears in ESPN The Magazine's June 6 World Football Issue. Subscribe today.
Munich, mid-May, a third straight day of drizzle. A disarray has descended upon the headquarters of FC Bayern Munich. It's a palpable unwellness, a kind of chilly poison mist that's settled onto the buildings, the manicured greens, the players, the personnel. I'm not imagining or dramatizing here. Grown men, plural, are bumbling about the administrative offices, holding their heads with both hands and exclaiming, to no one and everyone, "You don't understand. There is pressure, very too much pressure!"
Upon my arrival, I was escorted to an office and instructed in no uncertain terms to stay there and speak to no one. Now, three hours later, a figure darkens the doorway -- Paul Breitner, a midfielder on the German national team that won the 1974 World Cup.
"You are not Martin," he says. His tone is polite, if distracted. "There is so much craziness here, ja?"
"Craziness?"
"And pressure!"
And then he's gone. I'd like to sound Breitner out about the pressure, though its source is hardly a mystery.
Pep. It's all about Pep. That is, Pep Guardiola -- Bayern's fiery, itinerant head coach of three years, who recently accepted the top job at Manchester City -- and the cognitive dissonance engendered by his upcoming departure. The city of Munich is of one mind: Pep's vision and execution have been unfailingly bold and brilliant. And the city of Munich is of one mind: Pep's legacy at FCB is one of tragically unfulfilled potential.
Nine days prior, Atlético Madrid knocked Bayern out of the Champions League. It was the third time in as many years that FCB had fallen in the semifinal round to a Spanish squad. Four days later, nearly all was redeemed when Bayern played (and beat) Ingolstadt to claim its third consecutive Bundesliga championship under Pep. Regardless of the outcomes, Pep's relationship with Bayern's chairman, the iconic Karl-Heinz Rummenigge, who played for Bayern from 1974 to 1984, is coming to a public and awkward end; each day brings a new measure of tension. And thanks to Pep's well-known penchant for micromanagement, his ambivalence and angst are trickling down, touching everyone in the Bayern-sphere.
The pall over this place, the men with heads in hands lamenting about the pressure -- it's too much. I step to the window, just to look. And there he is, out on the pitch, the man they call the Tom Brady of German sport -- and the man I'm here for. Manuel Neuer (pronounced NOY-er). In case you've been living off-planet: Neuer is Bayern Munich's goalkeeper and the goalkeeper for Germany, the reigning 2014 World Cup champion. Scratch that. He's the goalkeeper, period. Though that Brady moniker is befitting, another one has steadily been supplanting it: GOAT.
Here it is: Manuel Neuer is the best goalkeeper in the world. Manuel Neuer has been the best goalkeeper in the world for at least the past five years. Nobody who knows anything about the sport bothers to argue otherwise anymore, even for the sake of being contrarian. What's more, Neuer, who is 30 years old and at the height of his powers, will remain the best goalkeeper in the world for years to come. It's a rare and pleasing thing, in a world permeated with compromise and equivocation, to stand at this window and know that the human being on the other side is better at what he does, both quantitatively and qualitatively, than anyone else currently doing it -- and, in all likelihood, anyone who ever has.
---
FIRST THINGS FIRST: the handsome. Even from 40 meters away, it's inescapable. Actually, it's ridiculous. Freaking beautiful, this guy! Six-three, 203, blond, blue-eyed, lapidary -- this close to being a caricature of athletic handsomeness rather than the thing itself. OK, done with that.
Or not. Because a second later, a voice in my head: Why are you in here obeying Pep and not out there beholding Neuer? A minute later, I'm behind the net, watching as Bayern's goalkeeping coach, Toni Tapalovic, puts Neuer and two backup keepers through a perpetual motion drill. Each man, in turn, sidles up to a high jump bar set perpendicular to the end line at a height of 36 inches, clears it from a standing position once, twice, barrel-rolls beneath it, then springs to his feet just in time to defend two shots sent in quick succession to the same high-corner spot, the first from penalty distance, the second from the edge of the box.
It's a highly controlled piece of choreography -- rhythmic, rigorous, attentive to muscle memory and efficiency -- that continues for 30 minutes. Save for the percussion of the kicks and punches and a quiet observation here and there from Tapalovic, the men work in silence. It is work, not play.
And yet ... there's something astonishing on display here. It's one thing to know about Manuel Neuer. That he's been the IFFHS World's Best Goalkeeper for three years running. That his 2014 season -- in which he became the first keeper short-listed for FIFA's Ballon d'Or in more than a decade and won the Golden Glove award at the World Cup -- is by any measure the best a goalkeeper has ever had. That he's not only regarded as a "sweeper keeper" for the way he rushes off his line to help his teammates press deep into enemy territory but also as an attacking threat with the vision and foot skills to create scoring opportunities. That a rendition of the GOAT chorus now includes everyone from Michael Owen to Jamie Redknapp to Karim Benzema to Xabi Alonso to Andreas Koepke. That Koepke, who was a keeper on the German squad that won the 1990 World Cup, also considers Neuer the best sweeper since Germany's Franz Beckenbauer, who virtually defined the position.
Of course, it's another (and better) thing to see Manuel Neuer -- and here I'm talking about the usual way spectators see players, either in a stadium or on a screen. Along with a billion other people, I've seen his total command of the game, the attunement at work as he directs his backs and midfielders here and there, structuring the space in front of him at will ("building bridges," he calls it). I've seen the circus-stunt saves, as well as the uncanny anticipation and composure that make circus saves unnecessary, the way he sweeps up strikes before they even begin. Hold on a second -- is that really the word for it? "Sweeping"? Come on. When Neuer explodes off his line to challenge -- 10 meters, 20, 30, up to the center circle, into it, the stones on this guy! -- he's not "sweeping." He's vaporizing. At times, the experience of watching Neuer not only initiate but participate in a counterstrike -- how dare he? -- can be disorienting; my confidence in this man is complete, even as I'm convinced he's about to screw the pooch.
All that said, seeing Manuel Neuer as I am now, close up, as he participates in a perpetual motion drill, it's another thing entirely. For a while I'm not quite sure what it is I'm seeing -- only that it seems, somehow, strange. Then a security guard approaches.
"I am thinking," he says, tilting his head in a certain way. "Are you allowed to be here?"
"Why, yes, I am."
"I think perhaps you are not allowed to be here?" His tone: microscopically amused; firm. He gestures with his eyes to the door from which I'd emerged -- and through which he clearly expects me to vanish. But then he fixes his eyes on Neuer, jumping, rolling, leaping, and he says, "Beautiful, ja?"
Beauty. That's it. I guess I wasn't done with it after all.
People (like me) get rapturous over the things Neuer does on the field and what they lead to -- the way his mind processes and anticipates the game, the way he moves through and controls space. If by chance you're not a soccer fan (in which case you've got no business here -- leave!) or have never seen the man play, all the swooning probably seems a little corny. And there's a reason for this: Goalies are not beautiful. They just aren't. Strikers and midfielders, they're beautiful, the stuff tiki-taka is made of. In their highlight-reel moments, strikers dance; they thin themselves and flit, light as bats, through space and the other bodies occupying it. Goalies, on the other hand, tend to look positively oafish in their signature moments: They turn themselves into fat, flailing scarecrows and then collapse, in willy-nilly half-splits, upon oncoming strikers. Repellent. At some level we know this, and this knowledge creates a norm for us. Believe it, then: We find Manuel Neuer to be stunning and strange and without precedent not only because of what he achieves on the field but because he looks beautiful doing it.
The guard informs me once more that "perhaps" I do not belong here, and I go, but not before watching Neuer execute another circuit. The way he coils and unfurls himself, the way he maintains his chassis and his balance in space -- beautiful, balletic, strange. But something else too. The man looks iconic. In the split second after he angles himself up and out into space to punch a ball into the adjoining township, a still shot emblazons itself on my brain -- not of what was there a moment before but its silhouette. The image that remains isn't what I just saw -- that is, the best goalie who's ever played the game leaping from his line -- but the idea of it, a sketch of the Manuel Neuer statue that will inevitably be installed outside Bayern's Allianz Arena some day in the distant future.
---
I'M BACK WHERE I was supposed to have stayed put to begin with. But now Manuel Neuer is in here with me -- at long last, I am allowed to speak. And it's not pretty.
"Nervenstärke?" Neuer says. I've clearly butchered it. He offers an arch smile and a corrective: "NAIR-fun-SHTERK-uh."
It's one of those fantastic Germanic compound words whose import we English speakers can only ever half-glimpse. Literally, it translates as "nerve strength," and it is the very Tao of German soccer -- not just an admirable personal trait but also a kind of living force, in and of itself, with which players have a lifelong relationship. The German national team includes a psychologist, Hans-Dieter Hermann, who's been helping its coaches and players with their Nervenstärke since 2004. Two years ago at the World Cup in Brazil, Germany's coaches spoke openly of the role Nervenstärke played in the team's title run. Neuer traces his own Nervenstärke to the earliest part of his childhood.
"Since I was a little boy and started playing in the goal, my coaches told me about it and what it means for a goalie," he says. "It is a mental thing, where at every moment, no matter what, you are starting at zero. You stay calm. You don't dwell on mistakes."
Those who coach and play with Neuer invoke the term constantly. Nervenstärke is the source of Neuer, of the psychic and physical balance that makes his game architectural and chaotic all at once; Nervenstärke is Neuer.
"If you're trying to translate Nervenstärke for an American readership, the best definition I can give you is Neuer himself," says Dominik Oliver, who does the German-language play-by-play commentary for all Bayern home games. "He is the epitome of it."
To Neuer, Nervenstärke by definition is a quality a goalie not only possesses but projects as well. This projection is twofold. One part of Nervenstärke is reserved for his teammates: "Nervenstärke means that no matter the situation, I have to show my teammates that I remain prepared and confident and there for them. They have to feel my Nervenstärke," he says.
"It is a mental thing, where at every moment, no matter what, you are starting at zero. You stay calm. You don't dwell on mistakes."
- Manuel Neuer
And then there is another type that he reserves for, and projects at, "the enemy." Take the way Neuer carries himself into and through a penalty situation. (The 2012 Champions League semifinal game against Real Madrid in which Neuer stuffed penalty kicks from Cristiano Ronaldo and Kaka is the most astonishing case in point.) His object is not to steel himself but to still himself -- to slow down time and study the shooter in the moments before he makes his move.
"Normally, before he is going to the ball, it's in his eyes -- and that's where I look," Neuer explains. "But the more important thing is I have to be confident and show him that I am confident. I have to show him, even before he begins to make his move, that I will take the ball, that I already have it."
A Jedi mind trick, in other words. Your penalty shot will fail. In fact, it already has. Do you see? I have the ball now. It was in my hands even before you kicked it.
"The calm is very important" -- more so than any warrior's swagger that Nervenstärke might impart. "Because if you lose your head," he says, "the Nervenstärke is b-l-o-w-i-n-g away in the wind, ja?"
Neuer uncoils his right arm to illustrate what he means. It's a striking gesture -- you can see the precious Nervenstärke as it leaks from his core into his shoulder, then down the length of his arm to his splayed fingertips, where it dissipates into the open air.
Can you feel Manuel Neuer's Nervenstärke? Do you want to?
It's OK if you don't, and if you find his one-with-the-Force meditations to be a bit ... groovy. Or even cuddly. And if some age-old loogie-hocking voice deep within your soccer soul is at this very moment howling in protest. A goalie don't got no business being well-adjusted! Or "kindly." Goalies are daft. Goalies are droogs!
Again, it's OK. You're not being an ass. Just old-school.
Fact is, it's not just what Neuer does on the field that takes some getting used to. The guy is shattering our whole narrative sense of who goalies are and how they're forged.
Think of a goalie you've followed. An odd bird, right? Well, yeah: He gets shot at for a living. He alone. By definition this means he's a tough, willing to throw his body into places -- and in ways that sane people aren't. He's a psychological tough too. At some heartbreakingly early age, he was told, in effect, that the way he saw himself in his dreams -- weaving like Maradona and Messi and Muller -- was ... pfffft ... blöd. And that it was now his job to go over there between those two posts -- that's right, kid, keep walkin' -- and stand by himself. Watching the others. As they played. Dribbling, dashing, taking wing, winning -- that was for the talented boys. From then on, the best he could hope for was to start and end at zero, to not ruin the joy for everyone else.
The old-school goalie narrative, at least to this point, was also Neuer's. It began with the first team practice he ever attended, at the age of 3 in his hometown of Gelsenkirchen in western Germany. "I was the last to arrive," he says. "And the rule was that the last to arrive had to go into the goal. Because it was a stupid job."
He wanted to play in the field. Of course he did. He was a human being.
"And the coach is the boss, you know? And I was just a little boy, very shy. So I said, 'OK, thank you.'"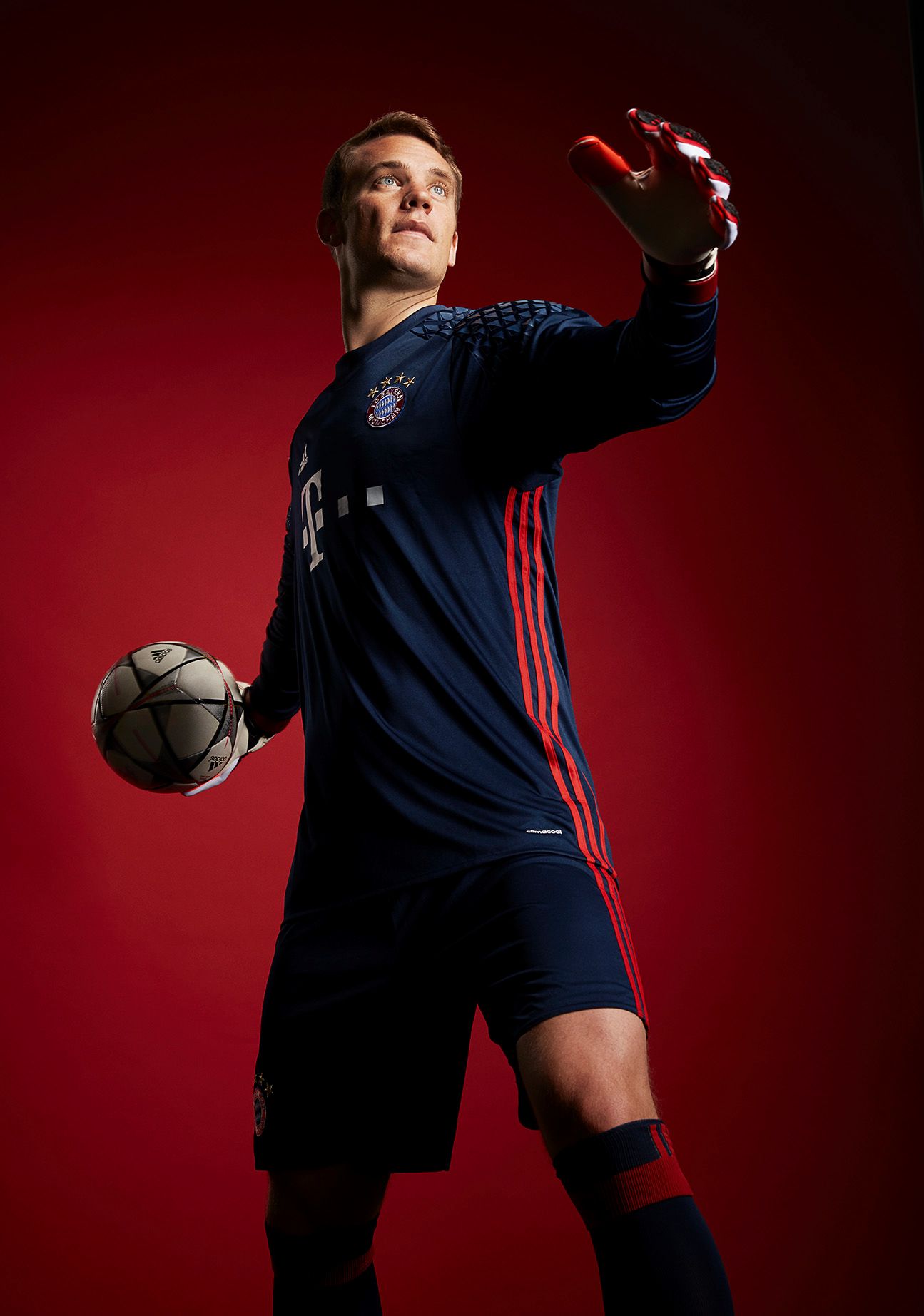 Consider that for a moment: Manuel Neuer, the most joyfully disobedient goalie in the history of soccer, an athlete whose job description has for all practical purposes evolved from "goalkeeper" to "box keeper," the player whose ever-metastasizing post-game heat maps now resemble infrared images of glacial melt shot from space, the man who has replaced the Old Testament concept of goaltending ("Make it stop") with a shatteringly new life-giving covenant ("Create!"), an icon who in the end is not the Tom Brady of German sport but its Stephen Curry, because of the ways his presence and play have altered the underlying geometry of the game, was started on his path to destiny by an act of rote obedience.
So the boy obeyed. The boy went in the goal. And stood there. At which point something weird happened -- or, rather, didn't. Instead of crushing his dreams, being between the posts merely changed them: Neuer now dreamed, like children absolutely nowhere, of becoming the greatest goalkeeper in the history of soccer. And he pursued that dream in a spirit of teamwork and friendship. The rest is history.
WTF?
Here, for old-school's sake, is the remainder of the goalie narrative that Neuer has rendered obsolete. Even as a child, a goalie realizes that there's a madness inherent in what he does and who he is: He can never succeed, only not fail. This realization walls him off from his teammates, and from himself. Eventually he adopts a certain Rambo-esque apartness. (In historical terms, goalies actually training with their teammates is a recent development.) He learns to take the unspoken condescension (those who can, play striker; those who can't, tend goal) along with the literal shots. He embraces the scorn, feeds on it, even comes to need it. Which goes a way toward explaining why goalies in general tend to possess gnarled souls and hairy thoughts (and backs), and to rush first into mosh pits and pub brawls. Yes, you love and support your goalies. You need them, you're solaced by their presence -- as long as it's not at your house, at your dinner table or out with your daughter.
"In the past, goalies weren't even part of the team," Neuer says. "They had their own dressing room. They didn't speak with the other team members. They were lone warriors." Now facilities and training are shared, and even the psychological separation has all but passed. "Today's goalies are closer to the other players [in temperament]."
Once again the question presents itself: the Nervenstärke -- you feelin' it?
Because everyone within earshot of this office is. It took some time for realization to bubble up to the level of awareness. But now I know. The presence of Neuer has done something, deactivated the static in the air; these folks have been stilled. People are still talking and moving about, but now they're dealing with the pressure and not just incanting and invoking it.
The pressure is real. Bayern is the German juggernaut. Its fans expect everything. And now Pep is leaving and the sky is falling. What to do in the face of such pressure?
Excuse me, what's that? You say you haven't yet weighed in on whether you're feeling the Neuer Nervenstärke? But you have. Don't you remember? You responded even before the question was asked. And your answer was yes.
el hermoso juego.
Freelance writer Corsello recently returned home to San Francisco after a six-month sabbatical in Barcelona where he, his wife and his two young sons obtained advanced degrees in Messi, Suárez, Neymar and