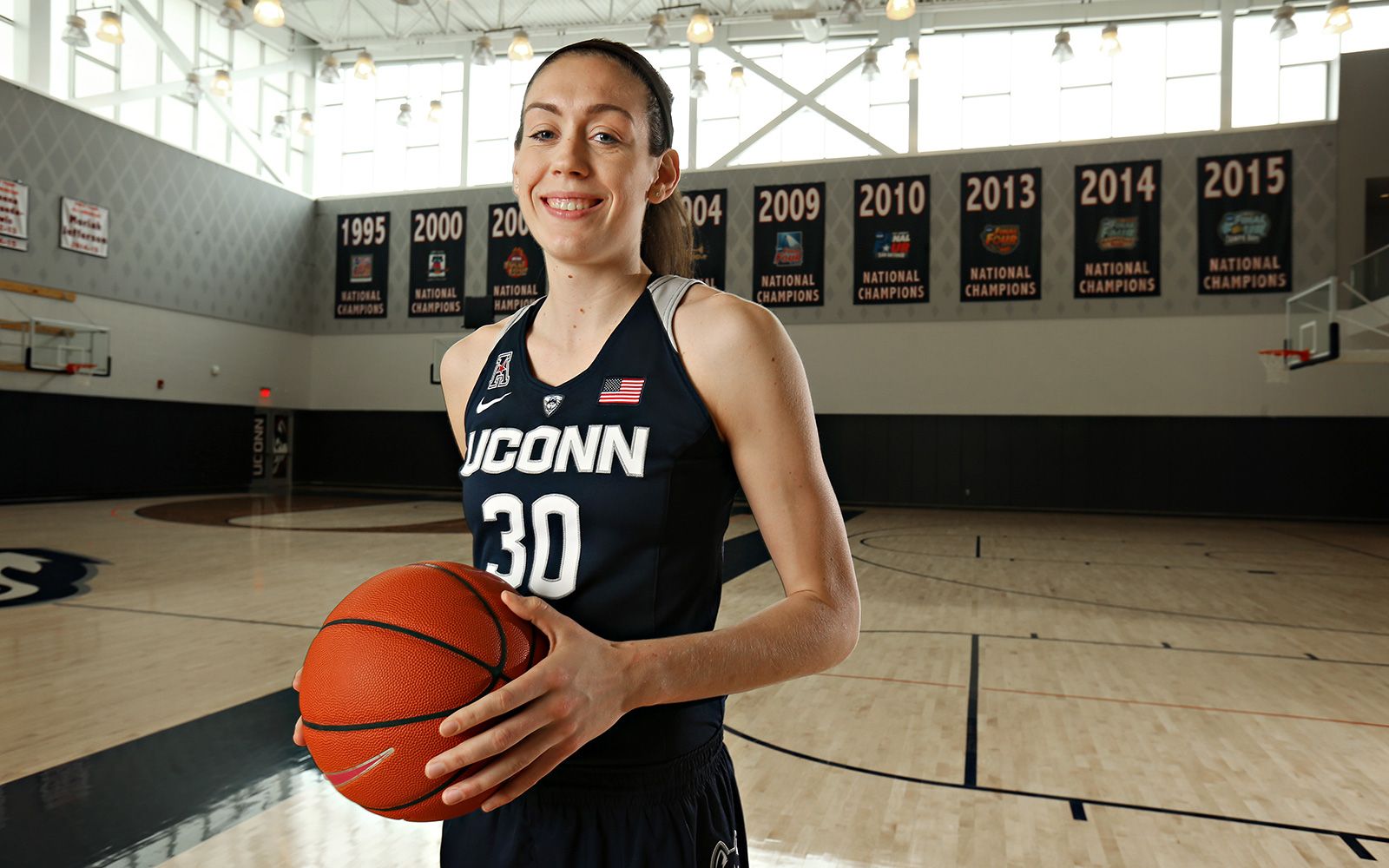 Being Breanna Stewart
The UConn senior comes across as "Stewie," the goofy kid, but her killer instinct has the Huskies on the cusp of a fourth straight national title.
Sometime in February, Geno Auriemma stopped talking to the best player on his team.
At first, Breanna Stewart couldn't figure out what was eating at him. She had done, up to this point in her college career, everything the coach could have asked of her: three national championships, a hundred bruises and broken nails, plus a placid senior year in which the Connecticut women's basketball team had throttled opponents by an average of 40 points a game.
It was not because of attitude. She has zero of that. When she was a teenage superstar, her father, Brian, figured maybe she was like Tim Duncan and didn't need to strut to show she was great. He had to tell her it was OK to pump her fist once in a while and celebrate being good. But nobody could have imagined that "Stewie" would turn out so special that many believe she will change women's basketball with her 7-foot-1 wingspan, silky-smooth shot and ability to glide her 6-4 body down the floor like a guard.
Still, she was getting no love from Auriemma. But here's the deal: He is always hardest on the special ones, the 1 percent of the 1 percent. Once, about six or seven years ago, he stopped practice to do an exaggerated imitation of Maya Moore -- two-time national player of the year Maya Moore. Auriemma didn't like the way she was handling the ball. So in front of everybody -- the 20-year-old male practice-squad players, the trainers, the entire team -- Auriemma clumsily bounced a ball around and mocked Moore while the whole gym erupted in laughter.
"He was [dribbling] like a heavy-footed 2-year-old with his head down," Moore says, recalling the moment with an odd sort of fondness.
"No one is safe. He can get on anybody."
The silent treatment, players say, is worse than getting yelled at. For one, you don't know how long it will last. "It's more of a disappointment-type thing," senior guard Moriah Jefferson says. "When he doesn't say anything, it's like, 'I really messed up.'"
Auriemma's cold shoulder went on for three or four days. The coach and Stewart never talked about it, but Stewart, who leads the team in points, rebounds, blocked shots, etc., says she finally figured it out.
"He wanted to make sure I wasn't becoming complacent."
---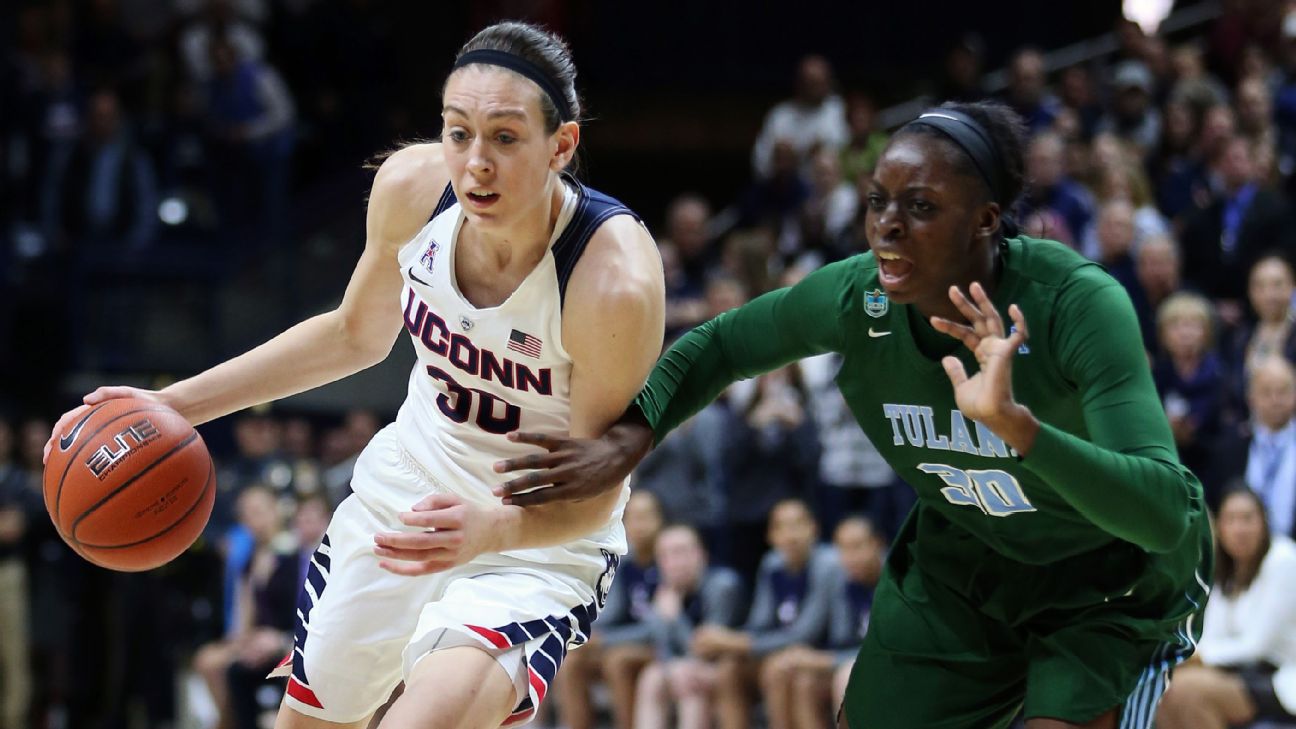 HE HAS BEEN coaching for more than three decades, has won 10 national championships and is considered the genius of his sport, but Auriemma, to this day, hasn't completely figured out Stewart. She is not demonstrative, wearing her emotions like Diana Taurasi, nor does she confidently ooze "I got this" like Moore. Auriemma's favorite clip of Stewart is not of her swatting away a shot or swishing a 3. It's from the Final Four. He's not sure whether she's a freshman or sophomore in the clip. Stewart hits a jump shot from the corner, and the camera is on her as she turns around. She smiles and claps wildly. "Like a 12-year-old who just got a quarter at a crafts fair for doing something right," Auriemma says as he imitates the clap.
"She's having fun. She's just a kid having fun. I said, 'Don't ever lose that. That'll keep you going for a long time.'"
Stewart says and does most things with the casualness of a trip to the gas station. She blocked three shots on one possession in the second round of the NCAA tournament last week against Duquesne -- one possession-- and bounded down the floor seemingly devoid of emotion.
Freshman year, Stewart told reporters that she wanted to win four national championships at UConn, and it sent everyone into a tizzy because it's never been done in men's or women's basketball. Stewart didn't understand why everyone was making such a big deal of it. Doesn't everyone want to win four national championships?
She was far more laid-back than what Auriemma was used to in his best players. It worried the coaches a little. They were used to seeing Taurasi and Moore impose their will upon games. Stewart "almost sometimes lets things happen," says Chris Dailey, longtime UConn associate head coach.
Dailey used to talk regularly with Stewart about this. Your greatest strength is also your greatest weakness, she'd tell her. While it can be great not to get too high or low, not to let her emotions take control, in some ways, it was holding her back. A team's best player is looked upon to lead.
That's what Taurasi, Moore and Tina Charles did.
A couple of times a week, Moore used to go into Auriemma's office. She wanted to get into his mind, to know what prompted a man to pop a blood vessel over every tiny flaw in a seemingly beautiful picture. "Playing for UConn was the hardest four years of my life," Moore says. "I'm weird, though. I loved it." Sometime before Moore graduated, Auriemma gave her a framed quote about perfection. "Admire it, aspire to it, but don't require it," it said. Moore already had the saying memorized.
Maybe Stewart is too close to fully appreciate it right now. On the surface, she is perfect. She is so good and does things so effortlessly that sometimes it looks as if she's not trying hard enough.
Auriemma, in fact, believes she's not trying hard enough. He's always on her about her defense. It's been that way for four years. If she were an infant learning to speak, she'd swear that "Stewie, Get In Your Stance" was her name.
That's what actually led to her recent icy spell with Auriemma. Around midseason, she gave up three straight baskets to a player who Auriemma claims was at least 4 inches shorter than Stewart. The game, mind you, was a blowout.
That doesn't matter, he says. "You can either go through life now and say, 'Well, we won by 40,' or you can say every night, 'I owe it to myself and to all these people who are coming here and my teammates and everybody to live up to my expectations.'
"There comes a time when you're a senior and I don't want to communicate with you anymore. Because we've been saying the same thing now for four years. So there comes a point and time where you need to look inside and go, 'I'm tired of getting it from Coach Auriemma.' You should be anyway. You should be tired of looking to me to get your inner strength. It's gotta come from you. Because now, once you look in the mirror and go, 'OK, I need to do this,' then you know that's never going away. If you get it from me, it might go away."
---
AT SOME POINT, nearly every UConn parent wonders whether his or her kid is steely enough to handle the Wrath of Geno. They won't come out and say it, but Brian and Heather Stewart had to question where they'd sent their little big girl in the late-night hours of Feb. 18, 2013. Breanna was 18 years old, a freshman who'd just played seven shaky minutes in a 76-70 loss to Baylor.
Auriemma bluntly said that if he hadn't played Stewart, the Huskies probably would have won. Stewart stayed with her parents that night in their hotel room, and they were up until 3 a.m. trying to console her. She was frustrated and upset, more so than they'd ever seen her, but she never talked about wanting to go home.
Brian and Heather never saw basketball taking Breanna this far. Just after she turned 14, USA Basketball called and invited her to a tryout. Brian said that was nice, but Breanna couldn't miss school. They knew she was upstate New York-good, dominating her opponents in Cicero, but no way could she be that good.
When Brian called the director of the women's national team to tell her no, it was a bit of a shock. Carol Callan was used to hearing parents rave about how their kids should be playing with the very best, not that they shouldn't. She found it oddly refreshing.
"The family, Brian and Heather, weren't filling her head with how great she is," Callan says. "They were being very sincere. And they've remained that way, as has Breanna."
"She's having fun. She's just a kid having fun."
- Geno Auriemma
Callan convinced Brian that plenty of people had seen Breanna play and believed she was good enough. So he asked her school whether his daughter could get a few days off -- the answer was an emphatic yes -- and off she went, alone on a plane, and they hugged and cried as they said their goodbyes at the airport.
Brian and Heather, naturally, were more emotional than Breanna.
"She's very adaptable," Heather says. "Some kids you drop off at day care and they won't let go of your leg. She would always be on her way meeting new people. She wouldn't want to come home."
Stewart was 6-3 by this time. And she was more than good enough. She made the under-16 squad at 14 and almost always played alongside older teammates. Brian wondered whether that was why she always kept her head down when she did something great. She'd block a bunch of shots, the crowd would go nuts, then Stewart would quietly walk back to the huddle with no fist-pumping or celebration. Maybe, Brian thought, she was just deferring to her older teammates.
"She would have this 'aw, shucks,' attitude," Brian says. "I used to tell her, 'Please don't do that. Keep your head up. Don't go crazy; don't go fist-pumping; but don't put your head down and be embarrassed about it."
"Stoically aggressive" is a phrase people used to describe Stewart in her high school days. She didn't need to get in an opponent's face; she'd just make the plays and win.
The elder Stewart says his daughter practiced her 3-point shot for years but didn't really unleash it until her senior year of high school. She knew the sight of a big girl jacking up 3s was unconventional, so she didn't want to do it until she was completely confident in her shot.
The Stewarts are polite and small-town sweet. (Breanna has a 13-year-old brother named Conor.) But suggest to Brian Stewart that his daughter isn't a killer like the rest of the UConn greats and he'll swat you down like a 5-3 guard going up against Stewie in the paint.
"She is," he says. "She just does it in a different way."
Storrs, Connecticut, is no place for the meek, or the rejected, and UConn went all-in on the recruitment of Stewart. One of her hosts was Charles.
"She's really, really good," the Huskies' coaches told Charles. "So don't mess this up."
Stewart did not have a signing-day ceremony. She signed her national letter of intent on the hood of a car and asked her dad to fax it to Connecticut. It was no big deal.
---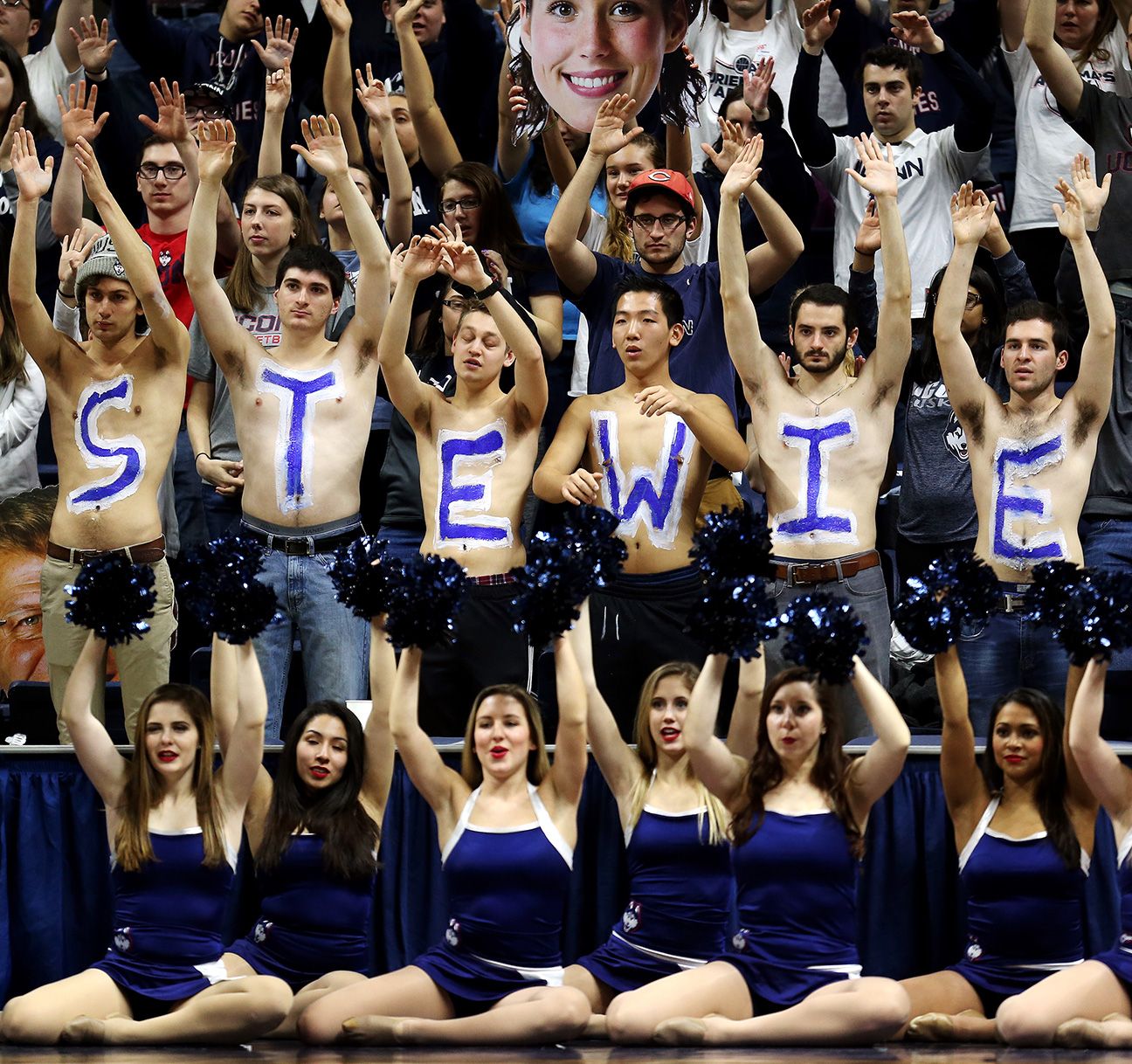 AURIEMMA SAYS he knew that shortly after Moore and Taurasi came to UConn, they would be special. He felt the same way about Stewart, especially after she breezed through the first couple of months of her freshman season.
But then her opponents started roughing her up, and Stewart did not push back. By midseason, the freshman was struggling, and then the Baylor game jolted her confidence. In those seven minutes she played, Auriemma estimates, she gave up 12 points. Recalling the game, Auriemma taps his heart and says he wondered, "Does she really have it in her? What's really underneath there?"
It was around this time that Dailey started regularly meeting with Stewart early in the morning to go over what she was missing. Now, on the surface, it would appear that Dailey, affectionately known as "CD" among the players, is perceived as the good cop. But just like Auriemma, she can be whatever they believe the player needs. In the winter of Stewart's freshman season, when they met early in the morning, Dailey was blunt. She told Stewart that teams would keep trying to hold and push and grab her so that she couldn't cut until she did something about it.
"Stewie," she'd tell her, "This is how I would guard you. There are not going to be people who are more talented than you, but this is how people are going to play you. How are you going to handle that?"
One of the hardest adjustments for Stewart came in practice. Auriemma's workouts are fast-paced and notoriously intense. They are all about efficiency. There is no jogging, only running.
The words "national championship" are never uttered in practice, says Aidan Coll, a male UConn practice player for the past three years. But Auriemma often will yell, "You guys aren't good yet!" after a blowout win. An example of how crazy UConn is about practice: Last season, after a rare loss at Stanford, Coll got a text message asking him to be in at 6 a.m. for practice. When he arrived at 6 sharp, the players were already sprinting up and down the floor.
Stewart struggled with all of this as a freshman. She was used to saving much of her energy for the games, when it mattered. She did not get that Auriemma wanted his practices to be harder than the games, that it would make his team ready for anything.
He was relentless with Stewart from the start. Stefanie Dolson, an upperclassman on that 2012-13 team, noticed that when the players watched film, Auriemma would get on Stewart about little things that he didn't hammer the rest of the team on. It reminded her of her freshman season, when Auriemma would do the same thing with Maya Moore.
"We would just pat her on the back and say, 'Good job,'" Dolson says of Stewart. "Because we knew why he was doing it."
If Auriemma needed any clues to how Stewart would play in the postseason, he could have just watched film of her USA Basketball days. Back then, UConn teammate Morgan Tuck always seemed to do the dirty work, then Stewart would explode in the medal games and win MVP.
She did the same at the 2013 Final Four, winning her first national championship. She was the first freshman in more than two decades to be named most outstanding player.
"Freshman year was obviously a struggle," Stewart says. "I don't know if things were too big for me, but I couldn't find my footing. I couldn't catch myself from falling.
"I had to be pushed to a level that I didn't know I could play at."
---
STEWART PASSES HER free time these days playing Guitar Hero and Rock Band. She knows that they were hip about 10 years ago and that she's behind the times. Jefferson lives next door and knows one thing: Stewie won't be bringing either one back with her moves.
"She can't dance," Jefferson says bluntly, and then, realizing this might sound a little harsh, adds, "but she tries her hardest."
Her teammates love her humility. UConn has a tradition that whenever someone hits a 3, walk-on Briana Pulido goes down the bench and gives everyone a high-five. When the game is a blowout and Pulido gets to play, Stewart does it.
She can dunk, as evidenced in a YouTube video shot four years ago during the week of the McDonald's All American game titled, "Girl Dunks TWICE!"
"I had to be pushed to a level that I didn't know I could play at."
- Breanna Stewart
The male practice players had seen the video but weren't sure whether she could still do it, so they asked her after a UConn workout. Stewart casually grabbed a ball and dunked it with her left hand.
"It wasn't like she made a big deal of it," Coll says. "It was just sort of like a very convincing, 'Yep, all right, she can definitely dunk.'"
The whole country will be talking about UConn as Stewart, Jefferson and Tuck go for history at the Final Four in Indianapolis. And then there is so much still ahead for Stewart. She is expected to be the No. 1 pick in the WNBA draft on April 14. She hopes to play in the Olympics in Rio.
Who could blame her if for a minute, maybe a nanosecond, she was "complacent?"
Auriemma could.
"My big thing with my great players is that you're not playing against the other team," he says. "The other team is irrelevant. You're playing against the game itself. How much does that mean to you that you want to master the game? Some kids on your team, you can never have that conversation with because they have no idea what you're talking about.
"Lot of times, it's just the challenge of, 'Stewie, get in your stance.' And in her mind, it's probably, 'Why? I block eight shots a game without ever getting in my stance, Coach.' But we're not playing just for this. You told me you want to make the Olympic team. You don't get in your stance and play these guys, they're going to embarrass you. So I'm trying to prevent all that. This is not about, 'Well, I can block eight shots.' I understand that, Stewie. But that's not going to help you next year and the year after and the year after."
It matters to Stewart too, even if she doesn't show it. But the killer is there, it's always been there, and perhaps Stewart revels in her ability to keep it so carefully under control. It burns intensely now because of Geno. She let it out briefly last month against SMU. Dailey heard about it later on and was rather stunned.
UConn was shaking hands with SMU after one of the last regular-season games. SMU coach Rhonda Rompola, knowing it was probably the last time she'd face Stewart, found her in the line and told her she hoped she'd get her fourth national championship.
"Thank you," Stewart told her.
"We will."
Merrill is a senior writer for ESPN.com and ESPN The Magazine. She previously wrote for The Kansas City Star and the Omaha World-Herald.