Unity
with the

Universe
Can a fly rod really hold the secret of life? In the central Montana mountains, a paralyzed man and his wife are proving the answer just might be yes.
Photos by Ross Dettman
MANHATTAN, Mont. -- Something strange is happening at the house glowing in the distance. Or rather, a web of strange things, magic almost, if you'll permit what might seem on the front end to be hyperbole. A man named Tom Morgan lives here, making some of the most expensive and sought-after fly fishing rods in the world, which he does despite having been paralyzed from the neck down for the past 17 years. He's revered for what he calls "thought rods," where the instrument functions as an extension of the mind, delivering the fly where you imagine it will go, not where a series of clumsy physical muscle movements try to direct it.
In all of his rods -- both in the way he builds them and in the way people seek them out -- there lives a sense of the mystic. One old model is nicknamed "The Unity with the Universe." Tom once offended a conservative fisherman by joking that their accuracy was the result of prayers and incantations. He has that kind of faith in his rods. He believes in how they can connect an angler, if only briefly, to the soul of nature, and how they can connect him to the person he used to be. The rods are what matter, to Tom and to his customers, which seems like such an inadequate word to describe the relationship.
Most of the people who buy them are spiritual pilgrims, and some are literal pilgrims, flying to Montana to visit or pick up their rods in person. They come from as far away as Japan. They drive out of Bozeman, headed west, finally seeing the glow on a ridge to the right. A white bus named Moby -- yes, the people inside love Melville -- lets them know they've found the place. The house is surrounded by snowy peaks and a herd of buffalo, which move like ghosts across the high plains. The strangers arrive at the front door, the wind coming down from the Tobacco Root Mountains, blowing hard and cold. Tom's staff often joke when they hear tires on the long gravel road: "Get out the prayer rug." Some visitors don't even know he's paralyzed. A young rod maker once arrived for an apprenticeship and stuck out his hand when he met Tom. Nobody had told him. The rods are more important than the obstacles overcome to create them, and the anglers who travel such great distances don't want to unlock the secret of his life; they are grasping for understanding of their own. "It's like they're walking in to see the Dalai Lama," says that apprentice.
It's a lot to expect from a fishing pole.
A small epiphany waits at the end of their time with Tom, if they pay attention to the signs. There is no his life and their life, just life. The rods don't provide answers, only questions, about how you lived it before you arrived, and how you might live it after. The questions apply to Tom, too. There are secrets to be unlocked at the house glowing on the hill, about dreams and perfection and, yes, even love, but first you have to go inside.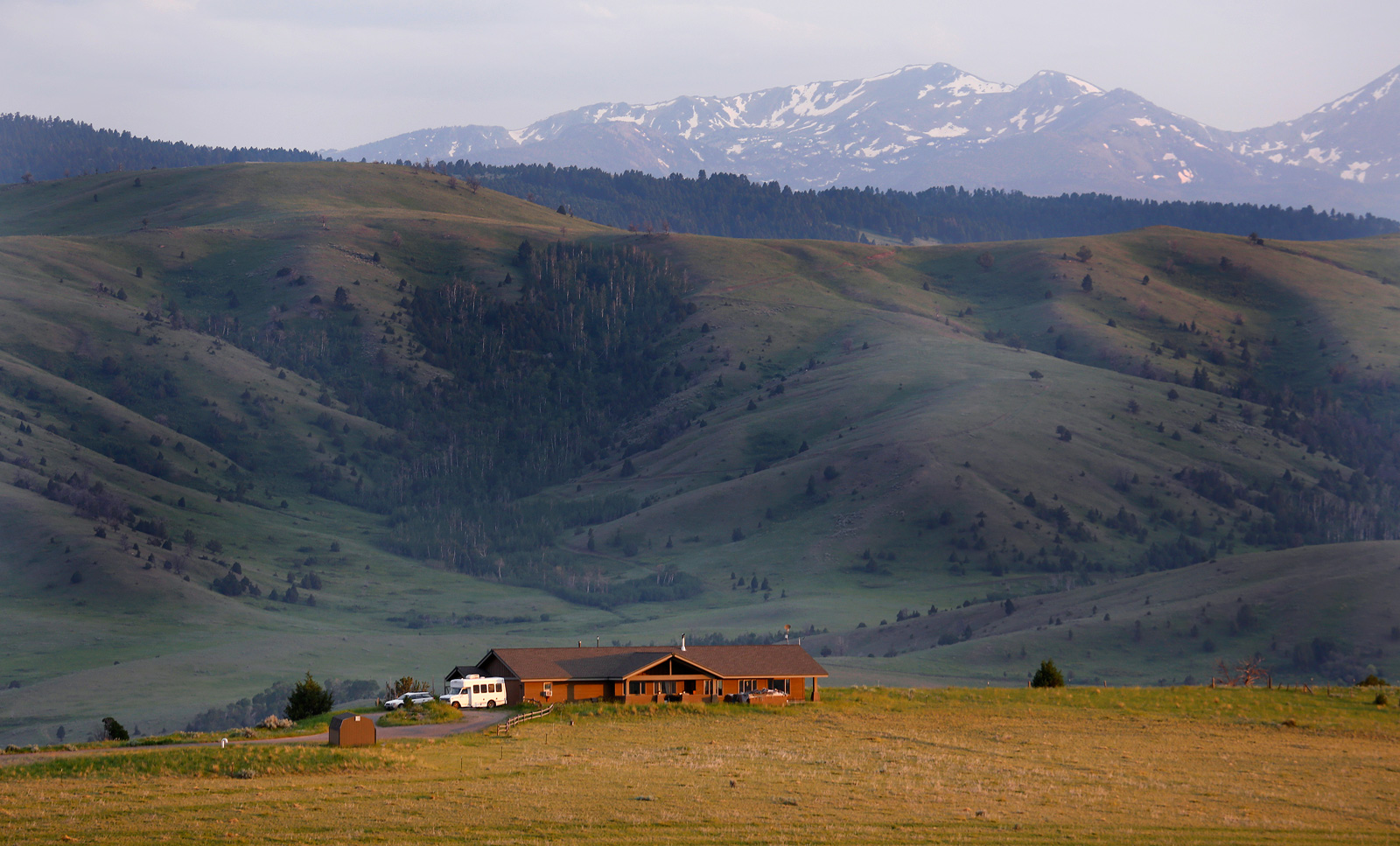 A Coming Storm
"The first thunder of the year," Tom says when he hears the rumble. He is clean-shaven. The house is warm, heat coming from a wood-burning stove. Tom's wheelchair is turned away from the windows that face east toward the Bridger Range. He can't see the creamy blue sky blotch and darken, but he knows. He grew up in these mountains, over the next pass, a high, narrow switchback lined with dented guardrails and roadside crosses. The windows are placed so that only wilderness is visible, not the other houses spread around this raised crown off Norris Road. Tom and his wife, Gerri Carlson, were optimistic about his multiple sclerosis during the home's construction; the light switches in the bathrooms are low, easily reachable for a man in a wheelchair.
The storm moves fast. The seasons are changing again. Tom's arm slips off the rest, and Gerri pushes it back. A minute or so later, it slides off again. His left side is weaker than his right. His elbow pinches in toward his side, and he asks for help. Gerri talks as she gently puts his arm in place. She smiles at him and calls him "Buster." It's lunch time, grilled cheese and tomato soup. Tom likes for the bites to come out even.
"Do you want to end with the sandwich, or do you want to end with the soup?" Gerri asks.
"Sandwich," Tom says, and they both look out the windows.
"The storms don't often come over us," Gerri says. "It just sort of splits. We watch them to see which way they're gonna go."
They are surrounded by nature, and while living in a tactile world once defined Tom, he is now a spectator. It's April, a year ago, and in a few weeks, the lazuli buntings will land in their yard, completing a long flight to their breeding grounds. Tom, who is 71, can relate to them. Each male has a unique call, but the yearlings leave the deserts of the south without one. They depart the place of their birth voiceless, and only when they reach Montana and begin looking for a partner do they find a song of their own.
Tom and Gerri have their own cycle, too. Their life and work, so wrapped together, are governed by a series of lists, worked out painfully with trial and error. There are 35 steps to get Tom ready for bed. There are 26 steps to assemble and attach a reel seat. Each year, there is a list of orders to fill, and a waiting list behind it, fishermen wanting rods made of bamboo, graphite or fiberglass, in an endless variety of lengths, weights and finishes. Tom does the math, figuring out diameter and taper, imagining what the rod would feel like in his hand. He gives the instructions to his team of three workers, including Gerri, making sure to check each step.
"People are my hands," he says.
When the cycle is altered, the disruption sends out ripples. Normally, orders don't ship until October. This year, the date has been moved to June. Gerri and some friends are going to walk across France for three months, her first extended vacation since getting married two decades ago. Everyone is in overdrive. Gerri has pushed herself so hard she got shingles. They have about 10 rods left to finish, then she can fly to Paris. While she's gone, a retired nurse will look after Tom. He hardly ever gets down, but Gerri is worried about leaving. "He had a couple bad weeks, actually, just this spring," she says. "He just -- and I don't know -- I thought maybe it was a little bit of depression. I know that my leaving is gonna be hard, but we have two lives here."
The Awakening
Gerri is short, with ice blue eyes and, for now, braces on her teeth. She is 63. She can talk about energy vortexes and psychotherapy, about philosophy and about the craft of letterpress. She keeps a dream journal and has been in a dream group for 15 years. She loves fancy paper. Her books fill the house. The UPS man jokes that he is selling his Amazon stock when she leaves for France. A book is the reason she's here, in the glowing house on the ridge. That started her quest.
She read "Zen and the Art of Motorcycle Maintenance" and decided that she needed to make a change or risk living an ordinary life. She looked at a map, found Livingston, Mont., and applied for a job. She felt restless there, too, overhearing the sad conversations in the teacher's lounge, where her colleagues counted off the years until retirement and the beginning of their lives. Gerri quit and joined the Peace Corps. When she returned, a friend set her up with a newly single rod designer. She noticed that he limped.
That was 20 years ago. Now she's both the graphite rod builder and his primary caretaker. He's never had a bedsore. She shaves him and wipes his ass. She brushes his teeth and, to keep him healthy, pours two V8s down his throat a day. This takes trust from Tom, and patience from Gerri, both of which they have, almost all of the time. "I shook him one time," she says, remembering a day when his medical needs interrupted her work a dozen or more times. "I was so frustrated. I meant it, that's what was scary."
Learning how to make the rods was the journey she'd been searching for her whole life. She wanted expertise, in anything, and it started slowly. In the beginning, Tom tried to tell her what to do, step by step, almost literally directing her hands: Move left, no, your left, a little more, no that's too much. One day in the first year, they had a meltdown at the milling machine. He needed her to find something called a boring head, which he had used all his adult life and she had never heard of, much less seen.
"Is this it?"
"No."
"Is this it?"
"No."
She emptied a toolbox, pulling out 30 unfamiliar instruments before she stumbled on the correct one. More than 100 orders waited to be filled, and she'd never built a rod. She was just beginning to understand that you could measure something to the thousandth of an inch.
"We both ended up crying," she says, "and when I found it, I had no idea how it was going to do what he wanted it to do, and how to do it."
"That was bad," Tom says.
"That was the worst day," she says.
Since then, they've learned she works best when he tells her the destination, explaining the broad philosophy of what needs to be done and why, and then letting her find her own path. Now, as Tom proclaims with pride, she does the best rod craftsmanship in the world.
"She can do anything," Tom says.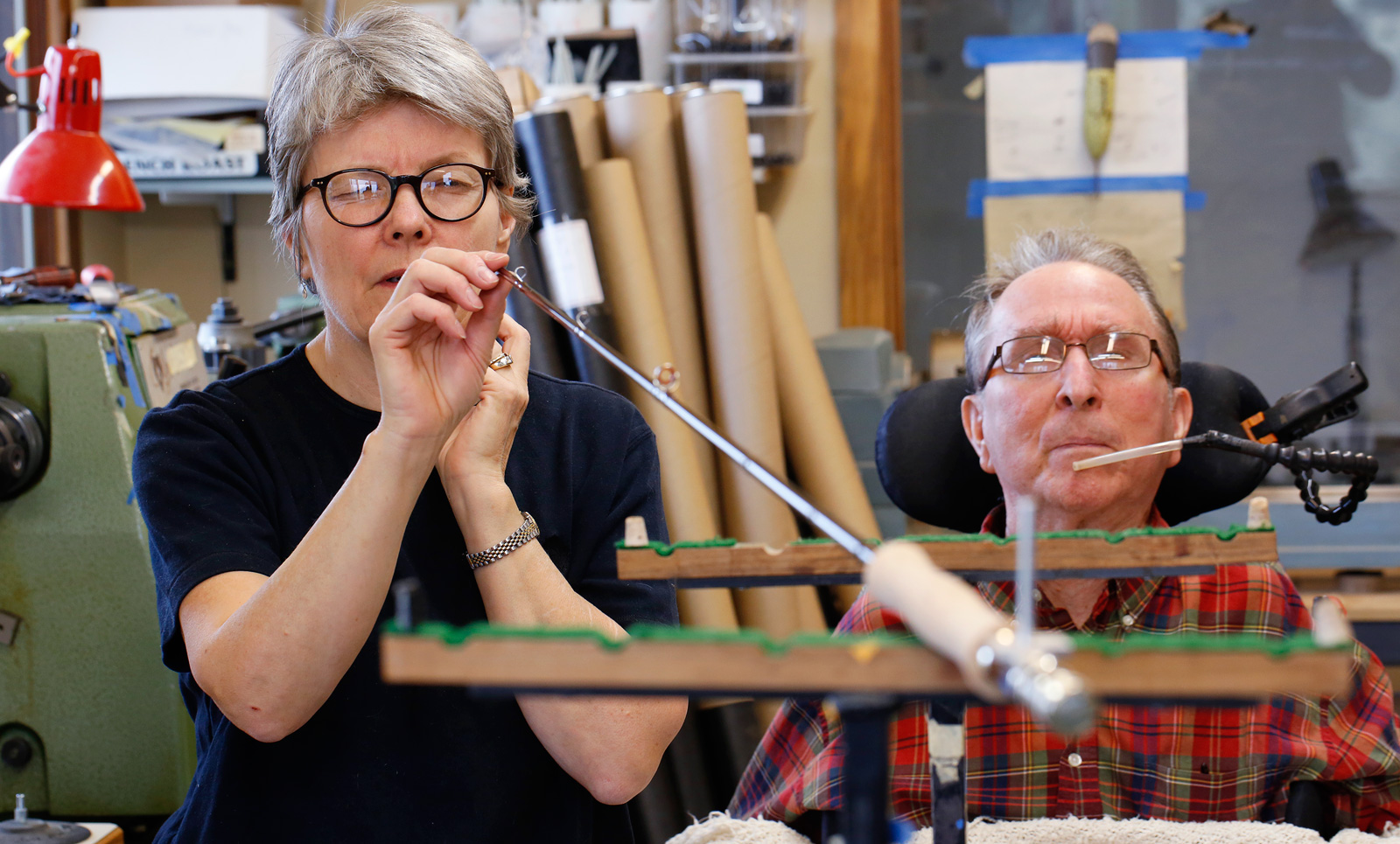 The Narrow and Precarious Path
A short hallway connects the kitchen with the shop, and like every space he enters, there is a lurking danger. The walls are covered with paintings, some by friends, some by famous Western painter Russell Chatham, who likes to swap his art for Tom's. (Rods have also been used to pay for dental work, therapy and marriage counseling.) There's a work in oil of Tom's favorite stream, a spring-fed creek named O'Dell, which is where he fished as a boy and came back hundreds of times as a man. That skinny, bifurcated ribbon, up over a ridge on a ranch a few miles from his childhood home, exists as a spiritual north star for him. Its continued existence tethers him to the person he used to be. Looking at the painting brings him joy, but it also carries a risk. The past can be seductive for Tom, who spends most waking moments considering rods he will never hold, designed for streams he will never walk. The thin membrane keeping him from the abyss is his own determination to keep living.
"I choose to be happy," he says.
He's always been disciplined. In the morning, he plays exactly one game of solitaire, using his voice-activated software. He's calm at his center, palpably so, making the space around him feel peaceful. Being with Tom is like being with a bodhisattva. That's what sticks with people who meet him, even more than the inspiration from how he handles his disease with grace. There's something comforting about him. His discipline and calm allow him to control his world, even his desire to retreat into his memories. "I've spent a lot of time with Tom," his friend Bruce Richards says, "and I've seen him down one time, and that I think was the first time I came over and was casting some new rods for him. He was outside on the porch. I was casting. I noticed he had tears in his eyes. He just wanted to cast so bad. He said, 'I just wish I could do that one more time.'"
Just Out of Reach
He misses spooning. Four nights ago, he dreamed about nipples in his mouth. When he has sex dreams, which is often, he never finishes. He can still get an erection. He can control his bladder, but he can't get up to go, so he uses an external catheter. It holds two pisses. Tom and Gerri call it the Whizeroo, and it changed their life, since both can now sleep through the night. Other bodily functions don't cooperate. He can't operate his bowel muscles, which is why mornings are spent fighting what they call the "poop wars." Tom sits on the toilet with a towel over his lap. It's a Saturday. He's eating his breakfast sitting there -- granola, then some fruit. He asks to lick the spoon. Gerri wraps her arms around him. His ankles are thin. She bends him forward twice to loosen his system, get things moving. It's a beautiful day outside.
There's a photograph on the wall of them holding hands around a fly rod. Their first days together passed in a dream. Tom had sold his rod company, the industry stalwart Winston, and he picked up Gerri in his bright blue MG convertible. He had a reputation. Tom dropped out of college during his last semester because he read "Atlas Shrugged" and didn't want to be a cog in anyone's machine. ("Boy, were my folks pissed," he'd say later, laughing.) In big yellow letters, he wrote "Who Is John Galt?" on the back of his car. Tom read philosophy and often disappeared into backcountry streams only he could find. He never needed anyone. Locals knew him as a "cutthroat guide" who did whatever it took to beat competitors to fish. He outgrew Ayn Rand, finding himself more reflected in William Least-Heat Moon. Gerri was attracted to his monastic pursuit of perfection. She'd discovered the closest America could come to a samurai sword-maker. Everyone in the mountains knew his name. On their first real date, they drove over the pass to the town where Tom grew up, near O'Dell Creek. It was July 2.
"We saw a snowy owl," he says, sitting on the toilet.
"White owls live in the Arctic most of the time," she says, sitting next to him.
"We both recognized it immediately," he says. "I have never seen a snowy owl before or since."
"We thought it was an omen to our relationship," she says.
Tom is released into his past, up that mountain road toward a town named Ennis. Gerri wraps her arms around him and moves him back and forth, a manual assist to gravity. His body is here, but his mind is on a stream. It's about 10 feet wide, lined with willows and birches. He saw wild asparagus that day. He carried an 8-foot, 4-weight Winston fiberglass rod, one of his designs. The asparagus looked good, so he ate a piece. A tree lay in the water, cut down by a beaver, and a tangle of moss clung to the trunk.

Brown Trout
Brown trout feed on insects and aquatic invertebrates, making them good targets for fly fishing. Illustration by Jack Unruh
Wading, he worked slowly in and out of shade, beneath a canopy of willows and by an open pasture. Through a stand of cattails, he saw a brown trout sunning itself in a foot or so of water. His heart pounded. About a 7-pounder. Tom worked backward to get some distance, hiding in the cattails, gently kneeling in the water, hoping the fish wouldn't see or feel him move. Five minutes passed. Tom thought out his approach. The only shot he really had was landing the fly to the side and just below the fish, which would see the bait but not the leader attaching it to the line. It was an impossible cast. A few inches off in any direction and the fish would be gone. Any splash, or shadow, or unnatural move of the fly would spook the fish. Tom made his cast. It landed perfectly, where he imagined it would go. The fish didn't take it. Neither of them moved. Carefully, Tom retrieved the line and, after just one false cast, he landed the No. 16 Royal Wulff in the exact same place. Unbelievably, the fish didn't take it.
For a third time, Tom made the cast, landing in the same spot, the Royal Wulff floating slowly toward his feet. The fish saw it, took it into his mouth and was just settling down with his snack when Tom set the hook. Fins kicked up sand as the fish sped downstream, close enough to Tom's legs that he could feel the vibrations through his waders. Fighting, Tom got the fish to the bank and removed the fly without taking the trout all the way out of the water. The fish stared at Tom, and Tom stared back. He felt an "ancient connection," as he'd write later in an essay about the day, and he carried that feeling with him away from the stream. He still carries it today, three decades later, as his wife grips his torso and moves him back and forth, slowly winning the poop war. He remembers how the fiberglass rod felt in his hand, and how it delivered that fly.
"Do you think he let you catch him, or was it your skill?" Gerri asks.
"Oh, it was my skill," Tom says. "I had to make three perfect casts."
Tom thinks about that fish. A year after he caught him, he went back and found it. A year later, he returned a third time, and, once again, the trout was there. This comforted Tom, who felt joy that the fish hadn't been damaged in their encounter. "He went back to a good life," he says, "and so did I." He never tried to catch him again, and no matter who asked, he never gave up the location of the stream. Not that long ago, lying in bed, he found it on Google Maps, hoping nobody ever disturbed that fish. Remembering it now, Tom makes a gasping noise. He's either crying or laughing. One of the lesions on his brain affects his emotional control, so both happiness and sadness come out as a kind of guttural sob.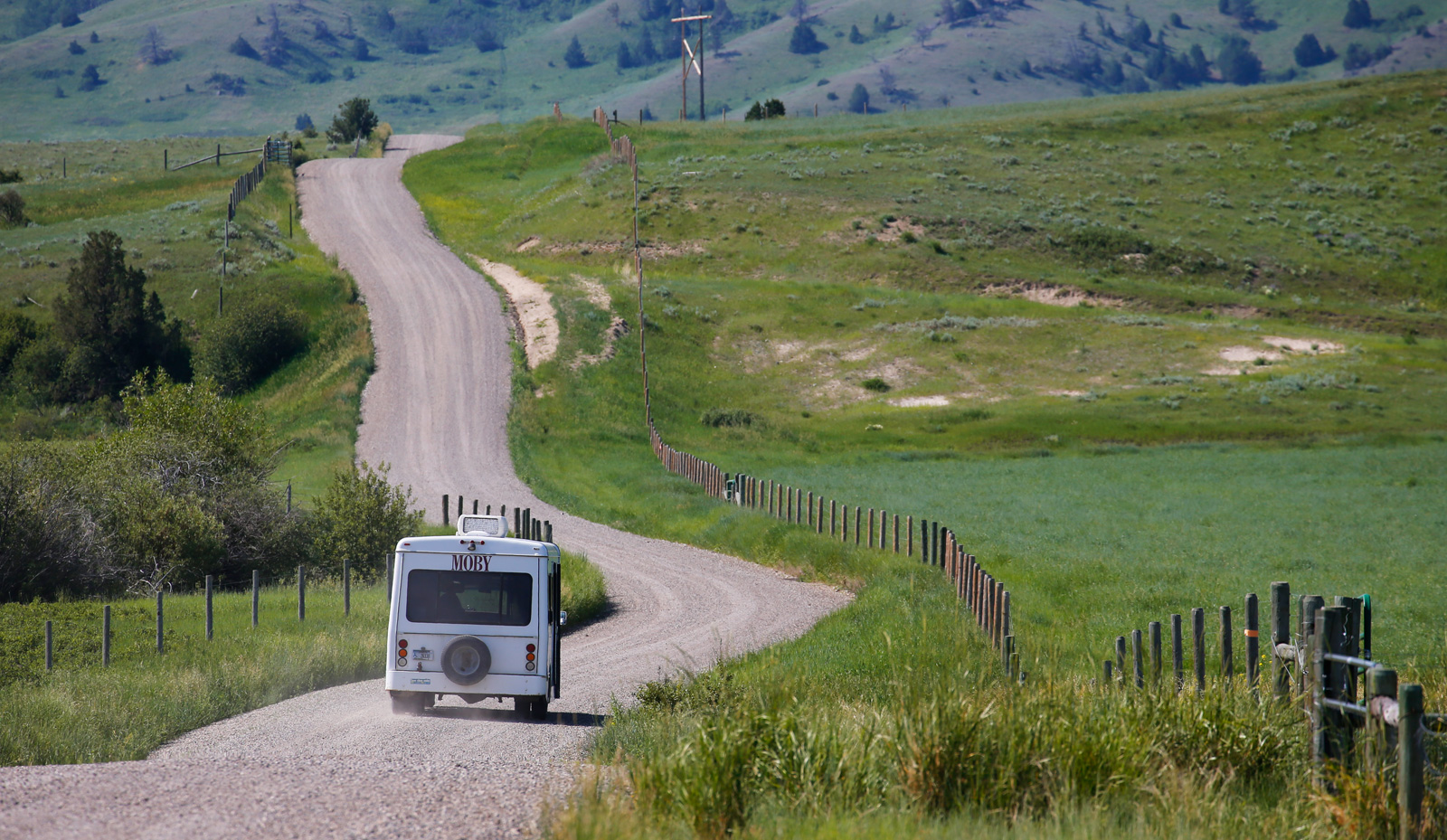 Two Worlds, Apart
Moby bounces and rumbles up the mountain road toward Ennis, rocking Tom from front to back in his wheelchair. His friend Bruce Richards is driving, and Tom looks out the front windshield, wearing his mirrored, periscope-style glasses. Sitting up for too long leaves him exhausted, so the mirrors allow him to see the world around him. The glasses cut off his peripheral vision, and he can't turn his head easily when sitting up, which means Tom can only see the world directly in front of him. The rest exists in his memory, the two coming together to form his reality.
The engine groans as the bus climbs. Bruce turns right into a sprawling, private ranch. A cattle guard rattles Tom in his chair. He sees four or five columns of smoke up ahead and a herd of antelope crossing their path. Tom hasn't been here in years. They climb the last ridge and there it is, down below: the two channels of O'Dell Creek. The sun sparkles on the water, a dusting of glitter that flashes under the towering blue skies.
"Oh, wow," Bruce says.
"This is where I grew up," Tom says.
Tom can see only the stream in front of him, but he describes the whole panorama, certain of this little piece of nature. He can't see to the left, but he knows what it would look like if he could, the rise of Fan Mountain and the Sphinx, which is reddish and different from its brothers. He knows what the stream looks like to his right as it flows down from the fence line. There's something profound about it, how he lives in a separate dimension from everyone around him, interacting with both the physical world and the one in his mind.
The ranch manager walks up to the bus. Like everyone in these towns, he's happy to see Tom. The man wears a handlebar moustache, with thick unshaven whiskers on the rest of his face. There's a can of dip in the front pocket of his Wranglers. His belly is big, but his face is narrow. He looks like he's got something on his mind.

Rainbow Trout
Rainbow trout can be found in rivers and streams around the world. Illustration by Jack Unruh
The manager explains that they're closing a drainage ditch on the east branch and how they'll knock down the high banks on the lower part of the creek. There's a pond that will be dug up, changing the way the current flows into the split ribbons in front of them.
"We'll see what they get done," he says, "but it's not going to look like O'Dell Creek anymore."
"Nope," Tom says.

Cutthroat Trout
The cutthroat is named for the red color under the fish's lower jaw. Illustration by Jack Unruh
"It's a shame," the man says.
A northern harrier circles overhead. It flies low, looking down into the grass for rodents. Tom sees the bird of prey, knows what it's doing. Something lives, something dies, a cycle continues. The world around him is always shifting, turning, leaving the people who try to harness it behind. Growing up in Montana, he's always known that. That's part of why he first felt called to create rods. If he did it right, the rod could be more than a tool. When he knelt in a stream and made the perfect cast, for a moment, he was part of the stream.

A Journey Begins
Tom had never built a rod in his life when he bought Winston, but he loved them, and even before he taught himself how to make them, he believed that a holy grail existed. Brash and cocky, he'd asked an older builder for a perfect rod, and the guy sneered back, "Sonny, you can't afford a perfect rod." But that implied there was some equation, a formula of method-plus-love that could, one day, result in perfection. He owned three Winston rods when he and a partner decided to buy the entire company in 1973, using the money he'd earned running his parents' motel.
The first Winston rod he ordered changed his life. In the shop, he asks bamboo assistant Zac Sexton to go find it in the storage room. Five minutes in that room would make one of the classic-rod Internet forums melt. Tom waits in his chair, and some time passes. It's hard to say how much. Around Tom, time seems to slow and bend. His focus and calm rub off, a contact high, and a visitor's anxiety and stress recede, then disappear. It's a remarkable thing that doesn't quite seem possible once you've gone away.
Zac comes back a few minutes later with a silver metal tube, which holds a Winston 7 ½-foot, 5-weight bamboo rod, serial No. 9664. Tom was a guide when he bought it, for $150. It was 1967, he thinks. Zac slides the red bag out of the tube and holds it in his hand. The sewn-on label says "San Francisco, California," which is where the company was based until Tom moved it to Montana.
"San Francisco Winston," Zac says. "God, this is like ancient history in angling. I mean, before this, I think they just had clubs when they'd go fishing."
Tom went down to the Ennis post office when the rod arrived. He put line on it and took it out to the stream. The first time he cast it, he knew something was wrong. He sent it back, but it soon returned, and word arrived with it: This rod is fine. He knew that wasn't true. Six or eight inches from the top, there was a kink, where the taper was off, which bent the rod, which kept the fly from landing in the right place. It was a bad rod.
Zac's experience with bamboo rods has been with Tom, or with other makers who share Tom's sensibility, so he's shocked to see what used to pass for excellence. "None of the guides are lined up, either," Zac says. "The tip tops are all off. Son of a bitch, Tom. Did you get your money back?"
"Oh, no," Tom says.
After he bought the company, the mission was simple: Never let anyone be disappointed. He overbuilt every rod, limiting profit margins. Winston became known around the world for craftsmanship, for making slow- to medium-action rods that put accuracy and feel above distance and power. His secret lies in his ability to taper the rod with, as he says, "extraordinary smoothness and the perfect balance between the tip and butt." Taper refers to the thousandths of an inch of width a rod loses for every vertical inch of length. It is the most critical part of rod design, and the most mysterious. Finding the right formula involves, first, math; then, for bamboo, a steady hand shaving thin strips of wood; and, at the end, casting and fishing the rod. Books can teach every part of the process except this one, the ability to understand how numbers translate to tiny differences in loading speed and action, and how that realized equation will move through space. A rod's character is defined by its tip, so there's little margin of error the higher a designer goes. Basically, when there's less and less, what you do with it matters more and more.
Tom built the rods he needed to feel connected to the world around him, and other anglers loved them, too. Winston was about "evolution, not revolution," and the industry began to change. It's known around the mountain towns as the "A River Runs Through It" effect. Fly fishing boomed, and newcomers wanted rods that were easier to cast, more forgiving, stiffer, set up for distance. Those rods dominated the market, and Tom felt squeezed, under financial pressure to change.
Instead, he sold the company, determined to chase his dream of a perfect rod. Tom Morgan Rodsmiths was born. Soon after, on a walk in Washington, D.C., he felt weak and he couldn't figure out why. The last time he fed himself, two years later, it was a peanut butter and jelly sandwich, because that's what he'd always packed on fishing trips. He didn't give up, and Gerri didn't run, and his new rods are considered better than the best he ever made for Winston. It shouldn't make sense, that the best rod designer in the world could become paralyzed and make better rods, but somehow it does. It makes perfect sense.
A Beautiful Mind
When Tom is in his shop, which is crowded with machines he invented, he becomes more than a very smart man trapped in a broken body. For a few hours, he fights for the things his disease has taken away, and he is whole.
His company has yet to mail a fiberglass rod; they still don't meet Tom's standards. Four years ago, he announced them and orders poured in. With each passing month, the rod forums buzz: Are they out? Are they out? "It's embarrassing to keep telling them they aren't ready yet," he says.
But he refuses to settle. He throws away a lot of nearly perfect rods, some $4,000 bamboo models ending up as tomato stakes. Except, perhaps, for the vacuum cleaner named after a hooker in Butte -- Dirty Jean -- the trash can might be the most used thing in the shop. A single glue seam is enough. His close friend and well-known guide Brant Oswald describes Tom's obsession as a "quest for him to produce the greatest fly rod that's ever been built."
This obsession colors everything that happens in the shop.
There's a mad-scientist vibe around Tom. He lives on his back, in search of solutions. One morning not long ago, Tom came into his shop, driven in his chair by Gerri, and complained to Zac that he hadn't really slept the night before. Zac asked if something had broken with his respirator. Oh, no, Tom explained. He'd been up all night trying to solve a problem.
Each invention is the only one like it in the world, designed to improve an individual step of the process, moving the rods a little closer toward perfect. There's a machine that rough-cuts big, raw slabs of bamboo. There's a cork jig he designed, across the room from a diamond saw he designed. There are machines free-standing in corners and resting on tables, and when visitors come to the shop, he takes his time explaining the genesis and use of each one. He's particularly proud of his Morgan Hand Mill, so much so that he now sells them to professional and amateur makers. Like each of his inventions, it is at least partially the result of his disease.

Atlantic Salmon
Atlantic salmon are found in the Atlantic Ocean and in rivers that flow into the North Atlantic. Illustration by Jack Unruh
The poetry lies in the obscure, technical details. Most bamboo rods, including Tom's, are made of six milled strips, tapered to a specific diameter, with each strip cut on one side to a perfect triangle of 61.5 degrees. For the long history of rod making, this was usually done by hand, with a pattern, as much about feel as science. His disease stopped Tom from holding a strip, much less milling it into a precise angle. So, he thought about the problem and a device took shape. Each piece was described so accurately to a machine shop that it became real. He had it made, then refined, then refined again. Eventually, it worked, and now anyone can set the taper dial and, with a few strokes over a strip of bamboo, cut perfect 61.5 degree angles. The hand mill does what his body won't let him do.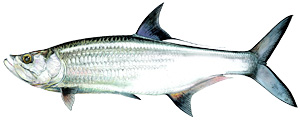 Tarpon
Considered among the great saltwater game fish, tarpon can grow up to 8 feet long. Illustration by Jack Unruh
Each invention creates more work for everyone around him. So, after the latest innovation for the hand mill, Gerri put her foot down. There is a scale, with his quest on one side and her sacrifice on the other.
"No more," she said.
"One thing that Gerri thinks that's true," he says, "I have too many ideas."
Individually, these ideas are marvels of engineering, but together, they are an ethos. Tom demands control over his world. If he stays disciplined and accepts no shortcuts, from himself or anyone else around him, he can defeat the thing that has tried to take over his life. He controls his disease, and even his thoughts, never giving in to all that might undo him.
Hidden, Then Revealed
His mind is strong, impressive to behold up close, but even his mind cannot keep out the things that lurk out of sight, in the future, in his own subconscious, fears about what he's lost and what there is yet to lose. The control Tom creates in his shop disappears when he falls asleep.
He dreams most nights. Many are about fishing, floating down a river on a boat. Gerri always asks in the morning how old he was, but he can never remember. The dreams often turn dark, and suddenly he's a guide who can't find fish. In one recurring nightmare, he is on a boat that starts to sink. Or he's driving, lying down and paralyzed, zooming down a road, unable to see, in a panic.
Sometimes he's a bird of prey. With extended wings, he floats down the Madison River valley, over the fishing grounds where he's spent his life. Down below, he sees his son Peter, who grew up with the self-contained, distant version of his dad. Tom swoops and picks him up in his talons. They fly away, together and free.
Gerri studies his dreams. A vehicle, she's learned, represents the body. Tom's car and boat dreams are about his lack of control. His dreams are full of fear and stress. They are about the regret he doesn't allow himself to feel when he's awake.
They are about the unknown over the horizon.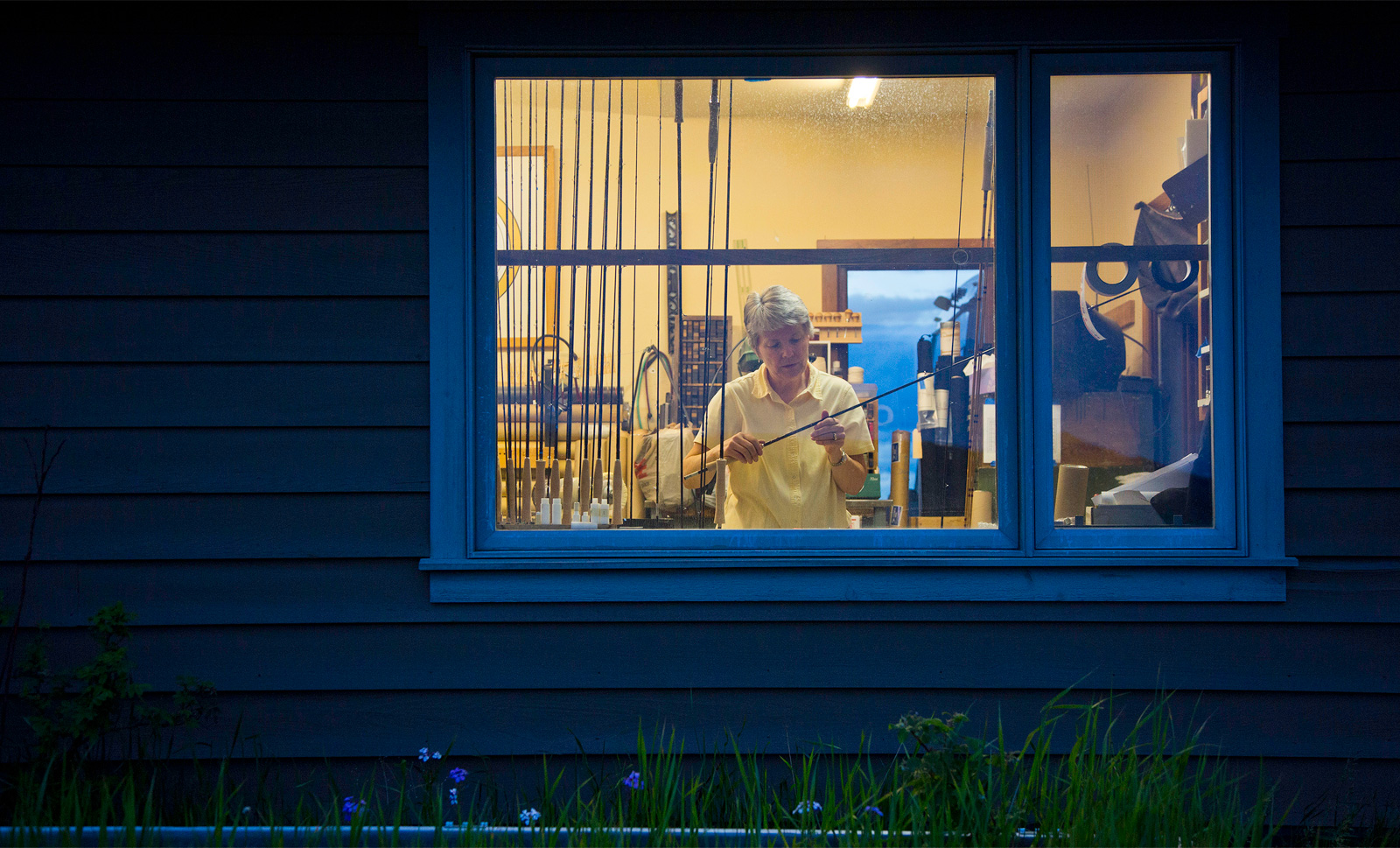 Wake To Sleep
Gerri is sitting in a chair in front of a homemade machine, just behind the dining room table. It's time to wrap the guides. Each one has tiny feet sticking out, and she needs to tightly wind thread to keep the eyelet in place on the rod. The guides, when attached, will hold the line between the reel and the tip. It's clear that Tom's love of detail hasn't just been passed down to her. She loves it, too. Always has. The metal tubes the rods are shipped in squeaked when the cap was removed, and she added a greaseless lubricant to the threads so the first impression wouldn't be an annoying noise. Sitting in her chair, she wraps four revolutions of the red thread around the first guide foot, moving them straight with a fingernail.
"It's the gestalt of the whole thing," she says.
As she works, a voice calls from the bedroom down the hall.
"I'm ready in here," Tom says.
She keeps working.
"I'm just wrapping this tip," she says.
The hardest part of the job is staying on task, not losing focus, when Tom needs her help. They don't use a baby monitor, mostly because of the name; both are vigilant that she doesn't infantilize him. Instead, he built a doorbell buzzer he can ring with his head, sounding in the shop.
"We all hate that," Gerri says, laughing.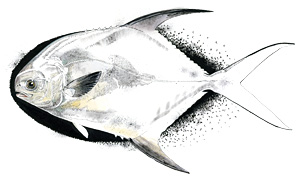 Permit Fish
Permit fish often are found in tropical waters of the western Atlantic. Illustration by Jack Unruh
She finishes and goes down the hall. Her next step is to give the rod five or six layers of coating. It will be perfect and smooth. Her joy comes from doing something well. But lately she's been tired and feeling like her needs are being ignored because of Tom's. That's the genesis of her trip to France. She had another epiphany: Tom is healthy, and will live many more years, which is a blessing, but if she didn't do something for herself, she might look up and be too old.
There are other things she wants to do. Maybe use her letterpress machine to create books. They could travel, or learn something new. That time might be coming. The graphite and bamboo rods are nearly perfect, and, in the next week or so, they will have fixed the problems with the fiberglass. A lot is happening.
"Oh, I'd like to quit now," she says. "I don't mind doing it. It's not my love. It's not my passion. Maybe when the glass rods are running smoothly, when we've got all the bugs worked out of it. Then maybe it's time to sell. … Balance is really important, and also taking care of my dreams, because this is about Tom's dream, essentially."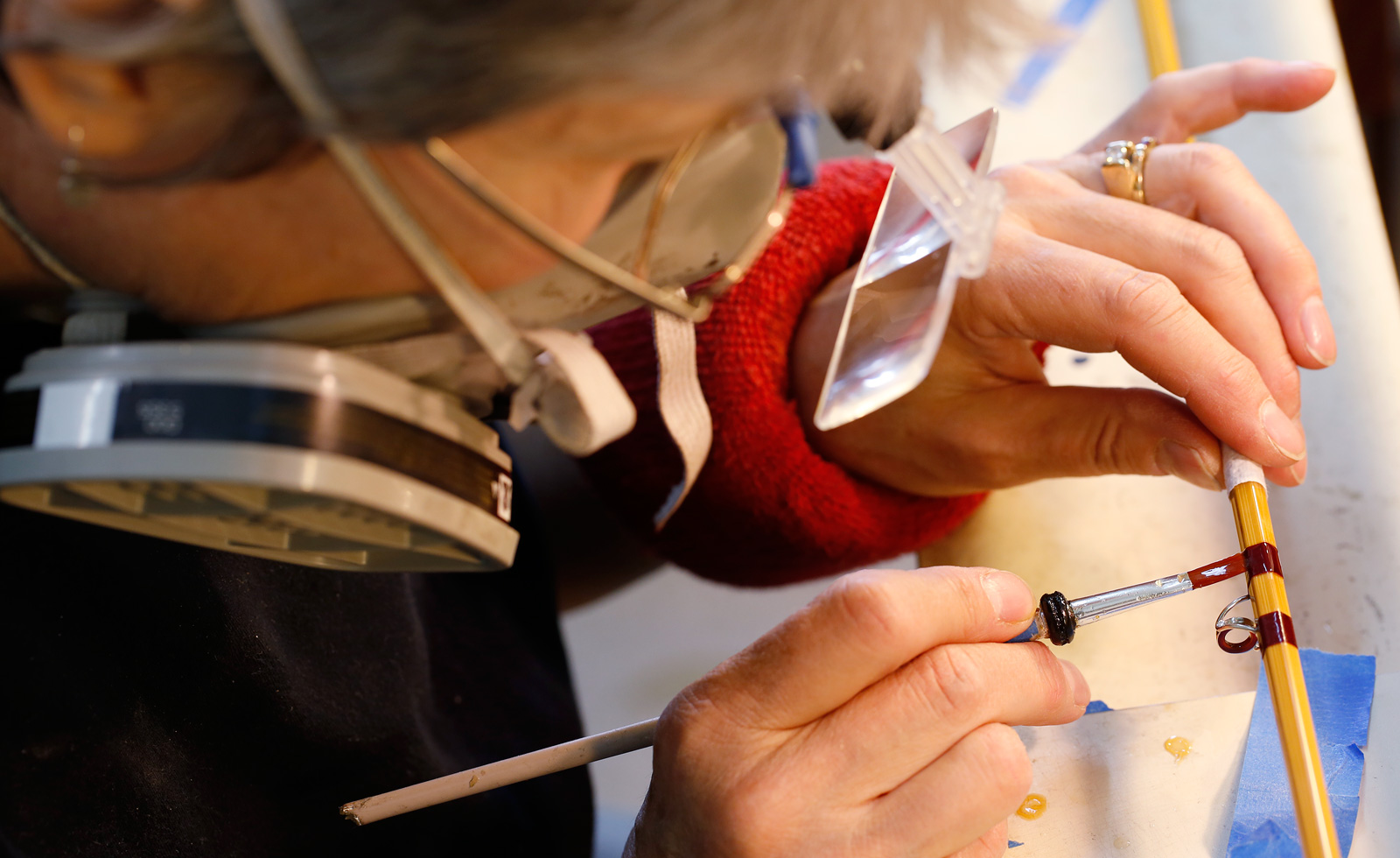 The Last Cast
The solution for the fiberglass rods should arrive in a week, maybe 10 days, in the form of cans of paint, bringing to a close a four-year saga. At times during those years, as Tom worked on perfecting the fiberglass, one might be forgiven for wondering if he wanted to find a solution, if some part of him needed the quest to continue. "Once you know," his friend and famous rod designer Per Brandin says, "then it's dead. The search is over."
The fiberglass rods have been plagued by white splotches and strange black lines, which they've finally found the right color paint to mask. Tom knows this is a final hurrah of sorts, and on some level there's a reason he saved fiberglass for last. The first fly rod he ever owned was made of fiberglass, a Silaflex 7 ½-foot, 5-weight, four piece. He has remade the fiberglass "The Unity with the Universe," which his test casters say is better than the original. These fiberglass rods are the last turn of a circle that began up that mountain road.
Watching him in bed, a cat crawling over his torso, his mind turning over the taper numbers, something else is clear. He doesn't build the best rods in the world in spite of multiple sclerosis. He builds them because of it. He builds them because, when he stops, a part of him will be lost forever. Maybe that's why he doesn't want to let them go, although Tom's logical mind would take issue with such a sentimental idea. All anyone on the outside of his mind can tell is that day after day, season after season, Tom keeps solving problems that no one else even knows exist, as if something more than a fly rod were at stake. Even Gerri has wondered. "I asked him about this," she says. "You know, 'What is this about really? What's going on really with you?'"
The answer is complicated. But after spending time with them -- as Tom makes kissing noises to show his feelings, and as they interact in the shop, not as caretaker and patient, but as connected equals -- it also becomes a little obvious. His perfectionism is how he clings to her, like a man desperate to keep the thing that makes him whole. The rods would not exist without her. Neither would he.
In private moments, Tom will acknowledge the difficulties he'll face when they finally do sell, and how he wants Gerri to have a chance to follow her dreams, too. Things are changing. Even O'Dell is changing, not being destroyed, just altered a little, which is the natural order of things. Maybe that's a sign. He and Gerri believe the universe speaks to you, if you're only willing to listen.
A Future, Together
These are their days, one after another. Gerri will return from France. A year will pass, the fiberglass rods finally being shipped, and still they don't break the cycle. Soon, perhaps. They live together in the house on the ridge. They are happy, unburdened by all the reasons they'd have to feel bitter. "You don't know until you're here," Tom said once. "I can't suicide. I can't pull the trigger."
He and Gerri laughed.
"I'm not gonna do it," she said. "Tom's saving grace is he's not in a nursing home. And these rods."
Tom knew better.
"It's Gerri," he said.
Their bedroom is quiet. Tom is on his back. On his computer, he finds Microsoft's online map, directs it to focus on the town where he grew up. Gerri leans over and gently moves the mouse for him. She follows his instructions, moving south and zooming in. Click. "Too much," he says. She backs up. Click. The map is black and white, shaded with gray. Finally the screen is filled with a familiar image, centered, shaped like a winding upside down Y. The ridge where he sat in Moby with Bruce juts into the water like a nose. Tom lingers on the photograph of O'Dell Creek, then leaves it behind. There is living to do.
They face the mountains, and behind them, out the bathroom window, there is a worn pass through the grasslands, a shadow. Tom often looks at it during the poop wars: the old Bozeman Trail, where pioneers rode 150 years ago. People came this way to Virginia City, Mont., dreaming of gold. Their wagons left the Oregon Trail just west of Fort Laramie and headed north. The Bozeman Trail followed the old Indian roads, used for thousands of years to move between the Big Horn Mountains and the Black Hills. Now State Highway 84 takes the same path, joining with U.S. 287 as it cuts up toward the gold rush ghost towns, following the Crow warriors and the miners and the pilgrims who buy Tom Morgan's rods. Some take their rods up that winding blacktop toward the town where he was born. Most of the time, Tom doesn't chase them in his mind. Trapped in a broken body with Gerri by his side is where he is complete. The lazuli buntings will arrive soon, landing blue and silent outside the window, and here in the high plains, Tom Morgan has discovered his song.