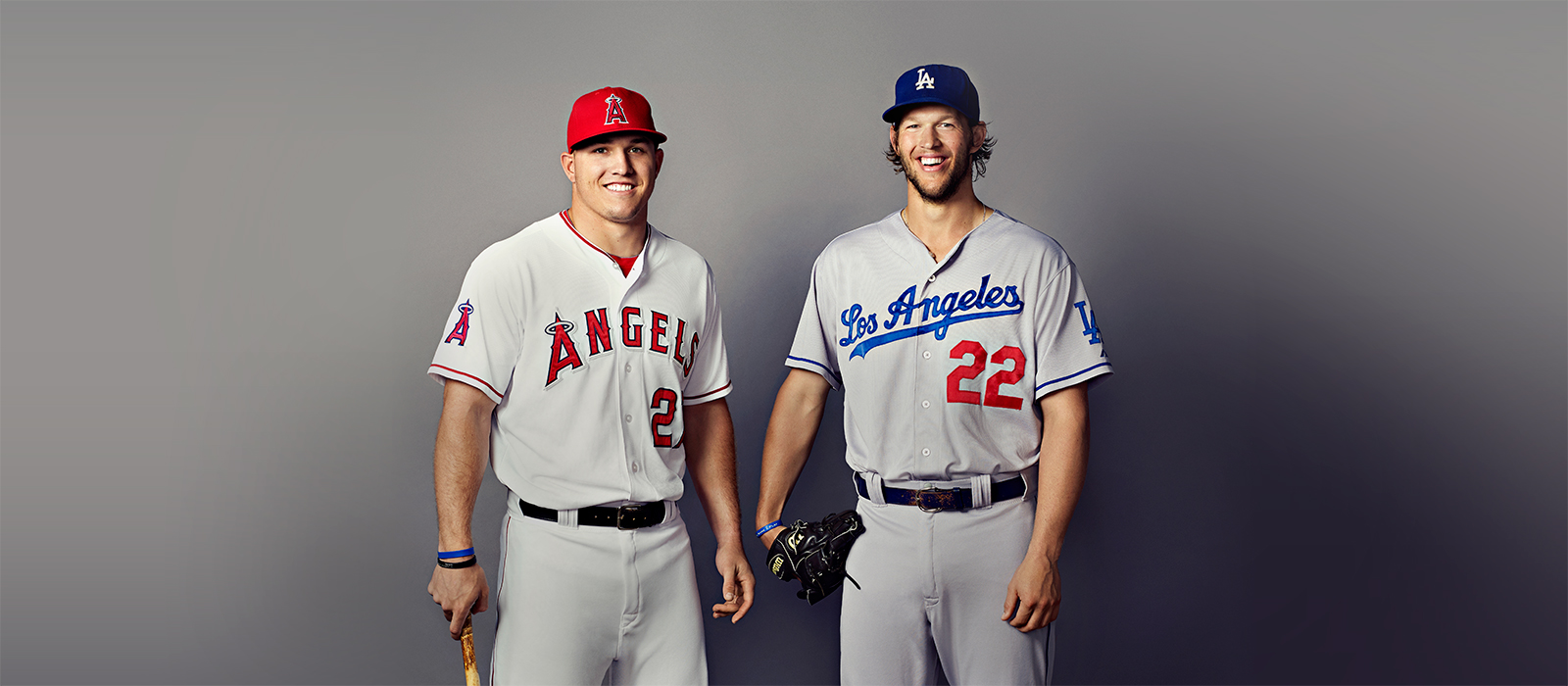 Two in a Million
When greatness collides with greatness, something has to give. But on a recent evening in LA, Mike Trout and Clayton Kershaw weren't in a giving mood.
CLAYTON KERSHAW DOESN'T look happy. He never does on the days he pitches. "The worst," says Dodgers catcher A.J. Ellis. It's 10 minutes until game time on Aug. 5. Dodgers vs. Angels. Kershaw vs. Trout. Fans squeeze three-deep around the bullpen to gawk at the hurler's final preparations. Fellow starters Josh Beckett, Dan Haren and Hyun-Jin Ryu are here too, close enough to offer support and far enough to stay out of the way. Nobody talks. Just Kershaw's glare and the pop of the ball into Ellis' glove. He bounces a slider in front of the plate, takes the throw back from Ellis and chucks the ball against the bullpen wall in disgust.
"He puts so much pressure on himself; it stresses me out," Haren says. "I'm always like, 'What are you so worked up about? Don't you know you're going to deal?'"
Call it the burden of greatness. When you win two Cy Youngs before your 26th birthday, have the lowest career ERA of any pitcher with 100 starts and 1,000 innings since 1920 and draw legitimate comparisons with Sandy Koufax in his prime, perfection is the mandate.
---
MIKE TROUT CAN'T stop smiling. Around the batting cage, he teases teammates. Poses for pictures. Signs a handful of autographs. He knows all eyes are on his every move. Yet he doesn't seem to care. "I'm not sure he's ever had a bad day in his life," his father, Jeff, says.
With his last batting practice swing, young Trout crushes a belt-high pitch into the 
Dodger Stadium parking lot, some 475 feet from home plate. He leaves the cage with a shrug and a grin, like a toddler who didn't realize he was strong enough to knock over the cookie jar. "I wasn't trying to do that," he says later. "It just sort of happened."
Twenty-one teams passed on Trout in the 2009 MLB draft. That makes 21 general managers who should now be out of a job. In a little over three seasons, Trout has produced more wins above replacement (26.3) than any player through his 22-year-old season, according to Baseball-Reference.com, and is one of only four players with three seasons of at least 25 home runs before the age of 23.
"He's on another planet," Ellis says.
KERSHAW FINISHES HIS warm-up tosses. Trout stretches and sprints. This is the first time they'll face each other in a regular-season game.
It's tantalizing to imagine how it will go: Kershaw will stare at Trout through his black leather glove, kick his right knee so it nearly touches his elbow and then fall toward home plate, planting his right foot and unleashing a pitch from his arsenal. Trout will hold a two-tone 31½-ounce piece of maple behind his head. He'll stare back at Kershaw, lift his left foot, shift his weight forward, turn his hips and in a split second decide whether or not to pull his bat through the zone with power and purpose.
And everyone will watch.
It will be only a handful of at-bats in a 162-game season. But it will be more than that too. Two rising superstars just 30 miles down the freeway from each other. The best pitcher and the best position player in the game going head-to-head, testing themselves and giving the rest of us a glimpse of true brilliance. Their managers, guys wired to squelch hype at every turn, are giddy at the prospect.
"With a lot of young guys, you'd worry this is all premature," says the Angels' Mike Scioscia. "But these guys? They're the exception."
"It's one of those classic matchups," says the Dodgers' Don Mattingly. "It's just special."
---
IN HIS LAST start, Kershaw threw a complete game in a 2-1 victory over the Braves. It was his second consecutive complete game and the 10th time in his past 11 starts he had allowed two or fewer runs. But there was little time to celebrate.
The end of one game is the beginning of another. There are sprints to run. Lineups to analyze. Videos to watch. Weights to lift. Every day, every hour, every minute the screw tightens. "The clock is clicking down and he's ramping up," Ellis says.
Kershaw sees his abilities as a God-given gift he is duty-bound to realize.
"I don't look in the future much, but when people ask how do you want to be remembered, I want to have the respect of my peers," he says. "What that means is you have to do everything you possibly can to prepare for that next start."
Everything is scripted on game day. The bowl of cereal and the banana for breakfast. The once-white-but-now-gray Under Armour shirt beneath his jersey. The pregame nap. The butterfly stretches and long-toss in the outfield. And everyone adhering to what Ellis jokingly calls "the Kershaw rules." No talking about mechanics. No unnecessary mound visits. No touching any of Kershaw's towels. "It's like walking on eggshells," Ellis says.
Kershaw is a man of deep faith. He doesn't curse. But by the time he takes the mound, he's so tightly wound that his wife, Ellen, whom he first asked out in ninth grade, barely recognizes him. "It's hard to believe that person is my husband," she says. "I don't see this guy yelling in his glove or any kind of temper at all. There's this weird removal from this person who is so much a part of my life."
Ellen thinks it began in the minor leagues, where Kershaw realized early on he was different from the others. Even before he got called up to the bigs as a 20-year-old in 2008, he carried the weight of a fan base expecting the next Koufax. "I think all those pressures made for a very confused 20-year-old trying to figure his place in all of this," Ellen says. Though Kershaw and Koufax are now friends, Kershaw dismisses talk that they belong in the same class. "I'm not trying to be unappreciative or say I don't think that's cool," he says. "It's just too hard to think about that and still play the game."
Trout understands the feeling. Since he arrived in Anaheim in 2011, he can't check his Twitter feed without seeing chatter about Mickey Mantle and Willie Mays and talk that he might be better than both. "But I guess I'd rather be talked about in a good way than not be talked about at all," he says. He's aware of the circus around him. He knows what people are saying. But he still sees himself as the kid who calls his parents back home in New Jersey before every game.
"The pressure doesn't faze him. It really doesn't," says Jeff Trout, who played four seasons of minor league ball. "He's a simple guy. He is what he is. And in a game of failure, this serves him well. He's not real introspective."
But he is hungry. The youngest of three siblings, he was always hustling for an edge. Everything -- getting the morning paper, being the first one down for breakfast -- was a competition. Board games and rounds of Sunday golf became family arguments. Even now, in the Angels' clubhouse, Trout stages competitions over simple tasks, like who can throw an empty water bottle into the trash can from the greatest distance. "Everybody is always trying to beat Trout," says Angels pitcher Garrett Richards. "And if you get him, you've got serious bragging rights for the day."
In the hours before the showdown with Kershaw, Trout doesn't walk around the batting cage as much as he struts. It's his natural gait, amplified by his hulking body and by the confidence that comes from knowing what he can do. His muscles look like they're growing muscles. And as he waits his turn, he holds his bat at the barrel, wrapping his fingers around the meaty part of the bone. He moves easily. Fans shout his name, eager to connect, and he almost always points or waves back. "If that were me, I'd walk around with blinders on," says former Angels outfielder Tim Salmon. "He's just the opposite. He has this great way of taking everything in and yet not letting it overwhelm him."
AS TROUT WALKS to the plate for his first at-bat, the Dodger Stadium crowd greets him with boos. Cool with playing the villain, he taps plate umpire Chris Segal and Ellis on the back of their legs with his bat. He looks to the Dodgers' dugout and nods to Mattingly. He looks out at Kershaw and nods again. And with one practice swing and a tap of the plate, he's locked in and ready.
Conventional baseball wisdom gives the edge to the pitcher. But that's all irrelevant now. When Trout steps in, Ellis senses the gravity of the moment. Some four hours earlier in the Dodgers' dugout, he outlined the game plan for the night. Trout typically lays off the first pitch, so they want to establish strike 1. From there, the idea is to attack Trout up in the zone, where, entering the game, he is hitting just .073 in 55 at-bats ending with elevated strikes. Ellis might call on Kershaw's wicked curve or slider as a wipeout pitch but admits it's risky. "He's such a dangerous low-ball hitter, that slider has to touch the dirt," Ellis says. "Because if it doesn't, at that speed, breaking into his bat ... it's not just hit, it's hit for damage."
Kershaw begins his windup, and Trout has already decided he's not going to swing. He lets a 93 mph fastball zip past for strike 1. On the second pitch, Kershaw throws a 75 mph bender. It's a borderline strike, but Segal calls it a ball. "Impressive," Trout says later. Kershaw's third pitch, a fastball, climbs high and inside, where Trout is supposedly vulnerable. But Trout turns on the ball and rips it toward third base. Dodgers third baseman Juan Uribe dives, snags the ball in his glove, jumps to his feet and fires to first. But Trout is too fast. His right foot touches the bag just as the ball arrives. The umpire calls Trout safe. Mattingly challenges the ruling, but it's upheld. Up in the Dodgers' broadcast booth, Hall of Fame announcer Vin Scully declares that Trout "has wings on his feet." Two pitches later, Angels first baseman Albert Pujols grounds into an inning-ending double play.
As Trout steps to the plate to lead off the third inning, the tone of the game has changed. Three straight second-inning hits have given the Angels a 2-0 lead and frustrated Kershaw. Trout looks for a first-ball fastball, hoping to surprise the left-hander. And he gets one, at 92 mph. Trout rips the pitch into the left-field corner for a double. "Boy, it must be fun to be 22 years old ... and play as well as he does," Scully says. "Holy mackerel. He is without a doubt -- and I mean there isn't any question -- the finest player in the game."
Trout's approach at the plate is simple. See ball, hit ball. If he finds himself overthinking, he calls timeout, steps out of the box and resets. "I just want to hit freely," he says. "Once you think about one pitch and you get another pitch, you're going to look pretty stupid."
Pujols follows Trout's double with one of his own, and just like that, the unthinkable is happening. In two-plus innings, Kershaw has allowed seven hits (four of them doubles) and three runs. He limits the damage with three straight ground ball outs but heads back to the Dodgers' dugout with his head down, staring at the ground.
Kershaw sits on the dugout bench, kicks his cleats on the floor and wraps his left arm in three white towels. He leans forward, resting his elbows on his knees, searching for an answer. He's giving the Angels too much credit, he thinks. He's keeping away from his strengths out of respect for theirs. "It got in my head: 'Don't throw certain pitches. These guys can hit this or hit that. You need to be careful,'" he says later. "But as soon as I start being careful, that's when I get in trouble. After that third inning, it was like, 'Screw it. I'm just going to compete.'"
Trout steps to the plate in the top of the fifth. Kershaw has retired seven straight. As a rookie, with pitches he was still developing, a start like this likely would have ended in disaster. But now Kershaw has learned how to manage the nights when he doesn't have no-hitter stuff. He's learned how to manage a game, a skill Ellis believes is often overlooked. Tonight that has meant using both sides of the plate more effectively, shortening his curveball and adding depth to his slider. "He's always going to figure it out," Dodgers pitching coach Rick Honeycutt says. "That's the maturity of the last few years."
In the first pitch of his third at-bat, Trout is looking away. Kershaw throws a 94 mph fastball on the inside corner. Strike 1. Kershaw then paints a 94 mph fastball on the outside corner. No swing. Strike 2. For his third pitch, Kershaw pushes that fastball three inches farther outside. It's a perfect two-strike offering; close enough that it could be called a strike, far enough outside to limit potential damage. Trout lets this ball go by as well. He thinks it's a ball. Segal says strike 3.
As he heads back to the dugout, Trout mumbles his displeasure with the call. Later he says, "I thought it was off the plate a little bit, but it's Kershaw. If he's around the zone, he's earned the respect to get calls like that."
It is a moment that no doubt will be filed away for another day. And that's the scary thought: Trout is still learning. He's never in a rush. Selectivity is part of his approach -- and always has been. Jeff remembers that his son would let balls not to his liking sail by during Little League batting practice. "I've never tried to correct him," Jeff says. "That's his deal."
Kershaw doesn't allow a runner to second base after the third inning. When he walks to the dugout after the seventh, he has thrown 104 pitches. Mattingly places his hand on Kershaw's shoulder and tells him his night is done. The final line: 7 IP, 7 H, 3 ER, 2 BB, 7 K.
"A bulldog," Honeycutt says.
As Mattingly turns to walk away, Kershaw is mobbed by his teammates. They had left him alone for the entire day. Now the gate is open, the clock has reset. "You can just see the weight drop off his body," Ellis says. Yasiel Puig offers a fist bump, Dee Gordon a hug. And Ellis stands with his pitcher for a good 10 minutes to chat about their night.
When the Dodgers take the field in the eighth, Kershaw heads back to the clubhouse to ice his arm, shower and call Ellen in the stands. Trout leads off the inning with a flyout to right. It's his final at-bat of the night. The Dodgers score in the bottom of the ninth to win 5-4.
OUTSIDE THE DODGERS' clubhouse a few minutes after the game, reporters ask Kershaw about facing Trout for the first time.
"I'm not going to talk about individual at-bats," he says. "He's a great hitter. He had two hits tonight. You tip your cap."
Asked later about his frustrations with the line of questioning, Kershaw still isn't having it.
"It's not as if you're just facing another hitter," he says. "The guy is the best player in the game. You better be on point. But as far as whether or not I'm understanding the magnitude and everyone else making a big deal out of it? No, not really."
In the Angels' clubhouse, an enthusiastic Trout takes a different approach.
"It's always special to be compared to the greats and be part of all the things that 
come along with playing the game," he says. "Clayton, he's an awesome guy. What a great guy to be cool with."
---
TWO DAYS LATER, the series has moved to Anaheim, and on the afternoon of his 23rd birthday, Trout is in a news-conference room signing balls, bats and jerseys as part of a contract he signed with MLB Alumni Marketing. Proceeds from his autographs will go to benefit the players whose records he hopes to someday break. For more than two hours, he scribbles his name and taglines: "'14 AS MVP" and "5-tool player." Richards pokes his head in for a look. "He's nuts," he says. "On his birthday."
In the visitors' clubhouse, Kershaw carries an exercise mat. Ryu and Uribe play dominoes. Ellis watches film on a laptop. Puig has yet to arrive. Kershaw wears a blue sleeveless T-shirt that reads: "You can do better." He drops the mat in the middle of the room and starts doing situps.
Later, Kershaw and Trout come together for a brief photo shoot. The photographer wants Kershaw to hold a cupcake with a birthday candle that Trout will blow out. Kershaw is game, but Trout nixes the idea. "I'd rather not," he says.
Instead, two of the best young players the game has ever seen stand side by side. Kershaw holds a clean white ball, Trout a bat. They smile. They glare. They laugh. They pose. They can say whatever they want, but they both get it. They know this is a moment.
Maybe someday they'll look back on this portrait and laugh at how much they thought they knew and how little they actually did. Maybe they'll remember what it felt like to be so good so young.
For now, they shake hands and say goodbye. Trout goes to call his folks. Kershaw has another lineup to study.
Wayne Drehs is a senior writer for ESPN.com. He can be reached at wayne.drehs@espn.com. Follow him on Twitter: @espnWD.
Follow ESPN Reader on Twitter: @ESPN_Reader
Join the conversation about "Two in a Million."