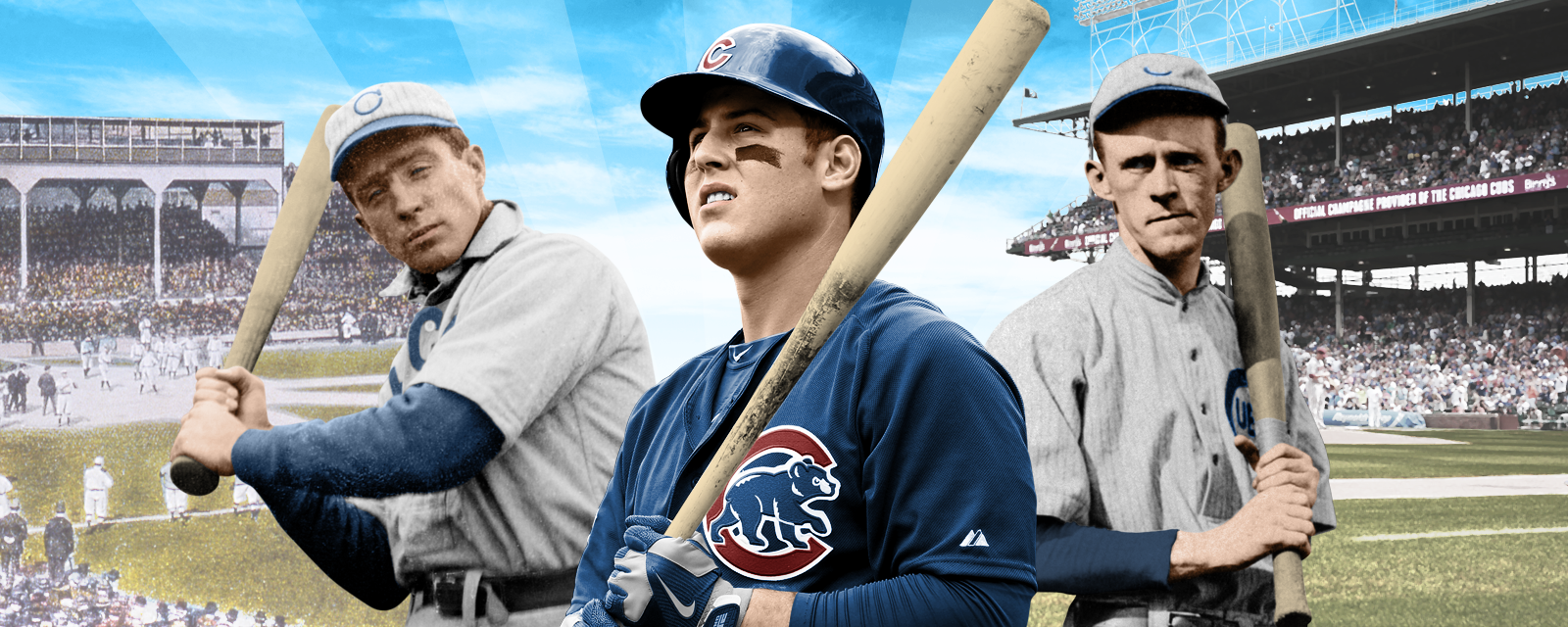 The Chicago Cubs: Then and now
The world sure has changed since the Cubs' last World Series title 108 years ago. With optimism high that this could be the year that the drought finally ends, we examine the differences between 1908 and 2016 in baseball -- and beyond.
The World in 1908 vs. 2016
What do New Mexico, Arizona, Alaska and Hawaii have in common? They weren't even states when the Cubs last won the World Series. As for Chicago, well, the skyline looked quite different when Tinker, Evers and Chance (and Steinfeldt) manned infield spots held today by Addison Russell, Ben Zobrist, Anthony Rizzo and Kris Bryant.
President
of the
United
States
Theodore Roosevelt
Barack Obama
Montgomery Ward
Tower,
22 stories
Willis Tower,
108 stories
Chicago Intersections
with Traffic Signals
0
3k
U.S. Life
Expectancy
(in years)
52.8
49.5
81.2
76.4
---
Baseball in 1908 vs. 2016
Yes, Babe Ruth was alive the last time the Cubs won the World Series. But the Sultan of Swat was barely a teenager. How else has baseball changed in the past 108 years? We could tell you, but it would be much more fun to show you.
Cubs' Home Park
West Side Park
Wrigley Field
Nap Lajoie
$8,500
Zack Greinke
$34.4 million
Joe Tinker
6
Anthony Rizzo
31
---
Notable People Who Were Alive in 1908
Al Capone, 10
Noted Gangster
Babe Ruth, 13
Baseball Superstar
Butch Cassidy, 42
Western Outlaw
Thomas Edison, 61
Inventor
Mark Twain, 73
Author
Geronimo, 79
Apache Leader
---
Notable People Who Were Born in 1908
Lyndon B. Johnson
36th President
Thurgood Marshall
Supreme Court Justice
Mel Blanc
Voice Actor
James Stewart
Actor
Estee Lauder
Cosmetics Founder
Milton Berle
Actor
---
Inventions Since 1908
Yes, Chicago-style pizza is a renowned Windy City tradition, but ordering a deep-dish pizza to celebrate the Cubs' last World Series title would have gotten you nothing more than a puzzled look from your waiter and a hungry belly. While there is some debate over the exact date deep-dish pizza was invented, one popular story is that it was in 1943 -- two years before the Cubs last played in a World Series in 1945.
Sliced Bread
Zippers
Deep Dish Pizza
---
Longest Drought Without a Championship
If shared pain brings people closer together, Cubs fans at least have some brethren across the sporting world. Though no other team has gone more than a century without collecting a ring, members of these fan bases are also waiting for a championship parade.
---
Number of Titles Won by Notable Chicago Teams (Since Cubs Last Won)
Sure, Cubs fans haven't had a chance to celebrate a championship of their own in 108 years, but other Chicago teams haven't had as much trouble -- with some even winning titles while calling the Friendly Confines of Wrigley Field home.

Won While Using Wrigley Field