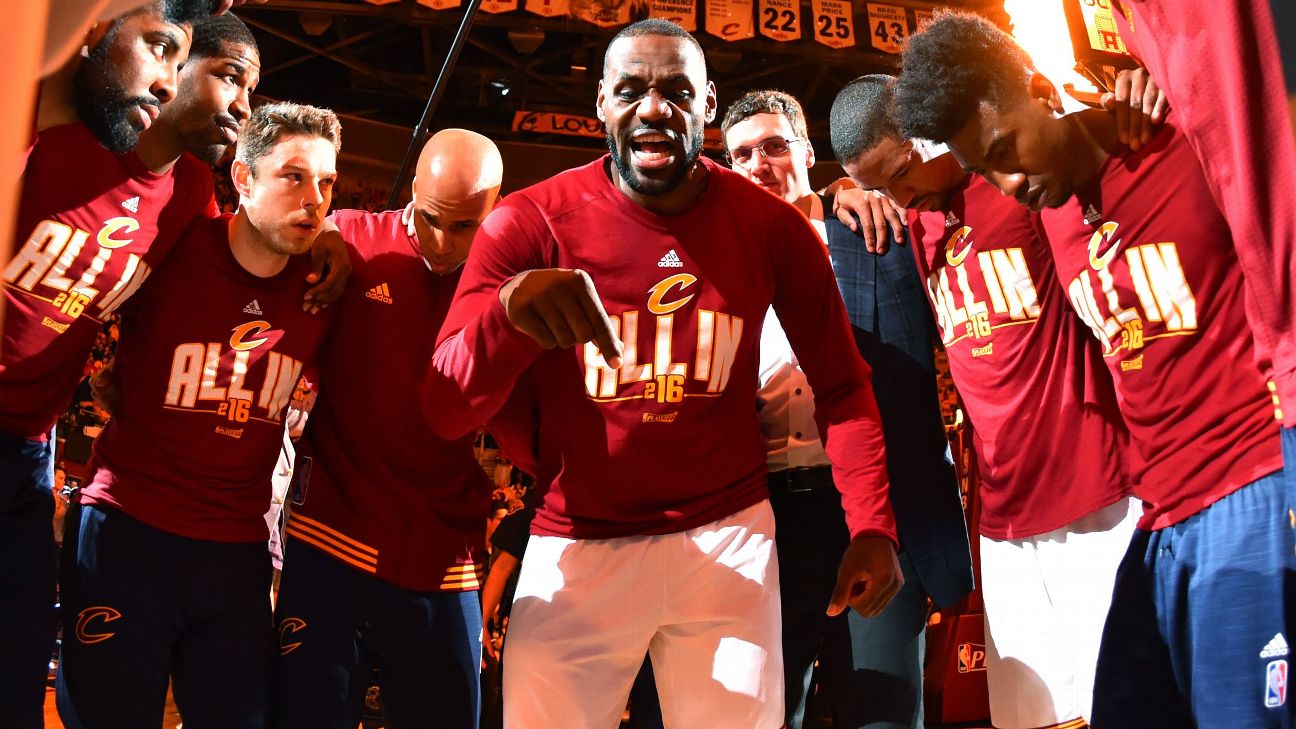 A Pair of Kings and a Trump
What happens when LeBron James, Dan Gilbert and Donald Trump walk into the same arena? Welcome to Cleveland's high-stakes summer.
This story appears in ESPN The Magazine's June 27 Muhammad Ali issue. Subscribe today.
There really is no way in hell I can understand what Dan Gilbert is talking about. It's a little after 1 in the morning, we're on his private jet flying from Cleveland to a small airstrip in Pontiac, Michigan, and he's trying to explain quantum physics to me.
We're on the smaller of the two private planes that Gilbert, the billionaire owner of the Cavaliers, uses to arrange for his friends and family to commute from their homes in suburban Detroit to Cleveland for Cavs games. "You ever heard of entanglement?" he asks. "There's these particles that are entangled. And you can separate them, by a foot, by a mile, by a million miles, by a billion miles. But when you turn one of them clockwise, simultaneously, the other particle will go the opposite direction.
"It's proven science. Einstein called it 'spooky action at a distance.'"
Gilbert laughs. It's fun to use "spooky action at a distance" as a real scientific term!
If it sounds absurd, that's how this whole night has been. A few hours ago, Gilbert and I were talking after the Cavs' 108-89 win over the Raptors in Game 2 of the Eastern Conference finals. I was asking him what he believes in, about business and politics and decision-making, and he kept saying I needed to visit his hometown of Detroit if I wanted to understand what he's about. But not just sometime. Right now. Let's go! Detroit, he said, is where he's making his mark on the world by buying up abandoned buildings and rehabilitating them.
So I agreed to go. And so now we're on the plane and he's unintentionally come up with the perfect metaphor, based in quantum physics of all things, to describe his relationship with LeBron James. This is how he rolls.
"Go read about it," Gilbert says. "If the Big Bang is true, that means everything that came out of it, all of the particles, all of us, there is a scientific force that connects it all that we don't really know about."
The Big Bang between Gilbert and LeBron came in 2010, when LeBron announced he was leaving Cleveland to play for the Heat and Gilbert responded with that infamous scorched-earth, Comic Sans-fonted letter in which he cursed LeBron and turned himself into an irascible caricature.
"Everyone in Ohio thought it was great. Everyone in our country thought it was insane," says Gilbert, 54. "That's one of those things you write that you shouldn't hit the send button until you read it [again] the next morning."
---
UNTIL ABOUT FOUR days earlier, Gilbert and I really didn't know each other. But again, this is how Dan Gilbert rolls. And that yes-first, worry-about-fallout-later style is a key reason Cleveland is about to become the center of the known universe for the next six weeks as it hosts both the NBA Finals and what promises to be one of the most watched Republican National Conventions in history from July 18 to 21.
In 2014, in his zeal to promote Rust Belt renewal, Gilbert offered his Quicken Loans Arena -- with LeBron's home court and locker room inner sanctum at its core -- to be rearranged for what is now Donald Trump's coronation. Moving all those walls, repainting, laying all that new cable ... it normally takes six weeks. But the GOP doesn't have that much time this year because of the NBA Finals. Which means that the instant LeBron and his teammates either do or don't win a title, they'll need to pack up their stuff and clear out to make way for the Trump party.
It's a confluence of events and excitement that almost never happens in Cleveland. For the past six decades or so, the civic narrative has been one of decline and disappointment. Businesses left, jobs dried up, sports teams kept losing in ever more excruciating ways. But this is one of those rare moments when the city dares to imagine things working out.
The potential for another sporting heartbreak remains, of course. The Cavaliers have lost the first two games of the Finals by a combined 48 points. The potential for chaos this summer is obvious.
And Gilbert and LeBron, two of the men who will play large roles in determining how this ends for Cleveland this time around, remain entangled in their own sort of spooky action at a distance.
---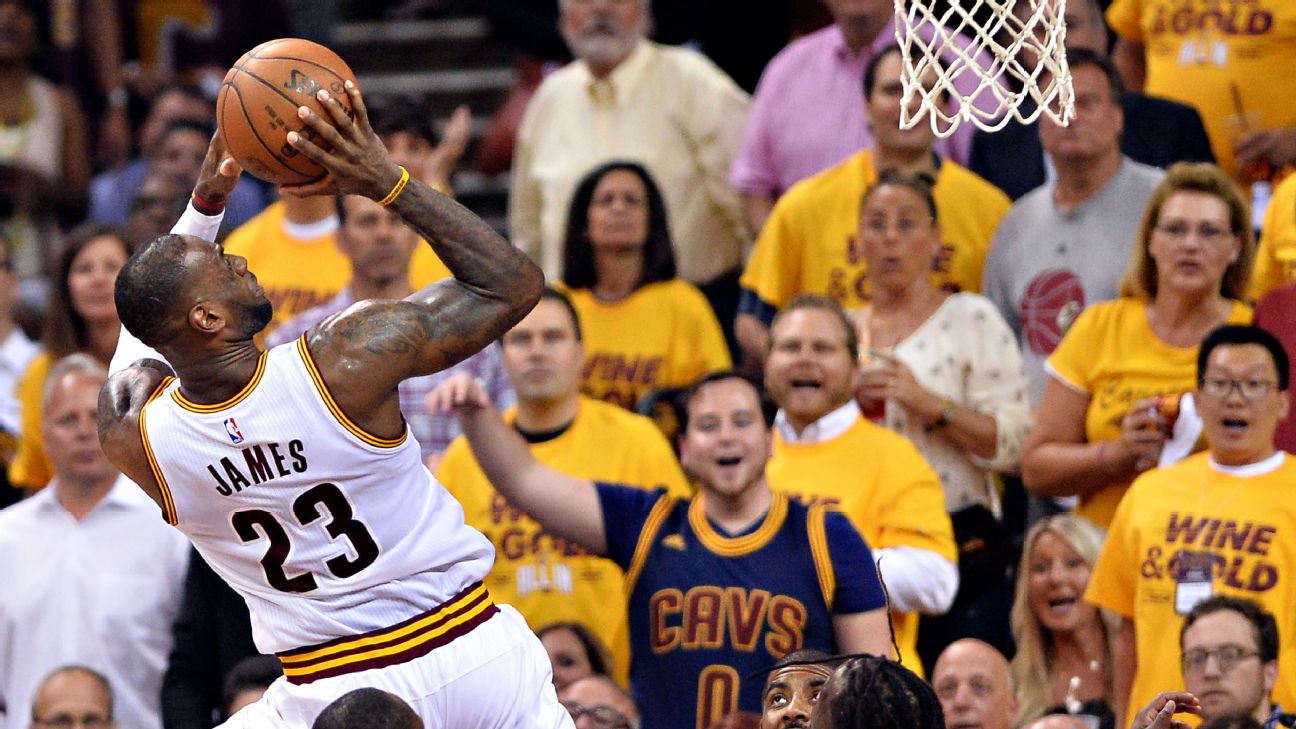 THEY ARE NOT at all alike, these two men. LeBron is a 6-foot-8, 250-pound athletic phenomenon. Gilbert is 5-6ish with a Napoleon complex. LeBron is nonconfrontational and famously passive-aggressive. And "I'm just aggressive-aggressive," Gilbert says with a laugh.
Since LeBron returned to the Cavaliers in 2014, he and Gilbert have learned to coexist. But their alliance seems circumstantial. They'll exchange pleasantries when they see each other and occasional text messages. Mostly they move in their own orbits.
Asked to describe the state of their relationship before Game 2 of these NBA Finals, LeBron says, "I think it's been very good. At the end of the day, we have the same goal, and that is to bring a championship to Cleveland. That's all that matters."
If he had stopped there, that would've been that. But LeBron has rarely backed away from a moment to remind people of his past with Gilbert. "I think he's the owner of the team," LeBron continues. "I'm just one of the players. One of the 15 guys. I'm one of the lower guys on the totem pole, so I just do my job. I'm just here to work."
It was the kind of cryptic statement LeBron usually saves for a subtweet. A way of suggesting something without it sticking. In this case, the suggestion seems to be that Gilbert will always see LeBron as an employee. Someone who works for him. Certainly not a self-made one-percenter in his own right, someone who can get Warren Buffett on the phone just as quickly as Gilbert can.
---
IT ALL GOES back to The Letter. For Gilbert, it was "one bad night," he now says, a "short fuse type of thing." In business, you get over it and move on. Grudges aren't productive. "If something goes wrong, are you going to hate [someone] forever?" Gilbert says. "That's not a great way to live. Nobody's perfect, right?"
For LeBron, though, the letter will always matter. It's hard to describe its vitriol without quoting it: "This shocking act of disloyalty from our home grown 'chosen one' sends the exact opposite lesson of what we would want our children to learn," Gilbert wrote in 2010. "But the good news is that this heartless and callous action can only serve as the antidote to the so-called 'curse' on Cleveland, Ohio."
"At the end of the day, we have the same goal, and that is to bring a championship to Cleveland. That's all that matters."
- LeBron James
Gilbert cringes when he hears his words now. He says he regretted publishing it when he woke up and read it the next morning, but by then he'd gotten thousands of notes and emails from people in Ohio who thanked him for sticking up for them. "Surgeons from the Cleveland Clinic, street sweepers, cops, 90-year-old ladies," he says. "The old ladies always handwrote their letters. I still have them."
The Letter was still up on the Cavaliers' website on Sunday, July 6, 2014, when Gilbert secretly flew to Miami to see whether he and James could find a way to work together again. Each man apologized for his role in the fallout. And while neither would forget what he'd said and done to the other in 2010, coexisting and working toward the same ends seemed like a bar they could clear. Afterward, James flew to Las Vegas to host his annual Nike camp while Gilbert headed home and then to the Allen & Company media finance conference in Sun Valley, Idaho.
On Tuesday, July 8, came a bombshell: The Republican National Committee announced that Cleveland had beaten out Dallas to host the 2016 convention. It was a validation for the city and potentially a windfall. The 2012 Republican convention in Tampa, Florida, had generated an estimated $400 million in economic impact.
In the months leading up to the RNC's decision, Gilbert had played a key role in Cleveland's bid by offering up Quicken Loans Arena as the host site and agreeing to the condition that the building could be ready to host by the end of June. The two major parties typically hold their nominating conventions much later in the summer. But the RNC wanted to move things up in 2016 for strategic reasons. Federal election rules hold that individuals can contribute up to $2,700 to a candidate during the primary campaign and $2,700 during the general election campaign. The sooner the convention, the sooner campaigns can dip into general election contributions. The other finalist, Dallas, had both an NHL and NBA tenant and wouldn't commit to the June date, lest one of its teams was still competing. That was less of a concern in Cleveland, with the Cavs coming off four straight losing seasons. Gilbert told Cleveland's committee organizers that he would do whatever it took to get Quicken Loans Arena ready in time.
"It was less about the actual plan itself and more about the fact that Dan was willing to do it," says Matt Borges, the head of Ohio's Republican Party. "These other cities were making it seem to the RNC like, 'Yeah, we'll take you. Just figure out what you want to do, and then let us know,' and Cleveland was like, 'What do we need to do to make it happen here?'"
There was just one little problem no one saw coming.
---
THAT SAME DAY, July 8, 2014, happened to be the fourth anniversary of The Decision, and Florida Sen. Marco Rubio tweeted out, "Congrats to Cleveland on being awarded the #GOP2016 convention. But you still aren't getting @KingJames back!"
The next day, Gilbert got a call from James' camp asking him to meet in Las Vegas. They needed to talk business this time. He got in his private plane and flew from Sun Valley to Las Vegas, hoping for the best.
The world knew that James and his agents, Mark Termini and Rich Paul, were meeting with Heat president Pat Riley and general manager Andy Elisburg on Wednesday. What nobody knew was that Paul and Termini were also meeting with Gilbert and Cavs minority owner Nate Forbes again on Thursday. Gilbert could only hope that was a sign of LeBron's intentions, so by the end of the day, he approved a three-team trade shipping out Jarrett Jack, Tyler Zeller and Sergey Karasev to clear enough space under the salary cap to sign James.
The meeting lasted close to three and a half hours. Gilbert says Paul and Termini gave away nothing. No hint or nod or wink of which direction James was leaning. It wasn't a negotiation. These were the terms LeBron wanted: a two-year deal with a player option on the second year to maintain maximum flexibility and leverage. If he kept signing 1-and-1s, becoming a free agent each summer in the process, the Cavs' feet would always be at the fire. The balance of power would be in LeBron's favor.
In 2012, Gilbert had said that the big lesson he learned from James' departure in 2010 was to never let a player have that much leverage over his franchise again. But coming out of that meeting with James' agents, Gilbert thought back to the call he'd gotten from Michigan State coach Tom Izzo at the end of the first round of the 2012 NBA draft. Izzo had told him, "You gotta take my guy." The Cavs had two second-round picks, and Izzo was calling Gilbert, a Michigan State guy, to tell him that Draymond Green was the real deal. "I still wake up in the middle of the night in a cold sweat that we didn't take him," Gilbert says of Green, who torched the Cavs for 28 points in the Warriors' 110-77 win in Game 2 of the Finals. "I didn't listen to my gut."
This time Gilbert's gut was telling him to get over himself and do whatever it took to get LeBron back. And if he's being really honest, he says today, he respected the chutzpah behind LeBron's demands: "Yeah, because it's smart. When you're a player, you got X amount of years. That's it. Actually, if you look at it, just from the way the cap works and the TV money ... They knew about [the projected spike in the salary cap in] 2017. So really it makes economic sense to keep signing 1-and-1s."
Gilbert and Forbes told LeBron's agents they would accept James' terms. The ball was in the King's court.
Friday morning, July 11, Paul called Gilbert to tell him LeBron was coming home. A few minutes later, LeBron's letter explaining why he was returning was published on Sports Illustrated's website.
It was absurd to think that James would return just four years after The Letter, after Cleveland burned his jerseys, after everything. But Gilbert had done what he needed to do -- cleared the cap space, given up all his leverage, dropped everything, twice -- and got on a plane to meet with LeBron and his team.
---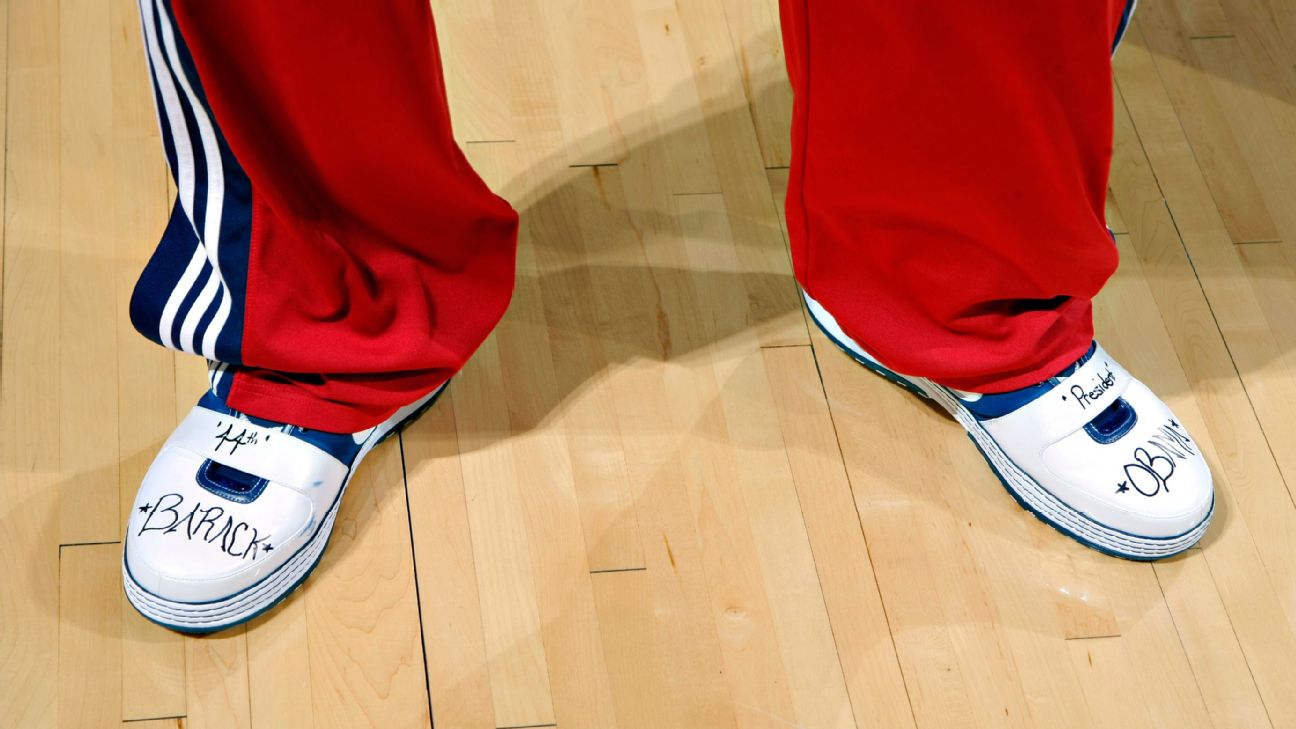 JAMES AND HIS teammates will be long gone by the time the Republican convention begins. He'll likely be in Los Angeles working on business and entertainment projects. After living in Akron during the offseason the past few years, LeBron has been spending more and more time in LA. Last November he purchased a $21 million house in Brentwood.
Meanwhile, every room, every closet, shower and locker back at Quicken Loans Arena will begin transforming into something else within hours of the end of the Finals. According to convention spokeswoman Kirsten Kukowski, the RNC normally needs six weeks to convert an arena for the convention. This year, it will have as little as four weeks. "We will get it done," she says. "But it will be rushed."
Seats will be taken out, doors and walls removed. A full production control room will be built in the locker rooms. Two 500-ton air conditioners will be temporarily installed to keep the arena cool. And Gilbert's private suite will be turned into the cooling-off room where speakers go after they leave the stage. That means the first place Trump will go after he accepts the nomination on July 21 will be the same room Gilbert relaxes in before and after each Cavs game.
"It's a big, big, big event," says Len Komoroski, the CEO of the Cavaliers and Quicken Loans Arena.
---
GILBERT HAS MADE this short flight from Cleveland to Pontiac so many times since buying the Cavs in 2005 that he's gotten way too good at betting right on exactly how long the flight will last. Tonight Gilbert has called 26 minutes, meaning he "wins" if we land at exactly 1:18 a.m. "I set the line," he says.
The flip side of his irascible nature is a relentless enthusiasm. We're flying with his two best friends from childhood, Jeff Cohen and Forbes, who also happen to be co-owners of the Cavaliers and his longtime business partners. When they're in the same room together -- which is often, between the office, flights to and from Cleveland, and during games -- they tease one another relentlessly, tell off-color jokes and snicker like 12-year-olds.
That's the age at which Gilbert started his first business: a pizza delivery company he says delivered 78 pies in one night, using local kids on their bicycles as deliverymen. Since then, he's started, by his estimation, close to 120 businesses, including a short-lived bookmaking operation at Michigan State that got him arrested. (Gilbert's charges were dismissed after he paid a fine and served three years' probation -- but he did have to explain it all to the NBA when he bought the Cavs.)
"Want to hear something crazy?" Gilbert says in all seriousness. "When we grew up, we wanted to do two things: to own a sports team and a casino."
The gamble is just in Gilbert's blood. He says yes to things, then uses those yeses to make more yeses. He cashed in the money he made delivering pizzas in college to start Rock Financial, a mortgage-origination business. Rock relied on volume, taking small but sure profits off individual mortgage-origination fees, then packaging those mortgages to other businesses to service. It worked.
In 1999, he sold Rock Financial to software maker Intuit for $532 million in stock; Rock was subsequently renamed Quicken Loans. Gilbert stayed on as CEO, and three years later he was able to buy his company back. Quicken is now routinely ranked among the country's top mortgage lenders by the Better Business Bureau, but it has also been sued by former employees for overtime pay (Quicken won the case after seven years in court) and by the Justice Department for mortgage fraud. (Quicken denied the allegations and countersued the DOJ. That case is still pending.) Forbes Magazine estimates that Gilbert is now worth $5.2 billion.
At one point earlier in the night, Gilbert hands me a copy of the "culture book" he gives to every employee at Quicken Loans. It's 141 pages of what he calls "isms in action." One of his favorites: "Yes before No." Gilbert writes that he wants his companies to "respond to all curiosity with the mindset of YES first. ... This is in stark contrast to the common approach of an automatic NO to any expression of an inquiring mind."
As if by way of proof, for just a minute on this flight, it actually seems possible that he might rename Jack Casino, his casino company. Forbes pipes up about that name: "You guys really missed it. It should be J-A-Q-K. How phenomenal is that?"
Gilbert nods. He's heard this before. But he's still intrigued. "I think it's great. It's like Jack-Ace-Queen-King ... then it's like Quicken Loans and the Q. It's only one letter different."
Cohen intervenes, the voice of reason. "I love it. But we've got all the signs. All the collateral stuff. ... It would take $20 million."
Gilbert nods again. Yeah, it's a good idea, but Cohen is right. It's not worth the cost of a rebrand.
"We were just looking for a cool name," Gilbert says of the original name. "Something short. Memorable. Cool. Jack -- it's like Jack-pot. Black-Jack. Jack is money."
We land in Pontiac at 1:17 a.m., a minute earlier than Gilbert predicted. Technically, he's lost the game. "It was only like the last bit of it being 1:17," he argues. "Look how long it's been 1:18!"
Pontiac is about 40 minutes north of downtown Detroit, which Gilbert says is part of the reason large swaths of the city have been deserted in the past decade. The suburbs are just too far from downtown. There is no connectivity. Gilbert has made it his mission to help fix that. No matter what happens in Cleveland, in Gilbert's mind, this is the crown jewel of his legacy. According to Gilbert's Bedrock Real Estate Group, he has spent more than $2.2 billion over the past decade to purchase more than 95 properties totaling 15 million square feet in downtown Detroit.
In 2010, he moved 10,000 Quicken employees from their corporate offices in suburban Livonia to offices downtown, hired urban planners to coordinate the revitalization efforts and contracted a private security force to patrol those areas because the police department has such limited resources. It is a gigantic influence for a private citizen to have on a city, the kind of power wielded by turn-of-the-century industrialists.
Gilbert describes his business in Cleveland as a smaller-scale version of what he's done in Detroit. He's bought real estate in downtown and moved Quicken employees into the core of the city. But his biggest move came in 2009, when he helped push through a ballot initiative to bring gambling to Ohio after it had failed with voters many times over. "After the economic downturn of 2008, people were looking for hope, for jobs, for something to break the fall to the bottom," says former Democratic state Rep. Todd Book. "And in Northeast Ohio, [Gilbert's] name played really big. His involvement was pretty important."
Gilbert enlisted Cleveland sports legends such as Bernie Kosar to help rally support for his casino initiative. He partnered with Penn National Gaming to create a proposal to allow casinos in Cleveland, Cincinnati, Toledo and Columbus. Gilbert's company would own and operate the casinos in Cleveland and Cincinnati, while Penn National would own and operate the other two sites. Gilbert and his partners got an amendment to the state constitution to allow it, one that delegated how they'd be taxed and where the tax revenue should go. Even a hardened lawmaker such as Book had to marvel at the boldness and breadth of the proposition. It was an absurd feat of political engineering.
"If you can get a constitutional amendment passed, I'd recommend it," Book says, laughing.
---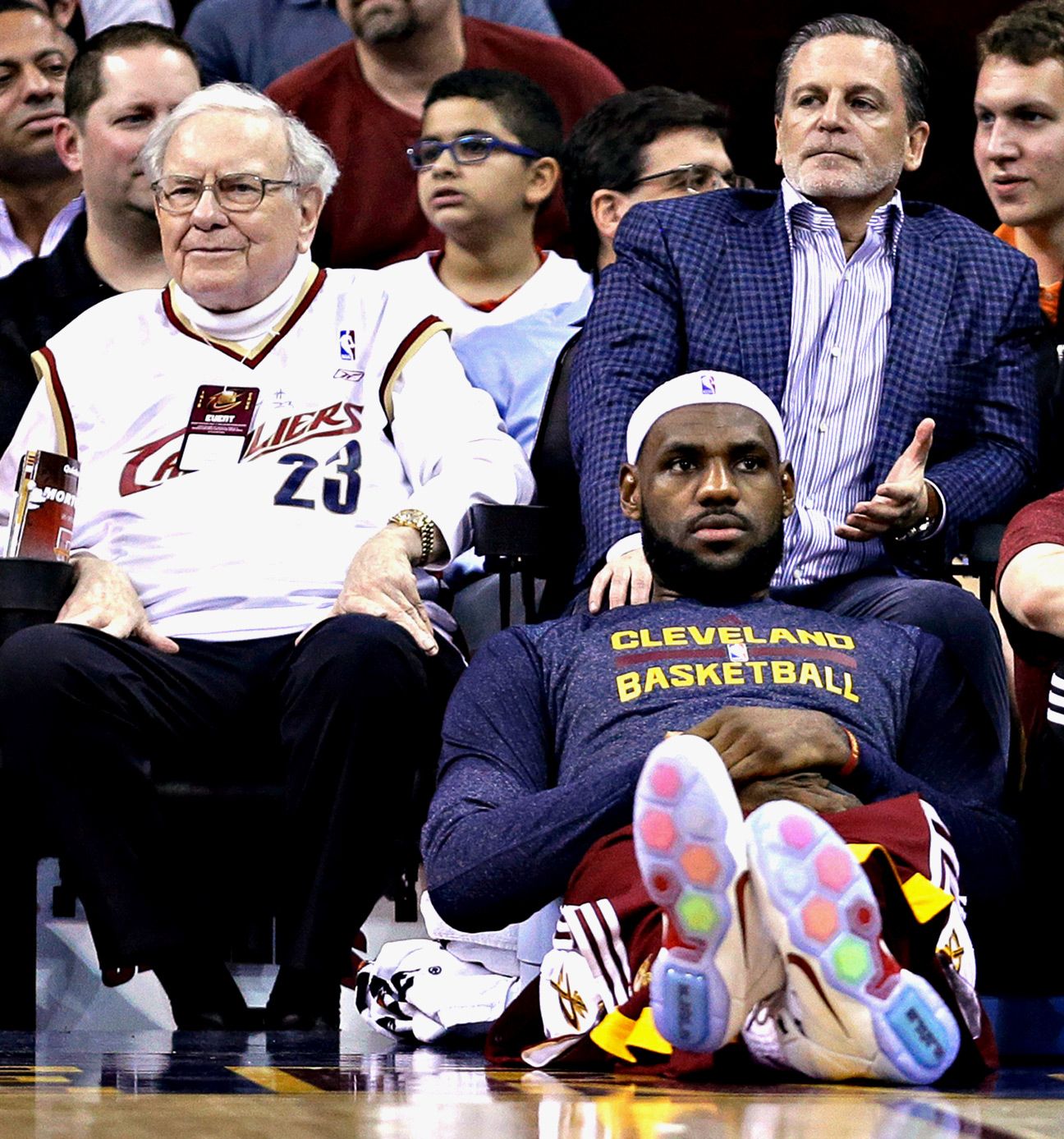 THE OTHER DAY, Gilbert noticed something when he watched LeBron at a news conference before the NBA Finals. He's stopped chewing on his fingernails. "Even last year, he used to do it a little bit," Gilbert says. "But he's stopped doing it. He's got a different presence about him. I can't explain; it's more of a calm."
Everyone's looking for signs these days. Little things that feel as if they mean a lot more. Reasons to be optimistic and say yes, without worrying that the fates have some new cruel torture lined up. The Cavaliers are down to the Warriors but still as close as they've been to a title in 40 years. Then the world will watch every second of the Republican convention as Donald Trump accepts his party's nomination.
It's taken three men not used to deferring on anything to stay out of one another's space. Because LeBron came back, Trump's convention had to wait until July, the likelihood of a long playoff run rendering a June date unfeasible. Gilbert had to cede power and control after he had sworn that he never would do so again. LeBron had to learn to coexist with the man who'd disavowed him so publicly. Three larger-than-life men, entangled at an existential level. Spooky action at a distance.
"I think that when we strip people down, most of us want the same things," Gilbert says. "People just have very different views of how to get there."
When he works from Cleveland, Gilbert uses a boardroom at Quicken Loans Arena as his office. The room has floor-to-ceiling windows and is on the corner of the building. The views are stunning. On a clear day, he can see the entire Cleveland skyline and the length of the Cuyahoga River.
The Jack Casino he spent so much political capital and energy to build is just across the street. Across the street from it is the redbrick building with the 10-story mural of LeBron in his savior pose. LeBron's arms are outstretched. His head leans back as if he's trying to feel all the hopes and fears of his city. His back is forever turned toward Gilbert's building, as if the 70-foot LeBron is making one last statement about the balance of power in their relationship.
The back of his jersey reads "CLEVELAND."
Additional reporting by Brian Windhorst. Illustration by Oliver Barrett.
Shelburne is a senior writer for ESPN. She spent seven years at the Los Angeles Daily News.