NASCAR CEO fights to keep divorce private
January, 17, 2012
01/17/12
5:24
PM ET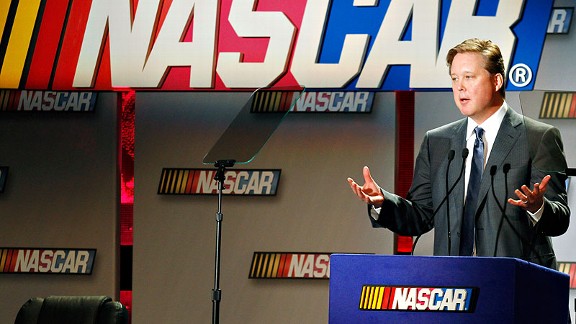 Jason Smith/Getty ImagesNASCAR CEO Brian France has battled in court to keep his divorce proceedings and documents out of the public view.
As NASCAR's teams prepare for Daytona, one of the biggest ongoing storylines is the rivalry between last season's photo-finishers, Tony Stewart and Carl Edwards. But behind the scenes, another long-running contest rolls on, this one between NASCAR CEO Brian France and The Charlotte Observer newspaper, which has spent three years fighting to get records from France's divorce case released publicly -- a battle that has public policy implications.
Although a North Carolina judge has ruled that the files should be released, France is using seemingly every legal option to keep the documents private.
The case revolves around an agreement that France struck with his ex-wife, Megan, when they sought a divorce in April 2008. The agreement, which has not been released but portions of which have been quoted in other court documents, provided her with $9 million and roughly $40,000 a month in alimony and child support for their now 5-year-old twins.

Two of the 49-year-old France's claims are that Megan breached the secrecy provisions of their deal by showing it to a man she was romantically involved with and that she also spoke disparagingly about him in front of family and friends. Instead of seeking a private settlement, he went to court to have the agreement stricken. Megan France shot back with a list of grievances of her own, including that Brian France had not been making support payments.
In December 2008, Brian France's attorneys succeeded in getting Mecklenburg County District Judge Todd Owens -- in one of his last acts in office after losing a November election bid -- to seal all court hearings and records, even though such court proceedings in the state are public. Several months later, District Judge Jena Culler, who inherited the case, ruled that the France proceedings should be public. And after hearing an argument from an attorney for The Charlotte Observer and WCNC-TV, she also ruled to open the court records. Brian France's attorneys appealed.
Over the past three years, both sides have fought in state court, appeals court, and even federal court to win the case. In August, Culler reiterated her position: "The public has a right to access court files," she said in court, according to a report by The Observer. "I feel very strongly that these files should be unsealed."
But after a second Brian France appeal, the case is now before the North Carolina Court of Appeals awaiting initial hearings. There are no dates set yet, but The Observer's attorney, Ray Owens, said he expects to file briefs this month, with actual arguments before the court expected in late spring or early summer. If the court rules in favor of the newspaper, it might be possible for Brian France's attorneys to appeal it up to the Supreme Court of North Carolina.
Brian France's attorney, Johnny Stephenson, didn't return phone calls for comment.
In some respects, Brian France's position is consistent with his sport's culture. NASCAR is closely held and even more closely guarded. Unlike some other professional sports leagues, it is not subject to certain governmental regulation and group ownership. And its drivers aren't organized into a collective bargaining group -- something that forces the NFL, NBA and Major League Baseball to divulge details of their operation that become public.
Once Brian France challenged the agreement by filing a claim in court, he signed up to play by the court's rules, his ex-wife's former attorney, Preston Odom, noted: "Mr. France apparently believes that he may engage the courts of this state in the same way he runs NASCAR. That is, he can make the rules, interpret them, and when he disagrees with them, change or ignore them."
Brian France tried to keep another incident from becoming public last year, too, when he filed a federal lawsuit against his ex-wife, alleging she illegally taped their phone calls. He asked to seal the record. The Observer again intervened, but the case was dropped before the court made a decision.
"When you decide to go to court, that's a choice that you make," said Lori Vitale, a veteran North Carolina family law attorney. "In doing that, part of the risk you take is that someone is going to be going through your records. They are public records, and that's just a known fact."
[+] Enlarge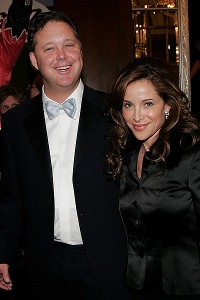 Paul Hawthorne/Getty ImagesNASCAR CEO Brian France with his wife, Megan, in 2005.
France's attorneys argue that the court must keep this case secret out of concern for the couple's children and their personal and financial affairs, and that those issues supersede the public's right to access. There is precedent for that, said Vitale. But it's used sparingly and to shield only certain portions of records or proceedings, especially when they are directly related to violence, abuse, adoption, or the psychological well-being of children.
Megan France and her attorneys have not sought to seal the case but did file a brief in the appeals case, citing points that lean in favor of The Observer's case.
One big question is what, if anything, in these documents pertains to NASCAR itself?
Not only is Brian France the CEO of NASCAR, he's on the board of International Speedway Corp, the publicly traded company that owns tracks and gets 90 percent of its revenue from NASCAR activities. According to IRS filings, ISC's revenues have been declining steadily from its peak in 2007, dropping 12 percent in 2009 and 7 percent in 2010. Its expected $630 million revenue for fiscal year 2011 is off about 23 percent from 2007.
Might the documents France is trying to shield shed any light on the way NASCAR and the ISC have been managed?
"I think the reason why I continue to pay attention is because I think that the answer could be yes," said Jim Utter, a reporter for The Observer and ThatsRacin.com. "In a way, anything that turns out to be somewhat publicly embarrassing or anything like that in regard to the person who is the name and face of the sport certainly would have an effect on the sport somewhere down the road."
Although the attorneys haven't directly mentioned NASCAR proprietary information when they argue for secrecy, they have cited several prior court opinions that reference trade secrets when trying to support their argument.
The sealed records issue has come up elsewhere other than in a media battle: Jeremy Mayfield, a former NASCAR driver who was suspended by the league for failing to pass a drug test, sued NASCAR in federal court in 2009, and his attorneys asked for the Brian France documents in a subpoena to Megan France. But they didn't get the documents, and the case was dismissed.
Owens, attorney for The Charlotte Observer, thinks the details will ultimately come out.
"We think our chances are very good," he said. "We expect to continue to receive favorable rulings in the unsealing of the records and that Mr. France will have to litigate like the rest of us do in North Carolina."