Beware the Super Bowl food safety score
January, 31, 2012
01/31/12
11:53
AM ET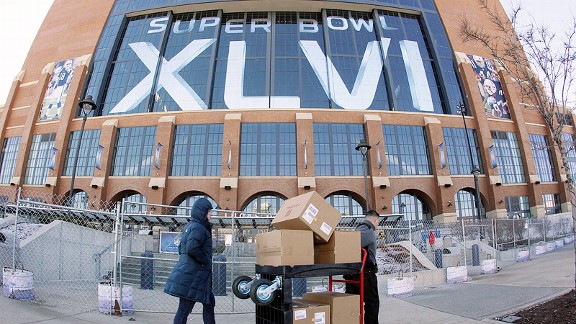 AP Photo/Mark HumphreySupplies are taken to Lucas Oil Stadium as preparations continue for Super Bowl XLVI.
What could ruin a fan's once-in-a-lifetime trip to the Super Bowl more than his team's quarterback fumbling away the game in the final seconds? Try a trip to the emergency room courtesy of food poisoning.
In just a few days, tens of thousands of fans will converge on Lucas Oil Stadium in Indianapolis for Super Bowl XLVI. They'll be eager to cheer for their teams, and as part of their celebration, they likely will fork out a small fortune for all kinds of stadium food -- from pork to pizza to pot roast sandwiches. Like eating out anywhere, fans will do so on a leap of faith that the food being served will be bacteria- and pest-free.
"Outside the Lines'" The File recently acquired 2011 Marion County health department inspection records for the 181 food and beverage outlets inspected at Lucas Oil Stadium and found that 25, or 14 percent, of the locations had critical violations that showed up during routine inspections. A 2010 "Outside the Lines" piece that examined food safety at all professional sports stadiums showed that about 7 percent of the vendors at Lucas Oil Stadium had racked up critical violations -- problems that could lead to illness.

"Any critical violation is a concern to us because it puts the public at risk," said John Althardt, spokesman for the Marion County Public Health Department.
The location at Lucas Oil with the most critical violations, six, was the kitchen for the suites in the upper club, or loge, level. Coming in second was an outlet for Hoosier Snacks, which incurred four critical violations.
Among the violations found in the stadium were expired tomatoes and onions, a chef who didn't wash his hands, a microwave covered in gunk, gnats in an onion bin and hamburger patties toiling in a steamer at lukewarm temperatures -- a situation ripe for bacteria. Keeping food hot enough to stave off bacteria was one of the most common violations found. The other was that outlets weren't using chemical sanitizers at the recommended concentration to kill germs.
"All of the violations get corrected," Althardt said, which might mean that inspectors make repeat visits to make sure chefs and food handlers shape up or face citations and, in very rare cases, get shut down.
Centerplate is the food-service provider for Lucas Oil Stadium. Company spokesman John Hickman declined to answer specific questions about Centerplate's operations and what the company has done to address problems. But the company issued a statement:
"Fans at Lucas Oil Stadium will be happy to know that food and beverage facilities at Lucas Oil Stadium are 12 times more likely to be found free of 'critical' issues compared to an average downtown Indianapolis restaurant. Across the over 180 licensed food locations at Lucas Oil Stadium, there is only an average of 0.16 critical citations per year per location. Across downtown Indianapolis, licensed food vendors are cited for an average of 1.92 critical violations a year, according to an analysis of Health Department records. That rate is 1,200 percent higher than Lucas Oil Stadium."
If the company crunched the same health department numbers as The File, there's a bit of a math problem in the statement. In 2011, 181 licensed locations received one or more routine inspections. Inspectors found a total of 36 critical violations, which breaks down to 0.2 violations per location. For the 378 downtown food and beverage outlets (not including those in Bankers Life Fieldhouse), there were 794 critical violations for a rate of 2.1. That would be about 10 times higher than the Lucas Oil Stadium rate.
More than half -- 51 percent -- of the inspected food outlets in the downtown zone around Lucas Oil Stadium received at least one or more critical marks from inspectors. Twenty-three locations had 10 or more critical problems.
Thinking of splurging on some inland Indianapolis sushi? One of the two worst offenders, Mikado Japanese Restaurant, racked up 27 critical violations for numerous issues, such as dirty countertops, soiled dishes, cutting boards stored in an employee bathroom and even an employee who washed his hands while still wearing his gloves.
Tied for the unsavory honor of first place was an establishment called The Ugly Monkey, which also had 27 critical violations, including raw bacon stored above food ready to serve, soiled pizza racks and alfredo sauce that was getting a little too warm, among others.
Althardt said 27 violations a year is "unusual" and that people need to judge for themselves whether they feel comfortable with a location's track record -- and what they see in person.
Even the prestigious St. Elmo Steak House -- a favorite of Colts quarterback Peyton Manning -- didn't fare so well. It incurred 16 critical violations during routine inspections in 2011, which resulted in $1,600 in fines, according to health department records.
Lucas Oil Stadium first came under scrutiny over food practices in 2009, when a local TV station reported 42 critical food safety violations, including several that cited examples of dead mice or mice droppings near food and meal-preparation surfaces -- even in an oven -- and live mice running through a loge-level kitchen. The head of the county's food safety program at the time said there was a "widespread rodent problem."
That led to more discoveries, as reported by Indianapolis TV station WTHR: "Among the numerous violations, inspectors found employees not washing their hands and unknowledgeable about safe cooking procedures; food considered contaminated and in unsafe condition; and cooked food sitting at improper temperatures which could potentially make customers sick."
The county levied $3,900 in fines, which is rare, but officials took the drastic step only after Centerplate failed to correct the problems. After the TV report aired, however, Centerplate hired an exterminator and set traps. And when ESPN checked on the stadium in 2010, there was only one mouse-related violation.
[+] Enlarge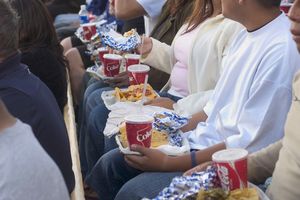 AP/Photo by Richard LuiPart of watching your favorite team play? Enjoying a meal at the stadium.
From 1998 through 2009, there were 24 confirmed foodborne illness outbreaks at restaurants in Indiana, with all sorts of foods -- from tapioca pudding to ground beef to salad -- cited as the culprit behind outbreaks of salmonella, E. coli and norovirus, according to the Centers for Disease Control and Prevention.
Fortunately, those outbreaks are rare.
"We have a very good track record here," Althardt said of Indianapolis and Marion County. "We feel confident people who come here should feel very comfortable and very safe."
Nevertheless, food safety officials don't want their community's marquee event, the Super Bowl, to end up sending fans to the toilet bowl.
Or as Althardt put it: "We don't want anyone leaving Indianapolis with any unwanted souvenirs."
As a result, the department issued a notice for restaurants and other food vendors -- established and temporary -- saying the county would be stepping up inspections during the 11 days surrounding the big game. The department is putting a special focus on outlets that serve large numbers of people in which food is often heated, cooled and reheated, which is a "high-risk procedure where food contamination can easily occur," the county notice says.
All the attention to the Super Bowl should make food service providers extra vigilant, Althardt said. After all, no restaurant wants to be the one that the New York media report made the entire New York Giants team violently ill.
If the findings from these records have your stomach churning, you can either stick with the prepackaged peanuts and bottled soda or use the Marion County Public Health Department's website to look up records (for the most recent inspections) on your own.