Ohio State maintained contact with dealer
February, 21, 2012
02/21/12
6:44
AM ET
Ohio State University officials remained in contact with a memorabilia dealer they were investigating for wrongdoing and used him as a mole to rat out others, according to records released this month in response to a public records request submitted by ESPN.
First, a little helpful context: Sales of licensed collegiate merchandise is a multimillion-dollar revenue stream for the university. And, as we've seen time and time again, the memorabilia and autographs area can be an NCAA violation concern, too.
As far back as 2009, Ohio State officials had concerns about local photographer Dennis Talbott selling autographed photographs and items from players, including quarterback Terrelle Pryor. But rather than cut off Talbott entirely, the university maintained communication with him in order to root out unlicensed memorabilia dealers who were selling OSU items -- including those with the signatures of players. Players are not allowed to make money from their autographs, and it is up to the school to police such matters.

Talbott's connections, and questions about his relationship with Pryor and other players who allegedly received money for autographs, came to public light last summer. Pryor and Coach Jim Tressel already had left OSU, and an NCAA investigation had already begun of Pryor, other players, and Ohio State because the players had traded memorabilia and autographs for tattoos from a Columbus tattoo parlor. Tressel admitted knowing about the exchanges and not reporting them to the university's compliance officials, a violation of NCAA rules.
"Outside the Lines" reported last year that Talbott, who had a van with vanity plates that read "TPRYOR," paid Pryor between $20,000 to $40,000 in 2009 for signed merchandise -- all potential NCAA violations. Talbott has consistently denied the allegations, as has Pryor's attorney. Officials with OSU also declined comment at the time.
Ohio State was alerted about Talbott in the summer of 2009 by employees at a country club who knew Talbott treated Pryor and other players to rounds of golf. (The NCAA would later cite Ohio State with a violation because it determined player DeVier Posey accepted a $102 round of golf while on an outing with Pryor and Talbott that summer.) And Ohio State also had been alerted to possible unauthorized memorabilia sales by Talbott, yet the freelance photographer was granted a 2009 media pass anyway. But he did not receive one in 2010.
In August 2009, Rick Van Brimmer, Ohio State's director of trademark and licensing, described Talbott's company, Varsity O Memorabilia, as one of the more "egregious" examples of unauthorized use of images and logos.
And on Aug. 26, 2009, the university sent Talbott a letter to "cease and desist" his use of any Ohio State images or trademarks. Just two days later, an email states that Talbott's case has been "cleared." The contents of several other emails sent during that time have been completely redacted by the university citing student privacy laws and attorney-client privilege.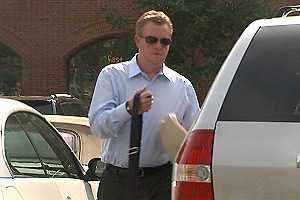 ESPNDennis Talbott in Columbus, Ohio.
Then in October, email messages between Van Brimmer and Talbott -- in a seemingly collegial tone -- show how Talbott provided information on other memorabilia dealers selling unlicensed merchandise. In one of his emails, Talbott even tells Van Brimmer, "I'm learning that everyone in this business are (sic) shady to a point. Really sad honestly."
On Oct. 15, Van Brimmer sent Tressel an email asking if he knew anything about photos signed by the coach and Pryor likely being sold by Talbott or another memorabilia dealer. Van Brimmer said he assumed the coach's signature was fake, and Tressel responded by saying he never signed any such photo.
Concerns about Talbott continued into 2010, even though Talbott didn't have a media credential for that season. A letter from Columbus Dispatch editor Benjamin Marrison to OSU compliance director Doug Archie names Talbott among a list of people selling photos without permission, which was a concern for the newspaper because it had an agreement with the university for selling photos. But an email from Dec. 22, 2010, indicates that Van Brimmer was still working with Talbott to get more information about other memorabilia dealers. And in January 2011, OSU compliance and licensing officials discuss concerns about Talbott shopping a current player -- whose name was redacted -- around for autographs. A source, who asked to remain anonymous, has confirmed to ESPN that the player was Pryor.
An April 14, 2011, email outlines the relationship Talbott had with OSU: "Dennis has had photo credentials in the past, and was identified selling player photos on-line and at memorabilia shows. We first met with him in the spring of 2009 when we identified his work on ebay. Subsequent meetings took place through the fall of 2010, and he became a source of information about others who were engaged in similar activities."
It's unclear from the emails and documents to what extent the university investigated allegations that Talbott secured the signatures of active players, especially Pryor, in exchange for giving them a cut of the sale.
The documents released to ESPN -- requested in June and delivered Feb. 6 -- include letters from the university's licensing office as well as copies of emails. Ohio State redacted information in many of the documents, including some names. Some of the emails were entirely redacted. ESPN sued Ohio State in July over other public records requests. Among its arguments, ESPN claims OSU cited an inapplicable federal student privacy law in withholding or redacting records. The lawsuit remains active.
So did Ohio State have the opportunity to cut off Talbott entirely and choose instead to use him as a mole to glean information on other dealers who might be affecting the university's bottom line? The documents don't state for certain, and it's not for The File to decide.
OSU spokesman Jim Lynch told The File university officials were never able to substantiate any of the tips they received about Talbott and that the ongoing communication with Talbott shows that the university was "closely monitoring the memorabilia marketplace."
"These records illustrate the university's extensive efforts to investigate and deter unauthorized memorabilia sales," Lynch would later write in an email to The File. "This included improvements to its credentialing process making clear that photographs taken at games cannot be sold on the secondary market and must only be used for editorial purposes" unless the entity has a licensing agreement with the university.