Medical marijuana a defense in drug case?
February, 29, 2012
02/29/12
10:56
AM ET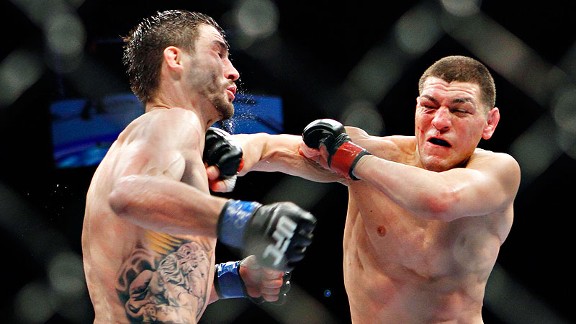 AP Photo/Eric JamisonNick Diaz, right, had his fight license suspended because of a failed drug test; he's expected to challenge the results citing a prescription to use marijuana for medical reasons.
Unless you're a huge MMA fan, you probably didn't notice that the Nevada State Athletic Commission suspended a welterweight fighter named Nick Diaz last week for flunking a drug test. It got buried under the avalanche of news about Ryan Braun, but the case is worth watching for what it tells us about a little noticed, little talked about, yet intriguing trend: pro jocks getting prescriptions for medical marijuana.
It's easy to find a punch line in prescription pot. And, yeah, every coach you've ever had has given you The Speech about how it slows you down and makes you stupid.
But there is medical research to suggest that cannabis has some legitimate uses. As the Institute of Medicine, a branch of the National Academy of Sciences, noted in a report about the importance of ongoing exploration, "The adverse effects of marijuana are within the range of effects tolerated for other medications."
Seventeen states now allow prescription pot, including California, where Diaz lives and trains. Applicants fill out this form and supply a state-issued ID along with a valid doctor's note to get a card that lets them into hundreds of dispensaries statewide.

Diaz, a black belt in jiu-jitsu and one of the best all-around fighters in the game, told the LA Times in 2009 that he needs the drug to help with hyperactivity. Some of the other ailments that qualify for a California card look as if they came right off an IR report, including severe arthritis, chronic pain, migraines, persistent muscle spasms, seizures and severe nausea.
"Medical cannabis is especially helpful for athletes who have bad reactions to aspirin and non-steroidal anti-inflammatory drugs," said Mitch Earleywine, a professor of psychology at the State University of New York in Albany who studies its benefits. "It doesn't create the gastric bleeding or stomach upset common in these other drugs."
So maybe it shouldn't be surprising that one sports governing body, the NCAA, recently found an uptick in marijuana use among student-athletes, even as some other drug rates are going down. In a survey of 20,474 players in 23 championship sports, the NCAA discovered that nearly a quarter (22.6 percent) "indicated the use of marijuana" in the prior 12 months. The median ranged from 16 percent in track to 29 percent in soccer. (The outlier was lacrosse, in which 48.5 percent of students reported taking at least one toke the prior year.)
It's hard to say whether those numbers hold up in pro sports, but they do suggest that a captive audience exists among injured jocks. All the leagues have something called "therapeutic use exemptions" that let players ask to use banned drugs for legit medical purposes. But Diaz appears to be the first who is trying to get one for pot.
At a hearing of the Nevada State Athletic Commission on Feb. 22, Christopher Eccles, the deputy state attorney general prosecuting the case, said it's likely that Diaz will seek to use his legal prescription to get a retroactive exemption that nullifies his adverse drug finding.
"The question will come up," Eccles said.
Keith Kizer, the commission's executive director, said the hearing probably will take place at the commission's next regularly scheduled hearing in March. Diaz faces having his fight license suspended for as long as a year, and, because other jurisdictions would honor Nevada's ban, that is tantamount to a year's ban in MMA -- foiling plans for him to have a rematch against Carlos Condit, to whom he lost at UFC 143.
Kizer doesn't think using medical marijuana is a winning strategy: "If you're using medical marijuana, you're probably in no condition to fight," he said.
Other leagues have yet to cross this bridge.
Tim Frank, a spokesman for the NBA, said that it hasn't received a single therapeutic use request for medical marijuana and that he preferred not to "speculate" about what would happen if it did.
NFL spokesman Greg Aiello said his league hasn't received one, either. "Our program advisers have determined it would not be necessary" because there would never be a circumstance in which allowing medical marijuana would be acceptable.
At MLB, medical director Gary Green said that although he's aware of "a handful" of requests for medical marijuana exemptions in the minor leagues, none has been lodged in the majors, adding that players shouldn't expect to get a favorable reaction.
"Just because a drug may have a quasi-legal status doesn't mean we'd be more likely to allow a TUE for it," he said.
Diaz, who was suspended for flunking a drug test in 2007 for marijuana, might not be the perfect candidate to bring a test case on such a sensitive subject. But you can bet that, as more states make medical marijuana available and more players sign up to take legal tokes, someone will want to light this debate up.
---
File Under
Pesky puppets: With the Olympics just a few months away, the Spanish and French already have begun shooting fireworks. The Spanish Olympic Federation has announced its intention to sue the French network Canal Plus for several segments on a satirical puppet show that suggested Alberto Contador isn't the only Spaniard who uses banned drugs. The latest video shows a line of Spanish athletes, including Rafael Nadal and Real Madrid goalkeeper Iker Casillas, using needles rather than pens to sign a petition in support of Contador. You can see the video here.
Trending: Shyam Das started last week as a relatively unknown arbitrator hearing drug cases for baseball. But, after delivering a walk-off homer to Ryan Braun, Das was trending up there with the Oscars and Bobbi Kristina. Wanting to know more about Das, we went online to find this résumé and this website. "Outside the Lines" also stopped by his Pennsylvania house for an interview, which was politely declined by the person who answered the door.