K-State most profitable athletic department
May, 4, 2012
05/04/12
7:54
AM ET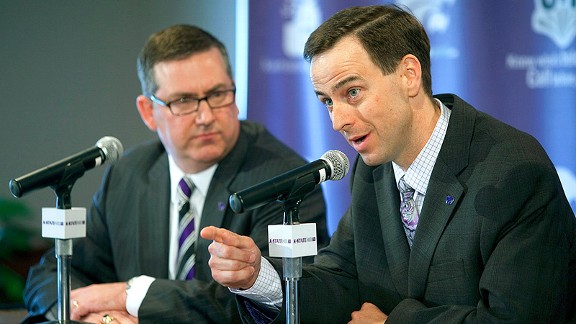 Travis Heying/Wichita Eagle/Getty ImagesKansas State University athletic director John Currie, right, and Kansas State University president Kirk Schultz in speak to the media in March.
Kansas State athletic director John Currie keeps a laminated 3-by-5 index card outlining the department's budget for the current fiscal year in his pocket at all times.
It's not as impressive as an autographed photo of head football coach Bill Snyder, but Currie credits the card -- and what it stands for -- for helping the department generate enough money to cover all its expenses and for its healthy budget surplus.

In fact, out of the 99 public schools in the Division I Football Bowl Subdivision whose records were open to review by The File, Kansas State ended the 2010-11 fiscal year with the most net income -- about $23 million. That's the difference between what the athletic department gets in revenue from ticket sales, donations, TV contracts and so forth, and what it spends on recruiting, equipment, salaries and other expenses.
"We've been successful because we've increased our revenue and managed our expenses," Currie said. His best advice to other athletic departments is to "build relationships and manage priorities." Currie uses the index card to show potential donors exactly where their money will be spent, and he said that transparency has encouraged growth in money pledged to the department.
Out of 120 D-I schools -- public and private -- 100 either broke even or ended the year with a surplus, according to figures reported to the NCAA and to the U.S. Department of Education. But the information covering private schools and those that don't have to release financial records is limited and not always comparable. (A database showing many of the revenue and expense categories for all 120 schools for the past four fiscal years can be found here.)
To come up with the most detailed breakdown and even comparison, "Outside the Lines" and The File submitted open records requests to all public D-I schools (except those in Pennsylvania that are not subject to open records laws) and asked for copies of the audited financial reports that schools submit each January to the NCAA.
Of those 99 schools, 79 either broke even or showed a surplus for the 2010-11 fiscal year, the most recent for which numbers are available. If that sounds different than what you hear from the NCAA, well, it is. The NCAA determines profitability after it subtracts athletic department revenue that comes from student fees, state funds and money from the university. By that measure, only 19 public schools were in the black. "Outside the Lines" aired and published stories nearly a year ago in which that methodology was debated.
At Kansas State, only about $3.3 million of the department's revenue came from student fees and support from the university. Even so, Kansas State tops the profitability list and is followed by Texas, Louisiana State, Alabama, Florida and Michigan. Kansas State's overall operating revenue was about $70 million, an increase of about 31 percent from the prior fiscal year, which was Currie's first at Kansas State. The year before he came, the department was running a $2.8 million deficit, based on the figures submitted to the NCAA.
From fiscal year 2009-10 to 2010-11, contributions and donations went up by 62 percent, for a total of $26.5 million, making it Kansas State's largest revenue source.
Currie said that during his tenure and that of university president Kirk Schulz, the department expanded its grassroots base of donors from 5,400 to 7,500, developed a major gifts program and expanded its fundraising reach nationwide. And there's that card, which emphasizes the department's goal to be transparent about its funding with the hope that people will understand the needs, he said.
"They say, 'Oh, OK, there's no big mystery anymore. I get it,'" Currie said. Although Kansas State might not have the fan base or the lure of bigger programs such as Texas, LSU or Alabama -- which make most of their money from ticket sales -- "our fans and our contributors, they don't look at [donating] as a short-term deal. They look at it as a long-term investment."
Kansas State's rise to profitability didn't come without some pain, as Currie recalls having to cut staff his first year in office to help trim expenses. He points out that Kansas State has the smallest full-time headcount in the Big 12, with 132 athletic department staff members. It has also cut back expenses in other areas, including football recruiting.
In 2010-11, the department still got about $1.5 million in direct support from the university, although that number has been steadily decreasing and is scheduled to be eliminated within the next few years, Currie said.
A little more than a quarter of the top D-I public schools got most of their funding from the university or state in 2010-11. In an era of university budget cuts when more athletic programs are being asked to pay their own way, several departments strive to reach a point where they can sustain themselves financially. Currie said he isn't sure if Kansas State provides a model -- because every university has its own challenges and limitations -- but he said every program should start by defining priorities.
"We don't spend any time worrying about Texas' budget. We're not ever going to have a budget like them," he said. (Texas' $150 million budget is more than twice as large.) "Let's focus on the things we can do well as we go about our business."
The financial records The File collected come from three sources. Financial records for all public D-1 schools, except those in Pennsylvania, come from the forms they submit every January to the NCAA and include detailed breakdowns of revenues and expenses. Pennsylvania schools are not subject to open records laws. Their figures -- and the figures for private schools -- come from mandatory reports made to the U.S. Department of Education. That information is limited to fewer categories. Finally, figures for the U.S. Naval Academy come from a form it has to file each year with the IRS. To see more categories for all schools for the past four fiscal years, check out our online database.