Is Olympic HGH test ready for the NFL?
August, 24, 2012
08/24/12
8:16
AM ET
Every two years at the Olympics, a dance goes on in which the best chemists gather with the best athletes to face the best drug testers. In the weeks before the just-completed Games in London, those testers buzzed about a brand-new test they'd developed to track down athletes who take human growth hormone.
David Howman, the director general of the World Anti-Doping Agency, hailed the test as "a very significant step and a very helpful one." This isn't the first time we've heard talk like that, of course. Another test for HGH was unveiled before the 2004 Olympics in Athens and caught precisely no one. Those Olympics were so rife with the drug, in fact, that they've been dubbed the "HGH Games."

But over the past eight years, scientists have figured out how to widen the detection window for the magical performance-enhancing drug from a few hours to a few weeks, which makes this new version a potential game-changer. It also explains why DeMaurice Smith, executive director of the NFL Players Association, was in London, talking with athletes and drug testers to suss out what he could about it.
NFL commissioner Roger Goodell has been pushing Smith to embrace the test, which works by scanning the blood for two key "biomarkers" that show up when the body is flooded with synthetic growth hormone. One is insulin growth factor. The other is a protein given off by developing bones. But Smith has fought back, insisting he "won't be bullied" into backing the procedure until WADA gives his union more information.
Smith is particularly concerned about the levels that WADA intends on setting for the biomarkers. As he told Pro Football Weekly: "With all due respect to the folks at WADA, who have told us that the standard against which our players will be measured is really none of our business and shouldn't concern us, how can it not be our business?"
That makes what's going on now in Olympic circles so crucial to the future of NFL drug testing. Anti-doping officials didn't report a single HGH positive in London. But they still are pouring over samples, which they can keep for eight years, in an attempt to show all the hype wasn't misplaced.
"The people at WADA want to find a positive," says Don Catlin, the former head of the Olympic testing lab in Los Angeles and head of the Catlin Consortium, who was in London for the International Olympic Committee supervising collections. "They want to brag."
The difficulty, Catlin says, is that it's hard to set the biomarker's margins.
"It's a hazardous business because this is new, and you don't know where you're at," he adds, pointing out that testers have to go on guessing games if they don't know for sure whether a tested athlete took the drug. "They don't know what cutoffs to use."
[+] Enlarge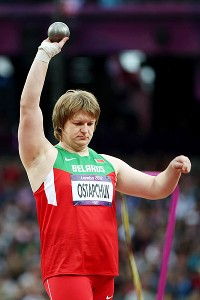 Icon SMIThe IOC says Belarus shot putter Nadzeya Ostapchuk tested positive for the steroid metenolone.
In a sign of how far the NFL is from growth hormone testing, the NFLPA was busy fighting the old test that WADA was using before the Olympics began. During last year's collective bargaining sessions, it agreed in principle to allow its players to be blood tested but also asked for a "population study" to be done on the old test. That study was already mired in politics over who should run it. Now it seems to be dead.
In a not-too-subtle shot at the union, WADA published an editorial in the January issue of its Play True Magazine by its former chief accusing the union of using delay tactics. "The NFLPA have turned to their ubiquitous lawyers to throw as much sand as money can buy into the gears of an effective testing program," Dick Pound wrote in his opinion piece.
Both sides have a point. WADA is being hyper-secretive about its test. And the union deserves to be consulted more than it has been by the imperious anti-doping agency. But hovering over the whole debate is the larger question of what exactly we learned from these London Games.
While 6,000 blood and urine samples were collected in London, only one athlete was nabbed for using a PED in competition -- a female shot-putter from Belarus named Nadzeya Ostapchuk who was right out of central casting.
The only other in-competition positive came from American judo fighter Nick Delpopolo, who went down in Olympic history by claiming that his marijuana positive was the result of eating baked goods laced with pot at a party.
Jacques Rogge, the IOC's executive director, said that nabbing the two was "a sign that the system works." But Victor Conte of Bay Area Laboratory Co-Operative infamy showed up to the Olympic Village and told reporters that he thought 60 percent of the athletes were doping. And John Leonard, the executive director of the American Swimming Coaches Association, created an international furor when he called the gold-medal performance of Chinese swimming phenom Ye Shiwen "suspicious." Bringing up the dark memory of the 1970s Eastern Germany doping machine, he said Shiwen brought back "a lot of awful memories."
WADA, meanwhile, has been uncharacteristically low key about its Olympic effort. Terence O'Rorke, a spokesman, declined to answer questions about the biomarker test, saying, "It is WADA's policy not to release details about new detection methods until they have proven successful in the sanctioning of an athlete for an anti-doping rules violation."
In other words, no news isn't good news.
---
Other Files
U.S. vs. Jamaica: A war of words that began when Carl Lewis questioned whether the Jamaican sprinters have stringent enough drug testing has begun to boomerang on the nine-time Olympic gold medalist. As this blog post from London's Independent newspaper points out, Lewis failed three drug tests in 1988 but the results were never made public. "Between 1988 and 2000, the U.S. Olympic Committee covered up a total of 114 tests," the paper's website notes. "… Yet Lewis still feels entitled to question the bona fides of Usain Bolt and his teammates."
And now for something completely different: In the most bizarre start to the U.S. Open ever, New York cops took a 70-year-old referee into custody Tuesday when she showed up to work at the tournament because she's accused of killing her husband. As this arrest warrant charges, Lois Ann Goodman allegedly used "a deadly and dangerous weapon, to wit [a] COFFEE CUP," to kill her 80-year-old husband, Alan.