Dad's dead; now hand over his tickets
September, 7, 2012
09/07/12
10:04
AM ET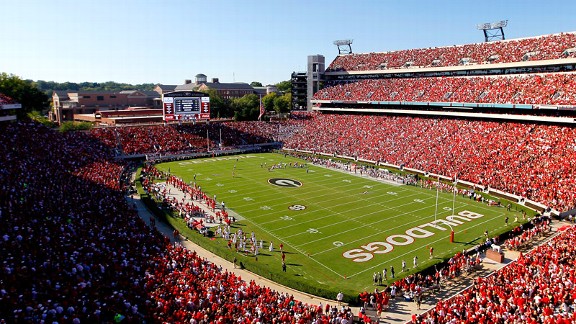 Kevin C. Cox/Getty ImagesSanford Stadium at the University of Georgia.
One day -- more than 50 years ago now -- Frank Lumpkin Jr. walked in downtown Columbus, Ga., with his infant son and crossed paths with a guy from Auburn, Ala. Lumpkin, a Georgia bulldog through and through, argued with the Auburn fan, and the two came to blows, Lumpkin holding his son's bassinet with his left hand and swinging with his right.
Despite his lifelong passion for Georgia athletics and his somewhat bombastic personality, it's likely he'd be disappointed in a different football-driven fight that has ensued over his legacy, said Loran Smith, a friend and athletic historian who knew Lumpkin before he passed away in 2000. The dispute is between Lumpkin's son, Frank Lumpkin III, and daughter, Julia Lumpkin, over their parents' estate, of which one major sticking point is who gets the family's coveted season football tickets.
They've been feuding for more than 10 years, and last summer their dispute became public when Frank Lumpkin sued his sister in Muscogee County Superior Court. Attorneys for both parties have declined recent requests for interviews, although the case could be nearing an end. On Aug. 15, a Muscogee County judge removed Julia Lumpkin as co-executor of the estate, giving her brother an edge in the dispute.
Although the tickets aren't specifically mentioned in the lawsuit, attorneys in prior media accounts have confirmed they're a major issue. The deceased Lumpkins did not provide any direction about who gets in the tickets in their will, although they did leave $1 million to the University of Georgia Foundation.
The attorney for Frank Lumpkin III, Frank K. Martin, who recently died, told the Ledger-Enquirer in Columbus, Ga., last year that the football tickets were "at the heart of the standoff." He said Julie Lumpkin refused to close the estates until her brother transferred the tickets to her name, according to the article.

"She's holding the estates hostage over these football tickets," Martin said. "It's not an argument of 'Do you or don't you get the tickets.' She wants them in her name, but they don't have anything to do with the resolution of the estate of Mr. and Mrs. Lumpkin."
Smith, the elder Lumpkin's friend who recalled the story about the fistfight with the Auburn fan, said he's not surprised that football tickets would generate so much interest, even though there isn't a waiting list for season tickets at Georgia, according to the university's website. Apparently, the Lumpkins' 18 seats are all quite good and near the 50-yard line.
The Lumpkins certainly aren't the first, and won't be the last, heirs to battle over season tickets, which is why many colleges and pro teams have specific rules and regulations in place to deal with what happens to the season tickets in the event of the ticket holder's death.
Sara Andrew, an attorney who practices estate planning and probate law in Fond Du Lac, Wis., said she's dealt with at least a half-dozen families who have season tickets to the Green Bay Packers -- an asset worth more than gold to many die-hard cheeseheads. The Packers' season ticket waiting list is more than 100,000 names long, and over the past decade only 50 to 130 names have come off the list each year, after a 35-year wait. (Andrew said her husband has already put their 5-week-old son's name on the list.) After Andrew wrote an article about incorporating season tickets into estate planning for the Wisconsin Bar Association last year, she said she received upwards of 30 calls or emails from people, including many other attorneys, who said the heirs to season tickets have been an issue in their own families or among clients.
"Most of the issues have been resolved by talking to the season ticket office with the Packers. They're really taking an active approach to help people figure out these situations," she said, adding that a representative from the ticket office told her that they actually facilitate family mediations as a way to keep the dispute from landing in court. A spokesman for the Packers said it happens "very infrequently."
Another wrinkle in the Packers' policy is a somewhat paternalistic rule familiar to any parent who has ever shouted from the front seat, "If you two can't get along, we're turning this car around and going home." If the parents have not laid out who gets the tickets in the will, the siblings have to agree as to who gets the tickets -- otherwise nobody gets them, and they are released to someone else on the waiting list. The savvy child of parents who have Packers season tickets can bring this season ticket transfer form to Thanksgiving dinner this year and gently walk Mom and Dad through filling it out in his or her name. Just make sure any brothers, sisters and cousins are out of earshot.
Several other teams have similar transfer forms that can be filled out ahead of time. But some teams will allow transfer only to a surviving spouse, and most require documentation such as a birth certificate and death certificate. A few claim that fans don't really "own" their season tickets -- equating holding tickets to a lease or simply a right to purchase year after year -- and therefore don't allow tickets to be transferred in a will. The Chicago Cubs, whose waiting list exceeds 115,000 people, don't allow transfers, so when someone dies, his or her season tickets go to the next person on the waiting list. Andrew said one benefit to that sort of policy is that it ensures that new fans on the waiting get a shot at tickets, instead of simply allowing them to churn through the same families for decades, which is something for which the Packers have been criticized.
When tickets are to be handed down, Andrew said it rarely causes a rift in the family because one sibling usually stands out. One heir might be the only one who can afford the tickets or maybe is just obviously the biggest fan and is willing to suffer subzero temperatures at Lambeau Field while the other siblings are content to watch from their couches. The Lumpkins, however, were not so fortunate, as their Georgia tickets are still in legal limbo.
"Their daddy has got to be spinning his grave. He loved those two kids as much as a parent could love a child & I think the three things he loved most in life were the Bulldogs and Frank and Julie," says Smith, who has worked for the University of Georgia athletics office for about 50 years. "I think it's damn unfortunate because I liked them both, and they both have the Georgia passion, and they couldn't have been Frank Lumpkin's children and not had Frank's passion. I hope they can resolve this."
---
Other Files
Opening the books: In the wake of the Jerry Sandusky scandal, Penn State has been making more of its internal documents available. Even though it's a public university, Penn State -- as well as a handful of other public colleges in Pennsylvania -- enjoys a unique exemption to the state's public records law. Penn State's"Progress" website includes a variety of documents including Coach Bill O'Brien's employment contract and a detailed financial report of the athletic department's finances, two types of documents readily available from other public universities. Something else to consider is whether this move toward more transparency is a genuine effort by the university to be more open or if it is a way to stave off legislative efforts to strip Penn State entirely of its exemption. This bill would do just that and is pending in the Pennsylvania Legislature, which reconvenes Sept. 24.