NFL fans blacked out, riled up
September, 18, 2012
09/18/12
4:17
PM ET
The San Diego Chargers held a moving ceremony on Sunday to honor Junior Seau at Qualcomm Stadium. As the Hall of Famer's family watched a tribute to his life on the JumboTron, Chargers who were wearing his No. 55 on their helmets choked back tears. But San Diego fans almost didn't get to see the service on TV. Just hours before a Friday deadline, roughly two thousand seats to the game still hadn't been sold, leaving San Diego in technical violation of the NFL's blackout rule.
The rule requires teams to sell all but their most expensive seats 72 hours prior to kickoff for games to appear on TV in a team's market. But even with a last-minute waiver that let the Chargers sell tickets up to 1 p.m. on Friday, things looked bleak. Only a last-minute PR blitz put them over the top.

That allowed the NFL to avoid the unseemly spectacle of having to explain why, in the midst of a class action suit over its concussion policy, it was preventing TV viewers from watching a tribute to a man who may have suffered as many as 1,500 head injuries on the way to the Hall of Fame.
But it hasn't stopped a growing chorus of critics from complaining that the blackout rule -- enacted before the Internet and even (gasp!) ESPN -- is an anachronism that's hammering consumers.
The NFL insists that the rule "is essential to promoting live attendance and thus improve the stadium experience." But in February, five U.S. senators wrote this letter to Federal Communications Commission Secretary Marlene Dortch, calling the rule a "relic of a different time." They also pointed out that in this economy, rising ticket prices "have made attending a football game an unaffordable luxury for many fans."
And recently, FCC commissioner Robert McDowell issued a statement saying: "We live in a world with not only local broadcast stations, but also cable, satellite, the Internet and wireless, and where television and mercheadizing revenues exceed ticket sales. It is appropriate for us to re-examine the rule in light of marketplace changes."
In a concession for this season, NFL commissioner Roger Goodell tweaked the league's policy to allow teams to reduce their sales threshold to as low as 85 percent -- provided they kicked more money back to their opponent.
But things are as chaotic as ever. Tampa Bay dropped its blackout threshold to 85 percent of Raymond James Stadium's capacity and still couldn't sell enough tickets by Sept. 9 to stop a local TV embargo of its opening day game against division rival Carolina. It was the third straight season that occurred in Tampa, and the 14th time in the Bucs' past 16 home games. Things will get worse around the league when the weather gets colder and losses start mounting.
On Capitol Hill, an organization called the Sports Fans Coalition is lobbying the FCC to revoke the rule, which was adopted in 1973 as an amendment to the Sports Broadcasting Act. (Blackouts date back to the 1950s, when the NFL successfully defended itself in an antitrust lawsuit by arguing that they were needed to keep stadiums filled at game time.)
Last week, the group's executive director, Brian Frederick, brought a report from nine economists to the agency in the hopes of swaying the agency's voting commissioners. The economists argue that blackouts "have little or no effect on ticket sales" and "harm consumers without producing a significant financial benefit to teams."
But the most important testimonials aren't from economists or politicians. They're from the hundreds of fans who took the FCC up on its offer to post public comments.
[+] Enlarge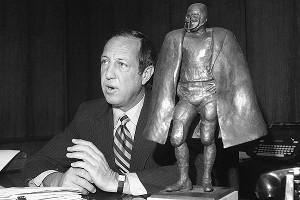 AP Photo/Anthony CameranoNational Football League Commissioner Pete Rozelle speaks in his office in December 1972 after saying no to President Richard Nixon's request to waive the NFL blackout rule on home-game telecasts.
Here is what you had to say, America, about why the rule is unfair:
Disabilities: Some of the most poignant letters came from fans who complain that they are being penalized for growing old with their teams. Bills fan Jane O'Bayle of West Seneca, N.Y., handwrote this letter in which she says, "My husband and I are in our 80s and almost all the enjoyment we get out of life is to watch sports on TV … I hope you can help people like us." Echoing the comment, Jane Beaudet of Buffalo writes: "There are many people who are shut-ins and elderly who would be very grateful to be able to see all of the games." Adds military veteran Kenneth Agabayani: "As a disabled Marine living off a limited medical disability income, there is no way I can afford the tickets nor the physical exhaustion to weave through thousands of other spectators in order to reach assigned seating."
Blackmail: Plenty of fans resent the fact they're being pressured to pack stadiums that were built with public financing. Dennis Brickner of Tiffin, Ohio, says, "As a taxpayer, I am incensed that -- while the NFL has benefited time and again from the public largesse in the form of sin and other types of taxes for the construction of stadiums -- they somehow think they can then deny some of those who helped to finance their corporate welfare."
"San Diego residents, like the rest of the country, have economic issues to deal with that do not allow all of us to fork out over $600 to take our family to a game," Troy Wallace complains. "We are also at the mercy of owners that are using the team as leverage against the citizens in order to have a stadium built for them at our expense."
Putting an even finer point on it, this fan adds: "It's about time that the gun is pulled from fans heads telling them if you don't sell out you don't get to watch your team."
Loyalty: More than one writer suggests that the NFL is alienating a new generation of fans. "My father took me to Charger games in the 70's as a season ticket holder," writes Scott Albert of San Diego. "My son and I cannot watch the Chargers on TV when the games are blacked out. I have earned the right to not be blacked out after 35 years of family support to the Chargers organization. My son is losing interest and we may lose a string of dedicated family fans."
DIRECTV: "Sunday Ticket" buyers point out that they're getting doubly penalized, since they're paying extra for the privilege of getting blacked out. "My east coast team came to the west coast to play and I live 60 miles from the nearest nfl stadium which unfortunately is inside the 75 mile radius for blackouts," writes Michael E. Olin. "So I pay extra to watch a game that gets blacked out even on direct tv." Chargers season-ticket holder Matt Day suggests a solution: "If they have a blackout, then sell the game on PPV for those that still would wish to order it … Both teams will have an added revenue stream to split, and that is what its all about correct?"
Prices: The economy is also weighing on people's minds. "If my local game is threatened by a blackout, it doesn't make the money magically appear in my wallet so that I can buy tickets," Kenny Tarlov writes. Adds this cost-conscious consumer: "It is not acceptable to discriminate against people who don't have the money to pay $30 for parking, $12 for a beer, and $80 for a nosebleed section seat and to try out the $8 HOT DOGS … This is a joke … what is the point? Let only the rich see the games while the poor have no say in any enjoyment of their (almost guaranteed) tax-subsidized stadium? That's like me paying for a road and not being able to see it/use it."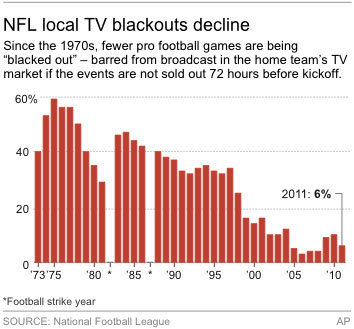 AP Photo
"This isn't 1975," notes NFL fan Tracy W. Reed. "… Most cable subscribers pay upwards of $50 a month for tv … Compare ticket prices of 2012 with prices in 1975 and the number of teams. The policy is crazy."
Size matters: U.S. Rep. Brian Higgins (D-N.Y) of Buffalo has been a leading voice against the blackout rule because he represents one of the NFL's smallest markets and a constituency that's fighting mad about the team's efforts to extract $200 million in public improvements to extend its lease at Ralph Wilson Stadium, which has 6,000 more seats than the average NFL arena.
This fan wryly notes, "When the Chicago Bears sell 61,500 tickets, the game is declared a sellout. When the Buffalo Bills sell 75,000+ tickets, the game is declared a blackout." And this one pointed out that the NFL put Bills fans in a tough spot by making them buy tickets to three home games in December.
This fan suggests only blacking out games that are at 90 percent of capacity. But that wouldn't help the Bills: The team opted out of the NFL's voluntary 85 percent rule because Ralph Wilson Stadium couldn't even meet that threshold in five of its past six blacked-out games. The Bills had the last three games of 2011 blacked out, including a game on Christmas Eve. They've had 17 games blacked out since 2000.
Maybe the best argument for giving the product away is made by this young dad, who writes: "Eventually, my kids will be old enough and I will take them to a game. It would be nice if they knew about the team from watching them, or picked up on my interest in the Bills."
Politics: Why is the FCC even involved in this in the first place? The answer, of course, is that it has control over the nation's airwaves. But as Robert Leibforth of Tampa notes: "I am unaware of any political constituency in the country (aside from the NFL owners, perhaps …) that espouses FCC rules on what professional sports events will be shown on local television … as a legitimate and important government concern … If the NFL owners want to black out local fans as punishment for not filling the stadium seats, then let them do that, don't let them blame our government. It's not a government issue."