Practice tests aimed to keep NFL refs sharp
September, 28, 2012
09/28/12
7:01
PM ET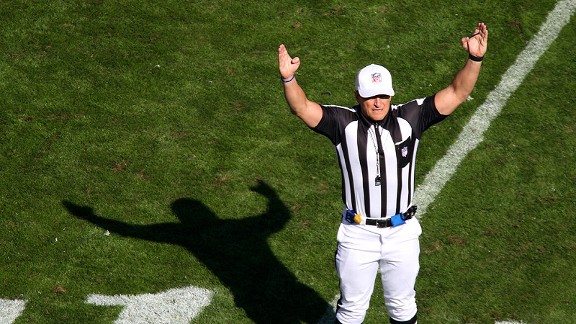 David Drapkin/Getty ImagesReferee Ed Hochuli tried to keep his colleagues in the know during the NFL lockout.
When the NFL's official referees take the field Sunday, they'll be out of practice, but they won't be rusty. And for that, you can thank Ed Hochuli, the 61-year-old Phoenix lawyer and veteran referee who will be helming the Bengals-Jaguars game. During the lockout, No. 85 kept his fellow zebras sharp with weekly tests designed to get them ready to replace the replacements.
In an emailed agenda for a conference call among refs that was held on Sept. 11, Hochuli asked his colleagues for a moment of silence for "those innocent souls and the heroes who lost their lives 11 years ago."

Then Eddie Muscles got right down to business.
"We are not going to point out mistakes," No. 85 wrote. "We only have an hour -- but as always, there are things to learn from this week's games."
He went on to list: "Game clock," "Quarter change," and "2 minute warning."
One ref who calls the tests "incredibly time-consuming" adds: "Eddie's just that kind of person. He's a successful lawyer and a perfectionist. He hates it when things aren't done right."
The File obtained a test Hochuli sent out July 2, not long after the lockout began, and although the format is familiar to anyone who has ever applied for a job in stripes, it features plenty of NFL-style scenarios.
Take the very first question, which nearly sent us running for the exits: Team B blocks Team A's punt, but commits a foul at the 3-yard line as a Team B blocker picks up the ball and runs it to the 50-yard line, at which point he fumbles into the hands of an A blocker. (By the way, that's a simplified version.)
Quick, what's the call?
It's B-1-10-B1 ½, Exception 3.
Translation: The ball gets moved to the point of the infraction, which in this case is the 3-yard line, and Team B is penalized half the distance to the goal for its foul. As such, it becomes Team B's ball at first-and-10 on the 1 ½-yard line. "Exception Three" deals with change of possession with a foul.
The rest of the test can be found here and in the box inset in this story. See if you can get any of the other 49 questions right -- let alone on a field with 80,000 fans screaming at you and a worldwide TV audience of millions tearing their hair out because you single-handedly moved the line.
The answers are here and in the box to the right.