In ESPN's exclusive online database, delve into the details behind the money that moves college sports. Find out how much athletic departments make from ticket sales, playing away games, donations, outside contracts, media rights and other sources of revenue. And see what they spend on recruiting, athletes' tuition, travel, coaches' pay and other expenses.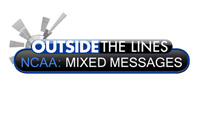 Search for an individual college.

See where the money comes from.

Revenues and expenditures chart.
Some highlights:
• Everything is bigger in Texas, including ticket sales. The Longhorns' athletic department made about $45 million from selling tickets to sporting events, more than any other college.
• The colleges with the most lucrative dance cards appear to be Michigan State, Ohio State, UCLA and Army. They each made more than $3 million from playing in away games.
• The top spender on recruiting? Notre Dame, with almost $2.3 million. Others spending more than $1.5 million were Tennessee, Oklahoma, West Virginia and Duke.
• At the University of Central Florida, students are picking up almost $15 million of the bill for the athletic department, the most among public colleges. On the flip side, about two dozen college athletic departments take no money from student fees.
The information comes from detailed financial disclosure forms that schools submit annually to the NCAA. These are for the fiscal year ending in 2008. ESPN requested the forms from all 120 colleges in the Division I Football Bowl Subdivision under state and federal public records laws. Private colleges and others not subject to those laws declined to release their forms. In those cases, ESPN filled in some of the blanks using financial information that public and private schools are required to provide to the U.S. Department of Education Office of Postsecondary Education.
Paula Lavigne is a reporter in ESPN's Enterprise Unit. Her work appears on "Outside the Lines." She can be reached at paula.lavigne@espn.com.
EDITOR'S NOTE: During the next few weeks, "Outside the Lines" will present a series of stories on TV and ESPN.com examining several hot-button issues facing the NCAA. The topics include Rutgers and the athletic arms race; the role of TV money in college sports; controversy over the use of an athlete's likeness; renewable scholarships; the monetary value of Florida quarterback Tim Tebow; the business of the SEC; and endowed scholarships. In addition, ESPN.com will present an online, searchable database from financial statements of 120 college athletic departments that will let you see where schools' money comes from, and where it goes. Watch the first TV story Sunday on "Outside the Lines," 9 a.m. ET on ESPN.