SAN DIEGO -- Not even a broken back was going to keep Linda Rainwater from trying to defend her NCAA Division II high jump title last Saturday in the national championships at Charlotte.
Instead of backing out of the competition, Rainwater needed acupuncture treatments, the use of an electronic bone stimulator, as well as what she called "a combination of adrenaline and mentally tuning [the pain] out," just to get to 5 feet, 5¾ inches in the high jump.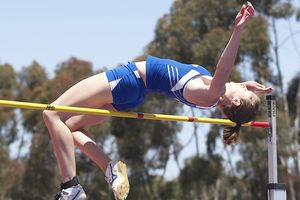 UC San Diego athleticsUCSD's Linda Rainwater jumped at the Division II track championships despite a fractured vertebra.
She finished in 11th place, removing the electronic bone stimulator only to jump.
"Athletes get injured one way or another. I thought it was something with my muscles," the UC San Diego senior said of sustaining the injury. "At first I didn't take it too seriously, but the pain got to be too much.
"I thought maybe I was being a wimp," she added.
Rainwater was injured at the California Collegiate Athletic Association championship three weeks earlier. She said it happened throwing the javelin in the heptathlon, but she first really felt it after completing a long jump.
"I came out of the pit thinking, 'something's not right,'" she said.
But she completed her events and finished second in the heptathlon. The day after, she could not roll over, the pain was so intense.
So "wimp" is not a fitting description for Rainwater, who competed at the national meet with a fractured lumbar vertebra that caused her pain with every step and rendered her unable to practice leading up to the championship.
"She's one of the toughest and one of the gutsiest athletes I've ever worked with," UCSD coach Darcy Ahner said. "That was before the injury. I never underestimate Linda. She's an amazing competitor."