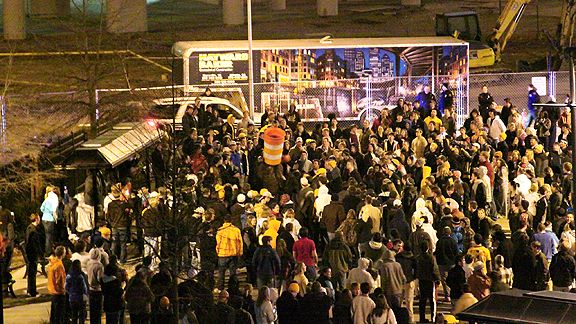 Teresa Hooper/rockytoptalk.comLate Tuesday, hundreds of Tennessee fans show their displeasure for Kiffin's announcement.
To my fellow students at the University of Tennessee and me, Lane Kiffin is about as faithful as Tiger Woods.
Kiffin's once-heralded photos on campus have been replaced with photos of weasels and rats. Facebook hate groups have been started, and joined by hundreds of fans. And videos of riots have flooded the Internet. Professors commented about it today. Football players sarcastically joked about not going to class because they have no coach to answer to. And news vehicles continued to line the streets of campus.
When Kiffin was hired a little more than a year ago, the ceremonial rock -- with a rich history of providing motivation for big events -- read, "Hail Kiffin." As his reign continued, the rock had more messages worshiping the new coach and testifying to his popularity. When Kiffin accused Florida coach Urban Meyer of cheating, we students stood behind our coach, and even found Meyer's cell phone number and painted it on the rock to mock Florida. In a total reversal, today the rock is painted with obscenities, as well as the cell phone number of Kiffin's wife and the family's address in Knoxville.
The worst part of all this is Kiffin's broken promises. We felt like Kiffin would fight for us, and as loyal students we took his side. We believed in him. We hailed him. Even after the recent player arrests and the negative light that has been on campus, all students could think about were the recruits and the upcoming season. Now, not only does a winning season seem impossible, but the team, the fans and the students feel broken, betrayed and empty. He left us all, in a 30-second interview with no remorse.
So from all of the loyal football fans at the University of Tennessee who treated you, Lane Kiffin, as if you were our god, we gladly accept your resignation … your classless attitude does not belong at Tennessee.
Erin Exum is a senior at the University of Tennessee majoring in sports broadcasting.